Throughout time, as technology and my needs evolved, I have had my share of good, bad, and ugly computer desks. But if there's one category to contain all three descriptions, it's the "cheap" label.
You can find good, bad, and ugly computer desks that are also cheap enough for a student to buy. Among the good ones, you can also find the best. And true to my purpose for creating this site, I would like to share with you the best cheap computer desk on the market today.
I mean, you don't have to go through the same trial-and-error I underwent. Hop on to find out which models have entered the list.
Table of Contents
Best Cheap Computer Desks
Best Home Office Computer Desk
I have found cheap desks most compatible with home offices. Some of them are designed with the individual user in mind. With the Zinus Jennifer Modern Studio Collection Soho Desk, this aspect is considered alongside elegance of form. There's nothing flashy about this model. Instead, it prioritizes space for laptops, accessories, and a few knickknacks.
There's plenty of room for your computer and notebooks with the 47-inch-wide version. Other options exist to accommodate more: namely, 55 inches and 63 inches. The rectangular construction is slim, easy enough to fit into most rooms. With a rich wood grain finish, it can complement any motif. Matching modern and minimalist themes is stressed by the sleek steel frame.
Further, the frame is strengthened by steel tubing. The surface panel is available in three wood grain colors to allow better customization. In theory, the size and style are adequate for home office requirements. However, you can consider what you need specifically to decide which size to choose at the end of the day.
For instance, if you use dual monitors with one desktop computer and one laptop, you may want to pick the largest size available. Or, if you're going to create white space, you can mount your monitor on the wall and have only your keyboard and mouse on the tabletop. It's really up to you to customize this desk based on your needs and preferences.
This unit can be delivered to your doorstep in a box. The parts are detached, but the assembly should not take much time and effort. Once set up, it is lightweight and a breeze to move around. Cable management is not a strong point for this model, though, so I suggest you strategize its location.
You can purchase the Soho Desk at around $300. It is not exactly dirt cheap, but it is well within the range of "affordable." Depending on where you're buying, you may even score this model at a discounted price. A worry-free one-year limited warranty comes with your order, giving you peace of mind while you are building your workspace at home.
Zinus Jennifer Modern Studio Collection Soho Desk is Suitable For:
Individuals who are building a home office can get started with this simple yet elegant desk from Zinus, a popular low-cost mattress manufacturer. Several sizes are available to help you customize your space and afford adequate space for your productivity needs. While some can appreciate its minimalist look, others may find it too plain, though.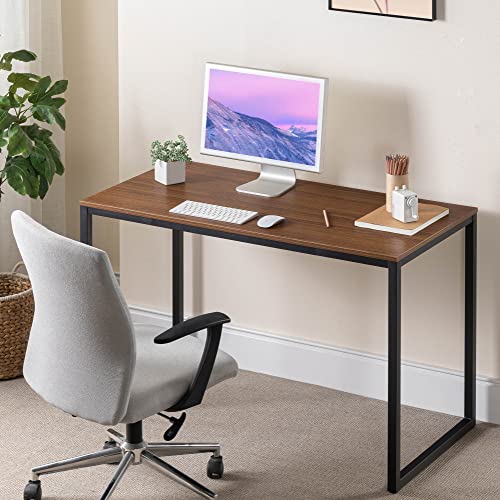 ZINUS Jennifer 47 Inch Black Frame Desk / Computer...
MODERN STYLE & FUNCTION FOR ANY ROOM - Perfect for your home office, bedroom workspace or living area, this clean-lined contemporary desk...
BUILT STURDY - Solid steel frame and thick tabletop are built to hold up to 100 lbs of evenly distributed weight
DIMENSIONS: 47" L x 24" W x 29" H
Pros
It features a sturdy frame with steel tubing for stability.
It offers plenty of room for your computer and other stuff.
It has a rich wood finish that can match many room themes.
It is easy to assemble and move around.
It is relatively affordable.
Cons
It does not support cable management.
It may still be pricey for some people.
---
Best Gaming Desk
Furniture pieces made for gamers are increasing in popularity. If you're a professional or beginner, you probably have encountered gaming chairs on online platforms, such as Twitch. Aside from chairs, you can also shop for gaming desks to ensure your needs are prioritized. Check out the bestselling Atlantic Gaming Original Gaming Desk to get started.
Much of the value offered by this model comes from its ability to cater to various needs. It has an elevated laptop stand, to begin with. On one side, there is a designated spot for your gaming speaker system. Do not mistake the rack underneath for a keyboard tray – that is dedicated to cable management instead. My favorite, though, is the cup holder for handling your drink.
You might be wondering if it can fit everything I just mentioned. Yes, it can. The tabletop is 47.5 inches wide and 23.5 inches deep. That leaves you with enough room to place a regular-size computer. The details are well-placed, with the overall unique look emulating a furniture piece that can be found in a Joanna Gaines-styled room.
You can store additional stuff here without making the surface feel cramped. It promotes assigning a place for your things to prevent messing up. Of course, the latter depends on you. But gamers could use any positive reinforcement while keeping busy with Fortnite or Grand Theft Auto.
This versatile desk is not only limited to gaming. Its wide carbon fiber laminated top can handle dual monitors (which is why I also recommend this model for that purpose). Its steel rod frame provides stability while its entire construction allows for straightforward inclusion in any kind of space. You can even use it in a game room where you have your console, screen, and headsets organized.
All of these features are packed in this cheap gaming desk, which costs around $150. That figure is affordable for most people, including those who are tightening their belt when it comes to furniture purchases. If you're persistent, your search may even be rewarded with a discount.
Atlantic Gaming Original Gaming Desk is Suitable For:
This model is designed with the needs of gamers in mind. So whether you are investing in a sleek yet sturdy desk or finding a complement for your gaming chair, this Atlantic Gaming Desk may be the one you're looking for. It comes with an affordable price, which can accommodate a wide range of customer budgets. Take advantage of its unique features by ordering one online.
Sale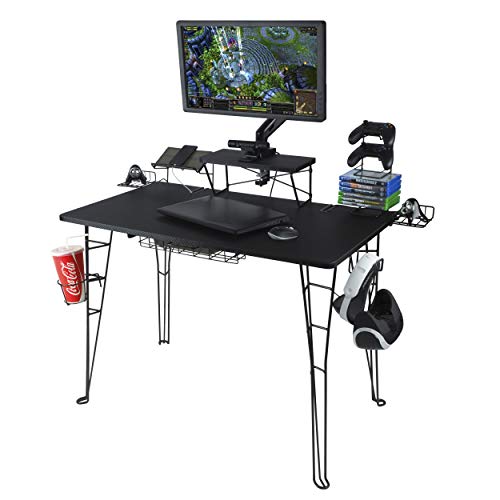 Atlantic Original Gaming Desk – Carbon-Fiber...
✔️ 【VERSATILE】: Large one-piece carbon-fiber laminated desktop offers ample of workspace ideal for gaming, working and studying.
✔️ 【VERSATILE】: Large one-piece carbon-fiber laminated desktop offers ample of workspace ideal for gaming, working and studying.
✔️ 【FLEXIBILITY】: Elevated/detachable monitor platform can support 27" monitor up to 40 lbs. or use dual monitor arm instead.
Pros
It features an elevated stand that handles laptops.
It has allotted space for gaming speaker systems.
It promotes cable management through a dedicated rack.
It is wide enough to accommodate a dual monitor setup.
It is one of the cheapest specialized tables on the market.
Cons
It may not work if you're using a clunky monitor.
With all of its parts, the assembly may be challenging for some users.
---
Best Computer Desk for Small Spaces
When you're dealing with a limited floor area, make sure to leverage the vertical spaces available. This design approach is reflected by the Convenience Concepts Designs2Go No Tools Student Desk. This model showcases the classic black desk with storage upgrades. It features at least a couple of shelves that you can use to stack documents and the like.
While it is called a student desk, this one can be employed by workers as well. It has a wood grain finish for the surface panel, allowing for elegant workspaces to develop. It is supported by a stainless steel frame that delivers a durable desk experience. The shelves are targeted to handle computer accessories, as well as books and documents, as mentioned above.
Design-wise, it can complement any home décor or office space. You have five different color schemes to choose from: black, blue, cherry, espresso, light oak, and pink. However, the 15.75-inch wide panel may offer some mobility limitations. 
But it can easily blend in tiny spaces and small rooms. This option works well as a corner desk, and you can take advantage of the lengthy profile.
Aside from convenience after installation, it does not require tools during assembly. It can take you around 10 minutes to finish the setup. This quick setup also speaks to how it is friendly to students and other home users.
This model costs around $120, so it's pretty affordable for students and workers alike. 
Convenience Concepts Designs2Go No Tools Student Desk is Suitable For:
This desk can accommodate the needs of students who live in dorms and similar living quarters. It also applies to users who are working in small spaces. Its price is affordable for both customer segments.
Sale
Convenience Concepts Designs2Go No Tools Student...
COLLECTION PIECE: Introducing the Design2Go Collection - Elevate your home décor with stylish and functional furniture pieces that are...
MULTIPLE FINISHES: Choose from a variety of finishes to perfectly complement your modern or contemporary styled home!
SPACIOUS SHELVING: With spacious shelving, this piece offers ample storage space for your books, office supplies, plants, and decorative...
Pros
It can fit small areas, such as dorms.
It has shelves that serve as vertical storage for economical use.
It can complement any home décor or office space.
It takes only 10 minutes to set up.
It is affordable for many types of users.
Cons
Its width may limit mobility.
Its sturdiness may be questionable.
---
Best Computer Desk with Storage
Are you running a business from the comfort of your home? Or do you have a startup with a few employees? The Tangkula 47.5-Inch Computer Desk has several features that can work for you. From the decent size to the ample storage, from the portability to the affordability, this model can be your companion as you grow your career and company.
First, let's talk about the abundance of storage. This model features shelves on one side, making it a fusion of a small bookshelf or stand and a desk. You can place books, documents, plants, and other ornaments on the racks. All that stuff stays on one end while you focus on your laptop or notebook using the tabletop.
Next, let's touch on the dimensions. This desk is 47.5 inches wide and 23.5 inches deep. These measurements are not bad for handling the essentials: your computer, keyboard, and maybe a cup of coffee. You can match it with an ergonomic chair and fit it into a minimalist-themed space. In open floor layouts, it can work well as a wall desk, with the shelf part acting as a divider.
Further, you can remove the top shelf if you need more space or want to place a printer beside you. And it is not set in stone that you attach the shelf to the left side of the desk. If you want to put it on the right side, feel free to do so during assembly. When it comes to setting it up, this process is made convenient by Tangkula.
Related to the above is how this computer desk can be packed up easily. It can be quickly taken apart should you wish to move it around. This design element is perfect for people who like to rearrange their office space often. It is also lightweight and portable, so you can just carry it around as needed, despite its panel having been constructed using a sturdy MDF board and its frame using metal.
Best of all, it costs around $169. That's already a bargain considering the components and functionality of this model. You can take your pick from these colors: black and brown, red and brown, and pure black.
Tangkula 47.5″ Computer Desk is Suitable For:
This spacious workstation caters to those who are used to this kind of setup. You have four different shelves on one side to store the stuff you need to come in handy at any point. Then, the price allows you to buy a set for your team if you are just starting to grow.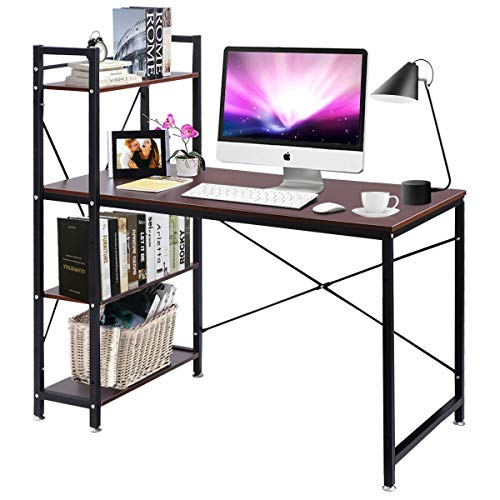 Tangkula 47.5" Computer Desk, Modern Style Writing...
【Spacious Desktop & Ample Storage Shelves】 Our Tangkula computer desk comes with an ample desk surface and an additional three opening...
【Durable & Sturdy Construction】 The Tangkulawriting desk is constructed by high quality MDF board and iron tube, the iron tube frame...
【Compact Practical Style & Multifunction 】 This Tangkula computer desk comes in simplistic color, the color will be suit for any decor....
Pros
It is made of MDF board and steel frame.
It has a decent-size tabletop and ample storage on one side.
It can fit open floor layouts.
It is lightweight, collapsible, and portable.
It has a practical and affordable price.
Cons
Some users report that it leaves fiberglass dust.
It may look cramped if you are using dual monitors.
---
Best L-Shaped Computer Desk
From one of the best sources of home office furniture comes a cheap L-shaped desk to give you enough space for dual monitor setup and a surface area that can fit conveniently in one corner of your home or office. I'm referring to the functional and stylish Walker Edison L-Shaped Desk, a table that also comes with a highly affordable price tag. 
Sporting a steel frame and a glass top, this cheap desk allows your things to have their place on the surface. It comes with a case stand and a keyboard tray to take advantage of vertical spaces. Through its smart design, you can focus on what keeps you productive while putting away what is non-essential at the moment.
Speaking of vertical spaces, the area beneath the glass top has enough space for your legs and computer-related accessories. As it performs well as a corner desk, you can have more of the surface area underneath to use as storage space. The L shape is conducive for handling LAN parties as well. That's hitting two or more birds with one stone, er, a cheap desk. 
In terms of assembly, this model requires you to put together only three parts. This means the package may be bulky when delivered to you. But you don't have to worry about aligning several legs and attaching screws here and there. All of these pros make this product a top favorite on sites like Amazon.com. 
As it combines utility, affordability, and style, this corner desk has a broad appeal. It costs a little over $100. It is available in black, white, silver, and smoke gray. It is durable as well, with a surface made of tempered safety glass.
Two things may drive you away, though. One is that you need to have a large surface area dedicated to your workstation in the first place. Another is that the top panel may be shallow for some users, especially if they're using clunky computers. Thus, I recommend this the most to individuals who have a space for an L-shaped desk, with a sleek and modern computer to boot.
Walker Edison Soreno L-Shaped Desk is Suitable For:
The Soreno is perfect for people who have ample space to accommodate an L-shaped computer desk or a corner desk for their home or office workstation. This model is compact and modern, making it easy to match any theme and handle computers with a slim built. The affordable price tag is also unbeatable considering its materials and construction.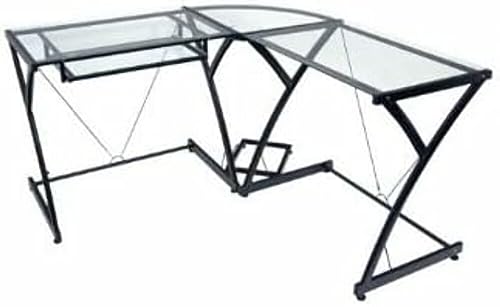 Walker Edison Ellis Contemporary Glass Top L Shaped...
Dimensions: 28.25" H x 51" L x 20" L, Keyboard tray: 3" H x 11.75" D x 21" L
2 side surfaces support up to 50 Ibs. each, corner top surface supports up to 20 Ibs., and keyboard tray supports up to 10 Ibs.
Join 2 desks to accommodate multiple monitors and create an optimal gaming space
Pros
It is compact, making it an ideal choice for a corner desk.
It can fit workspaces that can accommodate an L-shaped design.
It has areas dedicated to dual monitor systems, computer accessories, and the like.
Its assembly is straightforward.
It has an affordable price tag.
Cons
Its tempered glass top may be prone to overheating. 
Its stability may not be as strong as the pricier models in its category.
---
Things You Should Know Before Buying a Computer Desk
Size
As you might have noticed in the reviews, not all computer desks are created equal. Some are made for large office spaces while others can be fit into tiny rooms. There are many options as well in between. The size of the table is important to nail because of the areas we find ourselves working or playing in.
I recommend measuring your monitor or laptop dimensions, including estimates of the stuff you are going to place on the tabletop and underneath it. Your chair should also be factored in. Relative to the room size and these other factors, find the right desk size for your needs.
Shape 
Arguably, the most common desks are rectangular. Yet, this shape also has its subsets. For instance, you can find corner desks used at home and workstation desks in the office. 
The more versatile hutch desk can be harder to categorize because of its design. But it can be set up in areas with plenty of room to cover.
Another shape rising in popularity is the L-shaped desk. This one resembles the letter it's named after and is usually employed by desk sharers or solo users who install dual monitors.
Your choice will depend on your purpose and the available space, among other things.
Material
The materials used to make a desk have a lot to do with the construction, performance, and price of the product. These days, computer tables made from metal or particleboard abound. These can be very cheap. Some of them have better construction and performance than the others, though. So you have to be vigilant when shopping around.
If you are willing to pay for a premium, you can get a combination of a durable material like wood designed into a visually appealing table. For a more modern look, some designs come with a glass top attached to a wooden desk.
Ergonomics
There are many details you can count as an ergonomic consideration. But for now, you have to narrow down to the most important ones. Still, I'd argue that the most ergonomic desks are composed of well-thought-out details, such as a rounded edge to prevent bruises. The various adjustability settings, from the seat height to armrests, also fall into this category.
Where the keyboard tray is situated is also an ergonomic matter. Whether or not the table promotes cable management is a part of the discussion, too. Almost everything that can help you perform your intended purpose for the desk can be included in the discussion.
To Install or Not to Install?
Last but not least, desks can be broken down into their parts and packaged as such. Most models are delivered to your doorstep this way. Not all of them come with clear and easy-to-understand instructions. But some models can be quickly put together anyway.
If you think you won't have the time to build a desk from scratch, you might as well order one that is sent to your location pre-assembled. Alternatively, you can opt-in for a professional assembly service offered by either the manufacturer or the third-party vendor.
Conclusion
The best cheap office desk label goes to the Zinus Jennifer Modern Studio Collection Soho Desk. This option provides the best value from its sturdy frame to a large surface panel. Its design can allow you to fit it into different room types. It can be customized as well.
This desk comes in several sizes. I suggest you get the large desk if you are setting up three monitors. If installation and mobility concern you, this one is easy to assemble and move around.
When it comes to cheap gaming chairs, the best one in my books is the Atlantic Gaming Original Gaming Desk. It is made for both gaming pros and enthusiasts. It has dedicated areas for your accessories, even for a cup holder. If you have a regular-size laptop, you can place it on the stand to create desk space for the keyboard, allowing for better gaming control.
If either option does not suit your taste, you have plenty of value to explore among the rest of the items in this review.