Best Overall
Steelcase Gesture Ergonomic Chair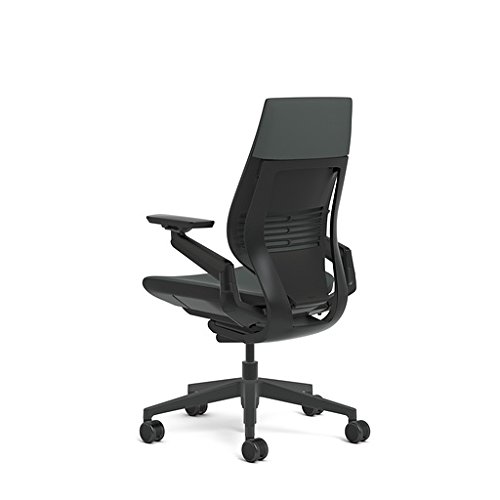 Best Value
Duramont Ergonomic Adjustable Office Chair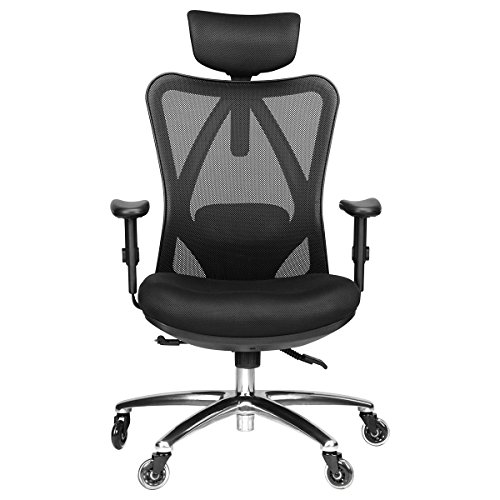 Best Budget
Killabee Massage Gaming Chair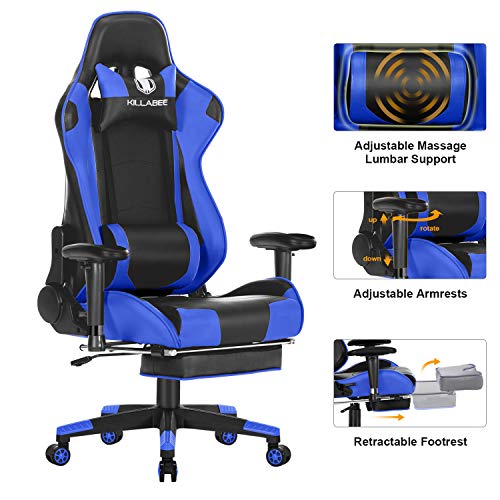 There is no doubt that at present, modern life and work style is getting increasingly sedentary. Our entire days revolve around either sitting down to work or sitting down to relax. 
Originally, the human body is made for moving, so staying still for such long periods of time, sitting in cramped chairs, and limiting your mobility area to your desks, will, of course, give rise to dozens of major and minor health issues. Neck pain is one of these issues, and whether it's a major or minor one – it depends on your choices. 
Because work is important and everyone's work and workplaces are different, I can't tell you to do something or not to do something else. While the neck pain you suffer from (due to unhealthy sitting habits at work) is a common issue, your situation and circumstances are yours alone. 
But what I can tell you is that if you must absolutely sit for long hours, you should try replacing your regular, cramped chair with an ergonomic office chair.
And within these versatile ergonomic office chairs, there is a whole legion of the ones that are particularly effective when the user has to deal with neck pain and other issues related to it. They all have different features and specifications, and each has its own advantages, but one thing is for certain – they are the best ones to go for when you are dealing with neck pain.
Now the million-dollar question.
Which one to buy? 
Which chair out of the hundreds out there is the best suited to you? 
A difficult choice indeed, but don't worry, dear reader, for here are six of the best chairs for neck pain that are currently available in the market. Just check them out and if you see the one perfectly suited for your need, go for it!
Table of Contents
Best Office Chairs for Neck Pain
Best Office Chairs for Neck Pain
Best Overall
Steelcase is one of the leading manufacturers when it comes to high-quality chairs for an office. Gesture by this company is no different. It has a lot of ergonomic features that can be overall beneficial to anyone who works long hours.
It is height adjustable, angle adjustable, and forward/backward tilt adjustable, which makes sure that your back, neck, and head are all supported and stay comfortable, no matter the position or number of hours spent working. It is built to support all types of natural sitting positions, from slouching to straight to reclining.
The exclusive LiveBack technology is used to automatically mimic the natural movement of your spine and neck and adjust to it. This makes sure you are always supported. A core equalizer makes sure that your lower back receives proper adjustable lumbar support. 
It sports highly adjustable armrests that are height, width, depth, and position adjustable. There is also another impressive function, which is the seat slider function. This allows the seat to slide along with you if you are halfway out of the seat by the end of the day. The depth of the seat pan is also adjustable, and the seat comes with an adequate amount of padding. 
There are three height options that you can choose from when buying this chair, to help it be even more customized to you. The Low Height Range is from 14.5 inches to 18.25 inches. The Medium Height Range is from 16 inches to 21 inches. The High Height Range is from 17 inches to 22.5 inches.
Steelcase Gesture Ergonomic Chair is Suitable for:
This chair is suitable for a wide range of people who work for long strenuous hours because of how many customizable functions it features. The adjustability of the back and the seat slider function are really the selling points, especially if you have pain complaints.
Pros
It has an exclusive LiveBack technology to provide support to your spine and neck.
It uses a core equalizer to make sure that the chair provides great lumbar support.
The seat slider function makes sure that you have proper support, no matter what your sitting position is.
It has highly padded and adjustable armrests.
It is made in the USA.
It supports up to 400 lbs of user weight. 
You get three height ranges to choose from.
There are many beautiful color options to choose from.
The chair comes in fully assembled.
It has a 12-year 100% Steelcase warranty.
Cons
It does not have a back-height adjustment option, so you have to choose one of the three chair options available.
Some people find the cushion paddings to be thin.
This chair is expensive.
---
Best Overall Runner-Up
The Nouhaus Ergo 3D Ergonomic Office Chair is an affordable option to go for. It is an alternative version of Gesture, which can get quite expensive. The chair offers adjustable neck support, dynamic lumbar support, and adjustable armrests. The headrest is angle and height adjustable and is made of breathable mesh, which provides optimal support and breathability.
The backrest is designed with ElastoMesh material that makes sure that your back is supported, and the chair remains cool throughout the period of usage that it is put under. The 3D lumbar support makes sure to support the natural curve of your back, and you get lower back pain relief.
The recline option lets the backrest tilt up to 135 degrees. The back has a dual castor design that helps in providing optimal comfort and easy movement. The seat is height-adjustable, so you can change the height depending on how you are sitting on the chair. It comes with adjustable 3D armrests that you can lock in its position.
It is equipped with a five-point base with dual casters for stable movement. The base is made from iron, increasing the durability and structural integrity of this chair. It can support user weight up to 275 lbs. The 360-degree swivel provides great maneuverability around the office.
I chose the color blue here, but it comes in black, grey, and burgundy; these are all great alternatives to the blue. With black and grey, you get a neutral tone to fit in with most of the office decor. If you want a pop of color, you can go for blue or burgundy. It also comes with a 5-year warranty.
Nouhaus Ergo 3D Ergonomic Office Chair is Suitable for:
This chair is suitable for people looking for an affordable alternative to the Steelcase Gesture. This provides great functionality and is also sleek and ultra-modern in its design. It is supportive of long work hours and provides stability and comfort.
Sale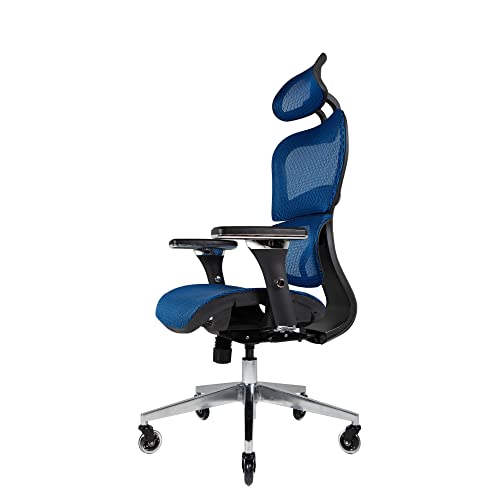 Nouhaus Ergo3D Ergonomic Office Chair - Rolling Desk...
CONFORMS TO YOUR LIFE: With it's 4D Adjustable Armrest and Lumbar System, ElastoMesh, 135 Degree Back Tilt, Smooth HydraLift, Dual Castors...
EASE INTO WORK, OR PLAY: Mesh Headrest adjusts up and down while the 4D Adjust Arms go forwards, back, up, down, side to side, and rotate...
SOFT HD MESH OFFICE CHAIR: Our breathable ElastoMesh provides optimal airflow to avoid sweating and sticking. But it's also smooth, and...
Pros
It is made from mesh, which makes the chair breathable for prolonged use.
It is an affordable alternative to Steelcase Gesture.
It has a sleek, ultra-modern design.
It is equipped with 3D lumbar support.
It has 3D armrests.
It has a 5-year warranty attached to it.
Cons
The armrests aren't padded.
---
Best Value
Duramont Ergonomic Adjustable Office Chair is one of the chairs for the office that will make into most of the lists that have anything to do with comfort and support. This list is no different in that sense. The headrest has a height-adjustable option that makes sure that your head is supported no matter what your sitting position or your height is. 
The headrest also has an angle adjustment option that will let you customize the head and neck support depending on your sitting position. The headrest is padded, so you get comfort along with support. The headrest tilts with the back to help maintain proper posture.
The breathable mesh design helps promote better air circulation that helps you stay cool and relaxed even when working for prolonged hours. The back is made from a mesh material that is fitted in a durable and sturdy frame. It has a tilt mechanism that can be locked at the angle you prefer with its tilt lock mechanism. You also get an adjustable lumbar support pillow system. You can allow the pressure, that is, the depth and the height of the lumbar support.
The seat is height adjustable, and the padding is soft yet thick, which provides you with premium comfort. The chair can support up to 330 lbs of weight. The armrest is padded, and its height is adjustable, so you get support and comfort both. The rollerblade caster wheels are smooth and help with you getting mobility right from your chair to move around the space.
Duramont Ergonomic Office Chair is Suitable for:
This chair is suitable for people who work for long hours with changing positions throughout the day. The headrest makes sure that your head and neck are supported, no matter what angle you slouch or lean back at, this helps you relieve neck pain.
The other ergonomic features like the adjustable backrest, armrest, lumbar support, and seat, all add to the long-work-day-must-have chair checklist.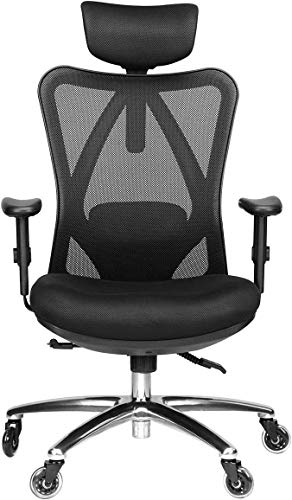 Duramont Ergonomic Office Chair - Adjustable Desk Chair...
★ MORE ADJUSTABLE THEN ANY OTHER CHAIR IN ITS CLASS — Unlike the office chairs sold by our competitors, which allow you to either fully...
★ BREATHABLE MESH - The breathable mesh back on this ergonomic office chair provides support while keeping your back cool and comfortable....
★ FULLY ADJUSTABLE BACK SUPPORT - Having back issues or don't want to develop them? Our unique office chair includes adjustable lumbar...
Pros
The headrest is height and angle adjustable.
The armrests are padded and are height adjustable.
The mesh design makes sure that the chair is breathable and remains cool.
The chair comes with adjustable lumbar support that is height and depth adjustable.
The chair supports user weight up to 330 lbs.
Cons
The thick padding is not always preferred.
Adjustable lumbar support is manual, which can pose a problem when changing positions.
---
Best Value Runner-Up
This adjustable high-back executive office chair from Glitzhome comes with a built-in headrest. This makes sure that your head and neck are always supported. The built-in headrest is padded, and you get a soft cushion providing comfort.
It is like having a fixed pillow to provide you comfort and support. This chair, because of its looks, doesn't only work in an office but can be a great addition to your home as well. The design makes sure that you get top to bottom support; the continuous back and seat design helps your tailbone to not feel pain.
I have chosen white because it goes well with my bedroom decor. There are other color options as well: brown, camel, coffee, and gray. Camel color looks really gorgeous and adds warmth to the decor.
It has a PU leather finish, which makes it easy to clean off and also durable for long use. The cushions are thickly padded yet soft. The pressure rods are strong. The seat is height adjustable. The backrest can be tilted from 87 degrees to 106 degrees. You also can easily rock in the chair or use the tilt lock to lock it in an angle.
It has great lumbar support that is cushioned as well. This makes sure your lower back is supported through and through. It is a highly adjustable butterfly mechanism and comes with a 360-degree swivel for easy movement. The armrests are padded, but they aren't adjustable because of the mid-century modern design.
Glitzhome Adjustable High-Back Executive Office Chair is Suitable for:
This chair is suitable for people looking to spruce up their decor and get a chair with functionality, support, and comfort. It is also great for pregnant women who are working at home.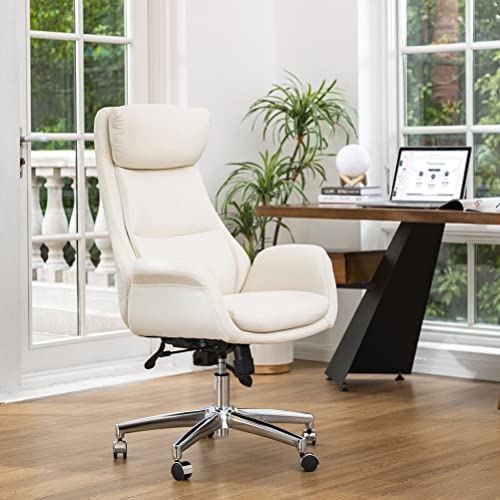 glitzhome Home High-Back Office Chair Leather...
This modern adjustable swivel office chair is perfect for a home office with the cream, stain resistant upholstered seat and back cushions,...
Provide your comfort with this home office chair, with smooth-rolling casters, 360 degree swivel and seat height adjustment, great for a...
Easy to assembling, perfect as a office chair. Has a adjustable butterfly mechanism.
Pros
It comes with a padded in-built headrest.
The chair is thickly padded for optimal comfort.
It has a mid-century modern design that can spruce up a room's look.
It has a PU leather coating.
There are many colors available.
Cons
The chair may need a little breaking in time for the padding to feel lived in.
You don't get adjustable armrests.
---
Best Budget
Gaming chairs are created with comfort in mind. They are designed to provide gamers with support for their long hour matches. Massage chairs are designed to provide pain relief and relaxation. When you combine both of these things, you are going to get great support and relaxation options.
This is where Killabee Massage Gaming Chair comes in. Killabee comes with an external pillow for your headrest that sits well and provides targeted comfort to the base of your head and neck. You can rest your head comfortably on the pillow to get relief from neck pain.
The back is designed to contour to your lower back and relieve lower back pain. There is an additional pillow to provide you with extra lumbar support. It has an electric massager that is USB-powered. 
The padding in this chair is medium-firm. Most gaming chairs actually go with this type of padding because it is more comforting and supportive in the long run. The chair is height-adjustable, and the winged seat edge design will help cushion any pressure on your thighs and legs.
You get a retractable footrest that will help you relax even better if you are leaning back. You will get to enjoy your massage in a more laid-back manner by reclining the chair and stretching out the footrest.
It comes with nylon caster wheels that are stable and supportive of the 360-degree swivel. It can support up to 250 lbs of user weight. The company of this chair offers a money-back guarantee of 30-days and is an affordable option in the gaming chair market. I chose the blue option because it is my favorite, but you also have a gray option to choose from.
Killabee Massage Gaming Chair is Suitable for:
This chair is suitable for people who want additional support for their neck and lower back. This gaming massage chair works well and can easily replace your office chair. The ergonomic features, coupled with the massage feature coupled with its affordability, makes it a winning combo.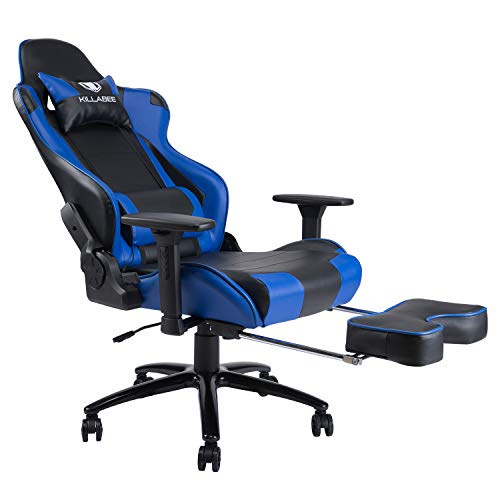 KILLABEE Big and Tall 350lb Massage Memory Foam Gaming...
★ 【MULTIFUNCTION】 - innovative implant USB electric massager makes the lumbar cushion effectively relieve your fatigue; adjustable...
★ 【PLUSH COMFORT】 - Memory foam padding on top of the existing seat cushion and premium PU leather (easily cleaned and fade...
★ 【HIGH-SECURITY】 - Integrated metal frame, explosion-proof gas spring of international standards, heavy duty gaming chair base with...
Pros
It has a massage setting.
It has additional pillows for your neck and lower back.
The recline function is very smooth and can give you a great lying back experience.
It comes equipped with a retractable footrest.
It supports user weight up to 250 lbs.
This chair is backed by a 30-day money-back guarantee.
Cons
The armrests are not adjustable.
It can get warm when using it for prolonged hours, particularly during the summer.
---
Best Budget Runner-Up
Livinia ergonomic office chair, at first glance, isn't the most appealing chair when it comes to looks. This chair looks way different than anything I have on my list. The other chairs for a desk that we have discussed are all sleek and modern, and this one looks straight out of some sci-fi contraption mechanism or device. There is a reason for it. 
The split-back design is specifically made to target your spinal disks. This helps remove any pressure that you might feel on your spinal discs. This is very helpful in eliminating the pain from the entirety of your back and your neck.
This multi-dimensional headrest is free rotating and is designed to protect your cervical vertebra. The headrest is height adjustable, so it provides added comfort to your head and neck. The back and headrest in tandem help provide you with the ultimate neck support and comfort. The backrest is height adjustable as well, so it will move with the headrest when adjusted.
The split-back is equipped with a twin lumbar support system that makes sure that your lower back is supported and your backbone gets breathability. Not being pressured against the chair, trying to adapt and fight for support, is great to combat pain.
You also get a tilt option with a tilt tension control to make sure that you can change your postures and relax in between long working hours. The chair that I have chosen is a breathable mesh one, but there is another polyurethane version that you can choose.
Livinia Ergonomic Office Chair is Suitable for:
The chair is suitable for people with neck and back pain issues. The uniquely designed split back system helps your spinal disk be pressure-free. You get twin lumbar support and a multi-dimensional headrest to add to it.
No products found.
Pros
This multi-dimensional headrest is free rotating, which helps support the cervical vertebra.
The split-back design is made to target your spinal disks
You get a height-adjustable backrest.
There is a twin lumbar support.
It is made up of mesh to increase breathability.
You get an option to choose PU leather instead of mesh.
Cons
The armrests could be more comfortable.
There are a lot of plastic parts in this chair.
---
How Do I Stop My Neck From Hurting When I Sit at My Desk?
While avoiding to sit completely might not be feasible, there are a lot of tiny adjustments you can make in your sitting posture and workstation to minimize the damage your neck tissues sustain and the resulting pain. Starting with your desk and the things around you:
Adjust your computer screen as such that your eyes are level with the top of the screen. Also, the distance between you and the computer should be comfortable enough for you to be able to read what's on the screen without straining your eyes and neck muscles in leaning forward to take a look.
Adjust your desk or chair's height accordingly so that you can easily reach the keyboard, mouse, and any other important material comfortably. This way, you can avoid putting a strain on your back, shoulders, and neck muscles. Or you can start using a Stand-Up desk with adjustable height. Working standing up and with your eyes comfortably on the screen might help your neck in avoiding much strain.
Use a chair that is ergonomically correct and properly supports your back while maintaining its natural curve. 
This brings us to the correct way to sit – 
Good posture can help the tissues and muscles in your body, the thoracic region especially, to avoid any unnecessary strain and thus heal better. This correct posture includes keeping your shoulders rolled back, arms at a comfortable distance from the desk, and your elbows at 90 degrees while you are working on the computer.
Don't slouch but also don't keep your back perfectly straight. Resting your back at an angle of 100 or 110 degrees is much better from a health point of view than trying to keep it at 90 degrees.
Make sure your feet are touching the ground evenly so that they can properly support your weight.
Also, you can adjust the armrests of your chair to be out of the way so that your neck and shoulders can relax naturally downward. 
Apart from these, taking a short walk every half-an-hour to relax your muscles should help in dealing with any discomfort and pain.
How Should I Sit With Neck Pain?
Working while dealing with constant pain is never easy, but that doesn't mean you have to take it sitting down. Here are a few things to keep in mind that can help you deal with the pain and discomfort better, even if by only a little bit.
1. Posture
Not only your body's posture but the posture of your head is important too. After all, our head isn't that light, and it puts all the strain on the neck muscles, so to avoid aggravating your neck further, while already suffering from pain, is to make sure your head doesn't put undue pressure on the neck tissues.
Your body must be in a good posture – shoulders rolled back, back properly supported, and feet flat on the ground. At the same time your head should be in a neutral position – ears in line with shoulders and neck just naturally resting without any strain or leaning to one side.
2. Surroundings
Adjust your desk's height so that you don't have to strain yourself too much to reach it. Sitting too high or too low, both are equally straining, so keep it comfortably level.
The chair should also be placed a bit closer to the desk so as to avoid leaning forward while working, which inevitably puts pressure on the neck.
If you are working on a computer, the keyboard should be at a comfortable distance from your shoulders so your hands can reach it and work on it easily, without putting pressure on the shoulder muscles, as the shoulder and neck muscles are connected, so if one is strained the other will be inevitably strained too.
A document holder can also help in minimizing the strain on your neck as you won't have to move your neck to and fro while consulting something. You can just keep it all in your direct vision field and work without any discomfort.
3. Precautions
Don't hold your phone between your ear and neck while talking. This action puts a lot of strain on the neck muscles. If you must absolutely take the call while working, use your hands to hold it properly.
Avoid the poking chin posture. Also known as the forward head posture, it is when your back is hunched while the chin and face kind of protrudes forward. This is a habitual posture that is a result of tilting necks forward to peer into mobiles, tablets, or computers and a slouching posture while working. This posture is seriously detrimental to not only our neck muscles but also other muscles attached to the cervical spine. One way to avoid this is to limit screen time as much as possible.
Even if it's for work, sitting for too long straining your muscles is never advisable, so take short breaks every half-an-hour or so and move around a bit more before settling down to work again.
How Should I Sleep With Neck Pain? 
Sleeping comfortably with neck pain can be a hard job, because sometimes, no matter what you do, your neck won't stop acting up. This can further cause sleep-related problems like a disruption in the sleep cycle, fitful and non-restorative sleep, etc. Then what can we do to minimize the damage? 
Sleeping with neck pain can be, in fact, a bit easier if you try these changes:
1. Sleeping Position
The first thing to pay attention to is your sleeping position. If you suffer from either neck or back pain, the most suitable sleeping position for you will be either on your back or on your side. Sleeping on your stomach is never advisable in case of already existing neck troubles since sleeping, as such, puts a lot of stress on the neck muscles and cervical spine.
So sleep comfortably on your back or side, as these are positions that support your body's curves and give them a chance to relax, and you to rest properly.
2. Choose the Right Pillow

Another thing is the pillows. Now, this can also be considered as a decisive factor when it comes to sleeping with neck pain. For different positions, there are different pillows that cater to your neck and spine.
If you are used to sleeping on your back, use a rounded pillow to support the neck and its curve while a flatter one would do for your head. You can also use specialized neck pillows that are made to support the neck while the body is in a lying position. Memory foam pillows and cervical pillows are good too. There are also cervical pillows made of memory foam, so that's something worth checking out.
You can also use feather pillows as they are soft and accommodating to the neck curve. The downside is that they lose their shape with time and need to be changed every year or so.
3. Use Right Head Elevation
Pillows that are too high or too low are equally bad, in my opinion. The high pillows not only don't help with neck pain at all but can instead aggravate it further as they keep the neck muscles flexed all night, unable to relax. This increased strain could either increase your neck pain or even develop one if you didn't already have the problem.
4. Indulge in Neck Exercises
You can try some light neck exercises and stretches before going to bed. But make sure to confirm with your doctor before trying anything as wrong exercises can harm your neck muscles more.
5. Do Not Use Phone in Bed
And at last, don't use your phone or tablet while lying or before going to sleep. It not only disrupts the sleep cycle, but it also puts undue pressure on your neck and spine. This may result in aggravating your neck pain while also developing more issues like back pain.
What Should You Consider When Buying an Ergonomic Chair for Neck Pain?
An ergonomic chair is a perfect example of the saying, "Necessity is the mother of invention." These chairs, designed specifically for efficiency and comfort in the working environment, act as a really effective tool when we talk about dealing with issues such as sitting for long stretches of time and suffering from neck, back, and hip pain due to it. 
Moreover, an ergonomic chair comes in a lot of different kinds, some specialized in dealing with a certain problem, while others, focusing on generally promoting good posture and comfortable working. You can choose whichever ergonomic design fits your needs the best, among dozens of options.
Then how to know which one to go for when suffering from chronic neck pain? You need to take a look at just two factors to decide if a particular chair will be effective for you in dealing with neck pain. They are:
1. Adjustable or Removable Armrests
Adjustable armrests may be considered important by some for keeping a proper posture, but more often than not, they actually get in the way of having a neutral posture that is the best posture when it comes to dealing with neck pain. Without armrests obstructing the path, the shoulders and the arms can actually relax downward, and the connected muscles, including those of the neck, can relax as well. 
This means that in such a position, your neck is already under much less strain than in any other. So before going for an ergonomic chair, see if its armrests are either adjustable or removable. Both these options are much better than fixed armrests if your main reason to invest in an ergonomic design is neck pain.
2. A Suitable Backrest 
Now, a lot of ergonomic chairs come with good quality backrests that not only preserve the natural curve of the spine but are really comfortable as well. Go for these chairs as your back muscles are connected to your neck muscles tool, but keep a lookout for an additional feature of headrests as well.
3. Adjustable Headrest
An ergonomic design with an adjustable headrest would be best for you if you are suffering from neck pains. Because then, you can rest your head and neck tissues and muscles every once in a while, even if you are working. This would take away at least some of the strain from your neck and might also help you recover better.
Conclusion
An ergonomic office chair is specially designed for you to have a more comfortable experience while working. These chairs not only help in maintaining good posture while you are working for long hours, but they are also effective when dealing with back and neck pain. This is because the main idea behind these chairs is to support the body properly while you are sitting on them.
Go for one that has a dedicated headrest that can be adjusted so that your neck and head can be supported throughout the day, and you can be comfortable. My personal favorite is the Steelcase Gesture Ergonomic Chair. No other chair can beat the quality and design that this chair possesses. It is highly ergonomic and comes with a warranty to swoon after.
The Nouhaus Ergo 3D Ergonomic Office Chair is close enough to Steelcase Gesture, but it will be easy on your wallet. So, you can invest in this chair and get the benefits of Gesture, looks-wise as well as function-wise in a budget. 
The Duramont Ergonomic Adjustable Office Chair provides the best value for money. It, without any doubt, has functions that help you make the most of the money you spent. Then we have the Glitzhome Adjustable High-Back Executive Office Chair, which comes with an in-built padded design and a great mid-century modern design.
We have two budget options. One is the Killabee Massage Gaming Chair and the Livinia Ergonomic Office Chair. One is a massage and gaming chair combo for extended comfort and support, and another is a highly ergonomic option.
I have tried to include a wide range of budgets, designs, and functions. One thing common in all of these options is a dedicated and adjustable headrest to make sure your neck is supported. Let me know which one is your favorite.