Best Overall
Mecor Massage Recliner Chair PU Leather Recliner Chair
Best Value
SUNCOO Massage Recliner Chair
Best Budget
Homall Recliner Chair
Big and tall people have always found themselves in the problem of spending hours finding essentials that they want to buy, and quickly running out of luck and options. It isn't fair that the big and tall person doesn't get to enjoy the comfort and relaxation of recliners that the regular individuals get to.
The market scene is changing now, and you will find more inclusive options. There are recliners that cater especially to a big man, or a tall man, or both. There are other options that are versatile in general. These are built to last and also provide tremendous support and comfort.
The average recliner sits close to the ground, making the sitting on and standing up from the chair an unpleasant experience for the tall person. As the market is full of regular-sized recliners, I have curated a list of recliners that are specifically designed to provide proper options for this demographic.
Let us have a look at the 6 great recliner options for big and tall people.
Table of Contents
Our Pick
Frequently Asked Questions
Best Recliners for Big and Tall Person
Best Overall
The Mecor Massage Recliner Chair is a great choice for taller folks out there who are looking for an affordable recliner with premium features.
The recliner not only has a modern ergonomic design but also packs in a lot of goods. It sports an 8 point massage functionality that targets your neck, spine, lower back, and muscles. There are 5 massage modes, including the full-body, upper back, lower back, thigh, and lumbar. This allows you to be in the driving chair for customizing your target area as per your stress points. 
The cherry on top is a heating system to go on top of the massage functionality, giving you a therapeutic experience at home. The heating functionality can aid you in relaxing your muscles and relieving your stress points.
The recliner was made while keeping problems with bigger people in mind. This is evident in the larger dimension of the product. The chair is 33 inches in length, 33.5 inches in width, and 42 inches in height. Furthermore, when reclined back to the maximum limit, it has a top to bottom length of 62 inches. The Mecor chair looks bulky and weighs around 97 lbs but can take up to 400 lbs, which should make even the most muscular customers happy.
Mecor went above and beyond making an ordinary recliner. They've packed the chair with many useful features while keeping comfort as the focal point. The chair can swivel 360 degrees and can recline back to 160 degrees for maximum comfort and to aid people with back problems. 
The build quality is extremely satisfactory, given the price point. The chair is built with a high quality bonded leather with a soft texture so that the skin feels soothing along with the body. The backbone of the chair is a solid wood frame along with a thickly padded armrest. Mecor wanted to make this chair an all in one solution hence the 2 cup holders on the arms along with a front pouch and a side pouch. 
The assembly of this chair as well is fairly simple. It comes in four pieces, one back, one seat, and two arms. The installation starts with slipping the two arms to the seat base, followed by the back attachment. 
The Mecor Massage Recliner Chair PU Leather Recliner Chair Suitable for:
The Mecor Massage Recliner is ideal for bigger customers looking for an all in one solution at a reasonable price. 
Mecor Massage Recliner Chair PU Leather Recliner Chair...
MASSAGE RECLINER CHAIR-8 point massage,a heating system and 5 massage modes for selection ,having a full body massage to relax upper back,...
SWIVEL RECLINER-360 degree swivel,the chair can be rotated in a full circle;160 degree reclining for optimal comfort ,especially for people...
MATERIAL-Made of soft 100% high quality bonded leather ,solid wood frame,and luxuriously thick padded arms/seat/back,it is comfortable...
Pros
The recliner is made by keeping taller and bigger customers in mind.
The chair supports 5 massaging modes with a heating system.
It has a 360 degrees swivel and a reclining angle of 160 degrees. 
The build quality is exceptional for the price.
The recliner is very affordable, with essential functionality.
The chair has 2 cup holders and several pouches.
Cons
The chair does not have a lift up or down functionality.
The customer service is often unsatisfactory.
---
Best Overall Runner-Up
BONZY is a trusted name in the recliner market, and they get it absolutely spot on with this Modern Push Back Recliner. The lounger has a modern design but a classic look with the dark brown color, which will go with most home furniture. 
The recliner is 33 inches in length, 30 inches in width, and 43 inches in height, whereas the seat is 20 inches x 20 inches x 19 inches in dimension. The chair itself is relatively light at around 56 lbs but can take around 200 lbs of load.  
The chair is made for bigger and taller people looking for a premium yet comfortable reclining experience. BONZY boasts about comfort, style, and luxury with its modern push back lounger. In the company of unique soft fabric and breathable body along with a solid hardware frame, it is hard to argue with BONZY on this one. 
Most budget recliners have an artificial leather cover, which is unpleasant in the cold weather. The BONZY recliner has a breathable soft fabric that can be sat on for hours on end. The materials used make the sitting experience extremely soothing for all, including tall folks with no skin irritation or sweating discomfort. 
Most of the cheaper recliners in this range go for a heavy metal frame, which makes them affordable but difficult to move and a pain to relocate. The BONZY lounger uses premium hardwood, which makes it extremely sturdy yet unbelievably lightweight. This makes it easy to move and leaves no scuff marks on your floor. 
BONZY sports a manual push back mechanism with the help of a lightweight hardwood frame for reclining, which makes it extremely easy to trigger the recliner from an upright position to a semi or full recline. This feature is even more helpful for elders or people with disabilities. 
The recliner has thick padding all along, which makes it exceedingly comfortable to lie on. Furthermore, the lounger has a very versatile style that can go with a contemporary or country house. 
The BONZY Modern Push Back Recliner is Suitable for:
The BONZY recliner is ideal for anyone looking for a lightweight, premium, and simple lounger for extended periods of use.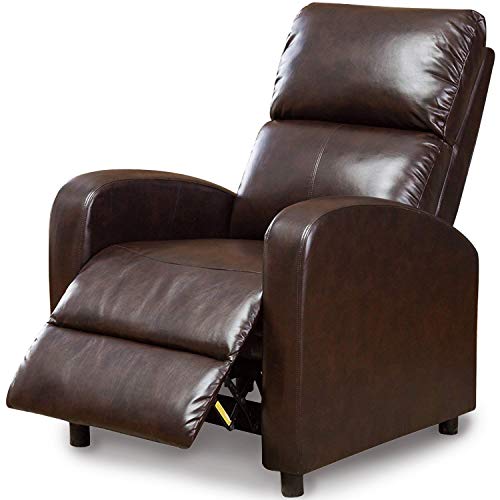 BONZY Modern Push Back Recliner, Dark Brown
Fabric: Chair is covered with ultra soft fabric stuffed with an incredibly soft cushion.
Pushback: The easy pushback mechanism allows for semi and full recline. With the slightest of pushes the chair will alter positions to your...
Size: Overall size of the chair is 29"W x 33"D x 42"H while the seat is 20 W x 20"D x 19"D
Pros
It is built with a premium, soft, and breathable fabric material.
The chair is very sturdy and extremely lightweight.
The reclining process is simple and easy.
It is not feature-heavy but does simple things extraordinarily.
Cons
It lacks any massaging or heating functionality.
---
Best Value
The SUNCOO Massage Recliner Chair aims to be a premium choice in recliners with its massaging ability and 11 in 1 functionality. The chair offers a 360-degree rotating base and a superior build with premium quality materials. The skin of the chair is made with premium bonded leather, and the frame is made with strong and light wood. 
The lounger has dimensions of 34″ long, 38″ wide, and 42″ high when closed. The item weighs around 121 lbs.
The 360 degrees swivel functionality makes this chair more fun and accommodating than its competitors. The chair promises a fun and relaxing atmosphere with the help of swivel and massaging functionality. 
In addition to the swivel, the recliner also offers a zero-gravity experience with the help of the back recline and raised footstool. This position helps to increase the blood flow in the upper body and leads to an enhanced relaxing experience. 
The highlight of the recliner is its massaging function. Several recliners for big and tall folks won't have this ability, but the SUNCOO Massage Recliner relaxes you with hot massage for your back muscles. The rocker action, in addition to the heated massage, is a relief for folks with backaches, sore muscles, paining discs, and pain points. The chair is an all in one solution for comfort and therapy. 
The design of the lounger is developed by keeping bigger individuals in mind. This ensures that even before switching the massaging function or recline, the body is in a comfortable position, and the back has excellent support. It is common for bigger people to have frequent back and spine issues; the recliner is built with keeping that in mind. 
The lounger also makes sure that your head gets adequate support along with the back. The headrest has extra padding and is adjustable. The chair is extremely accommodating in terms of support and comfort, whether you're short or tall. 
The chair is built with durability as a priority. The leather is of premium quality that can withstand everyday use. The leather offers a smooth and soft feel to the body, and the extra thick padding underneath the leather enhances durability. The lounger has a body contouring design, which gives the person using it a feeling of soft cushioning and support. 
The SUNCOO Massage Recliner Chair is Suitable for:
The SUNCOO Massage Recliner is suitable for big folks with backaches and a need for massaging/heating functionality.
SUNCOO Massage Recliner Chair Ergonomic Bonded Leather...
HEATED RECLINER MASSAGE CHAIR: Ergonomically designed with heating system, along with 5 modes, 8 points massage, SUNCOO recliner chair is...
ROCKING CHAIR: This recliner chair Includes a rocker's function that allows the occupant the ability to rock back and forth by shifting...
RECLINING SWIVEL CHAIR: 360 degrees swivel empowers the armchair to be turned around in a full circle. With the 135 degrees reclining...
Pros
The chair has a 360-degree swivel functionality. 
The recliner is built for bigger individuals with back issues. 
The recliner has a hassle-free assembling experience. 
The chair has an adjustable headrest. 
The lounger has an 8 point heating massage functionality.
Cons
The footrest of the chair can be a bit difficult to close.
---
Best Value Runner-Up
The Christopher Knight Home Emersyn Tufted Fabric Power Recliner will make you feel like a knight sitting on a throne with the blend of modern and classical design. The recliner has a sturdy frame with a premium feel and an impeccable design. 
The lounge is 32.68 inches wide, 39.76 inches long, and 41.73 inches high, making it ideal for larger folks out there looking for a castle of their own in the middle of the living room. The chair weighs around 93.7 lbs and can support a heavy person. 
Although the Christopher Knight Recliner is great for both big and tall, it is ideal for tall folks. The chair supports people with special needs and weaknesses. Furthermore, it has several luxury features in place, such as heavy-duty padding, USB ports, and hidden arm storage. 
The design and look of the recliner exude style and substance. It is not a poor option that you have to take because you are big or tall. It has a distinctive aura of its own, which gives you the feel of luxury. 
The recliner ticks all the boxes of a sturdy and reliable chair that can support big and tall individuals. The build consists of premium materials, and the structure boasts a metal frame. The certified metal foundation can withstand heavy load, no sweat! The chair was built with enough strength to manage extreme pressure for a long time with confidence. 
For the Christopher Knight recliner, strength is not its only highlight. The design of the product makes it extremely simple to open and close the legs without any jamming. Moreover, the tilting is power-assisted to ensure simple positioning. This makes it possible for people with special needs to operate the chair without any added assistance.
The Christopher Knight Home Emersyn Tufted Fabric Power Recliner is Suitable for:
The Christopher Knight recliner is suitable for both big and tall folks, but it is ideal for tall people with a knack for style.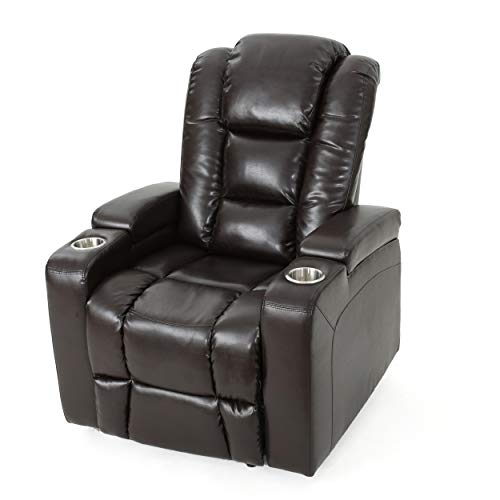 GDFStudio Everette Power Motion Recliner | USB Charging...
CONTEMPORARY DESIGN: Featuring a plush tufted design, our recliner offers the look, feel, and design of a truly contemporary piece. With a...
MULTI-FUNCTIONAL: This recliner includes two cup holders, a convenient USB port, and armrests with storage, making this the pinnacle of...
UPHOLSTERED: Our recliner is generously upholstered, giving any room a refined appearance. This provides a smooth, immaculate texture for...
Pros
The chair has a power-assisted motion.
The recliner has a solid build quality with a certified metal frame and premium materials.
The chair comes with a USB port connection. 
The chair has dual integrated cup holders. 
The recliner comes with hidden side arm storage.
The chair has a modern design that enhances the look of the house. 
Cons
It lacks any massaging or heating functionality.
---
Best Budget
The Homall Recliner Chair is made with premium PU leather, which is smooth and soft to sit on and is ideal for tall folks. The chair boasts several features such as worry-free assembly, a solid frame, and smooth reclining, making it a deal to bank on. 
The lounger has dimensions of 27. 6″ wide, 35. 8″ long, and 38. 6″ high when closed. The chair can take up to 265 lbs of weight. 
The high grain PU leather offers a cool feeling on touch, providing a soothing experience to sit on. The high-quality skin of the chair improves breathability, keeps the body cool, and enhances the durability of the chair. This allows the user to sit and relax on the chair for long hours without any sweating. Moreover, the recliner is stain-resistant and easy to clean, and it only needs a wet cloth. 
The design of the chair is focused on providing you with an all in one solution. With the sweat-free PU leather allowing you hours on the chair, you can keep all you need, like your smartphone, books, or TV remote, inside the side pockets of the recliner. Homall has found a way to provide ample storage solutions without compromising the looks and design of the lounger. 
The easy-to-use lever on the side makes it extremely easy to recline the chair as per your convenience. Furthermore, the footrest is adjustable too, in addition to the back recline allowing a zero-gravity experience. When your back is reclined, and feet are raised, the blood flow to the upper-body improves the body's performance. This allows you to relax and enhances your body's vital functions. 
The design and build of this chair allow you to use it for multiple purposes. The lounger can be used for regular sitting, watching television, or relaxing your ailing muscles. The thick padding on the chair offers you hours of pain-free relaxation. Moreover, the curved armrests are a subtle design feature to enhance your sitting experience. 
The metallic frame of the chair gives it the fundamental strength it needs to sustain long hours of use from big and tall individuals. Moreover, the metallic structure being steel, gives it the sturdiness and reliability it requires. Steel can take more load than wood and is a lighter metal alloy relative to other metals, making it an ideal choice for the construction of a sturdy recliner. 
The Homall Recliner Chair is Suitable for:
The Homall Recliner is ideal for any big or tall individual of any age. The chair has a modern design and bankable durability, thanks to the premium materials used in the build of the chair. The chair can be used for multiple applications and is helpful for people with special needs as well.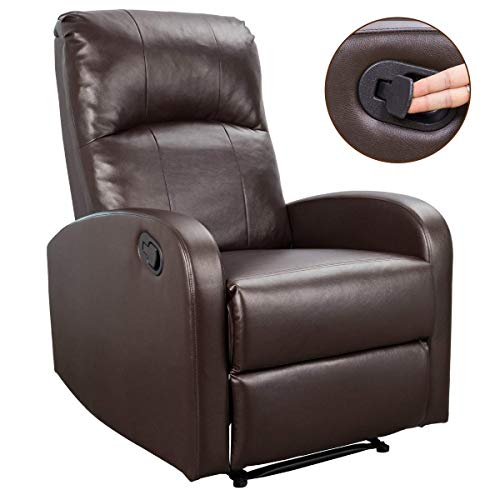 Homall Recliner Chair Sofa Home Theater Seating Pu...
Material: high-quality PU Leather (comfortable skin friendly and easily cleaned), high-density thicker sponge ( high resilience and high...
Comfort and convenience: quick switch design with adjustable footrest, easy use for elderly, wider armrests with curved Shape, larger-size...
Side bag design; There is a storage bag in the side of the sofa for you to easily access to the control, phones, magazines, and so on.
Pros
The chair uses a premium quality leather.
Homall covers any installation issues – replacement for broken/missing parts up to a year, and money-back up to 1 month. 
The recliner has a steel frame making it highly sturdy, lightweight, and reliable.
The assembly process is simple and straightforward.
The value for money for the Homall Recliner chair is extremely high.
Cons
It lacks any massaging or heating functionality.
---
Best Budget Runner-Up
The Giantex Modern Leather Recliner Chair is an ideal choice for giants looking for a modern, reliable recliner. The steel frame, weatherproof leather, and thick padding make it a great fit for most people.
The Giantex comes with closed dimensions of 25.5 inches wide, 35 inches long, and 39 inches high. The chair is relatively light for a metal frame at 60.5 lbs and can take up to 330 lbs of load. The chair, when closed, does not take a lot of space, but when opened, it can accommodate even the most enormous of people. 
The strength of the Giantrex Modern Recliner comes from the extremely reliable core steel frame. Steel is very reliable, strong, and comparatively lighter than most metals, making it an ideal choice for a lounger. The bigger and taller folks out there can rely on its supreme core and smooth-rolling joints. This ensures the durability of the recliner as well. 
Giantex keeps it easy when it comes to reclining. Rather than going for a complicated button mechanism, it relies on simple manual reclining using the handle on the side. This keeps the reclining mechanism easy with minimal points of failure and convenient experience for the elderly, children, and those with special needs. 
The reclining mechanism also supports the legs to come to a zero-gravity position. This helps with balanced blood flow when in the maximum recline state, hence making the body feel more natural for extended hours on the recline. 
The recliner cover is made with a combination of PVC and PU leather, which are extremely reliable and comfortable. One of the standout features of the Giantex is the waterproof skin of the lounger. This avoids damage by accidental spills or sweat by extended use, adding to the lifespan of the recliner. 
Contrary to the belief, the recliner cover being waterproof does not compromise on the breathability of the chair. The lounge has supremely soothing effects on the legs, arms, and other parts of the body. 
Another feature that is worth mentioning is the care taken to provide extra padding to the most sensitive parts of the body, including the back, arms, buttocks, and legs region. The sponge used in the chair is very comfortable and non-flattening, meaning you can spend hours on the chair with no discomfort. 
The Giantex Modern Leather Recliner Chair is Suitable for:
The Giantex Recliner is ideal for a family looking for a supremely durable, premium quality, waterproof, and breathable recliner with a steel frame.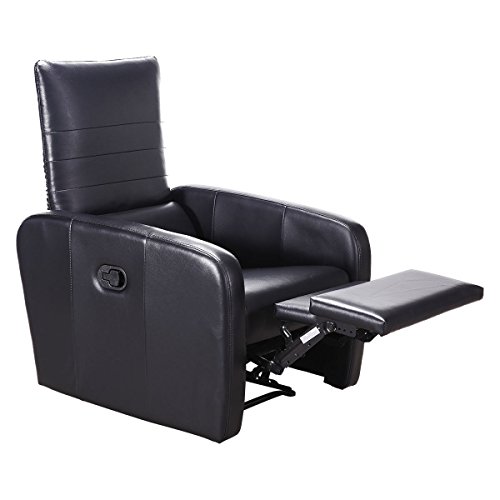 Giantex Manual Recliner Chair Foldable-Back Leather...
【Recliner & Foldable Back】: Recliner chair is full of smooth, quite reclining action. Recline to your favorite position at the touch of...
【Manual Button】: When you slightly pull the manual button, the strong enough alloy steel bracket would be stretched out to the maximum...
【Moderate Sofa Foam & Extended Leg Resting】: The whole recliner chair is equipped with moderate sofa foam, packed by PU leather. It is...
Pros
It has a sturdy and reliable steel frame.
The chair is waterproof, enhancing durability.
There is extra non-flattening padding for sensitive body parts.
There is extra support for legs when in maximum recline state.
Cons
The reclining mechanism of the chair is not power-assisted.
There is no massage or heating functionality available.
---
Frequently Asked Questions
What is the Best Recliner for a Big Man?
The best recliner for a big man needs to be sturdy, accommodating, and durable. The recliner which ticks the most boxes from my list is the SUNCOO Massage Recliner. This chair is built with premium bonded leather and a wooden frame, which makes it lighter than most other chairs for big men. 
The chair has a wide variety of features such as 360 degrees swivel, adjustable footstool, massaging, and heating functionality. The chair is also ideal for big men with backaches as its back recline and raised footstool gives you zero-gravity experience for enhanced body performance. 
The adjustable headrest, simple recline, premium quality leather, durable materials, massaging and heating capability, and accommodating design for both short and tall makes it an ideal choice for most big men. If you're a big person and you fear missing out on a great chair that is not made to accommodate you, you cannot go wrong with the SUNCOO Massage Recliner chair. 
What is the Best Recliner for a Tall Person?
One of the struggles of being tall is not being able to sit comfortably on most chairs as your knees are bent, and your neck lacks any support from the chair. Most tall folks complain of dangling legs and discomfort on an average recliner, even on a full back recline. BONZY's Modern Push Back Recliner is the best answer to your problems as a tall individual. 
BONZY, being a trusted name in the recliner industry, promises a comfortable, stylish, and luxurious experience on their premium chair made with unique soft and breathable fabric and a high-quality hardwood frame, which makes it extremely lightweight. The recliner may not be feature-heavy but does the simple things extraordinarily. With a dimension of 33″ (L) x 30″ (W) x 43″ (H), the lounger is extremely comfortable to use for a tall person. 
The recliner has a manual back recline which supports half or full recline based on the convenience of the user. The flexibility of the recliner and thick padding makes it extremely comfortable for taller folks to rest comfortably without dangling legs or unsupported back. The simplicity, lightweightness, premium quality, and comforts offered by BONZY makes it a no brainer to grab this deal if you're a tall individual. 
Is There a Weight Limit for Recliners?
All of the recliners come with an operating weight limit, and you can choose the recliner that suits you by checking the maximum weight capacity of the chair in the specifications. It is not so easy to find recliners that have a weight capacity of around 500 pounds. 
Most recliners in the market don't offer a high weight capacity; most of the recliners that you will come across will have a 250 lbs weight limit, with some exception of the oversized recliners that are intended for use by more than one person.
There are some manufacturers that have seen the demand for high weight limit recliners, and now the big and tall folks can get the ones that can safely handle their weight, and you will find few of the good recliner options for big and tall individuals in this article if you want one.
Why is the weight limit so important, you may ask?
When you go for recliners that lie in the low to mid-end price range, they will last for five years without exceeding the weight limit. For producing cheaper recliners, manufacturers tend to compromise a lot on the material and overall build quality, which in turn decreases the lifespan of the recliners. If the weight limit exceeds these recliners, they wouldn't even last for five years.
So, if you are purchasing a recliner, do check the weight limit if you want your chair to last for long, and if you want a recliner that would work as new, even after thousands of reclines, spend a few bucks more and go for the one that doesn't compromise on quality.
What is the Biggest Recliner?
The biggest recliner should be the one that offers the most amount of space to a user while being able to take a considerable load. The biggest recliner will be able to serve a big or tall man equally well. 
The lounger with the most room is the SUNCOO Massage Recliner with the dimensions of 34″ (L) x 38″ (W) x 43″ (H) and weighs around 121 lbs. The recliner sports premium quality materials and is packed with features such as heating and massaging. The chair is usually shipped in 2 parcels because of its enormousness. 
What are the Different Types of Recliners?
When purchasing a recliner, you must know the types of recliners available in the market. This knowledge is crucial to get the recliner of your choice. Either you are short of space, or you face difficulty getting up from a sitting position, this section will help you choose the type of recliner that suits your needs. Let us have a look at the types of recliners available that you can buy right now.
The Basic Recliner: This one just reclines, that's it. It might have an extending footrest to support you further. The recliner back is usually pushed back by a lever, and some have tilt tension control where you can push it back with your body.
The Powered Recliner: For the powered recliner to work, you need the chair to be plugged into a power supply. The chair reclines at the press of a button and resets to the upright position on pressing reset.
The Rocking Recliner: This chair reclines on arched tracks that allow it to rock when in either the upright or reclined position. You get the traditional comfort of a rocking chair with the modern reclining capability, a great combination, in my opinion.
The Wall Hugger: A wall hugger, or wall saver, is a recliner that is designed to be placed close to the wall. The seat sits on a track that makes it slide forward when reclined, meaning it reclines away from the wall, and hence, can be kept hugged to the wall, saving a lot of the room space.
The Lift Chair: The lift chair is a piece of medical equipment that helps people who have trouble standing up from the chair. The lift is an electric-powered feature that raises and tilts the chair forward, making it easy for the person to get up from the chair.
Massage Recliners: I have talked about massage chairs in another article. But, add that to a recliner, and you have a personal slice of heaven. You will be able to tilt back your recliner chair and get a massage at the same time. There are vibrations and rollers to help you relax and provide relief.
Oversized Recliners: Oversize recliners are great for big and tall people. This article is based around these recliners. An oversize recliner is built to support someone who is heavy or someone who is tall or someone who is heavy and tall.
Are Recliners Good or Bad for You?
Recliners are comfortable, extremely so, especially after a long day at work. But are they good or bad when it comes to our health? The answer is… it depends! Depending on the person who is using the recliner and how suitable the recliner is for them, it can be both good and bad in more ways than one.
Recliners are good for pain and stress relief, even more so if the user is either an expecting mother or a patient recovering from surgery. Since your legs are elevated whilst resting on a recliner, your blood circulation improves too, and any numbness or swelling in your legs could subside by a lot. So if you are someone who is mostly on their feet all day, recliners can be a very good option.
Moreover, if chosen carefully, the recliner can provide proper support to your neck, back, and hips. By 'chosen carefully,' I mean if the size of the recliner is compatible to you, neither too cramped nor too wide, because only when it fits you perfectly can it support your lower back and spine properly. If your recliner doesn't support your lower back, you might want to either change it or use a rolled-up towel to make up for it. In any case, don't leave your lower back hanging as it can trigger pain and other issues.
The only way I could think that recliners are actually bad for health is due to the fact that they may be too comfortable, encouraging a sedentary lifestyle, which is a big no-no. The human body is made to move and falling into a sedentary life, if you haven't already, could give rise to a number of health issues, with neck, back and hip pain just being the tip of the iceberg. 
So unless you are spending all your free time on the recliner, or you didn't choose it according to your fit, it is not bad for you at all. In fact, its good points far outweigh the bad ones, and it is truly something that everyone must possess, especially if you suffer from chronic pain and fatigue. Remember, choose the one which fits you the best personally and try to be more out and about if you actually want to enjoy the comfort your recliner provides, to its fullest.
What to Look for When Buying a Recliner for a Big and Tall Person?
Big and tall folks often face this problem, where most of the things are just available in regular sizes, and they have a hard time finding something fitting for their size. Well, the good news is that recliners aren't the same and are available in all kinds of sizes, and one just needs to find a recliner suitable for them. So if you are a tall person looking to buy a recliner, or someone who wants to buy it for a tall person, here are a few things you should pay attention to:
The size should be just right, neither so small that the person would feel cramped nor so large that they aren't able to relax. So make sure you are aware of exactly what size the person needs before going for the purchase.
The height of the oversized recliner should either be adjustable or high enough for a tall person to get off it comfortably. What happens with most regular sized recliners is that they are too close to the ground, and if a tall or big person uses it, then they inevitably find it somewhat hard to get up from…. Not because it's comfortable but because it takes a lot more strength to get up from something so below your ideal size.
Check the weight capacity of the recliner carefully to see if it will be able to handle the weight of the person or not, before finalizing it. The durability of the product matters too, so checking all the specifications beforehand can save a lot of trouble later.
If you are buying it for another person, it's better to know their preferences before you go ahead – whether they would like the recliner to be more cushiony or have certain features, whether they want something with better armrests or sturdier back support. It's small details like these that make the furniture more comfortable and homely, so paying attention to them is very important.  
If you are buying it for yourself, just make it so that you are happy with your new recliner. After all, no one knows you better than you. You know what suits you the best- what height or how much sturdiness and which material is right for you. So as long as you feel comfortable, go for it.
And that's it! The key to buying the perfect recliner is just how compatible it is with you. Be it firm or comfy, as long as it helps, it's all good.
Do You Need Extra or Professional Help When Assembling a Big Recliner?
This is one of the common concerns that most people have. Since an oversized recliner for a big and tall person is going to be big and heavy itself to be able to provide comfort and support, it can seem like a daunting piece of furniture to put together.
But, no, you won't always need extra help to put it together. Most recliners come with easy to assemble parts because it isn't convenient to be delivered pre-assembled, so companies need to make it more user-friendly.
You are provided with a detailed instruction booklet, all the nuts, bolts, and screws, and even a few tools. Some even have videos to help you guide through. If you are still not comfortable, then you can make it a family project or call a professional if you really aren't comfortable doing it yourself. But, it isn't a need to call a professional.
Frequently Asked Questions
How much clearance does a recliner need?
The primary purpose of buying a recliner is to enjoy the reclining feature. If you are wondering about the clearance space it needs behind the chair; the same depends on how much you want to recliner the chair for comfort. Generally, leaving behind 1 foot of travel space is considered ideal.
Is it OK to sleep in a recliner every night?
The benefits of sleeping in a recliner are extremely subjective. While some users find sleeping in a reclined position comforting their sleep, some individuals complain about consistent back pain and strained shoulders when they sleep in a recliner every night. People with sleep apnea, GERD, etc. often find it relaxing to sleep in the recliners.
How far should a recliner sofa be from the wall?
Maintaining a minimum space of 1-1.5 foot from the wall is considered ideal. If you want the headrest to be inclined fully, you must leave a little more space. Avoid putting the recliner against the room's corners and instead place it against a flat wall for a more effortless recline.
Best Overall Product
Best Value Product
Best Budget Product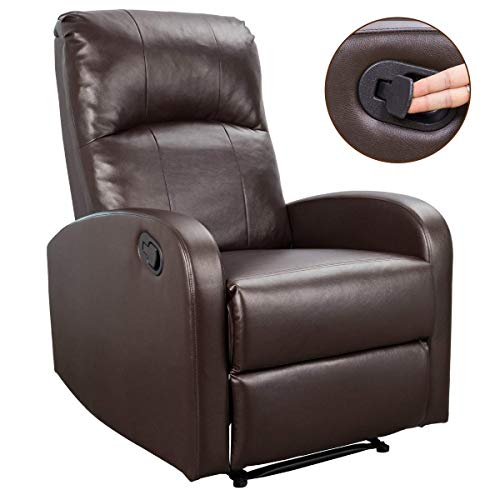 Mecor Massage Recliner Chair PU Leather Recliner Chair...
SUNCOO Massage Recliner Chair Ergonomic Bonded Leather...
Homall Recliner Chair Sofa Home Theater Seating Pu...
Best Overall Product
Mecor Massage Recliner Chair PU Leather Recliner Chair...
Best Value Product
SUNCOO Massage Recliner Chair Ergonomic Bonded Leather...
Best Budget Product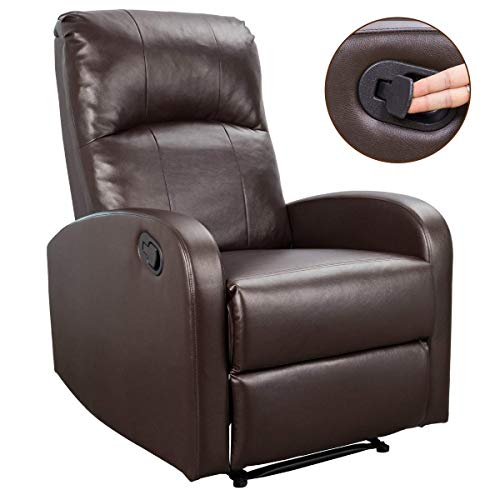 Homall Recliner Chair Sofa Home Theater Seating Pu...
Conclusion
One can easily go wrong when buying recliners if they happen to be on the big and tall side. Use this list to get started with selecting the chair for your purchase. You must have already spent fortunes as well as your precious time sitting in tiny chairs, now is the time that you consider all of the features before making your purchase, as it's you who knows what's best for you.
The Mecor Massage Recliner Chair chair is a personal favorite out of the list with the best overall features. An ideal pick for a big and tall person, this chair comes with massaging capabilities. The BONZY Modern Push Back Recliner, as the overall runner-up, comes close to the best pick with its premium look and feel, and its ease of use.
If you want more value for all the money that you spent, then you can go for SUNCOO Massage Recliner Chair. If you have backaches and need a proper massaging/heating functionality, then this is a great option to rest and relax.
Christopher Knight Home Emersyn Tufted Fabric Power Recliner is a close candidate when it comes to providing value for money. The looks of this chair are a huge plus point for style-savvy people, along with all the functionality that this recliner chair has to offer.
Nobody said you can't get something really good within your budget, which is why I swear by the Homall Recliner Chair. Homall has made a name for its premium materials and durability, and their designs are also a testament to modern design needs. 
Last up, I bring to you Giantex Modern Leather Recliner Chair. This chair is great for a family with its quality, durability, build, and functions. I have made sure to add something for everyone. I hope you find what you are looking for. If you are looking for something else, then you can look around at other articles for more value.