We've compiled the Top 6 Lift Chairs in the market. Picking the best one for you should be simple, once you understand what you or your elderly person is looking for, it's just a matter of choosing which one is right for them! Let's get right into it.
Table of Content
Best Overall
Apart from looking great, this comfortable Red Barrel Studio Edler Power Lift Assist Recliner will allow your senior to relax completely to a 180° that lies entirely flat. The cushioning and padding of the chair has plenty of sturdy support for comfort and strength; while the polyester upholstery is remarkably easy to clean, making for easy upkeep.
The furthest thing from a creaky chair, the multiple recline positions can be adjusted smoothly without any effort. The motor operation is rather quiet as well. Another highlight is the full leg support, called chaise support. This means that there's isn't a gap between the seat of the chair and the legrest like many chairs have: the extended support adds to the comfort factor.
The lift chair comes with a wired controller, and this is equipped with LED buttons for ease of vision even in the dark. This controller also has a USB outlet for charging your phone or any other advice. Once you sit down, there's not much reason to get up! You can store this controller as well as other books and magazines in the side pouch of the lift chair. No more running around the house searching for that damned controller!
Suitable for
This is a great option for a senior citizen or anyone else looking for a lift chair that's big on comfort. It is affordable and without too many frills, but with just enough features to make you really comfortable. If you're someone who will spend a lot of time on your chair for different purposes like watching TV, working, or even an afternoon nap: you'll appreciate the variety of reclining positions it has to offer since there isn't any position lock. You can adjust the angle to the exact degree of your desire and comfort.
It's also perfect for someone who doesn't want to struggle with taking care of a fussy chair: the upholstery is incredibly easy to clean with a simple water-based cleaning agent or foam.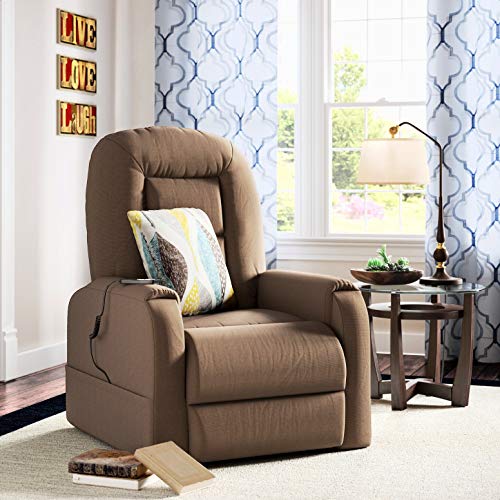 Edler Power Lift Assist Recliner, Product Care:...
Product Care: Water-based cleaning agents, foam or mild water-free cleaning solvents may be used to clean the recliner, Motorized lift and...
Position Lock: No, Position Type: Infinite Positions
Reclining Type: Power, Full chaise recliner to completely support legs
Specifications:
Installation: This chair can be easily installed by one person alone, but it may not be possible for the senior citizen to do it themselves!
Height: 43 inches
Width: 39 inches
Length: 32.5 inches
Arm Height: 25 inches
Seat Width: 21.25 inches
Seat Depth: 22.44 inches
Reclining Clearance: 18 inches
Reclining Angle: 180°
Position: Infinite positions possible
Pros
Control panel with good visibility of LED buttons
Easy to clean upholstery
Infinite recline positions
Cons
Can't use the footrest in upright position. Have to recline backwards.
Not suited for persons taller than 5'7″
No Battery Backup in case of emergencies
---
Best Overall – Runner Up
This power lift chair is one of the largest and most luxurious of the chairs mentioned on our list. With a scoop seat design and richly toned sued upholstery fabric, it will definitely be a statement piece in any carefully curated living room décor. There are three colors to choose from, 'Dusk', 'Greystone' and 'Silt'.
But it's not just a pretty face, this recliner hits the sweet spot of comfort and sturdy cushion support with individual pocketed coils that are wrapped in foam with a layer of cold cure gel and memory foam into the seat.
This chair is perfect for larger seniors that are over six feet, and would be extra comfortable for smaller adults as well. It has an extended ottoman, full chaise that is long enough to ensure no feet dangle off it.
The lift chair has a hand wand control panel with a lot of buttons for footrest angle as well as the reclining position. This is because the Lofton Power Lift Assist Recliner has a two motor design, the ottoman and recline work separately. So your favorite senior can lift their legs up in an upright position; without having to recline their backrest.
Suitable For:
This lift chair is perfect for larger adults, especially big and tall men. It has a high weight capacity and is large in size with an extended chaise leg support. Since it's not as affordable as other chairs, this would be most suited for individuals who aren't just looking for an aid for sitting down and getting up, but some well deserved luxury as well.
It can also be a little complicated on the remote control, so if this would be a deal breaker for your senior citizen to have to fetch their reading glasses every time they want to push a button: it's probably not the best idea.
Catnapper Lofton 4867 Dual Motor Power Lift Infinite...
MADE IN THE USA - Catnapper Lofton 4867 Dual Motor Power Lift Infinite Position Recliner Chair with Extended Ottoman and Printed Suede...
Luxurious Printed Suede Fabric with Scoop Seat Design
Dual-Motor Infinite Position Recliner - Control the Footrest Separately
Specifications:
Installation: Partial assembly is required for this chair. It weighs over a 140 pounds so while the installation is a one-person job, transporting the chair isn't.
Height: 45 inches
Width: 46 inches
Length: 43 inches
Arm Height: 28 inches
Seat Height: 20 inches
Seat Width: 22 inches
Seat Depth: 23 inches
Reclining Clearance: 16 inches
Reclining Angle: 145°
Position: Infinite positions
Pros
Battery backup in case of a power cut
USB outlet to charge devices
Dual motor for separate ottoman and recline mechanisms
Luxury lift chair, extremely durable
Latest technology seat support
Supports large seniors
Cons
Not affordable for all, high price point
Doesn't recline all the way, only to 145°
---
Best Value
This power lift chair is extremely easy to operate and has a powerful lift. The motor is quiet with a strong and slow lift, powered with counter-balance lift mechanism. The lift reaches almost standing position for the elder, so its definitely one of the most supportive chairs on our list.
This affordable chair is built with a very high-density sponge that's both soft and supportive. The upholstery fabric is also smooth and easy to clean. The chair comes in two color variants, with the fabric being imitation PU leather, but we recommend the fabric version for added breathability, comfort and style. The PU leather version may not be comfortable in all climates.
The chair isn't small either — with a high quality steel frame and a maximum weight capacity of 330lbs, you know this will be a sturdy one to last for years. It can go years without the slightest drop in quality of the lift mechanism.
You also get a special storage space with this chair, to be found on the right side. The handheld remote control can be kept here, but you're not in danger of losing the remote anytime soon — it's wired with a long cord.
With the incredibly ergonomic design, this lift chair provides whisper-soft lift that's going to be appreciated and enjoyed for years to come.
Suitable For:
This lift chair is perfect for an average-sized senior citizen below 6 feet in height. Any taller than that and they might have their feet dangling off the chair! Since it's affordable, it's perfect for someone who doesn't want to compromise on comfort. The two-button control also makes this accessible for all, without over-complicating controls.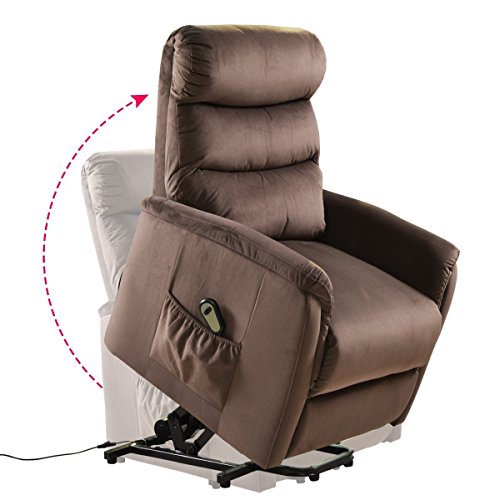 Giantex Power Lift Chair Recliner for Elderly Soft and...
『Power Lift Chair』▶▷ Giantex power lift chair is easy to operate and feature a very quiet and smooth lift and recline....
『Soft Cushion』▶▷ Made of high quality fabric and filled with high-density sponge, it is odor-free and soft enough. Ideal for anyone...
『Great Bearing Capacity』▶▷ High quality steel frame guarantees this chair to last for years. Its max weight capacity is about 330lbs...
Specifications:
Material: Fabric + Sponge
Length: 31 inches
Breadth: 36 inches
Height: 40.5 inches
Seat Dimensions: 20"Wx 20.5"D
Back Dimensions: 20″W X20.5"H
Seat Form Seat To Floor: 20"
Weight Capacity when Lifted: 220 lbs
Weight Capacity when Seated: 330 lbs
Rated Voltage: DC 29V, Rated Input: 55W
Pros
Quiet Lift Mechanism
High-density foam seat
Easy to Assemble
Cons
Recline of only 145°
No emergency battery backup
---
Best Value – Runner Up
Golden Technologies are a reputed brand for comfortable recline and lift chairs. This Comforter Lift Chair has sturdy lumbar support, deep cushioning and neutral and attractive upholstery that will fit right into any home.
The motor on this chair is exceptionally quiet, so getting up and sitting down won't creak loud enough to wake the neighbors. We particularly like the color options for the upholstery fabric: palomino brown, admiral blue, evergreen, cabernet and champagne! This is another lift chair that boasts of dual motor design – so the ottoman and the back recline work separately. This is an added feature that comes in handy when you want to stretch your legs without fully reclining back.
It's also easy to assemble this power lift chair. There's an included wrench that help you attach the chair to the base, as well as a cord that needs to be connected to a socket. But if this might be too taxing for your senior citizen, you can also request a technician to be sent from Golden Technologies to set it up for you.
The chair is at a higher price point than most, but it's extremely durable: and you get three years of warranty as well.
Suitable For:
This is a perfect power lift recliner for a senior citizen looking to invest in one that will last them years. The ideal height range for this power lift recliner is someone between 5'4″ to 5'10". Any taller than 5'10" and the full chaise leg rest might not be the right size.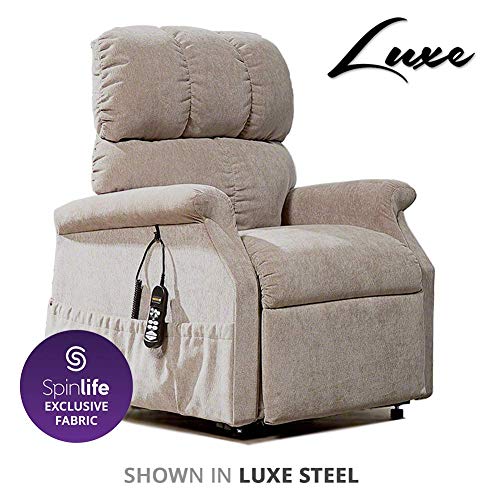 Golden Technologies Comforter PR-505 Infinite Position...
PLUSH AND FULLY PADDED - Offers full chaise pad seating - no gap between the seat and footrest - for exceptional lumbar support.
INFINITE ERGONOMIC POSITIONS - A programmable hand control allows for an unlimited combination of back and leg adjustments for infinite...
COMFORT AND PAIN RELIEF - Recline in the zero gravity-like position, reducing lower back pain and relieving muscle tension. Improve...
Specifications:
Installation: Moderately difficult assembly. At least two people required to set it up.
Height: 42 inches
Width: 32.5 inches
Seat Height: 19.5 inches
Seat Width: 21 inches
Seat Depth: 21 inches
Reclining Clearance: 17 inches
Reclining Angle: 145 degrees
Position: Three position
Pros
High weight capacity – up to 500lbs
Dual motor mechanisms
Durable with 3 year warranty
Attractive color choices
Attached remote control with a side pouch for storage
Cons
Price point is not affordable for everyone
No infinite recline positions, only three position
Maximum reclining angle is 145 degrees, limited mobility
No emergency battery backup
---
Best Budget
This power lift recliner has a visibly smooth lift mechanism. The motor is much quieter as well, which speaks of its high quality. Out of all the power lift recliners we searched, this provided one of the best support for getting up and sitting down at its price point. The high slope of the chair at its maximum makes the seater in an almost standing position without the danger of falling off.
The entire upholstery of the chair is in PU leather, with a solid wood interior frame. Having a wood frame versus a steel one can have its advantages: namely being free of the corrosion threat of metal. But thanks to the wood, this chair can't be kept in a damp place.
Something unique about this power recliner is that it's also a massage chair! The massage unit is easily toggled on the control remote that comes with the recliner. The massage features are designed for extra comfort and relaxation. And why not? Lift chairs tend to be an investment for most people, so you might as well get some luxury points as well as physical aid. The massage unit is located on the lower back portion of the backrest for a soothing effect on the base of your spine.
It's important to have a control remote that's easy to use. With this lift recliner, the control remote has minimal buttons. Holding down the right button is what will slowly lift the chair.
The chair is extremely easy to assemble and has two wheels for ease of transportation.
Suitable for
This power lift recliner is suitable for someone on a budget who is looking for a lot of comfort and support. It is still on the smaller side, however, and may be suited for smaller elderly adults. At its price point, it will likely be durable for two or three years but may not be an investment for the next decade. That's why it might be more suitable for a recovering patient rather than an elderly citizen.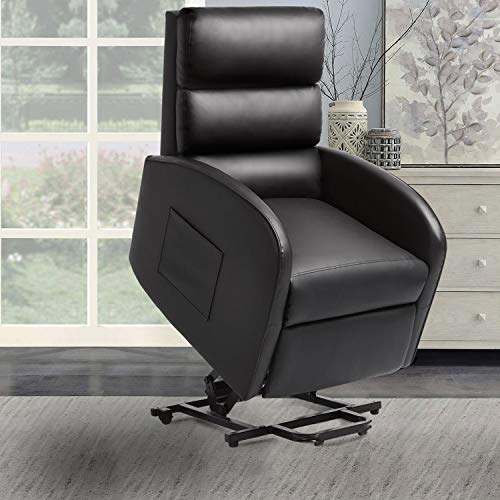 Pawnova Huge Thick Padded Seat Electric Power Lift...
The function of the sofa: The sofa has a safety electric power lift mechanism. It will rise to a suitable slope to help elderly people stand...
High quality: The main body of the sofa is made of PU leather , solid wood and a safety lift device which has be approved around the world....
Applicable scenarios: Customers can put the sofa in living room and bedroom to enjoy the leisure time such as watching TV. But customers...
Specifications
Installation: Assembly required. Manual of instructions provided.
Height: 41 inches
Width: 25 inches
Length: 29 inches
Weight: 99.2 lbs
Reclining Angle: 165°
Weight Capacity: 400 lbs
Position: Infinite position
Pros
Massage lumbar unit
PU leather upholstery
Side pouch for remote control
High maximum recline position
Very affordable
Cons
Small size
Difficult installation
Ottoman is not separate from recline
After some time, motor can make grinding noise
---
Best Budget – Runner Up
This 3 position recliner is a popular choice for many elders. The three options are closed, partial recline and then a full recline. Full recline is especially appreciated because it is almost 180 degrees, making it very comfortable for naps and even night time sleep. Additionally, the hand wand or remote control allows you to stop the chair in any in-between position you want.
The reason why the recliners are particularly comfortable is the overall padding and mobility. The arms have roller padding, and great spinal support and firm padding. The recliner also has a full chaise ottoman, so the entire leg is supported and comfortable.
It's important to ensure that the adult you're purchasing the Mega Motion recliner for is the intended size and height, otherwise it will feel too congested. This chair is small and compact by design, making it a popular choice for elderly women. The ideal height for this chair would be for people from 5'4″ to 5'10". It doesn't have a lot of weight capacity either, with a maximum of 325 lbs.
The electric motor is quiet and non-intrusive as well, and the chair features an integrated emergency battery backup. It also has a side pocket to store the control.
Suitable For
This chair is perfect for a smaller elderly person who is looking for powerful lift and recline that will support their knees and hips. It's mid-range in its price point making it reasonably affordable while also providing assurance of durability.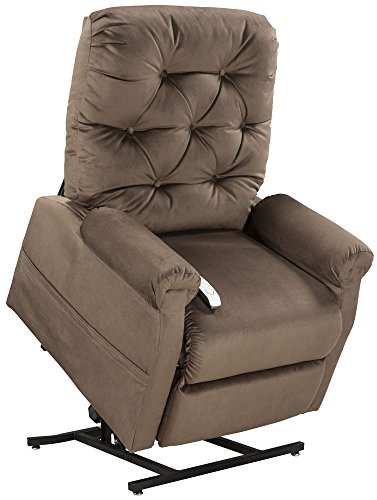 Specifications
Installation: Very easy installation
Height: 41.5 inches
Width: 34 inches
Length: 38.5 inches
Seat Height: 18 inches
Seat Width: 20 inches
Seat Depth: 21 inches
Weight: 130 lbs
Reclining Angle: 175 degrees
Position: Three position
Pros
Side pocket for storage
Compact and fits in tiny spaces
One-year service warranty
Attractive color options
Reclines almost horizontal
Fabric doesn't show stains
Cons
Not as affordable as other chairs
Ottoman not individually controlled
Narrow chair
---
How to Choose the Right Lift Chair
There are a couple of important factors to keep in mind when choosing your lift chair for the person in your life. While the basic feature of lift chairs is to help the person to stand and sit easily, there are a lot of other factors that can add to comfort and support; which can make the world of a difference for elderly folk.
Type of Recline
There are three types of recline: two position recline, three position recline and infinite position recline.
The infinite position recline lets people their legs up as well as recline the back rest as much as they want. This is possible because there are separate controls for lifting the ottoman and reclining the back. Some people have to lift their feet up above their head for better cardiac output, which is called the Trendelenburg position. Even if you just want to be able to sit upright with your legs kept up, this chair will be your choice. For patients like this, having an infinite position recline would come in handy. However, these lift chairs tend to be on the higher end as well, since they have two motors.
The three position recline will require you to lean backwards if you want your legs up, since they run by the same motor. But in this, you will be able to lean almost completely horizontal, which is crucial if you'd like to take regular naps or even sleep on the bed.
The two position recline works the same way as the three position recline, with the only difference being that you wouldn't be able to lie all the way back. This means falling asleep on this chair might be mighty uncomfortable. The recline would go about 45degrees, which is more than enough for relaxing, watching a movie or anything else you'd like to do on a chair! The two position recline also requires you to be reclined if you want the chaise leg rest activated.
Size and Fitting
You'd think it goes without saying, but it's extremely important that the lift chair fits the intended person perfectly. This is because it's more than a plush sofa, and the lift chair needs to be aligned to the person's body in order to lift it correctly.
If the chair is too small, the person's legs might stick out of the chaise and it may also be uncomfortable while being lifted as their spine wouldn't align correctly. Furthermore, a seat that's too narrow can cause body pain and feel unpleasant.
If the chair is too big, you can be in danger of not having your feet touch the ground when the lift chair lifts you, and can slip or even slide off the chair. This can be very dangerous for something with a disability, or an elderly person who can have a bad accident.
That's why it's important to make sure you've selected the right size. Most of the lift chairs have included the ideal weight capacity and height range for the chair, but sometimes this is also not enough. Even if you are the correct weight and height, people don't have the same torso and leg dimensions: so it can sometimes be the wrong fit. That's why, whenever possible, try to take your own measurements if you're buying online and look at the dimensions of the chair. If you get the chance, go and try them out in person.
Spacing
As a general rule of thumb, the deeper recline a chair has, the more space it will take up. Most manufacturers of chairs will include the measurements of the chair when it is in full recline as well. If you're really short on space to store the chair, consider getting a wall-hugger, which saves a lot of space and can be kept against a wall. Instead of the chair going back, it goes forward to allow the recline to take place.
Fabric and Upholstery
Like any other chair, upholstery can completely change the aesthetic look and comfort factor as well. Cotton and other natural fibers are breathable and kinder on the skin, but can look faded very soon. On the other hand, PU leather or real leather can look more expensive, but people who sweat a lot may not like it so much. It's important to factor in cleaning as well. In a lift chair, you want it to be low-maintenance since an elderly person will be using it. That's why we recommend going for a darker color that doesn't show stains.
Massage and Heaters
Massage chairs typically have a massage lumbar unit on the lower spine for added comfort for the person using it. Some lift chairs include this as well, and it can be helpful for people struggling with back pain.
Conclusion
The right lift chair for the elderly person in your life will have to be perfect for them and their needs. Since it's an expensive investment, make sure you check if your medical or health insurance will cover some of it, especially if you have a prescription that recommends a lift chair.
Understanding your budget, requirements and dimensions are all key to finding the perfect lift chair.