Best Overall
Herman Miller Aeron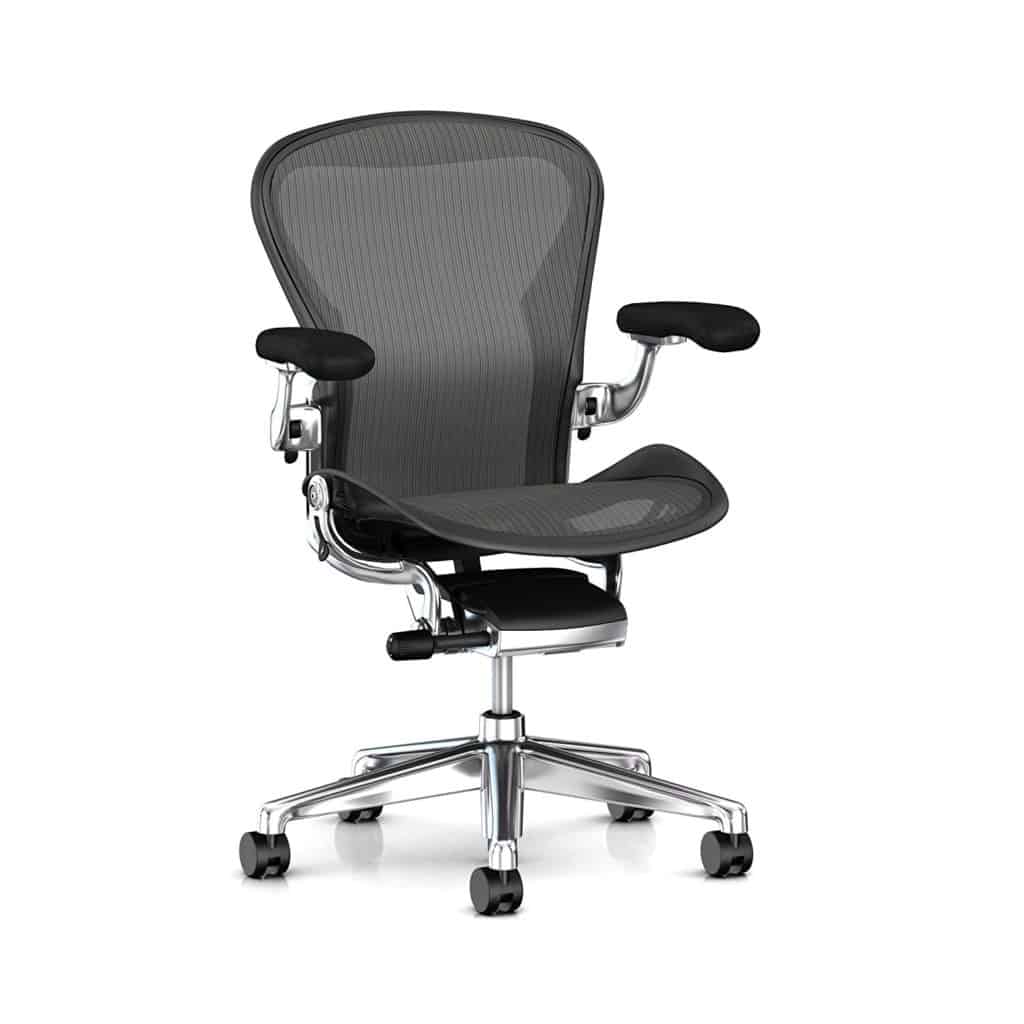 Best Value
Serta Executive Chair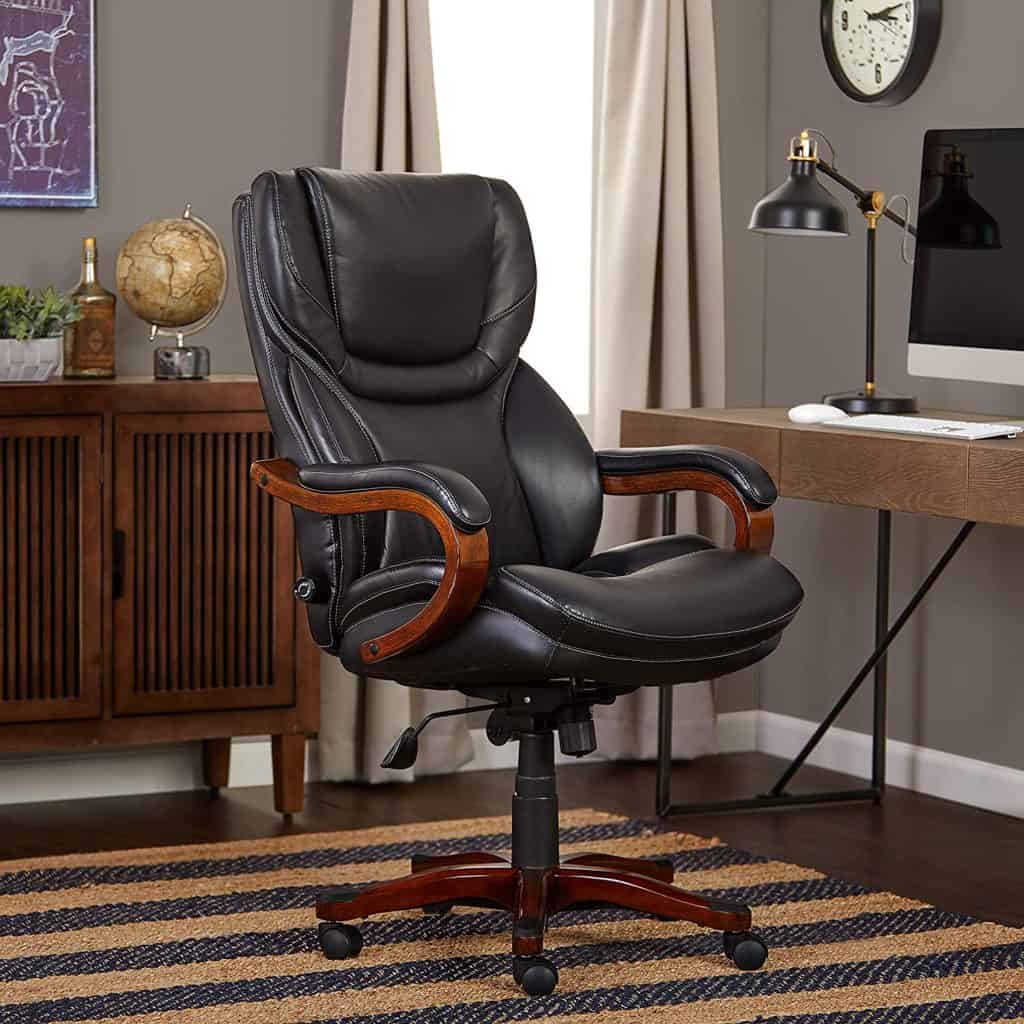 Best Budget
AmazonBasics Executive Chair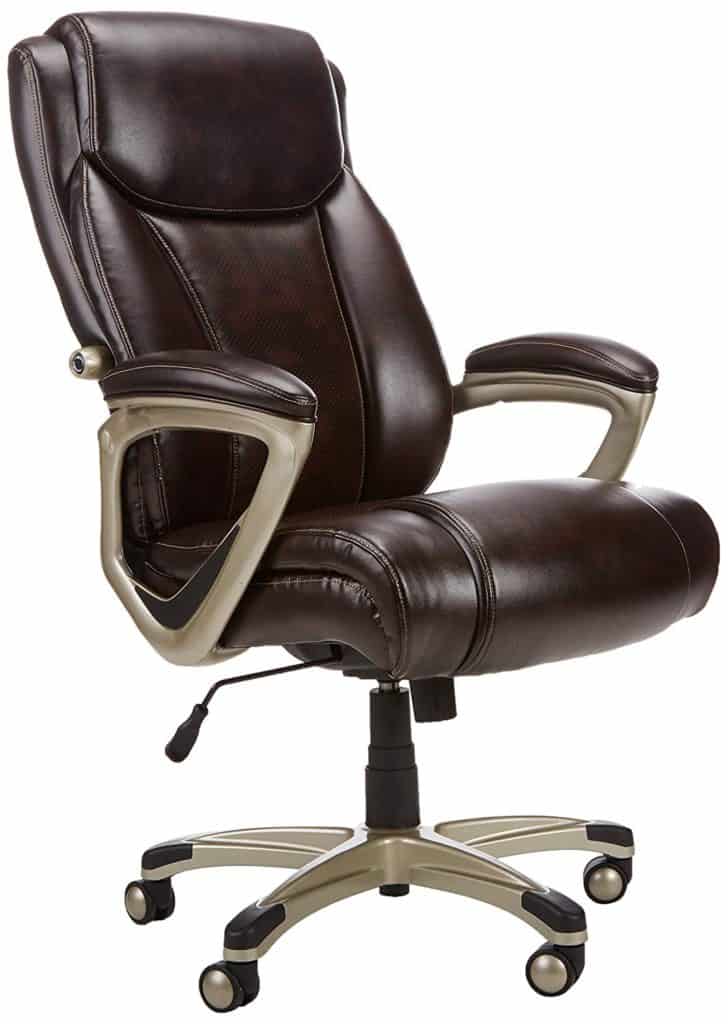 For optimal sitting experience, office chairs these days have to be customized to the user's needs and preferences.
In reviewing chairs for all shapes and sizes, however, I've noticed that most models have a weight capacity of 250 pounds or less. And the options are also limited for tall people.
How do manufacturers meet the ergonomic requirements of such workers? To find out, I've taken on the task of collating this list of the best big and tall office chairs.
I'm sharing my discoveries with you, so you no longer have to stress about it.
Quick Links
Best Overall – Herman Miller Aeron
Best Overall Runner-Up – Flash Furniture HERCULES Series
Best Value – Serta Executive Chair
Best Value Runner-Up – La-Z Boy Delano Big & Tall Executive Office Chair
Best Budget – AmazonBasics Big & Tall Executive Chair
Best Budget Runner-Up – Hbada Ergonomic Office Chair
Best Office Chairs for Big Guys
Best Overall
Every part of the remastered Herman Miller Aeron is carefully considered, as is the case for designer chairs. Thus, the components fit together perfectly. The metal and plastic used have a high quality. The backrest and seat sport a unique take on the common version of the mesh. Most of the materials found in the Aeron are recyclable, with the harmful elements removed.
One of the features that stand out here is the absence of cushioning. Both the pellicle seat and backrest have no foam-and-fabric padding. Pellicle, by the way, is flexible elastomeric mesh. It's part elastomeric, part polyester. Though it looks solid and firm, it also feels soft and smooth. The pellicle mesh comes in three colors: graphite, carbon, and mineral.
Further, the composition of the seat and backrest promotes pressure relief. Back support is adjustable, but only in two variants of the model. You have the standard Zonal Back Support with fixed arms, which has extra lumbar support. The other options with adjustable height and enhanced lumbar support are the Adjustable Lumbar Support and the PostureFit SL.
This office chair can stay in the tilt-and-recline position you settle in.
Concerning height, you can choose the size that fits you. The small version has an adjustable height seat of 14.4 to 19.3 inches. Both medium and large versions can go from 15.8 to 20.8 inches. You can opt for the small one if you're 300 pounds below. The latter two can accommodate up to 350 pounds.
The Aeron falls within the high-end category.
The Herman Miller Aeron is Suitable For –
With three sizes to choose from, this chair caters to individuals who are below 5' to above 6'. One option can also handle up to 300 pounds while the other two have a weight limit of 350 pounds. If you're looking for an office chair for your modern workspace, you can go for this one.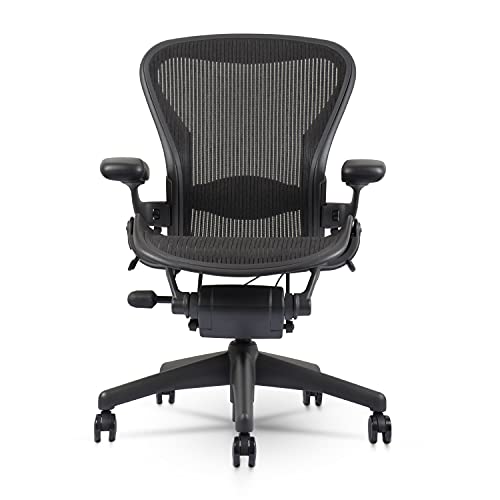 Pros
The high-end build brings a long-lasting reward to your investment.
Multiple ergonomic adjustments are available in this designer office chair, including the backrest and lumbar support, armrest height and function, and seat height.
The tilt and recline function let you stay in the position you choose.
Cons
Too expensive for a budget to mid-range buyers, this designer chair requires a higher investment from your end.
The pellicle may not feel soft and comfortable for everyone. It may be too firm for some users.
Limited back height may not appeal for those who prefer a high back or headrest.
---
Best Overall Runner-up
Named after the Roman god of strength, the Flash Furniture Hercules Series chair is a heavy-duty office chair that can handle up to 500 lbs. Featuring extra-thick foam padding, it gives any user adequate support, especially during extended sitting. The cushioning also prevents the backrest, seat, armrest, and other parts from wearing out.
The waterfall seat edge can reduce leg pressure and lower the risk of sciatica. This is probably because the shape promotes blood circulation in the thighs. Going up, the lumbar support built into this chair helps with back pain issues. Relieving the neck and shoulder region is the high back support with an adjustable headrest to boot.
Hercules' one advantage from other office chairs for big and tall individuals is its tilt-lock mechanism. You can switch between sitting and reclining, which, people who practice active sitting may appreciate. The recline option can lessen back strain in some. This position is also the most comfortable for leaning on the armrests.
Other ergonomic features include the 360-degree swivel and pneumatic height adjustment.
There are a few drawbacks to this chair. The headrest tends to slide down, the 5-wheel casters can dig into the carpet, and the upright position may require an additional pillow to adjust the height for tall users. But there's no question this massive chair can endure the heavyweight. Its price is one of the cheapest for brands that offer value-for-money models.
The Flash Furniture Hercules is Suitable For –
Among the models in this review, Hercules has the largest weight capacity. You won't have to worry about wearing this hardworking chair out even when you weigh up to 500 lbs. Those who are seeking a more affordable alternative to the Aeron, you may find plenty of value in this office chair.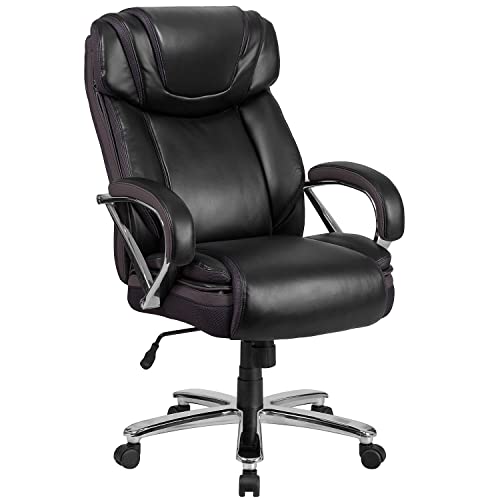 Flash Furniture HERCULES Series Big & Tall 500 lb....
When you spend more time in your office chair than your bed, a great chair is essential. This adjustable Big & Tall executive office chair...
[_Our chair conforms to ANSI/BIFMA standard X5.1-17_] High back design with headrest and built-in lumbar support, 360 Degree swivel seat...
Contoured back and seat with CAL 117 fire retardant foam and embellished mesh trim, LeatherSoft is leather and polyurethane for added...
Pros
Solid, sturdy, yet comfortable enough to use during extended sitting, the Flash Furniture Hercules Series can cater to hardworking heavyweight workers.
Ergonomic features, such as the high back design, adjustable headrest, built-in lumbar support, and tilt-lock mechanism, offer a comfortable and supportive experience to many types of users.
Highly affordable, this can be the go-to best overall chair for big and tall individuals.
Cons
With a massive base and body, the chair can be hard to lug around. The casters also tend to claw into the carpet or roll hard on any hard surface.
An additional pillow is needed to adjust the seat height.
Fixed armrests may feel uncomfortable while you are sitting upright.
---
Best Value Chair
Serta is a trusted mattress manufacturer. So expect the same quality of padding here. The cushion for the seat and backrest is thick, ergo-layered pillowtop. This means it can adapt to the contours of your body. It's also wrapped in bonded leather for that classy, executive chair look. The headrest and armrest are likewise padded, adding comfort to every point of contact.
Further, the adjustable armrests can be raised or lowered for more personalized positioning. It only takes a click of the buttons found on the side, right below the armrest bases, to change positions. Enhancing the experience is the waterfall seat edge that can reduce leg pressure.
Meanwhile, the backrest is tall enough to support those who are taller than 6 inches. To promote active seating, it also sports a tilt mechanism with infinite lock. It offers continuous lumbar support, which helps keep your spine curve natural. If you want to change the height instead, look for the control paddle under the seat. You can switch the height from 43.5 to 47 inches.
Lastly, moving around on any surface is a breeze with the dual-wheel steel casters. This executive chair has a weight capacity of 350 pounds, so it can handle some users on the heavy end. Those who have a limited budget but want premium-grade materials in their chair can score a good deal here. A unit costs around $200. It's backed by a one-year limited warranty.
The Serta Executive Chair is Suitable For –
People weighing up to 350 pounds can take advantage of this multi-layer-padded, bonded leather executive chair. Serta also provides in this one an affordable office chair for customers in search of a great deal. Lastly, this model's design can match modern office spaces, so you can easily use it for any theme.
Sale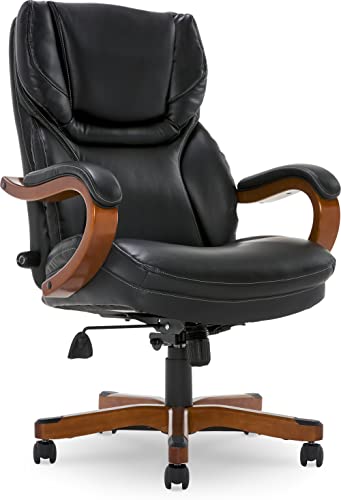 Serta Big and Tall Executive Office Chair with Wood...
CREATE AN EXECUTIVE PRESENCE: Quality bonded leather office chair with authentic wood accents
LUMBAR SUPPORT: Adjustable lumbar panel gives you the support needed for long hours at the office
STRONG AND STURDY: Specially designed for those with larger frames
Pros
The continuous lumbar support lets you maintain good posture while leaning toward any angle that suits you.
Heavy-duty, commercial-grade materials make up its constructions, allowing for longer-lasting use for individuals weighing up to 350 pounds.
Supportive and comfort-inducing features from top to bottom highlight this model. The bells and whistles found here add value to an affordable chair.
Cons
Its heavy body can get in the way of enjoying it right away, as this chair requires some assembly after delivery.
Bonded leather may not be for everybody. Depending on use, this blend of genuine and man-made leather may start to peel away over time.
Groaning and squeaking may be present.
---
Best Value Chair Runner-Up
I declare the La-Z Boy Delano Big & Tall Executive Chair the runner-up in the best value category for many valid reasons. It does not skimp on design, with its bonded-leather seat and backrest and padded armrests. The bonded leather upholstery is plush, durable, and low-maintenance. But unlike mesh, it can get hot.
Made for sitting and reclining, this chair can support individuals weighing up to 400 lbs through the ComfortCore Plus. This refers to the padding, which is composed of multiple layers of memory foam. With this material, the seat can endure daily wear and tear. However, it also makes the seat feel firmer than your standard cushion.
The height of the seat can also be adjusted. So, it also accommodates the priorities of tall individuals. For its price, it can last years with normal use. And it's backed by a 10-year limited warranty. By the way, you will need to assemble it yourself once your order arrives. It does not come with built-in lumbar support.
The La-Z Boy Delano Big & Tall Executive Chair is Suitable For –
Individuals who weigh up to 400 lbs and/or are above 6 inches can tinker with the adjustable seat and recline feature of this chair. It's also for users who like a low-maintenance faux leather desk chair.
Sale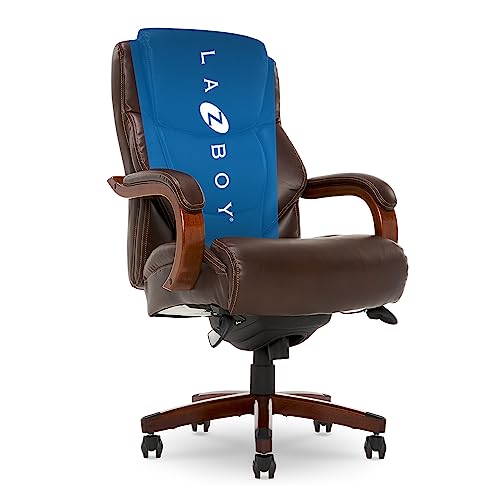 La-Z-Boy Delano Big & Tall Executive Office Chair, High...
ALL DAY COMFORT: Fully adjustable height, recline, and tilt settings
PREMIUM CUSHIONING: Ergonomic office chair with memory foam cushioning that contours to your body
STYLISH AND VERSATILE: A tasteful complement to any office, home, or entertainment space
Pros
The soft faux leather offers comfort and support to tall and big users. It also makes any workspace look instantly stylish with its rich and elegant construction.
Easy-to-use ergonomic features, including adjustable height and sit-to-recline option, make for more than 4 hours of sitting comfortably.
Durable layers of memory foam make up the cushioning for longer-lasting use.
Cons
The leather can get hot because it is not as breathable as mesh.
Firm and multi-layer, the memory foam seat may not feel comfortable for users who want the cushiony effect.
Assembly is required, which some may find cumbersome. It may take longer for someone to set up a big and tall chair.
---
Best Budget Chair
For less than $200, you can snag a big and tall chair from AmazonBasics. It can sit anyone who weighs up to 350 pounds. With a high backrest, it gives off the executive vibes. It fits a CEO's nook as well as collaborative open floor space. The design and materials are pretty decent, and you can only choose between black and brown leather for the style.
More important, though, is the pneumatic height mechanism that provides you with back support. This ergonomic is not the only highlight of this budget-friendly model. Its seat can also be adjusted, and its body can swivel in full circle. However, it does not have adjustable armrests.
At its price, the AmazonBasics executive chair is a straightforward option for those who need a roomier and taller seat while working. This product comes with a one-year limited warranty from the e-commerce brand.
The AmazonBasics Big & Tall Executive is Suitable For –
Those who are looking for chairs that can hold up to 350 pounds can check out the no-frills design of this model. It is pretty decent for its price. And the item is backed by a limited warranty from the e-commerce giant through AmazonBasics.
Sale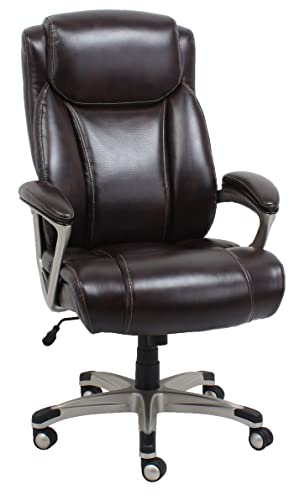 Amazon Basics Big & Tall Executive Computer Desk Chair...
One Amazon Basics Big & Tall Executive Office Chair in brown faux leather with pewter finish
High-back executive chair with big and tall size comfort; commercial-grade components
Adjustable lumbar mechanism for lower-back support; curved and padded arm rests
Pros
The straightforward design meets affordable price in this AmazonBasics executive chair. Its price point makes it ideal for bulk buying.
The tilt mechanism locks you in your preferred angle to ensure superior comfort while working at your desk. You can also adjust its height to suit your preference.
Decent materials were used to construct this executive chair, so you can enjoy the value you paid for.
Cons
Fewer adjustment settings may make this model less ideal for prolonged sitting.
The quality of build may not last as long as more expensive versions that use more materials with higher quality.
Stability may be questionable as some parts may be generic and not custom-made for this specific model.
---
Best Budget Chair Runner-Up
For those who sit in front of the computer for hours on end, a reclining chair may work in their favor. Even better, a reclining chair with a wide range of height and tilt settings may just be what the doctor ordered. This is the highlight of the Hbada Ergonomic Office Recliner. Highly adjustable and customizable, it promises to cater to big and tall users.
There are nine ways to alter the height configuration of the Hbada recliner, which can go between 17.3 to 20.5 inches. When you've found the elevation that suits you, try to move your body. Determine your most comfortable angle by leaning back anywhere from 90 to 155 degrees.
With the chair's kinetic tilt mechanism, which adapts to your movements, you can switch smoothly to a sitting or reclining position.
While the transition is gentle, the seat is not fragile. It's rather made of a thick foam that is thick enough to support up to 250 lbs. It's wrapped in a soft fabric, so you will feel comfortable. Complementing this feature is the breathable mesh backrest. This spine-cradling component is made of high-quality mesh for proper ventilation. Your back can stay cool during prolonged sitting.
Aside from being accommodating, this Hbada product satisfies another ergonomic requirement: the headrest. For those who want support for their head and neck, you can attach a mesh headrest at the top of the reclining chair. It's a nice addition for resting and relaxing. At the base, you can extend the retractable footrest to stretch fully. All of these benefits can be yours for below $200.
The Hbada Ergonomic Office Chair Is Suitable For –
With its maximum weight capacity placed at 250 lbs, many heavier folks can take advantage of its ergonomic features while staying within a budget. On top of this fact, it is an affordable alternative to the pricier options in this review.
Sale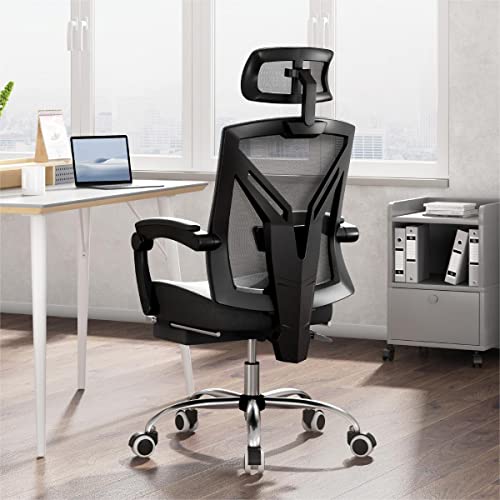 Hbada Ergonomic Office Chair High Back Desk Chair...
ERGONOMIC RECLINER - Synchro tilt reclines the backrest increasing the angle between your torso and thighs for a comfortable, ergonomic...
ADJUSTABLE OFFICE CHAIR - Waterfall seat cushion slopes slightly downward to help reduce stress on your legs. Built-in lumbar support and...
BREATHABLE MESH - Contemporary ergonomic black mesh office chair promotes increased air flow, keeping you feeling cool and comfortable...
Pros
Packed with ergonomic properties, this chair lets you customize the height, tilt, headrest, and footrest. It makes for an experience that prioritizes your needs and preferences.
Breathable mesh allows for better ventilation, keeping you cool as you sit for extended hours. And there's nothing to worry about during the hotter months if you sweat too much.
Highly affordable, this Hbada product can be popular among those who are on a tight budget.
Cons
Fixed armrests may hinder some tall and big users from maximizing the ergonomic features of this reclining chair. It may also not be for people who want an armless computer chair.
A retractable footrest may not be ideal for use in small spaces.
Lumbar support may not be the best for those who have back pain issues. You will need an additional cushion to adjust the level of comfort for your lower back.
---
Things you need to know before you buy
The best big and tall office chairs on my list share some excellent qualities. And these qualities and features are what you must look for, when you're considering which one to buy.
Seat Depth and Width
Increased seat depth is required for tall users. So, if your current chair puts a lot of pressure on your knees, you don't have the correct seat depth yet. It is much harder to find a big and tall office chair with adjustable seat depth, though. So it's better to nail this feature from the get-go.
About width, your seat should not restrain your movements. You have to be free to sit or recline without feeling cramped. You shouldn't feel bothered by the other parts of the chair, such as the arms. There is no single ideal width. But something that isn't too narrow or too wide sounds about right.
Seat Height
Ergonomic experts suggest you have your feet flat on the ground and your thighs and legs form a 90-degree angle when sitting upright. The line from your knees and hips should be straight. So to determine the proper height for you, use your existing chair as a reference. If it has an adjustable height, keep adjusting the level until you reach the angle and line requirements.
Not all tall people will share the same height. But assumptions can be made. You can estimate that if you're over 6 inches, a 20-inch-high seat may not work for you. However, you should also factor in your body's proportions. Your legs may be longer and may not achieve the 90-degree angle at the recommended seat elevation for your height.
Back Height and Design
I mentioned at the beginning of this review that big and tall users might have it hard when shopping for an office chair, ergonomics-wise. The height of the backrest is one reason I came to this conclusion. Mid-back to high-back models may not pose any problem to someone who's not 6 inches or up. But if you're this tall, you may feel a lot of discomfort from the way backrests are designed.
It is not so much the height as it is the construction. Some tall people may prefer a mid-back chair. Others may want the whole shebang, complete with an adjustable headrest. But, say, if the backrest has parts that can hurt your shoulders, it doesn't matter if it's high or mid. Focus on a backside that supports your spine and pressure points instead.
Weight Capacity
I got excited when I found out about the Hercules Series chairs office furniture brand that Flash Furniture sells. Their weight capacity is 500 pounds, which can be very inclusive. Of course, if you're under 250 pounds, it's better to stick to the non-big and tall chair options. But if you weigh around 300 pounds, you can start checking out models with a limit of 400 to 500 pounds.
A good rule of thumb is to go down a tenth of the published weight capacity. So if your weight is the maximum load a chair can carry, skip that model altogether. In a way, this can help extend the lifespan of your chair.
Ergonomic Adjustments
In most models of tall and big chairs for office use, the weight capacity is prioritized. The rest of the features may be compromised or left out. This is probably because of the cost of the materials and the labor it takes to put them together. Unfortunately, some adjustable settings may be discarded for the sake of allowing the chair to handle a heavier load.
For example, the AmazonBasics executive chair does not have adjustable settings except for the tilt-lock mechanism. If you want all the bells and whistles, be prepared to shell out as much as $1,000 above. This is the case for the Herman Miller Aeron.
Warranty
You may have seen a wide range of warranty coverage here, from 1-year to 10-year limited warranty. The duration of warranties is the prerogative of the manufacturer. So, if you want top-notch protection, consider investing in a high-end model, such as the Aeron. FYI, all Herman Miller products are backed by a 12-year warranty.
Frequently Asked Question
How strict are weight limits on office chairs?
The standard office chairs available that are available generally come with a maximum weight capacity of up to 250 pounds. The big and tall office chairs are designed to handle weight up to 800 pounds to accommodate consumers of all shapes and sizes with optimal comfort.
What height chair do I need for a 30 inch desk?
The majority of the work surfaces measure somewhere between 28-30" in height, which is ideal for users up to a height of 5'10". If you are taller, the seat height is adjustable depending on the height of the user. Getting an office chair with a general elevation of 17-20 inches is considered ideal for a comfortable and ergonomic setting.
Best Value Product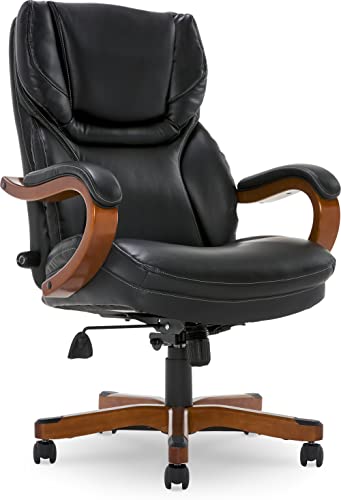 Best Budget Product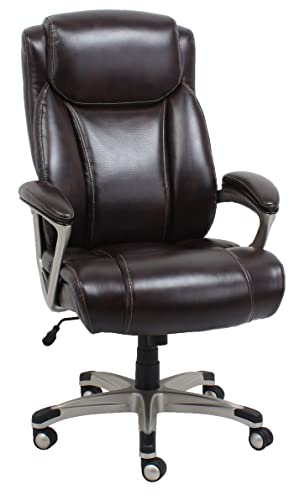 Serta Big and Tall Executive Office Chair with Wood...
Amazon Basics Big & Tall Executive Computer Desk Chair...
Best Value Product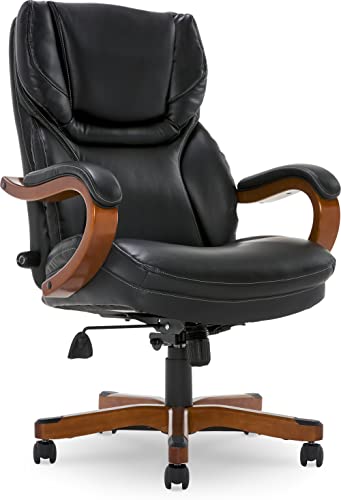 Serta Big and Tall Executive Office Chair with Wood...
Best Budget Product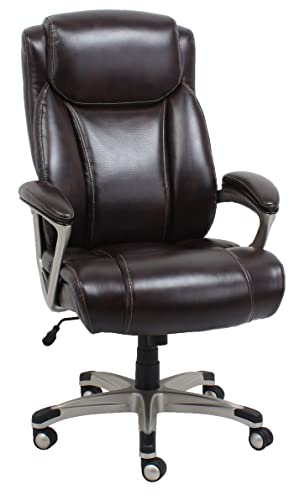 Amazon Basics Big & Tall Executive Computer Desk Chair...
Conclusion
It's more challenging to shop for a tall and big office chair. Mainly, it's because there are limited choices for this customer segment. Manufacturers may also remove some ergonomic features to expand the chair's capacity. This leaves you with fewer and fewer solutions still.
But after browsing through the options, I've realized that the best chair for office for this category should allow you to adjust seat height, recline the chair, or lean on a headrest. 
These tiny details count if you're tall or heavy. Through this review, I want you to know that you can achieve optimal sitting experience while working. Now, which one will you choose?