Many of us do not want to spend a lot of money on an office chair. It doesn't make sense to spend a grand on just one chair, especially when you have a whole office to furnish. Even when we are looking for budget chairs, we want to get the best one out there with as many features as possible.
Now, we might be able to score one, but the point is that it won't last. It is a budget chair after all, and just adding features that the build quality cannot support will not function the best. Buying office chairs is a worthwhile investment because you spend a lot of time on your chair, your body needs support, and you need comfort. We don't pay attention to how the build and features of the chair are going to benefit us or harm us in the long run.
Don't worry, though. I have put thought into curating this list of best office chairs under 200 dollars so that you don't break your bank trying to get the best there is.
Here's a quick list of the chairs that we are going to be discussing the review in great detail of:
Best Budget Task Office Chair
If you want to go for a minimalistic look with the main ergonomic functions supported in a chair that fits in your budget, this can be an excellent option for you. It is a lightweight task chair, weighing only 28 lbs, so it becomes effortless to move the chair around.
The chair provides lumbar support with its curved mid-back and has the option for height adjustment. The seat and the armrests are thickly (6 cm) padded with high-density shaping sponge, providing you comfort. The front seat is a waterfall design, which helps relieve pressure and fatigue on your thighs and legs.
The noteworthy feature of the Xishe office chair is the flip-up armrests for easy accessibility. We put a lot of importance on whether the armrest is adjustable because it helps with the sitting position, the option to get it out of the way makes it more versatile, easy to move, and easy to fit into tight spaces.
Xishe Swivel Office Chair is Suitable For –
If your job requires your upper body to lean forward frequently, then you do not need a headrest, and a movable armrest is a bonus for freely moving your hands about, so, this can be the best office chair under 200 dollars for you.
Pros
This office chair is light, portable, durable, and ergonomic.
It comes with a lockable tilt for reclining.
Adjustable lumbar support turns it into a great desk chair.
Rocking mechanism with up to 30 degrees of seat tilt gives the users a relaxing experience.
Thick comfortable waterfall seat foam helps with the pressure points of the legs.
Flippable armrests let you adjust the chair width usage.
Best for tight spaces.
It supports up to 300 lbs.
5-year limited warranty.
Cons
You can't adjust the armrests – position and height wise.
No headrest.
---
Best Budget Reclining Office Chair
A reclining chair is one of the dream designs that many people want. A reclining chair is often associated with a high-level of comfort and cool looks. The way this chair is designed, it is often mistaken for a high-end product, which is a good thing if you not only want function but also a sleek looking chair to grace your office.
The level of recline that this chair can provide is just great for when you want to take a break but also don't want to leave your chair; it can tilt back up to 155 degrees. The waterfall seat cushion that it comes with, slopes slightly downward to help reduce stress on your legs. Say yes to power naps with this chair – many people love it because of that – comfortable to work, comfortable to rest. Did I say, there's also a footrest to make it a much more divine resting experience because there is!
The backrest is contoured to match the natural shape of the spine and has built-in lumbar support, thus providing proper support. It is made of breathable, high-density mesh material to help with air circulation and keep you cool. The headrest is adjustable as well to support your neck, it can pivot 30 degrees to the sides and also provide support at an angle, so it is both height and angle adjustable.
Hbada Reclining Office Chair is Suitable For –
This chair is best for people who work continuously but need breaks or take power naps to recharge. It works great for mid-level executives who would like to switch between working on the computer and planning or reading reports.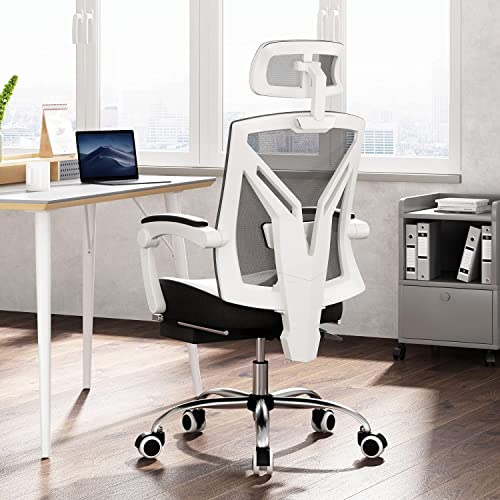 Hbada Ergonomic Office Chair High Back Desk Chair...
ERGONOMIC RECLINER - Synchro tilt reclines the backrest increasing the angle between your torso and thighs for a comfortable, ergonomic...
ADJUSTABLE OFFICE CHAIR - Waterfall seat cushion slopes slightly downward to help reduce stress on your legs. Built-in lumbar support and...
BREATHABLE MESH - Contemporary ergonomic black mesh office chair promotes increased air flow, keeping you feeling cool and comfortable...
Pros
This office chair comes with a contoured back that provides lumbar support to its users.
It has an adjustable headrest – height and angle wise.
You get a reclining option from 90 to 155 degrees with a lock mechanism.
It comes with a footrest to provide extra support when fully reclined.
This chair has a great swivel that will follow your lead.
The design looks like twice its price.
High-quality build for the price.
Cons
It has a thin seat cushion that can flatten down more with use.
Back mesh reclining can bother some people because they fear tearing it; it isn't as strong feeling like a solid backrest.
The footrest can be a little flimsy for heavier people.
It only supports up to 250 lbs.
---
Best Budget Highback Office Chair
AmazonBasics is the way to go if you are looking for a leather office chair that fits in your budget and is still good quality. This chair is upholstered in bonded black leather and PVC to give it a sleek look that is associated with an executive office chair.
The high back is highly contoured with a built-in lumbar support to keep the chair aligned with your spine, and high-density foam and cushions are the comfort part of the design. The back is well padded and provides layers of cushioning, making it great for people who need help with back pain.
You can adjust the height of the chair to suit your needs. The curved armrests are well-padded and, thus, help relieve pain in your arms and wrists. Usually, a leather office chair is expensive, but this is a great option if you want the same feel in a lower price range.
AmazonBasics High-Back Executive Swivel Office Chair is Suitable For –
This high-back executive 360 degrees swivel chair helps you move about your workspace with ease. The padded back and curved armrests are designed to be supportive of hours spent leaning forward or backward in this leather office chair. This makes it suitable for managers and higher-level executives, who have more decision making and planning to partake in than work on their computers.
No products found.
Pros
High-Back with inbuilt lumbar support for proper back relief.
It comes with an inbuilt headrest.
Padded seat and backrest of the chair give you maximum comfort.
The chair build features a strong base and wheel casters.
The high-end, sleek design of the chair will spruce up your office.
Cons
The wheel casters get squeaky.
The leather of the chair peels and fades after a year of usage.
It only supports up to 275 lbs.
It doesn't come assembled and can be a bit tricky to put together.
---
Best Budget Mesh Office Chair
Mesh chairs are the "new in" right now when it comes to office decor. They not only are comfortable but also enhance the look of the office space. This particular Modway articulate mesh chair is designed with a 6" thick padded and contoured mesh seat cushion. It has a breathable mesh back that provides air circulation and has inbuilt lumbar support. The passive lumbar support helps fight lower back pain by keeping your back and spine in its natural position.
There are many ergonomic functions available to suit your needs. The chair is one-touch height-adjustable and also has adjustable armrests, which are not padded though. The tilt and lock system allows you to have support no matter how you sit – leaning back or slouching forward. The 360-degree swivel option makes it easier to access your workspace.
The seat is well-cushioned and also provides a tilt function. The upholstery used on the seat is scratch and fade resistant, making the chair look new for as long as you use it.
Modway Articulate Ergonomic Mesh Chair is Suitable For –
Because the chair is designed with productivity in mind, the seat and armrests have dips to contour your body perfectly. This is great for someone who sits in one spot while working. If you tend to switch a lot of positions and your butt rests on the sides of the chair sometimes, then the dips can be an issue.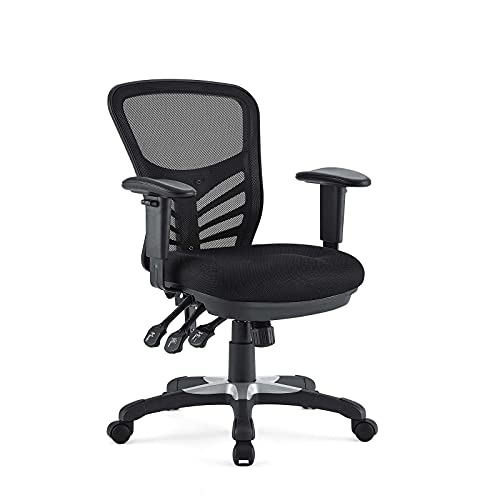 Modway EEI-757-BLK Articulate Ergonomic Mesh Office...
NOTE : To ensure proper assembly, please follow all steps provided in the installation manual (provided in pdf below)
ERGONOMIC OFFICE CHAIR - Featuring reliable ergonomic support, Articulate comes with a breathable mesh back, passive lumbar support, and...
RELIABLE COMFORT - Designed with productivity in mind, Articulate is perfect for everyday use. Sturdy and supportive, this executive office...
Pros
This chair comes with a one-touch tilt height adjustment level.
Adjustable armrests.
Built-in lumbar support.
It supports up to 330 lbs.
Easy assembly.
Many color options.
Cons
Armrests aren't padded, so they can be a bit uneasy when resting your arms for a longer period.
Height adjustment level locking can pose an issue when expanded to the highest.
The rest of the assembly is easy, but the armrest can be quite tricky.
The tilt doesn't allow rocking back and forth.
---
Best Value for Money Office Chair
The Smugdesk office chair has a lot of ergonomic features that many high-end chairs provide. The adjustable armrest can be raised or lowered. Extra lumbar support provided with the removable waist pillow will help you contour the chair to your body, resulting in proper comfort for prolonged hours. It also helps support your spine by aligning to its natural curve. The pillow adds extra thoughtfulness into avoiding back pain.
The back of the chair is made of a breathable mesh material which helps you stay cool, the heat is directed away from your body by promoting air circulation. The headrest and the backrest are adjustable too. 
So, depending on your sitting position, you can move the backrest forward or back to provide you with support, and the same is with the headrest that can move up and down. These adjustable features make it one of the best ergonomic chairs under budget.
Smugdesk Ergonomic Office Chair is Suitable For –
This chair is suitable for someone who works for prolonged hours on their desk, wants an ergonomic office chair that comes with a lot of adjustability options, but has a limited budget.
No products found.
Pros
Adjustable headrest, backrest, armrest, and lumbar support – helps users find the best seat height for themselves.
Removable waist pillow that allows the users to adjust the padding to suit their needs.
This chair can support up to 300 lbs.
Cons
The seat is narrower compared to other chairs.
The armrest height can be uncomfortable for a long period of usage.
It does not come assembled (but is fairly easy to put together).
---
How to Choose the Right Office Chair Under $200?
Before you start looking for an office chair under 200 dollars, it is important to keep your expectations realistic in accordance with the price range. You will have to make some sacrifices when you opt for something under the budget. You are not going to get the features, functions, and quality of a $1000 office chair.
To start out, make a list of what your needs are and what functions are absolutely must-have. If you spend your whole day in the chair, then do not compromise on comfort and support. Here are some things you need to consider in order to choose the right office chair that suits your needs.
1. Back Support
This is one of the key factors when it comes to choosing a chair. Choose one that holds the correct posture, contours your spine and your back. Built-in lumbar support is good, but if you can find one that has a special feature dedicated to it, then it is a great contender to be a winner. An adjustable tilt option and a good tilt locking mechanism are other positives to look for.
2. Seat Height Adjustability
The height-adjustability function of the seat makes it easy to suit the needs of different body types by making it just the right height for the person using it. An adjustable seat is also essential to support different sitting positions. 
3. Comfort
Along with good support, you need a chair that keeps you comfortable throughout the day. For this, check if the back is made up of a breathable material, if the seat cushion and armrests are padded enough, etc. If you need a headrest, then add that as one of the things you want your chair to have. Make sure to go for medium firmness because a cushion that is too soft will not provide enough support, and a cushion that is too hard will not provide any comfort.
4. Adjustable Armrests
The armrests should be able to change positions and width. This helps you support your arms when you are sitting straight or slouching by raising or lowering the arms. Pivot option also helps to create more space for you to move and to get comfortable in a different sitting position. Adjustable armrests help you reduce the burden on your shoulders and upper arms no matter how you sit.
5. Durability and Warranties
If you are looking for durability, then you will have to be realistic about the amount you are spending on the chair. Quality chairs will support long-term usage of the chairs, helping you get your money's worth. 
The warranties for budget chairs are limited and are for a very short period of time. Most only cover it for a year, and even then, different parts have different warranty conditions. You will have to read the limited warranty conditions carefully to make sure that you get a good service, and you don't have to replace your chair within the year.
Conclusion
Before investing in an office chair, even if you have a limited budget, make sure to research the features, pros, cons, and user reviews for the chair. That will tell you if the chair you are considering fits your needs or not.
Having a budget doesn't mean that you have to compromise on a whole lot; you just have to make smart decisions. If you focus on what you want, instead of trying to get all the features in one chair, you can get a really good quality chair under $200 that will last you years.
The ergonomic functions are becoming more common inclusion in chairs for office, even on the lower end of the spectrums, so check to see how they function and are they worth the inclusion. Depending on your use, narrow down the types of chairs that will work for you and then build on that by adding your needs.
I have included the best option for different types of chairs, hope that helps. If you want to check for the best chairs or chairs that are even more cost-friendly, then there are many articles here that can guide you through the purchase. Browse through and look at what fits your needs and works best for you.