First of all, sitting long hours has been proven multiple times as bad for health, but as we all know, many jobs require people to spend six to eight hours in a sitting position.
Suppose you add long sitting hours to an uncomfortable chair with no back support. In that case, you usually get back pain, leg pain, hip pain, and many other pains that could easily be prevented by either:
 standing up from the desk every hour, walking, stretching, or working in a standing position for 30-45 minutes or;

sitting in a comfortable, ergonomic office chair that provides adequate support for your back, arms, and legs, or ideally, both.
That being said, in this article, we will talk about the best chairs for sitting all day long.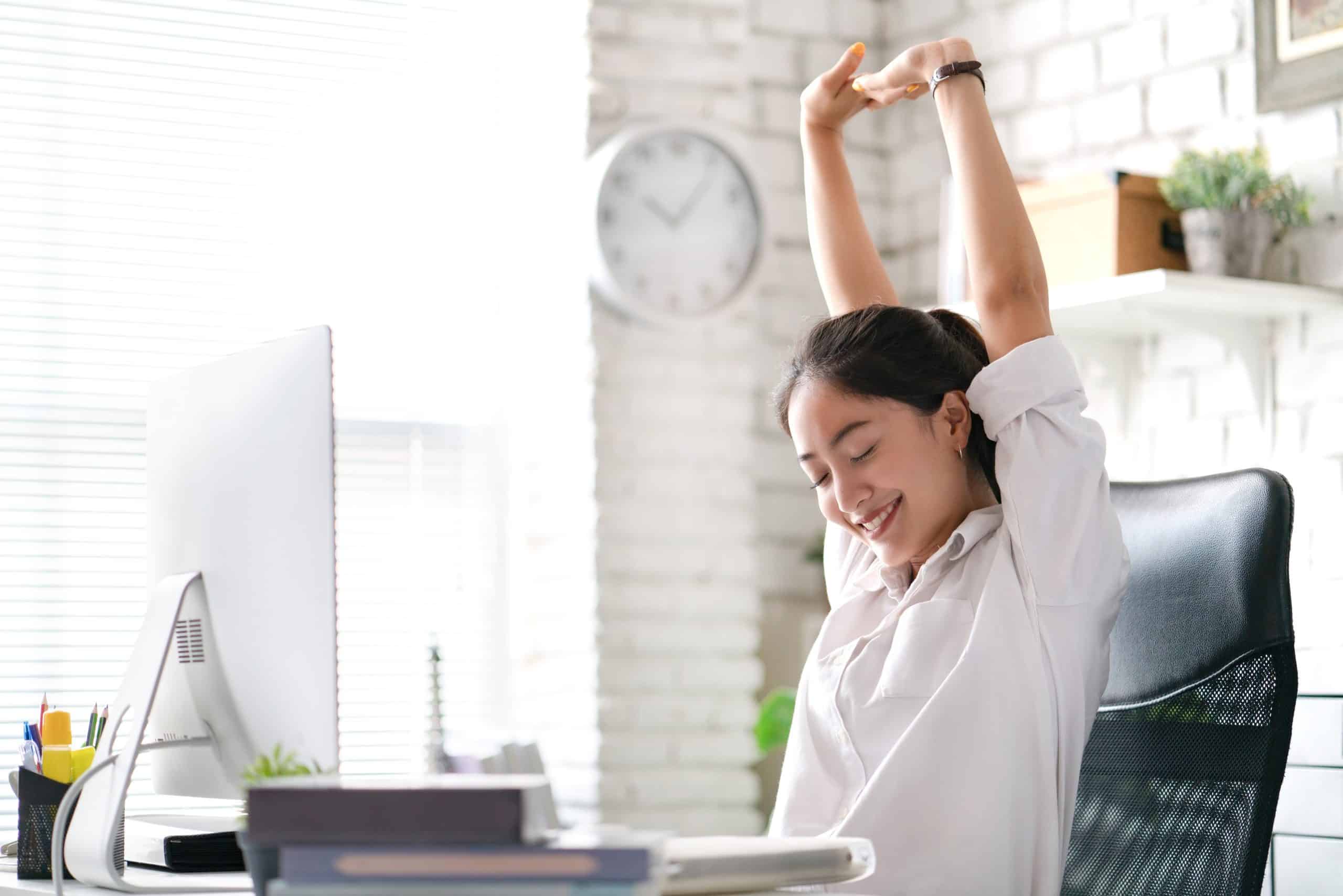 What Is the Best Office Chair for Long Hours of Sitting?
If you're no stranger to spending the entire day in front of a computer, it's of immense importance that you find the right chair to sit in. Today, ergonomic chairs have become very popular, and mass production has made these chairs available at different price tiers.
However, despite the benefits of a wide selection, finding an ideal chair to cater to your body type's specific needs can be tricky at times, and it's difficult to say for a chair that it's universally good for anyone.
For this reason, we have compiled this review and picked out the best office chairs that are safe to sit in for many hours.
That way, you will save your time going from shop to shop and testing different chairs. Instead, you can simply narrow down your selection to those chairs that seem to best fit your particular needs based on their descriptions and then decide on the one that seems like the best choice among them.
But, before we jump to particular chairs, let's first take a look at what are some of the most important features that a good office chair for sitting long hours needs to have.
The Most Important Features of a Chair for Sitting Long Hours In
Back Support
Since back pain is one of the most common consequences of long sitting hours, it is understandable that proper back support, especially at the lumbar part, is crucial when purchasing an office chair to sit long hours in.
A lumbar support system helps release tension in the back, which is usually formed during long hours of sitting. The best case scenario is that the lumbar support is adjustable, so you can set it up according to your individual needs.
Leg Rest
Slow blood circulation in the legs and feet is another major issue of long sitting hours. That's why any good ergonomic office chair will come with an (ideally) adjustable leg rest, which helps enhance blood circulation.
Reclining Seat
If a chair has a reclining seat, you can change the degrees of reclining and take the pressure off your back when you feel it's necessary. This may not be the most important feature of a good marathon sitting chair, but it certainly helps. While having your back straight up is good, having it like that for hours can be exhausting and painful.
Deep Seat
Unfortunately, the position of the knees is the last aspect of ergonomic sitting most people think about, and it should be among the most important ones. Proper seat depth allows you to keep your knees in proper shape and bend the legs at 90 degrees while sitting, which is the healthiest way to keep your legs while sitting for long hours. 
Also, the distance between the seat and the knees shouldn't be more than four inches and not less than 2 inches for the optimal sitting experience.
What Is the Best Office Chair for Sitting All Day?
And twelve points go to…
Herman Miller Aeron
Although they can be quite pricey, Herman Miller office chairs are a class above most of their competitors, better even than many models that cost much more.
We give an advantage to the Herman Miller Aeron chair because it fulfills all the criteria we mentioned as crucial for a chair to be considered a good chair, but also because of the durability and a 10-year guarantee.
If you decide to put some extra cash into your chair, with Herman Miller you know exactly where you stand.
Steelcase Gesture Ergonomic
The Steelcase Gesture Office Chair - Ergonomic Work Chair... is on the high upper end of ergonomic office chairs. However, its price is too. The features of this chair meet all of the criteria of a good chair for sitting long hours, but it goes beyond most people's budgets. 
The chair has an adjustable seat depth, armrests, lumbar support, height, and the angle of the backrest. The back and the seat are padded, so you can rest assured that you will sit comfortably throughout the whole day.
The backrest and seat are also highly adaptable to all your movements and can optimally support your body.
The chair is made of 100% OEKO-TEX certified high-end polyester and casters suitable for any floor type (rest assured they won't make damage it).
DXRacer Gaming Chair
Of course, among the chairs designed for spending long hours in them are also the gaming chairs. This DXRacer chair has an adjustable backrest that can tilt up to 135 degrees. The pillows are highly adjustable for resting your head and lower back.
The tubular frame gives the chair stability and durability, while the adjustable armrests to three different positions ensure maximum comfort and shoulder relaxation.
Hbada Office Chair
For those who like a smooth and glossy furniture design, the Hbada Ergonomic Office Chair High Back Desk Chair... will fit perfectly with your interior setup. The chair is very simple, although it has some nice, modern lines that give it a bit of a futuristic transformers look.
The backrest has ergonomic features that support the lower back and release your spine from pain. The armrests can be flipped up or put down, depending on how you enjoy sitting at a given moment. 
The back of the chair is highly breathable, as it's made of a dense mesh. Also, it has a 120 degrees tilt mechanism, which is slightly less than recommended, but still ideal for matching your different sitting needs during long hours of sitting.
Although it does belong to a lower price tier than any of the chairs mentioned above, Hbada is a good office chair for sitting for long hours. However, it does have somewhat less flexibility and lower adjustability than its former counterparts.
Nouhaus Ergonomic Office Chair
Nouhaus chair is an executive type of chair of a rather classical design and ergonomic features that allow you to sit in it all day long. The lumbar support has five different stages called the "click-5" system, with different tilt levels clicking into place for a different sitting experience.
The TiltRock mechanism can give you a soothing rocking experience, while the TiltLock keeps you upright and concentrated.
You can also shift between having or not having armrests or lock them in a position somewhere in between.
The wheelbase is heavy-duty nylon with gussets and ribs added, and chair height can be adjusted to anywhere between 18.7 and 22.5 inches.
The chair needs to be assembled when it arrives at your address. However, the manufacturer provides all the instructions and tools, making it fairly easy.
Von Racer Gaming Chair
Von Racer is a pretty well-known gaming chair manufacturer. And it's especially famous for being in the lower price range but provides many of the perks that chairs from this price tier often don't have.
For example, the innovative USB electric massager inside the lumbar cushion helps relieve lower back pain and fatigue.
The footrest is nicely padded and retractable, while the 360 degrees swivel base comes with a set of smooth casters suitable for any floor type.
The armrests, chair height, and back recline are all adjustable, with the backrest being able to lock anywhere between 90 and 135 degrees.
The chair is made of premium PU leather which is super easy to clean and maintain, and you can expect it to keep its color and not fade for many years to come.
The chair itself is quite sturdy and, most importantly, has a large size, so even if you want to change the sitting position and sit with your legs crossed for a bit, you can do it carefree.
However, with a lower price comes a lower trust in the durability of the chair, so there's no more than a 1-year warranty for the chair.
Final Word
Sitting long hours is not the best thing you can do for your health, but if the task demands it, then at least make it as healthy as possible by choosing the right chair.
A proper chair for sitting long hours in should have certain qualities such as back, leg, and arm support and an adjustable seat that is deep enough to enjoy different sitting positions.