The right gaming chair can be an asset when it comes to winning gaming tournaments. Don't look at me like that; it is true. Playing for long hours can cramp up your wrists, legs, arms, shooting pain down your back, and become a nuisance for your neck and head. All of this can be avoided with the right gaming chair.
The comfort and support that comes from a gaming chair are unparalleled. Usually, most of our gaming equipment is expensive, so chairs look like something we can compromise on because it doesn't directly affect our gameplay.
This is why I have rounded up 5 gaming chairs under $150 so that you don't have to compromise with your body health. An ergonomically-designed, sturdy gaming chair will not only provide you with comfort but will make sure that you have enough support to last for hours of tournament sessions without blasting pain shooting through one or more of your body parts.
Read ahead to find out more about getting the most functions in a tight budget. Start mission…
Table of Contents
Best Gaming Chairs Under $150
Bestseller
The Devoko Gaming Chair focuses a lot on the ergonomics, which is always a huge plus in my book. That being said, it does not compromise on looks either. It is built like a racing car seat, and looks-wise can standoff many high-end brands.
The chair is covered with PU leather fabric, which is sturdy, easy to clean, and also prevents peeling. This gaming chair is built to help you distribute your weight efficiently, which in turn helps you to increase your mobility and spend comfortable hours in the chair.
Coming to the ergonomic aspect of this chair, the back follows the natural spine curvature to provide ultimate back relief. A headrest pillow makes sure that your head and neck are supported during long gaming sessions. The outfitting of a lumbar cushion makes sure that your lower back has proper pressure relief.
The seat is height adjustable. The recliner can lean back up to 180 degrees allowing you to take breaks when needed. You can also rock back and forth in this chair. It is outfitted with mute-rolling wheels, which makes the movement of this chair quiet, easy, and makes it scratch-free for your floors. You also can swivel 360-degrees.
Devoko Ergonomic Gaming Chair is Suitable For:
This chair is the best gaming chair under $150 option for people who want premium functions and long-lasting comfort, along with great looks. The quality is maintained by a combination of premium and basic features. This makes sure that the budget doesn't skyrocket, which in turn makes this chair a bestseller.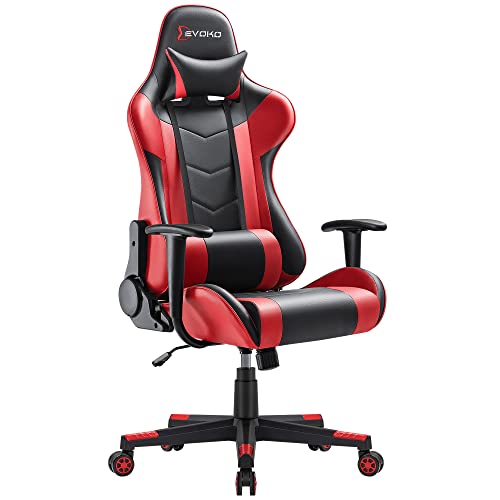 Devoko Ergonomic Gaming Chair Racing Style Adjustable...
Devoko high back ergonomic gaming chair covered by premium breathable leather and freely adjustable lumbar support & headrest pillow...
360 degree swivel rotation with top quality mute rolling Wheels avoid scratching on floor board and freely move in your space
Heavy duty racing gaming chair with integrated metal frame, international standards explosion-proof gas Spring, Suitable for playing your...
Pros
This chair has a great ergonomic design.
The racing car style look gives it a premium feel.
The backrest, headrest, and lumbar support are all well put-together.
The seat is height adjustable.
This chair allows you to rest and relax your entire upper body while you play with its headrest, backrest, and lumbar cushion.
The chair can recline up to 180 degrees.
It has mute-rolling wheels, which means quiet movement.
Cons
It is recommended for average-sized individuals.
---
Best Overall
Active sitting, racing-style design, great functionality – everything can be found in Homall Gaming Chairs. This is one of the reasons for the rising popularity of this chair. 
The steel frame is designed to withstand daily wear and tear, and the faux leather used is premium quality and gives you a premium look as well. This chair has a design that makes sure that you get all the ergonomic benefits.
It is height adjustable, which means you get a range of 17.3 inches to 21.5 inches to choose from. The gas cylinder used for height adjustment is easy to activate and can be done while being seated with a lever conveniently placed under the seat.
High backrest with a padded headrest makes it ideal for gamers who play for long hours as it provides optimal upper body support. Your lumbar region isn't forgotten either; there is adjustable lumbar support coupled with the design.
The seat is well-padded to give you support and comfort for long game sessions. The armrests are fixed, but still supportive enough. The recline function allows you to lean your seat up to 150 degrees. You can even tilt it back to 180 degrees.
It has 360 degrees swivel and can ideally handle a weight limit of up to 280 lbs, although it says 300 lbs. 
Homall Gaming Chair is Suitable For:
This chair is great for people who want high quality on a tight budget. It is truly value for money with its adjustability and mobility settings, build quality and price tag.
Sale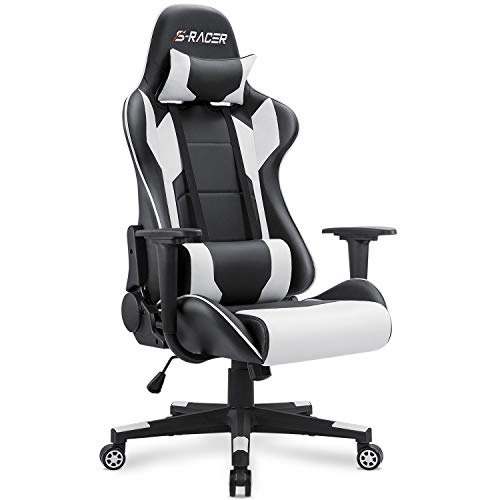 Homall Gaming Chair, Office Chair High Back Computer...
Selected Material: High density shaping foam, more comfortable, elasticity resilience and service life. 1.8mm thick steel frame, more sturdy...
Upgraded Configuration: Class 3 gas lift, durable, reliable and supports up to 300lbs. Rubber casters, rolling quietly and tested by 1000...
Multi Function: 360 degree swivel and multi direction wheels, load capacity: 300-pound maximum weight capacity. Recline function. Between 90...
Pros
A high backrest and padded headrest provide optimal support for your upper body.
The chair build is durable with steel frames.
It has dedicated and adjustable lumbar support.
It can recline and even allows you to rock.
The seat is height adjustable.
It is easy to assemble.
It is a high value for money.
Cons
The armrests are fixed.
It is made based on the standard desks, so you might need to make sure if you have a custom setting.
---
Best for Pros
GT099 Racing Gaming Chair is quickly becoming a popular name when it comes to gaming chairs. It stands out by targeting professional gamers rather than coming off as a one-stop solution for gamers and office workers alike.
The PRO Series is a testament to its niche-down strategy. This collection has a lot of models specifically designed to prioritize professional gamers. To begin with, GT099 uses the company's seven years of experience in the office space to promote active sitting.
It has an adjustable headrest pillow and lumbar cushion. The seat and back are well-padded, and the chair is covered with PU leather to give it that sleek finish. It can recline up to 170 degrees. The back and armrests are adjustable. Its seat is also height adjustable. It doesn't feature a retractable footrest but gives you a sturdy 360-degree swivel feature, so you can easily roll over to additional footrests.
The metal frame is durable and provides your chair, and in turn, you with proper support. The chair is designed to accommodate a wide range of body types. It has a one-year limited warranty attached to it. You also get to choose from four colors to suit your aesthetics.
GT Racing Gaming Chair is Suitable for:
This chair for gaming is great for professional gamers and people weighing up to 300 lbs. It can also work as an office chair. You get the benefit of adjustable backrest and armrests for long hours of comfortable gaming sessions.
Pros
Because it is targeted for pro gamers, it is highly ergonomic.
It is durable and has a sleek look.
The smooth-rolling wheels make this chair highly portable.
It supports users weighing up to 300 lbs.
Cons
There is no retractable footrest.
The straps used to keep the lumbar support pillow in place can be distracting for users that use the chair for hours.
---
Best Design
Respawn 110 is a better design when you think about gamers. Pro gamers usually spend hours in the chair during tournaments, which means they are bound to sweat excessively. This chair is designed to counter that problem. 
The holes on either side in the upper section of the backrest deal with this problem. It also allows the remaining padded area to breathe and have better air circulation. The chair is coated with bonded leather to add to the look.
The chair has a headrest and lumbar cushion to make sure you are supported and comfortable. The chair can recline up to 155 degrees. This recline angle is great for someone who just needs to take small breaks or rock back and forth.
This chair comes with well-padded armrests as well. These armrests can be adjusted by pivoting with the reclining of the chair; otherwise, the armrests are fixed. It has a footrest that is extendable, so you will get full support and comfort from head to toe. It can support up to 275 lbs of user weight.
This gaming chair also has a 360-degree swivel. It comes in eight colors for you to choose one that fits in well with your gaming setup. It also comes with a lifetime warranty from the company, but the fabric and materials are covered only for the first two years.
RESPAWN 110 Racing Chair is Suitable For:
This chair for gamers is great for playing for long hours and for people who sweat a lot, especially if they weigh up to 275 lbs, this highback chair with an extendable footrest will easily accommodate tall people.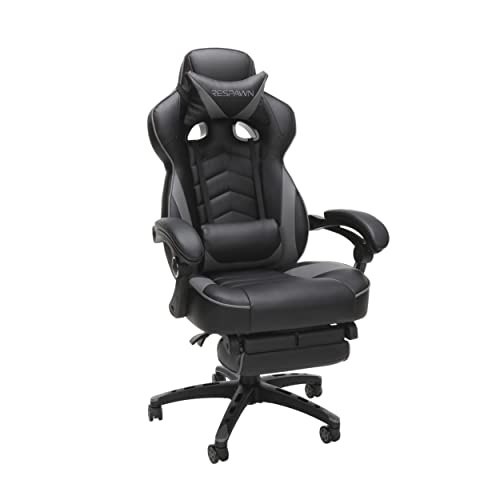 RESPAWN 110 Ergonomic Gaming Chair with Footrest...
NOTE : To ensure proper assembly, please follow all steps provided in the installation manual (provided in pdf below)
GAMIFIED SEATING: A racecar-style gaming chair that provides luxury and comfort, whether it's used for intense gaming sessions and climbing...
ERGONOMIC COMFORT: With segmented padded designed to give highly contoured support when and where you need it most, this ergonomic chair is...
Pros
It has a unique backrest design made to improve the airflow.
It has an additional lumbar cushion and also a headrest pillow.
The highback and footrest make it preferable for taller individuals.
It has a good warranty for an inexpensive chair.
Cons
The padding is susceptible to peeling and eventually tearing.
The armrests pivot with the recline function but are fixed otherwise.
---
Best Budget
The OFM Essentials Gaming Chair may look expensive because of its racing style design and the bonded leather look, but it isn't. The chic design of this chair is complemented with comfort.
The backrest and the seat of this chair are covered with premium quality PU leather. The backrest has a contoured design to make sure it provides proper support. Segmented padding makes it even more comfortable.
You have integrated padded headrest to support your head and neck during long gaming sessions. The armrests are adjustable. You get arms that you can flip up and out of the way during those intense gaming matches. Adjusting the height of the armrest with the seat height also allows you to be supported in all positions.
The reclining can be easily achieved by simply pulling the recliner control and then leaning back. Once you have a comfortable recline, let go of the control, and the chair will lock in that position. You also get a 360-degree swivel functionality to provide you with proper mobility.
OFM Racing Style Gaming Chair is Suitable for –
This chair is great for people looking for aesthetics to work in harmony with comfort. It is well-built with sufficient padding throughout and provides great support. Inexpensive chairs often forgo looks trying to achieve functionality, this chair compromises on nothing.
No products found.
Pros
This chair brings in a fresh perspective toward chair aesthetics.
It has segmented padding, which provides comfort and support.
The frame build is sturdy.
The armrest is adjustable and can be flipped up to its full capacity.
Cons
There are no additional pillows for lumbar support or headrest.
The wheels of this chair are made from plastic. 
Delicate mesh material is used to coat some parts of the backrest and the bottom of the seat.
---
How to Get Adequate Comfort in Prolonged Gaming Sessions?
Good Posture
Having a good posture is recommended for extended play or when working on your computer. Make sure you follow these recommendations to attain and maintain good posture:
Your elbow should be positioned slightly higher than the table.
Wrists should be placed in a relaxed and neutral position.
Keep your head upright.
Your eyes should look either straight or a bit lower than the line of sight, without lowering the head.
The backrest of the chair should support the contours of your spine, with adequate support to your lower back.
Elbows should contact the armrests at 90 degrees, and forearms rested horizontally.
Your thighs, too, should be positioned parallel to the ground with a 90-degree hip angle.
Your feet should lay flat on the ground.
Monitor Setup
Your head should be upright with your back and shoulders straight. The monitor should be placed at the eye level so that you don't have to raise or lower your head. Get a monitor that has adjustable height and angle.
Keyboard Setup
The keyboard should always be operated by keeping it on the desk. If the desk surface and your elbows are not at the same level, you can get a retractable keyboard stand that can be installed underneath the desk. This will keep your elbow and wrists in a relaxed posture when gaming.
Mouse Setup
Similar to the keyboard setup, the mouse too should be kept in the area where you can operate the mouse with the forearms in a relaxed position. The mouse should be positioned in the natural reach zone of your forearms, and also should be kept near the keyboard.
Lighting Setup
The lighting requirements may vary from person to person, as well as based on the ideal lighting requirements of a task. Working on documents, either it is writing, editing, or reading, it is required to have four to five times more light than the lighting requirements for images. So, adjust the light intensity and temperature according to your needs, and customize it for the least discomfort. Make sure your lighting setup doesn't point straight at your eyes or the screen.
Are Cheap Gaming Chairs Good?
It depends on what you are buying the gaming chair for. But, the quick answer would be yes, cheap gaming chairs are good. 
When it comes to gaming chairs, gamers try to go for the biggest brand because we like having top-of-the-line products, but can you afford to shell out thousands of bucks for a gaming chair right now?
If yes, then I would suggest going for it because a high-quality, top-of-the-line gaming chair is going to last you for years. But, if you are saving up for the said chair of your dreams, then it makes sense to invest in something that will get you by till then.
Balancing practicality, functionality, form, and aesthetics can be difficult, but a lot of the chairs that are budget-ones have mastered these things. A lot of the gaming chair companies have started manufacturing the best gaming chairs under $150. 
There are going to be compromises, but nothing as drastic as affecting your posture and suffering from pain by using a bean bag or a random old chair or sitting on the floor. Make sure to check the frame and fabric to ensure that the chair will last you a few years. Also, check what functions the chairs come with that can be beneficial to you.
Conclusion
Gaming isn't only about the right devices, but it is also about creating the right environment. This helps you get into the game with a clear head. You need to have comfort and support, especially if you are going to be participating in tournaments.
You can use an ergonomic office chair if you like, especially if you indulge in PC gaming, but the right chair can do wonders for you and your gaming skills. No body pain and sufficient comfort will enable you to solely focus on your game. 
GT Racing Gaming Chair is the best gaming chair under $150, especially if you are into gaming tournaments and gaming professionally. It provides a wide array of features, despite being a budget-chair.
Devoko Ergonomic Gaming Chair is a bestseller because of its premium functions, durability, and looks. If you are someone who sweats a lot, then the RESPAWN 110 Racing Chair is the chair for you, because of the way the backrest is designed.
Homall Gaming Chair comes from a popular brand that promises quality and gives you a good experience overall. Lastly, OFM Racing Style Gaming Chair is one of the most budget-friendly options on this list as this company is dedicated to providing great features at the cheapest of prices. It also comes with good warranty coverage.
Remember, with great gaming power comes great responsibility to take care of your body. Make sure to do good by yourself, before you do good by your avatar!