Ergonomic and inexpensive sound like an unlikely combination. Elements of ergonomic furniture are tailor-fit to the health and wellbeing-related needs of a worker, not the other way around. While it's true that chair models of this mold can command high prices, exceptions can be made.
I want to show you that you can find the best office chair under 100 dollars to feature an ergonomic design. This is good news for individuals who sit for extended hours. Not compromising on comfort and quality, it's also great for buyers on a budget.
Below are the top 5 picks for you to choose from.
Design-wise, the Furmax Mid-Back Office Chair is well-received for its large seat and mid-height backrest. The square seat has dimensions of 19.7 x 19.7 inches. It's roomy enough even for users who fall on the heavier end. On top of this, it is quite thick. The armrest on both sides cannot be raised or lowered, though, so you're stuck with the height it came in with.
Meanwhile, the backrest is complemented by two wedge-shaped lumbar pieces to support your back. It can relieve back pain while cradling your lower back. This mesh backrest is also breathable, so you won't have to worry about sweating a lot. This one can serve all heights at 18.9 inches. However, you might miss the comfort of leaning your head and neck on a headrest.
The Furmax Office Chair has an adjustable height, which gives consideration to tall people. Also, its materials and construction are durable. You can lean back without fearing that you might break the furniture.
This reliable, ergonomic chair has a BIFMA (Business and Institutional Furniture Manufacturers Association) certification to boot. This attests to its quality, functionality, and sustainability. All of these features can be found in a chair that costs around $79.99.
The purchase of this simple and affordable chair includes a 30-day money-back feature from the manufacturer, as well as a 6-month replacement warranty for damaged or missing parts. Order multiple pieces for your entire office without breaking the bank, even ensuring the ergonomic concerns of your team members. By the way, it swivels and has wheels for easier movement.
This mid-back mesh office chair comes in 9 colors.
The Furmax Mid-Back Lumbar Office Chair is Suitable For –
Individuals who are of average height and weight may benefit the most from this chair. But we are not discounting those who are heavyweight or tall who prefer a mid-back chair.
Furmax Office Chair Mid Back Swivel Lumbar Support Desk...
Ergonomic Design: The overall design of this office chair is ergonomic, two lumbar supports on the backside of the chair back are not only...
Thicker Cushion & Double Comfort: Compared with other ordinary office chairs, the cushion of this office chair uses high-density elastic...
High-Quality Materials: In order to enhance customer's experience when sitting in the chair, we adopt better materials to improve the...
Pros
The thick, large seat accommodates many kinds of users, including those who are on the heavier side of the scale. The weight capacity of this chair is 265 pounds.
Long-lasting construction, as attested to by BIFMA, makes this chair a good investment for your team or office.
Wedge-shaped lumbar support makes it ideal for people with back pain complaints.
Cons
The missing headrest may disappoint tall or average-height individuals who seek comfort for their neck and head.
Non-adjustable armrests have one height and angle to provide users. This may cause discomfort to some.
Moderately-difficult-to-adjust tilting mechanism may be too much for those who like switching backrest angles while they sit on the chair.
---
Packing in features usually found in higher-end models is the Jumei High Back Office Chair. The tall backrest catches attention with its curved profile. Shaped like the spine, it provides comfort and support to the entire back. Its breathable mesh design is designed to promote airflow. At the top is the padded headrest, which some users may require as they sit for hours on end.
The built-in lumbar support should ease back tension, but it doesn't seem to be made of the most durable material. As for the seat, its cushion may be enough for lightweight individuals. But with a published weight limit of 300 pounds, this may be appropriate for those who weigh up to 200 pounds. Nevertheless, the seat is adjustable between 19 and 22 inches.
Want more elevation? Add a cushion. Sometimes a simple additional tweak is all you need to get the perfect thing in your budget.
In connection to adjustability, the armrests are retractable. Put them down when you need to lean your arms and elbows. Flip them up when you wish to go all the way under the desk while working. This makes the Jumei office chair a multi-purpose chair. For instance, it can be used by artists or musicians in their studio. They can fold the armrests for unrestrained movements.
Further, you can tilt or recline the backrest as you desire. This is perfect for switching positions when you are working. For an ergonomic office chair that costs below $100, the Jumei high back chair offers plenty of value for productivity enthusiasts. However, it is not designed for long-term use.
The Jumei Ergonomic High-Back Mesh Office Chair is Suitable For –
Users who are lightweight to average weight can enjoy this office chair with good back support. This is a reliable reclining chair for many types of vocation, including artists and musicians.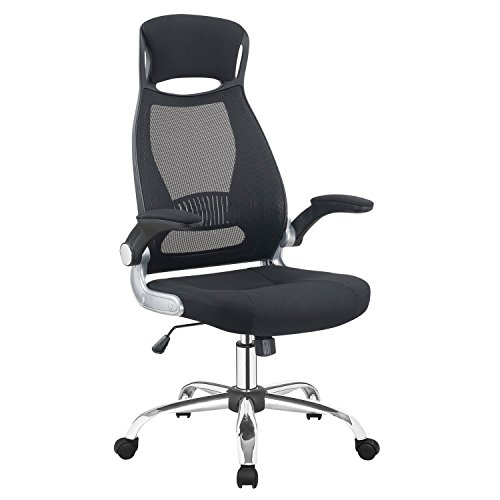 Jumei Furniture High Back Mesh Office Chair, Ergonomic...
Ergonomic desk chair in black lend an ultra-modern look to the overall décor of any office space.
Mesh back & seat chairs allow air to circulate naturally help the skin to breathe and stay cool when you sit and work on them
Lean back with perfect balance to relieves strain on your arms and shoulders, as the tilt tension mechanism automatically adjusts the...
Pros
With a high backrest that's shaped like the spine, this chair offers reliable support for your back. It also tilts and reclines for effortless switching of positions.
The padded headrest is a source of comfort for those who want to relax their neck and head while working.
Affordable and ideal for bulk purchases for teams and offices.
Cons
The construction is not the most reliable and durable as many parts are made of plastic.
Breathable mesh backrest may be too flexible for some users.
Lack of support for heavier individuals as its actual weight limit is 200 pounds. Those who weigh above that may find the support less stable and dependable.
---
One of the most popular budget ergonomic chairs for office use is the Flash Furniture High Back Office Chair. When seen from a broader perspective, it looks similar to robots in sci-fi fantasy films.
But the great thing here is that the contemporary profile aligns with the functionality of its parts. The high back does not only provide support; it also promotes correct posture. Further, lumbar support is already integrated.
The top part can be adjusted up and down through a center knob, so it can be set at the exact point where your neck and head are. This high-end feature adds a nice touch to this office chair. To be honest, we don't mind if this part alone is the reason this Flash Furniture model sports a price tag being close to $100.
(Note: A Flash Furniture mid-back chair may be more affordable if the back height is not an issue.)
The firm but comfortable seat adopts a waterfall-shaped design to reduce pressure on the legs. Its weight capacity is 250 pounds, catering to a wider range of users than the Jumei office chair. It comes with adjustable armrests, so you have the option to go armless. If you're looking for a flexible desk chair to serve you in small spaces, this one is it.
Completing the construction is the two-tone, black-and-chrome base. It has five caster wheels to help you move around more smoothly. Of course, this ergonomic office chair rotates 360-degree. It offers you a free range of motion, no matter what kind of office setting you're in.
The Flash Furniture High-Back Adjustable Headrest Chair is Suitable For –
People with neck pain issues may find relief in this budget office chair. Those who weigh up to 250 pounds can take advantage of its waterfall seat, mesh back, and adjustable headrest. If you want a stylish ergonomic office chair, consider this one.
Sale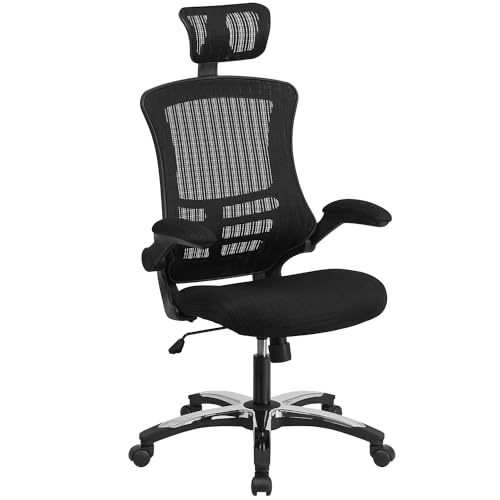 Flash Furniture Kelista High-Back Swivel Office Chair...
ERGONOMIC HIGH-BACK OFFICE CHAIR: Provides exceptional seating for everyone from the CEO to the front office staff, ensuring the perfect...
COMMERCIAL GRADE CHAIR: Has a sleek and versatile design that makes it perfect for use in front offices, executive suites, at-home work...
PRESSURE-RELIEVING COMFORT: Ventilated curved high mesh back with integrated lumbar support prevents overheating and promotes better...
Pros
Well-designed and functional, the Flash Furniture chair has each of its components working hard to deliver support and comfort.
A free range of motion for flexible working is available through the adjustable headrest, retractable armrests, waterfall seat, and swivel feature.
The contemporary design can fit into different office styles and layouts.
Cons
The retractable armrests may allow for armless use. Still, their height cannot be adjusted to cater to your angle preferences.
Textured seat fabric may not be for everyone. Some users report about finding it too rough for comfort.
With a price tag that's close to $100, it may not be the top #1 budget chair for office use for some people.
---
The AmazonBasics high-back leather chair blends chrome and leather finishes for those who want to sit like a boss in their home or corporate office. The leather upholstery covers the back, armrests, and seat. The contoured back support curves to the shape of your back for comfortable prolonged sitting.
Continuing the hugging effect is the set of armrests that let your arms and elbows lean effortlessly. They sport a bonded leather and PVC padding sitting atop metal bases. They're 8 inches high from the seat and 28 inches off the ground when the chair is raised to its maximum height.
The height range goes from 17.5 to 20 inches. This design is complemented by the leg-supporting bucket seat.
Underneath the seat is a lever that locks the tilt function for stability. When you want to adjust the level of tilt resistance, you can raise or lower the same gear. These look and features signal an upgrade for an ergonomic chair that's around $100. During holidays and special promo periods, you can even get it for less. Truly, this executive chair matches many types of budget.
As part of the growing AmazonBasics product lines, this executive chair is tied with a one-year limited warranty. As far as the warranties for office chairs under 100 dollars go, this is already a generous offering. Since you're buying it from the giant e-commerce company, you can also benefit from the established shipping process and customer service.
The AmazonBasics High-Back Leather Executive Chair is Suitable For –
With a weight capacity of 275 pounds, lightweight to heavyweight users may find ultimate support from this ergonomic chair. And if this is your first time to shop for an office chair online, AmazonBasics is one of the best places to start.
No products found.
Pros
Stylish and functional, the AmazonBasic ergonomic office chair sports bonded black leather and PVC padding on a metal outline.
Tilt tension control is available through an under-seat lever. This makes for a flexible yet stable desk chair.
The no-hassle limited warranty has one-year coverage for your peace of mind.
Cons
A regular around-$100 price tag may not be ideal for bulk buying.
Non-adjustable armrests may not be suitable for everyone, especially those who need more room and want to go armless when performing some tasks.
Lack of headrest may also drive away those who are prone to head and neck pain issues.
---
Bringing its own take on the black mesh back component, the Mysuntown Office Mesh Chair features a high-quality, resilient material. Its three tiers and unique curves are said to support the back and head, with built-in lumbar support for your lower back's superior comfort. Whether you are an active or sedentary user, you'll feel relieved and relaxed.
There's a lot you can do with this product. You can customize your office chair from top to base. Adjust the angle of the headrest, the height of the armrests and seat, and the position of your seat and back. This versatility is meant to provide maximum relief for your legs. Talking about relief, the seat sports organic polymer padding to keep your bum comfortable when you're consumed by a task.
The weight capacity of this ergonomic office chair is 300 pounds, making it the best model for heavyweight users. Those who like to switch positions and move around to take breaks can benefit from the 360-degree swivel element and sturdy 5-wheel base.
You will need to assemble all of these parts once you receive this product. You don't have to worry about installation though, as it is straightforward.
Despite the upgrades found here, it can fall on the pricier end of $100. But this can go down when discounts or promo codes are applied. For personal use, this proves to be an excellent investment. It is backed by a 5-year warranty to begin with. And Mysuntown also provides reliable customer service.
The Mysuntown Office Mesh Chair is Suitable For –
Users from all weight categories can take advantage of this ergonomic office chair. Anyone who is dealing with problems related to their backs can also benefit from this one.
No products found.
Pros
Customizable features make up the construction of this office chair. Its headrest, armrests, and seat are all adjustable.
Many types of users are accommodated by this chair, which has a maximum weight of 300 pounds.
Contouring and comfy design is put-together to help people with minor back issues, as well as other problems arising from extended sitting.
Cons
The black mesh material for the back may not be for all, particularly those who want the cushy comfort of foam padding.
The flexible profile can be unstable when you lean back with too much pressure.
A little expensive for bulk buying, this model is pricier than the other options mentioned in this review.
---
Factors to Consider When Buying An Ergonomic Chair
Adjustability
This is the first and most important thing to search for in an ergonomic chair. You should be able to adjust, and thus, customize its components. Thoughtful designs will allow you to set the height of your seat and armrests, tilt up or down to achieve the right angle for your back, and find the most comfortable leaning position for your arms or elbows.
These are ergonomic adjustments. And the best chairs, budget or not, try to cover a wide range of needs while also establishing the standard for different types. Make sure you know your priorities to avoid dealing with buyer's remorse later.
Construction & Materials
When it comes to materials, the quality should match the functionality. For instance, plastic may be cheap and used to replace more expensive materials in budget office chairs. However, see if the manufacturer still strived to include a good kind of plastic. It shouldn't be flimsy and unstable, affecting your health and wellbeing as a result.
I believe that sturdy, if not high-quality, material should be used for the headrest, back, seat, armrests, and legs. Then, they should be put together in a way that the resulting chair becomes greater than the sum of its parts. In other words, it should be highly functional. That's when you get a lot of value from it even if it costs less than or around 100 dollars.
Seat Depth
Now, since we are talking about ergonomic chairs, proper seat depth should be a top factor. You should be able to sit with your knees three or four fingers of space away from the edge of the seat. This way, your legs, and back will not feel any pressure or pain. You should also be able to lean on the backside of your chair for maximum comfort.
Support
Again, your back should be supported by the backside of the chair. Whether it's mid-back or high-back, it should also promote correct posture. The models in this review have a curved back for cradling and contouring your body. Having built-in lumbar support is a plus.
Stability
This factor is more of a sub-feature of construction and materials. But it also somehow shows if the design is living up to the expected functions and benefits. A chair may look stylish and classy at face value. But if it becomes unstable after a few days of use, the design may not be holding up to expectations.
Comfort
You can forget about the other features if you don't feel comfortable after hours of sitting in it. The ergonomic chair, office and home users can rely on, for their health, and wellbeing doesn't make them sacrifice their comfort for other functions.
Purpose
Think about how you will use the chair throughout its life. Will you place it in a small space? Or will you have a large area to move and roll around? Consider your sitting habits, as well. Do you prefer to lean back while taking a break? Will you require a headrest for your head and neck? You get the idea.
With all the upgrades and features that come with consumer products, you can choose which ones matter the most to you. Nothing is too small. It can be something as specific as requiring a racing-style seat or removable armrests. And you can nail these by knowing your purpose. Once your purpose is clear, your priorities and preferences also become so.
Pricing
I always remind the readers, and every customer, to look at the quality before quantity. So, while a cheap version may have compromised on a few things, expensive models don't necessarily guarantee that the build and materials are of good quality. Your best bet is to set your price, stick with it, and look for the best office chair in your price category.
The good thing is, there are now excellent options, even in the affordable price category. If you are buying chairs for the entire office, you can start with top models under $100 (what I just reviewed). You can also go for this type if you are just starting out either as a solopreneur or a startup exec. On average, though, ergonomic chairs have a price range of $350 and $800.
Can office chairs be repaired?
Yes and no. If you find that the chair's upholstery is intact, but the other functions like the wheels or the chair's tilt mechanism have become dysfunctional, you can get it repaired without any hassle. But, if the entire upholstery needs to be altered along with other parts, there is no point investing your money on the repair. Instead, buy a new office chair.
What fabric is used for office chairs?
There are a few types of fabrics that are used to upholster the office chairs. Some brands use mesh fabric for a more breathable texture and feel while some use PU leather for a premium look and durability. You also get nylon-mixed fabrics, if you want a little cheaper option.
How long does a $100 office chair last?
While the price of an office chair is not always a deciding factor of its durability, it does play a certain role. Purchasing a standard office chair, priced somewhere around $250 to $350 will last you a few years, which is not the case with the $100 office chairs, which generally tend to last around a year of two, before you need to replace them again.
Conclusion
Now that you've learned about the factors to consider when shopping for an ergonomic chair, you're probably more confident to check out online options as well.
The best chairs under $100 will tick off most of the items on the checklist. I know that my top 5 picks do. If you want to skip dealing with nosy salespeople and insane markup prices, buying online is definitely the way to go. And you can start by selecting your favorite from our list of best chairs.
It's a great time to be investing in an office chair, whether it's for your home or corporate office. There are excellent models to find in each budget category. If you're in a tight spot right now, don't worry. The best chairs under $100 mentioned here are the cream of the crop in their respective price points. All you need to do is find the one that aligns with most of your ergonomic requirements.
And don't forget to enjoy the experience.