Best Overall
Evoke Pro A300 Posture Corrector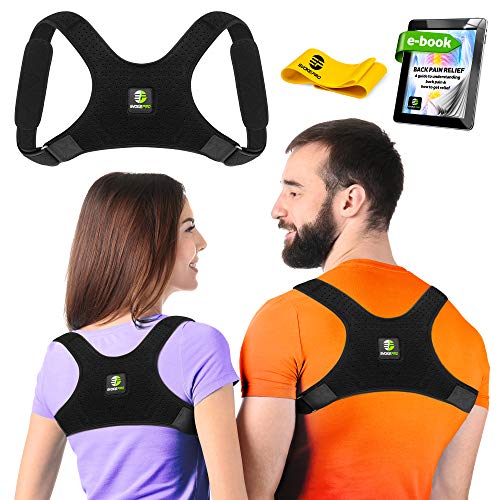 Best Value
UpRight Go Posture Trainer and Corrector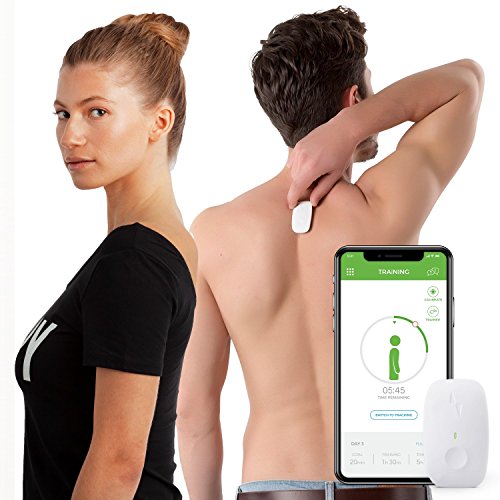 Best Budget
Selbite Posture Corrector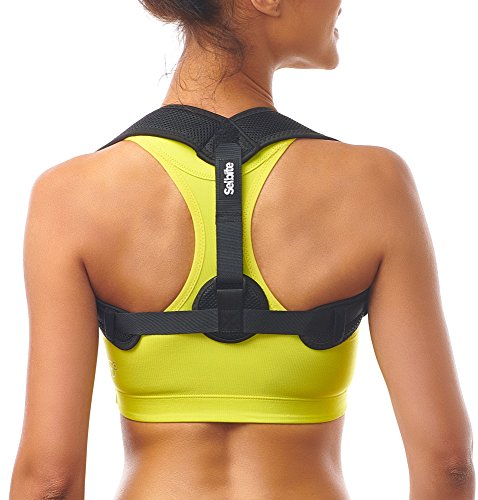 When you catch yourself slouching, do you automatically sit back upright? Or are you having difficulty doing so?
Not many people can hold an upright position on their own. They need to retrain their muscles, strengthening the parts that have weakened due to bad posture habits.
In this review, we'll give you the rundown of the best posture correctors on the market. These devices will help you maintain proper posture effectively and no longer manually.
Table of Contents
Best Posture Correctors 2023
Best Overall
Slim, sleek, and lightweight – these are the words to describe the Evoke Pro A300, a posture corrector that combines a new 8-shaped design, a breathable fabric spanning the area between the shoulder blades, and padded Velcro straps that allow a range of motion when worn. The latter is adjustable and avoids rubbing against the underarm skin for total user comfort.
You can slip this one under your clothes, and it becomes barely noticeable. It's affordable for a good number of customers. So check this out if you're looking for a high-quality option that does not hurt the wallet.
Why We Like It:
Supportive and comfortable
Uses a breathable fabric
Relatively affordable
Sale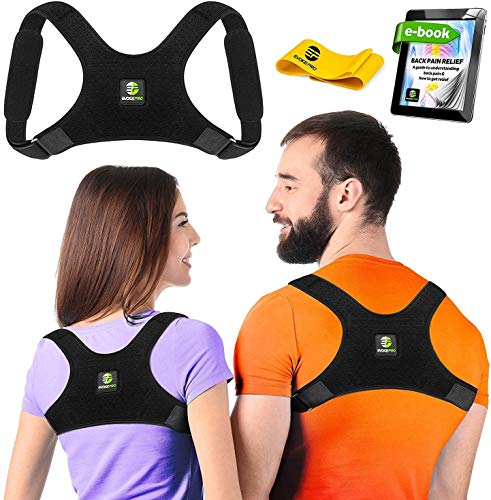 Evoke Pro Back Posture Corrector for Women and Men -...
PAINLESS CORRECTION – A great posture corrector should help you correct posture without sacrificing comfort. Designed to improve posture...
ALL DAY COMFORT – Sleek and lightweight, Evoke Pro Posture Helper can be worn over or under your clothing. The ergonomic design molds...
DURABLE AND SUPPORTIVE – Featuring strong, padded straps and breathable fabric, the back posture brace is one of the best posture...
Pros
Has a figure-8 design that offers superior support
Sports a Velcro strap with armpit padding for comfort
Uses a breathable fabric primarily
Affordable to a wide range of buyers
Cons
Fabric may itch if you have sensitive skin
Straps are at the back and may not be easy to adjust
---
Best Overall Runner-Up
Gentle and lightweight, the Marakym Posture Corrector is a clavicle type posture corrector. It is strapped around the arms and over the collarbone. It can fit on top of or under your clothes. With its adjustable straps, it can cater to individuals of many shapes and sizes.
It assists in correcting your posture by remaining comfortable when you're in the right position. Slouch, round your shoulders, or hunch over your desk, and it will yield some discomfort to remind you to sit or stand upright. Use it in your commute, travel, and daily tasks. Pack it in the handy carrying bag when you need to remove or don it in the middle of an activity.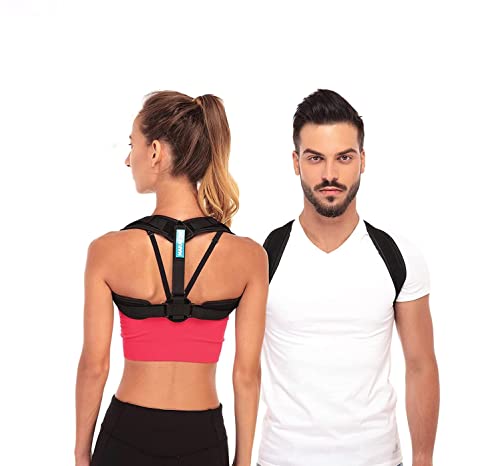 MARAKYM Posture Corrector Back Brace for Men & Women |...
𝗕𝗘𝗡𝗘𝗙𝗜𝗧𝗦 & 𝗦𝗨𝗣𝗣𝗢𝗥𝗧: Our posture corrector intends to relieve chronic back pain and make long...
𝗡𝗘𝗩𝗘𝗥 𝗧𝗢𝗢 𝗟𝗔𝗧𝗘 𝗧𝗢 𝗦𝗧𝗔𝗥𝗧: Improving your posture has never been simpler. You can...
𝗠𝗔𝗗𝗘 𝗧𝗢 𝗟𝗔𝗦𝗧: The Marakym Corrector is made from premium quality neoprene with a breathable back mesh designed...
Pros
Provides gentle support to your back
Wraps around the collarbone for minimal visibility
Adjustable enough to accommodate many needs
Can be placed in a carrying bag for easy access
Cons
May be too gentle for some people
May cause discomfort when you're returning to poor posture
---
Best Value
One of the culprits for recurring back pain, whether it's in the lower back or upper back, is extended sitting at work. Modern technology has afforded workers to prevent such a thing from happening. This includes the UpRight Go Posture Trainer and Corrector, an electric posture correction device.
Attach this wearable device to the center of your upper back with the built-in adhesive that is safe for your skin. When it starts to slide down and vibrate, that's your cue to return to correct posture. This model will not give you issues regarding visibility, so its versatility can be tested even when you are in a social situation, like the office.
Why We Like It:
Easily attaches to the back
Reminds you to return to correct posture
Can be worn in the workplace
No products found.
Pros
Can be attached to the back with skin-friendly adhesives
Alerts you to return to proper posture
Can be worn in the office because it isn't intrusive or bulky
Cons
Can be pricier than non-electric options
---
Best Value Runner-Up
For women who want a two-in-one product, the Leonisa Perfect Everyday Posture Corrector Cami Bra blends the benefits of a posture supporter with an everyday bra. The combination is smart because you can wear it seamlessly under your clothing. Improve your posture while you're headed outside with this posture corrector.
However, there's one potential downside. You aren't supposed to wear posture correctors all day. So you should schedule wearing this one. Gradually increase use to avoid generating unnecessary pain. At the same time, it can cost you around $50 a piece. So it's a bit pricey for those who want a bargain when buying in bulk.
Why We Like It:
Blends two functionalities in one product
Makes correcting posture more accessible to women
Can be worn under clothing
No products found.
Pros
A smart combo of posture corrector and bra
Supports back posture without being noticeable
Can be worn under your clothes
Cons
Can be too pricey for some people
Not recommended for all-day wearing, especially at the start
---
Best Budget
Improve your posture with the Selbite Posture Corrector, a discreet back brace that can push your shoulders back in place and align your spine in its neutral position. Made of a breathable material, it offers back support and is comfortable to wear for as long as you need it. It is also nearly invisible under your clothes.
This posture brace is adjustable, so anyone who wants to customize its fit can do it. Even those who have scoliosis can benefit from this model. Kids, adults, and seniors can wear it with ease. And your wallet can also breathe because of its highly affordable price.
Why We Like It:
Discreet features for nearly invisible wearing
Straps are customizable
Budget-friendly
Pros
Discreet back brace for wearing under clothes
Has adjustable straps for better customization
Budget-friendly and great for families
Cons
May cause rashes on some people
Can be difficult to wear without help
---
Best Budget Runner-Up
A preferred corrector posture wise is the FlexGuard Support Back Brace. It provides support to the back while also aligning the spine to achieve proper posture. For this reason, people with back pain – upper back pain and lower back pain alike – can rely on it. Another highlight is its XS to XL sizes, which is one of the most comprehensive ranges you can find on the market.
The adjustable straps enhance customization so that you can deal with your pain issues comfortably. However, it is a bit bulky to wear under your clothes. But if you need a best posture corrector that is powerful, then this can be your best option. It can be harder to resist when you consider its $20 price point.
Why We Like It:
Gives high-quality back support
Promotes good posture
Very affordable
Sale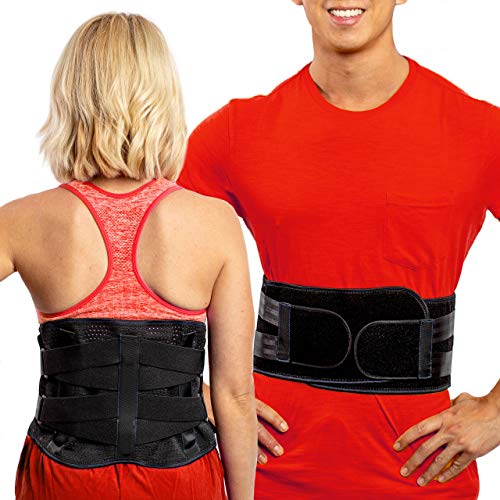 FlexGuard Support M/L Back Brace - Pain Relief &...
Back support - FlexGuard support back brace for men and women works by reinforcing the spine and surrounding muscles when experiencing lower...
Comfortable & Lightweight - The breathable fabric and vertical metal bars in lumbar support belt help keep back straight, while the...
Adjustable - This back support belt uses a comprehensive and customizable system including the adjustable pulley, metal braces, lumbar pads,...
Pros
Offers excellent back support
Aligns the spine for proper posture
Comes at an affordable price point
Cons
Can be a bit bulky for wearing under your clothing
---
How to Buy the Right Posture Corrector
As you would choose clothes, you should buy a posture corrector based on your individual needs, priorities, and preferences. The best posture correctors do not feel uncomfortable while they work on correcting your bad posture. Your back pain should also be worked at while it works to improve your posture. The best posture corrector will be comfortable to wear, pull your shoulders back, help you achieve the best posture, and will help relieve your pain.
Size
The common sizes for posture correctors are small, medium, and large. But if you usually have a problem wearing standard sizes, you may want to check the product's measurements. If the numbers are not readily available, you can ask the manufacturer for them. At the same time, you can get your dimensions using a measuring tape.
Material
This factor is subjective. You may want to stick with cotton, latex, lycra, rubber, or spandex. Cotton offers comfort and durability without any care and maintenance issues. Latex, lycra, and spandex also hold up for a long time and are easy to maintain. But some people may be allergic to latex. Rubber may command a reasonable price, but it's not durable and emits a strong smell.
Support, Comfort, and Adjustability
The third consideration is related to the first two. You can experience comfort by finding the right fit. Finding adjustable features, such as straps or elastics, can also help. You may want to be able to customize your own posture corrector.
Linked to comfort is support, which should be adequate for your condition, like if you suffer from lower back pain then that area of your body should feel supported and comfortable. Make sure you aren't going to get rashes for 100% comfort.
Ease Of Use
Wearing and removing the posture corrector should not add to your woes. Otherwise, it can discourage you from wearing it. If you are after a model with bells and whistles, ensure you know how each part works to maximize the experience.
Price
You can snag a piece at around $20, some at a discounted price. But some models can reach up to $100. Our list shows you options for different posture correctors, so you can pick one that aligns with your budget.
How Long Should You Wear a Posture Corrector?
Once you start wearing a posture corrector, you can feel the difference in 10 to 15 minutes. But that is just the beginning. Overall, you may have to wear it for a few days, weeks, or months. Your posture was developed through repetition, so it can take time to undo the ugly parts.
How about in a day? How long should you wear it? You should use it for several hours, but your manufacturer may instruct you to do it gradually. For instance, try it on for 30 minutes in the first few days. And then gradually increase the time you're wearing it.
Do Back Braces Really Help Posture?
Yes, they do. Posture braces are designed to pull your shoulders backward and align your spine. This mechanism can help your back muscles contract, and your chest muscles lengthen. It will train your muscles to hold that position for a long time, building muscle memory.
This device is a posture correcting assistant. It can be worn during the intended time of use to gain all of the benefits it provides. For how long you can put it on will depend on the manufacturer's instructions, as well as the severity of the issue.
Is It Safe to Use Posture Corrector?
Yes, as long as you buy an FDA-approved, quality brace, you can rely on it for however long you need it. To be sure, you can consult your primary care physician if you have an existing condition, such as scoliosis or osteoarthritis.
It will also matter if you follow the instructions of your doctor and the product manufacturer. Different devices have their respective set of directions. Observing proper use will not only allow you to achieve your goal in using the posture supporter but also extend the life of the product.
Conclusion
The best posture corrector picks are in! Considering overall factors, we recommend the Evoke Pro A30 if you want to train your muscles to sit or stand upright. You can wear it under your clothes when you're in the office, at home, or in public spaces. The nearly invisible effect is impressive, like, enhancing the support and comfort the product provides.
But if you don't want to don a garment-like posture corrector, the UpRight Go Posture Trainer and Corrector may interest you. This electric wearable device is less obvious when worn among the choices here. It's a nifty solution for when you can't manually train your shoulders to pull back, your arms to rotate backward, and your spine to settle into the neutral position.
Budget-wise, you can try the Selbite Posture Corrector if you don't want to spend a fortune on a back brace or a posture corrector. This model can also serve as a brace for people with scoliosis. And it comes at an affordable price.
The rest of the alternatives are worthy in some aspects as well. In the end, some of them may end up as a better fit for you.
Knowing what is ideal for your situation starts with identifying the aspects that matter to you — posture correction, back support, etc.
You have to start somewhere, right? Write down the things that come from off the top of your head. And do not forget to think about all the factors we outlined in this article. We are sure that this article will help you find the best posture corrector for you.