Best Overall
Herman Miller Embody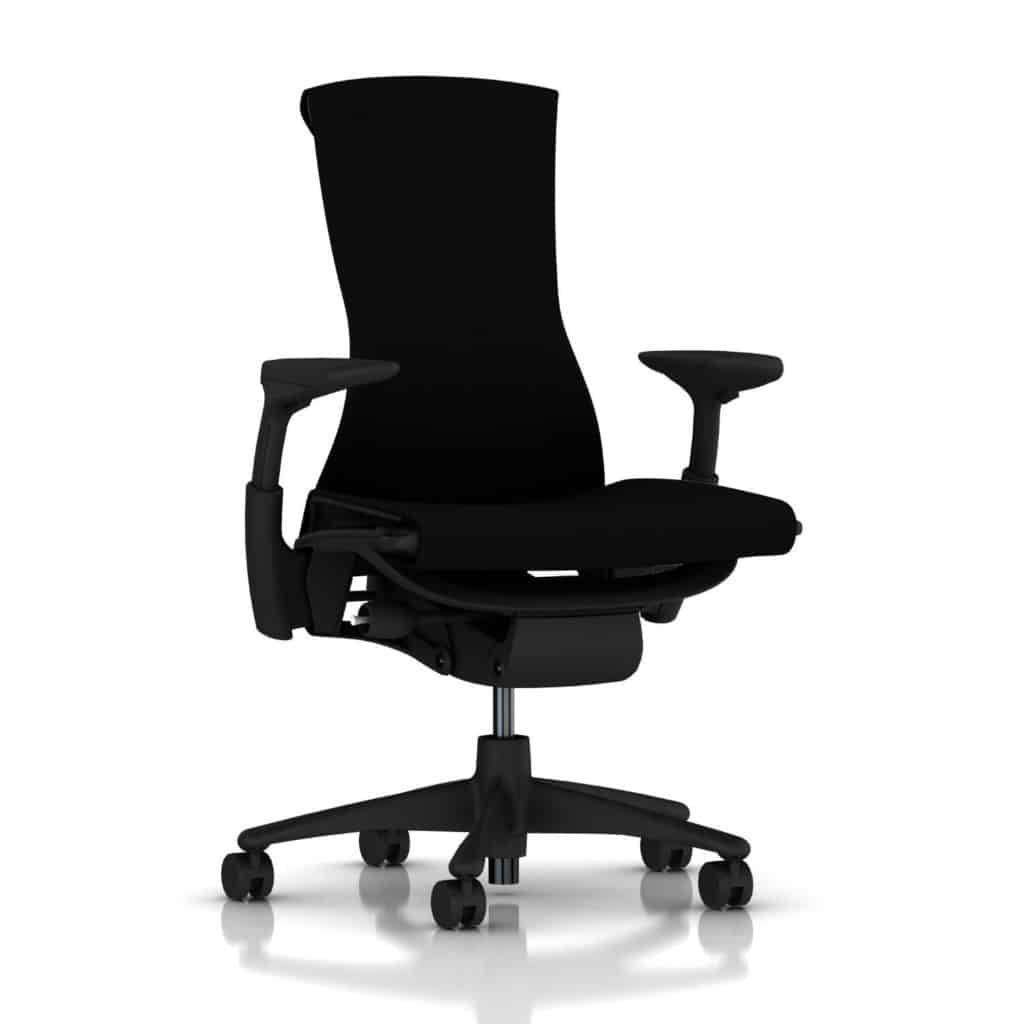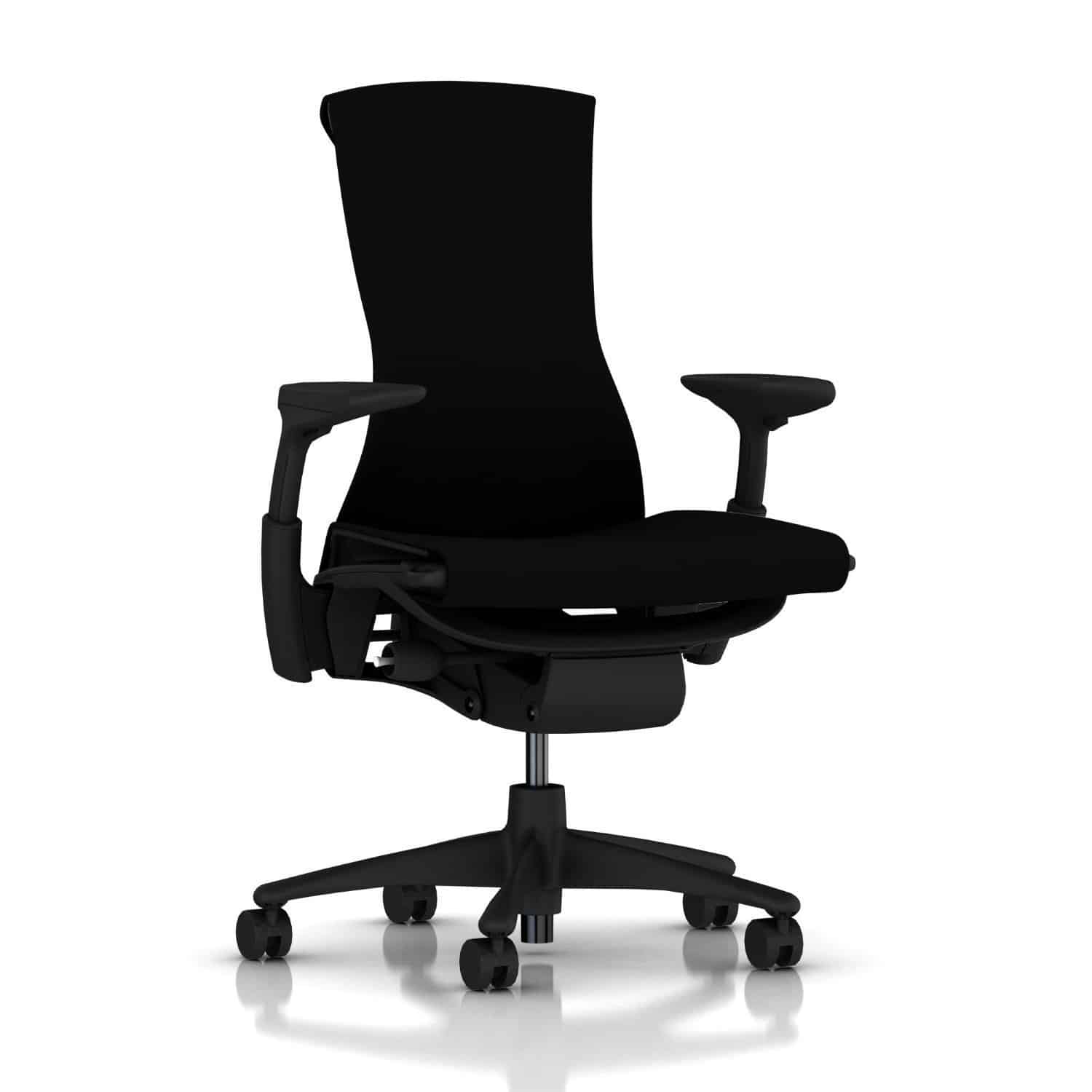 Best Value
GM Seating Ergolux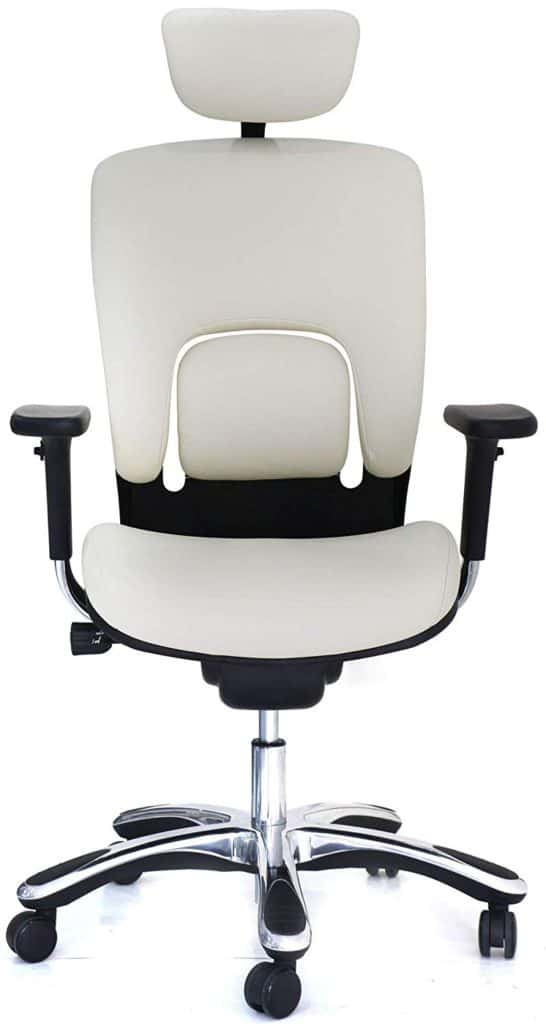 Best Budget
Komene Mesh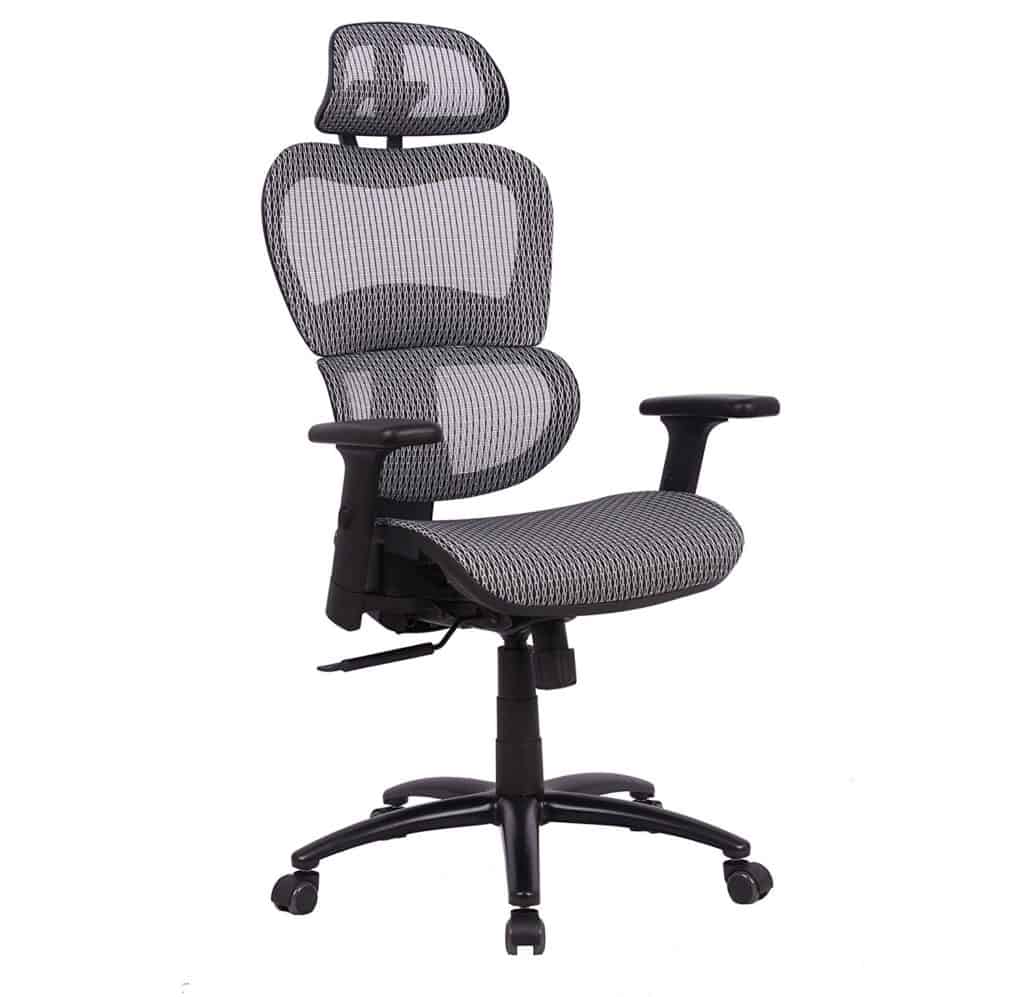 When you start looking for an office chair, the main things you look for are support and comfort, even without knowing what ergonomics actually is. Yes, the budget also plays an important role, the most important one I would say. But, we do seek out the most comfortable and supportive chair within our budget.
While shopping for the best chair for the office isn't the most exciting kind of shopping, it is one of the most important purchases that you will make. An average American spends upwards of 13 hours a day sitting, which is why back and neck pains are getting more and more common.
An ergonomically designed chair is specifically designed and built to keep our body in a comfortable position. It aims to provide us with support, no matter what our sitting positing is. The settings are engineered to put minimal strain on us and help us maintain good posture.
I have narrowed down the chairs in different categories to help you make a better-informed decision while choosing chairs for offices. I have also talked about what makes an ergonomic chair the best. Let's get on with it.
Quick Links
Best Overall
Herman Miller is one of the most trusted brands in the market with its premium build quality and ergonomic design. Every list talking about the best chairs, no matter what the category, is bound to have at least one of their chairs in the list. We are going to be discussing their Embody desk chair. It is designed by physicians to help ensure proper ergonomics.
One of the unique technologies that are used in the manufacturing of Embody's support system is the pixelated back and seat. They are made of flexible materials making the user's movements easier and also provide great blood and oxygen flow throughout your body that drives your body heat away from you. 
The exoskeleton design is designed to keep the posture correct and reduce the pressures on the spine and lower back. This helps reduce muscle aches and work-related issues.
It makes tilt tension adjustment more pronounced with three tilt lock positions to provide maximum support. This chair is designed with one of the best tilt mechanisms. Embody provides independent back angle adjustment that helps you to optimize the angle of the backrest comfortable to your needs.
We all agree that lumbar support is one of the most sought after feature, because of this lumbar adjustment option makes a chair much more contouring to an individual's needs. Although Embody has a natural curve and back adjust that helps with it, it doesn't have any lumbar adjustment option.
The seat is designed with four stacked layers. Each layer is made from a different material, which Herman Miller advertises as "layers of intelligence." 
One problem that hurts our spine is the wallet in one of our back pockets, making our hips to rest at different heights. The four-layer concept is designed to support all body shapes and clothes, including back pockets.
While the armrest pad can be adjusted height and width wise, there is no position adjustment, including pivot and depth option, which makes it difficult to customize it to your comfort level.
Despite a few adjustments that can be improved upon, the overall quality makes the chair one of the best ergonomic chairs out there. The Herman Miller Embody provides one chair option that can fit the needs of a wide range of body types. This makes it a great option for offices as well as home offices, where one chair can be shared by different people.
The chairs are also produced in an environmentally considerate setting with recyclable materials, which makes it a conscious purchase.
Herman Miller Embody Desk Chair is Suitable For –
Because the Embody chair is designed to be used by many people, it is a good option for organizations where the chair is used 24×7 like call centers, dispatch facilities, security offices, etc.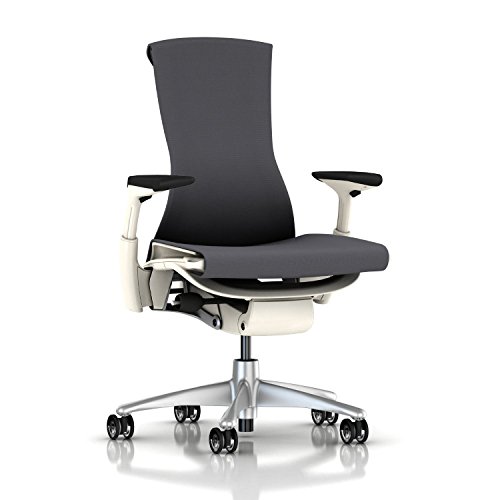 Herman Miller Embody Chair – Rhythm, Charcoal
Designed to enhance health, improve focus, and provide ergonomic support for people who sit more than 4 hours a day
Features: fully adjustable arms, titanium base and white frame, and translucent casters
Total Height: 42 - 45" | Seat Height: 16 - 20.5" | Width: 29.5" | Depth: 15"- 18"
Pros
It is made in the USA and boasts of premium build quality.
The pixelated back and seat provide great support.
It is designed by physicians to help ensure proper ergonomics.
Independent back tilt adjustment makes it easier to customize the support.
Three tilt lock positions and a great tilt tension adjustment mechanism makes adjusting the angle easier.
It can support up to 300 lbs.
Great for 24/7 use – can be used for prolonged hours.
It comes fully assembled, which is the sign of high-quality, expensive brands.
Many color options available to suit your needs and taste.
The company is focused on environment-Friendly and conscious production.
It comes with a 12-year warranty.
Cons
No lumbar adjustment option.
No arm pivot or arm depth adjustment.
Pixelated support is not for everyone.
A high price point can be off-putting.
---
Best Overall Runner-up
When talking about ergonomics, Steelcase comes the closest to what Herman Miller has to offer. While both of them rule the office chair space with their high quality, technically sound engineered products, Steelcase takes the cake with better ergonomic functions in the ones that both have in common.
The Gesture offered by Steelcase is a high build quality chair that people trust. The mechanism design is well thought out, you will not find anything that is just for aesthetic purposes, but the overall design makes the chair aesthetically pleasing.
The Gesture is designed to accommodate a variety of body sizes and natural sitting positions. The way it is built using exclusive LiveBack technology, it automatically adjusts to your body. It mimics the natural movement of your spine and neck while supporting and protecting your back and neck. It is developed with a core equalizer, which provides excellent lumbar support.
While the Steelcase Gesture chairs are comfortable and can accommodate most heights, they do not come with adjustable backrests. But, you can buy the chairs with three height options. We here are talking about the highest one, but these are the other options:
Low Height Range (14.5″ – 18.25″)
Medium Height Range (16″ – 21″)
High Height Range (17″ – 22.5″)
It is also designed with highly adjustable arms that support many types of postures. The widely customizable arms make the Gesture an invaluable addition to the office chair range because all the adjustability options like height, width, position, depth are available in only a few chairs.
Not only the armrests, but the seat slider function is another strong selling point for Steelcase Gesture. This, again, is such a huge need but is only available in a few options. While working for hours on end, our bodies often are dragged down by our butts sliding down slowly on the chair; this makes all the support in the world useless if we are practically halfway out of the seat.
The Gesture countered this issue and added a knob that makes the seat slide to suit your hour-to-hour need. The depth of the seat pan is also adjusted by a knob that makes it usable for a wide range of people with shorter legs or long legs. The seat cushion also has a good amount of padding that helps you feel comfortable through cushioning for hours.
Because of so many needed adjustment options, it is a great fit for many people, which is why you can select it for a place where a number of people are going to be using the chair.
Talking about the design, the custom plastic covers on this ergonomic chair do not take anything away from the chair; instead, they draw your eye to the chair's functionality and its slim design.
Steelcase Gesture Ergonomic Chair is Suitable For –
Because it is highly adjustable and supports working in different positions, it is suitable for a wide range of job profiles. 
If you work on the keyboard – leaning forward most of the time – like writing or data entry or if you work using headsets – leaning back or sitting straight most of the time – like a call center, customer care, or sound engineer, the Steelcase Gesture will still work perfectly well for you regardless of the industry and the device you are using.
Pros
It is made in the USA and boasts a high build quality.
Comfortable and highly adjustable arms can support different sitting positions.
It is developed with a core equalizer, which provides excellent lumbar support.
It has seat slider functionality that provides comfort and support for different sitting positions.
It can support up to 400 lbs.
It is great for a wide range of users.
It comes in three different height ranges.
It has a lot of color options to help the aesthetics of your office as well.
It comes fully assembled, which is only the case in expensive chair models.
It comes with a 100% Steelcase warranty – 12-year warranty.
Cons
It does not have a back-height adjustment option. So, one chair might not be able to work for many people using.
The seat cushion and the armrests can be a little hard for some people.
A high price point can be off-putting.
---
Best Value Chair
The GM Seating chair is one of those chairs that uses every aspect of its design to be functional down to the very core. It is one of the most stylish chairs you will find. It comes in three color options: black, burgundy, and snow white. Personally, I think snow white looks the best.
The upholstery is made of genuine calfskin leather, and that makes it reliable and durable, and also gives it an expensive sleek look.
This is a great value for money chair in terms of style and functionality. There is a wide range of adjustment options available, better than most expensive chairs, to make this chair ergonomically sound.
The lumbar support in this executive chair promotes good posture, alleviates back stress, and prevents back pain. The spine support system is designed to minimize back pain and contour your body. The tilt mechanism lets you adjust the backrest to the degree that is comfortable for you. Although the lumbar area is not adjustable, it still provides good support.
You can also adjust the seat slide, which gives you the option to lean back and be in a half-sitting position when tired. The adjustable seat height and depth adds on to the comfortable chair experience.
The seat height adjustability allows you to reduce stress on your back and knees by making sure that you can adjust the seat – such that your hips are higher than your knees and your thighs are parallel to the floor – based on your height. This is the recommended sitting position for correct chair dimensions.
Armrests are another important part of the chair to pay attention to, especially if you are someone who keeps switching their sitting position. The chair comes with 3D armrests that you can set to different heights. Not only that, but the armrests can also pivot to accommodate the different postures you will be adhering to throughout the day. Even after these many adjustments in the armrest, they are not as comfortable as they could have been because the padding is flat, and as a result, it feels hard.
The headrest being adjustable completes the ergonomics, you can adjust the height as well as the tilt of the headrest.
GM Seating Ergolux Office Chair is Suitable For –
The GM chair is quite an affordable alternative to the Herman Miller and Steelcase chairs at a price point of around $600. 
So you can get a stylish chair that comes with many ergonomic office chair features and is aimed to provide you with comfort and is focused on reducing back pain and promoting a positive posture. So, based on the name itself, this chair is highly suitable for high-level executives.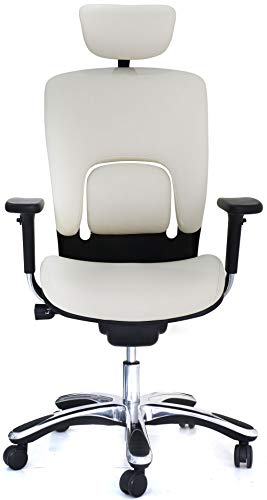 GM Seating Ergolux Genuine Leather Executive Office...
Genuine Leather Executive chair: The genuine leather executive chairs provide not only sleek, professional style but also lumbar support for...
Ergonomic Office Chair: GM Seating designs ergonomic chairs to meet different needs, with seat height, lumbar support, and back support...
Easy Adjustable Armrest: This ergonomic chair for the home office easily adjusts to your individual body size and height and has...
Pros
The first attraction to this chair is its design and stylish look.
You get a wide range of ergonomic adjustments to customize the chair to your individual needs.
The design promotes a positive posture and prevents back pain.
It has dedicated built-in neck support.
Affordable compared to other models with the same functions.
It comes with a 5-year warranty period.
Cons
The lumbar support isn't adjustable, which would have made the chair perfect ergonomically.
Flat and hard armrests that won't provide much resting comfort to your wrists and arms.
Because of too many adjustments, it can get difficult to lock in different settings.
Poor instructions on how to use the settings can make it difficult to enjoy the full range that the chair has to offer.
---
Best Value Chair Runner-Up
This has to be one of the unique designs in the office chair market. The twin backrests that this chair by Duorest sports allows the spinal column to maintain its natural shape. The dynamic sitting theory is used in the design and is aimed at keeping the backbone free from pressure even when reclined.
They conform to the inclination of the body when you recline on them, and that is what helps keep the natural shape and reduce pressure. The sturdy six wheelbases provide strong support.
Because of the design, the backrests can flexibly move independently on the X, Y, and Z axes, and this helps in keeping the back supported at all times. The backrest is fully adjustable and allows you to easily adjust the backrest's depth and height to fit your needs comfortably. This is a great feature if you are someone who suffers from back pain.
Tilt tension and tilt lock mechanism help you maintain a comfortable angle to support your sitting needs in terms of lumbar support. The armrests are fully adjustable and perfectly support your elbow and wrist, which helps in reducing the pressure and providing relief.
This chair also features a synthetic leather headrest that is height and the degree of tilt-adjustable to provide you with much-needed head and neck support. This helps you maintain proper posture and reduce fatigue.
The seat pan is made up of sponge to spread the pressure effectively. Curved seat pan design helps improve blood circulation and reduce pressure from the thighs. The equal distribution of pressure ensures support and comfort for long hours of usage. The seat depth is also adjustable to ensure proper posture.
Leaders Executive Ergonomic Office Chair is Suitable For –
Because of the dual backrest design, the chair can fit people of any shape and size. This makes the chair a good option for people who suffer from back pain, and their aim is to reduce overall hurt in the body. It can be perfect for people who love burning the midnight oil.
Pros
Dual backrest provides complete support irrespective of the user's shape and size.
The backrest can be flexibly moved independently.
The tilt lock position helps you lock the backrest in a position comfortable to you.
Sturdy six wheelbase provides strong support.
Fully adjustable arms help reduce pain and pressure from the wrists and elbows.
Adjustable seat depth for comfort and support.
Sponge seat pan that can be easily cleaned and helps distribute the user's weight evenly.
The headrest is height and angle adjustable.
Cons
Armrest can't be moved to the sides.
The dual backrest design can need a little getting used to.
The sponge seat pan can sink in with use.
---
Best Budget Chair
The Komene Mesh office chair is ergonomically rich in its design and is great for people with back issues. The three-piece backrest design is innovative in the sense that it aggressively targets your back and neck, and focuses on tension relief. This helps reduce pain caused by hours of sitting.
The three pieces are designed and shaped separately to match the curvature of your back and neck. Here's how the three-piece design helps you with back and neck pain:
The lowest piece: The lowest piece of the chair has a more protruding lumbar support that targets your lower back and helps reduce pain by offering proper support. The breathable mesh allows it to give you constant back support depending on the amount of pressure you apply.
The middle piece: The middle piece supports the whole of your back while providing you comfort. It helps the chair mold to your back according to the pressure applied because of the material.
The highest piece: The highest piece is the adjustable headrest. It is designed to support your head in its entirety. The curved shape pays attention to proper support and comfort by fitting behind your head and underneath your neck. This makes it a great option for people with neck pain.
Continuing the back support discussion, let's talk about the 135 degrees backrest recline option. You can configure it to the position that suits you best, but the 135 degrees support is said to be best for people with back issues.
The Armrests are highly adjustable and are PU padded. They can move left, right, forward, backward, and you can also adjust their height.
The seat depth is adjustable as well. There is also a seat slider option to move your seat forward and backward. This helps this chair to be suited to people with either longer thighs or larger body sizes and makes it also supportive of different sitting positions. 
Komene Mesh Office Chair is Suitable For –
Because the chairs focus on relieving back and neck pain, it is great for people suffering from them. Anyone working for prolonged hours can be benefited from this chair.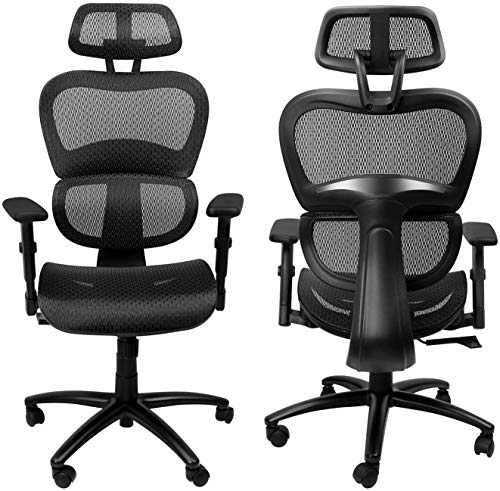 Ergonomic Office Chair Lumbar Support High Back Mesh...
【5-YEAR WARRANTY】 Komene has purchased insurance for each chair, you will enjoy a five-year warranty after purchase. We focus on...
【ERGONOMIC OFFICE CHAIR】 Komene Ergonomic Office Chair integrates several functions, adjustable headrest, ergonomic 3D lumbar support...
【LARGE & TALL OFFICE CHAIR】 The large and tall backrest is comfortable for most people. Loading Capacity: 300 lbs. The whole office...
Pros
Three-piece backrest design that is height adjustable for people with back pain.
It sports 135 degrees backrest recline to relieve spinal pressure.
The 3D armrests are highly adjustable.
Adjustable seat depth and seat slider options.
Great seat tilt tension and degree controls to give you support.
A great budget option with many ergonomic features.
Unparalleled Lifetime warranty.
Cons
No padding in the back and seat can be a little uncomfortable for some people.
All metal frame and mesh design might not be for everyone.
It needs assembly but can be easily done.
---
Best Budget Chair Runner-Up
This 9to5 ergonomic chair by Humano is designed with an innovative Ergo-Pro technology, which boosts the lumbar support. 

It is made of a high-quality and durable mesh that makes it breathable and helps keep your back cool and sweat-free for hours of use. If you use your chair for prolonged hours, then having your back pressed against fake leather or fabric will make you sweat because these materials do not provide good air circulation and are not good for letting your skin breathe.
Despite being made of mesh, it does not feel flimsy. It is crafted with a heavy steel plate construction and is designed for both stability and functionality.
The backrest is curved so that it can support the natural shape of your spine. The tilt setting will help you find the backrest angle that benefits you the most.
The seating situation that this 9to5 chair provides is fully adjustable. The adjustability helps ensure getting your unique optimal seating position. The pressure-release seat cushion can be adjusted to suit your needs. 
The seat height is adjustable so that you can adjust it according to your height and have your feet on the ground. The seat depth will conform to your comfort requirements as well.
The positioning of the armrests is chosen with the utmost comfort in mind. The arm height can be adjusted to support your arms customized to your height.
The adjustable convex headrest is designed to relieve neck fatigue. The height and the degree of tilt of the headrest can be adjusted to give your neck and head the proper support that they need.
The ergonomic features of this chair will let you feel comfortable and remain productive after many hours of sitting. Not only that, it is great for your pocket. Despite being a small business, Humano has a 100% money-back guarantee within the first 30 days policy if you do not like the chair and aren't completely satisfied with it.
9to5 Executive Ergonomic Office Chair is Suitable For –
As the name suggests, it is suitable for prolonged hours of usage. If you tend to sweat a lot, a mesh chair is a good option for you. This also helps with back pain and neck fatigue, so it can be great for people milling away on their computers as well as partaking in extreme decision making. This can also work as a great gaming chair, and it is also described as one.
Pros
High-quality and durable mesh backing allows for improved airflow and keeps the chair and your back cool.
It has a separate neck rest that gives you relief from neck fatigue.
It comes with a completely adjustable seat.
The armrests are adjustable to provide support and pain relief.
The only chair the comes with a 100% money-back guarantee on this list.
Installation is easy by the simple laid out instructions that come with the pieces.
Cons
The headrest can be a little push resistant.
Limited color options are available.
---
How do I choose an ergonomic office chair?
Picking an office chair has to be done carefully. It isn't something that you will be replacing quite frequently. Good chairs anyway cost a pretty penny, so being thorough with what you want is necessary to get the right chair.
The more adjustable options a chair has, the more you can customize it to your needs. While there isn't one chair that can be ergonomically correct for everyone, there is definitely one setting for everyone. Here are some things that you should pay extra attention to:
Lumbar Support
Lumbar support is one of the most important features when it comes to ergonomics. Sitting for long hours can have an adverse on your back, especially your lower back. You need to look for a chair that provides good lumbar support. If it is adjustable and can be customized, then that's even better.
Reclining Backrest 
A reclining backrest takes the back support level and comfort level to a higher stature. Usually, 135 degrees or over (upright is 90 degrees) is what you will find in chairs that provide a good degree of a reclining option.
135 degrees is said to be the perfect angle for a good back support position. While you are looking for reclining backrests, check if they can be locked in different angles, between the two spectrums, so that you can customize the recline tilt to your suiting. This provides you with the ultimate level of backrest angle flexibility.
Tilt Mechanism
A reclining chair is necessary if you spend long hours on it. You can't sit upright for the whole day. It is important to change positions so that you can release tension and pain in your lower back. Holding one position for a long while will give you back pain issues.
If the chair has even a certain degree of recline to it, then a tilt mechanism comes into play. A good tilt locking mechanism will take support and comfort to another level. Because without a tilt locking mechanism, no matter what degree you recline your chair to, the tilt will keep changing.
Here are the most commonly used tilt mechanisms, especially in office chairs:
Basic Tilting: The basic tilting isn't ideal for office chairs. The chair's seat, backrest, and armrest all move in unison backward, meaning your lower body along with your arms will be all tilted upwards with your back tilt. This is not a good position for your eyesight to be parallel with the floor, and also for you to be able to see your computer screen properly.
Synchro-Tilt Mechanism: Synchro tilting is more ergonomically sound because of both the seat and backrest of the chair tilt. But because the unison tilting happens at a different ratio, usually, the back tilts more, it helps you keep your seat at a comparatively flat angle and allows your feet to stay rested on the floor.
Multi-function Tilt Mechanism: If you can get a chair with a multi-function tilting, then you can customize both the seat and backrest tilt independently. Both can be tilted independently of each other. This helps you to customize the preferred degree of angle that makes you feel comfortable and supported.
While this gives more customization options than the synchro-tilt, most people still find the synchro-tilt to be enough because they don't have to make extra adjustments.
Knee-Tilt Mechanism: A knee-tilt mechanism isn't commonly found. It is a wide-angle tilt option that will still keep the front of your chair relatively level when you tilt back. 
Adjustable Seat Depth
An adjustable seat depth will allow moving the seat backward or forward. This is usually found in more expensive and higher-end ergonomic office chairs. The Herman Miller Embody chair is an example in this list. This is one of those often overlooked options that people don't realize is important but can make a lot of difference once experienced.
The ability to adjust your seat's positioning ensures that your thighs are fully rested on the seat of the chair. It doesn't matter the difference in your torso length or body size or your sitting position. It allows for your lower back to rest better against the backrest, and in turn, it helps in the enhancement of your posture and provides better support for your entire back.
Adjustable Headrest
A dedicated headrest will have a higher chance of being customizable and adjustable. An adjustable headrest is important for neck support and pain relief from sitting long hours. 
A height-adjustable headrest will help you properly align the support with the back of your head, no matter what your height or sitting posture is. If it is adjustable, then you will get to raise it up and down to support your height and sitting position, or you will get one that can be moved back and forth. While getting both is ideal, many companies are yet to step up their headrest game. 
Being able to adjust the position of the headrest gives you the opportunity to better align the back of your head and neck with the tilt of the backrest. Some are already designed to fit the curvature of your neck better, and this is important to have if you suffer from neck pain.
Adjustable Armrests
Adjustable armrests make a world of difference too. They help you get the most of your sitting position. You can have all the functions, but if the armrest isn't adjustable, you might not be able to make the most of them. At the least, the height of the armrests should be adjustable so that you can have support, no matter your height or sitting position.
Although most ergonomic chairs come with 2D armrests, there are other options as well:
2D Armrests: These armrests are adjustable in one more way in addition to the basic up and down. They can be moved in and out horizontally as well. This helps fully support your arms even when you are leaning forward or have longer arms.
3D Armrests: These armrests can move up and down, and in and out like the 2D ones, and in addition can be pivoted 5 degrees in and out, which adds another dimension to the adjustability aspect.

This is helpful if you are sitting back and doing something with your hands if your arms are in a tight v shape position, where your elbows are close to your body and arms reach out – something like using your laptop on your lap, browsing on your phone or tablet, etc.
4D Armrests: These armrests have everything that 2D and 3D armrests have to offer and more. The most common addition in the increased dimension is the ability to push the armrests in and out. But, this is still a rare inclusion in the builds. 
Other Aspects
Material is another thing that you should consider. Although it isn't exactly an ergonomic feature, knowing what works the best will be complementary to the features. Know the difference between mesh, fabric, knit, PU leather, bonded leather, genuine leather, etc.
What is the best ergonomic chair for back pain?
A chair's design that targets your lower back and provides support, especially adjustable lumbar support, is good for your back pain. The Komene Mesh chair is a great example of an ergonomic chair for back pain.
The innovative three-piece backrest design aggressively targets your back and neck and focuses on tension relief. This helps reduce pain caused by hours of sitting by matching the curvature of your back and neck.
The Leader's Executive chair by Duorest, as talked about earlier, is another example of a good chair focusing on relief from back pain. The twin backrests allow the spinal column to maintain its natural shape. The dynamic sitting theory used keeps the backbone free from pressure even when reclined.
The backrests can also flexibly move independently on the X, Y, and Z axes, and this helps in keeping the back supported at all times. This isn't a commonly available feature.
Any backrest that focuses on maintaining and supporting the natural shape of the spine is bound to bring you some relief. Conforming to the inclination of the body when you recline is what helps maintain the natural shape while reducing pressure.
Are ergonomic office chairs worth it?
Even though ergonomic chairs are generally on the expensive side, every penny you invest on them is worth it. Not only does it help you have a comfortable sitting experience for extended hours, but it also helps reduce the risks of chronic back pain or shoulder stiffness that many corporates complain about.
Conclusion
There sure is a lot involved when picking the best ergonomic office chair. When you are picking one for you, you know what your needs are, and you can shop accordingly. When you are getting chairs for office, you might want to go with something that has more adjustable options so that it can be tailored to the user.
It is easy to be fooled into buying a chair that isn't ergonomically sound because everyone seems to be using the term without knowing what it means. An ergonomically designed office chair should properly support your lower back, maintain the natural spine alignment while cushioning your body. 
I hope this has helped you understand what to pay attention to and what is more important for you. Knowing your needs and budget can make the process easier for you. Make a list of features that are non-negotiable and the ones that you can do without. This while narrow down your search even further.