Best Overall
Sitmatic Pogo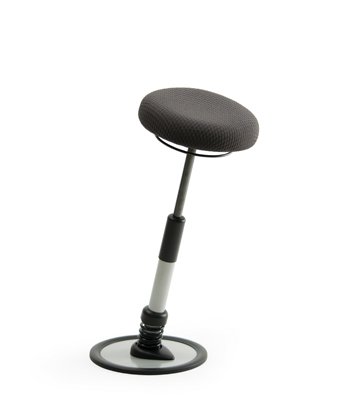 Best Value
Varier Move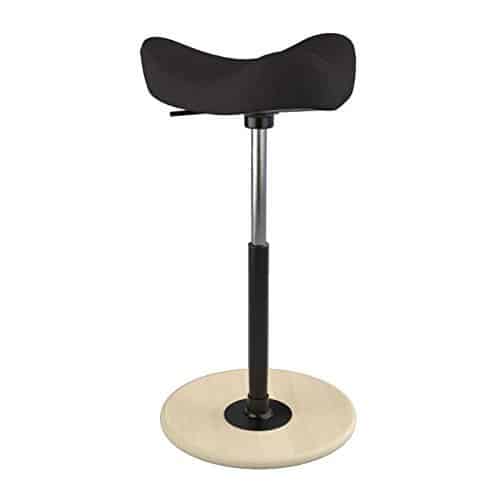 Best Budget
Songmics Active Stool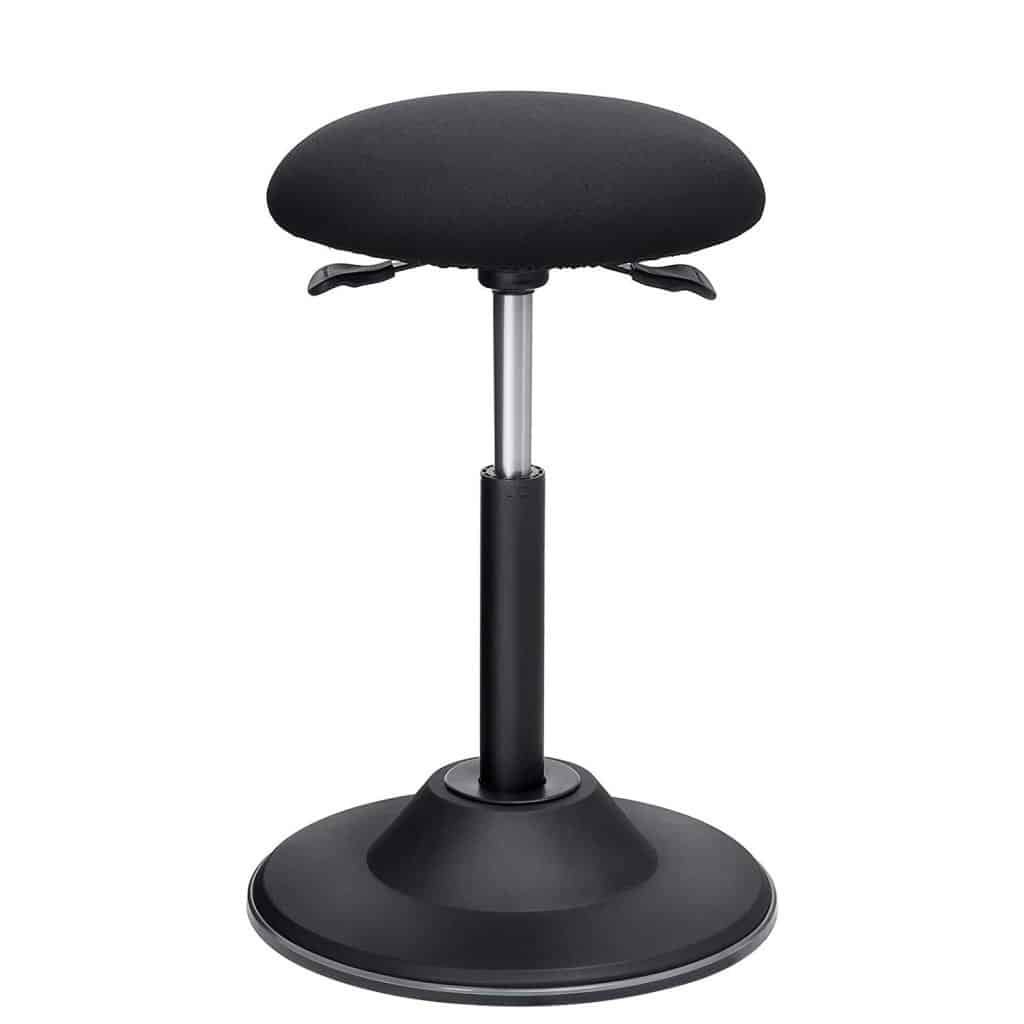 Standing desks have become all the rage recently. With people becoming more health conscious, a lot of alternatives in furniture for offices have started being brought out. Sitting for hours on end is a reason for worry, which is why standing desks have started doing the rounds in the hip office circuits. Soon enough, the rise of standing desk chairs (no pun intended) followed suit.
While other office trends, such as open floor plans, are hailed for their productivity-related pros, the use of standing desks and chairs is lauded for its health benefits. With health benefits comes productivity boost. That's hitting two birds with one stone.
What are the wonders of this "standing at work" phenom? How do you get started if you want to try its features and perks? I'll answer these questions and more in this best standing desk chair review.
Quick Links
Best Overall
Its spring feature makes this model a standout. This mechanism allows you to move forward, backward, left, or right with more flexibility than other options. You can shift to a position that's pleasing to you at the moment and turn again as needed.
With a natural 7-degree tilt, the pose prepares you to spring up anytime. You can stay active with this standing chair as it engages your leg and core muscles. It's also pretty stable, although it can cause you to slip out of position at some point.
The seat of the Pogo sports the PressureCast and Dreamweave. The PressureCast cushion is made of molded foam for a durable and comfortable feel. Compared with cut foam, molded foam is composed of tightly-fused small beads, which result in a finer surface. Meanwhile, Dreamweave is a grade-4 fabric consisting of 100% polyester and sporting a 3D knit pattern.
Styrene-butadiene rubber (SBR), which is typically found in tires, is used for the rubber ring surrounding the base plate. This material lets you move across carpets and hard surfaces with ease. It could've been perfect if the base also came with wheels. At 30 pounds, you will need to carry it to a different spot in the office—not a big deal, but Sitmatic could've done better.
Manufactured in the USA, this product is proud to carry high-quality components. And it comes at a reasonable price. Its lifetime warranty is a godsend, but the complicated return policy can be challenging for some people.
Sitmatic Pogo is Suitable For –
A wide range of users can take advantage of the chair's adjustable height. Tall individuals can go as high as 29 to 39 inches. For those with a small height, they can try 22 to 32 inches. The standard version can be changed from 27 to 37 inches, ideal for those of average height.
Pros
Comfortable enough to let you stay in position while concentrating on your work. The seat and frame are made of high-quality materials, which are durable and supportive.
A wide range of motion is available for leaning forward and backward, as well as moving sideways.
Adjustable height settings cater to different users, from small to tall individuals.
Cons
Lack of wheels translates to a lack of long-range mobility, such as transporting the chair from one location to another.
Angle takes time getting used to, as it's unlike the typical 90-degree form of hips and knees.
The complicated and short return policy may require a 75% restocking fee.
---
Best Overall Runner-up
LeanRite Elite is a hybrid from Chicago, Illinois-based company Ergo Impact. It's a sitting cum standing chair. In this review, we'll touch on its pros and cons as the latter. First off, it competes with Sitmatic Pogo in terms of design and materials. It features a small but firm and lightly padded seat. Yet, a slightly firm seat is better than a plush one when you're perched.
Also, the base and column composing the frame are made of aluminum. An anti-fatigue mat and wheels at the bottom make for painless gliding on floors. To assist your standing pose, this model can lean forward and backward. However, you may not be able to adjust it sideways or tilt it easily.
The seat has a rounded front edge that supports your lower back. Raising it to your desired height is a breeze. Step on the pedal at the base and move the seat upward, reaching between 25 and 48.5 inches. To bring it down, though, you need to step on the pedal while sitting on the chair. Push it down until you get to your preferred height.
You'll probably love the various angles this chair has: full standing, angled perch, and seated. There's more. You can choose to activate the massager for your lower back or your legs. And this standing chair has a foot platform, which is similar to a footrest in other constructions.
The Ergo Impact LeanRite Elite is Suitable For –
With seated and standing options, as well as several angles, this product can cater to short, average-height, and tall users. Those who suffer from lower back pain and leg cramps can get relief from the built-in massager.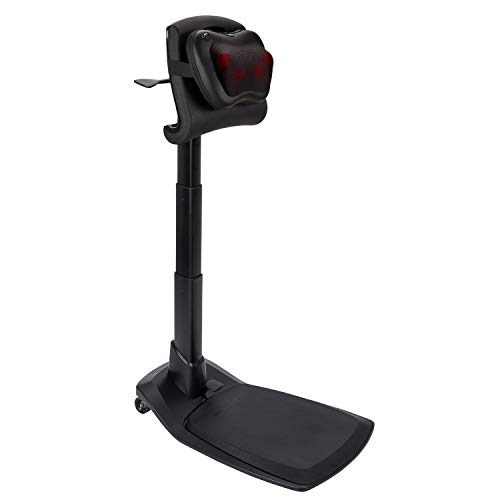 LeanRite Adjustable Height Standing Chair, Elite...
Maximum Comfort: Dynamic Height & Seat Positioning. High quality air-spring cylinders allow for a range of height adjustment. Featuring soft...
Smooth Operation: Move easily from one position to the next. Urethane performance wheels, allow for smooth movement around the office.
Solid Construction: High quality aluminum provides steady support w/ easy movement by minimizing weight. 30" long anti-fatigue platform...
Pros
A wide range of settings for height makes this model ideal for tall individuals. But short and average-height ones also benefit.
Multiple angle options offer users the choice to settle with the most comfortable position for them.
The reliable built-in massager can provide relief to individuals with lower back pain and leg cramps.
Cons
Design is not for small areas. While the frame and seat are okay, the foot platform can take up a lot of space.
Limited mobility is expected when you're sitting. The wheels are useful mostly when you are moving the chair from one spot to another.
Expensive when compared to models like the Pogo. But it is within the price range of some competitors.
---
Best Value Chair
Move stools have been on the market since the Norwegian designer of non-conventional chairs, Per Oie, crafted the first one in 1985. Named as such, this work chair supports the constant movement of your body while you sit or stand. Construction-wise, it has a very specific designer's touch that is hard to deny. The lacquered beechwood base looks high-quality. The upholstery comes in various fabrics, as well as leather.
One of the variants is Revive, which is made of 100% recycled polyester. This budget-friendly version is visually appealing, like the others. You can stylishly complete your tasks while shifting to the position that feels most comfortable to you. Through a gas lift lever, the height range is adjustable from 22 to up to 32 inches, so tall individuals can use it as a standing chair.
However, it has a maximum capacity of 250 pounds. Those who fall on the heavier side may have to look for something suitable to their needs. But if you are below 250 pounds, you may find this pretty and functional stool helpful. It can pivot when you shift your weight. Its adaptive support moves with your every move, making it an ergonomic choice.
During delivery, the parts are placed in a box. You will have to assemble the chair yourself, a smooth process if you carefully follow the steps in the manual. Just take out the three pieces and put them together without any tools. Prices start at $349 (Revive). Overall, it's a great deal because of the thought put into its design and materials and the benefits you get from it.
The Varier Move is Suitable For –
People who are looking for a beautiful yet affordable standing stool can find both in the Varier Move, specifically the Revive variant. This model is perfect for any height, as it can travel up to 10 inches. But only those who weigh up to 250 pounds can use it due to the weight limit.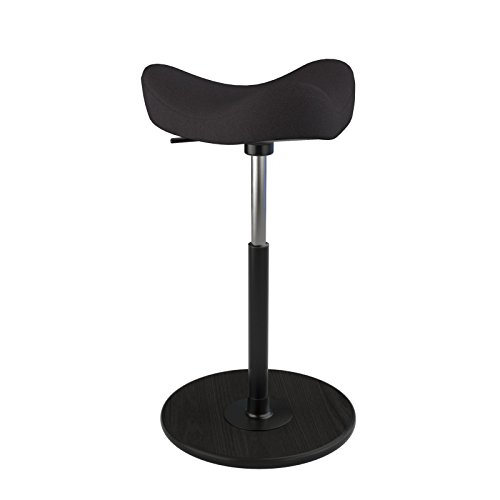 Pros
Supportive seat no matter what position you switch into while sitting or standing.
High-quality engineering and materials mark this product. The solid and long-lasting design makes it an investment piece for your office, home, studio, etc.
Slim design works in many types of spaces, from small to huge. You can assemble and fit it into yours without too much fuss.
Cons
Limited weight capacity keeps this chair from supporting people who weigh above 250 pounds.
Non-Revive variants are expensive, so those with a tight budget only have one choice.
---
Best Value Chair Runner-Up
VARIchair is the sole chair offering from VARIDESK, a popular standing desk company. It is an all-black model that is delivered to you already assembled. Its base and seat base are made of black plastic. The seat is composed of coarse polyurethane. It's firmer than the other options in this review. But technically, the design concept is similar to that of the aeris muvman.
Featuring a minimalist look, the VARIchair is a runner-up to the Move because of its functionality. The joint swivels and pivots according to your movement. And then it returns to a slightly tilted position at the center. The seat has a convex shape, allowing for an open hip angle (angle between torso and thighs). This feature is similarly considered when you fit a bike.
A rubber ring surrounds the edge to prevent the chair from slipping. It feels stable this way, especially when you're parked in the same position for a while. But it's also flexible enough to let you move when you're tired or sore from the first position. Another strong point for this model is that it's lightweight and fits into any space.
However, you may not like it if you aren't a fan of firm padding. It may also feel coarse to some users. If you can overlook these details, you may be rewarded with a stool that is durable and easy to clean. Plus, it comes with an inexpensive price tag.
The VARIDESK VARIchair is Suitable For –
Those who seek mobility and portability can quickly achieve them in this chair. It's also one of the most stable options for any height and forward lean angle. If you are looking for the cheapest yet reliable version of a standing stool, this one should be top of mind.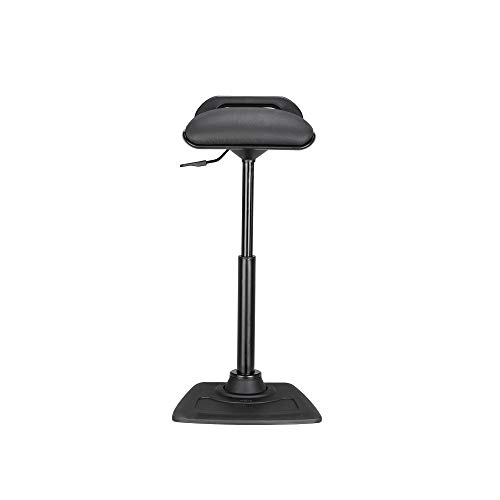 Vari Active Seat Basic - Adjustable Ergonomic Standing...
MADE TO MOVE: Rocking motion engages leg, back, and core muscles while sitting or standing
FLEXIBLE: A fully articulating pedestal means you can lean in any direction to keep your lower body engaged
SMALL FOOTPRINT: The comfortable cushioned top measures 14" wide, taking up less space than an average office chair, with a low seatback...
Pros
The adaptive swivel and pivot lets you change positions while standing or staying seated.
Easy to move around, this chair is mobile and portable. It works for people who want to be able to sit or stand in various spots of their home office every day.
One of the most affordable options in this review, this model is durable and functional. It's a cheaper alternative to the Move.
Cons
Coarse and firm, the padding is made of vinyl. Some users may not feel comfortable leaning on this type of material.
Convex-shaped, the seat may not be for everyone, especially those who are suffering from back pain. This may also not be for people who need lumbar support for hours.
The lack of wheels may not be enough for people who have limited mobility.
---
Best Budget Chair
This model serves as a leaning stool, particularly for individuals who are of small to average height. It can otherwise be challenging to use for a tall person. Through either lever under the seat, you can adjust the height from 19.7 to any point up to 27.6 inches. If you have the right height, you can maximize the benefits of this chair.
First of all, it has a swivel-and-tilt feature to assist you while you sit and semi-stand. It can boost your comfort and productivity while you use it as your work chair—say, if you need a drafting stool or just a chair for active sitting. This is great as some people cannot tolerate long periods of sitting due to a condition. No one should sit for hours on end anyway.
Next, you can rely on the quality, comfort, and durability of the materials found in this chair. Its seat uses a thick, high-density foam to keep it well-padded. It's comfortable and less prone to sagging. Underneath, the base pad protects the surface on which the stool stands. Your wooden floor is safe from scratches while moving this one around.
Lastly, the Songmics Active Stool swivels 360 degrees and tilts up to 8 inches to support you in any position you want. So there's room for varying your poses, while it encourages good posture as you sit or semi-stand. This product will arrive in your home or office unassembled. However, setting it up should not really stress you out.
The Songmics Active Stool is Suitable For –
Marketed as an active stool, it can be used as a semi-standing chair by people who are short to average height. It's also for those who want to practice good posture. The only requirement is that they don't have back conditions like scoliosis.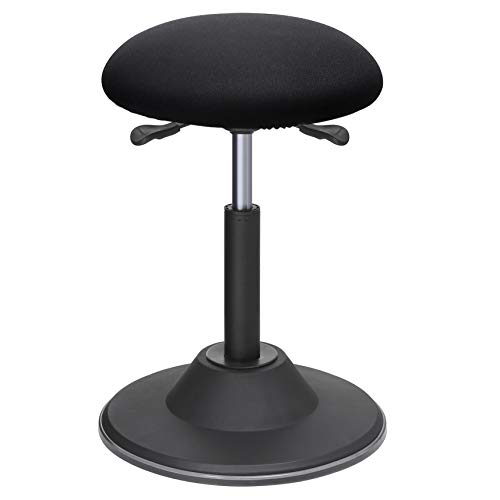 SONGMICS Office Stool Chair, Adjustable Height Sit...
Active sitting stool: get this ergonomic task stool, swivel and tilt slightly to keep you energized and productive all the day
Well-padded Seat: upholstered with 2. 6'' Thick high-density reflex foam, The large Seat (14. 6''Dia. ) sits comfortably and it won't deform...
Adjust to your ideal Height: 2 levers are below the Seat; you can pull either one to adjust the stool height from 19. 7'' To 27. 6'' And...
Pros
Multiple tilt options are available for easy adjustment while you work. This is ideal for individuals who have to break out of extended sitting.
Stable enough to hold your weight while you swivel or wiggle and mobile enough to move around.
The cheapest version on this list, the Songmics Active Stool is perfect for those who want a sturdy introductory standing desk chair.
Cons
Squeaky noises may be produced when you move the joint or seat a lot.
Not recommended for those who have scoliosis as this may favor supporting the upper back.
Not tall enough for people who want to extend the height to complement their standing desk.
---
Best Budget Chair Runner-Up
The alternative to Songmics is another one from Songmics. As the name implies, this standing desk chair does what it says it does. Like the active stool from the same brand, it supports active sitting. However, the former is cheaper than the latter. And yet, they offer almost the same results. So if you have a few more bucks to spend, you may go for this one.
One of the reasons to choose this model is that it has an adjustable height of 24.8 to 34.6 inches. It's the perfect partner for standing desks that are designed for taller individuals. Like the active stool, it can swivel 360-degrees and tilts up to 8 inches. But it adds two handles on the sides of the seat for better comfort and support.
Further, instead of the levers, you can press a button under the seat to adjust the height. The high-quality gas cylinder makes rising and falling as smooth as possible. The same high-density foam is found in the seat cushion, so you can enjoy comfortable, active sitting for a long time. All of these materials are also built to last.
If you want the conveniences of the double handles, the button for adjusting height, and a taller reach, you can pay the extra $20, more or less. If you want a shorter version, Songmics created a variant with an adjustable height that goes from 19.7 to 27.6 inches.
The Songmics Standing Desk Chair is Suitable For –
Tall, average, and short users can take advantage of the added features of the Songmics Standing Desk Chair, which are not found in the Songmics Active Stool. Cannot choose between the two? The good thing about Songmics is that it will assist you in finding the right fit for you.
Sale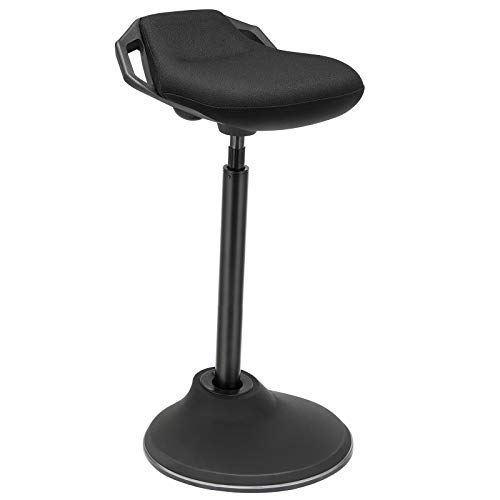 SONGMICS Standing Desk Chair, Adjustable Ergonomic...
[Active Healthy Posture] Our ergonomic wobble stool, with an 8-degree tilt, combats stiff sitting positions, preventing back pain. Keep your...
[Adaptable and Practical] With a simple push of a button, adjust the height (23.6"-33.3") of this versatile stool to your comfort. Ideal for...
[Comfort Every Workday] Indulge in the large, plush seat padded with high-density reflex foam for ultimate comfort. This ergonomic standing...
Pros
Swivels and tilts to support active sitting. This chair has similar properties to the Active Stool.
Easy to switch to your preferred height. This is made possible by the button underneath the seat.
On top of high-quality materials, it features double handles for more comfortable sitting or standing.
Cons
Designed for taller people, this chair is still limited to supporting those who are 5'10 tall and below.
Easy to assemble. However, it may not be as easy to disassemble if you wish to return it to the merchant or manufacturer.
Slow to snap back to its default position, this chair leans toward the last direction you left it in before getting up.
---
What is a Standing Desk Chair?
A standing chair is a modified version of your regular office chair. It shares some of the features of the latter, such as the base, wheel casters, seat, and seat pan. Usually, though, it doesn't have an armrest, backrest, and headrest. In some cases, standing chairs sport a foot platform.
The main difference, though, lies in the physical benefits they provide users with. Some studies have shown the negative effects of extended sitting. Standard office chairs won't cut it anymore. Standing desk stools are the way to go if you are to keep yourself healthy and productive.
Here are a few benefits of using standing chairs:
Switch to Neutral-Posture Positions
To counter the negative impact of sitting for long hours, you can sit, lean, perch, sit at a height where your knees are below your hips, or stand. A regular office chair can't let you switch to these different positions. Meanwhile, a standing chair packs all these features in one product.
Match the Features of Your Standing Desk
If you have an adjustable standing desk, it would be inefficient to use a typical office chair. You won't be able to enjoy the benefits of the desk. And if it will ever affect your productivity, it will be for the worse. With a standing desk stool, you can lean and raise your seat to reach the desk without straining the muscles in your back, hands, legs, and other body parts.
Move More With Stability
A standing chair allows you to tilt or move based on your comfort level. Even with a wide range of motion, though, it still offers stability so you won't feel like slipping out of your seat. This way, you can move freely from one position to another. You can do active sitting while being supported by your office chair.
What Height Should My Desk Chair Be?
The ideal height for a standing desk chair differs from person to person. These days, you can run an ergonomic self-assessment to determine what's right for you. You can check out this list to start.
When you're shopping for a standing desk stool, you can complement the checklist with a couple of measurements. These are your eye height and elbow height. Here are some of the suggested measurements for standing based on a person's height:
Height – Eye Height – Elbow Height
5'0 – 55.5" – 36.5"
5'1 – 56.5" – 37"
5'2 – 57.5" – 37.5"
5'3 – 58" – 38"
5'4 – 59.5" – 39"
5'5 – 60.5" – 39.5"
5'6 – 61.5" – 40.5"
5'7 – 62.5" – 41"
5'8 – 63.5" – 41.5"
5'9 – 64.5" – 42.5"
5'10 – 65" – 43"
5'11 – 66" – 43.5"
6'0 – 67.5" – 44"
Take note that the figures here apply to a full standing position. Also, make sure your screen is tilted at 10 to 20 degrees.
Factors to Consider
Before you shop for standing chairs, you should keep in mind the following factors:
Construction & Materials
The materials used must be of high quality, if not premium-grade. When put together, they should provide users with support and comfort. At the same time, your chosen model should not only be functional, its design should also make sense and not get in the way of the features working together.
In other words, it should be beautiful and useful. This kind of chair can boost productivity and keep you from experiencing aches. In this review, the Varier Move serves as the perfect example for balancing both aspects. As much as possible, go for the model that gives you the best of both worlds.
Height Adjustment
In this review, I made sure to share the height adjustment settings for each model. This way, you'll have a clear idea of how high a chair can go. You'll know if it'll work for your height and/or your preferred seat height while using it.
Height adjustment also includes the ability to do it efficiently. Can you shift from sitting to standing without fuss? Can you raise or lower your seat without trouble? In general, this factor is part of the discussion about ergonomics, which you will read about below.
By the way, I found Sitmatic Pogo to offer the most accommodating height range options among the lot.
Weight Capacity
Check out the weight limit of the standing chairs you're choosing from. Typically, the reference point is 250 pounds. Some models can accommodate those who weigh beyond that; others cannot. As you may be buying online, this information should prevent you from ordering the wrong model.
Ergonomics
Ergonomics involves the design and development of things that fit the user. I see this as putting thought into how one part affects the whole, as well as how the whole works in harmony. The end goal here is to benefit the user.
In terms of standing desk stools, one example would be the swivel-and-tilt feature. Does the object function according to your natural movements? Can you adjust the height so that your hands do not suffer from carpal tunnel syndrome? If anything, your chair should complement the ergonomic features of your non-adjustable/adjustable standing desk.
Mobility
This factor relates to ergonomics. For instance, it refers to the standing chair's ability to tilt or swivel, allowing you to switch positions as you please.
Mobility ensures and enhances your comfort. And that applies to many situations. Let's say you're glued to your standing desk or leaning toward your teammate to collaborate on a task. It is mobility that makes you feel relaxed while standing or leaning.
Portability
How easy is it to move your standing chair around? Is it light enough or too heavy to lug from one point to another? Now that you've read the reviews, you probably have an idea as to which among the models have a high star rating for portability. Sporting a set of wheel casters is the most efficient way to increase this product's portability.
Pricing
A standing desk stool can be more expensive than a traditional office chair. The price range in this review is below $90 to above $500. I already explored the models' strong and weak points, so you can look for one that fits your budget.
The cheapest option from our top picks is the Songmics Active Stool. It's followed by the Standing Desk Chair, also from Songmics. Within the mid-range, you'll find Varier Move and VARIDESK VARIchair. Sitmatic Pogo can also be considered mid-range, depending on who you ask. But together with Ergo Impact LeanRite Elite, it can fall under the high-end category.
Frequently Asked Questions
Do chairs for standing desks offer lumbar support?
It depends on the type of chair you are purchasing. While some of the basic standing desk chairs do offer lumbar support, there are a few other options including the leaning stools which are more catered towards supporting your hips rather than your lower back. So, depending on your preference, you need to pick a chair that can support your lumbar region when you are working for extended hours.
How tall should a standing desk chair be?
The height of the standing desk chair is dependent on how tall the user is and how much elevation the standing desk is at. If the desk is around 40-45" high, you need to ensure that the chair is nothing above 25-28" high. Even that depends on how tall the user is. If the user is above 5'8", it is better to look for a chair that is around 23-25" high. Alternatively, try and get the standing desk chairs that come with adjustable height settings.
Is standing at a desk better than sitting?
Standing desks come with a lot of pros and cons. It is ergonomic, enhances the muscle activity of the users and even helps lose calories. It is also associated with reduced risks of several chronic diseases including strokes and heart attacks. But, they do come with a few cons too. It can strain the lower limbs and cause pain and inflammation with extended standing. So, make sure that you alternate between sitting and standing to alleviate the obstacles.
Should you use a standing desk all day?
Even though several people rave about the standing desks, even they are flawed and not perfect. It is true that they come with their own set of benefits but it is also tacked on with some downsides as well. So, if you are here wondering whether it is okay to work at a standing desk for the entire day, it isn't. It enhances the risks of leg and foot pain and can even cause inflammation and blood pooling by the end of the day. Alternative between standing and sitting every hour to maintain a balance.
Are standing desks good for lower back pain?
Standing desks do alleviate lower back pain but it isn't the cure-all. You do need to focus on getting professional help if the pain keeps getting worse. A standing desk generally helps correct your posture, thereby reducing unnecessary pressure on your lower back, thus helping reduce the constant pain and discomfort that you are likely experiencing.
Conclusion
My top pick as the best standing chair is no other than the Sitmatic Pogo. It scores high in mobility, stability, design, and materials. It's a bit on the heavier side compared to some of the contenders. But it should not be a big deal if you're moving it within the same space.
A close second is the LeanRite Elite by Ergo Impact. It sports high-quality materials, as well as easy height adjustment and various angles and tilts. Still, the Pogo dominates because of its more affordable price tag. And it has a broader range of motion and height to choose from.
In this review, I also answered a couple of frequently asked questions about standing chairs. I threw in the factors to consider before buying one as well. Armed with this knowledge, you should be able to find shopping fun and easy. And I hope you keep coming back to this site for more information on how to furnish your home or corporate office.