Playing a game requires your full focus. Get in the zone, or it's game over.
I think this is why some video game players can become used to sitting uncomfortably for hours on end. Such is their dedication to complete tasks, execute their team's plan of attack, and collect prizes during their gaming sessions.
Sometimes, they end up with back pain or bad posture instead.
I believe you deserve a reward in the real world, too – something as beneficial as a comfortable chair. If you think such a specialist chair is expensive, you should know that the best gaming chair under $200 exists. And, it can improve your gaming and sitting experience in one go.
Here are the reviews:
Table of Contents.
Best Gaming Chairs Under $200
Best Overall
Say hello to the multi-functional Homall Gaming Chair. It has been a chair of choice for work or leisure purposes. It leads this list because of its versatility, catering to video game players as well as office workers.
Hardcore gamers can specifically take advantage of the recline function, which allows you to extend your chair backward by 90 to 150 degrees. It can actually reach 180 degrees, but it only makes sense to use this setting if you're sleeping on it, not playing. In any case, tilt and lock the body to your desired position before immersing yourself in the game.
You can keep it upright while playing if that's what you prefer. Then, recline it when you need to rest. If lying down doesn't suit you, rocking the chair back and forth can help. Find the knob under the seat to enable this function. Also, if you wish to swivel, you can do so up to 360 degrees (without turning any knob or touching any lever).
I like how this model encourages active sitting. It doesn't stop at mobility, though. For those who want to adjust the seat height to match theirs and that of their desk, the gas spring cylinder can be modified from 17.3 up to 21.5 inches.
Now, let's talk about that racing style gaming chair style build. This one sports a high backrest and a headrest for upper body comfort and support. For your lower body, it has a well-padded seat flanked by an armrest on each side. Lumbar support is included to keep your lumbar region relaxed in its natural curve. The cushioning is made of molded foam, which delivers a firm feel. The finishing, which looks premium, is all polyurethane (faux) leather.
One drawback to this heavy-set design is that it does not have adjustable armrests. There is no way you can raise or lower them to a comfortable height. But everything else works together to give you a durable and functional game chair. The steel frame can withstand daily wear and tear. At the base, the 1000-mile tested rubber caster wheels let you roll quietly. 
The maximum weight capacity for this biggie is 300 pounds. But ideally, it can carry 280 pounds. Best of all, you can enjoy all of the benefits of active sitting and immersive PC gaming at a pocket-friendly price.
Homall Gaming Chair is Suitable For:
If you're looking for a budget-friendly chair for your gaming sessions, start with this one. It has most of the adjustability settings found in more premium offerings.
Sale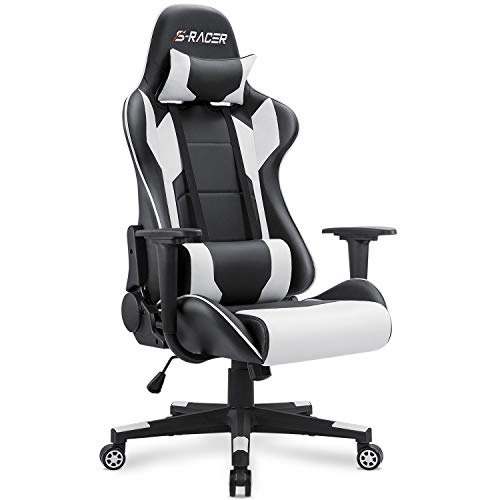 Homall Gaming Chair, Office Chair High Back Computer...
Selected Material: High density shaping foam, more comfortable, elasticity resilience and service life. 1.8mm thick steel frame, more sturdy...
Upgraded Configuration: Class 3 gas lift, durable, reliable and supports up to 300lbs. Rubber casters, rolling quietly and tested by 1000...
Multi Function: 360 degree swivel and multi direction wheels, load capacity: 300-pound maximum weight capacity. Recline function. Between 90...
Pros
You can recline, rock, or raise the seat to accommodate your height and style.
Its cushion is made of molded foam to deliver a firm and supportive feel. 
It is a racing style gaming chair that offers support and comfort for all of your resting points.
It is straightforward to assemble according to the experience of verified users.
It packs a lot of value for its price.
Cons
It may fit only standard-size desks and workstations.
There are no adjustable armrests, so your elbows may not be resting in an optimal condition when you use it.
It may emit some off-gassing odors.
---
Best Series
GT Racing has only been in the office chair space for seven years, but it's grown and been making the rounds in the professional gamer circuit. It mainly targets this market now. Its products balance decent quality and reasonable pricing. With the PRO Series, you can choose across various models to fulfill your specific requirements. All of them cost around $150.
In particular, GT099 is a favorite among the GT Racing gaming/office chair options. It has built a following through its versatile design, which can accommodate different body types. The adjustable armrest is a highlight with its up-down and left-right movements. The reclining feature lets you tilt back from 90 to 170 degrees.
But what makes this model dynamic is that it rocks, literally. Who doesn't want a rocking function in their chair? Like Homall, it is ideal for active sitting.
Hardcore or casual gamers can enjoy relief from fatigue after hours of immersing in a game – thanks to the pillows dedicated to the head and lumbar area. However, the straps that keep the lumbar cushion adjustable and stable can be annoying for some people. If you can ignore the bands, then it's not a big deal. The adjustable headrest pillow can be removed as you please.
Mobility and portability are also considered in the creation of this chair. The 360-degree swivel and smooth-rolling casters allow you to move in place or across the room with ease. Like the Homall, this option has a missing part. In this case, it is the retractable footrest. It would have been nice for the company to pack this with the rest of the premium features.
Polyurethane leather is used for upholstery, but the polished look on this chair is smoother than those on other models. It covers a strong metal frame that provides support where you need it the most. This design is available in four colors. A one-year limited warranty comes with your purchase. You will need to set this up yourself, but instructions are included in the package.
GT Racing PRO Series Gaming Chair is Suitable For:
Any build, big or small, can fit into the PRO Series GT099 model. Gaming experts would love this chair – it is designed with adjustable armrests, which you can move up or down and left or right for maximum comfort. Users who weigh 300 lbs or below may also find it fitting to their needs.
Pros
It is big on adjustability, with the reclining backrest, adjustable lumbar pillow, and moveable armrests.
Cushioning is made with smooth PU leather, which does not make the chair look cheap.
It swivels in full circle and glides without noise on the floor.
It caters to users of all shapes and sizes.
Cons
It lacks a retractable footrest.
You have to set it up yourself.
The bands for adjusting the lumbar pillow may cause some strange feeling when your back touches them.
---
Bestseller
Whether you are taking a power nap or beating a beast on your screen, the Killabee Massage Gaming Chair can support both purposes. Its adjustability competes with similarly priced and even pricier models. You can lean back on the high backrest at any angle between 90 and 175 degrees. You can recline almost horizontally, so you can rest a little after playing. 
Attached to the adjustable backrest is the lumbar support, designed to contour to the curve of your lower back. What's inside it is even more interesting: a USB-powered electric massager that can bring relief from the fatigue caused by extended sitting. The seat cushion is on the firm end, though, and may take a few days to break-in and soften a bit.
Checking out the seat, you'll find it well-padded. It has a medium-firm feel that is typical of office chairs. You can raise or lower it accordingly using the lever under it, going anywhere between 19.7 and 22.8 inches. One thing that may or may not sit well with users is the curved edge. I'm not sure what it's supposed to do, but it seems to keep your buttocks in place.
The armrests are cushioned thick yet soft. They are not adjustable, though. Beneath the winged edge of the seat, you can take out the retractable footrest for added comfort. Extend your legs whenever you need to stretch during long gaming sessions. 
All of these components are built into an integrated metal frame. It is completed by a nylon base with caster wheels, which can rotate 360 degrees. However, these rollers may need a stopper function to be fully stable. Regardless, this sturdy structure can handle up to 250 pounds. It comes in three color options for better customization.
Killabee is a popular brand among gamers, not only because it offers inexpensive yet high-quality products, but also because it is reliable when it comes to after-sales. Some people mention how helpful its customer service is, especially in ensuring the company is honoring its 30-day money-back guarantee.
Killabee Massage Gaming Chair is Suitable For:
Those whose lower back hurts often may find relief from fatigue, thanks to the device that is meant to massage lumbar support. If you are searching for a chair that targets the lumbar region, this one may be the right choice for you.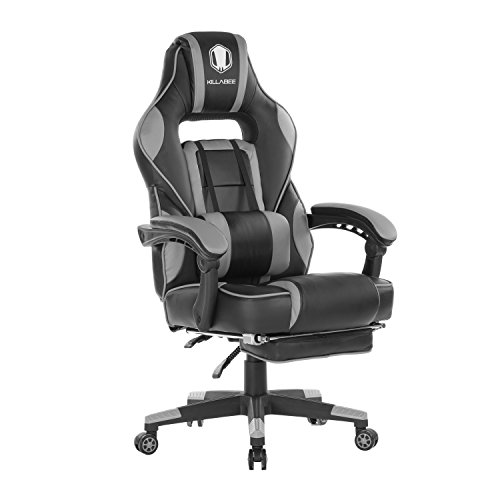 KILLABEE Massage Gaming Chair High Back PU Leather PC...
★ 【MULTIFUNCTIONAL gaming chair】 - sized at 27. 6" wide x 27. 1" deep x 48. 4" – 51. 2" high, with a 21. 3"W x 20. 1"D...
★ 【luxurious comfort with massage lumbar Cushion】 - Boasting a thick soft Seat cushion - Retractable padded footrest - thickened...
★ 【HIGHLY adjustable - customize to your needs】 - You can easily adjust our gaming chair with the Height Regulating mechanism to meet...
Pros
It offers decent-quality, customizable sitting with its seat height adjustable settings. 
The back can recline to an almost horizontal position, which can help you to relax in between games.
It comes with a retractable footrest that supports your legs as you recline.
Customer support is dependable, which results in a remarkable after-sales experience.
The company offers a 30-day money-back guarantee when you buy this chair.
Cons
The winged edge of the seat may not make that much difference compared to flat ones.
It may warm up after long hours of use in your gaming sessions, especially during the summer months.
The armrests are thick enough for comfort but not adjustable.
---
Best Ergonomic
E-Win is one of the more recent manufacturers of game chairs, but it has already made its way into consumers' consciousness. Its Champion Series boasts of multi-functionality that is a must-have for a new brand that wants to be known. But how does it fare when broken down to its elements?
I think its frame and look does not differ that much from other models. It is pretty standard in this regard. You need to zoom in on the individual parts to see the beauty and benefits. Start with the tall backrest. It cradles pressure points across your upper body to provide relief. The headrest can be fitted with a pillow to support your spine and neck.
The neutral position of your back is reinforced by the lumbar support pillow that covers the bottom of the backrest and top of the seat. Mind you; it is not your usual lumbar cushion. It is large enough to cater to many types of users. It is also plusher than other lumbar pillows on the market. But the effects after long periods are not so unique.
Meanwhile, the seat has a bucket grip on each edge for snug fit comfort. It is not too firm and not too soft as well. However, the edging details may only work for people who are large enough to fill the entire seat. But the firmness and feel are pretty inclusive.
What I like best about this chair is its adjustability. The adjustable backrest reclines to a max of 155 degrees. This is complemented by the armrests, which can be customized even to the shape of your elbows. Of course, the seat height can be modified to your preference through the SGS Level 4 gas lift. This means it contains pure nitrogen and has explosion-proof capabilities that pass standardized testing.
The assembly of this item is a cinch. It features wheels for rolling and 360-degree swivel technology. Its frame and fabric, spill-free faux leather, are highly resistant to wear and tear. This one has multiple color schemes to match many spaces. It can cater to individuals who are up to 330 lbs.
E-Win Champion Series Ergonomic Gaming Chair is Suitable For:
This offering has got game not only because of its ergonomic design but also because it's inclusive. It can cater to individuals who are up to 330 lbs. This makes it an ideal option for those who are 300 lbs below. Also, if you are after a racing style gaming chair that matches your room's theme, you can choose from a variety of color schemes with this one.
Pros
It ups its comfort and support game by providing you with head and lumbar pillows.
It lets you achieve a wide range of motion while sitting for long. The backrest, seat, and even the armrests are highly customizable.
Setup is a breeze, with actual reports citing an average of 30 minutes.  
Choose from several color schemes to match your space.
Cons
The seat has a snug-fit detail that can only work for larger users.
It is pricier than the other products on this list.
Its overall durability is yet to be tested because its manufacturer is a relative newcomer.
---
Best Design
What stands out when you first see the Respawn 110 is its unique backrest design. There are two holes on the left and ride sides of the upper section. I think this detail will work for people who tend to sweat excessively when sitting on a chair with a high back. In general, it allows the padded area to breathe and keep the back of the user cool.
The backrest is not just excellent style-wise, it has features that compliment the excellence. In terms of function, it can incline up to 155 degrees. This position is enough for those who are not after sleeping on a chair but are just taking a break from sitting upright. Seated or reclining, you can rest assured your head and lumbar region are supported each with a pillow.
This product sports a pair of well-padded armrests. These will pivot with the adjustable backrest when you recline. However, they are fixed and cannot be removed. There are no indications from the manufacturer that the height can be adjusted. But it has an extendable footrest to support your legs when you recline.
This gaming chair exhibits full swivel rotation. The wheel casters roll nicely for better portability. Fitted with bonded leather, this model retains a professional look. It can be for gamers and workers, depending on the design. You can select from eight colors from a merchant with a complete collection. 
Some users have a problem with the padding, though. According to them, it is not sturdy. It is prone to tearing and peeling, which can be disappointing when you are buying for the long-term.
It is published that this item comes with a limited lifetime warranty from OFM, the manufacturer. This means that Respawn 110 includes a lifetime warranty, although only the first two years are covered concerning the fabric and materials.
Respawn 110 Gaming Chair is Suitable For:
Individuals who are 275 lbs or below can use this one for gaming, as well as work, purposes. If you also tend to sweat a lot while sitting on a highback chair, this is your best bet. The footrest also fits tall profiles.
RESPAWN 110 Ergonomic Gaming Chair with Footrest...
GAMIFIED SEATING: A racecar-style gaming chair that provides luxury and comfort, whether it's used for intense gaming sessions and climbing...
ERGONOMIC COMFORT: With segmented padded designed to give highly contoured support when and where you need it most, this ergonomic chair is...
PREMIUM MAKE: Upholstered in bold, contrasting colors but maintains a professional look, this gamer chair can also be used as an office...
Pros
It has a reclining backrest that is breathable, providing comfort to people who sweat a lot.
It sports head and lumbar pillows to support these pressure points.
It includes a footrest to cater to tall users.
It comes with a warranty, which is good enough for chairs under $200.
Cons
Its padding may be prone to peeling and tearing.
The armrests are fixed, although they pivot with the backrest when you recline.
The information on the warranty can be confusing.
---
Is It Possible to Find a Good Gaming Chair Under $200?
Well, this is the review and buying guide for the best chairs under $200. So, the short answer is yes.
Below, you will find a section discussing the different factors to consider when buying a gaming chair. I always keep these in mind whenever I'm reviewing a chair, even the models that do not make the lists on this website.
(Go ahead and check it. The section is called "How Do I Choose a Gaming Chair.")
Materials and Manufacturing
I also consider the construction and materials of the furniture. When a manufacturer claims that it only uses high-quality components, I check the fabric, frame, and other parts. If it's possible, I search for the source and processing of these building blocks. Better safe than sorry, right?
PU Leather
So what stands out among gaming chairs is their use of faux leather or polyurethane leather (PU leather). According to the Market Intelligence Report, this is a popular choice for mid-range to high-end shoes, as well as many other consumer products, because its appearance and texture are close to that of real leather. The other common option is polyvinyl chloride leather (PVC leather).
Of the two, PU leather is no match to genuine leather in durability and style. But processing has become so advanced that it can mimic the look and feel of the latter, if not the intrinsic properties. Usually, polyurethane refers to the finishing or coating applied on fabric or fiber, which makes the chair soft or firm. It can be cotton, polyester, nylon, or rayon. 
The look and feel of PU leather seats and rests are consistent throughout time. They may crack or peel over time, but this will not bear on the quality of the material and its manufacturing. When it comes to processing, you'll want to know where the PU leather and other materials are sourced. Where they're put together to make a chair can also drop a hint. 
Made in China: A Note on a Widespread Misconception
Not everything made in China has poor quality. There are a lot of points for debate, but for the sake of simplicity, let's just say that the economic giant can boast of high-tech manufacturing factories.
If the brand you're buying from has components that are made in China, does this mean its offerings are automatically junk? If you trust the brand, which has been known to deliver on its promise, will it make more sense when it's conscious about the reputation and yet chose to partner with suppliers or manufacturers from the country?
I'll leave you to ponder that thought.
And here's a bonus: If it's produced State-side, does it make the product high quality by default?
Breaking the Bank
When it comes to gaming chairs, would you go for a model that costs thousands but lasts as long as one that costs a hundred bucks? If you're collecting a designer chair or investing in a pro gamer chair, you'll probably save up for it. But if you're buying for practicality, something that balances form and functionality without breaking the bank sounds about right.
In this case, it may be more challenging to find this combo in an array of under $200 options. But this price point can still be considered mid-range. For reference, Ikea gaming chairs also retail for more or less $200.
Do Gaming Chairs Help Posture?
Gaming chairs have ergonomic features that aren't found in traditional office chairs, which can be changed and aligned with each user's priorities and preferences. For example, the seat can be raised or lowered according to the individual's height. This modification allows the furniture to adjust to your needs, not the other way around.
Gaming chairs, as you will learn in the succeeding section, are designed a certain way to give you comfort and support throughout long gaming sessions. They allow you to sit, with your spine taking on its natural shape, preventing you from slouching and straining your back, neck, and shoulders.
This design detail can aid you in developing proper posture. Provided that you sit correctly, the best kind of gaming chairs can help condition your muscles to achieve the correct position. You may feel uncomfortable in the beginning. But as a result, you will reap the benefits of muscle memory.
Try this little practice: 
After adjusting the settings to your requirements, let your body rest on the contours of your chair – that is, make sure you fit into it snugly. Feel that alignment from head to feet. Then, stand without breaking off alignment. That's what proper posture should be, and you can train yourself to stand and sit that way with the help of the humble gaming chair.
How to Use a Gaming Chair Properly
As discussed above, achieving the correct posture can start with sitting properly in an ergonomic chair, such as a gaming chair. These steps apply to ergonomic chairs in general:
Start by sitting on the seat with your weight distributed evenly between your hips. Your buttocks should feel relaxed instead of strained.
Raise or lower the chair's height until your knees are bent to a slight right or acute angle.
Place your feet flat on the ground and avoid crossing your legs.
Let your upper body rest on the backrest, your arms and elbows on the armrest, and your feet on the footrest throughout the time spent sitting.
Since most desks are fixed, find a way to adjust your monitor, so you are viewing the middle of the screen while looking a bit downward. Make sure the distance between your eyes and the monitor is about an arm's length or 20 inches.
Benefits of Correct Posture
When you are sitting properly, you can feel relaxed on your buttocks, hips, legs, and other areas because of the even weight distribution. Your spinal muscles are also aligned in a way that they can support your body weight. Encouraging proper posture is the area of expertise for many ergonomically designed chairs, including those for gamers.
Here are the most common benefits to get you excited:
Reduced Lower Back Pain
Slouching for extended periods can strain your back, especially the lumbar region. Your back muscles can feel fatigued after a while. Even when you are sitting properly, your muscles cannot hold the same position for a long time. You also need to move from time to time. Some gaming chair models promote active sitting.
Enhanced Self-Esteem
A 2009 study found that proper posture can give you more confidence in your own thoughts. So, balanced sitting doesn't just affect how we think others see us. It can also affect how we feel about ourselves.
Increased Energy Levels
When you're slumped over your gaming station or workstation, your muscles are working extra to support you, using more energy than they're supposed to. A correct body alignment lifts all that burden, allowing the body to redirect that energy to something more productive.
Improved Circulation and Digestion
When you slouch, you're compressing some core organs and rendering them less effective as a result. On the other hand, with the correct pose, blood can flow more freely throughout these organs, ensuring the organs function optimally.
Fewer Headaches
Tension headaches can be caused by poor posture. They can occur when the muscles in the back of the neck are strained. To release or avoid muscle tension, work on achieving a correct and healthy posture.
Sitting on the gaming chair alone can, by no means, correct bad posture. You should also complement it with exercising, posture awareness, and other pursuits that can boost physical and mental health.
How Do I Choose a Gaming Chair?
Finding a gaming chair shares a few factors to consider with chair shopping in general. This piece of furniture has overlapping features that serve gamers and office workers alike.
Seat Depth and Width
While the term makes it sound like something else, seat depth refers to the distance between the front and back of the chair. A short person will require a shallow seat depth, but a tall person will need the opposite.
In the past, the acceptable angle of the legs was 90 degrees. However, this has been challenged by some ergonomics experts. According to author A.C. Mandal, "balanced seating" is actually half-standing. But you can't concentrate on a game doing that, can you? So the closest you can get is to bend the knees at 45 to 60 degrees. 
Considering this detail, a chair with 15 to 16 inches seat depth can work for shorter individuals. For tall ones, the seat depth should be at least 20 inches. The proper measurement should take the pressure off your knees. There are options with a seat slider, but these are rare cases.
Meanwhile, seat width is the distance between the armrests. In this regard, the chair should not restrain your movements. You should be able to put your hands and elbows on the armrests without straining them. Or rest your hips and buttocks without feeling cramped. How narrow or wide the seat is, depends on your build. 
Seat Height
There are different schools of thought with regard to the position of your thighs and legs. Some say they should form a 90-degree angle while others favor around 45 to 60 degrees. With the latter, you create an open angle between your upper body and thighs. 
Try to apply both positions on your present chair – or any available chair. See if the seat height allows you to rest at an angle that works for you. It should not be too high or too low. To estimate, a 20-inch-high seat may not accommodate a 6-foot-tall (or taller) person. You can make more accurate measurements using any chair you have. 
Most chairs today have adjustable seats. You can select one that has your desired seat height within its range.
Back Height and Width
Any backrest design can more or less support the back. However, the racing style employed in gaming chairs contours to the shape of your spine for optimal support. It is also adjustable for the most part, with some models offering lumbar pillows with a changeable position.
When it comes to backrest design, you can choose between mid-back and highback. The majority of the gaming chairs on the market have a high back. This enables individuals to rest and relax with neck support from the chair. That said, you need to find a suitable backrest height for you to avoid discomfort. Small ones can't really benefit from a tall backrest and vice-versa.
When it comes to width, you should feel a snug fit when you put your hips and shoulders across the backrest. Otherwise, you can't enjoy the full benefits of the backrest's shape and contours.
Load Limit
At first glance, a racing style gaming chair can look herculean. They seem big enough to handle folks on the heavier end. However, a closer inspection shows that the average chair has a weight capacity of around 250 to 300 pounds. That isn't bad at all, given the average weight of men in the U.S. is 197.9 pounds, and it's 170.6 pounds for women (based on 2015-16 figures).
Going down a tenth of the advertised chair weight capacity is ideal. So if you have a model that can carry 300 pounds, you should be around or below 270 to 280 pounds. This practice is not a rule set in stone. But you can observe it when shopping for a chair and extend the lifespan of the product in the process.
Ergonomic Adjustments
In most cases, the desk or table containing your PC or laptop is fixed. That places a restriction on your gaming environment. On the other hand, the chair you are using can be adjusted to improve the conditions within that environment. 
Some of the important features in your chair that can be changed are the height of the seat and backrest, the angle of the chair (reclining position), and the height or position (retractable) of the armrest and footrest.  
Most models will have some but not all of these features. You can find a stylish and functional one that reclines. But it may not allow you to adjust the height of the seat. Or you can come across a design that lets you recline and stretch with a retractable footrest. But the armrests are fixed and cannot be raised when you want to sit nearer your desk.
It is crucial that you plan your negotiables and non-negotiables when buying a new chair. For example, you're looking for a high back chair that reclines at least 110 degrees and has a seat that can be raised up to 28 inches. Will you need retractable armrests to go with it, too? Is footrest necessary?
Warranty
You've probably wondered if chairs have warranties like appliances or mattresses. The answer depends on the manufacturer. In general, chairs can have one-year coverage for parts, two or more for service. On average, gaming chairs can come with a 2-year limited warranty.
High-end models may have a more comprehensive and longer-lasting policy. But that doesn't mean you won't find gaming chairs under $200 that are backed by a warranty. In fact, Respawn 110 includes a lifetime warranty, with the fabric and materials covered only for the first two years.
To end, here's a gentle reminder to use and care for your chair according to the manufacturer's instructions. If the item is covered by warranty, there are certain terms that can make or break your warranty claim. Think of the warranty as an agreement you enter when you purchase a product. The rules are there to protect both parties.
Conclusion
Gaming chairs are necessary for the complete enjoyment and fulfillment of gamers, whether you're a newbie or pro. Buying one is an investment you can make not only for your craft but also for your health and wellbeing.
However, there are a slew of factors that can sway you in any direction. Knowing which factors are important to you can make shopping and decision-making a bit less confusing.
The Homall Gaming Chair ticks a lot of features on my checklist. Also, its rocking function is a rare find. It complements the rest of the chair's settings: adjustability, mobility, and portability. Together, they work to bring you an active, ergonomic sitting experience.
If you are up for a budget-friendly option, this product can seal the deal. Yet, you are not limited to Homall as the rest of the models can offer value for money. I highly recommend the GT Racing PRO Series if you want variety. 
To correct your posture, you may want to get started with the E-Win Champion Series Ergonomic Gaming Chair. 
Whatever it is that you want, you're free to explore choices.
If you need additional information, you may leave a reply below. I'll offer tips and solutions based on your situation. When it comes to modern sitting issues and concerns, I'm always happy to be of help.