Best Overall
Kahuna LM6800 Massage Chair with Yoga & Heating Therapy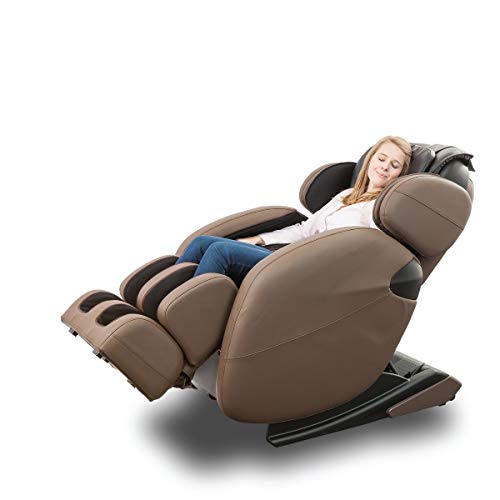 Best Value
HomCom Heated Massage Recliner Chair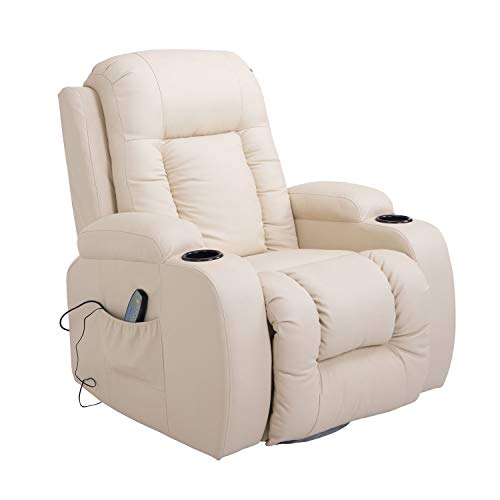 Best Budget
Real Relax Massage Chair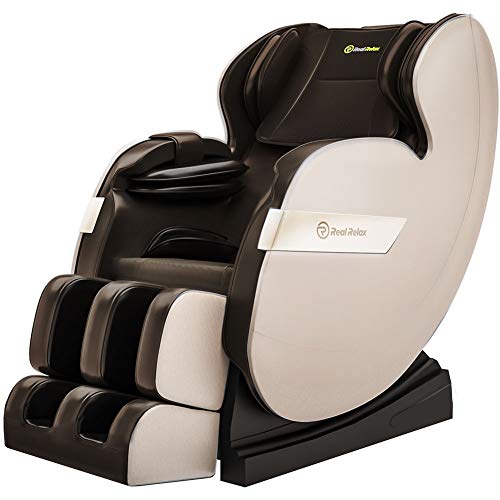 If you ever attended or watched out for the updates from the annual Consumer Electronics Show (CES) in Las Vegas, you'd have seen the demos for innovative massage chairs. Each time, they would be fitted with a new high-tech feature. I remember all these demos to be show-stealing moments.
With or without CES exposure, you may want to know which models are leading in the innovation department. And I am excited to give you a rundown of the good, the bad, and the beneficial.
Let's start with how this technological piece of furniture can do wonders for you after a long and tiring day. Hop to my review of the best massage chairs for 2023.
Table of Contents
Best Massage Chairs
Best Overall
Did you know that you can enjoy the full benefits of a massage if you're lying in the zero-gravity position? In this form, your legs are elevated above your heart, which can improve blood flow. Also, your weight is distributed evenly. This setup reduces the pressure on your body, allowing you to experience nothing but the effects of an intensive deep tissue massage.
Responsible for that level of relaxation and relief is the Kahuna LM6800 Massage Chair. With three zero gravity positions to choose from, as well as six automatic and five manual programs, it lets you customize your sessions.
This model features a roller trail, called the L-track, that runs from your neck down to your buttocks – the roller aids in decompressing the individual bones in the spine. Aside from the chiropractic treatment, the chair can target your back and leg muscles akin to how they are worked out in yoga stretching. This function can help improve your flexibility.
Taking your home spa to a whole new level, this product is recognized by the Food and Drug Administration (FDA) as a medical device. Its therapeutic measures are based on the massage techniques employed by professional therapists. It comes with a computer body scan technology that scans the body size and tailors the massage programs accordingly.
Twisting and stretching your body is achieved through a minimal number of airbags, which are programmed to inflate separately. Heating therapy is available for your lower back and legs. Considering the features, highlighted by the L-track, you can get value for your money at the price of this massage chair. The material used is vinyl instead of leather.
Kahuna LM6800 Massage Chair with Yoga & Heating Therapy is Suitable For:
Individuals who are between 5'2 to 6'2 tall can fit in this massage tech. Those who weigh up to 240 lbs are also accommodated.
Kahuna Massage Chair LM-6800 (Brown)
Arm Airbag has new design, 6 Auto programs, timer button up to 30 minutes, Double layer shoulder airbags - Extra foot padding and remote...
SYNCA Neck and Shoulder Massager is shipped separately. Limited Quantity.
Pros
It lets you transition to zero gravity position with ease, allowing for an optimal massage experience.
You can choose from six automatic programs and five manual programs to further customize your sessions.
It offers pain relief and pressure relief and relaxation from your neck to your glutes with the L-track.
It is an FDA-registered medical device.
It falls within the mid-end price range.
Cons
Its upholstery is made with vinyl, not leather, so it tends to be noisier with movements.
Padding may be too thin, resulting in sharp contact between the rollers and body parts.
You need to assemble it on your own, which can be a lot of work for some people.
---
Best Overall Runner-Up
Another massage chair that dishes out the zero-gravity experience is the Osaki OS-4000 executive model. This well-regarded position is inspired by the spacecraft technology employed by the National Aeronautics and Space Administration (NASA). Prior to reaching the zero-gravity atmosphere, astronauts prepare their bodies by putting themselves into a reclining position.
Applied to a chair massager, this function allows the user to feel weightless. By extension, it can melt your stress and energize your body. The Osaki OS-400 is designed to deliver these benefits with six unique shiatsu massage auto programs. You can set a cycle anywhere between 5 and 30 minutes, at five different speed and intensity levels.
With targeted impact, the robotic tech can help remove blockages in your acupressure points, top to bottom. Get a good massage starting at the neck and shoulders. There's a foldable pillow thrown in for resting your head, which you can fold back up when you want the full-body treatment. Enhanced by the heat, the vibration continues to invigorate upon reaching your back.
Even your arms and waist, feet, and calves receive a boost at the press of a button. A large, remote-controlled LCD lets you navigate the device at your own comfort and convenience.
This innovative piece from Titan Chair sports an S-track that contours to different spine shapes. It takes you through a two-stage recline and comes equipped with a computer scan tech to determine the precise points of your back's curvature. Style-wise, the upgraded PU (polyurethane) covering adds to the durability of the machine.
Osaki OS-4000 Zero Gravity Massage Chair is Suitable For:
Anyone with a shoulder width of up to 22 inches and waist measurement of up to 40 inches can fit snugly into this tech wonder. It can sit someone who 6'3 or below. Leave 6 inches of space, front to back, to accommodate the chair in its reclined position.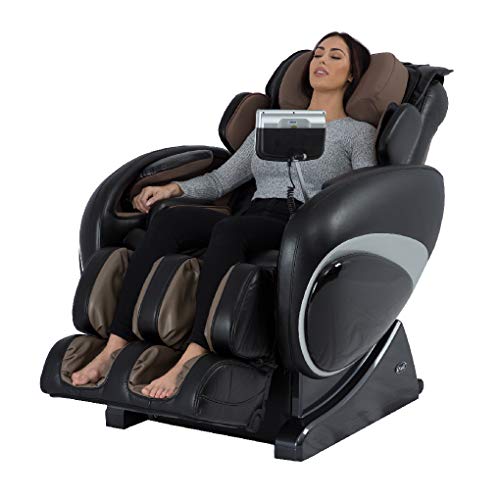 Pros
It deploys the S-track system combined with a computer scan tech to target various spinal shapes. 
It lets you switch to a two-stage zero gravity position for a superior massage experience.
It features a large LCD with remote control for better and more convenient customization.
Its upgraded PU upholstery makes it durable, as well as stylish.
Cons
This product may be too pricey for people whose budget is below $1,000.
The pressure from rollers may not be strong enough for some.
It requires a cool-down period, so you can't use it for longer than 60 minutes.
---
Best Value
This electric full body massage chair from HomCom is a darling when it comes to pampering you after a long and tiring day. It has a unique contoured design that follows the natural curvature of your body. Its three-speed swing capability lets you explore new levels of relaxation. Soothing your back, waist, and thighs is the power combo of vibrating motor and airbags.
A multi-functional piece of innovation, this chair gives you full control through a variety of customizable settings. On top of an elegant form, it offers eight individually or collectively activated vibration massage motors. These can treat target zones in the upper and lower back, thighs, and calves. 

For sit-and-go situations, you can simply run one of the five preset massage functions, choose between two speeds and intensity levels. You can also add whether or not you want a heated massage.
This model sports side-pocket storage for the remote, phone, and other stuff. Both arms also include a cup holder for your utmost convenience. The footrest is retractable, so you can just fold it back to save space. You can recline the entire chair up to 150 degrees. It can swivel 360 degrees as well on a metal steel frame that is pretty stable.
Do not underestimate its luxurious look as this one can be heavy. The load it can support can go as high as 375 pounds. All of these features are packed in a product that costs under $500.
HomCom Heated Massage Recliner Chair is Suitable For:
As mentioned above, the maximum load capacity of this 375 lbs. There is no specified height accommodation, but anyone who is at most 6-foot tall can lounge on this one. If you're digitally inclined, you can charge your phone or device at around 5.5 feet away from the power outlet.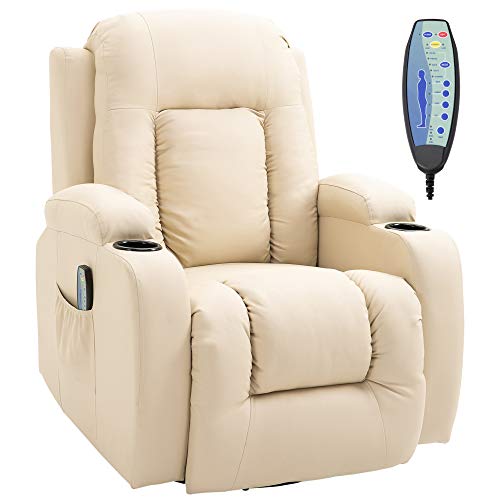 HOMCOM Luxury Faux Leather Heated Vibrating 8 Point...
Recline in Comfort and Style: With overstuffed padding, soft faux leather, heating and vibration options, full reclining, and a handy remote...
Soothing Heating Function: A heating function in the waist area warms and helps soothe the body's aches and pains as you sit and recline....
Vibrating Function Throughout: This recliner chair has a total of eight vibrating massage motors that target four zones in the upper and...
Pros
It is highly customizable with its pre-programmed and individually activated settings.
It contours to the natural curves of your body, providing superior relief to pressure points.
It can accommodate load as high as 375 pounds.
It features a luxurious, visually appealing design.
It is the most affordable model in this review.
Cons
The intensity of the massage programs can be too strong for some users.
It may not be suitable for individuals who are taller than 6".
It can get very warm, especially if you are sitting or reclining on it in thin clothes.
---
Best Value Runner-Up
You're probably wondering how human-like the details are in chair massagers. The deep-tissue massage and full-body stretching features of the Relaxonchair MK-II Plus may provide some definitive answers. Build your home spa beginning with this beast of a machine. It lays down a calculated routine, mimicking the effects of human touch on your leg and back muscles.
In particular, those who feel queasy or uncomfortable with a stranger kneading, squeezing, or stretching their body parts can invest in this product instead. It gives you access to a rewarding treatment after a long day's work in the comforts of your home. A word of warning: It can be addictive.
Further, you can tailor the settings to your liking. Its rollers are firm yet gentle, performing based on four automatic programs, three manual massage types, three intensity levels, and three-speed options. All of these elements work together to provide you relief from pressure, stress, pain, and discomfort. For those who can afford it, this chair offers a custom-fit health and wellness solution.
To adjust to your requirements, this massage chair uses a computerized body scan and a butt-lock L-tracking mechanism. You can double-check the computer's selected program on a large display. You can then enjoy the massage experience from head to toe, where you're most comfortable among the chair's three reclining positions. This is enhanced by the two heating pads at your lumbar region.
A 3-year limited warranty covers residential-use only of this product.
RELAXONCHAIR Full Body Zero Gravity Shiatsu Massage Chair is Suitable For:
Big and tall users can rely on the power and performance of this Relaxonchair model. If you're taller than 6 feet or weigh more than 230 lbs, this may be able to handle your priorities and preferences. For a high-quality, user-friendly private massage experience, this one can help you rest and relax in the comfort of your home.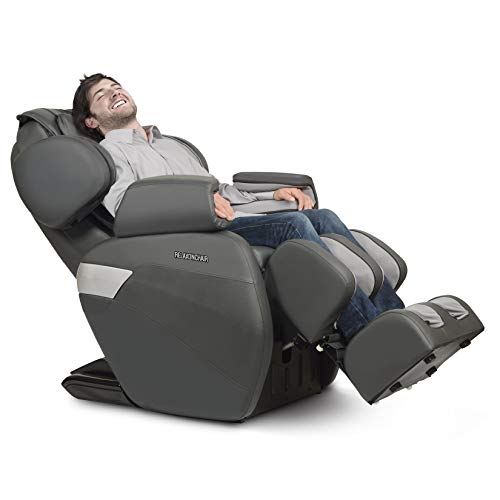 RELAXONCHAIR [MK-II Plus Full Body Zero Gravity Shiatsu...
REDESIGNED & UPGRADED W/ ONE HAND OPERATION REMOTE CONTROLLER, GENTLE YET FIRM MASSAGE ROLLERS, REDUCED AIRBAG PRESSURE FOR ARM & CALF - 4...
THREE STAGE ULTRA AUTOMATIC ZERO GRAVITY MULTI-FUNCTION MASSAGE CHAIR: Zero gravity chairs elevate your feet to the same level as your...
BUTTLOCK L-TRACKING MASSAGE SYSTEM: The rollers glide from the upper back all the way down under the seat. This new rolling system provides...
Pros
It combines L-tracking and computerized body scan technology to customize the massage settings.
Its firm yet gentle treatment can provide pain relief, stress relief, and pressure relief to improve your health and wellness.
It lets you switch between three reclining positions.
It is covered by a 3-year limited warranty.
Cons
It can be too heavy to assemble and move around.
Its airbags tend to be a bit louder when they're at work.
It can be expensive for individuals who are looking for an entry-level massaging chair.
---
Best Budget
When you sit back on the Real Relax Massage Chair, you can bask in the benefits of a fully reclined position. The zero-gravity massage here can be accessed with just one click of a button. You are practically weightless as this device dishes out human-like massage to your entire body. It is so close to the real thing that you might be tempted to use it daily. 
This model contains eight rollers for the neck.  Spread across the chair are 50 airbags to soothe and support the shoulders, arms, lower back, hips, calves, and feet. Specialized techniques are employed in each section to enhance the experience. The rollers and airbags can massage you from head to toe through the air, squeeze, and vibrating functions.
An upgraded version, this 2023 edition, gives you six auto modes integrated with speed and strength settings. You can adjust it back or down, depending on your mood and purpose. You can be taking a break, watching TV, or relaxing after work or before sleep. Anything goes with this shiatsu recliner massage chair.
This machine is easy to assemble, does not take up a lot of space, and cost a little under $1,000. The latest update adds audio play via Bluetooth, so you can listen to your favorite jam while relaxing. You can adjust the settings using a remote control for greater ease and convenience.
Its color schemes are interesting and can enliven any room. Choose between blue-and-khaki and brown-and-khaki.
Real Relax Massage Chair is Suitable For:
The maximum height that this massage chair can handle is 6.1 feet. But it's more inclusive in terms of load capacity as it can cater to a maximum of 400 pounds. Big and tall individuals can leverage these capabilities. Also, the Bluetooth-enabled audio play is good news for those who want to play music while getting a massage.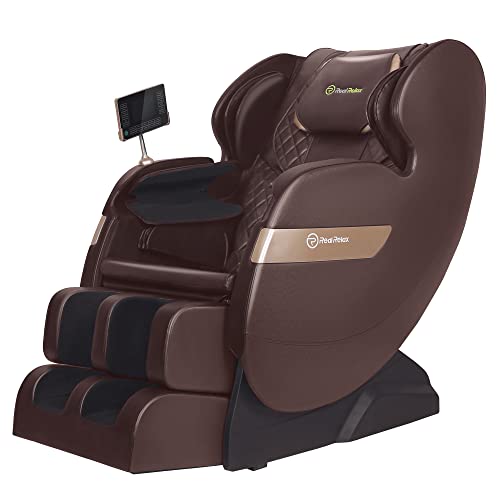 Real Relax 2023 Massage Chair of Dual-core S Track,...
Updated version of favor 03 plus, dual-core S track neck back robots hands rollers up and down, generate a more effective massage to neck...
More Effective neck massage: Suitable neck massage position can be chosen to fit your height, 3 levels of adjustable massage intensity to...
One button zero-gravity, and backrest reclining angle can be adjusted independently.
Pros
It spreads 50 airbags across its frame to target different zones of the body.
It deploys air, squeezing, and vibrating functions to deliver comfort and relief to users.
It can accommodate big and tall individuals.
It can cater to a wide range of budget considerations.
Cons
The mild massage level can be too intense for some people.
It does not offer full zero-gravity experience and support.
It can be too large and hard to set up, especially for massage chair newbies.
---
Best Budget Runner-Up
Shiatsu is a type of massage derived from the Japanese. Using finger acupressure, it employs various techniques such as pressing, kneading, soothing, stretching, and tapping. It reaches isolated parts of the body and releases pressure. Integrating the functions of shiatsu in a recliner chair is the electric massage chair from BestMassage.
This model has a huge and impressive build. Up close, its features do not disappoint. Its power rollers deliver the shiatsu treatment, reducing fatigue, relaxing the muscles, and rejuvenating the body. Stress-relieving "tsubo points" in the neck are targeted by the massage heads. Compression and percussion are applied to the legs, improving mobility, flexibility, and posture.
But what makes this product shine is its ability to reach the end of the coccyx or tailbone. It also employs heat therapy, which, on the other hand, is inspired by the Chinese. When the heat is on, the seat and backrest that seem stiff turn soft and comfortable, and it effectively works out knots, helping reduce pressure.
With a footrest that can be extended, this massage chair can accommodate tall individuals. Moreover, the automatic massage setting will detect your height and adjust the backrest accordingly. Then, the chair will go into a reclining position and execute the massage program. However, it does not offer the zero-gravity experience.
At below $1,000, it is one of the most affordable found here. It comes in black, brown, and burgundy, which can match a wide range of room types and themes.
BestMassage Electric Full Body Shiatsu Massage Chair is Suitable For:
This one makes room for tall individuals through adjustable footrest and backrest. It will also tailor the intensity to your body weight.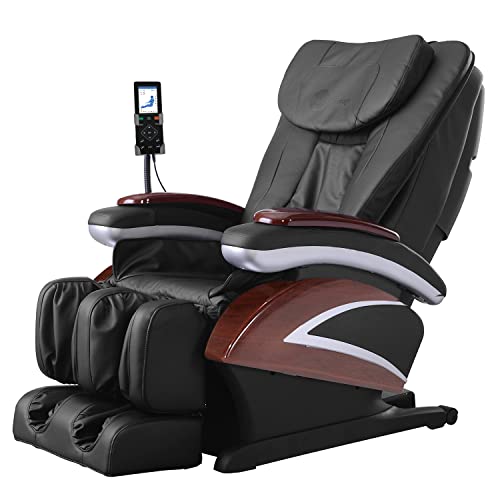 Full Body Electric Shiatsu Massage Chair Recliner with...
★【ADJUSTABLE MASSAGE CHAIR】: You can adjust the angle of the massage chair according to your needs. Speed control, width control,...
★【AIR MASSAGE SYSTEM with HEAT THERAPY】: There are total 21 air bags which are strategically located in the arms, hips, shoulder,...
★【COMPUTERIZED BODY SCANNING】:Smart body scan technology scans your body to detect your body size for individual custom fit...
Pros
It integrates the functions and techniques of shiatsu massage into the reclining chair concept.
It can cater to tall individuals and adjust intensity based on your body weight.
It can help improve mobility, flexibility, and posture.
It employs heating to reduce pressure and work out the knots.
It remains one of the cheapest models on the market.
Cons
It does not have a zero-gravity feature and other bells and whistles.
Customer support may not be responsive in case you need to contact them.
It may be more prone to damage and breakdown than other options.
---
Frequently Asked Questions
In the course of my research and real encounters with massage chairs, I have had to deal with some frequently asked questions – most from others, a few from myself. I'm going to try and give in-depth answers to the most pressing or popular ones.
Is a Massage Chair Worth Buying?
The upfront cost of massage chairs can range from around $1,000 to more or less $10,000. It's no wonder some people may be turned off by that. But when it comes to making a decision, that's really up to you – what your needs and preferences are.
For some individuals, it's worth getting the machine for the benefits of having a spa right at your home. It can help relieve the effects of stress and pressure. It can even be therapeutic, with some advanced models providing ease from aches and pains. A massage session that you can have at your convenience is a selling point for many. The investment will pay for itself afterward. Also, you can get a decent one for $4,000.
For others, spending thousands of bucks is more than what they will have to shell out if they book a massage directly from human hands. And if you purchase the luxurious type, you need it to last for many years to break even.
How Do I Choose a Massage Chair?
Zoom out and make classification and type your ground zero when shopping for a massage chair. Think of it as a point on a map that can help you move from discovery to purchase.
The truth is, you will discover many options on the market. Around five years ago, I already had to sift through 15 models of shiatsu massage chairs. Fifteen! I would have felt much better had someone simplified it for me back then. So, let me simplify the decision-making process for you now.
Types of Massage Chairs
For the intents and purposes of this article, I am focusing on commercial chairs and excluding professional ones. Commercial or consumerist chairs are further classified into therapeutic and hobbyist types.
Commercial – Therapeutic
You may be in search of a massage chair primarily for medical reasons, not just relaxation. Body pain, particularly at pressure points like the back, shoulders, and legs, is probably making you suffer while you are trying to be productive. Your condition may be chronic, and a regular chair just won't cut it. Instead, only a dependable therapeutic massage chair can save the day.
Think about this type of chair as a specialist. It focuses on a problem area for users, such as a feature that alleviates unrelenting neck pain. It doesn't mean it won't knead, roll, or flap over the parts that aren't sore, but it tells you which issue it targets. This way, you can get the most out of the product.
While this is a broad category, you can identify which models are meant for relief from longtime physical problems. Usually, you will know them by their straightforward functions and features: heated, inversion therapy, zero-gravity settings, and a full-body stretch. Sitting on a chair that contains these details is an elevated experience.
Some versions mimic a certain technique, such as compression, Swedish, Thai, or shiatsu. Their settings can also be customized to run the massage session at your most comfortable level. 
You may want to run certain items from the settings by your primary care physician or therapist. You have to be sure you are getting a physician-approved chair to avoid exacerbating your pain and suffering.
Commercial – Hobbyist
Rest and recreation may be the chief motivation for buying a hobbyist chair. Convenience is another factor. Here, the features are stylish as much as they are functional. The appeal can feel luxurious, and it's often reflected in the pricing.
Some of the components found in the therapeutic models can also be found in the hobbyist version. However, the latter does not prioritize pain relief. Instead, it highlights embellishments such as display screens, LED lights, cooling settings, entertainment systems, and many others. It aims to offer a mixture of pleasure and leisure in one product.
In a way, you can categorize this type as a generalist massage chair. It can deliver more customizable elements, but it does not target specific complaints or conditions.
One advantage here is that hobbyist massage chairs do not have to take on the full reclining position, unlike therapeutic ones. It makes for easier accommodation in any space. You can place it next to a wall without needing allowances or gaps for a horizontal setup. 
Tracks
After picking a type, the second-most important detail is the massage tracks your chair employs. You can choose from the three most common options on the market today:
Fixed Frame – This refers to a rectangular frame, which is typically found in lower-end types. Stationary massage heads are mounted on the frame. These produce vibrations in the same spot that targets the head. If they do come with rollers, the latter move along the X and Y axes, which can miss the curve of your spine.
S-Track – Named after the shape of the spinal curve, this track is the most common offering among competitive models. The massage rollers can run from the neck to the tailbone. This feature can ease back pain, especially at the lower back. Look for it in the brand you are eyeing to make the most out of your purchase. You can consider it as an investment in your wellbeing.
Hybrid L/S-Track – Aside from the standard S-track, this version makes an L-track, which extends the rollers' effects to the buttocks and thighs. Some extend all the way down with foot rollers.
It is relatively recent, so you might not be able to find this even in some popular products. But watch this space as it is definitely on to something. If done with 4D (four-dimension) rollers, you can apply a deep massage to vital parts.
Technologies
Rollers? Vibrations? What are these? These are technologies that allow you to experience a human-like massage from your robotic chair. Let's break them down for a better understanding of what goes under the hood.
Vibrations – In the massage chair reviews, you read about models that use the vibrations-only mode. These are generated by gear or weighted wheel inside small mechanisms, which are then placed in the chair. 
Think about the vibrations coming from your mobile phones. These are created by the same device. A massage chair uses many of these devices to produce therapeutic vibrations that can soothe and relax tired muscles.
The simplest massage chair contains this function. But if you want to experience the kneading, tapping, stretching, and such effects, you should look for a chair with rollers.
Rollers – The other common mechanical device employed by massage chairs are the rollers. The movements or techniques performed by these rollers are limited by the frame structure. 
In other words, the tracks mounted on the frame determines whether the rollers will go up and down and back up again, or will it go left and right, in circular motions, etc. In more advanced designs, you can feel them move toward and away from your body.
Think about the rollers as the robotic arms of your massage chair. They are powered by electric motors.
Aesthetic
Here, I'm just going to talk about the differences between a zero gravity chair and a reclining chair. Is there any? Let's find out.
Zero-Gravity Position – As I mentioned in the massage chair reviews, this position is akin to the one astronauts assume during takeoff. Here is an image of a NASA spaceman in a simulated version of the zero-gravity chair.
You can see that the legs are lifted above the level of the heart. This helps distribute the weight evenly, allowing the body to handle the stress that comes with the liftoff. 
In massage chairs, the effect is referred to as weightlessness. This position aids your body to receive the full benefits of the massage. It does allow you to handle the intensity of the massage well compared to when you're simply lying on your tummy or back.
How about propping your legs to raise it above the heart? Look again at the image above, and tell me if it's the same thing as with the pillows.
Reclining Position – Zero gravity is one form of the reclining position. However, there are other angles, such as 45 degrees or 155 degrees. Other chairs can get you a full recline or 180 degrees. 
However, zero gravity focuses on the angle between the legs and the torso, which can reach 90 degrees.
So, not all reclining chairs can achieve a zero-gravity angle, but all zero-gravity chairs can recline.
What is the Best Zero Gravity Massage Chair?
My top picks are the Kahuna LM6800 and the Osaki OS-4000,  which are also the best massage chairs overall. If you're on the fence about the zero-gravity type, know that they have their own set of pros and cons you can weigh.
Proponents of this chair point to its pressure-relieving effects on your body parts. Specifically, it can help reduce the pain in your lumbar region as it takes away the weight from your spine and redistributes it. Another familiar reason that is brought up is the improvement of blood circulation in this position.
Two less famous positives involve zero gravity helping in decreasing inflammation and improving breathing, especially among people with asthma or sleep apnea. All of these benefits can pave the way for a deep and intensive massage to produce better results.
Okay, but what about the bad and the ugly?
Combining massage therapy and the zero-gravity posture doesn't have a dire cost on your health (but it may burn a hole in your pocket with a skyrocketing price tag). In fact, the impact of spinning off the technology built for astronauts has been studied for its role in discussing ergonomics in American workplaces.
How Much Does a Massage Chair Cost?
In the reviews section, you probably read statements like a product is pricier or more affordable than other options. This kind of statement tells you about the price. I put some of the current prices on the website, but not all the time. These figures tend to change, especially if we are passing through a holiday season.
However, the market prices fall more or less at the published rate. They aren't as finicky as, say, stock prices. Meaning, you can actually get an idea about how much a massage chair costs. And it would help if we categorize them.
You may find different estimates from what I am going to write here. But know that the numbers here are based on my personal encounters and research.
$1,000 and Below – You can actually find a massage chair within the $300 to $500 price range. These are your budget options. And they may recline, but that doesn't automatically make them zero-gravity chairs.
$1,001 to $5,000 – The best massage chairs in this article belong in the mid-end. They may or may not promote the zero-gravity posture, but you'll probably come across more models that have the requisite bells and whistles.
$5,001 to $10,000 – These are the higher-end of the mid-end or the lower-end of the high-end. It depends on who you ask. But some of the luxury hobbyist models fall under this category.
$10,000 & Up – This group includes the Lambhorgini of massage chairs and such cool labels. The models reach the peak of luxury and provide unparalleled massaging capabilities. The Inada Sogno Dreamwave (currently unavailable) is one of the familiar names in this space.
What is the Best Massage Chair for the Money?
If you're talking about value for money, the HomCom Heated Massage Recliner Chair takes home the award. It is not only affordable but also functional. But all things considered, all of the reviewed products can be called the best massage chair for the money. They're the top representatives at their price points.
That said, this buying guide doesn't really have the highest-end of the market represented (the Inada Sogno Dreamwave is currently unavailable). While it doesn't automatically mean $10,000 luxury or designer chairs will return your investment, it is also logically off for manufacturers to ask for a hefty sum without the brand or product meriting it.
Is Osaki a Good Massage Chair? 
I encounter this a lot, and it just shows how popular Osaki is online and offline. Let me just clarify that Osaki is the brand itself. It manufactures massage chairs and other health products, such as acupressure massage bed tables and heating mats. It has built a good reputation in the industry.
But just because it's popular doesn't mean everything it does is good. Osaki, however, has a proven record when it comes to creating excellent products. The Osaki OS-4000 is the perfect example.
Osaki's headquarters are located in Carrollton, Texas.
You may also want to learn more about the other companies mentioned here.
Kahuna
Since 1997, Kahuna Chair, under the company name AJX.LLC, has been making massage chairs, foot massage products, and other commercial and therapeutic items. It boasts of targeting niche markets to ensure its offerings aren't just relying on carrying the name without earning their keep.
The manufacturer has a broad and deep selection of massage chairs. And it has transitioned successfully into modern massage chairs from traditional ones. Its array of offerings ranges from mid-end to higher-end. The chairs are approved by the FDA as a medical device.
Homcom
This brand offers some of the cheapest massage chairs you can find. Its lines include models you can use at home or at work. Most of the designs are simple and straightforward, with a focus on functionality. If you have a tight budget or want an entry-level choice to try, this company's solutions can be your best bet.
RELAXONCHAIR
Based on Anaheim, California, this manufacturer dishes out mid-end massage chairs that are both stylish and functional. It has a niche, artisan vibe to its approach in producing and selling its products. Options with the Relaxonchair label are guaranteed to have passed stringent quality assurance testing. Plus, it's an FDA-approved medical device facility.
RealRelax
It was in 2014 when RealRelax was established and 2015 when its first massage chair was launched. Since then, the brand has been hard at work to deliver reasonably priced and exceptionally performing massage chairs. It wants to prove that you can have both.
With a head office in Chino, California, it has expanded its market across many countries outside the United States, such as Australia, Canada, Japan, and the United Kingdom, as well as regions such as Europe and Southeast Asia.
BestMassage
This brand develops massage solutions to ensure you have everything you need as a professional therapist. At the same time, it caters to consumers of its commercial massage chair models.
The company has been known for its affordable products, including the massage chairs. While they are less expensive than others, they do not skimp on performance and benefits.
Conclusion
I hope you have been learning a lot from consuming the content on this site. When you have to shell out close to a 1000-bucks on it, you would want to get the best massage chair out there. In this article, you and I focused on the commercial massage chairs that you can come home to and lounge on after an exceptionally long and stressful workday.
This device can be considered a medical device (with the appropriate approval from the FDA). Also, it can help unmake the effects of extended sitting on your office chair.
Kahuna leads among my top picks with the LM6800. Its zero-gravity recliner reinforces the benefits of shiatsu massage and other techniques. Osaki follows with the OS-400, which also features a zero-gravity function.
These options are the best in their respective price categories and technologies. For instance, Kahuna employs the S-track while Osaki sports an L-track. In deciding which one you should bring home, consider the factors outlined in one of the sections above. These should help you narrow down your list and select the right fit for you.
You have to go through this level of consideration because you will be shelling out several hundred to thousands of dollars on one product: the massage chair. It's not as expensive as owning a home, but it still counts as an investment piece.
When you invest in a big-ticket purchase, thinking it through is probably one of the best you can do not only for your bank account but also for your body and mind. After all, these two are the main beneficiaries of the advantages and benefits of a massage chair.
Share with me your thoughts and questions by leaving a reply in the comments section.