Best Overall
Steelcase Leap Office Chair
Best Value
Eurotech Ergohuman Mesh High Back Office Chair
Best Budget
Flash Furniture HERCULES Series
Which is the most comfortable office chair? Or what things to consider when buying the most comfortable office chair?
These are the questions that I have heard many times. First of all, "most" and "best" of anything are dependent on individual needs and personal preferences. Once you have that clear, you will understand that the functions that make the chair the most comfortable aren't the only things that you need to focus on when selecting comfortable chairs for office.
Let me walk you through what makes an office chair the most comfortable thing to sit on for hours on end, and then you can use that knowledge to customize it into something that is the most comfortable for you. Let's talk about some of the highly acclaimed comfortable chairs first.
Our List of Most Comfortable Office Chairs
Best Overall
Whenever you think of chairs that can compete with the build quality of Herman Miller chairs, Steelcase chairs are what will be presented. One of their most comfortable chair and highly recommended options is their Leap chair. You can tell that a lot of research and thought has been put into the design of this chair as soon as you sit on Steelcase Leap chair.
Even though plastic molded components are used, every feature spells a high level of quality control, and you can see that their core ideology is to develop high-end chairs. It is in the higher price range – being just shy of a $1000 – but is cheaper than its competitors with more functionality and features. It is also a sought-after ergonomic office chair.
Leap works best for an office setting because it provides you with a wide range of ergonomic adjustments to give you the best comfortable experience paired with a high-level of support. This is what makes it suitable for people of different body types.
This chair can support up to 400 lbs weight in its singular design, which is a huge advantage over its top competitor Aeron that only supports up to 300 lbs, that too, through one of its three options. The comfortable seat cushion is another reason for providing comfort to all weights and support for long hours of use.
One of the best things about Leap is its LiveBack Technology, which is used to design the backrest. This feature gives you the option of independently adjusting the positioning and firmness of the lumbar support system to suit your needs.
The full width of the backrest features the lumbar support technology, which supports your entire lower or mid-back area, unlike Aeron, which focuses on the support of the middle of the spine with its PostureFit technology.
It does not have an adjustable backrest, but it has a height range of 25", which makes it a good choice for people of different heights as it is accommodating of people within different height ranges.
It is one of the comfortable chairs out there, in the sense that it provides as many adjustment options as you can think of. Even with this many adjustment options, usability is easy, which means that you don't have to go out of your way to learn the working, and you can actually use all that that the chair has to offer. To make it even simpler, the instructions on how to use the adjustment controls are present below the arm pads.
Steelcase Leap Office Chair is Suitable For –
The Leap is built for people who spend long hours a day in the chair. It is highly supportive and recommended for prolonged hours of use. It takes into account plenty of problem points and gives you a solution with its wide range of ergonomic adjustments. This black chair is also a sleek option for any office setting.
Sale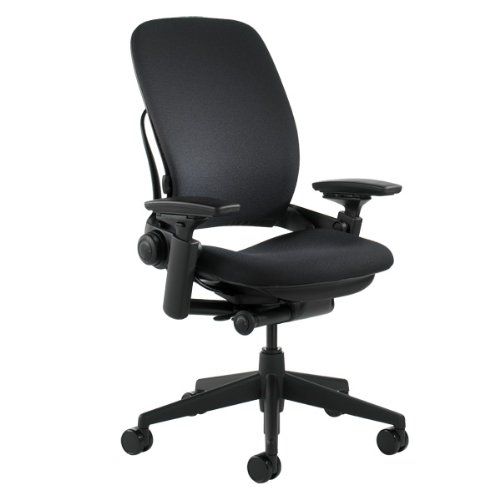 Steelcase Leap Chair, Black Fabric,FBA_,5" Cylinder -
Our Number 1 Selling Chair
Live Back technology that allows the back of the chair to mimic the movements of the spine
Arms telescope in and out, move forward and back, pivot and adjust up and down so you can find a natural position that comfortably supports...
Pros
Its excellent build quality makes it worth the price tag it comes with.
This chair sports a wide range of ergonomic adjustments that perfectly matches the contours and curves of your back and spine.
It has great lumbar support that extends the support to the whole back.
Firmness control gives you the option to customize it to your comfort.
This black chair has up to 400 lbs of weight support capacity.
The height range makes it more accessible for even taller individuals.
User-friendly adjustment controls despite a lot of adjustability options being there.
Great for prolonged hours of working.
It comes fully assembled, which is usually not the case with most office chairs.
12-year warranty.
Cons
No back-height adjustment can be a put off for people who would like to customize how the support fits their body.
The high price tag can be an issue for many.
---
Best Overall Runner-up
Whenever we talk about the best office chairs in any category, Herman Miller chairs are sure to pop-up. Their Aeron chair design is the remastered design that quickly became the go-to for many office spaces.
A little on the pricier side with its $1500 price point, it is undoubtedly one of the most comfortable and iconic office chairs that money can buy. The comfort that can be experienced – even after spending hours in it is what most people want from their office chair.
The chair is made from a flexible mesh material, which makes it breathable and supportive of your body for long hours. This also falls under the best mesh chair category to provide the best support.
The recline function that the Aeron chair provides helps in alleviating backaches, the smooth and easy motion helps you relax, and the balance is secure in its functioning no matter what the angle you recline it to.
The adjustable lumbar support, combined with the PostureFit SL design, in Aeron provides much-needed support to your spine and is truly user-friendly in the sense that you don't only get the backward tilt, but also, forward tilt, which is a position most people work in. If you spend hours working on your keyboard, then this feature is a godsend addition to your desk chair.
This mesh desk chair can support up to 300 lbs because of the three size options available. You have to be mindful of what size you choose based on your body type. The seat depth, back heights, and arm width are based on choosing the right chair size for yourself, which is why it may not be the best option if 2-3 people are going to be sharing it.
The armrests are adjustable, and you can adjust their height and position according to your comfort, not only that, the soft arm pads in this breathable mesh chair take your comfort to the next level.
Although the seat cushion and back are designed to be supportive, they do not have an adjustment feature to support your individualistic needs. The thick metal frame in an Aeron chair can be felt on your hamstring and outer thighs on your seat when you move side to side or on your upper back.
Aeron Office Chair is Suitable For –
Because of the forward tilt function along with the standard backward tilt, Aeron chairs are highly suitable for people who work on their computers for prolonged hours.
Pros
The Aeron chair is manufactured in the USA with parts that are custom-made for the Aeron chairs, so quality and comfort is taken care of, in the fitting of every piece to make the chair.
It is made of a flexible and comfortable mesh material that promotes air circulation.
Smooth recline function to support different sitting positions, thanks to the additional forward tilt option.
It comes with adjustable armrests with soft arm pads to help you rest your wrists during long work hours.
PostureFit SL design and PositionFit lumbar adjustment help you sit for long hours without feeling pain.
Great for 24/7 use – can be used for prolonged periods of time.
It can support up to 300 lbs.
It comes fully assembled, which is usually not the case with most office chairs.
The Aeron chair is made using a high percentage of recyclable material that is manufactured in a renewable energy powered greenhouse facility.
12-year warranty
Cons
Mesh chair isn't a comfortable chair option for everyone, so check to see if it works for you.
There are three available sizes, which means that there is not one inclusive size that will fit everyone's needs.
This chair has no seat-depth and back-height adjustment, which can be a problem for tall users.
You can feel the metal frames of your seat and backrest when you move.
The high price tag that this chair comes with can be an issue for most.
---
Best Value Chair
The Eurotech Erguhuman chair's design philosophy is based on providing the most anatomically-correct support to your back, which is why it becomes one of the most comfortable office chairs by design.
This Eurotech Ergohuman black mesh chair is the best value chair with the features it provides for the mid-range price point of $699. For maximum comfort all day long, it features eight ergonomic adjustments.
The chair is made from breathable mesh – the seat and back promote air circulation and offer increased support throughout your sitting period. It has a Greenguard, an indoor air quality certificate and meets the ANSI/BIFMA standards. There are three back angle adjustments that let you tilt the chair to the degree that works best for you.
The tilt locking technology and tension control make the tilt action very reliable and stable. Because of that, you can be flexible with your body movements while being fully supported. The tilt lock will let you lock the chair securely to the degree you want, and the tilt tension control will let you lean forward or recline backward depending on the force and pressure you put on the chair's back.
Not only that, this chair sports a synchro-tilt mechanism that makes the backrest and seat move together when you lean back on it. This works great because then the adjustments are easier to be synchronized and be in tune with the other parts of the chair.
Coming to the seat, the mesh seat is highly breathable, so it will keep you cool for prolonged hours of sitting. The adjustable seat height, seat depth, and arm height make sitting in this chair for hours on end more bearable because you can keep adjusting the settings as the day progresses and you start slouching more and more.
The height adjustment in this chair is a piece of cake because of the easy-glide pneumatic cylinders, which makes it easier to accommodate your height needs. The headrest is adjustable, too, to provide you with maximum comfort depending on your sitting position and also to avoid neck pain.
This chair is made of 97% recyclable components, which makes it a great choice for environmentally conscious people.
Eurotech Ergohuman Chair is Suitable For –
With a contoured back, pivoting armrests, and adjustable components, it is suitable for people who not only spend a lot of time leaning forward working on their computers but also for people who attend meetings, plan, and discuss.
It is a great choice for someone at a managerial level who sees a mix of work. This chair provides great support and versatility. It improves posture and reduces back pain.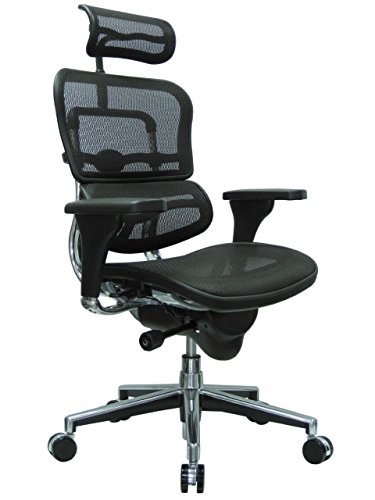 Ergohuman High Back Swivel Chair with Headrest, Black...
Back angle adjustment with 3 position tilt-lock adjusts easily - lock the chair back into place in one of three positions, or simply use the...
Pneumatic cylinder raises and lowers chair quickly
Back, seat cushion, and headrest all adjust to fit an array of users and accommodate their individual needs
Pros
The highly adjustable options make it one of the most customizable chairs for ultimate comfort.
The synchro-tilt mechanism helps maintain the adjustability proportions.
Contoured lumbar support is a great addition to keep your back supported.
The design is engineered to improve posture and is said to reduce back pain.
The tilt lock and tilt tension mechanism allow you to support your sitting positions throughout the day freely.
The black mesh material of the back and seats makes the chair breathable and keeps it cool throughout the day.
Cons
The retractable armrests may allow for armless use. Still, their height cannot be adjusted to cater to your angle preferences.
Textured seat fabric may not be for everyone. Some users report about finding it too rough for comfort.
With a price tag that's close to $100, it may not be the top #1 budget chair for office use for some people.
---
Best Value Chair Runner-Up
The GM Seating is one of the most stylish black chairs you will find in this list. It is made of genuine calfskin leather upholstery that makes it reliable and durable, and also gives it an expensive sleek look.
This is a great value for money chair in terms of style and functionality. If Aeron is too expensive for you, then this is a great budget option to go for. There is a wide range of adjustment options available to make this chair ergonomically sound.
The lumbar support in this executive chair promotes good posture, alleviates back stress, and prevents back pain. The spine support system is designed to minimize back pain and contour your body. The tilt mechanism lets you adjust the backrest to the degree that is comfortable for you. Although the lumbar area is not adjustable, it still provides good support.
You can also adjust the seat slide, which gives you the option to lean back and be in a half-sitting position when tired. The adjustable seat depth and height adds on to the comfortable chair experience.
The seat height adjustability allows you to reduce stress on your back and knees by making sure that you can adjust the seat – such that your hips are higher than your knees and your thighs are parallel to the floor – based on your height. This is the recommended sitting position for correct chair dimensions.
Armrests are another important part of the chair to pay attention to, especially if you are someone who keeps switching their sitting position. The chair comes with 3D arms that you can set to different heights. Not only that, but the armrests can also pivot to accommodate the different postures you will be adhering to throughout the day. Even after these many adjustments in the armrest, they are not as comfortable as they could have been because the padding is flat, and as a result, it feels hard.
The headrest being adjustable completes the ergonomics, you can adjust the height as well as the angle of the headrest.
GM Seating Ergolux Office Chair is Suitable For –
The GM chair is quite an affordable alternative to the Aeron at a price point of around $600. So you can get a stylish black chair that comes with many ergonomic office chair features and is aimed to provide you with comfort and is focused on reducing back pain and promoting a positive posture. So, based on the name itself, this chair is highly suitable for high-level executives.
Pros
The first attraction to this chair is its design and stylish look.
You get a wide range of ergonomic adjustments to customize the chair to your individual needs.
The design promotes a positive posture and prevents back pain.
Affordable compared to other models with the same functions.
It comes with a 5-year warranty period.
Cons
The lumbar support isn't adjustable, which would have made the chair perfect ergonomically.
Flat and hard armrests that won't provide much resting comfort to your wrists and arms.
Because of too many adjustments, it can get difficult to lock in different settings.
Poor instructions on how to use the settings can make it difficult to enjoy the full range that the chair has to offer.
---
Best Budget Chair
The name in itself is representative of what this series of office chairs from Flash Furniture has to offer. The Hercules series prides itself on being a heavy-duty office chair that can handle up to 500 lbs.
This big and tall office chair is designed to suit the needs of an executive office. The needs and requirements are taken into account by designing the chair to be thickly padded so that it stays comfortable for all those long hours you need to pull.
The extra-thick foam padding provides adequate support along with great comfort to the user who has to work for long hours frequently. The cushioning is present in the backrest, seat, armrest, and it also has an in-built headrest.
The lumbar support built into this chair helps with back pain issues, and the high back support and adjustable built-in headrest help in relieving the neck and shoulder region. The tilt-lock mechanism allows for a smooth transition between reclining and sitting.
Speaking of padded seats, the padded seat with the waterfall edge design helps reduce leg pressure and provides comfort to the thighs and back of your legs and also promotes blood circulation. It also features the 360-degree swivel and pneumatic height adjustment.
The Flash Furniture Hercules is Suitable For –
This chair is suitable for a wide array of people ranging in height and weight. The high back supports people of various heights, and the 500 lbs weight capacity is also an inclusive option for many body types.
The padding makes it a great option for people who work long hours. The price point, $250 – $300, is one of the major attractions if you need to find an all-inclusive chair without breaking your wallet.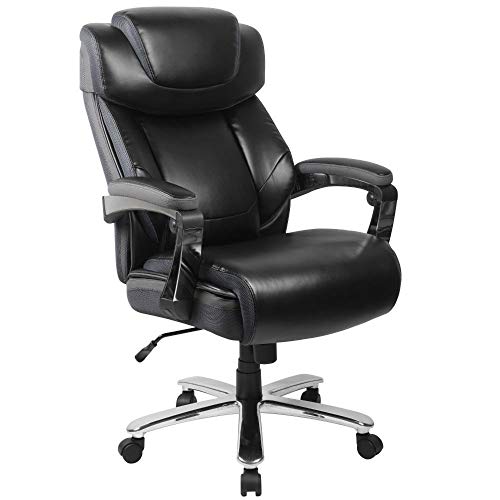 Pros
Solid, sturdy, yet comfortable enough to use during extended sitting.
This chair can support up to 500 lbs, which is the highest in this list as well as generally in the office chair scene.
The high back design, along with its weight capacity makes it great for heavy and/or tall users.
Built-in lumbar support and padding provide good contouring to your back.
The tilt-lock mechanism offers a comfortable and supportive experience to many types of users.
An adjustable and padded headrest is a much-needed inclusion in this chair.
Highly affordable, this can be the go-to best overall chair for big and tall individuals.
Cons
With a massive base and body, the chair can be hard to lug around.
The casters tend to claw into the carpet or roll hard on any hard surface.
Although it is designed with a high back, the upright position may require an additional pillow to adjust the height for tall users.
The headrest tends to slide down, and that can get irritating and uncomfortable.
Fixed armrests may feel uncomfortable while you are sitting upright.
---
When you go for budget chairs or budget anything for that matter, there will be something or the other that will be compromised. While this $177 chair might not be the best ergonomic office chair out there, it sure is comfortable for working long hours.
This looks similar to the Flash Furniture Hercules series chair, and the upholstery is done with LeatherPlus, which is a type of fake leather. It being fake leather keeps the cost down, gives you a great look, and makes it easier to clean.
The good thing about this chair is that you have an option to buy a mid-back or high-back version depending on your needs. For this review, I am going to be talking about the high-back version so that we can add in all the comfort we can get.
Another customization that you get is the option to get a chair with no seat slider or to add a seat slider. A seat slider is a lever on the seat that will allow you to slide your seat in and out while seated in the chair. This helps customize the chair support to your sitting position.
The backrest comes with built-in lumbar support for the comfort of your lower back. The thick cushion padding adds to the comfort and also provides support as a built-in headrest. The chair can be comfortable for tall and big users because of its spacious 21" wide seat and its 30" high back design.
It also comes with a seat height adjustment option that helps you maintain the proper height. As for the locking mechanisms, this chair does sport impressive locking options for a budget chair. It has the standard swivel tilt, tilt tension control adjustment, upright locking mechanism, and the upgrade version also has a knee-tilt mechanism. A knee-tilt mechanism is a wide-angle tilt option that will still keep the front of your chair relatively level when you tilt back.
The chair comes with padded loop arms, but they aren't adjustable. The Boss chair has nailed all the functions it does provide for the value that it offers. There are also a few customization options when you buy, but not many ergonomic options that will get you through the years.
Boss High Back Executive Office Chair is Suitable For –
This particular chair from Boss works best as executive chairs and conference room chairs, where the need for comfort overcomes the need for functionality.
Sale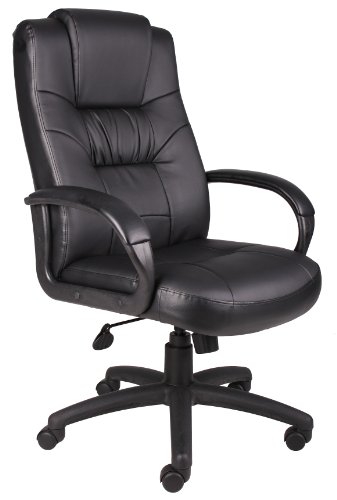 Boss Office Products Executive High Back LeatherPlus...
Beautifully upholstered in black LeatherPlus
LeatherPlus is leather that is polyurethane infused for added softness and durability; Passive ergonomic seating with built-in lumbar...
Padded armrests covered with Caressoft upholstery
Pros
Solid, sturdy, yet comfortable enough to use during extended sitting.
This chair can support up to 500 lbs, which is the highest in this list as well as generally in the office chair scene.
The high back design, along with its weight capacity makes it great for heavy and/or tall users.
Built-in lumbar support and padding provide good contouring to your back.
The tilt-lock mechanism offers a comfortable and supportive experience to many types of users.
An adjustable and padded headrest is a much-needed inclusion in this chair.
Highly affordable, this can be the go-to best overall chair for big and tall individuals.
Cons
With a massive base and body, the chair can be hard to lug around.
The casters tend to claw into the carpet or roll hard on any hard surface.
Although it is designed with a high back, the upright position may require an additional pillow to adjust the height for tall users.
The headrest tends to slide down, and that can get irritating and uncomfortable.
Fixed armrests may feel uncomfortable while you are sitting upright.
---
Most Frequently Asked Questions
What is the best office chair for sitting long hours?
Brands like Herman Miller and Steelcase are expensive for a reason. These high-end chairs give you the ultimate functionality and comfort, coupled with great design. They have the superior build quality and, as a result, last for years or even decades.
Going with this list, I would have to say that Steelcase Leap is hands-down the best office chair when it comes to comfort in addition to functionality. The better the ergonomics and comfort in a chair, the more suitable it will be for working prolonged hours. Steelcase and Herman Miller are brands that are recommended if you want a chair that is suitable for working long hours.
The best office chair is subjective, based on your needs. One chair that is the best for me might not be the best for you. The meaning of "best" differs from person to person. While individual needs play an important role in the outlook, there are many factors that together make the best chair.
I do have a list of the best office chairs, check that out if you want to know about the overall best you can get vs. value for money, as well as best chairs you can get within the budget. One thing you can count on is that you will get as much value as you are willing to spend. That being said, budget chairs aren't going to be too bad either. You just have to do your homework and decide what functions you choose over the other.
Which chair is the most comfortable?
Based on this list, out of all the chairs I have talked about, I will have to go with Steelcase Leap as the most comfortable. The Herman Miller Aeron is a close contender, but it is beaten because of the unavailability of seat depth adjustment, among other things. While both of them do not have back-height adjustment, Leap supports more weight and height.
The Eurotech Ergohuman is also a close contender because of the myriad range of adjustability options it provides. This helps in customizing the chair to individualistic needs and keeping the standard of support and comfort high as the day progresses.
If you want to find out which chair is the most comfortable for you, then look for how much padding makes you feel comfortable. Depending on what your job is and what you need the chair for, the features that make the chair most comfortable for YOU will change.
If you work on the keyboard the whole day, then you might want to get a chair with a forward-tilt mechanism so that you get lumbar support and back support even when you are leaning forward. You will need comfortable armrests that are padded so that you can rest your arms and wrists. You will need a tilt-tension mechanism so that you can easily push back when needed.
If you are at the managerial level where your work is divided between leaning forward and working on the computer and sitting upright or leaning back for meeting and decision making, then you might want to go with a chair that gives you an adjustable headrest option along with adjustable lumbar support. You will need a chair with good recline support. An additional seat slider option will be beneficial as well. A footrest will get the comfort to be kicked up quite a few notches.
How can I make my chair more comfortable?
If you already have an office chair that you find uncomfortable, then there isn't much you can do to make it comfortable if it isn't adjustable. There are a few things that you can do to make it less uncomfortable, though.
Adjusting Non-Adjustable Chairs
If your seat feels uncomfortable, you can add in an extra seat pad or a thin cushion to make the padding more comfortable. If your chair does not have lumbar support or if the support is poor, you can add a cushion to support your lower back.
You can add a footrest to better your posture when leaning back in the chair. The same goes for armrests; if you don't have a padded armrest or it is thin, you can add padded Velcro armrests to minimize upper back, shoulder, and neck pain.
Adjusting Adjustable Chairs
If you have an adjustable office chair, then take the time to find the correct adjustment settings that make the chair feel the most comfortable for you. Don't be afraid to play around with different settings. The ideal position for sitting straight is to sit upright with your feet to the ground – make adjustments to the height of the chair to facilitate that.
When you sit, there should be a gap of a few inches between the seat and the back of your knees while your back is supported. Your thighs should be parallel to the ground. All of these tips are necessary to hold the proper posture. Adjust your seat height and depth accordingly.
Adjust your arms based on your sitting position. They are usually the easiest to control, so it shouldn't be a problem. High budget chairs usually come with adjustable lumbar support, but it is still a novelty for many, so if you suffer from back pain, make sure to focus on the lumbar support. Add cushions or more padding to provide more support and comfort to your lower back.
Consider Changing the Chair
If the chair you have isn't comfortable for long hours of use even after doing all that you can to make it comfortable, then it is time to invest in a new chair. Regular backaches and muscle pain aren't worth waiting for your existing chair to break before getting a new one.
Conclusion
Buying a chair is an investment that you will reap benefits off of every day. Be sure to get a chair that you feel the most comfortable in. Make sure to take into account your needs and requirements like your job, the hours you are going to spend in the chair, etc. Know if the chair is just for one person or will it be shared.
Small things can make a chair uncomfortable for daily use. At the end of the day, it is your decision. I have given you a list of the most comfortable office chairs based on the job types, body types, a height-weight inclusive, budget, and even overall. Now, you can make an informed decision. Let me know in the comments if there are other chairs that you consider to be the most comfortable.