Best Overall
Serta Big and Tall Executive Office Chair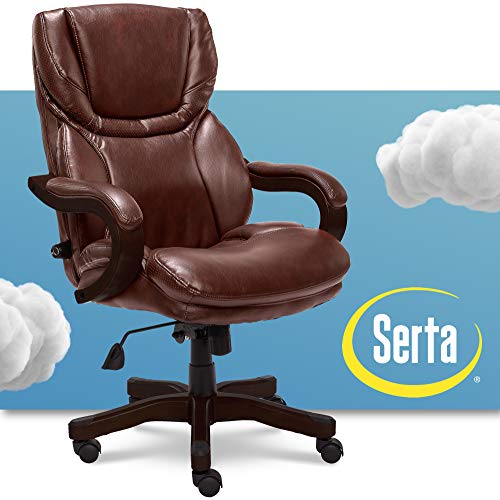 Best Value
Comfort Products Commodore
Best Budget
Furmax Mid-Back Office Chair
Sitting for long hours can be highly detrimental to your health. Many jobs nowadays require you to sit for long hours. Back pains and neck pains have become a common issue for many people. For some people, the problems take a specific course and become even more painful.
Today I will be focusing on ergonomic office chairs that can help you get some relief from sitting with sciatica pain. Sciatica pain is pain radiating along the sciatic nerve. Pain originates in the spine and then runs down one or both legs from the lower back.
Let's look at some chairs that can help you sit long hours comfortably and also talk about how to sit to help you not feel much pain. I will also talk about some tips on reducing the pain, among other things. Let's get started with getting you the best chair for sciatica pain.
Table of Contents
Best Office Chairs for Sciatica Pain
Frequently Asked Questions
Best Overall
The Big and Tall Executive Chair from Serta is one of the best for complete back support. The backrest is tall enough, given the name, to even support individuals who are taller than 6 feet. You get continuous lumbar support, which helps you maintain the natural curve of your spine to have a relaxed sitting experience and it helps you get relief from lower back pain.
The padding is one of the exciting selling points for many because Serta is a trusted mattress manufacturer, so the same quality, support, and comfort is what the padding possesses in their chairs as well.
You get thick, ergo-layered pillow tops for your seat and backrest cushioning. The ergo-layered pillow tops can adapt to the contours of your body and provide more defined support. The bonded leather upholstery for the cushions gives you the classic executive chair vibe.
The headrest and armrest are also padded, so you get no compromise when it comes to comfort. Every point of contact is supported by a layer of cushioning. The armrests are flexible, which you don't find in most chairs, even though it has become a much-needed factor. You usually find adjustable armrests in expensive chairs, but Serta provides this in a budget chair.
The armrests can be raised or lowered to suit your sitting needs with just a click of a button that you will find on the sides of the armrests, around the armrest bases. Let's talk about the seat. You get a waterfall seat edge that works to reduce leg pressure. There's a tilt mechanism in addition to infinite lock to change your backrest positions as the day progresses.
If you want to change the height instead, look for the control paddle under the seat. You can switch the height from 43.5 to 47 inches. Finally, the dual-wheel steel casters make moving this chair, on any surface, a breeze. It also has a weight capacity of 350 lbs, so it includes a good amount of range. It is also backed by a one-year limited warranty.
Those who have a limited budget but want premium-grade materials in their chair can score a good deal here. A unit costs around $200. 
The Serta Executive Chair is Suitable for:
People with a limited budget who want a chair made of premium-grade materials will benefit from this chair. It is also suitable for people weighing up to 350 lbs.
Sale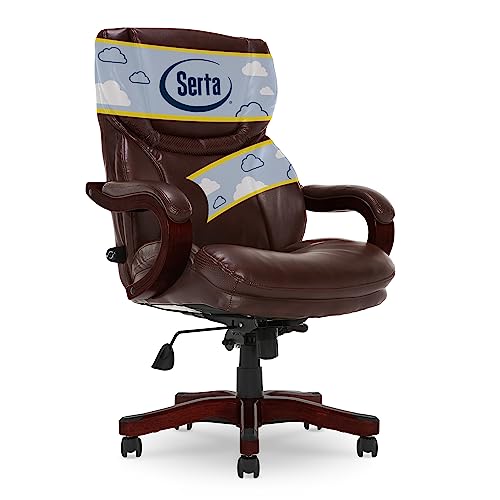 Serta Big and Tall Executive Office Chair with Wood...
CREATE AN EXECUTIVE PRESENCE: Quality bonded leather office chair with authentic wood accents
LUMBAR SUPPORT: Adjustable lumbar panel gives you the support needed for long hours at the office
STRONG AND STURDY: Specially designed for those with larger frames
Pros
The chair is constructed with heavy-duty, commercial-grade materials, which makes it a durable option.
The tall chair back, lumbar support, waterfall edge seat, padding – everything makes sure to support and cushion any point of contact. This is especially beneficial for individuals who suffer from sciatica or any type of body pain.
The continuous lumbar support allows maintaining good posture even when leaning toward any angle that suits you.
Supportive and comfort-inducing features from top to bottom highlight this model.
You get high-end features at a budget price.
Cons
While bonded leather upholstery adds to the look, it might not be for everyone. Bonded leather eventually starts to peel away.
Assembly is required, which can be a bit difficult because of the heavy body of the chair.
Because of the heavy frame, groaning and squeaking can be noticeable when moving the chair.
---
Best Overall Runner-Up
The Ergohuman chair's philosophy surrounds the need of providing the most anatomically-correct support to your back. This is one of the reasons that you will find this chair in the majority of the lists of comfortable chairs. This also is the reason that it is a majorly preferred chair for sciatica pain.
One of the best features is the synchro-tilt mechanism, which allows the backrest and the seat cushion to move together when you lean back on it. This makes sure that no matter the position, you always have support, which is really important in a chair for sciatica pain. The adjustments to do so are easier to synchronize and work in harmony with the other parts of the chair.
You also get eight ergonomic adjustments that help you get maximum comfort. There are three back angle adjustments that allow you to tilt the chair according to your preference. The tilt lock technology and the tension control work together to make the tilt action stable and reliable. 
How that works is that the tilt tension control lets you recline backward or lean forward by applying pressure on the chair back, and then the tilt lock technology lets you lock the chair at the degree you want, securely. This makes sure that you don't fear falling even if you tilt it the farthest possible.
Mesh is gaining popularity because of better air circulation, which is important if you work for a long period. It also provides better support throughout your sitting hours. This chair is made from breathable mesh, the quality is guaranteed by the Greenguard certificate, an indoor air quality certificate and meets the ANSI/BIFMA standards.
Coming to the mesh seat, you have adjustable seat height, seat depth, and arm height. The height adjustment uses easy-glide pneumatic cylinders. Along with the armrest, the headrest is adjustable too. You get a lot of features with this chair, which justifies the mid-range price point of around $700.
Ergohuman High Back Swivel Chair with Headrest is Suitable for:
The highly adjustable options and contoured back make it a perfect option for people whose work is a mixed bag of things. You get support when you are working on the computer and even when you are holding meetings. It is great for people with sciatica pain because it is designed to reduce back pain and lower back pain, and improve posture.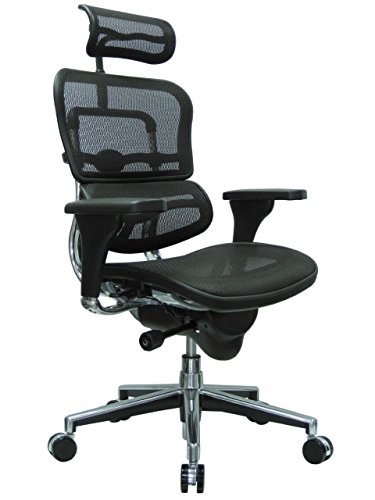 Ergohuman High Back Swivel Chair with Headrest, Black...
Made of Chrome/polypropylene base with nylon casters, this chair is made of 97% recyclable components
Product dimensions – 29" D x 26.5" W x 46"-52" H | Seat dimensions – 18.5" D x 20.5" W | Seat height (lowest/highest) –...
Synchro-tilt mechanism and seat depth adjustment ensure users sit correctly and get the support they need, whether sitting upright or...
Pros
The synchro-tilt mechanism helps you maintain the adjustability for the chair as a whole.
Contoured lumbar support, tilt lock, tilt tension mechanism – all allow support and comfort for long sitting hours.
Mesh back, and mesh seat cushion makes the chair breathable and helps it stay cool.
Based on the company's philosophy, the chair is engineered to reduce back and lower back pain, and also improve posture.
The adjustability options make it highly customizable.
This chair is made of 97% recyclable components, which is perfect for environmentally conscious people.
Cons
The pivoting arms do not lock in position, so that can be an issue if you want them out of the way.
It is not recommended for heavy users.
---
Best Value
The Commodore II Oversize Chair is a highly adjustable ergonomic option for people who sit for long hours. This leather chair is spacious to support a wide range of body types. Its richly-padded design aims to comfort every point of contact.
You get a contoured seat, backrest, and headrest – all padded to provide maximum comfort for long periods of sitting. The 6.5 inches foam makes the seat thickly padded. The cushions are upholstered with bonded leather, which is soft to touch and durable. Bonded leather is also easy to clean, so you don't have to worry about eating at your desk and spilling. 
The bonded leather look is also very professional and has been a symbol of executives, its appearance is luxurious, and the design is elegant. Along with the looks, the features are also well-designed.
The high and wide backrest support that comes with this chair targets your back area, lumbar region, spine, and neck region – it provides support and comfort. It is integrated with lumbar support, which helps you in relieving lower back pain and also promotes good posture. 
Along with the targeted lumbar support, the waterfall edge design of the seat helps reduce pressure from your legs. All this, in combination, is great for people with sciatica because you get your back and leg comfort considered to stop feeling pain.
The pneumatic seat height adjustment system allows the seat to be height adjustable in the range of 19.5″ and 23.5″ inches. You get a tilt tension control under the seat so that you can lean and change the backrest tilt and also get a tilt lock mechanism to lock the comfortable angle of tilting in place.
You also get a height-adjustable padded headrest, which is not common and is a welcome addition. It will allow you to customize the headrest position to provide maximum support and comfort to your head and neck. Although we get one of the uncommon features, the armrests aren't adjustable, but they are padded.
This office chair comes with a chrome base with dual wheel casters that are heavy-duty and gives you 360 degrees of swivel action. The chair is designed for tall and larger people, and the weight limit that it possesses is 400 lbs.
Comfort Products Commodore II Oversize Leather Chair is Suitable for:
This office chair for sciatica is designed to bring comfort and support for people who are tall and/or on the heavier side. The lumbar and seat design also makes it suitable for people with sciatica who spend long hours working on their chairs.
Pros
It is designed for big and tall people.
This chair comes with built-in lumbar support.
The thick cushioning of the back and seat make this office chair comfortable for long hours.
Tilt lock and tilt tension mechanism make it even more comfortable for use.
The headrest and seat are height adjustable.
The weight capacity for this chair is 400 lbs.
Cons
The inclusion of the headrest might not make it comfortable for short people.
The armrests aren't adjustable.
---
Best Value Runner-Up
Flash Furniture is one of the most popular brands when it comes to budget ergonomic chairs, which also makes it high-value. The chair is made of commercial-grade material and quality. The breathable mesh design has been becoming a staple in office spaces, and rightly so because it promotes good air circulation, which is essential for long-term sitting.
The curved chair back provides back support and also corrects posture. The lumbar support is also integrated to help alleviate back strain, so you do not have to worry about that. There is also an option to go for high-back if you want more support.
Rather than just going for thick padding for more comfort, this chair has firm seats that are comfortable, and the seat extends to a waterfall front edge design. This design reduces pressure on your legs. The arms are adjustable as well, they pivot up and down, so you have the option to have the arms out of your way if you like that.
It also comes with a pneumatic adjustment lever that helps you adjust the height of your seat. You have a tilt-tension knob to control the pressure needed to rock and tilt in your chair so you can recline. You can push in the know to apply tilt-lock and pull out to tilt or rock your chair.
The design of this chair is compact, so it easily fits in small spaces. It is designed to cater to people up to 250 pounds of weight. Lastly, it has five caster wheels to swivel 360-degree and move around with ease. It offers you a free range of motion, no matter what kind of office setting you're in.
Flash Furniture Mid-Back Mesh Ergonomic Task Office Chair is Suitable for:
Those who weigh up to 250 pounds can take advantage of its waterfall seat, mesh back, and adjustable headrest. This is a stylish option that compliments the style with its ergonomic design.
Sale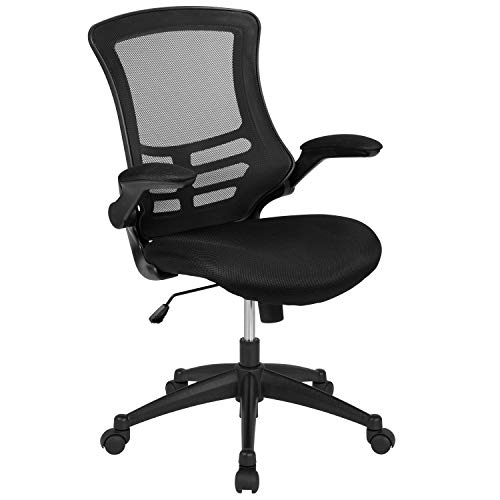 Flash Furniture Kelista Office Chair, Ergonomic,...
MULTIPURPOSE SEATING: Commercial grade office chair with space-saving flip-up arms ideal the front office, executive suite, or at-home work...
BREATHABLE COMFORT: Ventilated curved mesh back with built-in lumbar support and 3" padded waterfall seat ideal for long workdays
ADJUSTABLE FEATURES: 360° pneumatic seat height adjustment along with tilt lock and 120° of tilt tension to fit creates a custom seating...
Pros
It is made from commercial-grade material, which boasts of its durability.
The curved back design provides good back support.
This chair features retractable armrests that can help turn the chair into an armless design.
The waterfall seat, along with integrated lumbar support provides you pain relief.
It has a 360 degrees swivel feature.
The contemporary design can fit into different office styles and layouts.
It comes in many color options for upholstery, and you also get options for frame colors.
Cons
Even though the armrests are retractable, their height isn't adjustable.
The firm seat comes with a textured seat fabric, which may not be for everyone, as it can be rough.
---
Best Budget
The Furmax Mid-Back Office Chair is a good option if you have a tight budget but still want the best chair for sciatica pain. The mesh backrest of the chair is complemented with two wedge-shaped lumbar pieces. The breathable material used for the backrest makes sure that the chair has good air circulation. The lumbar pieces provide good support to your back and also cradle your lower back to provide you with pain relief.
It is designed with a large seat and mid-height backrest. The square seat measures 19.7 x 19.7 inches, which is what makes it roomy enough for folks on the heavier side as well. The seat is also thickly cushioned to provide you comfort.
The height is also inclusive at 18.9 inches, even though it is a mid-back design. The adjustable height options allow it to be catered to tall people.
The armrests are fixed, and there is no headrest, so if you need neck and head support, you won't be getting it in this one, but it usually is not a problem, unless you have neck pain. It also could be a bit uncomfortable when leaning back.
That being said, the material used for the construction of this office chair makes it durable, so you can lean back without being afraid of breaking the chair. The swivel function is smooth and makes rolling the chair around easier. 
It boasts a BIFMA (Business and Institutional Furniture Manufacturers Association) certification. This attests to the quality, sustainability, reliability, and functionality of this ergonomic office chair.
This chair is also backed by a 6-month replacement warranty in case of any damaged or missing parts. You also get a 30-day money-back guarantee to test it out. It is available in 9 colors so you can easily choose one that goes with your office decor.
Furmax Mid-Back Office Chair is Suitable For:
This is perfect for people who want an ergonomic chair that targets the lower back region in a budget. It is also great for bulk buying for the whole office because of the price point and the ergonomic features. The color options help it fit in with a lot of office designs from classic to funky. 
Usually targeted at people of average height and weight, heavyweight or tall people who would like a mid-back chair aren't discounted.
Sale
Furmax Office Chair Mid Back Swivel Lumbar Support Desk...
【Ergonomic Design】The overall design of this office chair is ergonomic, two lumbar supports on the backside of the chair back are not...
【Thicker Cushion & Double Comfort】Compared with other ordinary office chairs, the cushion of this office chair uses high-density elastic...
【High-Quality Materials】In order to enhance customer's experience when sitting in the chair, we adopt better materials to improve the...
Pros
It has a dual wedge-shaped lumbar support that helps you get back pain relief, which can be helpful for people with sciatica pain.
The seat size and height accommodates people of different height and weight ranges easily, even though the weight capacity of the chair is 265 lbs.
It offers dual wedge-shaped lumbar support, which can help alleviate the lower back pain.
It features a durable, sustainable, and quality design, as attested to by BIFMA.
Budget price makes it ideal for bulk buying for offices.
Cons
The absence of a headrest may affect the comfort level of your neck and head.
Fixed armrests might not be suitable for people who keep switching positions.
Switching backrest angles while sitting on the chair can be a bit of a pain because the tilting mechanism is a little difficult to adjust.
---
Best Budget Runner-Up
With 10,000 kinds of office products and services, BestOffice Co is a South Korean office supply chain that has gained popularity all over the world. They work with the core vision of providing "Everything in the Office,"  which has helped the company to produce some fantastic office furniture. They also have manufacturing units in the US, which is great for people who want quality from their own soil. 
The BestOffice chairs have BIFMA certification, which makes them a reliable option. This chair is designed with human-oriented ergonomic construction. You get full mobility and customization options, which are crucial for long working hours. 
This chair is built for comfort. The mesh back promotes air circulation and provides support. The foam seat provides comfort and the waterfall edge design provides pain relief to your legs.
You get the height adjustment option to suit your needs. The tilt-lock mechanism helps to lock the backrest in the angle you prefer. The backrest is designed to relieve stress and pain from your back, could have been more supportive, though. Even though the armrest isn't adjustable, it boasts an ergonomic design to provide you support throughout the day, but the fixed armrest can be an issue.
The dual caster wheels for 360 degrees swivel option are smooth and make the chair easy to move around. The chair is stable despite being on wheels, the frame might look delicate, but it can provide you with proper support. The chairs support people weighing up to 250 pounds.
Usually, chairs that require assembly can give you a hard time, but this chair comes with all the tools that you need to assemble the hardware. The step-by-step instruction guide is also clear; once you have the hang of it, you can assemble the chair in 10 to 15 minutes. This chair also comes with a 90-day warranty period.
BestOffice Ergonomic Desk Chair is Suitable for:
If you want a budget option, then this is a good office chair for sciatica pain. You get good support and mobility with this chair. The color options make it easy to choose one for the aesthetics of your office.
Sale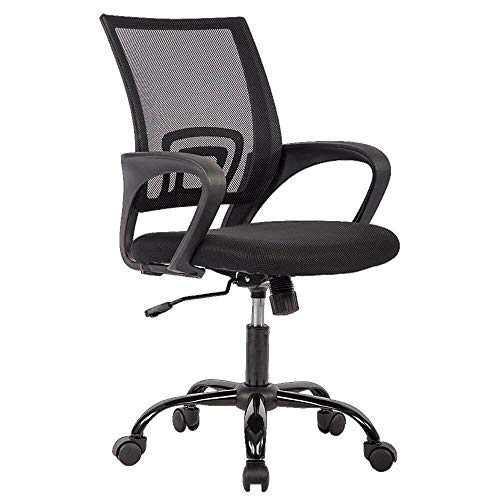 BestOffice Executive Desk Chair for Office which is...
BUILT FOR COMFORT - Our mesh office/computer chair is built for long-lasting comfort. And easily adjusted for height, the locking mechanism...
ERGONOMIC DESIGN - Designed with human-oriented ergonomic construction, users have full mobility whether youâ€re gaming, working on the...
BIFIMA QUALITY-CERTIFIED - Our chairs pass all components of the BIFIMA certification, and are a reliable and sturdy option for users...
Pros
This chair is BIFMA certified.
You get a mesh back for increased air circulation.
The wheels are smooth and make the mobility option even more pleasant.
It has a weight capacity of 250 pounds.
Assembly of the chair is easy with extra screws, tools, and instruction booklet included.
Many color options to choose from.
Cons
The armrest can feel to be a bit lower for someone who is tall.
The armrests aren't adjustable.
The armrests can hit your thighs and knees when sitting for long hours.
This chair isn't known to be long-lasting.
---
Frequently Asked Questions
What Kind of Chair is Best for Sciatica?
I have focused on ergonomically designed office chairs in this article because they not only help you relieve pain but also promote good posture and healthy sitting habits. They provide support and comfort to people whose job demands them to be sitting for extended periods. But, there are other types of chairs as well that can be great for people with sciatica pain.
Ergonomic Chair
Ergonomic chairs come with adjustable parts that help accommodate customization of settings. The most common adjustable settings you will find are the height adjustability and back tilting mechanism. 
Nowadays, ergonomic chairs have started including lumbar support, seat height adjustment, adjustable armrests, and adjustable headrest – some of them are more common than the others. This helps you pick up a chair that helps target your problem areas and also allows you to customize the chair according to your height and sitting habits.
Massage Chair
A massage chair is great for people who experience pain, but it can be expensive. This type of chair is considered a luxury, but it can be very therapeutic. The ones that are more catered toward therapeutic benefits target your spine and lumbar area. 
Different massage techniques are applied to relieve pain. Some chairs even come with different massage programs. This can be a working solution for people with sciatica pain to work and relax when work gets too much.
Gaming Chair
You might be familiar with gaming chairs; they are hard to miss. The build design and colors are usually what draws people in. This chair, though developed for gamers, can be perfect for people with sciatica or back pain.
Gaming chairs are designed to support long sitting periods, so the components of the chairs are designed to prevent pain and provide relief from aches and soreness, along with lower back pain, that can be caused by sitting for a long time. Most models have ergonomic elements, such as adjustable seat height and seat depth, tilt mechanism, and retractable armrests.
Kneeling Chair
The kneeling chair features an angled seat and a knee pad; this is designed for more active sitting. This design is said to relax your spine and buttocks by opening the angle between your upper body and thighs. So, instead of the usual 90 degrees of sitting, your knees bend at 60 degrees to 70 degrees. The main reason for this chair is preventing back pain, followed by posture correction.
Balance Ball Chair
You might have seen balance balls in your gym or fitness videos. They can be great for sitting as well. The main idea is to be sitting on a curved surface. It helps you build your core muscle strength, lowers the risk of developing heart diseases, and also provides relief from sciatica pain.
If you have a fitness ball, then you can directly use that, but if you want something that resembles a chair, then you have the option to choose the ones that come with a ring base. There are also chair-like bases available for a more office feel. The balance ball is often detachable from the base, so you can use it for exercise as well when you aren't working.
The balance ball chairs come with a four-leg base and do have casters for mobility across the office. Having legs added to your balance balls allows added height, which makes it even more suited for use with your desk.
How to Reduce Your Sciatica Pain?
A good office chair is a much-needed starting point in reducing your sciatic nerve pain. Along with having a good office chair, it is important to learn the right way to sit so that your pain doesn't worsen, which is discussed in the above section.
In this section, I will focus on a few tips that will help you reduce your sciatica pain. 
Correct Sitting Posture
A good ergonomic chair promotes good posture, so having the right chair helps, but here's what you need to make sure to have the correct sitting posture:
Your feet should be flat on the ground.
Your knee angle should be 90 degrees or more.
Your desk should be 8 or 9 inches higher than your chair seat.
Your monitor should be slightly lower than your eye level.
Your elbow angle should be at 90 degrees when placing your arms on the armrests or desk. 
You should not cross your legs when sitting. It messes up the posture of your body.
Add Extra Cushions
Comfort is the main factor that will help you feel less pain. In case you can't afford a new office chair for sciatica pain, then adding extra cushions for your hips and back helps to cushion your body. There are cushions made specifically to relieve sciatica so you can invest in one – usually go for cushions that are at least 3 inches thick.
Extra cushions will act as padding and support your lumbar area, your hips, and your back, and also provide you with comfort.
Start Exercising
Exercising is one of the best ways to relieve pain. You don't have to go to the gym to get good exercise. Including light exercises in your daily routine can benefit you a lot as well.
How Should I Sit With Sciatica?
Sitting for long periods can be a cause of pain, even for healthy individuals. If you have sciatica, then it becomes even more painful. Many jobs nowadays require you to be sitting for hours at a stretch. Knowing how to sit to reduce the pain becomes more of a necessity. 
Here are a few tips for the best way to sit for an extended period with sciatica:
Take Breaks
Sitting continuously for too long is going to be painful for your body, even if you don't have any health issues. Make it a point to take regular breaks. After 30 minutes, you can get up and let your body stretch out. Things you can do:
Stretch
Take a walk around your desk or office
Engage in back-targeted exercises at your desk
Use Time Management Techniques
Time management techniques make sure that you take your break or don't sit too long. My favorite is the Pomodoro technique; that way you can use the break to stretch or walk around.
Sit Right
Sitting for a longer period makes you slouch, and that leads to not only pain but added discomfort because of the wrong posture and can cause permanent damage. Here's how to make sure you are sitting right:
Sit straight.
Your back and buttocks should be flush with the back of your chair.
Your knees should be even with your hips (you can elevate or lower your knees if the position relieves your pain, but not for too long, keep switching).
Your feet should stay evenly planted on the floor or the footrest, no matter the position of your knees.
Get an Ergonomic Chair
One of the main causes of pain is not having the right office chair. Make sure that your office chair helps target your problem areas and provides relief. 
I have talked about six chairs here that can help you reduce your sciatica. You can look at the overall great options, value-added options, and even budget options. There are other articles on the site that will help you find the best office chair for you based on your budget, preferences, and ergonomics.
Do Zero Gravity Chairs Help Sciatica?
The zero gravity chairs promote a position that is designed to have minimal gravitational force on our bodies, which minimizes the pressure on our bodies. This helps in providing us relief from back and neck pain. 
Not only does the zero gravity position help in relieving pain, but it also helps improve the overall blood circulation and also helps release tension from the surrounding tissues.
To answer the question, zero gravity chairs do help with sciatica, but there are other factors to consider like the root cause of your pain, the level of pain or tension you feel, etc. 
Can Sitting on a Hard Chair Cause Sciatica?
The root cause of sciatica is usually lower back pain. Intervertebral disc disorder is the reason for the majority of the sciatica cases. Our vertebral discs are prone to degenerate over time. This is why there is a high risk of suffering from sciatica as we age. The number of affected people vary in studies, but the highest estimate is said to be 40 percent, meaning that is the number of individuals who may be affected by sciatica at some point in their life.
To answer the question, work-related activities do increase the probability of getting sciatica pain. People whose jobs require them to lift heavy things, physical loading-unloading, being near machines that cause whole-body vibration, or being in harmful work postures can develop disc tears and herniations. While prolonged sitting might not seem that harmful compared to physical work, sitting on hard surfaces for long hours can result in sciatica due to pressure on the sciatic nerve.
Best Overall Product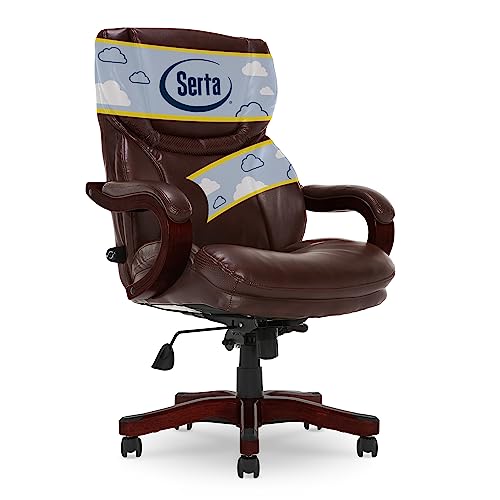 Best Value Product
Best Budget Product
Serta Big and Tall Executive Office Chair with Wood...
OneSpace Comfort Products Commodore II Big & Tall...
Furmax Office Chair Mid Back Swivel Lumbar Support Desk...
Best Overall Product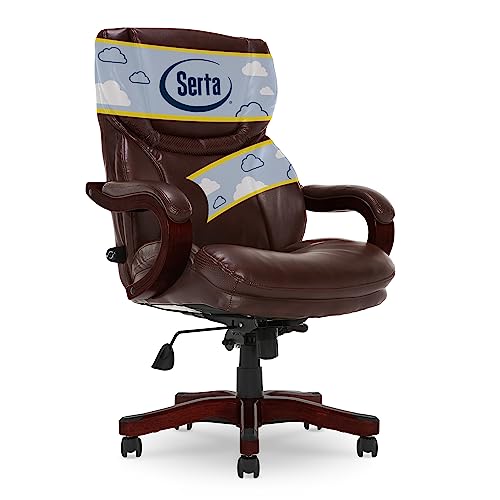 Serta Big and Tall Executive Office Chair with Wood...
Best Value Product
OneSpace Comfort Products Commodore II Big & Tall...
Best Budget Product
Furmax Office Chair Mid Back Swivel Lumbar Support Desk...
Conclusion
Making sure that you are sitting on a comfortable surface and taking enough breaks should help in relieving the sciatica pain. I have talked about not sitting on hard surfaces, using pillows for added comfort, and taking scheduled breaks.
All that being said, your chair is the thing you spend the most time in, in the office. Even with no pain, having an ergonomic chair has become essential, so with some kind of pain, it becomes more of a priority.
Serta Big and Tall Executive Office Chair is my number one choice because it gives many functionalities at a budget price. If you have a bigger budget, then you can go for the Ergohuman High Back Swivel Chair.
I also have two budget options here that fall way under $100 – Furmax Mid-Back Office Chair and BestOffice Ergonomic Desk Chair. 
Comfort Products Commodore II Oversize Leather Chair is another chair that ticks many boxes for me and provides high value for the price. Flash Furniture Mid-Back Mesh Ergonomic Task Office Chair is one of the best options to go for if you want the best chair for sciatica pain at a low price point.
Don't forget to take breaks, sitting continuously for long hours isn't recommended – pain or no pain.