Best Overall
Ergohuman High Back Chair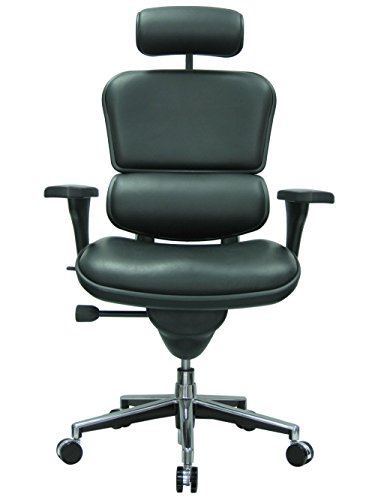 Best Value
Sleekform Alpharetta Leather Kneeling Chair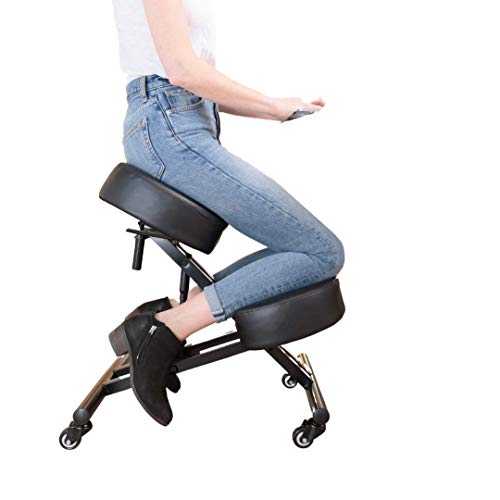 Best Budget
Hbada Ergonomic Office Desk Chair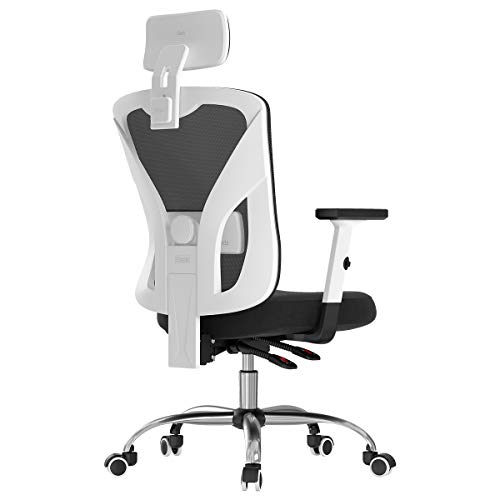 WebMD cites your job as a potential culprit for your lower back pain. Your work may not be menial, but sitting for long periods of time in the office isn't helping your body. One of the unwanted effects of this sedentary experience is the less optimal condition for your spine down to your upper thighs.
If you suspect that your current chair is contributing to your lumbar pain and discomfort in a big way, you may need to replace it right away.
If you're already on the lookout for a new one, then great! I've got the lowdown on the options for the best office chair for lower back pain right here for you.
Table of Contents
Best Office Chairs for Lower Back Pain
Best Overall
Educating customers on ergonomic seating is the main thrust of Ergohuman, which makes the Ergohuman High Back Chair. The online retailer was founded by a certified professional ergonomist named Jon Paulsen. This gives you a hint on the expertise that goes behind the creation of every chair in its line.
So, let's look closely into what makes LE9ERG Raynor Ergohuman Chair the top pick in this category. It is actually derived from the original Ergohuman Chair. The main difference? The one you're seeing now is the all-leather edition (the original is made of mesh). Still, the highlight of this version is the lumbar support system.
When you sit on this chair, your back will first feel the protruding lumbar support. It contours to the arch of your lower back to provide comfort and relief. Its height can be adjusted, so different individuals can customize this section. The rest of the high backrest has an attached headrest to complete the enhanced back support. Both components are adjustable.
Your back will feel the love, whether you're sitting upright or reclining. The paddle for adjusting the angle is easy to control, allowing you to change the seat depth as well. It may take you a few tries to find your most relaxed position, but the benefits last longer. Now, it wouldn't be an ergonomics chair through and through if the armrests were fixed. So this product has ones that pivot.
The ergonomic factor here is comprehensive. Mobility is not an afterthought as well with the five dual-caster wheels at the base. If you need more convincing, this model is compliant with ANSI/BIFMA (American National Standards Institute/Business and Institutional Furniture Manufacturers Association) standards.
To cap it off, the cost of this office chair is between $700 and $800, considering the fees for add-on services like expert assembly. 
Ergohuman High Back Chair is Suitable For:
If you don't want to splurge on an office chair but still want a long-term solution, this option is your best bet. It's the next best thing to the higher-end Herman Miller Aeron or Herman Miller Embody. This sturdy seat even caters to people who are taller than 6" and around 250 lbs.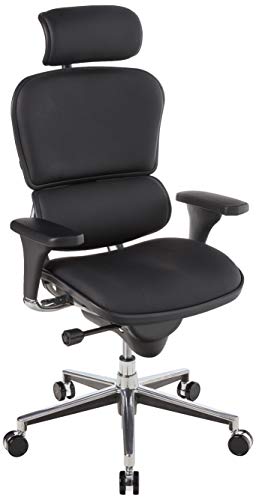 Pros
It has multiple adjustments to accommodate many users.
It allows customization across many points to fully support the back.
Its lumbar system support is unmatched in adjustability, thereby preventing or relieving lower back pain.
It is compliant with ANSI/BIFMA standards.
Cons
The padding may be firmer than other options.
It may take a few tries to get to your comfortable position.
It can be expensive for some customers.
---
Best Overall Runner-Up
Eurotech is a United States-based company that handles manufacturing, marketing, sales, and distribution of chairs for office needs. It has been around for decades and hasn't stopped striving for excellent craftsmanship and design. From its own line comes this Eurotech Vera Mesh/Fabric Executive Chair.
The lumbar system support is not separate from the other sections of the backrest. Despite this, it still scores high in support for your lower back. As you lean on the mesh back, it follows the shape of your spine, promoting its natural alignment. In turn, this can train your muscles to achieve a proper sitting posture. This can then relieve body parts, including the lumbar region.
However, there is a catch. Lower back support is optimal when you are in the upright sitting position. It starts to fade when you tilt to a reclining angle until you reach full recline. You gain an advantage when you lean forward instead. But even this requires experimenting on where you park your buttocks to reach the full benefits.
Of course, you should not discount this model yet. It sports several ergonomic features that might be its saving grace. For example, you can move the seat pan to accommodate long or short legs. The seat can be raised or lowered to achieve a comfortable angle between your upper body and legs. Plus, you can use the synchro-tilt to level the seat while you're reclining.
Another rare find here is the pair of adjustable arm rests. You can modify it six ways, letting your chair fit the desk or task you're working on. Meanwhile, the mesh back comes in nine colors that you can choose from. The fabric seat, however, is permanently black.
This customizable, lower back companion retails at around $700.
Eurotech Vera Mesh/Fabric Executive Chair is Suitable For:
If you're between 5'6 and 6'5 tall, this option will let you settle in comfortably. The result differs if you're 5'2 or shorter. You may need a footrest to avoid dangling feet. Those who don't want to break the bank can snag this product.
No products found.
Pros
Its lumbar support, together with the rest of the back support, allows for proper spine alignment.
It can be reclined so that you aren't stuck in one position when you're sitting.
Its seat pan can be adjusted to increase or decrease seat depth.
It is relatively affordable.
Cons
Its lumbar support system is not separate from the rest of the backrest.
The level of lumbar support can start diminishing when you recline.
It does not cater to individuals who are 5'2 or shorter.
---
Best Value
Online company Sleekform dishes out ergonomic office chairs to a range of customers. Its models are designed to fit in an executive office in a high-rise or a corner office in your home. Composed of remote workers themselves, the team behind the brand understands the need to nail comfort and health with one product. The Alpharetta is one of the latest in its collection to showcase this.
This product is the only kneeling chair in this review. It sports an angled seat that aids in distributing your body weight to your shins, taking away the pressure from your spine and tailbone. You can try adjusting the seat at any angle between 1° and 47°. It can also act as a drafting chair in this regard. Those who are 6 feet tall or below can find their optimal seat height at 18.5″ up to 25″.
A balanced knee pad and seat cushion make for an outstanding kneeling chair. The 4-inch-thick padding is a bit plush and a bit firm. It conforms and supports your shins thanks in part to its memory foam component. Made of part-recycled foam as well, its materials and their construction keep the chair sturdy.
While the structure may seem strange for some people, four heavy-duty casters can be a familiar element. These wheels attached to the base are similar to those found in conventional office chairs. They assist in mobility and deliver stability. They don't have a dedicated lock, but that should not be a problem if you aren't moving around too much. You can also replace them when they wear out.
Having all these features enables this chair to ease the symptoms of lower back pain. You can sit upright with this one as it aligns your spine, neck, shoulders, and hips, among others. When you use this chair, your spine takes on its neutral form. This posture not only relieves aches and prevents soreness but also improves blood circulation.
This type can command higher prices than traditional ones. But this version has an affordable rate. For its versatility, it is my top pick for value for money. The most common downside is that it arrives at your doorstep deconstructed. You must set it up yourself. Don't worry because it comes with a manual. Further, there are no clear terms on the coverage of the warranty. 
Sleekform Alpharetta Leather Kneeling Chair is Suitable For:
Those who weigh 265 lbs and below can add this number to their ergonomic office furniture collection. But the ideal maximum weight for the advertised capacity is around 235 lbs. As I said earlier, the seat height is compatible with 6-footers or below. The chair is best for people who are of average height and weight.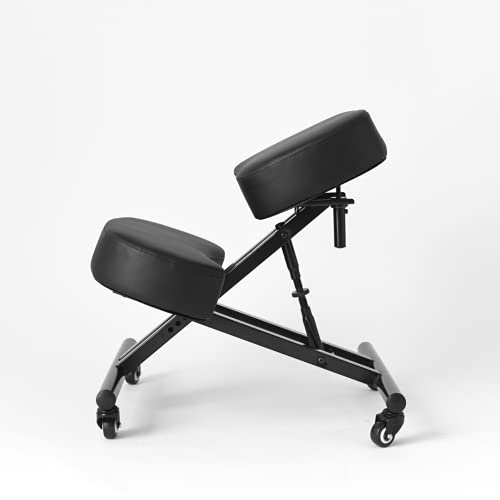 Sleekform Kneeling Chair - Home Office Desk Stool for...
[REDUCE PAIN] The Alpharetta chair positions you with an open hip angle that encourages an upright posture. This will align your back,...
[DURABLE] The thick cushions allow you to sit comfortably at a desk without sinking through to the core of the chair. All of our cushions...
[ADJUSTABLE] This adjustability of the seat angle will allow you to find the perfect ergonomic position that fits your specific needs...
Pros
It features a seat with an adjustable angle and height for the benefit of a wide range of customers.
It can reduce or eliminate back pain as it aligns your spine, shoulders, and neck.
It is one of the most affordable kneeler ergonomic chairs on the market.
Cons
Its knee pads may be too firm for some people.
It has no specified warranty on the manufacturer's website.
It has to be set up upon delivery, which may be a lot of work for some users.
---
Best Value Runner-Up
Behind Kahuna Chair is the BBB (Better Business Bureau) recognized brand AJX.LLC, which has been making massage chairs since 1997. This ability to remain a top player is reflected in the Kahuna LM6800 Massage Chair, a zero-gravity massage chair that has been around for years. 
Not only does it give you therapeutic massages, but it also makes sure you're getting them while lying in the zero-gravity position. This form places your legs above the level of your heart, which is ideal in promoting better blood circulation. It also allows for even weight distribution. By removing the pressure on your body, it lets you enjoy the effects of a deep and intensive massage. 
You can choose from three zero-gravity positions, plus six automatic and five manual programs, to customize your sessions. Powering this model is the L-track, a roller trail that runs from your neck down to your buttocks. This track is preferred, for it helps decompress individual bones in the spine, including those belonging in the lumbar region.
But the highlight for your lower back is the heating therapy. This feature can bring relief to the pain or soreness you're feeling in that body part. At the same time, your back and leg muscles receive yoga treatment and improve their flexibility. A minimal number of airbags are used to produce the twisting and stretching movements of yoga.
To complete, the Food and Drug Administration (FDA) recognizes this massage chair as a medical device. It comes with a computer body scan technology that tailors the massage according to your body size. It is capable of providing massage techniques that are similar to those employed by professional massage therapists.
If you suffer from persistent lower back pain, you may want to take advantage of the therapeutic offerings of this one. It comes with a 3-year  limited warranty from the manufacturer.
Kahuna LM6800 Massage Chair with Yoga & Heating Therapy is Suitable For:
If you are between 5'2 and 6'2 tall, you can fit ideally in this massage tech. It also caters to those who weigh up to 240 lbs.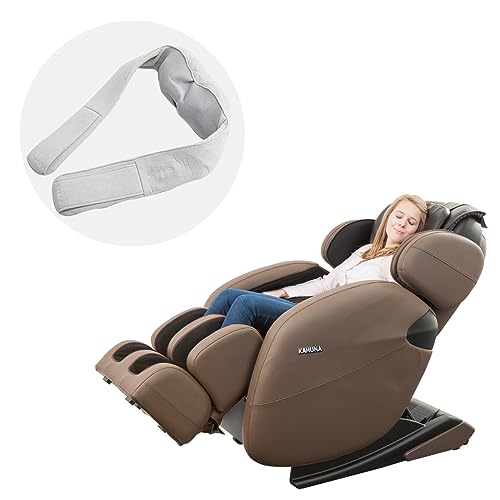 Kahuna Massage Chair LM-6800 (Brown)
Arm Airbag has new design, 6 Auto programs, timer button up to 30 minutes, Double layer shoulder airbags - Extra foot padding and remote...
L-Track massage system, 3 stages of Zero Gravity, Smart body scan technology scans your body to detect your body size for individual custom...
Best warranty service for online massage chair company – Easy to register warranty and request service. Kahuna LM-6800 gives limited...
Pros
It promotes a superior massage experience through multiple zero-gravity positions.
It lets you customize your session with six auto programs and five manual programs to choose from.
It can relieve pain and pressure off your entire back through the L-track and, specifically, off your lower back through heating therapy.
It is recognized by the FDA as a medical device.
It's a reasonably priced massage chair.
Cons
It is not very quiet when you move because of the vinyl used for the upholstery.
You may feel that the rollers are too close to your body because of the thin padding.
It requires a DIY (do-it-yourself) setup, which may not suit the taste of busy individuals.
---
Best Budget Runner-Up
Hbada is a company that sells office chairs, ergonomics chairs, and gaming chairs online. Among its top offerings is the Hbada Ergonomic Office Desk Chair. This model features a unique way to adapt to the shape of your spine. Its wide range of movements adjusts to your body and alleviates lower back pain.
It also sports a tilt mechanism, which allows you to lean back and transition smoothly between 90 and 125 degrees. With ease, you can lock in a position that feels comfortable to you. The backrest comes in a high-quality, breathable mesh. It is dense enough to support you without hindering airflow and warming up unnecessarily.
One tiny drawback in some budget options is the fixed arm rests, which can restrict your overall movement or the positioning of your arms and elbows. But this one includes a set of T-shape height adjustable arms. Add to that a rotating, adjustable headrest for ultimate head support.
Made of soft velvet, the seat is thick yet cushy enough to offer support and comfort to your glutes. Further, you can add or remove the mesh headrest, depending on your head and neck requirements. This model seems promising for average users for its weight capacity of 250 pounds.
For under $200, it also offers an inexpensive alternative to the Steelcase Leap Chair, which features the spine-mimicking LiveBack Technology, or the Steelcase Gesture models with their adjustable arms.
Hbada Ergonomic Office Desk Chair is Suitable For:
If you weigh above 200 pounds but less than 250 pounds, you can rely on the comfort and support provided by this reclining office chair. Those who are on the lookout for budget deals can also check this alternative out.
No products found.
Pros
It features multiple adjustable features, such as reclining angle and height adjustable arms, as well as add-ons like the rotating, adjustable headrest.
It uses breathable mesh to facilitate airflow, keeping you cool, and the chair well-ventilated.
It packs a lot of value for a chair that is under $200, starting with ergonomic, customizable, and breathability benefits.
Cons
It may produce noises while you move in it.
Not everyone may be comfortable with reclining on a mesh backrest.
It is not recommended for individuals who are 6' tall and up.
---
Best Budget Runner-Up
The Furmax Mid-Back Office Chair is well-regarded for its design, with the large seat and mid-height backrest as its highlights. The square seat measures 19.7 x 19.7 inches, which gives heavier folks plenty of room to rest and relax. However, the armrests are fixed, so you can't raise or lower them further.
This model is also considered a mesh chair because of its backrest component. Its breathable material can cool you down while allowing the air to flow. Two wedge-shaped lumbar pieces that support your back complement this. This chair for back pain cradles your lower back. However, you may find the lack of a headrest unsupportive, especially if you're suffering from neck pain.
This reliable, ergonomic chair has an adjustable height that can cater to tall people. It swivels and rolls for better mobility. With durable construction, it lets you lean back without worrying it might break Proven as a functional, sustainable, and quality chair, it proudly carries a BIFMA (Business and Institutional Furniture Manufacturers Association) certification. 
All of these features are found in a chair with an unbeatable price of $79.99. It is backed by a 30-day money-back guarantee and a 6-month replacement warranty for damaged or missing parts. It is ideal for buying in bulk for entire offices while meeting the ergonomic needs of your team members.
Its nine available colors can also fit any office theme and environment.
Furmax Mid-Back Office Chair is Suitable For:
If you prefer a mid-back office chair, then this one's for you, provided that you are of average height and weight. The weight capacity of this chair is 265 pounds.
Sale
Furmax Office Chair Mid Back Swivel Lumbar Support Desk...
【Ergonomic Design】The overall design of this office chair is ergonomic, two lumbar supports on the backside of the chair back are not...
【Thicker Cushion & Double Comfort】Compared with other ordinary office chairs, the cushion of this office chair uses high-density elastic...
【High-Quality Materials】In order to enhance customer's experience when sitting in the chair, we adopt better materials to improve the...
Pros
This ergonomic office chair sports a thick, large seat that provides plenty of room to many kinds of users, including heavier folks. 
It offers dual wedge-shaped lumbar support, which can help alleviate the lower back pain.
It features a durable, sustainable, and quality design as certified by BIFMA.
You can buy this chair in bulk for your growing office needs.
Cons
It does not have a headrest, which may affect the comfort level of your neck and head.
Its armrests are fixed, so there is one height and angle to work with for all users.
Its tilting mechanism is moderately adjustable according to verified users, so switching backrest angles may not be seamless.
---
What Type of Office Chair is Best for Lower Back Pain?
There are several office chair types mentioned in this article. Here are the most common ones that you need to know about:
Preventing back pain is the #1 benefit of this chair type. The other important benefit is achieving the correct posture.
"Model making – Office chair" by Mr. R. Burmeisters is licensed under CC BY-NC-ND 4.0 
How Do You Sit in a Chair with Lower Back Pain?
You probably learned as early as grade school that sitting properly promotes good posture — however, not everything we pick up in our primary years, sticks. Maybe out of habit, you've slouched, leaned too near the screen, or leaned on one side while working. You can be aware of what you're doing wrong for a start.
Using a chair with lumbar support is the next step. This design contours to the shape of your back, allowing its muscles to release tension and pressure. When you sit on this chair, you should adjust the seat pan and height, as well as the lumbar support or pillow, until your back is upright. Avoid rotating your pelvis forward, keep your shoulders level, and straighten your neck.
In any case, it is not recommended to sit in one position for a long time. Practice active sitting or take breaks.
What is the Best Office Chair for Lumbar Support?
In my book, the best office chair for lumbar support is the LE9ERG Raynor Ergohuman Chair. The expert and user reviews I consulted have high confidence in this model. Its ergonomic features abound. But what makes it truly shine is the adjustable lumbar support system.
If you want the best value for money option, I can also recommend the Sleekform Alpharetta Leather Kneeling Chair, which promotes balanced seating. This kneeling chair offers an alternative to the 90-degree position we have been accustomed to. Personally, I find it helpful in reducing or preventing lumbar pain.
If it's the price you're concerned about, you can go for the pocket-friendly Hbada Ergonomic Office Desk Chair. This can also accommodate many types of users.
Are Kneeling Chairs Good for Lower Back Pain?
Misaligned spine and poor posture can cause strain on your back muscles. This can result in aches and soreness. Kneeling chairs can prevent this by eliminating the pressure from carrying your weight with your entire back. They do this by distributing the weight evenly. 
Kneeling chairs are designed to decrease the tension in the back. This benefit extends to your lumbar region. However, they may only alleviate pain caused by medical conditions, not prevent it. For a more holistic approach, you need to consult your primary care physician in this case.
Best Overall Product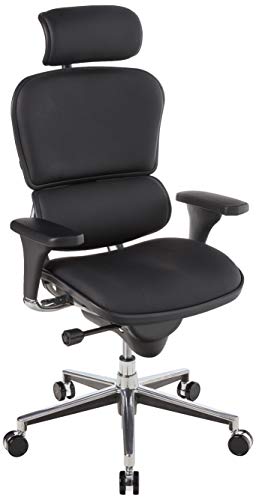 Best Value Product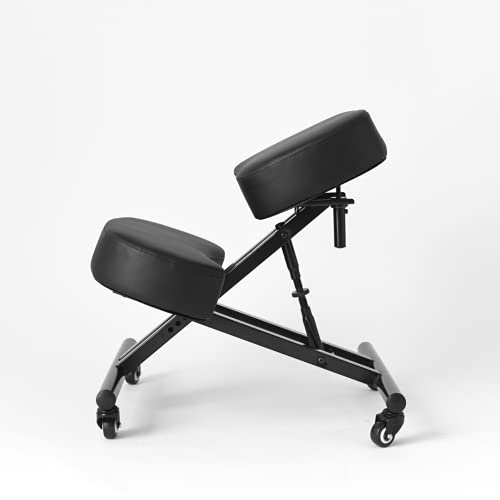 Ergohuman Ergonomic Executive Leather Chair, Black
Sleekform Kneeling Chair - Home Office Desk Stool for...
Best Overall Product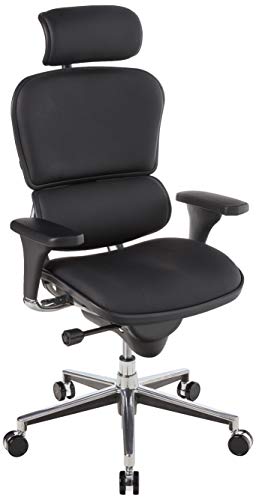 Ergohuman Ergonomic Executive Leather Chair, Black
Best Value Product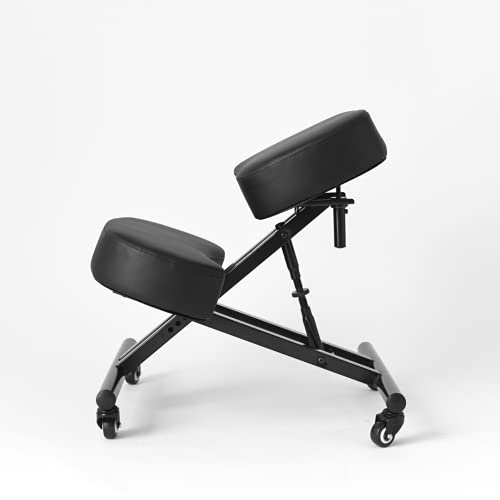 Sleekform Kneeling Chair - Home Office Desk Stool for...
Conclusion
If you are experiencing lower back pain from extended sitting, there are a couple of things you can do. First is to be aware of how long you have been stuck in a position and switching regularly. The second is to complement this habit with the correct chair – one with a dedicated lumbar support system.
That said, the LE9ERG Raynor Ergohuman Chair fits the bill with its multiple adjustable features, including the lumbar support. The Eurotech Vera Mesh/Fabric Executive Chair is a close contender with its more affordable cost. Each of the entries in this review have their strengths that you may also want to consider.
Whatever you choose, know that you will rely on it throughout your day. It should not waver in giving your lower back, even your entire back, the support you need to accomplish your work pain-free. 
I'd be happy to help you find the right fit. If you have questions about these chairs, leave a comment below.