Best Overall
Varier Thatsit Balans Chair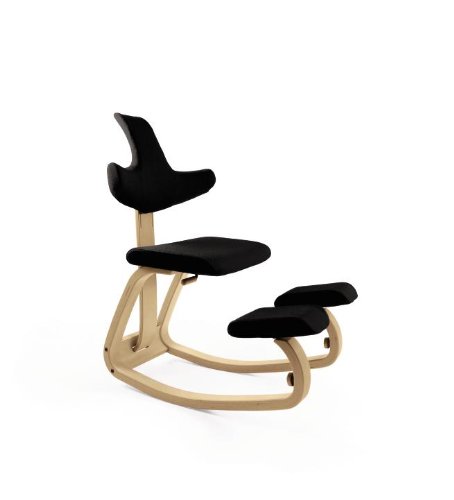 Best Value
Sleekform Alpharetta Leather Kneeling Chair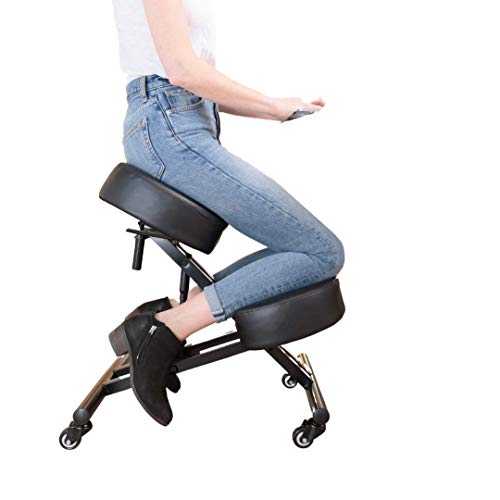 Best Budget
Flash Furniture Mobile Wooden Ergonomic Kneeling Posture Office Chair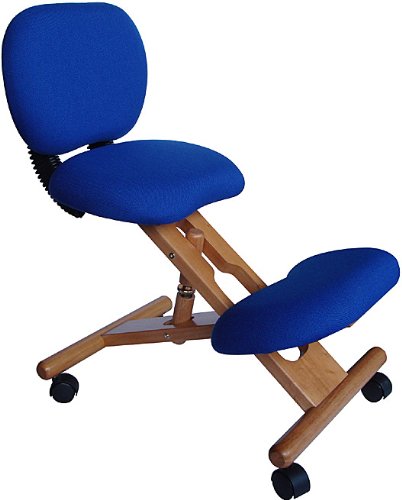 Are you straining your back when you sit upright?
Does your tailbone hurt when you dock your bottom on a traditional chair seat?
You probably need an ergonomic solution that does two things: distributes weight evenly and lets your spine curve naturally.
I think I have just the right kind of furniture for you. It's called a kneeling chair, based on the 1979 balans concept of Hans Christian Mengshoel. This design features an angled seat and a knee pad, which allows your thighs to drop and knees to bend about 60° to 70°. 
The best kneeling chair balances the benefits to your upper and lower body. Let me help you find the one for you.
Table of Contents
Best Kneeling Chairs
Best Overall
Varier offers a variety of innovative office chairs, so it's not surprising that it has a line of kneeling chairs. This Scandinavian-built solution derives its design from Mengshoel's balans concept, which gave us the original kneeling chair. It is right above everyone else in terms of form and function. 
Each part has a job to do, such as the concave backrest, which cushions your back when you lean on it, the wing-like edges are for resting your elbows, etc. Most models do not have a backrest, to begin with, so it's a plus for this product.
Next, the seat and knee rest have adequate padding to provide comfort for extended sitting. You can adjust the knee pad to accommodate any height, including small kids doing their homework. However, you can't raise or lower the seat itself. Stuck at 51 cm, it's probably intentional or a design limitation. 
The adjustable backrest, both depth adjustable and height adjustable, make up for the lack of an adjustable seat. Also, the seat has enough tilt to open up the angle between the upper body and the thighs.
Now we're down to the base, which resembles a sled. This curved structure allows the user to switch across a range of motion. You can rock back and forth to do some active sitting. There are no wheels, though, to let you move around quickly. If you need to bring the chair to the next room or table, you have to carry it. That's not good news for people with a bad back.
Other details further highlight how polished this piece is. You have the base's plywood in a lacquered ash finish, as well as the 10 fabric choices for your upholstery. And then there's the $1,399.00 price tag, which you either accept or turn away from.
Varier Thatsit Balans Chair is Suitable For:
This chair is built for individuals who want to attain an open angle between their thighs and upper body. It also lets people do active sitting as they work long hours. With a hefty price tag, it is, however, limited to those who are willing to invest in a kneeling chair or have the cash to burn.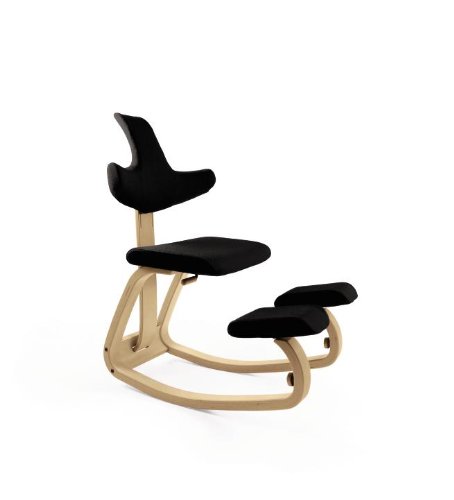 Pros
This knee chair has an adjustable backrest with wing-tip edges to support backs and elbows at rest.
Both the seat and knee rest are well-padded to ensure comfortable sitting for long periods.
It has an adjustable knee rest to cater to any height.
The sled base promotes active sitting by allowing you to rock it back and forth or follow your motion while you're sitting.
Cons
The seat height adjustment is an issue as it is fixed, so you have to adjust the other parts to find a comfortable position.
There are no wheels attached to the base, so it scores low on mobility and portability.
It is an expensive piece of furniture.
---
Best Overall Runner-Up
For a more familiar look, check out the Jobri BetterPosture Jazzy. It features a backrest like the Varier Thatsit Balans, and you can also tweak the depth and height adjustment to your liking. This part is attached to the seat with a plastic J bar. At the same time, it is the only one in this review that has five casters. Like a regular office chair, you can move it around more conveniently. And this is just the start for this alternative to our Best Overall model.
Adding to its resumé is the pneumatic seat height adjustment, which you won't find in the Varier entry. You can lift it from 21″ up to 28″. It also has a maximum weight capacity of 250 lbs, which works for lightweight and average weight individuals. Experts advise subtracting 20 or more pounds from the actual limit to ensure proper use of the chair. But stats aside, the seat is well-padded and thick, so it doesn't seem to give away fast.
The knee rest, however, is not height adjustable. It is also quite firm, which some people may find uncomfortable. There is no range of motion here as well. With Varier, you can rock back and forth or lean as you like. This locks you in one kneeling position, but at least it lets you sit upright (standing lumbar curvature is achieved). It also enables you to swivel.
The price gap between this alternative and Varier is wide. So it's something to consider when you're not ready to pay 1,000 bucks for an office chair. Depending on the return policy of the seller, you can also return this item. A 5-year warranty covers its parts while a 2-year warranty backs its foam and fabric. This product comes in 5 colors.
Jobri BetterPosture Jazzy Kneeling Chair is Suitable For:
Individuals who are around 230 lbs or less and 6″ tall or below can benefit from this chair. Kneeling chairs do not come cheap, but this one is priced reasonably at $133.60, for a wide range of budgets.
Sale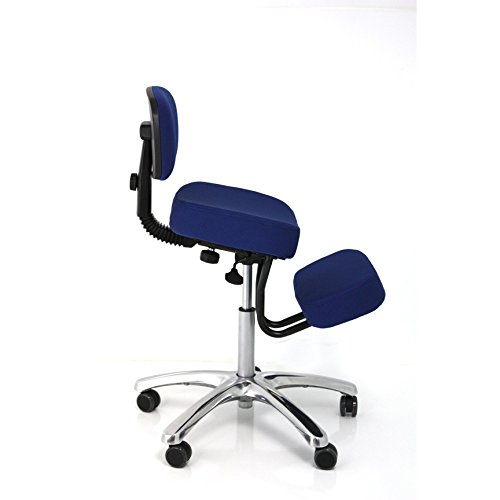 Jazzy Kneeling chair BetterPosture Multifunctional...
POSTURE AND BACK SUPPORT. This kneeling chair's design causes most of a person's body weight to shift to their leg muscles (which are...
HIGH QUALITY CONSTRUCTION. Long lasting tubular metal frame and components accommodate users weighing up to 275 lbs. Our products are...
MEMORY FOAM. Thick, supportive cushions in seat, knee pad and removable back provide custom comfort for the user. The foam is covered and...
Pros
Featuring adjustable height for the backrest and seat, this item can accommodate different users.
It is the only model in our review with five casters for greater mobility.
Backed with a maximum 5-year warranty, it is a reasonably priced option for many.
Cons
Its knee rest, which cannot be adjusted, may be too firm for users.
It may not work optimally if the seat is dropped to the lowest height.
Getting in and out of the chair is not easy because the legs may roll.
---
Best Value
The Alpharetta Leather by Sleekform is the latest model created by the online company.
It dishes out an angled seat that allows your shins to handle the weight, relieving the pressure off your spine and tailbone. This angle can be modified from 1° to 47°, so you can use it as a drafting chair. The adjustable height for the seat can go from 18.5″ up to 25″. Anyone who is 6-foot tall or lower can benefit from this setup.
The 4-inch-thick cushion is designed to combine plushness and conformity. It is part-memory foam, part-recycled foam. The resulting feel has a bit of softness and firmness, which is ideal for supporting your shins. The construction and materials prevent the padding from bottoming out fast as well.
Completing the design are the four heavy-duty casters at the base for mobility, which is as close as it can get to resembling a conventional office chair. These wheels have no lock, but they seem fairly stable. You can replace them once they're worn-out. They're attached to a strong yet lightweight steel frame for added durability.
With the components working together, this chair seeks to ease back pain symptoms in users. As it does, it also keeps soreness and aches at bay. Some chairs may eliminate back pain at the expense of other body parts. Not this one. It encourages sitting upright, where your spine takes on an S-shape. It aligns the neck, back, shoulders, and hips to improve blood circulation.
One last reason to pick this item is its price. It's one of the more affordable versions out there, at $126.10, which makes for a top-value kneeling chair considering its versatility. It will be delivered to your doorstep unassembled, but it should be fun consulting the user manual and other online resources.
Meanwhile, here's a potential downside: The manufacturer does not explicitly mention warranty coverages for its products on its website.
Sleekform Alpharetta Leather Kneeling Chair is Suitable For:
The published weight limit for this product is 265 lbs. But to be on the safe side, make sure to use this if you are at most 235 lbs. It can cater to individuals who are 6-foot tall or below. So it's pretty much designed for those who have average height and weight.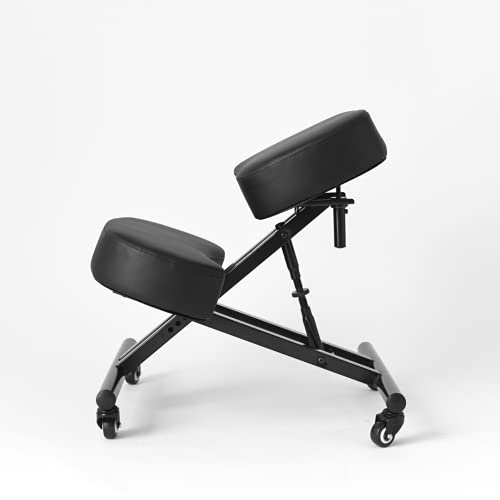 Sleekform Kneeling Chair - Home Office Desk Stool for...
[REDUCE PAIN] The Alpharetta chair positions you with an open hip angle that encourages an upright posture. This will align your back,...
[DURABLE] The thick cushions allow you to sit comfortably at a desk without sinking through to the core of the chair. All of our cushions...
[ADJUSTABLE] This adjustability of the seat angle will allow you to find the perfect ergonomic position that fits your specific needs...
Pros
The angled seat and adjustable seat height provide a wide range of positions for different people.
This product can alleviate back pain without transferring the problem to another body part.
It is one of the most affordable models on the market.
Cons
Some users find the cushion for the knees too firm.
There is no mention of an applicable warranty to this product on the manufacturer's website.
It has to be assembled upon arrival, which can set some people back, especially busy workers.
---
Best Value Runner-Up
If the knee pad of the previous model doesn't quite work for you, you may find the 3-inch thick padding of the DRAGONN Kneeling Chair more comfortable. It's thick enough to deliver support, but it also yields some softness to keep your knees comfortable for hours on end.
The cushioning is wrapped in a mesh fabric, which allows air to flow freely, cooling your body as it goes. If you sweat excessively, this can help you stay fresh.
Find the perfect position to complement the relaxed state of your shins. The seat can be adjusted between 21 inches and 28 inches. It is angled at 90 degrees in reference to the knee rest, so you can shift your weight from the spine to the buttocks and legs. With this even distribution, your back achieves a neutral position, which then helps you correct your posture.
Putting each element together is the steel frame that is as sturdy as it looks. It has four casters built at its base, which lets you move the chair around in your work or home space. However, they tend to get stiff sometimes, which gives you a bit of drag. Also, these wheels are not the strongest and not the most durable set you'll find in a kneeling chair. But they can be locked as needed.
Despite this drawback, this model can handle up to 230 lbs (250 lbs in theory). So it can work for lightweight and average-weight individuals. Its faux leather cushioning is decent. So it seems a runner-up value-adding product overall.
You can score this chair at a discounted price on various online channels. But its original price is pretty affordable, to begin with, compared to other options. Refer to the return policy of the seller you're buying it from in case you want a buffer for testing it out. Warranty terms may also depend on the merchant.
DRAGONN Ergonomic Kneeling Chair is Suitable For:
This kneeling chair is sturdy enough to support individuals who weigh up to 250 pounds. However, the ideal load should be around 230 pounds for superior performance. It also works fine for users who are at most 6 feet tall.
Sale
DRAGONN by VIVO Ergonomic Kneeling Chair, Adjustable...
Ergonomic Kneeling Chair - We've got your back (and your knees, shins, and your behind!) Your ergonomic kneeling chair is equipped with a...
Better Posture While Tilted - There is no reason to hunch over your keyboard or desk for hours on end anymore. This posture chair has a...
Heavy Duty - This ergonomic kneeling stool is designed with a strong metal base and is constructed to last. Your new rolling kneeling chair...
Pros
It sports a 3-inch mesh cushion that is thick enough to support your shins and buttocks.
It allows you to adjust the height according to your needs.
It has lockable caster wheels for stability.
Cons
The casters tend to be stiff, so you may have to drag or carry it sometimes.
Some users have encountered issues in adjusting the chair's height.
It requires taking breaks from sitting as it can make the legs feel uncomfortable after a while.
---
Best Budget
Flash Furniture is a mainstay on master lists of the best brands.
In the field of knee chairs, it offers the same drive to create a reliable yet affordable model. Among its top designs is the Mobile Wooden Ergonomic Kneeling Posture Chair. This one provides comfort to the lower back, which bears most of the weight in a 90-degree seated position, and lets you switch to a more balanced posture.
Its highlight is the backrest that attaches to the seat. With around two inches of padding, it can feel minimalistic. But do not underestimate it for it can recline according to the requirements of the user. Thus, this chair is preferred not just in offices but also in homes. You can sit or lie on it while streaming on Netflix or playing with your Xbox.
The cushioning on the seat and knee rest is also around 2-inch thick. The knee rest is 17.75-inch long, catering to people with longer legs.
Further, the seat height is adjustable. This is controlled by a gas lift that is placed strategically under the seat. This setup complements the wooden frame of this furniture piece. The dual-wheel casters in all-black makes everything look put together. If you think about it, the entire chair is the budget version of Thatsit Balans. Of course, it has fewer premium features.
It has its downsides, which some may be willing to overlook. The wood may not be sturdy enough for heavyweight individuals. The parts can snap like a twig if it exceeds its limitations. Its durability depends on how you assembled the parts and how well you care for them. Sometimes, the latter means compromising on your movements.
This one costs under $100. It has two styles to choose from: classic and modern. After picking one, select a color for your chair. The two options are white and gray.
Flash Furniture Mobile Kneeling Chair With Reclining Back is Suitable For:
Those who are lightweight may benefit from this chair the most. The knee rest can also accommodate tall individuals. And if you're in search of a budget kneeling chair with backrest, this could be the one.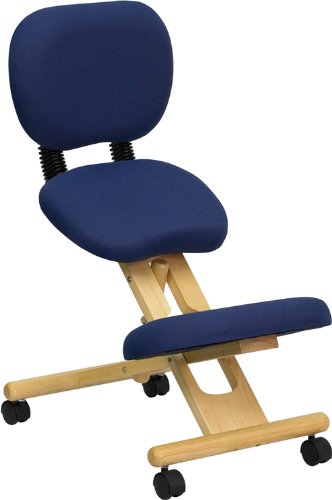 Pros
Its angled seat and knee rest promote sitting upright naturally.
You can adjust the height to accommodate tall people or people with long legs.
You can get a kneeling chair with a backrest for under $100 with this flash furniture model.
Cons
It may not be as sturdy and durable as it looks.
It may not accommodate individuals who are heavyweight, as well as those who are on the higher end of average weight.
The quality of the fabric may be too thin and easy to tear or pill.
---
Best Budget Runner-Up
If you're on the lookout for a decent budget option, the Ergonomic Kneeling Stool from Boss Office Products checks several items off the list.
It is inexpensive yet supportive. The X frame that forms its base holds the cushion in place: one for the seat and another for the shins. Some say it can compete with other X bases on the market. Underneath the seat is a gas lift for knee height adjustment, which is not bad for a low-cost solution.
Also known as the B248, this model sports rather thin padding for both the seat and knee rest. While it can support you now, it may bottom out when daily wear and tear takes its toll.
Mobility won't be a problem, though, because this kneeling chair has four casters. These are all hooded and double-wheeled, which boost your rolling power across the room where you are working, studying, or relaxing in.
What's missing is the range of motion that you can get from a sled-type stool. You can't rock or lean when you feel like it. This is an inherent limitation found among X bases, not just this one.
Still, you can maximize your sitting experience by taking breaks. When you're seated again, notice how your neck, shoulders, back, and hips align. Are you feeling less pressure in these areas? If yes, you're getting what you came here for.
Priced at under $100, this chair is the perfect introduction to ergonomic sitting that encourages even weight distribution. It costs cheap compared to other models in this category. Yet, you can get a feel of the advantages, features, and benefits without breaking the bank. It's not as good as a $1,000 designer chair for sure, but it covers the essentials.
This recommendation comes with a gentle reminder to manage your expectations.
A 6-year limited warranty caps off the list of good stuff. At best, you may want to use this item as a secondary chair or home stool. You may avoid wearing it out fast this way or having to claim the warranty more often.
Boss Office Products Ergonomic Kneeling Stool is Suitable For:
People who want a budget knee chair can check out this model. It is highly affordable compared to most options on the market.
Sale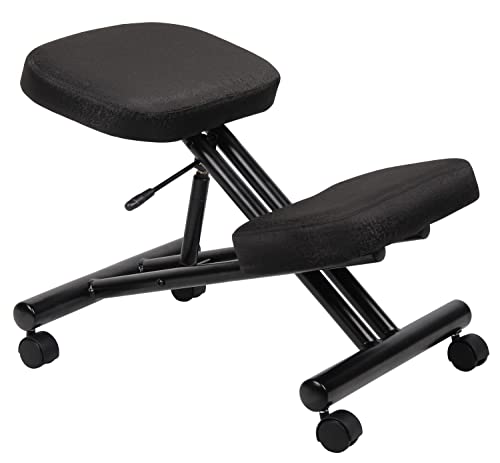 Boss Office Products Ergonomic Kneeling Stool in Black
Kneeling stool offers excellent ergonomic support, Knee Tilt: No
Ergonomic design eases the hip forwards and encourages an upright posture by aligning the back, shoulders and neck to relieve strain on the...
Black fabric seat and knee platform provides comfort for long periods of time
Pros
It comes with a gas lift with a knee height adjustment.
It is supportive enough and helps align your neck, shoulders, and spine for proper posture.
It is a decent choice for people who have a limited or tight budget.
Cons
The low-end quality shows in the materials and build.
The cushion may be too thin for users.
It has no range of motion, which is not good for extended sitting.
---
Frequently Asked Questions
Do Kneeling Chairs Really Work?
With the right features, yes, kneeling chairs work. They can accomplish what they set out to do. In this case, they were created to promote good sitting posture. The proper kind has the spine settling into an S. You must attain this neutral position effortlessly, with the bodyweight being shifted from your back to your legs – upright position should be promoted.
The best chair helps you get to that point by allowing adjustments here and there. It could be the height of your seat or knee rest. The angle matters, too. It's a plus if the product enables a range of motion, such as rocking back and forth.
For more information on how kneeling chairs can relieve the pressure off your back, I encourage you to check out the section "What Did I Learn About Kneeling Chairs?" Take note of the concept of balanced seating and why a kneeling chair is close to replicating the right ergonomic design for it.
Are Kneeling Chairs Healthy?
If by healthy, you mean having the ability to relieve pain, it is another yes. Yes, it can prevent the common causes of back pain, except for medical conditions (it may still alleviate pain, but what you need is a cure).
If you're straining your back because it is carrying most of your body weight, it may result in aches and soreness, especially if you work for long periods of time. If you place a lot of pressure on your buttocks with a 90-degree knee angle, you may risk hurting your tailbone.
A kneeling stool will take the pressure off these body parts and redistribute it. In a way, this is healthy. Your angles are corrected, which leads to a correct posture.
Is Kneeling Better than Sitting?
It depends. If you are using a kneeling chair, you should aim for the thighs to drop or knees to bend at around 60 to 70 degrees. And your seat should tilt forward a little to help your spine achieve its natural position.
If you are sitting, you should be able to do the same drop and bend. This means your chair should be one-third of your height when you are standing. This way, your thighs are not parallel to the floor when you sit. Your upper body should lean toward the desk, but not too much that the position already breaks the beautiful S of your back.
The question is: Does a normal chair provide the advantages and benefits of a kneeling chair? That could be the case. Perhaps the seat can go high enough to allow your thighs to drop. But it may not recreate the angle of your knees when resting on knee pads.
A kneeling chair is more targeted, angled, and can get the lower body to support the upper body. While it promotes balanced sitting, in this context, kneeling is better than sitting.
What Did I Learn About Kneeling Chairs?
The more I read, think, and write about office chairs; it becomes clearer and clearer how important it is to achieve the correct sitting posture. After all, sitting — for long periods of time, to that — is the primary activity for most people now. The average American spends at least 13 hours a day sitting. 
An expert author in ergonomics, A.C. Mandal, wrote a book called The Seated Man (Homo sedens). It's funny how we're evolving from having learned how to stand upright back to hunching — yet with a modern twist. But when I consider the back pain, medical complications, and stress it brings, then it's not that funny anymore.
So, after knowing about kneeling chairs, I want to be more conscious in aiming for good posture. I'm learning a lot about balanced seating from Mandal, the author. Below is a summary of my quick study. Feel free to read the longer version published by Mandal. If you're in a hurry, read my insights instead:
Kneeling Chairs Promote Balanced Seating
Have you ever tried sleeping on your side? Usually, side sleepers retain the lumbar curve, with their knees bent a little. Look at the image (b) below. It shows the natural resting position. If you replicate this while sitting, your spine can carry your weight in a more relaxed way. Mandal referred to this posture as "Balanced Seating."
Kneeling chairs let you achieve a similar angle for your joints and back. Their seats tilt forward, which can relieve pressure on your front and back. Your knees are supported by a knee rest, allowing your muscles to relax.
The construction of a kneeling chair encourages balanced seating. It can make extended sitting feel more comfortable. Some people believe it can also help strengthen your core muscles. But I haven't tested out that part yet. It reminds me of and leads me to compare it with a standing desk chair.
2. It Takes Time to Get Used to Them
When you're first trying out balanced seating, it may feel strange or weird. After 5 to 10 minutes of sitting on a kneeling chair, you'll probably feel like switching to your conventional chair. Don't worry; your back muscles aren't used to this new position yet. 
Training your back muscles is key, but you should take it slowly. Do it every day and increase the time you're spending on the chair once you feel more comfortable. I'll give it a couple of weeks or maybe more. The experience differs from person to person, though, so work at your own pace.
3. There is Limited Literature About their Benefits
Poor posture has been linked to back pain, especially at the lower back. Ergonomic chairs are being praised, then, for their role in rectifying the situation. I talk about lumbar support a lot as a factor to consider when buying an office chair. Some models also feature seats with a waterfall edge, which takes the pressure off your hip-knee joints.
Kneeling chairs have their own set of benefits to offer users. Preventing back pain is #1. Next is the promotion of good posture, thanks to the 20-degree minimum forward tilt that comes with each design. Lastly, it activates your core, which steadies the spine in turn.
The benefits from kneeling chairs with an inclination of at least 20 degrees can be backed by a study published on the U.S. National Library of Medicine – National Institute of Sciences website. It said that sitting on a kneeling chair can help you maintain standing lumbar curvature compared to sitting on a computer chair.
However, more research is needed to reach anything conclusive.
My Analysis
Kneeling chairs are an exciting addition to the array of office chairs available on the market. They have their own take on how to help you achieve balanced sitting. There are a few studies to support this, linking the forward tilt position to attaining the proper sitting posture.
While research on effects and benefits has to continue, I think trying out a different solution for your posture, bad back, and sitting problems is welcome. There are no harmful effects to worry about. There's just the risk of spending a hefty sum on a piece of furniture that may or may not work for you.
But this is why this review and buying guide exists! On one page, you can find out about the performance, strengths, weaknesses, and price of the current best kneeling chairs. You can even compare them right here, right now. Take your choice for a spin only after you've gathered enough information about it.
Conclusion
After pouring through the guide and FAQs, you are now in a better position to pick the best kneeler chair among the choices. You don't have to get the Varier Thatsit Balans Chair if the cost is too high. But use it as an example or a baseline of what an ideal option is like.
The categories covered in this article are the most important factors to consider for many people. Thus, you have the best value and budget on top of the best overall model. You should also pay attention to the alternatives, the runners-up of the best office chair. All of these have their own strengths and weaknesses. Weigh them carefully and decide on your long-term needs and health.