Best Overall
Herman Miller Embody Chair
Best Value
Serta Air Health and Wellness Executive Office Chair
Best Budget
Yamasoro Ergonomic Executive Office Chair
Does your workplace have an ergonomically-designed executive office chair? If not, then it would be a good idea to try to convince your employer to provide you with one. Having one of the good quality executive chairs is crucial when it comes to safety and productivity in the workplace. Employees who sit on an executive office chair stay sharper and can work for long hours.
In this post, I have shared the six best ergonomically-designed executive office chairs. You can either share this post with your employer or use the information for yourself (in case you are self-employed or work from home).
You can also have a discussion with your employer in person and tell them about the importance of an executive chair that is an ergonomic office chair for you and your workmates.
Not only does an executive ergonomic office chair improve the productivity of employees, but it also prevents musculoskeletal disorders like back and neck pain, osteoarthritis, rheumatoid arthritis, and many more. 
These disorders can hurt your ability to move freely. A new chair will help you make the best of your free time. Instead of sleeping in over the weekend, you will exercise or go out. Let's look at a few options to find out the best executive office chair for you.
Table of Contents
Best Executive Office Chairs
Best Overall
Herman Miller is a Michigan-based furniture company. As their company motto states, their ergonomic chairs help people stay fit and healthy, so they are free to achieve their hopes and dreams. Herman Miller is a household name in the United States as it has been active in the workplace furniture market since 1865. No other office furniture brand comes even close.
Herman Miller Embody Chair is designed to aid blood and oxygen flow through your entire body. Unlike with a regular office chair, a person sitting on Embody won't have to adjust their hips or stretch their lower body after getting up from a seated position. As a result, they stay focused on their work throughout the office hours.
If you look at the backrest of this chair, you will notice that it mimics a human back. It has both a spine in the center and flexible ribs at the side. Instead of readjusting your spinal cord according to the makeup of your chair, the chair realigns itself based on your distinct physical features. The backrest is flexible and adjusts by itself.
Herman Miller Embody Chair is Suitable For – 
Embody comes with a 12-year Herman Miller warranty. It also has an Official Born-On-Date sticker. It is more suited to people who prefer quality and assurity over price.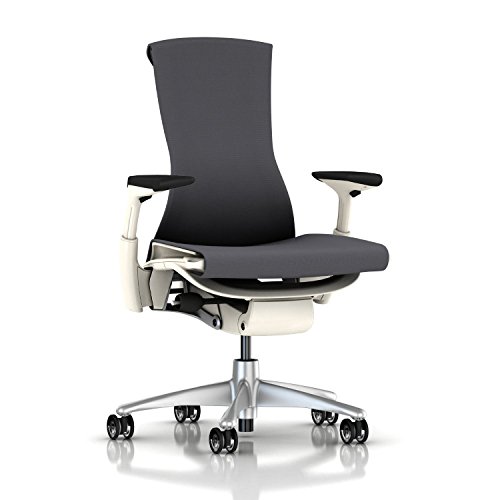 Herman Miller Embody Chair – Rhythm, Charcoal
Designed to enhance health, improve focus, and provide ergonomic support for people who sit more than 4 hours a day
Features: fully adjustable arms, titanium base and white frame, and translucent casters
Total Height: 42 - 45" | Seat Height: 16 - 20.5" | Width: 29.5" | Depth: 15"- 18"
Pros
Embody has six ergonomic functions.
You can adjust the height of the chair and that of the armrest.
The coating is soft and breathable. 
The chair is environment-friendly. Ninety-five percent of the parts are recyclable.
Cons
A lot pricier than a regular office chair.
Not suitable for people over 6 feet 5 inches. Also, those with large bodies do not feel comfortable in this chair.
It takes a couple of weeks for the backrest to align itself with your spine.
---
BestOffice Co is a South Korean office supply chain popular all over the world. They have 10,000 kinds of office products and services. With a core vision as "Everything in the Office," the company has been producing some fantastic office furniture. They also have manufacturing units in the US.
The Executive Office Chair from BestOffice is easy to assemble and comes with an instructional manual (with real demonstration images). You can learn how to assemble the chair and also the adjustment procedure merely by referring to the pictures. Moreover, the manufacturer also provides 5mm Allen Wrench, two extra bolts, and a spare bolt cap.
Furthermore, the chair is coated in soft PU (Polyurethane) leather. You don't have to worry about spillage every time you have your favorite beverage like coffee, tea or even soup. The PU material is oil and water-resistant. Also, this chair is fully adjustable. You can adjust the height to tilt the backrest as per your needs. It also swivels to 360 degrees.
BestOffice Chair is Suitable For – 
This chair is designed to improve productivity in people who work for long hours. Sitting on a chair with extra padded backrest and thick seat cushion helps relieve lower back and leg pain.
The high backrest will also help you maintain the correct posture. When you work seated for long hours, it is crucial to be comfortable and maintain the proper position. Failing to do so will lead to alteration in the default shape of your spine.
No products found.
Pros
The chair is BIFMA (Business and Institutional Furniture Manufacturer's Association) certified. Even a heavy person can sit without worrying about safety or comfort.
It is easy to assemble.
It boasts a sleek and modern design.
It helps relieve lower back and leg pain.
It is coated with oil and water-resistant PU (Polyurethane) leather. 
The material lasts way longer than any other office chair in this price range.
Cons
Armrests are non-adjustable.
Makes squeaking noises if the parts are not lubricated regularly.
Bolt covers do not fit properly. Need to pop them in from time to time.
---
Best Value
Although more famous for bedding accessories, Serta has also made a name in the office furniture market. The company has over forty manufacturing units distributed all over the United States, Canada, and Puerto Rico. Serta Air is a health and wellness Executive Office Chair under $300. It is rare to find such a quality product at this price range.
The dynamic lumbar zone in the backrest twists and rearranges every time you move your upper body, which makes the lumbar support phenomenal here. Instead of keeping your spine in a fixed position all the time, Serta Air allows it to flex and relax so you can work for long hours without experiencing any aches and pains.
Looking at the above image of Serta Air, you will also notice the elevated headrest. It is intended to provide you more comfort and also support the neck. The armrests are cushioned to aid blood flow through the arms while you work on a computer. Also, the armrests are hand-sculpted and upholstered to give a touch of elegance to the chair. 
Serta Air Health and Wellness Executive Office Chair is Suitable For –
Serta Air is for those looking for a durable, comfortable, and affordable chair for their office. This chair also provides total freedom of movement. Hence, someone looking for an easy-to-assemble and long-lasting chair will find Serta Air helpful.
Sale
Serta AIR Health and Wellness Executive Office Chair...
PROFESSIONAL AND COMFORTABLE: Ergonomic desk chair with layered body pillows and padded armrests. Min/Max Seat Height : 19.5" to 23.25"
AIR LUMBAR TECHNOLOGY: Lumbar cushions pivot when you move to provide back support and help improve posture
EXECUTIVE STYLE: Bonded leather with contrast stitching.Material of Frame:Wood
Pros
The seat is cushy and comfortable.
This chair suits well for those who work for long hours.
Easy to assemble.
The chair has a 360-degree swivel.
The wheels have casters for high mobility.
Cons
The armrests are not adjustable
The headrest is not removable. 
The back seat is a bit high for shorter people.
---
Best Value Runner-Up
Style Hannah I is another budget-priced Executive Office Chair from Serta. This chair comes with a pillow headrest, contoured lumbar back cushion, and waterfall seat edge design. This chair is designed by keeping comfort and "freedom of movement" in mind. Sitting on this chair feels like floating on a puffy cloud.
Along with comfort, Serta also makes sure you stay alert and productive while at work. This is why the bottom seat features a waterfall edge design. The waterfall edge design reduces pressure on your lower body and aids blood circulation in that area. As a result, you are able to focus on your work without being bothered by fatigue or tiredness.
Serta Style Hannah I is Suitable For –
Not everyone likes to work sitting with their spine erect all the time. Sitting in a fixed position can help those with back or neck injuries, but generally, it causes more annoyance than anything else. "Serta Style Hannah I" works best for those who like to work while sitting in a comfortable position.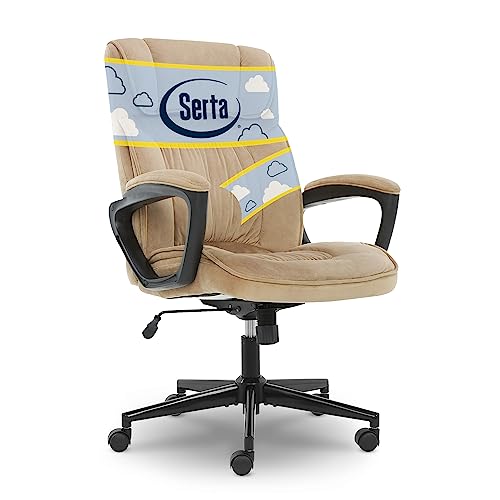 Serta Hannah Office, Ergonomic Computer Chair with...
MICROFIBER UPHOLSTERY: Add a comfortable and homey touch to any home office
SIGNATURE SERTA COMFORT: Swivel chair designed with a pillowed headrest and plush layered body pillows
CREATE AN INVITING SPACE: Velvet soft fabric and neutral colors create a welcoming feel
Pros
It helps you maintain a correct posture while being comfortable and at ease.
The soft microfiber fabric has a great texture.
The frame is sturdy and firm.
The chair comes with a long Allen wrench.
It features a well-padded bottom seat and backrest.
It adds to the decor of your office or home.
The headrest is about 24 inches high. So, you can rest your head in a horizontal position on top of the headrest. 
Cons
Not great for a heavy or well-built person.
Assembly is cumbersome.
After assembly, some of the screws get covered by the fabric.
---
Best Budget
Yamasoro is a furniture manufacturer famous for its office and gaming chairs. They have been producing desk chairs for many decades. Hence, like Herman Miller products, Yamasoro, too, has a strict inspection and testing process set. Before a chair reaches an end-user, it goes through a chain of quality control professionals.
This chair is for those who prefer an old-fashioned office chair having all the advanced chair features. You won't see an inch of mesh or cheap cloth on this chair. Even the thicky-padded headrest is coated with fine leather.
Furthermore, the armrests are fully adjustable and also can be flipped up. On certain occasions, you will feel the need to flip up the arms completely. This feature is more commonly found in gaming chairs as gamers love to nap in between sessions.
Another thing I like about Yamasoro Ergonomic Executive Chair is that the base is made from stainless steel. You are safe from accidents like an explosion. The material and technology used in the making of this chair ensures that you are safe and comfortable all the time.
Yamasoro Ergonomic Executive Office Chair is Suitable For –
In the best executive chairs appearance and aesthetics are also necessary for some people, particularly if you have guests visiting your office quite often. Yamasoro chairs are best for those who wish to add to the decor of their workplace.
No products found.
Pros
The chair is made from PU (Polyurethane) Synthetic Leather. This faux leather has the look-n-feel of genuine leather.
The armrests are padded for additional comfort. You can also flip them up entirely.
The backrest is reclinable. It can go bend up to 135 degrees.
The chair has a modern and sophisticated appearance.
The chair is comfortable and supportive.
Cons
Challenging to assemble all by yourself.
The quality of material used in wheels can be improved.
The hydraulic system is not as powerful compared to other best executive office chairs.
---
Best Budget Runner-Up
Smugdesk is a Chinese office furniture company having the world's biggest multinational companies as its clients. Their motto is to use the latest technology to create office furniture, which promotes health and wellness.
The Executive Office Chair from Smugdesk takes less than 12 minutes to set up. It also comes with an easy-to-follow instructional guide for you to get this chair ready for use as quickly as possible.
The high back design aids better posture and spinal alignment. You can sit on this chair for the regular office hours (8-10 hours) or more than that without experiencing back or neck issues.
Another thing you will notice in the picture above is that this mesh chair has a detachable waist pillow. It is intended to support your waist, spine, and abdominal area in general. Moreover, the backrest can be reclined to 117 degrees. Along with the backrest, the bottom seat can also be lifted to 8 degrees.
Smugdesk Executive Office Chair is Suitable For –
Not every office chair comes with a unique feature to adjust the bottom seat. With Smugdesk Executive Office Chair, you can readjust the bottom seat to suit the height of your desk. Bear in mind that not all desks have a flat surface. Also, some people have longer than usual legs. The bottom seat height readjustment feature can help them sit in a comfortable position while they get their work done.
No products found.
Pros
Armrests are vertically adjustable.
Additional waist pillow for extra comfort and support to your spine.
The bottom seat height is adjustable to 8 degrees.
The coating is made from soft PU (Polyurethane) material.
The chair can swivel up to 360 degrees.
Easy to assemble.
Cons
The bottom seat has thin padding. 
The mobility of the wheels can be improved.
The armrests cannot be flipped-up.
The default position of the backrest is slightly tilted forward – needs readjustment.
---
How to Choose the Best Office Chair
Choosing the right ergonomic chair for your workplace is not easy. At least, the process of picking one over another is not so obvious. But once you know what factors to consider, you can do it effortlessly. This section is all about ways to choose the best chair for your office or home. 
1. Lumbar Support
The lumbar spine is located between the thoracic and the hip region. It is also referred to as the lower back. As you already would know, sitting for long hours puts intense pressure on the discs (in the spinal cord), as a result causing or even aggravating lower back pain. 
This is why it is crucial to pick a chair with additional lumbar support. Ordinarily, extra lumbar support is provided in the form of a pillow or internal padding in the backrest of the chair.
2. Seat Material
Why is seat material relevant while choosing a chair for your workplace? Although an office chair is more popularly used by people who do white-collar non-physical jobs, there is still a possibility of damage to the seat material. Notably, by spilling a hot beverage, or the material getting worn out by frequent usage.
PU (Polyurethane) leather is very commonly used as a coating for office chairs, but you can also pick a chair with mesh, wood, authentic leather, etc.
3. Adjustable Height for Seat and Armrests
Most office chair manufacturers do provide the adjustable height feature. Without this feature, a chair is deemed unsuitable for the workplace. However, not all chairs come with adjustable armrests. 
Some chairs like Smugdesk do come with vertical adjustable armrests, but you cannot push or pull them in the horizontal direction. So, when choosing a chair for your workplace, don't forget to look for this feature.
4. A Seat Pan With a Waterfall Front
Like "Serta Style Hannah I," a seat with a waterfall front design curved down in the center, is the design you should look for. A flat base puts pressure on your buttocks and the back of your thighs. It is not natural to sit on a chair with a flat bottom, At least not when you are going to be seated for more than two hours. 
With a waterfall front seat, the blood and oxygen supply in your lower body does not get hindered. This is why you should look for a chair with a curved down seat. 
Benefits of an Ergonomically Designed Office Chair
1. Alleviates Back Pain
It is not natural to sit hunching over your computer for hours on end. A human body is designed to work with the spine in an upright position, for the most part. However, most of us work on computers and spend more than half the day in a seated position. 
This leads to pain in the lower back and injuries in the surrounding body parts. Ergonomic chairs were invented to provide better support to the lower back, so the lumbar spine retains its natural shape without coming under pressure.   
2. Improves Your Posture
An ergonomic chair prevents injuries and pain in both the upper and lower body. It is designed in a way to keep your body in a natural and relaxed state all the time. Hence, even after sitting for long hours, you don't feel tired or fatigued. 
In your off-hours, you are more likely to be active and energetic. Hence, you never develop a bad posture. Such is not the case with regular chairs. An ordinary chair has a fixed shape, and you cannot adjust the height or recline the backrest by your body type.
3. Makes You More Productive
Productivity is not just about time management, focus, and concentration. You also need to be comfortable while at work. There is no point in doing everything right and neglecting the most critical factors. Comfort and support are crucial for someone who works in a seated position for long hours. 
People who work in physical or social jobs get to enjoy the freedom of movement. They can get away from sitting on a regular chair for one or two hours a day. Plus, the physical activity — in between work sessions — keeps the blood and oxygen flowing through their body. Such is not the case with a white-collar office worker. An ergonomic chair helps an office worker work harder and stay sharper for long hours.
Conclusion
A chair design can only be called an ergonomic design when it suits both the person and the activity he/she is performing. This is the reason there are specifically designed chairs available for gamers, computer programmers, call-center workers, retail store cashiers, and others. So, it is crucial to see if the chair you are about to pick suits your body type and the work/hobby you indulge in. 
From the above list, Serta Air is my personal favorite. With its amazing features and impeccable appearance, this chair stands out from the rest. This is the only chair in the list enabled with an "Air Kinetic Lumbar" technology. Unlike other products in the above list, this chair has a reactive air lumbar zone in the backrest, which flexes and rearranges itself by the curvature of your spinal cord.
Most people won't like the fact that the armrests in Serta Air are not adjustable, but I would suggest adjusting the height of the chair instead. If you feel the armrests are too high, simply raise the seat up and vice-versa. 
Taking into account, the overall features like the waterfall seat edge design, dual wheel designer casters, additional headrest, cushioned armrests, and easy to reach control arm, Serta Air is a great value option. You can still check out the other options to see which one suits your needs the best.