Best Overall
Herman Miller Aeron Office Chair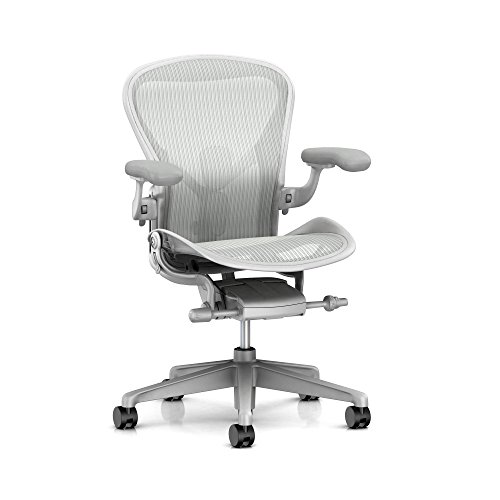 Best Value
Herman Miller Embody Desk Chair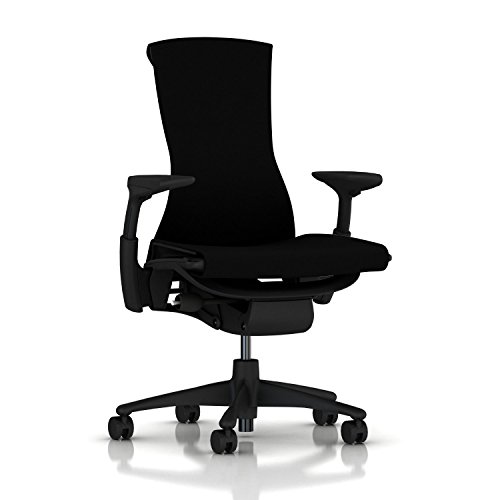 Best Budget
Office Master Truly Ergonomic Chair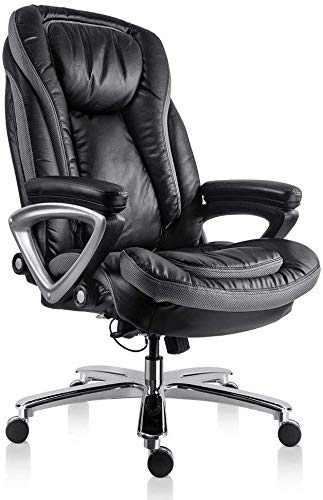 ---
Are you looking to invest in a new office chair?
Do you want to buy the best office chair?
If yes, then you have come to the right place. Buying the best office chair can be a complicated process because it is a considerable investment that you live with for years. There are a lot of factors to consider, a lot of options available in the market, and a lot of price points to tip your opinion.
To make the experience of buying the best office chair easier for you, here are some of the top class candidates for the best office chair that you can find, these are the best that money can buy, honestly. The various factors that are focused on sway the decisions a lot. 
Let's talk about some best chairs overall that provide great value, and how they fare on our pockets before jumping to the things you need to consider when investing in an office chair.
Our List of Best Office chair for 2023
Best Overall
Herman Miller chairs, designed by Bill Stumpf and Don Chadwick in 1994, are the most iconic chair options in the office furniture space. Their remastered design – Aeron chairs – by Don Chadwick, quickly became a go-to for office spaces.
It is one of the most popular ergonomic chairs, and rightly so. The comfort that can be experienced – even after spending hours in it is what most people want from their office chair. It is made from a flexible mesh material that is breathable and supportive of your body for long hours. This is hands down, the best mesh chair that helps you get proper support.
Lumbar support is another one of the main features of any chair and becomes more important when you have to spend hours in the chair. The adjustable lumbar support in Aeron provides much-needed support to your spine and is truly user-friendly in the sense that you don't only get the backward tilt, but also, forward tilt, which is a position most people work in. 
The forward tilt provides people with back support when they work on their keyboards for hours. This is highly helpful for people who use the keyboard continuously and sit leaning over it. The adjustable lumbar support is also combined with the PostureFit SL design to provide you with increased support.
This mesh chair can support up to 300 lbs because of the three size options available. You have to be mindful of what size you choose based on your body type. The seat depth, back heights, and arm width are based on choosing the right chair size for yourself, which is why it may not be the best option if 2-3 people are going to be sharing it.
Although the seat and back are designed to be supportive, they do not have an adjustment feature to support your individual needs. The thick metal frames in an Aeron chair can be felt on your hamstring and outer thighs on your seat when you move side to side or on your upper back.
The recline function that the Aeron chair provides helps in alleviating backaches, the smooth and easy motion helps you relax, and the balance is secure in its functioning. The armrests are adjustable, and you can adjust their height and position according to your comfort, not only that, the soft arm pads is this mesh chair take the comfort to the next level.
The Aeron chair is manufactured in the USA with parts that are custom-made for the Aeron chairs, so quality and comfort is taken care of, in the fitting of every piece to make the chair. Generic parts that can be pre-ordered in bulk and can be assembled to make different chairs aren't used, so the craftsmanship is topnotch here.
The Aeron chair is made using a high percentage of recyclable material that is manufactured in a renewable energy powered greenhouse facility. In today's time, this level of support and style with conscious production is a huge selling point for people who want their purchases to have a low environmental impact.
Aeron Office Chair is Suitable For –
The Aeron chairs are highly suitable for people who work on their computers for prolonged hours like writers, executives, developers, etc.
No products found.
Pros
Made in the USA
Great design
Superior build quality
Made of a flexible and comfortable mesh material
Up to 300 lbs weight support capacity
Smooth recline function
Forward tilt option
Adjustable arms with soft arm pads
PostureFit SL design and PositionFit lumbar adjustment
Great for 24/7 use – can be used for prolonged hours
Comes fully assembled
Environment-friendly
12-year warranty
Cons
Mesh chair isn't a comfortable option for everyone
Three available sizes mean that there is not one inclusive size that will fit everyone's needs
No seat-depth and back-height adjustment
You can feel the metal frames of your seat and backrest when you move
Limited color options – metallic – white-grey-black shades
High price tag
---
Best Overall Runner-up
As soon as you sit on Steelcase Leap chair, you can tell that a lot of research and thought has been put into the design of this chair. Every feature spells a high level of quality control, and you can see that their core ideology is to develop high-end ergonomic chairs.
Even though plastic molded components are used for the production of Steelcase Leap, the high quality and high standard aren't compromised in the least despite it being made in Mexico compared to Aeron's made in the USA. This chair can support up to 400 lbs weight in its singular design, which is a huge advantage over its top competitor Aeron that only supports up to 300 lbs, that too, through one of its three options.
Leap works best for an office setting because it provides you with a wide range of ergonomic adjustments to give you the best comfortable experience paired with a high-level of support. This is what makes it suitable for people of different body types. The comfortable seat cushion is another reason for providing comfort to all weights and support for long hours of use.
LiveBack Technology used to design the backrest of the Leap gives you the option of independently adjusting the positioning and firmness of the lumbar support system to suit your needs.
The full width of the backrest features the lumbar support technology, which supports your entire lower or mid-back area, unlike Aeron, which focuses on the support of the middle of the spine with its PostureFit technology. It does not have an adjustable backrest, but it has a height range of 25", which makes it a good choice for people of different heights as it is accommodating of people within different weight ranges.
Steelcase Leap is a close competitor to Aeron from Herman Miller, in the sense that it provides as many adjustment options as you can think of. Even with this many adjustment options, usability is easy, which means that you don't have to go out of your way to learn the working, and you can actually use all that that the chair has to offer. To make it even simpler, the instructions on how to use the adjustment controls are present below the arm pads.
Steelcase Leap Office Chair is Suitable For –
Like Aeron, the Leap is built for people who spend hours in the chair like developers, accountants, writers, executives, etc. It takes into account plenty of problem points and gives you a solution with its wide range of ergonomic adjustments.
Sale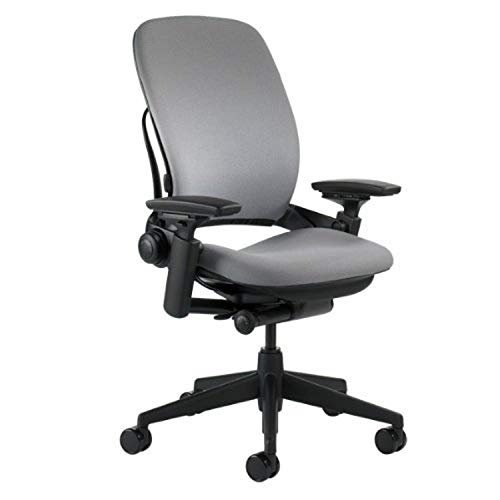 Steelcase Leap Chair, Grey Fabric -
Polished aluminum frame and base | Designed with the planet in mind and is up to 98% recyclable by weight and made of up to 30% recycled...
Product dimensions – 27" W x 21.75"-24.75" D x 38.5"-43.5" H | Seat dimensions – 15.75"-18.75" D x 19.25" W x 15.5"-20.5"...
Live Back technology that allows the back of the chair to mimic the movements of the spine
Pros
Excellent build quality
Up to 400 lbs weight capacity
Wide range of ergonomic adjustments – perfectly matches the contours and curves of your back and spine
User-friendly adjustment controls
Great lumbar support
Adjustable backrest
Firmness control
Height adjustment
Comes fully assembled
12-year warranty
Cons
No back-height adjustment
High price tag
---
Best Value Chair
Herman Miller, as mentioned before, is one of the most trusted brands in the market with its premium build quality and ergonomic design. Unlike its own line, Aeron, the Herman Miller Embody provides one chair option that can fit the needs of a wide range of body types. This makes it a great option for offices as well as home offices, where one chair can be shared by different people.
The seat is designed with four stacked layers. Each layer is made from a different material, which Herman Miller advertises as "layers of intelligence." One problem that hurts our spine is the wallet in one of our back pockets, making our hips to rest at different heights. The four-layer concept is designed to support all body shapes and clothes, including back pockets.
One of the unique technologies that are used in the manufacturing of Embody's support system is the pixelated back and seat, which are also made of flexible materials making the user's movements easier and also provide great airflow that drives your body heat away from you. It makes tilt tension adjustment more pronounced with three tilt lock positions to provide maximum support.
This chair is designed with one of the best tilt mechanisms. Embody provides independent back angle adjustment that helps you to optimize the angle of the backrest comfortable to your needs.
We all agree that lumbar support is one of the most sought after feature, because of this lumbar adjustment option makes a chair much more contouring to an individual's needs. Although Embody has a natural curve and back adjust that helps with it, it doesn't have any lumbar adjustment option.
While the armrest pad can be adjusted height and width wise, there is no position adjustment, including pivot and depth option, which makes it difficult to customize it to your comfort level.
The chairs are also produced in an environmentally considerate setting with recyclable materials, as mentioned earlier, which makes it a conscious purchase.
Herman Miller Embody Desk Chair is Suitable For –
Because the Embody is designed to be used by many people, it is a good option for organizations where the chair is used 24×7 like call centers, dispatch facilities, security offices, etc.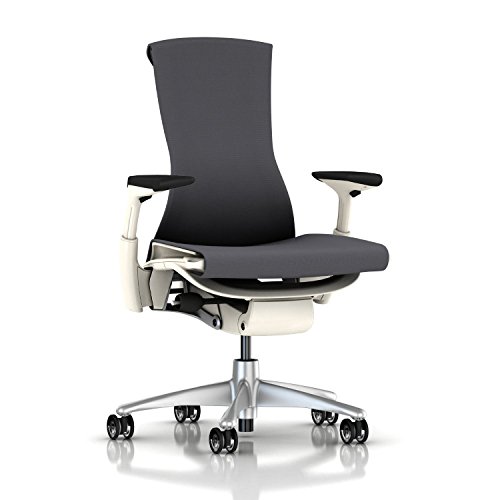 Herman Miller Embody Chair – Rhythm, Charcoal
Designed to enhance health, improve focus, and provide ergonomic support for people who sit more than 4 hours a day
Features: fully adjustable arms, titanium base and white frame, and translucent casters
Total Height: 42 - 45" | Seat Height: 16 - 20.5" | Width: 29.5" | Depth: 15"- 18"
Pros
Made in the USA
Premium build quality
Pixelated back and seat provide great support
Up to 300 lbs weight support
Great for 24/7 use – can be used for prolonged hours
Three tilt lock positions
Tilt tension adjustment
Independent back angle adjustment
Comes fully assembled
Environment-Friendly
12-year warranty
Cons
No lumbar adjustment
No arm pivot or arm depth adjustment
Pixelated support is not for everyone like the Mesh of Aeron
Limited upholstery options
High price point
---
Best Value Chair Runner-Up
Steelcase is the closest competitor to the Heman Miller products. The Gesture offered by Steelcase is a high build quality chair that people trust. The mechanism design is well thought out, you will not find anything that is just for aesthetic purposes, but the overall design makes the chair aesthetically pleasing.
The custom plastic covers on this ergonomic chair do not take anything away from the chair; instead, they draw your eye to the chair's functionality and its slim design. It is also designed with highly adjustable arms that support many types of postures. The widely adjustable arms make the Gesture an invaluable addition to the office chair range because all the adjustability options like height, width, position, depth are available in only a few chairs.
Not only the armrests, but the seat slider function is another strong selling point for Steelcase Gesture. This, again, is such a huge need but is only available in a few options. While working for hours on end, our bodies often are dragged down by our butts sliding down slowly on the chair; this makes all the support in the world useless if we are practically halfway out of the seat.
The Gesture countered this issue and added a knob that makes the seat slide to suit your hour-to-hour need. The depth of the seat pan is also adjusted by a knob that makes it usable for a wide range of people with shorter legs or long legs. The seat cushion also has a good amount of padding that helps you feel comfortable through cushioning for hours.
Because of so many needed adjustment options, it is a great fit for many people, which is why you can select it for a place where a number of people are going to be using the chair. Although, while the Steelcase Gesture chairs are comfortable and can accommodate most heights, they do not come with adjustable backrests.
Steelcase Gesture Ergonomic Chair is Suitable For –
Because it is highly adjustable and supports working in different positions, it is suitable for a wide range of job profiles. If you work on the keyboard – leaning forward most of the time – like writing or data entry or if you work using headsets – leaning back or sitting straight most of the time – like a call center, customer care, or sound engineer, the Steelcase Gesture will still work perfectly well for you regardless of the industry and the device you are using.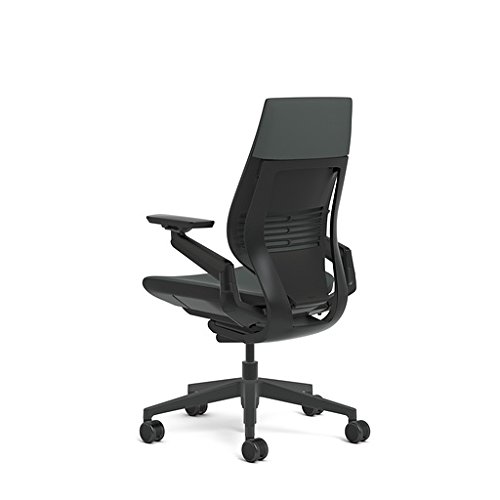 Pros
Made in the USA
High build quality
Up to 400 lbs weight support
Great for a wide range of users
Comfortable and highly adjustable arms
Seat slider functionality to provide comfort for different sitting positions
Comes fully assembled
12-year warranty
Cons
No back-height adjustment
The seat cushion and the armrests can be a little hard for some people
High price point
---
Best Budget Chair
The Office Master Truly designed by Francisco Romero features a TruFit Polyback backrest, the choice of the backrest is the technological invention this chair line went with. The ergonomic adjustment options are truly the major selling point of the Truly.
The idea and inspiration behind the Polyback backrest were to design a chair that could respond to the weight and shape of the user and provide maximum support accordingly. The vertical slits design of the Polyback allows good airflow, resulting in directing your body heat away from you and keeping your chair cool for long periods of time.
Even when comparing with the highly ranked chairs like the ones that we have already discussed, the Office Master Truly has a wide range of adjustments that many of them can only dream of. It caters to all your individualistic needs and can be fine-tuned to suit your preferences.
The independent back angle adjustment option, like on the Embody, allows you to adjust the angle of the backrest without having to recline. You can lock it in a straight position or make use of the lumbar curve. The lumbar support is very good on the Truly. You also get back height adjustment to suit your needs further by altering the seat height.
The only problem with the backrest is that there is no padding, it is a polyback design that will give you the feel of hard plastic, this can be off-putting for a lot of people because while there is support, the comfort more or less is played with.
The seat is designed to be firm, even though the padding is thick. The seat is comfortable but not for people who prefer softer seats. Truly comes with an option to add a headrest, which is surprisingly missing from a lot of chairs. The headrest is padded and comes with many adjustment ranges for you to get your money's worth with use.
The armrests on Truly are adjustable but do not have arm pad depth adjustment. They are highly adjustable with width pivot, height adjustment, and depth adjustment.
Even though the adjustment options on the Truly makes customizing the chair to suit a large number of people easier, it also makes it not that great when it comes to multiple people usage. 
Office Master Truly Ergonomic Chair is Suitable For –
Different shapes and sizes support are great for individualistic needs, but not universal, because of which, the Office Master Truly is suitable for places that do not need different people sharing the chair like a manager, human resource head, etc.
No products found.
Pros
Wide range of ergonomic adjustments
Good lumbar support
Height adjustment
Independent back angle adjustment
Adjustable arms
Headrest option
Up to 300 lbs weight support
Comes almost fully assembled
Lifetime Warranty (including the moving parts)
Cons
Polyback backrest might not be for everyone
The seat may be too firm for some people
Not the best option for multiple users
Great for 8 hours shifts, not 24×7 usage
---
Best Budget Chair Runner-Up
Two chairs we have talked about are by Herman Miller; it isn't a surprise that one of the chairs in the last category is by them as well. The Herman Miller Sayl chair is designed by Yves Behar with their concept inspiration being the Golden Gate Bridge in San Francisco. The goal was to create a chair with as little material as possible and as low of a price point as Yves could.
The draw to the Sayl chairs is the welding of look and technology in that way that it still stays at the top of its class even though it falls under budget compared to the other chairs in its league. The design on first-look comes off as an ultra-modern and stylish design that is also feather-light. It looks like the combination of the Embody chair and your basic office chair.
The interlacing molded plastic-looking rubberized mesh backrest of the Sayl chair is what makes the design this sleek and shows the inspiration that gave birth to it, it is similar to Embody in structure but is constructed of a crisscrossing and flexible webbing. This makes the chair light, comfortable, supportive, and not to mention budget-friendly compared to others.
Because there is no special support mechanism actually built-in into the Sayl chair, it is not the most comfortable product, ergonomics wise, but it still is a shocker for many that it provides as much comfort as it does. The narrow back is what makes people doubt, but the material is what does the trick. But, if you are looking for a great ergonomic design, then the Sayl chair might not be the best option for you.
The backrest gives enough support for you to work in comfort but no lumbar support, because of the suspension bridge technology, your weight is evenly distributed through the design of the back. The design includes passive PostureFit sacral support, which allows your spine to maintain its natural S shape.
You can move around, and any bits of hard material framing won't dig into your body, you will still have support and comfort. You can adjust the height and also adjust the tilt tension with a knob. There are also tilt limiters that will help you set the reclining angle to be the most comfortable.
The seat padding is thin in Sayl chairs, but will still give you cushioning. The seat pan depth can be adjusted. The arms are small as well, adding to the sleek design of the chair, but still can be an issue for some people. There are two versions available, one with adjustable arms and another with non-adjustable ones.
The adjustable arms can change positions, pivot and width can be adjusted, and height can be adjusted as well. Just because the aim was to make a chair with less material doesn't mean that the ergonomics were compromised. 
You still get support, even though there isn't much that should provide you with that. You still get comfort, even though there aren't many adjustment options. You also get a good amount of padding; all of this makes the chair affordable and convenient for many people who want the Herman Miller experience but do not have that kind of money to shell out.
While Herman Miller is already an environmentally responsible company, the Sayl takes it a step further by using less material and making less waste if not recycled by someone. 
Herman Miller Sayl Office Chair is Suitable For – 
Because the Sayl chairs aren't designed for prolonged hours of working, it can work for people who spend equal time on-field and on their desks like lawyers, civil engineers, etc.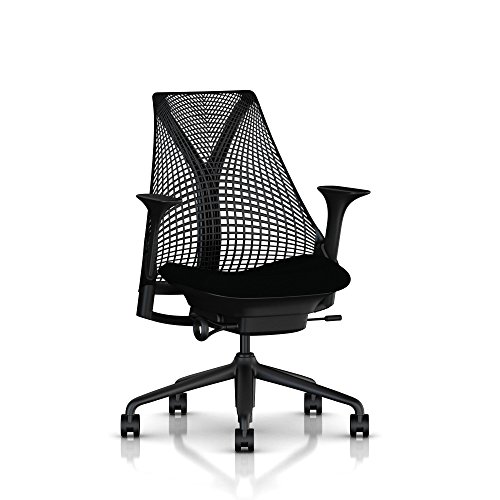 Herman Miller Sayl Chair, Crepe Licorice
The construction of Sayl's 3D Intelligent suspension back provides passive PostureFit sacral support, which allows your spine to maintain...
Product dimensions – 26" D x 24.5" W x 37" H | Seat depth (fixed) – 16.5" | Weight – 38 lbs. | Arm height (adjustable) –...
Partial assembly required | Sayl's unframed 3D Intelligent back lets you stretch and move, striking a healthy balance between support and...
Pros
Made in the USA
Premium build quality
Uses less material in manufacturing
Sleek, modern, minimalistic design
Up to 300 lbs weight support
PostureFit sacral support
Height-adjustment
Seat pan depth adjustment
Tilt tension adjustment
Customizable armrests (in one version)
Comfortable seat
Environment-friendly
Comes almost fully assembled
12-year warranty
Cons
No lumbar support
Not suitable for prolonged hours
Not suitable for heavy people
Not high performing
---
Things to Look for When Buying an Office Chair
The Game-Changing Features Your Chair Needs
Buying an office chair is a true investment, not only financially, but also health-wise. We spend a considerable amount of time on our chairs, and it shapes our spines by putting pressure on it. Our neck, arm, and leg muscles get tired if proper support isn't provided. 
It makes sense to invest in a chair that will cater to our needs and will provide us with the comfort and support that make sure that our body doesn't concur with long-time issues while trying to save money.
Ergonomic Adjustments
Ergonomic adjustments are what make office chairs worth their price. Features like lumbar support, adjustable back height, adjustment armrest pivot, adjustable armrest depth, arm height, seat height, seat depth, seat cushion, forward seat tilt, tilt lock positions, adjustable headrest, weight-activated mechanisms, etc. are things to consider depending on how much support and what type of support you need based on your use.
Lumbar Support
Lumbar support is one of the key features that you should never compromise on. A design that contours your back and supports your spine is always a win. The office chair should match the natural contour of your spine. If it has an adjustable lumbar support option, then that is a great buy. Look for support for your spine and lower back because as the day progresses, we tend to slouch, and that ruins our posture and also support.
Adjustable Backrests
The backrest is what provides you support and comfort and also helps integrate lumbar support functionality. The backrest should be adjustable so that it can support your relaxed, straight, or slumped sitting position. It should have a locking mechanism so that the back doesn't suddenly move when you are using it. It should have a tilt tension adjustment mechanism to help you optimize the angle of the backrest at an angle that suits your needs.
Adjustable Height 
A chair with an adjustable height feature allows you to customize the chair to your own height, meaning that the neck and headrest of the chair will be flush against your body. The best position to check if you have the right height is that, when you are sitting, your thighs should be horizontal to the floor.
Adjustable Armrests
Having adjustable armrests has a huge impact on the comfort level that you experience. It is one of the things that people often don't pay much attention to, but it makes a lot of difference. The right armrest will reduce the strain that you will otherwise feel on your neck and shoulders.
The adjustability of the armrests let you tweak their height so that you can match the support to your sitting position. They also pivot, allowing you to adjust the width. Position adjustment is another thing that helps you get support when you are sitting at the back or on the edge of the seat.
Adjustable Seat Depth
Chairs are meant to be sat on, if the core functionality isn't comfortable, what is the point of the product. Make sure to choose a seat with adjustable depth so that you can get one as per your needs. Your body weight and height sway the kind of seat that will be comfortable to you like you would need a deeper seat if your tall and a shallow one if you are short.
You also need to see if your thighs are fully supported. Ideally, there should be a gap of 2 to 4 inches between the seat and the back of your knees when you are sitting flush against the seat.
Sufficient Seat Width
The width of the chair is important to provide full support and even bodyweight distribution. While some narrower designs can look great but if you are of average or heavy built, they might not be the best option because you won't get full support and will also be more prone to the armrests digging in your sides.
Breathable Seat Material
Breathable material is the way to go when choosing the upholstery. Because you are going to be spending hours on the chair, the breathability of the material becomes a necessity. It allows the air to circulate, which doesn't let the chair get hot. It drives your body heat away from you. This saves you from getting hot, sweaty, and uncomfortable.
Sufficient Padding
While initially, soft padding might seem like heaven, it is not the way to go. Eventually, you will realize that it does not provide enough support, which can back your buttocks and spine ache. On the other hand, hard seats will become painful if you sit on them for prolonged hours. Aim for sufficient firmness that provides enough comfort and support.
The Right Wheel Caster
One of the uses of office chairs is the mobility it provides. You should be able to reach different areas of your workstation from one place. Choose the right swivel chair and caster based on the type of floor or carpeting you have. If you do not take into account your floor, then the purpose of having casters becomes null because you won't be able to move freely
User-Friendly Adjustment Controls
There's no point in having a truck-load of ergonomic adjustment options if you don't know how to use them. The adjustment controls on your chair should be easy to operate and should be located in a comfortable reaching position
You should be able to adjust your seat position, height, tilt and swivel from your sitting position without having to strain to reach the knobs. It should be an easy task because otherwise, you are not going to use them to their fullest during your busy days
The Logistics of Buying a Chair
When you are looking for an office chair, along with the features, the build and quality is an important factor that you should consider. You will be investing a decent amount of money in it, and to get your money's worth, you need to know how the chair is built, how long will it last you, what are the needs of your office or organization, does it fit your budget, the warranty, and durability
Build Quality
You get what you pay is something we always hear. It is true in the case of office chairs as well. The material used to build the chair is important to test build quality. Plastics and metals help you achieve different sorts of finishes and quality
Just because plastic is used, doesn't mean that the build is of poor quality. High-quality plastic can be long-lasting and also serve various technologies that the chairs incorporated like the flexible backs, which is not possible with metals. The steel of aluminum make of the frame structure, arm, etc. should also be considered. 
The quality of upholstery material will tell you if the seat is going to be able to endure hours of people sitting on it. You need something with breathable material and something that can undergo wear and tear and not give up easily; the design isn't the only thing to check.
Time and User Needs
What the need is for the purchase helps narrow the options down. If your organization runs 24×7, then getting a chair designed for working prolonged hours is the thing to do. If the chair is going to be used for a single shift, then using a chair for more hours at a time is not your concern; hence, you can eliminate that from your search.
24×7 working companies will have people coming in for different shifts, meaning that more than one person will be using the same chair. If you have to customize the chair highly, then that can be an issue for the other people using the chair. You have to select a chair that can support people of different body types with not many alterations. One-size fits all is what you look for when looking to support multi-shifts.
Adjustment options are really important when the chair is going to have multiple users. Height adjustment allows you to support all height ranges and provide comfort to every person using it who needs a different seat height. Arm pivot, pad depth, position adjustment, everything being adjustable helps support various sitting positions, and likewise, with the other features discussed earlier.
Assembly
Assembly of the chair can be an issue if you are ordering in bulk for the whole office. Putting together chairs in a small quantity, while still a task, is manageable. Putting the chairs together for the whole office can be trickier than it sounds.
Most high-end chairs come fully assembled or close enough, so you take them out of the box, and you are good to go. Go for the least amount of effort required to start using the product, especially if you are refurbishing the entire space.
Warranty
Knowing how long the warranty is and what aspects of the chair it covers is important when you are shelling out big bucks. A long warranty period with no strings attached policy also shows the company's faith in the product.
Some brands cover the whole thing, but others have specific warranty guidelines for a different part of the products like mechanisms, casters, frames, and arms are covered by the warranty longer than upholstery and foam of the chair is. The longest warranties usually come with high-end products, so the budget is at play here.
Budget
Your budget plays a crucial role in what aspects you have to prioritize. If your budget is low, you won't be able to get the most ergonomic features rolled in one. That doesn't mean that you won't get a great chair. Try to list out all the needs that are talked about above and see which features you can compromise on that will help you narrow down the searches to fit your budget.
Frequently Asked Question
How much should you spend on an office chair?
The amount of money one spends on an office chair is extremely subjective. While some people prefer being on the cheaper end and not spare a lot, some users prioritize their comfort over anything else and thus splurge out on them. Generally speaking, office chairs start from as low as $100 and can be as high as $1000 and above. Depending on what kind of features you want in the chair, we'd suggest you fix a budget between $250 to $800.
How long does an office chair last?
The durability of an office chair depends on the quality, brand and usability. They should generally last somewhere between one to ten years, depending on how roughly a person is using it. If you are dragging it around the room on the wheels, it will likely get damaged earlier.
Best Value Product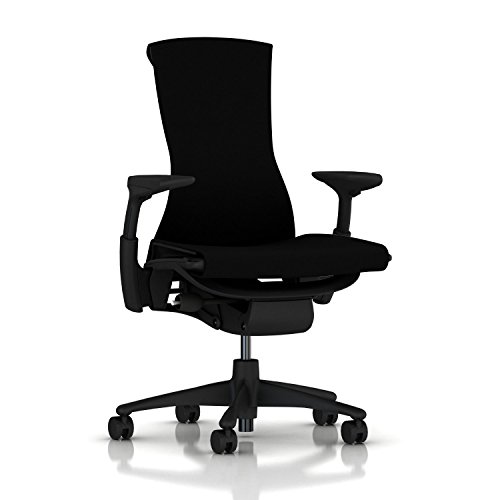 Herman Miller Embody Ergonomic Office Chair | Fully...
Best Value Product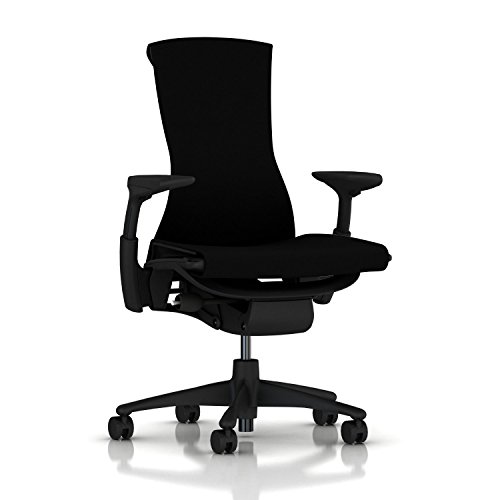 Herman Miller Embody Ergonomic Office Chair | Fully...
Conclusion
Herman Miller and Steelcase are two of the most cutting edge office chair manufacturers that marry function with style and bring you the best user experience, that is why you see them populating this list. When you talk about the best, there are no other chairs that have yet been able to beat the build of these two companies.
They bring different technologies incorporated in various style options to support a lot of problems that come with sitting for hours on end. Their ergonomic adjustment features and the warranty that comes along are huge selling points.
Buying an office chair is an investment, so considering the features that you need to support your work environment and make the user experience comfortable is really important. The chairs talked about above are the best chairs in the game with years of experience and thousands of reviews to back their credibility. They are designed with users' needs in mind.
P.S. While you are at it, you can also check if the chairs are being produced ethically, use recyclable material, and whether the companies are doing their best to reduce the impact on the environment.