Best Overall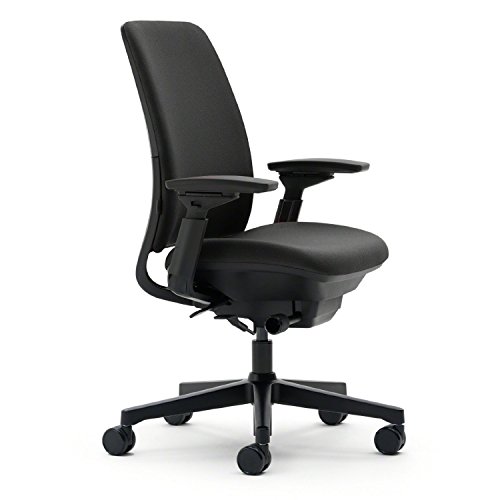 Best Value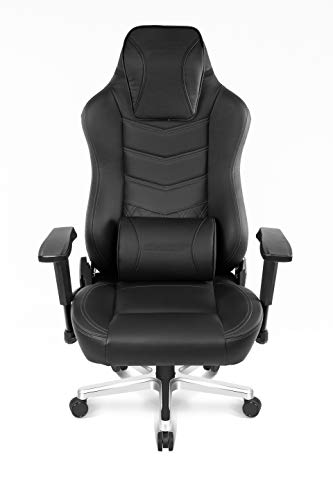 Best Budget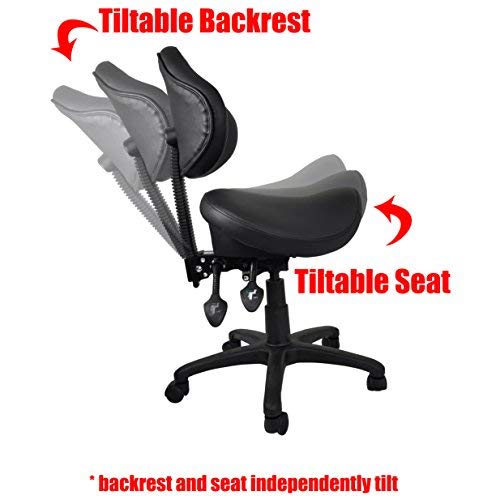 Is a bad hip affecting your day-to-day tasks? Hip problems, from stiffness to pain, is a common concern for everyone, and mostly originates from working for long hours, sitting on a chair in poor posture. It can also be caused by your office chair due to inadequate back support and too much pressure on the hip area.
Not all office chairs are designed with hip problems in mind, so we have reviewed the top 6 best office chairs for hip pain.
Table of Contents
Best Office Chairs for Hip Pain
Best Overall
Steelcase is a brand well known for its high-quality office chairs and is a leading manufacturer of office, hospital, and classroom furniture. Innovating in workspace design, Steelcase has designed the Amia Task Chair with people having hip issues in mind.
This is a high-quality ergonomic office chair that comes with four-dimensional adjustable armrests. The armrests can be lifted, lowered, turned left and right, and even dragged along their width or adjusting them closer or away from you. Adjustable armrests provide adequate support to your upper back and keep you upright. The armrests are comfortable enough for your elbows to rest on them, while you work at your desk for long hours.
Adjust the backrest by flipping the back lock. Unlock it to get the full range tilt, and lock it again once you reach your desired position. Even the seat height can be adjusted on the fly so that your feet can lay flat for better comfort.
Amia's LiveBack changes the shape of the backrest to support your spine as you change position and posture; as a result, you experience less stress on the ligaments in the spine. The tilt tension on the recline can also be changed to your desired comfort level.
The flexible seat edge flexes so that you don't experience pain on the back of your legs.
The chair has great lumbar support, but the backrest is not high enough, so tall people might not get adequate lower back support.
Not to mention the great build quality, and the overall look and feel of the chair, that a quality chair from Steelcase has. Steelcase is a great manufacturer, one of the leading office chair producers in the market.
The chair comes in a variety of colors to choose from.
Steelcase Amia Task Chair is Suitable for:
The Amia Task Chair is a high-quality chair by Steelcase; that alone is a good reason enough for you to buy this chair. This chair is suitable for people who need a functional chair for prolonged use, and also a premium quality chair with a rich look and feel, with no compromise on ergonomics. As the chair is small in height, it is perfect for people of small to medium height.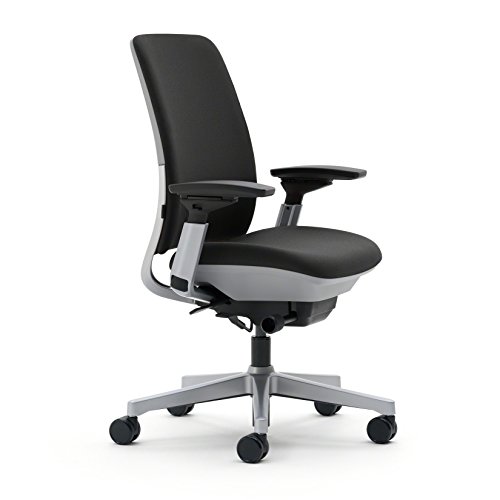 Steelcase Amia Ergonomic Office Chair with Adjustable...
Back includes a system of flexors for continuous lower back support as you move throughout the day
Seat contours to you, while a flexible seat edge relieves pressure on the back of your legs as you recline or lean forward
4-way adjustable arms move side to side, up and down, back and forth, and pivot to support you in any posture
Pros
It is more comfortable than most of its competitors today.
It is great for working throughout the day at your desk.
It comes in a variety of eye-catching colors to choose from.
It has great lumbar support.
It comes with seat depth adjustment.
It has a weight capacity of 300 lbs.
Cons
It is expensive as compared to other office chairs.
---
Best Overall Runner-Up
The Ergohuman Mesh Chair is a chair that features mesh back, headrest, and seat. The breathable mesh offers air circulation with increased support. It offers lots of adjustments for customized support for your needs. The base of the chair is made of chrome/polypropylene and the nylon caster wheels for easy movement.
The overall structure of the chair is ergonomic. You can adjust the parts of the chair for comfort based on your needs. The pneumatic cylinder offers quick raising and lowering of the chair. You can lean back and forth in the chair, as the backrest comes with a tilt mechanism. You can also lock the tilt position of the backrest with the tilt lock mechanism.
You can also adjust the tension of the backrest and the seat mesh on this chair for better posture and back support to prevent hip pain. The headrest and the armrests, too, can be adjusted on this chair and can be personalized for your comfort. For the lower back support, the chair has adjustable lumbar support. The lumbar support is contoured and is height adjustable so that users of different heights can get proper lower back support to prevent lower back pains.
The adjustable headrest, backrest, and the seat, all of them are made from breathable mesh. These breathable mesh parts provide ventilation to the body and keep the body cool, so you won't sweat on this chair even in the summers. The chair easily supports large weight people thanks to the strong mesh.
The synchro-tilt mechanism with the seat height adjustment ensures that you sit with correct posture and get proper support of the chair, whether you sit upright or recline. This mechanism helps prevent hip pains by promoting correct posture.
The contoured shape of the lumbar support is designed with the human body shape in mind and provides effective support to the spine.
Ergohuman High Back Mesh Chair is Suitable for:
Ergohuman High Back Mesh Chair is a full mesh chair and is suitable for usage in hot summer days. The contoured back is designed to support the lower back. If you have lower back issues and want the lower back support chair for office all the time, even when you are not fully leaning back on the backrests, this chair is a great choice for you.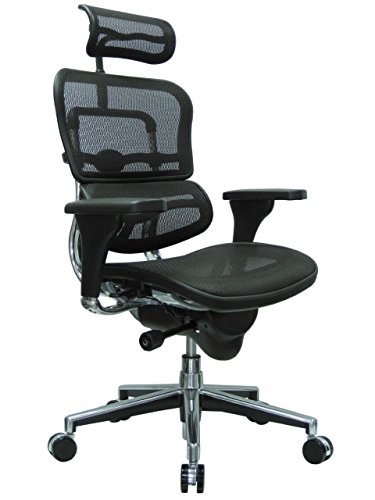 Ergohuman High Back Swivel Chair with Headrest, Black...
Made of Chrome/polypropylene base with nylon casters, this chair is made of 97% recyclable components
Product dimensions – 29" D x 26.5" W x 46"-52" H | Seat dimensions – 18.5" D x 20.5" W | Seat height (lowest/highest) –...
Synchro-tilt mechanism and seat depth adjustment ensure users sit correctly and get the support they need, whether sitting upright or...
Pros
The synchro-tilt mechanism promotes good posture.
It comes with adjustable headrest, backrest, lumbar support, and armrest.
Most parts are made of breathable mesh for adequate ventilation.
The contoured lumbar support provides adequate support to the spine.
Cons
Sharp objects can damage the mesh easily.
The mesh gets weaker with use over time.
---
Best Value
If you love gaming chairs or racing-style office chairs, this chair is for you. The Onyx Executive Chair by AKRacing is a high-end luxury office and a gaming chair that is made of quality PU leather.
With the experience of designing and manufacturing chairs in the automotive sports industry, AKRacing designed this chair with the same objective of designing a sturdy, comfortable, and a true performance chair. You can't miss the quality and craftsmanship on this chair, just like any other chair produced by AKRacing.
With a high backrest, your entire back gets supported all of the time. The guaranteed back support reduces the pressure on your spine, and as a result on your hips as well. With four-dimensional armrest adjustment, you can customize the armrest as you like and ensure you get the needed upper back support. The armrests don't come with a locking mechanism, so you might find yourself constantly elbowing it if you move a lot in your chair.
The seat provides a great room for your hip when you sit, so your hip is not pushing against anything. The headrest is adjustable, and the lumbar pillow can be adjusted for your comfort. The lumbar pillow lacks straps that the headrests have, so you will have to readjust it if it moves when getting up.
AKRacing Office Series Onyx Executive Desk Chair is Suitable for:
With its high back and large size, the Onyx Executable chair is an ideal pick for tall people. It is a great daily task office chair and is also a great gaming chair. The Rock it and Lock it function allows you to rock in the chair and adjust the rocking tension.
However, with a lack of lock mechanism for the armrests and the missing straps on the lumbar pillow, you might find yourself constantly adjusting the armrests and the pillow, something to consider if you are easily annoyed by the frequent elbowing and readjusting.
Sale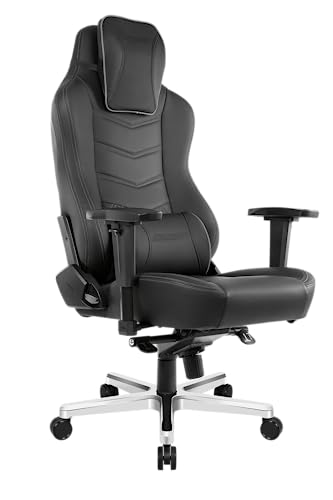 AKRacing Onyx Gaming Chair
Extra soft exclusive design PU leather upholstery on front and back - easy to clean and guaranteed to last for at least 5 years backed by...
Wide metal frame with anti-corrosive coating covered with 80% more high-density cold-cured foam padding for maximum comfort and durability.
Adjustable headrest and lumbar support pillows for comfort and enhanced ergonomics included.
Pros
The chair comes in PU leather and top grain leather upholstery.
The chair comes with advanced Rock it and Lock it function.
The chair reclines 180 degrees.
The Class-4 gas lift can support any weight.
It has a four-dimensional adjustable armrest.
You get a 5-year warranty.
It features adjustable seat height with soft lumbar support.
It has a 330 lbs weight capacity.
Cons
It isn't very comfortable for small people.
---
Best Value Runner-Up
This chair by BERLMAN lacks some of the premium features that come with other chairs on this list, but the chair is well received and has proven itself to be a great chair for people with hip pain.
The chair comes with the standard tilt lock mechanism, and also the tilt tension knob for adjusting the tilt tension. With pneumatic adjustable seat height, the seat can be adjusted for maximum comfort to match people of different height.
This chair, with its high back, is ideal for a tall person, and also a great choice if you are working from home or at the office. The high-back design provides extended comfort while working throughout the day.
This is important as many tall people who have to sit on chairs with short backrests, are not able to sit in a correct posture, and start experiencing back pain and hip pains. The back and hip pain can easily become chronic if left ignored for long.
If you work on your desk for long hours, typing, it will put a lot of strain on your neck and shoulder area. Resting your head on the headrests can quickly reduce tension on your neck, shoulder, and upper back. Taking occasional breaks and using the headrest regularly can help you with the strain and improve your work quality.
While the padded armrests provide comfort for arms and elbows while working, the flip-up design allows you to instantly lower the arms of the chair if you no longer need them. This can remove one of the restrictions your workspace has, and you can use this feature in appropriate work scenarios. With the arms flipped down, you can easily slip the chair under your work desk for saving room space.
The back has a breathable mesh on it that provides air circulation and keeps your back cool when you lean on the chair. The breathability on the back has been added in the important back area, which helps keep sweat away, useful especially during a hot day. The breathable mesh also promotes good posture while you rest your back on the chair.
The chair lacks adjustable lumbar support, so folks with small height might not be able to customize the lumbar support for their needs.
BERLMAN High Back Chair is Suitable for:
With the missing adjustable lumbar support, this high backrest chair is best suited for tall people, as people of short height might not get proper lumbar support from this chair.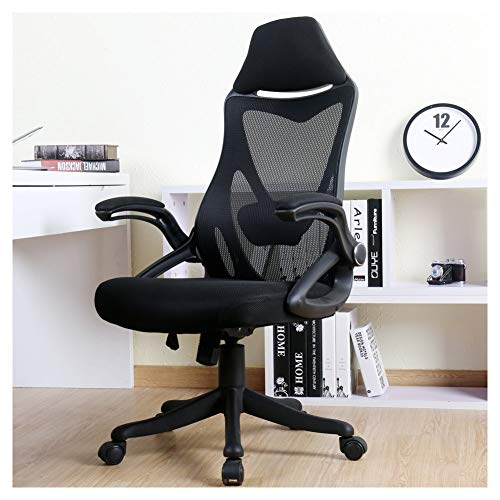 BERLMAN Ergonomic High Back with Adjustable Armrest...
The integrated frame is stable and durable for using and contoured breathable mesh back make you feel comfortable during long time working.
Built-in lumbar support and headrest help you been in right sitting posture for protecting your neck and waist.
Tilt Lock Mechanism with Tilt Tension Knob and Pneumatic Seat Height Adjustment will match different stature.
Pros
It has a max weight capacity of 250 lbs.
The chair is pretty durable.
It's back has a breathable mesh.
The seat height is adjustable.
The curved back with the breathable mesh promotes good posture.
Cons
It lacks advanced adjustment features.
---
Best Budget
The 2xhome Ergonomic Office Chair is a unique chair that has the seat of the shape of a saddle. This saddle shaped stool has neither a headrest nor armrests but has a tiltable backrest. The lack of armrests provides a larger room for the seating area, so you will experience less pressure on the back, thereby reducing hip pain.
The chair doesn't come with lumbar support, a mechanism that most office chairs have, but is a great chair for hip pain due to its large seat area. The larger seat area combined with no armrests creates a perfect balance for hips and the lower back. Also, the saddle shape provides additional comfort to the spine and the back.
The seat, as well as the backrest, are tiltable so you can customize it to your needs. It is recommended to keep the backrest at an optimal angle of 135 degrees for adequate spine support and overall comfort. The seat can be adjusted for the perfect hip support. The chair swivels, making it easier for you to switch and multitask in between your desks in your workspace.
You get adequate comfort and support, thanks to the thick padding on the saddle seat and the backrest. The upholstery is made of PU leather. The star-shaped five-wheel base makes it easy to move around in your workplace.
2xhome – Ergonomic Adjustable Rolling Chair is Suitable for:
This chair, with its tiltable seat and tiltable backrest, is suitable for office and home use. The saddle-shaped stool can easily find its place in laboratories and hospitals, either in the doctor's room or as a bedside stool.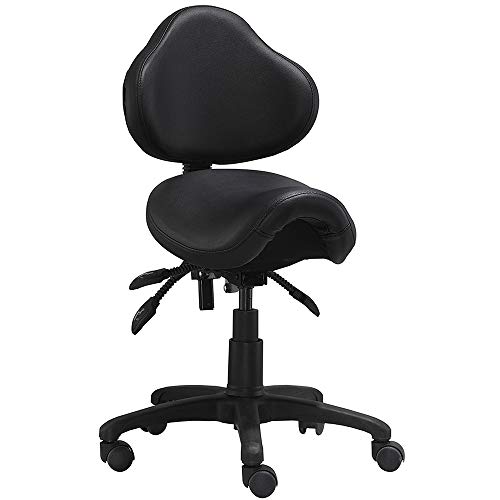 2xhome - Ergonomic Adjustable Rolling Saddle Stool...
Ergonomic Design: This saddle chair is designed to promote a healthy sitting posture by aligning your spine and reducing pressure on your...
Adjustable Height and Tilt: This saddle chair is designed with both adjustable height and tilt features, allowing you to find the perfect...
Comfortable Seat: The padded saddle seat is contoured to provide maximum comfort and support, even during long periods of sitting.
Pros
It has a wider seat area for hip comfort.
The backrest and the seat have a thick PUC padding.
Assembly is easy.
Cons
The chair doesn't come with a headrest or a backrest.
---
Best Budget Runner-Up
The AmazonBasics Big & Tall Executive Chair is a great ergonomic chair that is comfortable and soft to sit in. It falls in the heavy-duty category and holds up pretty well when compared to other big and tall chairs in the same category.
It isn't the perfect office chair, but a great heavy-duty chair. The chair being heavy-duty means it has a weight capacity of 500 lbs.
The padding on the armrests provides great comfort when you rest your elbows on it and work. You won't experience any scratching on your elbows because of the comfortable padding. But unlike other chairs featured on this list, the armrests lack height adjustment. So, you wouldn't be a perfect fit for the chair if you aren't of a certain height.
With the padded seating, you get a soft sitting surface that greatly reduces the amount of strain you might experience while sitting and working for long hours. The soft and comfortable seat helps reduce hip and lower back pain.
Although comfortable, the chair isn't as breathable as a mesh chair, and you might end up sweating quite a bit, especially on hot days.
The padded seat edge that goes right under the thighs provides additional comfort to the inner thigh area and reduces leg pain and fatigue. Having a padded seat edge is much helpful if you sit with your legs bent, resting on your toes, or even crossed in the same position.
It also comes with a padded neck and lumbar support, which is a plus. The overall design promotes good posture keeping your upper back upright and reducing muscle strain from your desk work.
AmazonBasics Big & Tall Chair is Suitable for:
The padded armrests provide great comfort when working on your desk while resting your arms and elbows on it, making it a great choice for writers, editors, and programmers who have to spend hours typing and working; ideal for desk or computer work. Because of its lack of height adjustment on the armrests, you would have to be of a certain height to fit in this chair and make use of the comfortable armrests.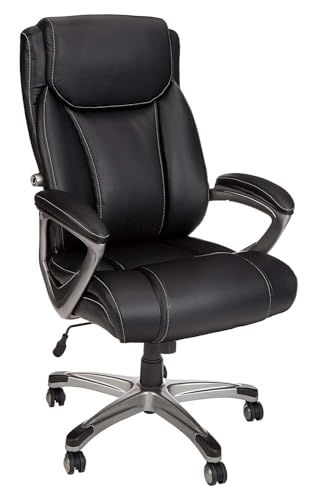 Amazon Basics Big & Tall Executive Computer Desk Chair...
One Amazon Basics Big & Tall Executive Office Chair in black faux leather with pewter finish
High-back executive desk chair with big and tall size comfort; commercial-grade components
Adjustable lumbar mechanism for lower-back support; curved and padded arm rests
Pros
It has a weight capacity of 500 lbs.
The waterfall seat edge on the seat reduces leg fatigue.
It comes with lumbar support.
The back padding is ergonomic.
It comes with a height adjustable pneumatic mechanism.
Cons
The chair isn't easy to assemble.
---
What Chair is Best for Lower Back Pain?
Bad posture while standing and sitting on the chair can lead to lower back pain. After working for long hours, it can be tempting to slouch forward or lean back and continue working, but this can create problems, and can even worsen the pain, even if it isn't caused by bad posture in the first place.
This is why finding the best chair for lower back and hip pain issues is crucial. While most office chairs available online have lumbar support, not all of them excel at it, especially for supporting the lower back.
The Ergohuman High Back Leather Chair is the best for lower back pain. The design of the lower lumbar region protrudes beyond the upper backrest. As you lean backward on the chair, the lumbar support is the first part that makes contact with your back.
The height adjustment on the backrests allow you to adjust the lumbar support for your back. It is designed to have adjustable seat depth, and it will adjust based on how much weight you put onto the backrest. The depth adjustability comes with flexibility, so you can twist and turn in the chair, and still won't lose the lower back support.
For those who lean forward on their desks and work, back supporting office chairs are a must. This is great for those who don't lean backward on their chair as often while working.
The support is pretty pronounced as it doesn't spread across your lower back, but some users might find it uncomfortable and would want to switch to chairs with a more flexible and spread out lower back support.
When reclining, at an angle of about 50 degrees, the support can get less pronounced as the adjustable lumbar support gets pulled up. You still won't lose the lower back support, and the lumbar support can be adjusted for better lower back support, even when reclining.
What is the Best Sitting Position for Hip Pain?
By sitting in a good posture, you can avoid hip stiffness and pain entirely. Good posture can also help you recover from a bad hip pain over time.
Sit by laying your feet flat on the ground, keep them aligned, keep the pelvis not laterally tilted but aligned, and keep the spine upright. Holding this posture will reduce the straight on your hip and will greatly benefit the overall health of your back.
Sitting with your feet properly aligned, pelvis aligned, and spine straight may often make a difference in your back health.
The hip muscles can get weak by constant overstretching. This can be caused by a recurring movement known as the hip adduction. This happens when you sit on the chair legs crossed. Sitting crooked or even leaning to one side can cause hip flexion. These can put great strain on the hips, and your hip pain can get worse.
So, when sitting, avoid slouching and sitting with your legs crossed. And, your hip needs to be higher than your knees. Don't leave your feet dangling on the chair. If they don't reach the floor, use a footstool.
If sitting is causing you more problems, as you don't have a good ergonomic office chair, go for a standing desk instead.
How Should I Sit with Lower Back Pain?
The ideal position for dealing with lower back pain can vary slightly from person to person, so you might need to tweak the posture for you depending on your symptoms, and looking out for what makes the pain worse.
The spine has natural flexibility to it that helps it in movement, stretching, and shock absorption. Along with flexibility, the spine has a natural shape to it, which makes it flexible with specifically shaped curves.
If these curves on the spine are not well supported with good posture, you will start experiencing back pains. So, sitting in proper sitting positions can help recover from and relieve back pains.
Make sure you get good lumbar support. The C shaped curve needs lumbar support from your chair. 
If your chair doesn't offer one, try adding a lumbar pillow on your chair to support your back. 
If you don't have a lumbar pillow, try making one. A DIY lumbar pillow is as easy as rolling up a towel and keeping it in between your lower back and the chair. Once your lumbar spine is supported, you will find it easy to sit in the proper posture.
Keep the hips bent in the range of 75 to 90 degrees. 
Adjust the seat height until your feet comfortably lay flat on the ground, and also adjust the recline so that your hips are bent at not more than 90 degrees of angle. 
This position lays the thighs flat on the seat, parallel to the ground. If the angle reduces, the knees will get closer to the chest, and the lower back would get curved. If your chair doesn't have height adjustment, use a footrest or other objects under your feet to find the right angle.
Keep your hands resting on the keyboard. Aligning your spine properly is what sitting in the ideal position is all about. This means, your arms, legs, elbows, feet should be in the right position. 
Your elbow should rest on your armrests and meet it at the right angle. With your elbows rested, your hands should be able to reach your desk, laptop, or keyboard.
You shouldn't find the need to lean forward on the desk as it will ruin your posture. Maintaining a good posture can become difficult with desks and chairs that aren't ergonomically designed. You might have to be creative and come up with DIY solutions to make the most out of your work desk and chair.
Also, make sure that the screen is adjusted to your eye level so that you don't have to either look up or down on the screen. Head position is as important as the position of the rest of your body.
Can My Chair Cause Hip Pain?
If you are sitting on a chair that is not ergonomic and doesn't have decent back support, you will have to keep yourself upright using your hip muscles. This can put a lot of strain on the flexor muscles of your hip making them tight; this also tips your pelvis forward when standing up. This puts more pressure on the lumbar spine.
After standing up, to relieve from the strain and discomfort, you will have to sit on the same chair that you were sitting on, and while it can be comforting for that moment, your hip muscles will start to tighten again as they have to be active for keeping up in the upright position.
Things get worse if you cross your legs and sit. With your legs crossed, your hip abductors will get stretched and will be less effective while walking and running, as they help us move the legs away from the body, as well as rotate it at the hip joint. This can put you at risk of excessive lumbar lordosis and uneven pelvic. 
Over time you start to lose the fine muscle control that the hip joint possesses, making your hip and back stiff and painful. This is why having good back support chairs for the office is crucial.
If your chair happens to be a mesh chair, the poor quality of the mesh can also cause problems. Your body grip on the back will constantly slip, and to prevent this from happening, your lower body will be in constant tension. Having caster wheels means the chair will keep moving backward away from the chair.
You will constantly keep struggling to keep yourself upright, making the pain even worse with time.
Having no room for your hip on the seat can also put pressure on the hips as they will constantly be pushed against the contact surface.
Best Overall Product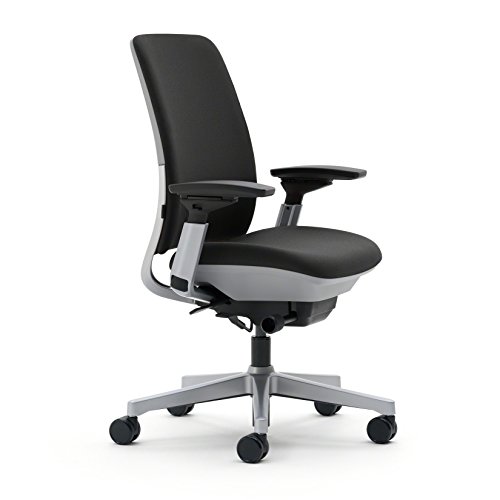 Best Value Product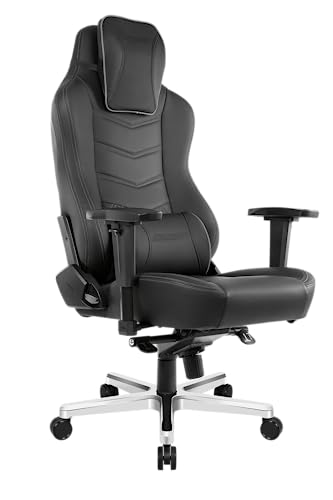 Best Budget Product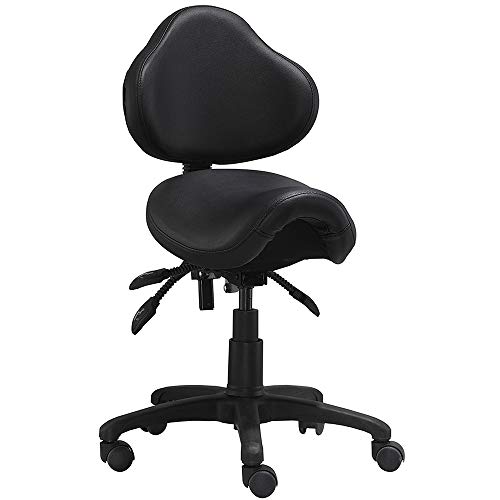 Steelcase Amia Ergonomic Office Chair with Adjustable...
AKRacing Onyx Gaming Chair
2xhome - Ergonomic Adjustable Rolling Saddle Stool...
Best Overall Product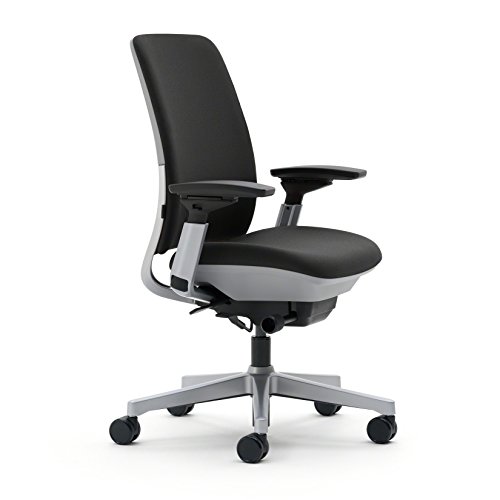 Steelcase Amia Ergonomic Office Chair with Adjustable...
Best Value Product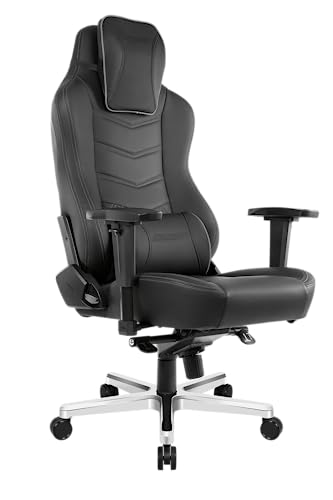 AKRacing Onyx Gaming Chair
Best Budget Product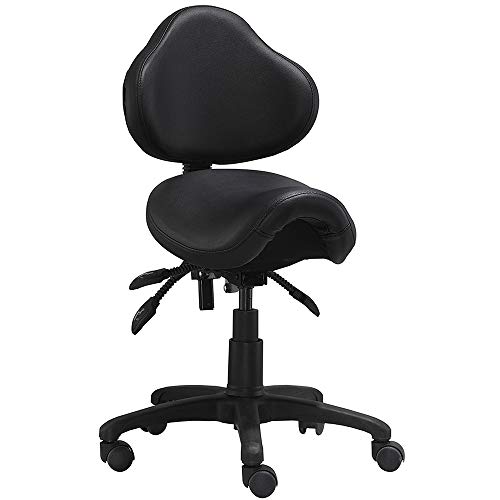 2xhome - Ergonomic Adjustable Rolling Saddle Stool...
Conclusion
Back and hip problems are not just a result of bad posture, but are also caused by repeated heavy lifting or some sudden awkward movement. But bad posture only makes the problems worse and can lead to even severe chronic conditions. This is why back support office chairs have become an important addition for many people for their ergonomic office chair needs.
Having an ergonomic office chair is important for the health of your back and hip. Changing posture is not good enough, as not all chairs allow for good posture, and not all chairs are designed with hip pain in mind.
The Steelcase Amia Task Chair is one of the best office chairs for hip pain in the market. It is not just ergonomic but is also sleek and has a premium look and feel. It is a great option, overall.
If you would like something else, there are other five options you can check out in terms of value, budget, and overall functionality. If you are looking for chairs in different categories, then you can check out other reviews on this site.