Best Overall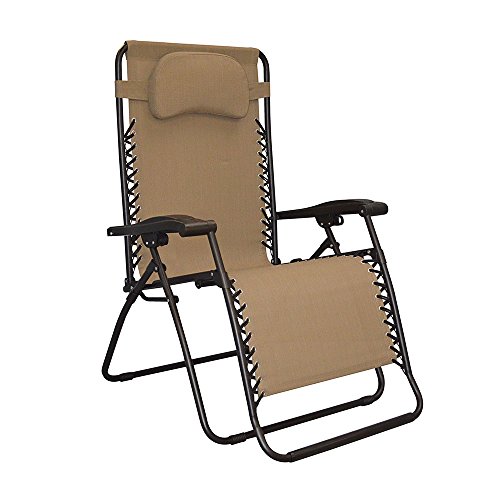 Best Value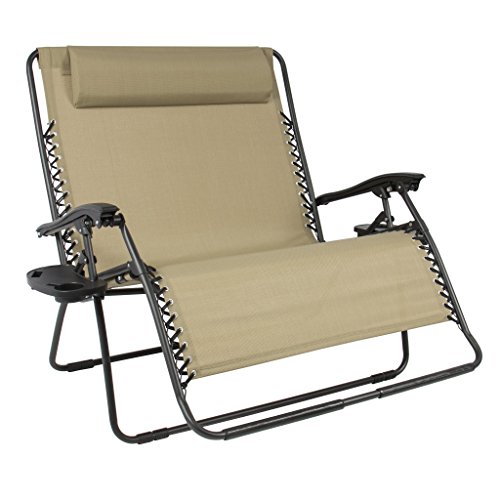 Best Budget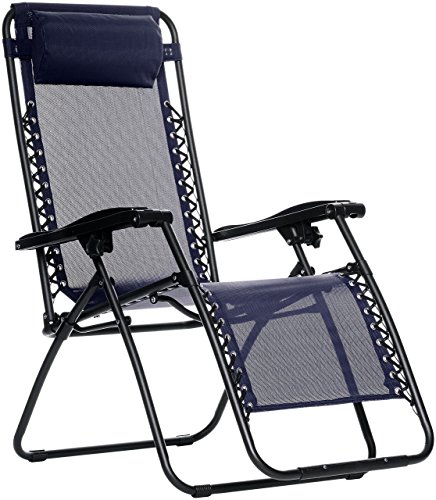 We are all putting our health at stake by sitting in a chair for long hours in front of a laptop screen because our work demands us to do so. It has become common for people to spend 8-20 hours in the same chair, day after day.
Studies show that sitting desk-bond for four to six hours on a stretch can have the same health impact as smoking three packs of cigarettes. To minimize the chances of having health troubles because of this, zero gravity chairs are a great option. They can turn out to be the best zero gravity chair for back pain.
Inspired by NASA's technology to avoid exterior stress on astronauts, bringing together revolutionary science and engineering gems, a zero gravity chair works by suspending or reclining your body in a position where there is no force of gravity acting on your body, and your weight is evenly distributed across the chair.
So if you are looking to get a recliner, why not go for the revolutionary zero gravity chairs? Let's talk about some of the great options available in the market.
Table of Contents
Our Pick
Best Zero Gravity Chairs for Back Pain
Best Overall
The Sports Infinity Oversized Zero Gravity Chair by Caravan Canopy is an all-weather chair that can withstand all outdoor weather conditions.
The chair is expandable in width, that makes it a great choice for most individuals. With a weight capacity of 350 lbs, this lounge chair is highly comfortable.
The locking system allows the chair to be locked in any desired position with the fingertip locking system. The adjustable headrest provides additional comfort, or if you need lumbar support, it can be adjusted to be positioned to support your lower back.
The durable fabric is suspended by the dual bungee suspension system, which gives a weightless feel. The powder-coated steel frame, with its high strength and durability, provides stability.
The chair is a great choice for dealing with stress and tension on the spine and legs.
The chair can be reclined smoothly, and thanks to its portability, it can be used anywhere and anytime.
It comes in four colors, beige, blue, black, and brown.
Caravan Oversized Zero Gravity Chair is Suitable for:
If you want a portable chair to take to the beach or a sporting event, the chair is a great option for you. It is also great to use in your backyard, to enjoy a drink, or take a nap.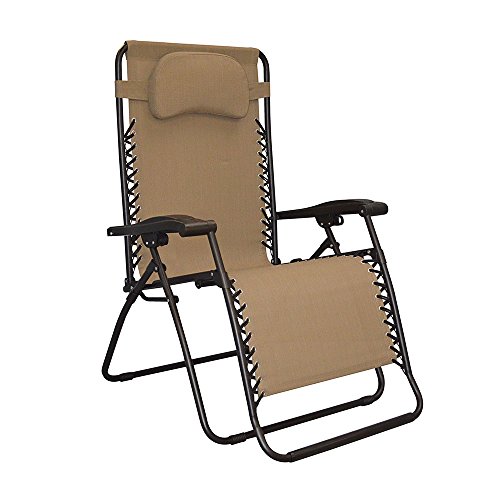 Pros
Due to its high-quality, the chair is great for outdoor use.
The strong and durable steel frame ensures longevity.
It can accommodate heavy people.
Cons
The headrest pillow might sometimes slip out of place.
Some users may find the design color tones and patterns to be dull.
---
Best Overall Runner-Up
Timber Ridge brand, though on a pricier side, is known for its luxuriously designed chairs that do not compromise on comfort, and this zero gravity chair is one such chair.
The Timber Ridge Zero Gravity Chair is designed to provide maximum comfort to the users sitting on it.
The full padding on the seating provides great comfort and relaxation and a resting experience that is immersive. The removable pillow, too, provides great comfort, as it supports your head and can also be adjusted to support your lumbar region.
The chair can be reclined completely, allowing you to lie down at 180 degrees. The patented lock mechanism is easy to operate. The mechanism allows the chair to securely lock in your desired reclining position to prevent accidents.
The Earth color option is aesthetically pleasing with its brown, black, and toned blue color. If you want to go for a different aesthetic, you can choose from the other two of the three available color options – Blue and Camouflage.
This chair is great for outdoor use, you can take it camping, or can you use the lounge chair in your backyard patio. Most people will find comfortable positioning using this chair, as the chair offers a weight capacity of around 350 lbs.
The steel frame and the polyester fabric makes the chair sturdy for daily use. The headrest and lumbar support can be detached, and you can use the chair without the pillow. The wooden armrests, along with the side cup holders, provide a refreshing look to the chair. The material is connected to the tubed frame by the bungee suspension that provides a strong bond, and the suspension provides a comfortable, weightless experience.
You get a one-year manufacturer's warranty from Timber Range with coverage on product defects.
Timber Ridge Zero Gravity Chair is Suitable for:
This chair is great for people who love camping. It is also suitable for patio, lawn, garden, yard, or balcony use.
Sale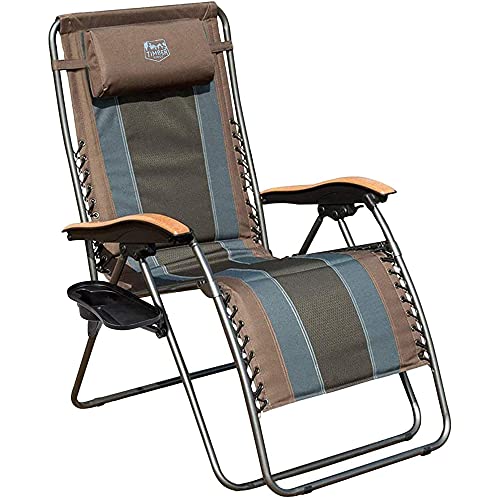 Timber Ridge Zero Gravity Chair Oversized Recliner...
Outstanding Loading Capacity: Anti gravity chair supports up to 350lbs. Sturdy steel tube frame, premium quality elastic cord, and durable...
Adjustable Reclining Position: Patented locking mechanism on this outdoor recliner. Easy locking levers adjust and lock the oversized zero...
Oversized Dimension: 43.5 x 22 x 21.3 inches. The fully reclined length of the reclining camping chair is 72 inches. Our zero gravity chair...
Pros
The chair offers great comfort that provides the experience of a padded lounger.
The oversized chair provides extra relaxation.
The reclining position can be adjusted for maximum comfort.
The chair comes with a one-year warranty for coverage against defects.
Cons
The padding compromises on the breathability of the material, as compared to other loungers.
It is slightly pricier than other zero gravity chairs.
---
Best Value
Want to buy a lounger that has extra space enough for your loved one to sit? This is the chair for you. The Best Choice Products 2-Person Chair is an extra-wide folding chair that allows seating for two people.
The chair has a weight capacity of 450 lbs. The chair back is adjustable and sturdy, and you can relax sitting on it with your partner.
The Beige color of the chair is neutral in tone and can go well with your indoor decor. The foldable chair, with its lightweight design, provides portability allowing you to take it anywhere and enjoy it at home or outdoor events.
The cup and the gadgets holding tray on both sides is detachable and is designed to hold cups, drinks, phones, newspapers, magazines, or any other items of the same size for quick access. Now you can enjoy your favorite beverages hands-free with the holding tray.
The chair is a perfect blend of aluminum and fabric, and the frame and the UV-resistant mesh provides reliable durability and support. The elastic chords on the chair are replaceable; use them if required for much more reliable suspension upon sitting.
In this extra wide chair, you can enjoy reading your favorite magazine or a book, or you can cuddle up with your partner and rest in this chair.
You can recline the seat to your desired position for maximum comfort.
Best Choice Products 2-Person Chair is Suitable for:
The Best Choice Products 2-Person Chair provides a great deal of room for couples and partners to cuddle up in the chair. The extra space can also be used by a single person for maximum relaxation.
Best Choice Products 2-Person Double Wide Adjustable...
EXTRA WIDE SEAT: Built wide to seat 2 people, so you can invite a friend or loved one to lounge with you and enjoy all the outdoors has to...
LIE BACK AND RELAX: Recline 160 degrees and enjoy an adjustable, removable padded headrest for additional comfort that will have you and...
TAKE IT ON THE GO: Foldable, lightweight chair design allows you to enjoy it anywhere at home, at the beach, outdoor sporting events, and...
Pros
The chair is designed for the sitting of two people.
The chair is made of durable material.
The chair is made for heavyweight usage.
It is a great value for money.
Cons
Locking the chair in the desired place can get difficult sometimes.
When reclining the chair, it makes some noise.
The frame material is comparatively cheaper, considering the weight capacity of the chair.
---
Best Value Runner-Up
This Oversized Padded Lounge Chair by PHI VILLA is quite well received by the users, and it improves over the canopy model with the added padding on the chair.
This visually appealing chair is an adjustable recliner, and the XL size allows sitting in any position, providing great comfort. The black and grey color combo looks great on the chair.
The steel frame provides a weight capacity of 350 lbs, and the non-slip grip on the feet means you can safely recline the chair without worrying about sliding.
Unlike most recliners, the armrests on the chair are wooden, which not only improves the visual appeal of the chair, but are quite functional as well. The wooden surface provides great comfort, and the wood completely removes the risk of heating of the armrests on sunny days, unlike metallic armrests.
You feel comfortable and weightless when sitting on the chair, the one thing that a chair claiming to be zero gravity shouldn't fail at, thanks to the double-bungee system.
The oxford fabric is durable and soft, and feels great to sit on. Don't worry if you spill your favorite beverage on the chair as the fabric is easy to clean. The padding on the chair provides extra cushioning that makes it feel as if you're sitting on a couch.
The width of the seat is great, but when reclined, the tallest of the people may find the height a bit inadequate.
The chair comes with a pillow strapped to it with an elastic strap. The pillow can be detached if you find it too sturdy for your taste, and it is also adjustable so that you can adjust it to get a good lumbar support. The pillow also uses the same oxford fabric that is used on the chair.
The lock catch design makes it easier to lock the chair in the zero gravity position. You just have to flip the two levers under the armrests. The cup holder is large enough for holding plates, books, and can be detached if not needed.
PHI VILLA Oversize XL Padded Lounge Chair is Suitable for:
The wooden armrests on the chair make it great for people who want to enjoy their sunny afternoons sitting on their lounge chairs, without worrying about burning their arms.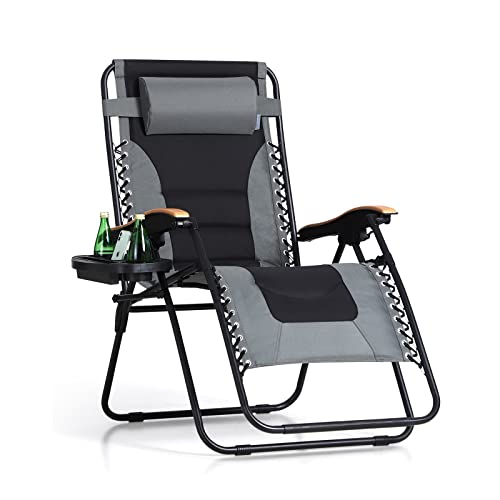 PHI VILLA Oversize XL Padded Zero Gravity Lounge Chair...
Padded Seat & Back: Fully padded seat suspended by double bungee system provides more comfort and durability. Extra-large wooden pattern...
Zero Gravity Reclining Chairs: The Length of extra long chair when fully reclined is large enough for big and tall people 6'2". Strong...
Adjustable Position: The Anti Gravity Recliner is designed with a locking system and can be adjusted to any positions with 0-170 degrees to...
Pros
It comes with a detachable pillow that can be adjusted for lumbar support.
The padding on the fabric makes for comfortable sitting.
This is an oversized chair.
The wooden armrests are great for usage on hot days.
The lock mechanism is easy to use.
The non-slip grip on the feet keeps the chair in place when reclining.
Cons
The chair weighs more than other standard loungers chairs.
The oxford fabric, though soft and durable, is not breathable. Although it can be cleaned dry, It can also soak up water easily.
---
Best Budget
You can't go wrong with any product you buy from AmazonBasics. If you want a standard recliner that doesn't go heavy on your wallet, this Zero Gravity Chair by AmazonBasics is the choice for you.
This lounge chair sports a navy blue color that goes well wherever you place it, be it your backyard or poolside, or take it to the beach for enjoying your relaxing sessions.
Reclining the chair is quite easy, with trouble-free adjustment from upright to the position of zero-gravity to experience weightlessness.
The frame of this chair is sturdy, with a weight capacity of 300 lbs. The armrests on the chair are of plastic, and the contoured shape makes them comfortable. The bungee support securely attaches the mesh fabric to the frame, providing the needed comfort and support.
The mesh fabric on the chair is breathable, that doesn't retain heat and keeps your cool. The fabric, again, is Textilene, making it weather resistant. So, the chair can be folded and transported along with you anywhere you want, in any outdoor environment.
The padded headrest can be adjusted for your comfort. Adjusting to a position is easy; just tighten the two knobs on the side of the chair once you reach the desired position.
Although easy to use, the knobs don't provide enough tension to hold the recline position. The chair can use a security strap, like velcro, to secure the folded position.
AmazonBasics Zero Gravity Chair is Suitable for:
This is a great chair if you want a basic recliner that comes with the zero-gravity option and is portable, making it a great chair to take it to the beach.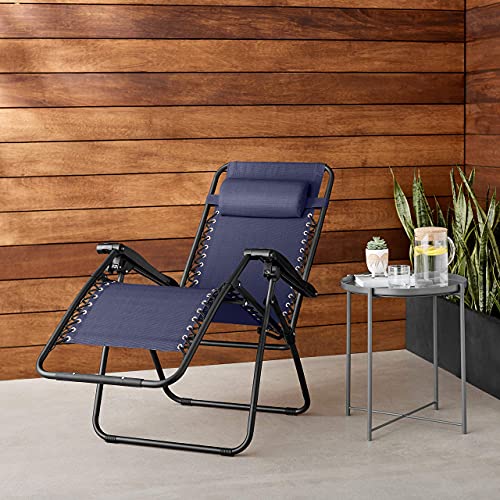 Amazon Basics Outdoor Textilene Adjustable Zero Gravity...
Zero-gravity outdoor chair provides a stress-free weightless feel for optimal relaxation
Powder-coated steel frame for strength and lightweight portability
Double bungee support system securely connects the weather-resistant Textilene fabric to the frame
Pros
The mesh fabric is breathable that makes it great for usage on hot days.
The light weight of the chair makes it portable.
The recline feature is very easy to use.
Cons
The locking knobs on the side of the armchair aren't efficient when it comes to locking the chair into your desired position.
As most loungers on this list come with a tray table, a missing tray table on this chair can put off some people.
---
Best Budget Runner-Up
The Textilene Lounge Chair by PHI VILLA is a great lightweight zero gravity lounge chair. The chair is of light grey color, and the mesh is soft and provides great breathability. The chair comes in preassembled, so it can be used out of the box.
The Textilene fabric is durable, cozy, and softer as compared to the fabric used by most lounge chairs. With good ventilation for minimal sweating and UV-resistant oxford fabric on the chair makes it great for summer use.
The soft material allows for sitting smoothly, and you can recline the chair comfortably from any position. The foldable canopy sunshade on the chair can be adjusted to any position. It can also be flipped back if not needed.
The light weight of this chair makes it extremely portable. You can place it anywhere you want and enjoy relaxing on this lounge chair. The light grey color and the overall design of the chair are aesthetically pleasing.
The chair is quite suitable for people up to six feet tall. Taller people might find the chair to be a bit short for them. It can hold up to 300 lbs of weight. The frame made of heavy-duty stainless steel allows for steady reclining.
The lock catch mechanism is easy to use; all you need to do is push the clip front and unlock, and once you recline the desired position, pull the clip back and lock it.
The chair doesn't have a side holder tray, that is present in other PHI VILLA models, but the canopy sunshade makes up for it as it's a feature that no other loungers provide on this list.
PHI VILLA Textilene Zero Gravity Lounge Chair is Suitable for:
The chair adds great aesthetic value to your place with its minimal design, and oxford fabric and can complement any outdoor environment. The canopy sunshade is a great addon and is suitable for people who need a sunshade when resting on the beach.
Sale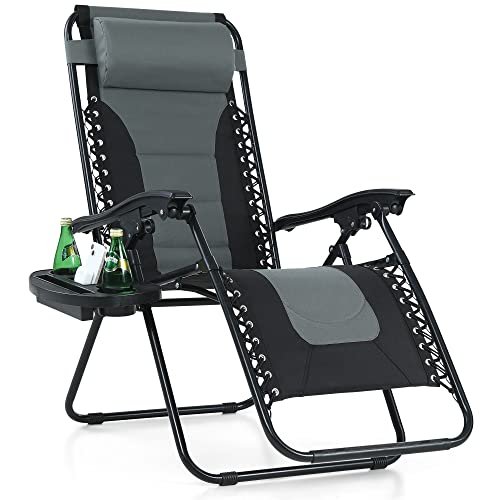 PHI VILLA Oversize Padded Zero Gravity Lawn Chair Anti...
Extra-wide Seating: A wide 24-inch seat with additional padding and a 350-pound capacity creates a comfortable space to lounge for hours on...
Zero Gravity Reclining Chairs: The Length of extra long chair when fully reclined is large enough for big and tall people 6'2". Strong...
Detachable Side Tray: Includes a convenient accessory tray that can be uses as a cupholder, phone mount, and a tablet holder to keep your...
Pros
Easy folding and lightweight design makes the chair portable and allows convenient storage.
The fabric is durable and strong.
The chair comes preassembled and can be used out of the box.
Cons
The chair doesn't have a side holder tray
The canopy sunshade is adjustable but not detachable
---
Is Zero Gravity Chair Good for Back Pain?
I am an old person… well not really, but that's how my back makes me feel! Life is getting increasingly stressful and amidst all the rushing to and fro and unhealthy habits, what suffers the most is our body. From back pains and stiff necks to constantly being tired and fitful sleep patterns – we all suffer from them to some degree.
But if there is a problem, the solution can't be far behind! One such solution is getting the best zero gravity chair for back pain. But what exactly is it, and how does it work? Also, is it as good as they say? I know you have questions, and I have the answers! Read on –
Zero Gravity
The first thing to make clear is that the term 'Zero Gravity' actually refers to a position which helps minimize the pressure our body is constantly under due to the Earth's Gravitational force. And a chair (or recliner) that incorporates this position in its functions is called a Zero Gravity Chair.
The Zero Gravity position consists of keeping your head and legs elevated, with your knees being at the same level as your heart. This position is actually what the astronauts use while in a shuttle leaving the Earth's Gravitational field at full speed, to minimize the effect of the enormous pressure the body and specifically the spine is put under.
Is it helpful?
The zero-gravity position spreads out our weight evenly and helps elevate the pressure on our spine. The gravity constantly bears down on our body resulting in increased pressure on muscles and compression of the spine. But resting in a position of zero-gravity gives our spine and muscles the much-needed room to breathe. Thus, relieving any pain or inflammation that we might be suffering from.
Our neck and back are properly supported while elevating legs to heart level improves blood circulation. Our body gets adequate oxygen, which in turn acts as a catalyst for natural healing and purification of cells. This is a position that relaxes the body as a whole and allows us to unwind better after an entire day of fighting deadlines and gravity.
So yes, Zero Gravity chairs not only relieve back pain but are also good for circulation and can aid deep sleep. Goodbye feeling old, goodbye aching back… and Gravity? You got nothing on me!
Are Zero Gravity Chairs Worth It?
Now that we are aware of what exactly a zero-gravity chair is, let me tell you the health benefits that it has and why it is worth investing in.
The zero-gravity position is the healthiest and most comfortable way of sitting because you don't feel external pressure, and your body weight is evenly distributed.
It is very common for individuals to find their legs falling asleep due to the restricted flow of blood when sitting in a bad posture for long hours.
Similarly, if you are dealing with any swellings in your legs, you can reduce it by using a zero-gravity recliner as it guarantees optimum blood circulation by elevating your legs over the level of your heart. This also reduces the unnecessary pressure on your neck and vertebrae, minimizing pains and fatigue.
I believe that zero-gravity chairs are exceptionally worthy of your money. It is high time to introduce a way of sitting in our lifestyle to make the position that we are for a good chunk of the day, stress-free and rejuvenating.
The plus point is feeling like an astronaut! We might not get to space anytime soon and feel the "weightless sensation" like our astronauts, but we can definitely have its feeling using the zero-gravity chairs.
Conclusion
Zero-gravity chairs are a great investment, health and relaxation wise. My pick would be the Caravan Oversized Zero Gravity Chair. It is portable, so you can have your relaxation session anywhere you like. My pick would be the beach. Closing in with its movability is the Timber Ridge Zero Gravity Chair. This one is great for camping, patio, lawn, garden, yard, or balcony use.
I also have to value for money options in the Best Choice Products 2-Person Chair, which is great for partners to relax and unwind; cuddling up feels great in this one, and also more space for a single person using this; and the PHI VILLA Oversize XL Padded Lounge Chair, the wooden armrests are a great addition to an already good chair.
Not to forget the Budget options, AmazonBasics Zero Gravity Chair is also portable, and AmazonBasics has become my go-to for getting good quality products at a budget price. PHI VILLA Textilene Zero Gravity Lounge Chair is a close one with its fabric and design that makes it a great option for the outdoors.
No matter which one you pick, you are going to enjoy lying in a zero-gravity position. So let me know which best zero gravity chair you would pick and why.