Best Overall
Eagles Nest Outfitters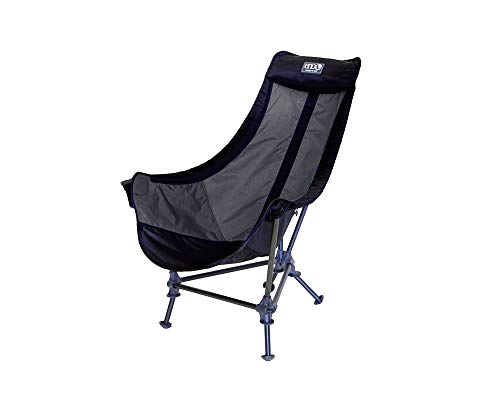 Best Value
PORTAL Zero Gravity Recliner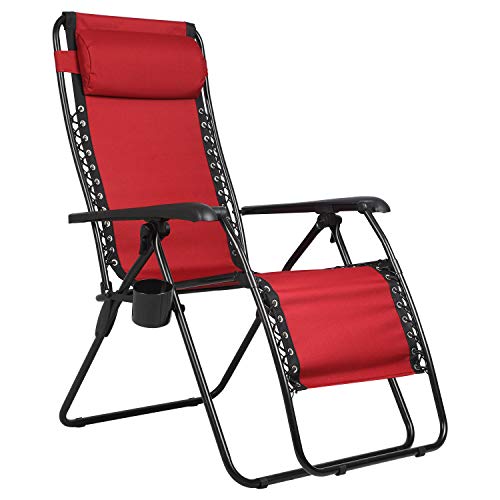 Best Budget
Urban Shop Faux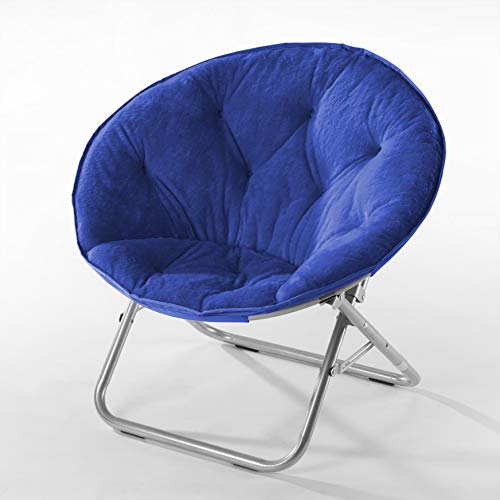 Be it your workplace or your home, having a comfortable chair to sit on makes all jobs pleasant. Nothing can replace the satisfaction that comes from sitting on a lounge chair. Although, with so many lounge chairs available, it becomes hard to pick one from them. Taking this need of customers in mind, we have decided to review the chairs for the lounge in the market. This article will help you find the best lounge chair, which will suit your needs and make your weekends pleasant.
6 Best Lounge Chairs for 2023
We have sorted the six best lounge chairs into three categories in this section. We have sorted them based on the requirements and priorities of different users. Go through this section to find out more about these chairs. Following is our list of some great lounges chairs.
Best Overall
ENO Lounge chair is a reliable camping one that offers flexible usage. It weighs as little as 5 pounds, which makes it very easy to carry anywhere. Despite this low weight, it is a highly durable chair. It is made of 210D ripstop nylon with a strong nylon frame and can carry up to 250 pounds.
Suitable for:
It is suitable for people who camp often and require lounge chairs for outdoors. There are many portable lounges available in the market, but it is hard to find a 5-pound multi-purpose chair that can carry up to 250 pounds.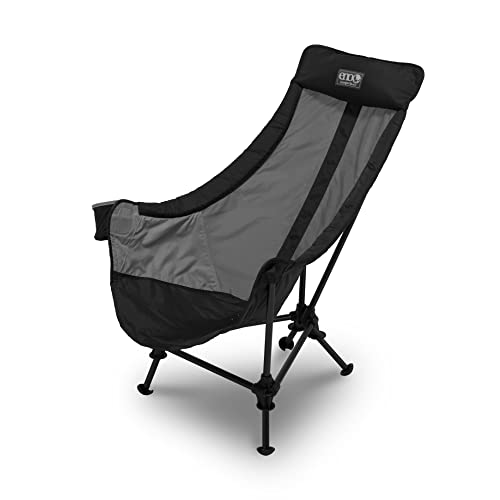 ENO Lounger DL Chair - Portable Outdoor Hiking,...
Camping Accessories: Relax on a hiking trail, beach, or camp with this chair's high back and pillow
Lightweight Travel Chair: 74 Oz with a 250 lb capacity; great travel accessories for men and women
Adventure-Ready: Durable ripstop nylon and travel bag with a strap for camping, backpacking, or hiking
Pros
The chair's leg height is adjustable, which makes it flexible for usage by more than one person.
The aluminum frame and the high-quality nylon give it unmatchable durability.
Light-weight, with shock-corded assembly, gives it easy portability.
The lounge chair comes with two cargo pockets and a cup holder.
The chair can be carried anywhere and everywhere.
Cons
Setting up repacking takes some effort, unlike most portable chairs assembled within seconds.
---
Best Overall Runner-up
This list would have been incomplete without a mid-century indoor living room lounge chair. Baxton Studio Sorrento comes with a classic design with an upholstered wooden frame that can match in various indoor environments. The cushions are made of leather for comfortable sitting and durability. The chair also carries a touch of Eames lounge chair and ottoman. 
Suitable for:
This chair is best for people who love classic items with a modern touch. It is suitable for indoor requirements and can work as a waiting chair for your office or a multi-use chair in your home. 
The chair is beautifully designed to suit most indoor backgrounds. It can also be used for outdoor purposes occasionally.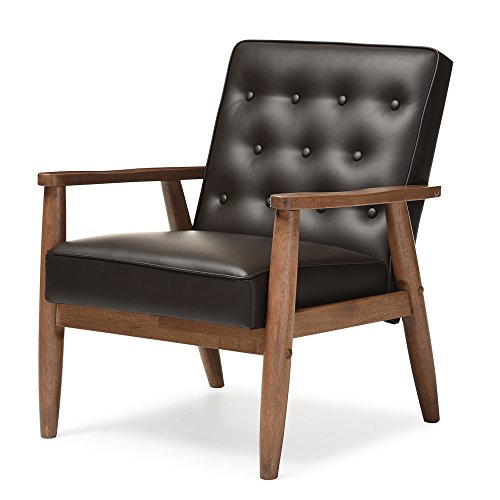 Baxton Studio BBT8013-Brown Chair armchairs,...
Mid-century lounge chair
Finishing: dark walnut. Seating Dimensions- 17.16 inch High (from Floor) x 20.09 inch Wide x 20.28 inch Long. Arm Height-6.05 inch High,...
Button-tufting with piping on the edges of the cushion
Pros
It is not heavy and easy to transport from one room to another.
The chair is effortless to assemble.
The cushions are removable.
It gives unmatched comfort.
Cons
Can not withstand access exposure to outdoor environments.
---
Best Value
Zero gravity recliner chairs are valued for money products. They can be used in all environments, can be assembled within seconds, and used anywhere. It is even more than accurate with this PORTAL recliner lounging chairs outdoor. It comes for an affordable price. It is one of the low priced products of the Portal, with all the required accessories.
Suitable for:
It is a perfect item for people who need the best for what they spend. The chair is also suitable for those who are more massive. The upper capacity is 300 pounds, which is significantly more than other outdoor competitors. It can be used for various purposes as it provides multiple positions. The headrest of the chair is also removable, which is perfect for flexible usage.
No products found.
Pros
Value for money
High weight carrying capacity
The available colors are adaptable to outdoor as well as indoor environments.
The chair is multifunctional with dIfferent folding options.
Compact and straightforward folding mechanics make it easy to carry.
Cons
It weighs more massive than other portable competitors.
Despite the simplicity of folding, it requires some strength.
---
Best Value Runner-up
If there has to be an alternative value for the money lounge chair, it must be the KingCamp Chaise lounge chair. The chair can be locked in multiple positions for various purposes. It comes with a pillow that is adjustable as well as removable. The durability is reliable as the frame is made of anodized steel and the fabric used is 600D oxford. It comes with all those attractive features of multi-purpose outdoor lounge chairs with extra strength and durability.
Suitable for:
People up to 6foot 2inches tall and 264-pound weight can use this lounging chair. This chair is best for outdoor requirements.
Sale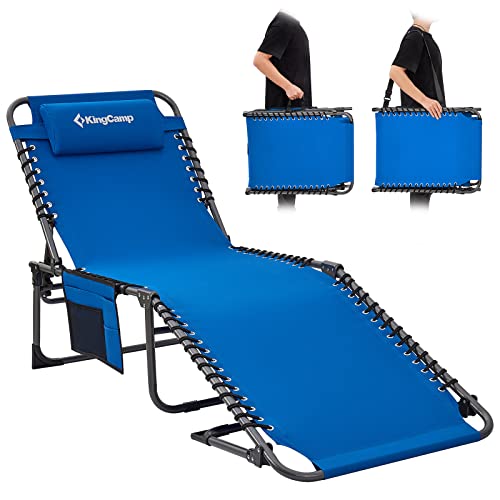 KingCamp Outdoor Chaise Lounge Chair, Portable...
Adjustable and Ergonomic Design: Our adjustable chaise lounge chair features a 5-position locking system that allows you to sit up, recline,...
Sturdy and Comfortable: The outdoor lounge chairs is made with durable anodized steel and 600D oxford fabric, which is suspended by a double...
Multipurpose Folding Chair: The folding lounge chair is perfect for outdoor and indoor use, such as at the beach, patio, pool, lawn, garden,...
Pros
The product provides the best value for money.
It is lightweight and portable.
The material used is very durable, and weight limits are better than other competitors.
It is multi-purpose and can be locked in several positions. The chair can be used for sitting in different places and lying down.
You can use it as a reading chair.
Cons
It would not suit with some indoor designs.
---
Best Budget
Urban Shop Faux is the best budget lounge chair available in the market. It comes for a low price of 38 US dollars. It is not foldable, making it unusable for travel purposes, but it is a good fit for home and workplaces. It can carry weight up to 225 pounds with ease.
Suitable for:
It would be the best choice for short on budget people and want a comfortable, good looking lounge chair. Urban shop faux chairs are fit for smaller and moderate weight users. Large people find it too small and uncomfortable.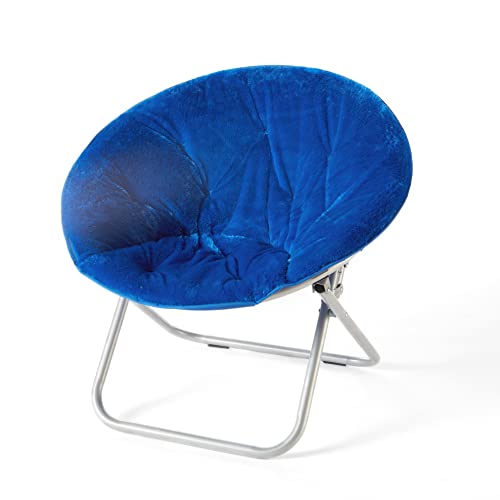 Urban Shop Faux Fur Saucer Chair with Metal Frame, One...
DESIGN: Settle into a seat that loves you back and is designed to fit your body. A saucer chair designed in a gorgeous blue color that will...
COMFY AND COZY: Provide a convenient place for friends or family to sit with this ultra-cozy and comfy saucer chair. This saucer chair is...
FAUX FUR MATERIAL: Covered in super soft faux fur to add to this saucer chairs touch and coziness. A material that makes it so comfortable...
Pros
It is compact and can be folded easily.
Super Soft and cozy fabric.
Very affordable.
Cons
Small for larger adults, and they find it uncomfortable.
Lacks a lot of features when compared with costlier chairs.
---
Best Budget Runner-up
The Ostrich Chaise Lounge chair is another budget lounge chair on the list. It can be used by people of all sizes and weights, unlike the Urban Shop Faux. It is very lightweight, but it can still carry up to 250 pounds. You can buy it for a price of 58 US dollars.
Suitable for:
This lounge chair is best for people who like spending time in the sun or on beaches. It is for the people who can not spend a massive amount of money on lounge chairs for outdoors but want all-round lounging chairs out.
No products found.
Pros
A very comfortable head pillow.
It is a multi-use lounge chair that can be used for all outdoor purposes.
The chair is adjustable and can be used for sitting as well as lying.
The chair is portable, and it can be folded easily.
It is affordable.
Cons
The product is not very durable.
Setting up and handling takes some attention from the user.
---
When we buy a lounging chair, there are a few questions that arise in our minds. Keeping that in mind, we have tried bringing together and answering some common questions related to lounge chairs. This section should help you gain clarity regarding lounge chairs. Please go through it to find an answer to some common doubts.
How to choose the best lounge chair?
Lounge chairs come in various sizes and shapes. Sometimes it becomes difficult to choose the right item when there are so many differences. Therefore, it becomes essential to research well before you dive into buying a lounging chair for your needs. 
The two primary distinct purposes of such chairs can be outdoor usage and indoor usage. If your requirements are for outdoors, then it is best to choose from zero gravity, multiple position locking, and chaise chairs. The material provided does not degrade quickly in outdoor environments. You should also consider your budget before you finalize a chair. You can easily find flexible multi-purpose chairs at a low price nowadays. They might not be as reliable and good looking as the costlier ones, but they do their work well.
Many buyers face the other doubt whether they should buy a multi-purpose chair or purpose-specific lounge chair. If you want a lounge chair to be with you at all times, then you should buy a multi-purpose and multi-fold chair doubtlessly. Otherwise, it is better to choose a chair specific to your needs. The reason being that multi-purpose chairs have to cut on other aspects such as strength to provide this flexibility.
What are some significant differences between outdoor and indoor lounge chairs?
The indoor chairs usually use a wooden frame to match the indoor environments and to provide strength. They are usually more robust and more durable than the outdoor lounge chairs, but they can not survive the sun and the moisture like other frames. 
The outdoor chairs are usually flexible multi-purpose chairs with low weight, high compatibility, and high portability. Outdoor chairs are typically made of thin single-layered material with supporting lightweight metal frames. 
They may not have the wooden/ heavy metal chairs' longevity, but they are excellent at what they are made of. 
Besides, the indoor chairs are designed for formal settings and can be used in offices and homes. The outdoor lounging chairs are intended for relaxing purposes and carry an informal touch with them.
The outdoor chairs usually have upper weight limits, while the indoor chairs can generally carry large weights. The indoor chairs have more room than the outdoor chairs.
What are some precautions that people must take while using lounge chairs?
The fast-growing technology has improved many products' quality, and the louse chair market has not been left untouched. The strength, flexibility, and comfort of the chairs have increased manifold. It still does not give the users the right to exploit them. They will serve you best if you handle them with care. Some tips:
For the outdoor chairs, it becomes crucial to go through the guidelines attentively. Some of them come with multi-locking options, but you can surely mess it up if you have not read the instructions carefully. 
The indoor chairs should also be handled with care as they are also intended to give an excellent look to your rooms. A slight cut in the leather, and you will have to spend a tremendous amount of money to get it fixed. The leather and the wood should be protected from moisture and water to ensure longevity.
Conclusion
We hope this article helped you in figuring out things for yourself. This list has been prepared after a lot of research to provide the best advice to our readers. We have tried to include three kinds of chairs in this list- the best overall ones, the best value for money ones, and the best budget ones. You need to list down your needs and choose a lounge chair wisely. If you are a regular traveler, then a camping lounge chair will be your constant companion.
Even if you are one of the nerds who loves staying in the house with books and gadgets, you will still spend a significant time on your comfortable chair. Almost all of us spend considerable time in our lives in a sitting posture. This reason makes it essential to put some effort into choosing a lounge chair. I hope you enjoyed the article and got an idea of what to choose.