Best Overall
Herman Miller Eames Lounge Chair and Ottoman
Best Value
Domesis Renu Leather Wall Hugger Power Lift Chair
Best Budget
Homall Single Recliner Chair
If you're a book lover (like me) and you read books (as you should), then you know having a cozy reading place is a must. Reading for hours sitting in one place can be tiring and can ruin your good read. This is when you'll realize that you need a good comfy chair that'll make reading more enjoyable.
My list will help you choose the best reading chair for your needs. From a book lover to a book lover!
Table of Contents:
Best Reading Chairs:
Best Reading Chairs
Best Overall
Herman Miller is one of the most popular brands when it comes to chairs. No wonder they have one suitable for reading.
The Eames chair is made with plywood and leather, including 7 ply veneers, only most durable and reliable materials are used. The construction process includes individually upholstered cushions. Die-cast aluminum back braces are used for support, and it has stainless steel glides.
The chair is handmade, and each part is assembled by a skilled worker. The chair is checked for any defects or flaws. The ergonomic design and support is a huge part of the design. This constitutes the high price tag this chair comes with.
Herman Miller Eames Lounge Chair and Ottoman is Suitable For:
I would say if you have the budget or can afford to save up for it, then you should definitely go for this chair. Herman Miller chairs are an experience you can never forget. The make and durability are all worth the hefty price tag it comes with.
Although only a few manufacturers are allowed to replicate this unique design, Herman Miller still stays at the top.
Pros
High-quality, durability, and comfort are key with Herman Miller chairs.
It has natural rubber shock mounts.
The chair is also available in 2 different sizes.
Iconic style – only a few manufacturers are licensed to make to maintain quality.
There are over 50 different colors of leather available, with everything from lights to darks.
Cons
The upholstery is high-maintenance.
Really high price tag.
---
Best Overall Runner-Up
This Mid Century Lounge Chair from Casa Andrea Milano has one of the most elegant designs. The hardwood frame is sturdy and made from high-density laminated wood, and the high-quality leather upholstery brings the classic element.
The Palisander Wood with Black Leather that we chose has a rich and classic feel to it – making it not only perfect for a library but also a reading nook. There are many other color options for you to choose from, not only the upholstery but also the wood.
The leather options are two: black or cream white.
The wood options are quite a few: Ashwood, Black Ask, Classic Ash, Rose Palisander, Palisander, and Walnut.
The unique ergonomic design offers comfort and support for those long reading sessions. It provides a 15° tilt angle, and it can support up to 330 lbs. The backrest and the seat are designed with a concave structure to take off the pressure from your back and thighs, while the headrest and armrests provide excellent support for your neck and arms.
Ergonomic Mid Century Lounge Chair With Ottoman is Suitable For:
The Mid Century lounge chair is suitable for living room, bedroom, leisure area, club, office, open roof, and study, any place if you want to enjoy your relaxation time. This is a good replica to the Herman Miller Eames chair with half the price point.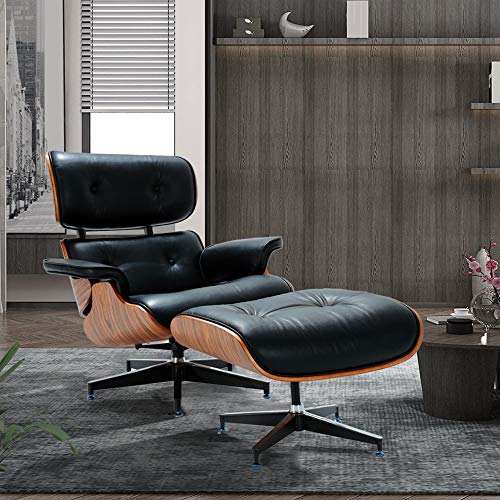 Mid Century Lounge Chair and Ottoman, Modern Chair...
【UNIQUE DESIGN】15° TILT ANGLE, unique ergonomic design offers the best of comfort, professional made.
【LUXURIOUS and HIGH GRADE】High-quality Full Genuine leather,High density laminated wood and thicker sponge, wide armrests and ottoman...
【MULTIPLE SCENES】Mid Century lounge chair suitable for living room, bedroom, leisure area, club, office,open roof and study, any place...
Pros
The design is elegant, and the build is sturdy.
The soft and plush foam padding is comfortable and durable.
Comfortable design and supportive structure.
The swivel mechanism is easy to use.
Versatile design makes it easy to be used in any room.
A good budget replica to Herman Miller Eames
Cons
High-maintenance upholstery, but it comes with leather chair care instructions.
It comes in two boxes, so you can't use it right out of the box. You will have to assemble it.
---
Best Value
The Domesis Renu chair features a wall-hugging design. This design means that the chair only needs to be 4 inches away from the wall to lift and recline. Although the looks aren't great, it is one of the most comfortable chairs for reading.
The ergonomic design also makes it supportive of hours of use. The upholstery is resistant and plush with high-density foam. It is soft and breathable. It also has a side pocket that you can use to store your remotes or even the books that you are currently reading.
The reclining design is also inclusive of a lot of things. The lifting and reclining of the chair are carried out by a powered two-button control. The lifting option helps people with mobility issues to sit or get up easily. The recline option is great to read while lying down or for taking a nap.
Domesis Renu Leather Wall Hugger Power Lift Chair is Suitable For:
Because of the easy recline option and comfortable and supportive built, it is great for the living room or bedroom, where it can be used to watch TV along with it being a reading chair.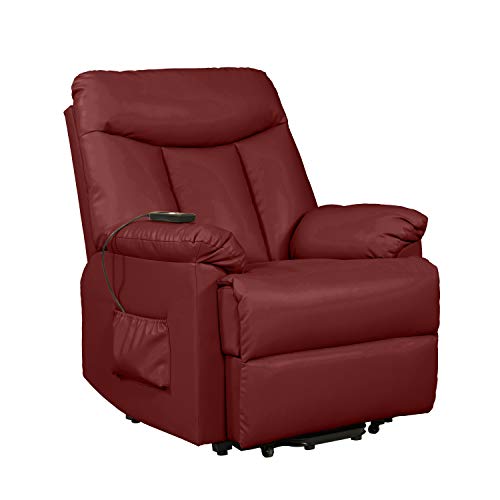 Domesis Renu Leather Power Lift Chair Recliner, Black
ASSEMBLE IN MINUTES - The laminated hardwood and steel frame chair supports up to 300 lbs and is designed to take no more than 10 minutes to...
2 BUTTON POWERED RECLINER CONTROL- An easy 2 button controller allows you to simply hold the up or down button for help in getting in or out...
ERGONOMIC SUPPORT - Fully padded with plush, high-density foam giving just the right amount of cushion in the back, seat, and legs.
Pros
Plush-padding makes the chair comfortable.
It boasts of a breathable design.
It can support up to 300 lbs.
User-friendly for mobility-challenged people.
It reclines and lifts with ease.
It comes with a side pocket for a remote.
Space-saving because it is a wall-hugger.
There are four different colors available: black, brown, burgundy, and cream.
Cons
The big frame isn't very good-looking.
It is too big for cramped spaces.
The upholstery can get scratched easily.
---
Best Value Runner-Up
The HT PC-420 is a great chair if you like reading when you're lying down. The 180-degree recline feature helps you to be comfortable when lying down.
The zero-gravity seating design allows deeper and more relaxed breathing by expanding the lung capacity. The neutral posture positioning helps you distribute your body weight evenly and takes the pressure off of your spine, which is why this is a great option to help you relieve your body pain and eliminate pain from pressure points.
The SofHyde upholstery is a leather-like polyurethane material, which is soft and durable. The wood base is made from the Hevea Brasiliensis (the rubber tree), which is hand-carved and hand-sanded. This also justifies the high price point of more than $2,000.
The design isn't space-saving, so you might need more space to use the chair fully. The reclining is smooth; it comes with a head pillow, extendable armrests, and boasts good lumbar support.
Human Touch Perfect Chair "PC-420" is Suitable For:
This is the perfect chair for people with a bad back and/or who have posture issues. It is supportive, helps you stay comfortable, and promotes better breathing. It promotes good blood circulation and also lets you relax fully. The price can be an issue, though.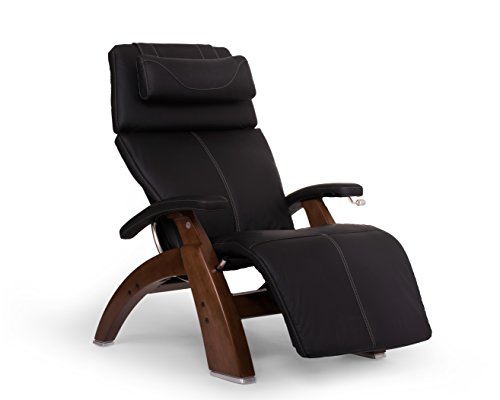 Human Touch Perfect Chair "PC-420" Better-Than-Leather...
Neutral posture positioning evenly distributes body weight to eliminate painful pressure points. Zero-gravity seating expands lung capacity,...
The Recline Lever. The smooth recline motion eases the Perfect Chair to position your body in a state of virtual weightlessness
Choose the comfort and style of SofHyde. The captivating SofHyde upholstery is a leather-like polyurethane material that does not include...
Pros
This chair has therapeutic benefits such as decreased backaches.
It helps you achieve improved blood and air circulation.
The recline is smooth with a side lever.
The zero-gravity and neutral positioning designs are relaxing.
Soft upholstery and strong frame make it a durable option.
Many color options available.
Cons
It does not look very elegant when reclined completely.
Not space-saving because it opens up fully.
The back of the chair isn't attractive – you can see both the canvas underneath the leather upholstery as well as the mechanical lever.
---
Best Budget
The Homall Single recliner chair is the best chair I could find that fits a good budget. The chair is made of PU leather upholstery, which is easy to clean and maintain but can get scratches easily.
The padding is comfortable and will support you for long hours of reading. The backrest has thick padding as well. But, a high-density thick sponge and PU leather makes the chair less breathable.
The footrest is adjustable, which will allow you to customize it. The armrests are curved and wide enough to support your hands without them feeling pressured. The headrest provides good support to your neck.
Homall Single Recliner Chair is Suitable For:
It is a great budget chair for around $100. The decent quality with a great design and many color options gives you a wide range of choices without breaking the bank. Although this is a bit more pricey than our Budget Runner-Up, it is still the top choice because of its features.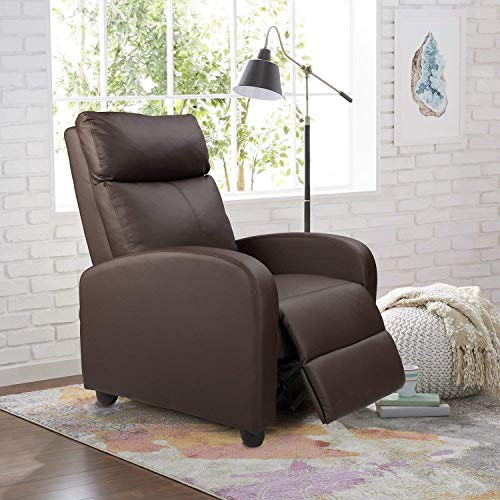 Homall Recliner Chair Padded Seat Pu Leather for Living...
Material: High quality pu leather, comfortable skin friendly and easily cleaned, high density thicker sponge, high resilience and high...
Adjustable Recliner: This recliner can be used as three kinds of shape from 90 to 180 degree, suit for gaming, working, watching movies and...
Upgraded Footrest: Highly durable steel frame with thicker foam padding, better to enjoy your favorite tv shows or rest.
Pros
Soft and low-maintenance upholstery.
The recliner makes it supportive for long hours of reading.
The chair design is compact and can fit in any corner.
It comes with a reliable warranty – a 1-month replacement/ money-back guarantee if you don't like this chair, plus a 1-year repair warranty.
Cons
Not very resistant.
It is more suitable for petite users.
You can hear creaks under pressure.
---
Best Budget Runner-Up
Ikea has become synonymous with affordable furniture. Ikea's version of a reading chair is called POANG. It has a very sleek and minimalistic design. It is built with a sleek wooden frame and a rather simple cushion seat.
The Ikea armchair has a few iterations for their POANG line. Depending on your budget, you can upgrade to the leather version as well. The best thing about Ikea armchairs is that they also have a fairly-priced ottoman, so you can get one and create your own reading nook within a budget.
It is extremely lightweight because of the minimalistic design approach and can also fit elegantly in small spaces and is easy to move as well. It also has a few color options for you to choose from.
Ikea POANG Armchair is Suitable For:
Apart from the budget price point, which is around $79, there are a few things that make it suitable for any place. If you have a small space like a dorm, apartment, small home office, or even a corner reading nook, this compact chair is the perfect option.
Pros
Style – The POANG not only meets your comfort needs but also your fits as stylish interior decor.
The chair imitates the body's shape making it cozy.
It takes less than half an hour to put together the POANG making it easy to assemble.
The wooden surface has a good finish that makes it easy to wipe it with a cotton cloth.
The cushions are removable and can be washed.
Cons
Pet hairs stick to the covers and are very visible on the brightly colored cushion covers. They are also a pain to get off.
Getting the cushion back on the cushion cover after a wash can be tricky.
---
How do I choose a Reading Chair?
The main thing you want from a reading chair is comfort closely followed by support. Plusher and more cozy options usually rule the design of a reading chair.
Look for an ergonomic chair that can support your body in all positions, while maintaining the natural S-shape of the back. It should be designed with a waterfall edge to take off the pressure from your thighs when sitting. The fabric should be breathable, resistant, and easy to clean.
The chair should easily sit up and also recline. An extended ottoman is a plus so that your legs can relax too. The armrests should be padded and wide to support prolonged hours of reading. The headrest shouldn't be overlooked; your neck needs support not to feel stiff. It should have a swivel function so that you can rotate the chair in any direction.
When it comes to design, size, and type, choose one based on your needs – wood frame, steel frame, hanging chair, rocking chair, accent chair, etc. Add a space-saving design to the list because reading chairs can sometimes be very bulky.
Conclusion
Choosing a reading chair shouldn't be too difficult. My best pick is the Herman Miller Eames Lounge Chair, which comes with a matching ottoman. I have also talked about the Best Value and Best Budget options. I have mentioned chairs from $79 to over $2,000, so hopefully, you can find a comfortable reading chair that fits your budgets and your needs. Happy reading!