Best Overall
Duramont Reclining Office Chair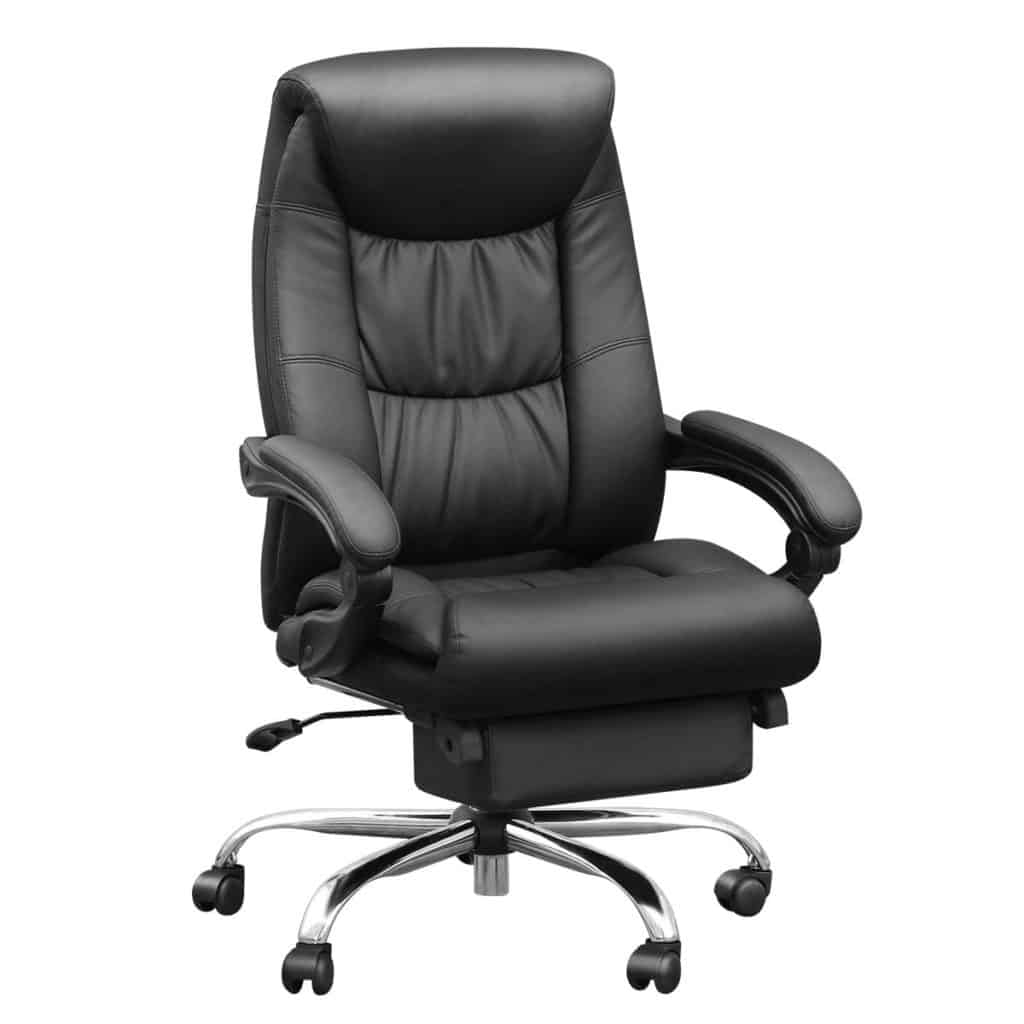 Best Value
Merax Portland Big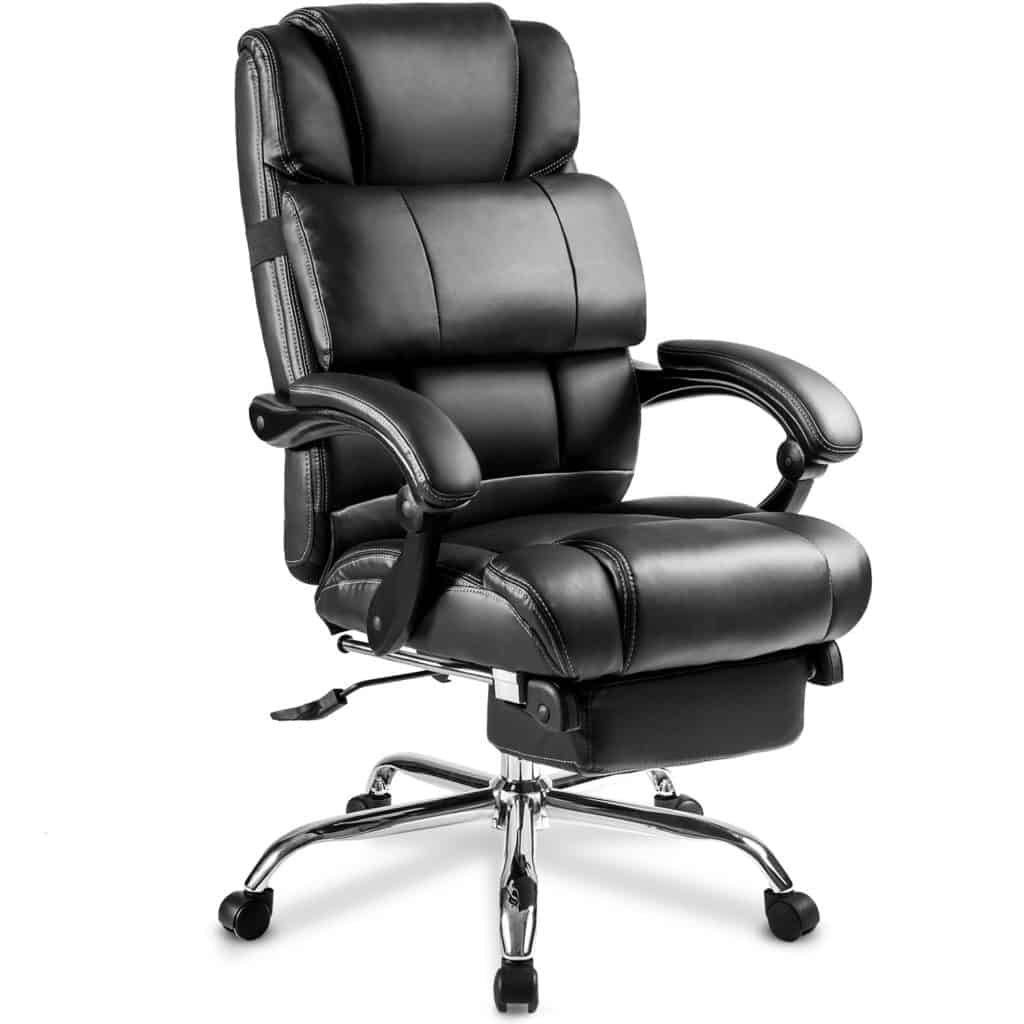 Best Budget
Killabee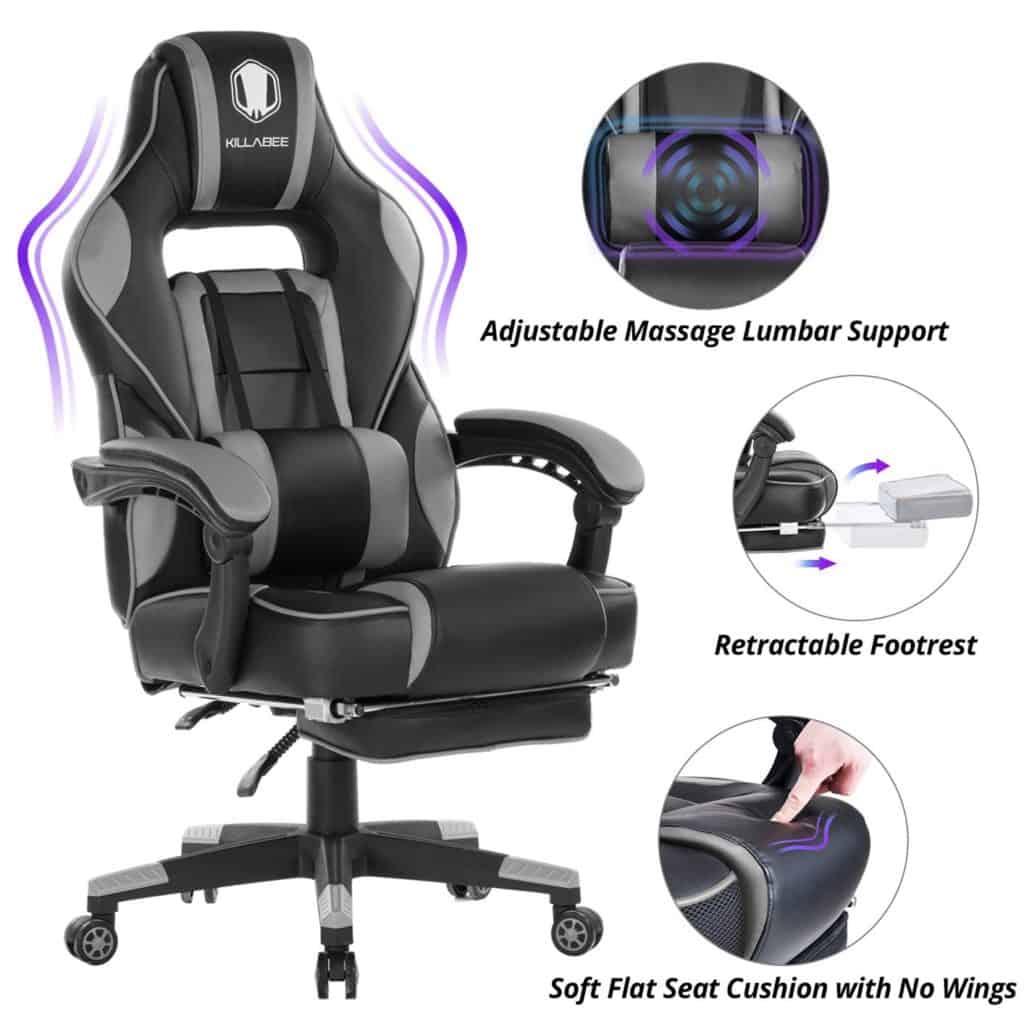 Have you been stuck in your office chair for hours? Prolonged sitting, especially in one position, can cause anything from mild discomfort to severe back pain. If you're inseparable from your desk, you can try moving or walking to minimize the health risks. 
You can also get a reclining chair to slip into your most comfortable position while working. With this simple hack, you can be both productive and feeling relaxed. Find the best reclining office chair with a footrest to boot as you read through our guide and reviews.
Here's a quick list of the chairs that we are going to be discussing the review in great detail of:
Best Overall
The Duramont reclining chair combines comfort and sturdiness in its 33 x 26.5 x 18-inch frame. Focusing on work for hours on end can be easy with proper lumbar support, multiple recline angles, and the right padding feel. Duramont features all of these in this ergonomically designed chair.
Rest a bit by taking naps or reclining idly, taking advantage of the angle options, which range from 90 to 155 degrees. Tilt knobs are found under the seat to help you lock the chair in Comfortable Work Mode, Reading Mode, and Sleep Mode. 
It comes with a retractable footrest to complement whatever mode you choose. Also, you can raise the seat up to 22.5 inches if you have longer legs. But the armrests are not adjustable. This reclining chair appears in an elegant black number.
The Duramont Reclining Office Chair Is Suitable For –
Those with average height could enjoy the medium-high back design, as well as the waterfall seat edge and footrest. The maximum weight capacity of this chair is 250 pounds.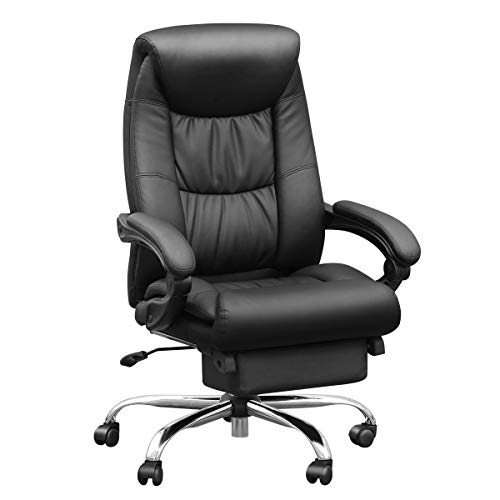 Duramont Reclining Leather Office Chair - High Back...
★ UNIQUE WATERFALL SEAT EDGE - The high back design gives you maximum support for comfort and convenience. The chair has soft padding and...
★ FLEXIBLE RECLINING ANGLE WITH RETRACTABLE FOOTREST - You can adjust the office chair any way you need to so that it can accommodate all...
★ HIGH-END MATERIALS - We make sure that we use the right materials for maximum comfort and style. The chair is made with bonded leather...
Pros
Ideal for people who want a lot of room for stretching out. The recline feature goes all the way back, and the height is adjustable.
Sturdy and comfortable, with lumbar support enhancing the effects for the body, especially the back.
Easy to assemble even if you're doing it alone, so putting it together with an extra pair of arms is a breeze.
Cons
The medium-high seat is not too high and not too low. But a tall person may struggle to find support for their whole back.
Semi-firm due to synthetic leather padding that may not be liked by everyone. Those who want a soft seat may need to add more foam.
Prone to tipping in the front when the user is switching to a different angle, picking up something from the floor, or getting up.
---
Best Overall Runner-up
Don't be fooled by its name. The Homall Gaming Chair may have been primarily for the warriors, healers, and mages of video game worlds. But it's also pretty functional in the land of to-do lists, productivity goals, and overtime sessions. It can recline from an angle of 90 to 150 degrees, adjustable through its tilt locking mechanism. More importantly, it rocks back and forth, unlike some models on this list. And it sports a 360-degree angle swivel.
Its frame is made of steel to withstand daily wear and tear. The body is shaped to prevent collapse. All of its resting points are well-padded for comfort and support, from the headrest and backrest to the armrests and seat to the base. Pull out the footrest to complete the rest and relaxation process. All of these are enhanced by the reclining chair's interesting color selection: black, gray, green, and purple.
The Homall Gaming Chair Is Suitable For –
It's advised that the maximum weight that can be placed on this reclining office chair is 300 pounds. Individuals who are tall can lean their backs on the high back and stretch their legs on the seat and footrest comfortably. Even your budget gets to breathe with its affordable price.
Sale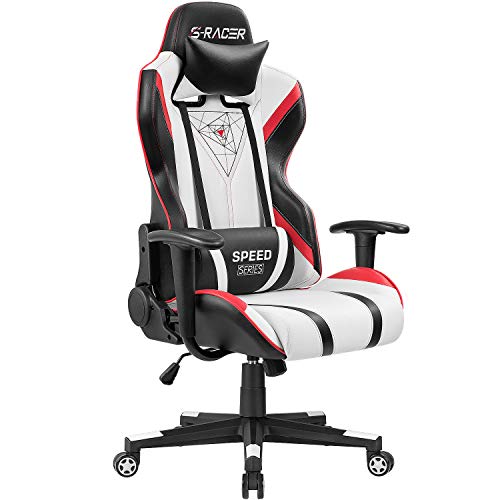 Homall Gaming Racing Office High Back PU Leather Chair...
Occasion: Homall s-racer gaming chair, perfect for office, home, conference occasion and gaming room.
Fashionable: The latest work of homily's professional designer, featuring in popular elements like patchwork, stitching, embroidery,...
Selected material: high Density shaping foam, more comfort, anti-oxidation, elasticity resilience and service life; 1. 8mm thick steel...
Pros
Soft to the touch, the cushion automatically feels comfortable – no need to wait for a few weeks to break it in.
Easy to assemble, as long as you follow the instructions in the manual. Its holes are drilled and align with the screws perfectly.
Stylish and comfy, it marries aesthetics with practicality. You get a chair that is both classy and functional as a result. Available in black, gray, green, and purple.
Cons
Prone to collapse or break down over time. This model may last depending on individual care and maintenance.
The bulky and big frame does not fit smaller spaces, so you have to at least be at a standard-sized desk or workstation.
Non-adjustable armrests can make it uncomfortable for users who want to stretch their upper body sideward.
---
Best Value Chair
Work long hours without straining your back, neck, and buns too much. The Merax Portland reclining office chairfollows the contours of the bodyfor support. Two key features can be customized for your comfort: lumbar support can be raised or lowered, and the reclining feature can be adjusted up to 170 degrees. Sporting heavy-duty metal base and frame, this product offers the best value at its price point.
The Merax Portland Big & Tall PU Leather Recliner Is Suitable For –
This chair is fitted with casters that let multi-taskers move smoothly across the room. Those suffering from lower back pain can maximize the lumbar pillow, but anyone can benefit from it. Tall users can put the seat back to good use. However, heavier folks may need more room than this one provides.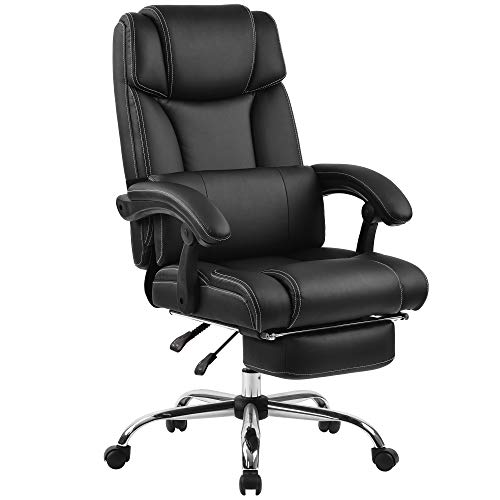 Merax Portland Technical Leather Big & Tall Executive...
Outstanding Look Office Chair: A black double-layered bonded leather office chair, classic tufted design (buttons in segmented thick back...
Work as Computer Chair Cozy as Sofa: Soft high density foam in double-bonded leather for ultimate comfort. Featured with leather curved and...
Height Adjustable Home/Office Chair: This ergonomic chair is fully adjustable. It comes with rock-back tilt mechanism, back pressure and...
Pros
The full horizontal position allows for taking a quick rest when long stretches of productivity are required, such as pulling all-nighters to meet deadlines.
The seat is firm at first but will loosen a bit after the first week of use. It provides a lumbar cushion for comfortable extended sitting.
High backrest is designed to cater to different heights, up to around 6'5. This means it is relatively hassle-free for tall individuals to sit and recline on this reclining office chair.
Cons
Lacks the rocking feature for those who want a reclining office chair that rocks and then locks at their preferred angle.
Slow recovery to the upright position may not be ideal for people with workstations that are in full view of their boss or officemate. It would be easy to get caught resting, even if just for a few minutes, which might not be allowed by your company culture.
Footrest slides out only when the chair is reclining, which can be a bummer if you want to relax your legs and feet.
---
Best Value Chair Runner-Up
With gradual points between sitting and reclining, the Homelegance Swivel Reclining Chair can be fixed according to your desired position. This model is versatile, so it works not just as a living room accent but also as an office chair. Carrying all the weight and pressure is a single pedestal. It adds a nice touch to the design, but its material may not be that sturdy.
The Homelegance Swivel Reclining Office Chair Is Suitable For –
Those who weigh 180 pounds or less can fit into the chair. But it probably will not provide enough support to those who are on the heavier side. The swivel makes an otherwise packed seat—the chair itself weighs 66 pounds—glide easily toward other directions. Resting your head and feet, simultaneously or not, is great with the dedicated headrest and ottoman.
Homelegance Swivel Reclining Chair with Ottoman, Dark...
Contemporary Aleron Collection recliner/ottoman set upholstered in easy-to-clean dark brown bonded leather and vinyl/faux...
Button tufting highlights the plush design of the wing-back styled arms and seatback, padded in high quality foam for you comfort
360 degree swivel chair with round oversize plated metal base for additional stability; Knob adjusting reclining mechanism
Pros
High-quality, firm cushion that yields a comfortable feel for your rear after long periods of working. The chair can be pulled in front of a desk, but it also does well as a standalone (if you work from home and use a laptop).
Combined support from the recliner and ottoman for average-height people since the latter can be placed at the base at an angle you prefer.
High-quality materials wrap up its design, with smooth and soft leather covering areas dedicated to the back, rear, arms, and feet. It comes in black and dark brown.
Cons
Less room for big and tall users, usually favoring smaller and lightweight frames. This is possibly due to a lack of depth.
The metal base tips do not have protection from the floor, so moving the chair and ottoman around should be done with care.
A single-pedestal chair may not be for everyone and poses some issues on durability. The welds can break loose a bit more easily.
---
Best Budget Chair
Beating the deadline should not mean beating your body up as well. While the pressure seems insurmountable at the moment, you can lean back for a few moments to reset. With the Killabee gaming chair, you can slip into power naps to regain energy. Among the options here, Killabee lets you recline almost horizontally. The range is an industry-leading 90 to 175 degrees.
Lumbar support is attached to the reclining chair, so you can adjust it easily. It sports contoured segmented cushion for optimal comfort. However, it can be on the firmer side. Like other models, it needs a break-in period. So it's best to wait for a few days to a week.
The Killabee Massage Gaming Chair Is Suitable For –
The style and colors of this model seem to fit gamers. But you can use this at home or in the office to get motivated to work. You can choose from red, blue, gray, and white.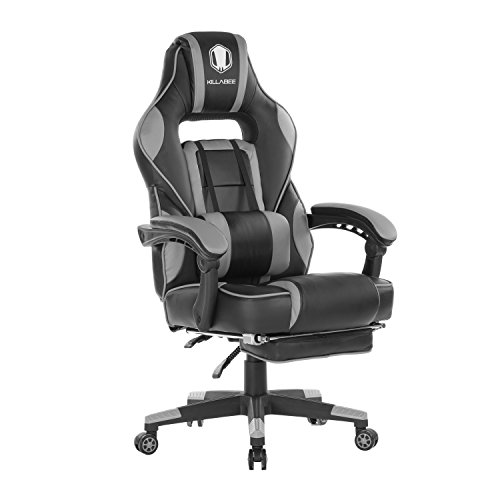 KILLABEE Massage Gaming Chair High Back PU Leather PC...
★ 【MULTIFUNCTIONAL gaming chair】 - sized at 27. 6" wide x 27. 1" deep x 48. 4" – 51. 2" high, with a 21. 3"W x 20. 1"D...
★ 【luxurious comfort with massage lumbar Cushion】 - Boasting a thick soft Seat cushion - Retractable padded footrest - thickened...
★ 【HIGHLY adjustable - customize to your needs】 - You can easily adjust our gaming chair with the Height Regulating mechanism to meet...
Pros
Decent quality for a gaming or office chair at around the $150 price point. High-quality materials and design, coupled with customer service, make a world of difference to customers.
Responsive customer service is a major source of satisfaction for many users. Some units may arrive with an issue due to delivery, which customer support successfully resolves.
A 30-day money-back guarantee ensures the buyer that the manufacturer is confident about their product and concerned about after-sales experiences as well.
Cons
Firm padding may drive away some potential users. But it tends to soften a bit after several days to weeks.
Prone to heating up after extended hours of sitting. The cooling feature of this office chair is not ideal, especially during the summer.
---
Best Budget Chair Runner-Up
Here is the last item to complete our list. Featuring nine ways to adjust the height, the Hbada ergonomic office chair/recliner can go from 40.8 to 44 inches. At the same time, this recliner office chair adapts to your movements. This is called a kinematic tilt mechanism. It can smoothly lean back between 90 and 150 degrees, allowing you to lock it in the level that's right for you. 
Further, its backrest has high-quality, breathable mesh, coupled with enhanced density, for better airflow, comfort, and support. You will definitely need cooling while tapping away on the keyboard to complete your tasks. The seat is made of fabric and foam, thick yet soft enough to support your buns. 
For customized comfort, the headrest can be attached and detached. This part uses the same mesh found in the backrest. When added, it provides support to your head and neck.
The Hbada Ergonomic Office Chair Is Suitable For –
This is the only one among the office chairs that recline on this list with a weight capacity of 400 pounds. So those who are on the heavy side may find this dependable for their daily needs.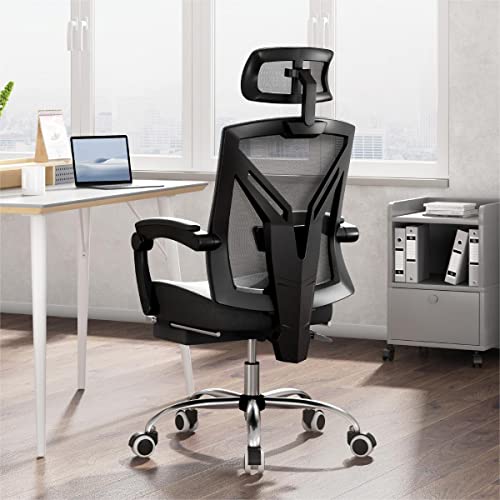 Hbada Ergonomic Office Chair High Back Desk Chair...
ERGONOMIC RECLINER - Synchro tilt reclines the backrest increasing the angle between your torso and thighs for a comfortable, ergonomic...
ADJUSTABLE OFFICE CHAIR - Waterfall seat cushion slopes slightly downward to help reduce stress on your legs. Built-in lumbar support and...
BREATHABLE MESH - Contemporary ergonomic black mesh office chair promotes increased air flow, keeping you feeling cool and comfortable...
Pros
Adjustable weight, recline level, and headrest let you customize your experience sitting and reclining in this office chair.
High-quality, breathable mesh promotes better airflow, which means it's an all-year-round chair. Those who tend to sweat too much won't worry about it during the hotter months.
Affordable at under $200, the Hbada office chair packs a lot of features in this reclining chair. It's ergonomic, breathable, and customizable (e.g. colors can be Black Standard or Black Upgraded).
Cons
Fixed armrests make for one tiny drawback, which can drive away tall and big users. The lack of room in the seating area may restrict their movements.
Lack of adjustment features at the lumbar area can also be a no-no for people suffering from back pain.
Mesh backrest may not be ideal for everyone, as it brings a different feel to the chair, which may need getting used to.
---
How Do You Recline an Office Chair?
In the last decade, an office chair that reclines has become an acceptable compromise between long periods of sitting and your body's desire to be comfortable. Some companies encourage it because it helps their employees to become more productive. Others don't because of a slew of reasons, such as the lack of space. 
So, if you have the freedom and flexibility to use or let your employees use a reclining chair in the office, do not miss the chance. To maximize the benefits of recliner office chairs, follow these tips:
1. Recline the Office Chair Only up to the Maximum Level
Most of the recliner desk chairs mentioned here can lean as far back as 175 degrees. Some models will gradually take you through different angles or modes, preset or not. Others will even rock and recline at a certain level. Whenever you adjust your chair to a reclining position, do it according to its specifications. Forcing it will only abuse the capacity of your office chair. And this can lead to collapse.
To adjust your position, use the lever, knob, or whatever part the chair has dedicated to this function. This can be found under the seat or near the base. Carefully raise the level or turn the knob, allowing you to pace through each position. In some cases, you can just move the backrest to control the recline level. Once you reach the right setting, lock the chair in. Following this part is important in prolonging the lifespan of your chair.
2. Apply Tilt Lock Properly
What is a tilt lock? A lot of office chair models we encounter, use a lever or a paddle to let you adjust the position of the chair. Through this part, you can control the recline function. You can lock the tilt of the chair by pulling out the lever or paddle. For some, this will also cause it to rock until you reach your desired level. 
Another variation of tilt lock is the tilt with adjustable tilt tension. You already know what tilt is for or what it looks like. The tilt tension, on the other hand, is a dial usually found at the bottom front. This will let you control the amount of force it takes to rock and/or recline your chair. Lastly, synchronize tilt or synchro-tilt allows the backrest to recline smoothly when you push back.
3. Adjust the Lumbar Area (if you can)
The lumbar area carries your lumbar region, which often starts to hurt when you've been sitting for too long. To know if your reclining chair properly supports your lumbar region, raise your legs, and see if there's no gap between your lower back and the chair's middle zone. You can ask the seller or manufacturer before buying online to be sure.
You can also check if the back of the recliner and the seat have a gap and how wide that gap is. If it is too deep and wide, your lumbar area can fall into the gap. In turn, this will put a strain on your back. 
Some reclining chairs can be adjusted manually by tweaking a few parts. But we suggest you let an expert do this, a friend or family member who can tinker with things. Meanwhile, other chairs have adjustable lumbar support to simplify the process for you.
4. Use the Footrest
When you recline the chair, your feet may dangle if you are tall. Lightweight individuals who want to stretch their legs may also find themselves in the same situation. This is where the footrest comes in. The models shared here come with their respective footrests. Use the one attached to the base of your office chair to make the most out of the reclining position.
What's good here is that you can also pull the footrest out when you are sitting straight or reclining just a bit. There is no restriction when it comes to using the footrest. And since it is included in your purchase, you might as well take advantage of it.
5. Consider Your Eyes and the Desk/Computer Distance
When you recline, you get farther away from your desk and computer. If you tilt until you're almost horizontal, make sure you are reserving this position for taking a power nap or sleeping. This is an impossible distance to try if you still want to work. Of course, you can purchase a complementary mechanism that lets you adjust the orientation of your laptop as well.
But ideally, when finishing a task, tilt lock to a reclining position that isn't going to strain your neck and head, not to mention your eyes. That means not going beyond the reading mode for some people (just a little lower than 90 degrees). Otherwise, just pick between fully resting and sitting up straight to type that report or code that program.
Factors to Consider When Buying an Office Chair Recliner
When it comes to reclining office chairs, getting the right fit is important for you and your health. It can make or break your reclining experience. So it pays to go over these factors before buying an office chair:
Sitting and Reclining Features
Reclining chair models usually have multiple angle options. Through a knob, you can control the adjustable angle based on preset levels or your desired level. The typical settings range from 90 to 175 degrees (almost horizontal position). If the manufacturer has assigned levels, the modes are typically upright, reading, and reclining.
Meanwhile, the best angle to alleviate back pain and put the least stress on the spine is 135 degrees, according to researchers.
Design & Materials
As with any other furniture or lifestyle product, the construction and components of your reclining chair should be one of the top factors to consider. High-quality materials do not always mean expensive, but their processing should not be sketchy, and they should look the part. An elegant black chair may or may not cost a lot. But you can tell at once if it's well-made or not.
For the office chair to work, you should check for complete parts, from the headrest and back to the seat and armrests.
Adjustable Features
Several features of a reclining chair should be customizable: the headrest, back, armrests, and footrest. A detachable headrest lets you adjust the support and comfort for your head. The back, of course, is the highlight of a reclining chair. You should be able to tilt it according to the angle you want. When you're in the office, you can switch positions when you sit in front of the computer for long periods.
The armrests may be detachable to give bigger individuals more room to move. The footrest should be retractable so you can decide when to use it or not. Of course, most office chairs feature adjustable height. Tall people can raise their seat from the base via a lever.
Also, while the foam or cushion in your seat cannot be replaced, it can be adjusted by adding a firm or soft chair topper.
Benefits
With the right angle, the reclining chair experience is not only pleasurable, but it can also relieve back pain and promote proper spine alignment. The foam firmness of the office chair seat can lessen discomfort at your lower back. You can lay your head and neck on the headrest while taking a break.
These are just a few of the physical benefits you can derive from reclining in office in a chair. Of course, make sure this is allowed if you are using the chair in your office. You may not enjoy the same perks in the office as working from home.
Chair Capacity
Additional features of your reclining chair include weight capacity. This is the maximum weight your chair can handle. Whether you're at home or in the office, knowing that your reclining seat can carry you throughout a long but productive day is crucial to your success.
Best Overall Product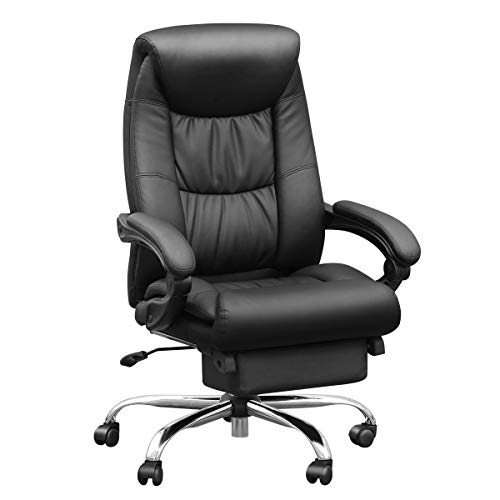 Best Value Product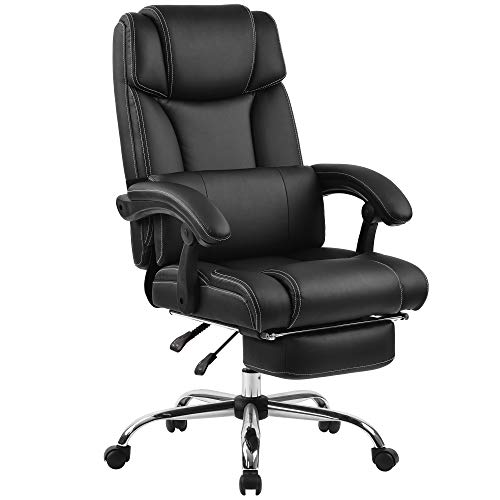 Best Budget Product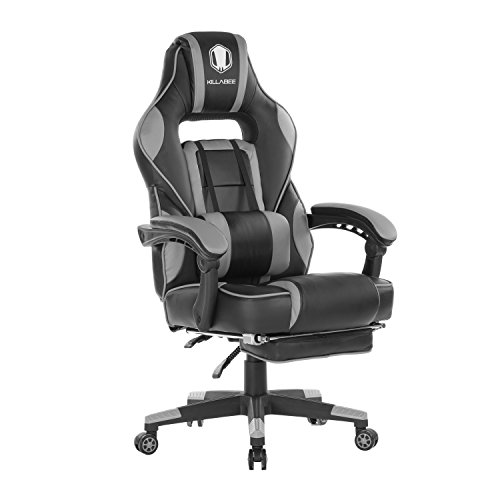 Duramont Reclining Leather Office Chair - High Back...
Merax Portland Technical Leather Big & Tall Executive...
KILLABEE Massage Gaming Chair High Back PU Leather PC...
Best Overall Product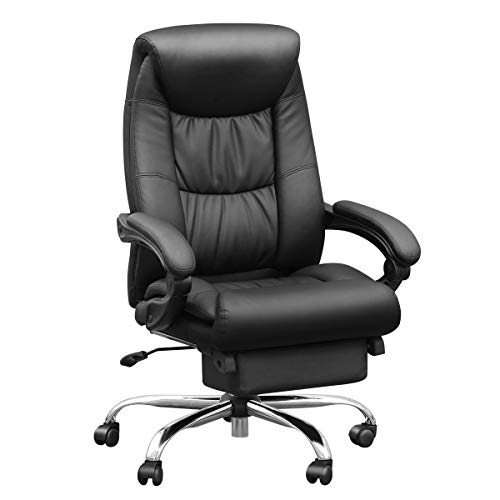 Duramont Reclining Leather Office Chair - High Back...
Best Value Product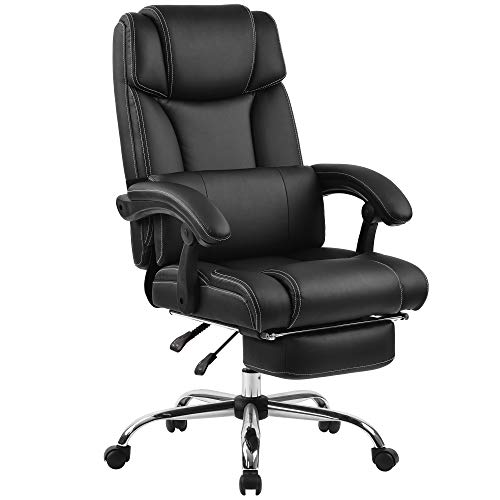 Merax Portland Technical Leather Big & Tall Executive...
Best Budget Product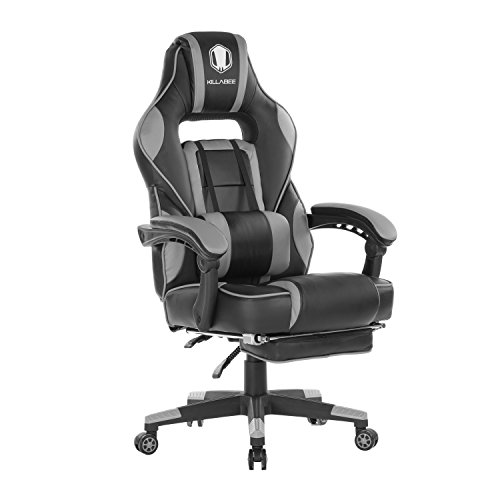 KILLABEE Massage Gaming Chair High Back PU Leather PC...
Conclusion
After rounding up the top reclining office chairs with footrest, we found Duramont as the emerging brand and the Duramont Reclining Office Chair as the emerging model. This is the Best Overall edition among the models on this list and, arguably, on the market.
The three modes of Duramont make it easy for you to choose the right, ergonomically designed position for you. You can switch conveniently from working to taking a nap. The waterfall seat edge and footrest assist you in achieving the most comfortable reclining experience. And last but not least, its lumbar support game is strong.
Of course, you may have other criteria in looking for an office chair that reclines. So, in the end, your choice may be different from ours. You can pick based on value, budget, style, and cooling properties, among others. That is also valid. And with the information you gathered here, we are confident you will make a smart choice.