You've definitely come across Killabee if you're on the lookout for a gaming chair to enhance your gaming experience. That's probably because Killabee is one of the most well-known and popular gaming chairs in the market, with a range of chairs to cater to a host of different requirements. 
There are a few factors to consider when choosing the right gaming chair. This review will take a close look at six of the best chairs from the Killabee product line so it's easy to make your decision.
Table of Contents
6 Best Killabee Gaming Chair Reviews
Best Overall
To know why the Killabee Racing Gaming Chair 8204 is the best overall, we'd need to first know about its previous model, the Killabee Massage Gaming Chair 9105. 
The 9015 is the best-seller chair so far, with footrest and massage support. As the original Killabee chair, this chair gives us great back support with its high-density memory foam padding as well as recline that goes all the way to 175°. That means you can comfortably squeeze in an afternoon nap, and wake up without feeling all cramped up. 
Well then, why isn't the 9015 the best overall chair?
While it is the most top-rated chair, there were complaints by users that it was a bit too small, even for someone with an average build. Another issue was that the armrests aren't adjustable. 
That's where the 8204 comes in. It has all the features that the 9015 does, but larger – and with adjustable armrests and neck support. Also has a larger, flat seat for much more legroom.
My favorite is the USB-powered massage lumbar unit that brings the massage-chair-mall-experience home. This makes your purchase significantly more worth it than an ordinary cushioned office chair.
Killabee Racing Gaming Chair 8204 is Suitable for:
The 8204 is suitable for someone in the 5'9" to 6'1" height range since it can hold up to 350 pounds. If you need a chair with all the features we mentioned but big enough, this is great for you.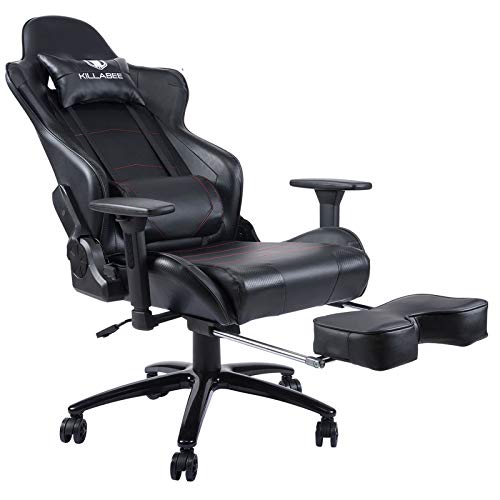 KILLABEE Big and Tall 350lb Massage Gaming Chair Metal...
★ 【MULTIFUNCTION】 - innovative implant USB electric massager makes the lumbar cushion effectively relieve your fatigue; adjustable...
★ 【PLUSH COMFORT】 - Memory foam padding on top of the existing seat cushion and premium PU leather (easily cleaned and fade...
★ 【HIGH-SECURITY】 - Integrated metal frame, explosion-proof gas spring of international standards, heavy duty metal base with...
Pros
Bigger and more comfortable for people in the 5'9" to 6'1" height range, and can hold up to 350 pounds.
Memory foam padding and a durable 3D spine
USB-powered massage lumbar
Retractable cushion rest
Overall sturdy and strong build with heavy-duty steel frame
High-quality PU upholstery
Cons
Uses memory foam instead of gel cold cure foam.
Assembling the chair can be difficult
The 8204 is the best overall chair in a mid-range budget.
---
Best Overall Runner-up
Even after the release of the 8204, the older version 9015 remains to be the best-seller. That might be because gaming chairs ultimately come down to comfort and if you fit the recommended height range, this chair would be snug.
It's also one of the most affordable of all the chairs. For this price, you get a range of features that will provide comfort and backrest provided you fit into the size requirements. 
The comfortable retractable footrest takes you from good posture to relaxed and comfortable. The soft lumbar cushion also ensures you're sitting in the right posture. And the high-density foam and thick padding are ergonomic when you consider the many hours you'll be spending on the chair. One of the prime benefits of a gaming chair is the immense back support you receive. This can save you a lot of trouble over the years.
Killabee Massage Chair 9015 is Suitable for:
If you're relatively slim and with moderate height (between 5'6"-5'9"), this chair would fit you perfectly and provide the immense back support you need for those long hours. Make sure you check the dimensions, otherwise, you run the risk of your feet dangling off the footrest!
As one of the most affordable Killabee chairs, you get the best-selling chair in their product range without burning a hole in your pocket.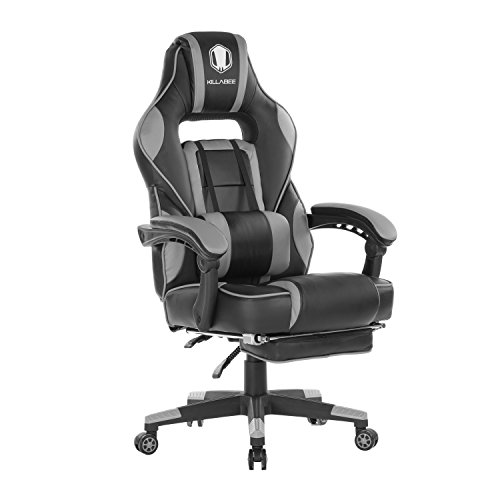 KILLABEE Massage Gaming Chair High Back PU Leather PC...
★ 【MULTIFUNCTIONAL gaming chair】 - sized at 27. 6" wide x 27. 1" deep x 48. 4" – 51. 2" high, with a 21. 3"W x 20. 1"D...
★ 【luxurious comfort with massage lumbar Cushion】 - Boasting a thick soft Seat cushion - Retractable padded footrest - thickened...
★ 【HIGHLY adjustable - customize to your needs】 - You can easily adjust our gaming chair with the Height Regulating mechanism to meet...
Pros
Retractable footrest
High-density foam and thick padding
Backrest reclines from 90° to 175°
Adjustable massage lumbar unit
Soft lumbar cushion for the arch of the spine.
Cons
Only for people 5'6"-5'9" and under 250 pounds.
Armrest and neck pillow not adjustable
Bigger isn't always better when it comes to gaming chairs. While people would be comfortable in an oversized chair, it may not provide the posture-support their back needs. And when you're investing in a gaming chair, you'd want it to do more for you than a sofa. 
---
Best Value
Designed for superior functional comfort, the Killabee 8247 is in the Big and Tall range with the most premium features. Even as the most expensive chair in their product range, the 8247 delivers on par with other luxury gaming chair providers but at a competitive price.
The chair is massive. No worries about cramping here, since the seat cushion is flat and spacious to spread out on. It can also handle up to 400lbs in weight. The concave armrests can move in four directions (though they aren't the most comfortable and could have used a little more padding. Elbows need some love too). 
There's also gel cold cure foam in the lumbar and seat cushion. This is the best for ergonomic gaming or work and will stand the test of time. Definitely an upgrade from memory foam.
You also get higher-end skin-friendly leather upholstery. You get what you pay for in this chair that upgrades from PU leather.
And finally: rocking chair facility. Why should grandma have all the fun?
Killabee Big and Tall Gaming Chair 8247 is Suitable for:
The 8247 is not just great for big and tall users (between 5'8" to 6'4"), but also for anyone looking for a durable and higher-end chair with the best features. The gel foam add-ons last much longer than memory foam and provide more support.
No products found.
Pros
Can handle up to 400lbs in weight.
4D – Concave armrests. 
Gel cold cure foam in the lumbar and seat cushion
Higher-end skin-friendly leather.
Rocking chair facility
Cons
Not much padding on armrests.
Reclines to only 155°
No footrest
The 8247 is a great option for getting the most value and durability out of your investment. We'd recommend taking a look at the exact dimensions on the website if you're above 6'2" and want to be sure this would be a good fit.
---
Best Value Runner-up
So you're looking for a chair in the Big and Tall range but don't want to splurge on the 8247? The 8212 is cheaper than the 8247, with pretty impressive features.
The 8212 provides well-built support and cushioning for long hours without taking a toll on your body. As an office chair, you'll get much more use out of this multi-functional gaming chair.
It has wide dimensions for big and tall users (5'8"-6'2") that can handle up to 400lbs and wider armrests that move in three directions (again not as comfortable because of thin padding)
As all Killabee chairs: memory foam seat cushion and lumbar support. 
Also a heavy-duty metal base but also good mobility: the 360° swivel and casters are smooth. If you're wondering why this matters, you haven't had a creaky chair give you the heebie-jeebies at 2am.
Killabee Big and Tall Gaming Chair 8212 is Suitable for:
The 8212 is a solid option for Big and Tall users looking for a reasonably affordable chair that provides good support and cushioning. If you're going to be working at a desk, you'll get the most out of 8212.
Pros
Big and tall (5'8"-6'2") and can handle up to 400lbs.
3D armrests
Memory foam seat cushion and lumbar support
Heavy-duty metal base
360° swivel and casters are smooth
Cons
Less padding on armrests
No footrest
Only reclines to 155°
The 8212 is affordable in the Big and Tall range, so even if you don't have all the higher-end features, you get a big and spacious seat. Great for a bigger person who doesn't want to shell out for the flagship chair.
---
Best Budget
Von Racer is Killabee's budget product line designed for a pocket-friendly gaming experience booster. 
You get a retractable cushioned footrest to switch from upright to relaxed when you want to (However, even though the chair has a footrest, it doesn't recline back far enough. The backrest reclines to 135° which is an awkward angle to lift your legs at.) 
There is high-density sponge padding all over. It's not memory foam, but we're asking for too much at the price range.
Also, massage lumbar support. Massage unit for this price is definitely a bonus feature. Finally, it has an easy installation. (Really easy. Pre-installed screws and the works.)
VON RACER Ergonomic Gaming Chair is Suitable for:
The 8280 is a footrest chair with basic features that provide far more comfort than a regular office chair. If you're looking for an upgrade for your daily work or gaming requirements, this would be a solid option. 
The 8280 is the best budget chair option that will give the user instant posture and ergonomic support. Because of the smaller size, it's also a good option for teenagers that want to start out on their gaming journey.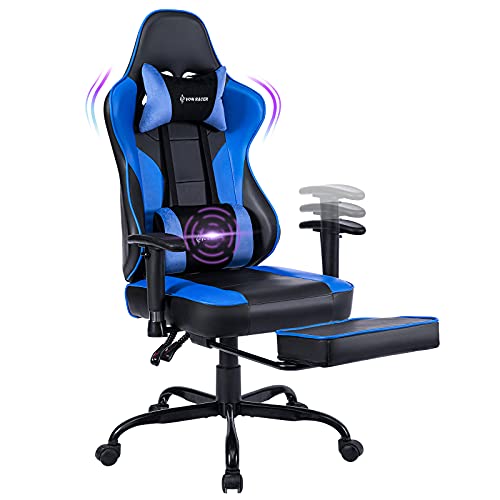 VON RACER Massage Gaming Chair with Footrest - Racing...
RACING STYLE & MULTI-FUNCTION: Innovative implant USB electric massager inside the lumbar cushion effectively helps you relieve fatigue;...
PLUSH COMFORT: This video gaming chair boasts a flat wide seat, which provides additional space for relaxed seating. Soft padding and...
EASY ASSEMBLY: Our video gaming chair comes with all hardware & necessary tools needed, with all components at commercial-grade standard....
Pros
Retractable cushioned footrest to switch from upright to relaxed when you want to.
High-density sponge padding
Massage lumbar support. 
PU Leather upholstery in 6 different color options
Easy installation
Cons
Too small for average-sized adults
Only reclines to 135°
Sponge padding may wear out after a year
---
Best Budget Runner-up
The ADDAX Series is an upgraded contemporary office chair. While it doesn't have all the high-end features that a racing style gaming chair does, it has far better support and comfort than an office chair in the same price range
With a massage lumbar pillow, the ADDAX Gaming Chair could be a game-changer for your work-from-home situation.
Von Rcer Gaming chair is Suitable for:
Someone looking to upgrade from their office chair. While the ADDAX Gaming Chair is an impressive "Office Chair 2.0", it's not big on relaxation points. If you're looking for more multi-functionality and for your chair to carry you from work to play, the 8280 might be a better option in this price range.
Pros
Adjustable massage lumbar support pillow. For the price range, this is an exceptional feature.
Reclines till 135°
Adjustable armrests that move in two directions
Bonded leather upholstery
This chair is moderately spacious. The recommended height is 5'8″ – 6'2″ and can handle up to 250 pounds of weight.
Rocking chair facility
Cons
Less recline
No footrest
Less attractive design, less color range
The verdict: ADDAX Chairs are a good budget chair option to venture into the world of ergonomic gaming and upgraded desk-time.
---
How to choose the best chair for you
The Killabee chairs can be broadly categorized based on size, price, and a work/gaming requirement. 
All Killabee chairs at all price points are ergonomic and will greatly improve your sitting posture. We came across users reporting decades of back pain eased away after making the switch! Once you've decided to do your back a favor: it's only a matter of choosing the right one for you. Make sure you check out the dimensions on the website. No two torsos are alike, am I right?
If you're above average height and weight, you just need to choose between products in the Big and Tall range. We'd recommend 8247 if you don't mind spending a bit extra for durability. If you're looking for a budget value option in Big and Tall, 8212 seems like a good fit. 
At the average height and weight, you can technically choose any chair but 8204 would be most affordable and multi-functional — since you'd get an office chair and a racer style recliner in one with the most features. There's a reason why it's the best-seller!
If you're on a tight budget: the choice is simple. 8280 if you're going to spend more time gaming. The ADDAX Gaming Chair if you want to throw out your old office chair for a better work-from-home experience. 
Why Killabee?
The Killabee brand provides gaming chairs on a budget. Even their higher-end products are still comparatively affordable when compared to luxury brands. For the price range, you get arguably the best features in the market. Killabee has built a reputation for providing gaming chairs with superior comfort and support. 
Apart from getting your body into the correct posture and alleviating aches and pains, the Killabee gaming chairs are also aesthetic. With the contemporary design far from your cubicle office chair, the look and feel only makes the gaming experience that much more immersive. A gaming chair for a gamer is nothing short of a throne. 
Conclusion
After exploring Killabee's top 6 gaming chairs, it's difficult to say which chair is the perfect fit. People's bodies are different, and the sizing of your chair is just as important as your clothes. We'd chalk it down to the winners being 8204 for average users and 8247 for big and tall users.
With excellent customer service and reliable, sturdy, comfortable chairs: Killabee has been the clear choice for gaming chairs since 2014. In this post-Covid-19 world where screen-time and chair-time are only increasing, it's important to think of self-care.