While recliners are known for their design and comfort, everyone's misconception is thinking these are only meant for indoors. It doesn't matter what kind of weather you enjoy; everyone likes to bask in the sunlight every once in a while or take in the cool breeze while enjoying the scenery outside.
I love doing this, which is why I knew I needed an outdoor recliner for my backyard. But, with so many brands and so many options available in the market, I was straight-up confused. I didn't know whether I should go for a wood one or a leather one or the kind of frame I should buy.
And, I am pretty sure you are suffering from the same confusion too. Well, don't worry, I have sorted out the best outdoor recliners that you need to choose the best one from.
Table of Contents
Best Outdoor Recliners – Reviews
What to Look for In an Outdoor Recliner – Buying Guide
How Long Do Outdoor Recliners Last?
Best Outdoor Recliners
Best Overall
When discussing the best recliner chair for your backyard or poolside, the Hanover Outdoor Luxury Recliner is hands down one of the best picks. The muted colors and enticing design gives this a luxurious look that you usually wouldn't get with any other outdoor recliner chair.
For the users who want to upgrade their patio furniture and take it to the next level, this is the one thing that you likely need. Not only does it win the crown because of the design and colors, but it doesn't hold back on the comfort too.
The recliner is designed with a reinforced steel frame that is durable and rust-proof too. The recliner's exterior is covered with woven resin wicker that further makes it last longer than what you'd expect for the price range.
The entire chair is water-resistant, making it suited for outdoor use, especially during the wet rainy season. The weight capacity of this recliner is 250-pounds, which is pretty average. Additionally, it also doesn't require a lot of assembling, which is perfect if you have a hard time getting these things together.
The cushion of the recliner is designed with UV-resistant material that shields it from direct sunlight. The only downside to this recliner is the lack of binding for the cushions. It makes them extremely susceptible to blowing out in the wind.
It also features quick-drying foam cushions that are comfortable, supports your body's contours, and allows you to relax.
Hanover Outdoor Luxury Recliner is Suitable for:
This recliner is perfect for individuals who want a good quality outdoor recliner for their outside patio. It does come matching with the set of patio furniture from Hanover, so you could mix and match them according to your liking.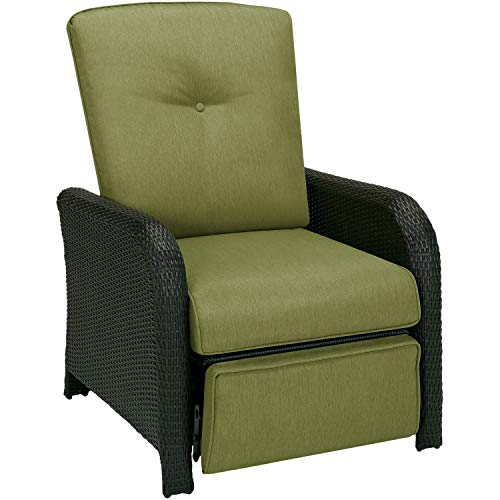 Hanover Strathmere Outdoor Patio Luxury Recliner Lounge...
Comfortable Design: The Strathmere Collection by Hanover includes stylish and elegant hand-woven wicker recliner with high quality cushions;...
Plush Cushions: Extra-thick 4.5" cushions for ultimate outdoor relaxation; quick-drying foam cushions maintain their original shape; the...
Sturdy & Durable: Made with heavy-duty rust-resistant and weather-resistant frames; this beautiful outdoor recliner is produced with...
Pros
Made with premium quality water-resistant material
Reinforced steel frame
Woven resin wicker
Cons
Cushions don't come with velcro for support
---
Best Overall Runner Up
If you are particularly looking for a multipurpose patio recliner, the Grand Patio Indoor & Outdoor Recliner is a good pick. Not only does it fit right in as an outdoor recliner chair, but it works for indoor settings too.
The best factor about this outdoor recliner is the comfortable design and the extra padding for an ergonomic tilt. It does come with adjustable legs and a reclining backrest up to 160-degrees, which lets you stretch your back and get all the comfort you need after a stressful day.
As for the padding, it is designed with OLEFIN cushioning, which is exceptionally soft and long-lasting. The reclining functions in this chair are very flexible, allowing you to adjust and fix it according to your likings.
It is an oversized recliner chair suitable for heavier users who want maximum stability and enhanced support throughout their time on the chair. It supports up to 330lbs, which is a lot more than the other standard options in the market.
The outdoor recliner exterior is hand-woven and designed with the all-weather wicker resin for better durability. If you particularly enjoy tanning by your pool, this chair suffices your needs with the UV-resistant material. It protects the fabric against fading or cracking, which is familiar with the outdoor recliners.
The cushion fabric of the recliner is water-resistant and lasts longer than expected. The tools needed for assembling the chair is provided with the package, so you wouldn't have to go out of your way to get one.
Grand Patio Indoor & Outdoor Recliner is Suitable for:
This is the best outdoor recliner for heavy-weight users who don't want to compromise on the quality and the ergonomic design of the chair.
Sale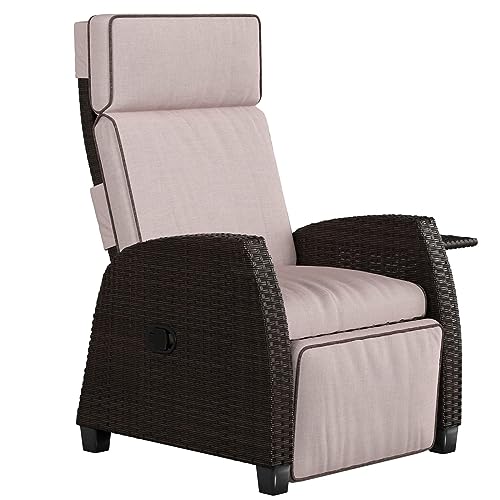 Grand patio Indoor & Outdoor Moor Lay Flat Recliner PE...
RECLINER MOTION: Comfort at your fingertips! The Moor reclining patio chair offers up to 150 degrees of adjustable reclining that can be...
ERGONOMIC DETAILS: The curved armrests of this patio reclining chair allow your arms to rest comfortably. Sectioned cushions offer more...
BUILT-IN SIDE TABLE: The side table built into the outside arm is easy to flip up when needed and perfect for holding snacks, drinks, and...
Pros
Supports up to 330 lbs
Designed with OLEFIN cushioning
Water and UV resistant
Cons
Assembling can be a little confusing
---
Best Value
If you have less space around your home or patio and need a good-quality patio recliner that you can fold up and stack away in the garage, the XiXi&Chuangyi Folding Adjustable Recliner Patio Chair is your best pick.
It is the best value product because of the range of excellent benefits you get with it. It comes with six adjustable positions that let you lie down, sit back, recline, and a lot more, depending on how you want to sit and relax.
It has an adjustable and foldable design that allows you to mold it according to your needs and comfort. The USP of this recliner chair is the additional neck pillow that the brand provides. It allows you to rest your neck and shoulders and prevent the risks of muscle strain.
This lounge chair has three distinct parts to its design, the upper, middle, and lower sections that resemble a fish. Additionally, folding the upper and middle part up to 180-degrees allows you to stretch your back and get the comfort you need.
It is also designed with a durable powder coated steel frame, perfect for long-lasting and rough use throughout the year. It supports up to 350lbs weight, which is likely the stealing brownie point that makes it the best outdoor recliner.
The chair is filled with foam, which is soft and comfortable and allows you to have a seamless sitting experience without any complaints. The seat's surface is covered in mesh nylon fabric, making it water-resistant and weather-proof.
XiXi&Chuangyi Folding Adjustable Recliner Patio Chair is Suitable for:
This lounge chair is perfect for users with less space around their house. The foldable and adjustable design allows you to store it anywhere that's feasible.
Pros
Comes with six adjustable positions
Supports up to 350lbs
Water-resistant and waterproof
Comfortable and ergonomic design
---
Best Overall Runner Up
Next up on the list of the best outdoor recliners is the Kingbo Oversized Zero Gravity Chair. This zero gravity outdoor recliner is everything your patio has likely been missing. But, that is not what makes this one of the bestsellers. 
The chair supports up to 500lbs, even with the lightweight design. It is constructed with a thick and heavy-duty steel frame that supports overweight users without any distortions. It is also waterproof and UV-resistant so that you can leave it out on the patio all year long.
Aside from that, the reclining chair is also designed with an adjustable lockable position that allows you to lock it in your desired place from the straight upright to the reclined laid ease position.
The oversized design of the chair helps fit every user, despite their body shape and contours. It measures 77×24 inches, which is a lot wider and longer than the standard patio recliners available in the market.
Additionally, for added comfort and relaxation, the outdoor recliner chair comes with an ergonomic design with an adjustable armrest, footrest, and reclining backrest. If you want some added comfort, this patio recliner comes with an additional pillow to support your head and neck.
For the users who complain about back pain, the lumbar support keeps your back and spine straightened, so you don't complain about a stiff back all the time. It also features a portable design that you can fold up and carry anywhere you want.
Kingbo Oversized Zero Gravity Chair is Suitable for:
This patio recliner is the perfect option for taller users who want a more extended design that would support their legs and back seamlessly. It is also pretty versatile and works for both indoors and outdoor settings.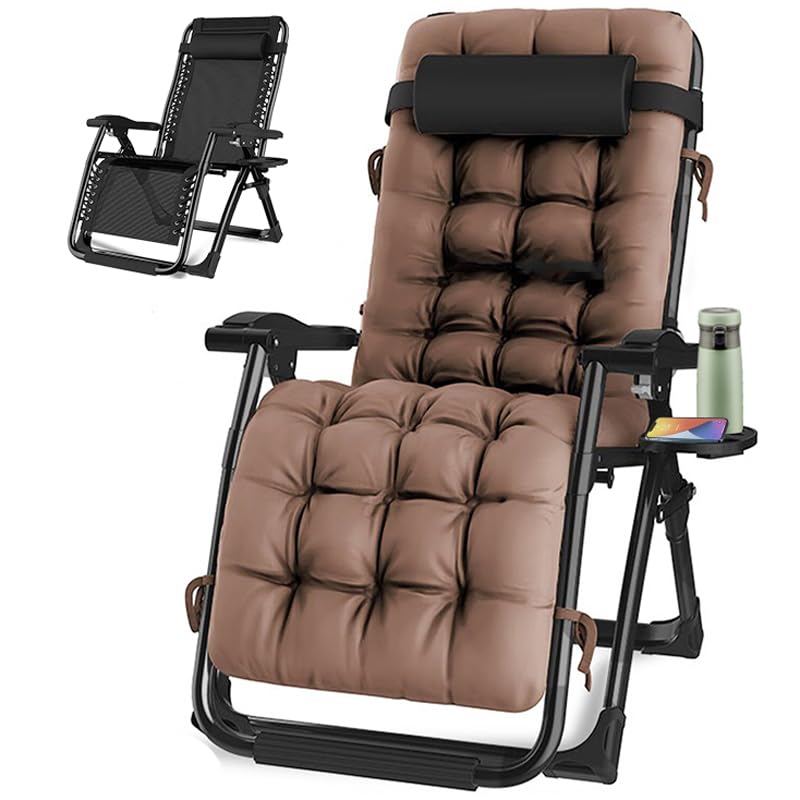 KINGBO Oversized Zero Gravity Chair, Lawn Recliner,...
Heavy Duty: Our Anti-gravity chair supports up to 500 lbs. this patio chair made of superior and thick steel tube frame to make it strong...
Adjustable & Lockable Position: This outdoor recliner is easy to lock this oversized zero gravity chair to any position from upright to...
Oversized Dimension: The fully reclined length of the reclining camping chair is 77 inches and it is 24 inches wide. Our zero-gravity chair...
Pros
Heavy-duty construction supports up to 500lbs
Lightweight and portable design
Provides neck and lower back support
---
Best Budget
When looking for the best outdoor recliner, you will likely come across options ranging between multiple price ranges, some even costing above $500. But, for individuals who don't have a lot to spare, the Merstoclo Outdoor Lounge Recliner Chair is the best lounge chair they can splurge on.
The recliner frame is designed with a 40mm steel tube for added stability and enhanced durability. Not just that, even with the affordable price range, it supports up to 550lbs weight capacity, which is pretty fantastic.
It looks like a deck chair typically, but opening the fixed valve quickly transforms it into a foldable bed for usage when you have extra guests coming in. The chair's exterior is designed with the stunning Tesla fabric, which is soft, comfortable, waterproof, and non-toxic.
The frame of this outdoor recliner is designed with rust-proof and anti-aging material with higher tensile strength and an abrasion-resistant design. The insides of the chair are filled with cotton pads that makes it comfortable to sit on after a stressful day.
The chair's independent design and support make it easier for you to keep it around the patio or backyard without needing additional installation. It has a lightweight and compact design that you can fold and stay anywhere that's easier for you.
Merstoclo Outdoor Lounge Recliner Chair is Suitable for:
This patio recliner is ideal for individuals who don't have a lot of space around their house but don't want to spend a lot on an outdoor recliner.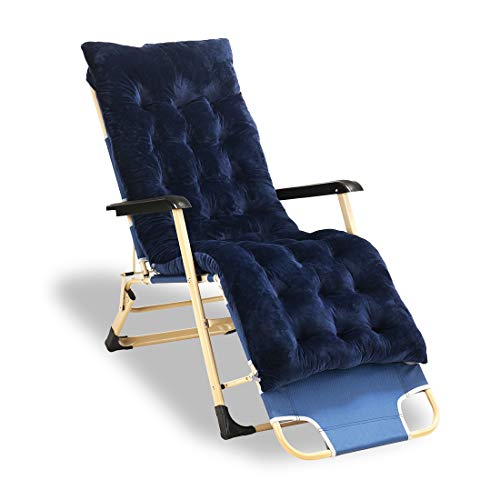 Merstoclo Outdoor Lounge Recliner Chair,Teslin Fabric...
[Best Design]: Merstoclo Outdoor Lounge Recliner Chair was adopted the 40mm thick steel tube, with a maximum load of 550 LB, is designed in...
[Comfortable Experience]:It's a deck-chair, it can be turned into a folding bed, and just by opening the fixed valve, it can be unfolded...
[Applicable Scenario]:Whether it's by the pool, at the beach, in the garden or in the park, it's your best buddy to unwind from a long day...
Pros
Supports up to 550lbs
Budget-friendly
Designed with rustproof and anti-aging material
Lightweight and compact
Cons\
Not the best for taller users
---
Best Budget Runner Up
Last but not least on the list of the best outdoor recliners is the EVER ADVANCED Oversized XL Zero Gravity Chair. It is yet another zero gravity recliner that is reasonably priced but comes with varying functions.
The chair's oversized dimensions are perfect for taller and overweight users who want a comfortable sitting experience for extended hours. The chair itself weighs around 20 pounds, which is pretty easy to move around when needed.
The unique feature of the backyard or patio recliner is the adjustable design. It can recline up to 170-degrees, which comes in handy if you want to relax and rest your lower back after a hectic day at work.
It comes with a clip on the bottom of the chair that allows you to fix the recline position that works best for your stature. It supports up to 350lbs weight capacity and up to 6.2″ tall people, which is more than average.
It comes assembled in a single piece and doesn't require any additional hard work on the chair. You can fold it and stack it away in the storeroom when you aren't using it to save space.
The outdoor recliner chair's full seating and recline area are designed with an extra foam padding for added support. It also comes with an additional support pillow that you can use to support your neck and shoulders or your lower back and lumbar region.
EVER ADVANCED Oversized XL Zero Gravity Chair is Suitable for:
It is one of the best outdoor recliners for tall people who want to stretch out and have a comfortable, relaxing session out on the patio.
No products found.
Pros
Lightweight and foldable design
Supports up to 350 lbs weight 
Designed with extra foam padding for comfort
Supports neck and lower back
---
What to Look for In an Outdoor Recliner – Buying Guide
Now that I have listed out my top 6 picks for the best outdoor recliners, it is time I walk you through a few pointers concerning the buying guide. You must consider these factors before making the final purchase, especially if you want a worthy investment that best suits your interests.
Here are a few essential pointers you should consider:
Style
When discussing the best outdoor recliner, they come in a variety of styles and designs. Some of the most common options skirt around wood, wicker, rattan, and resign. Depending on the weather conditions, personal preferences, and budget, you can choose one that best works for your interests. You should also consider the aesthetics of your outdoor patio or backyard and buy one that blends in with the rest of the outdoor furniture, in case you have any.
Dimensions
Even though it is not a deal-breaker, you must keep an eye out for the dimensions. You want an outdoor recliner that is comfortable with a sunbrella, and fits in the area you have. But, if you have limited space to work with, considering the size of the recliner is crucial. In case you don't have enough space to keep an outdoor recliner throughout, you can invest in foldable reclining chairs.
Comfort
Any form of a reclining chair is meant for your comfort. If it is not comfortable because of the padding or the material, there is no point in investing in one. So, when buying an outdoor recliner, you need to find one that is comfortable, supports your body frame, and prevents stiffness and tension in your muscles. Consider how adjustable the recliner's position is because that plays a crucial role in comfort. Focus on the armrest and possibly a footrest, too, if it has one.
Purpose
Another essential factor to consider before investing in the best outdoor recliner is the purpose you are buying it for. Is it to add to your backyard or patio furniture? Is it going to be used for your camping expeditions? Highlighting the purchase's purpose helps you decide which one would eventually work the best for your needs. If you are getting one for your travel journey, you want to invest in a portable and compact chair. So, decide what the purpose is and then find the one that best works for you.
Construction
It doesn't matter how much you are spending on the outdoor recliners; you want to ensure it's worth the price. If the construction is flimsy, it won't be long-lasting or durable. So, try and find the best outdoor recliners that feature heavy-duty metal construction. It supports all kinds of users and has a higher weight capacity for comfortable sitting for extended periods.
Accessory features
Not every outdoor recliner that you come across will come with cup holders or side tables. But, these are a few accessory features that you can take a look into. So, make sure that you keep your eyes peeled for those features too. Some of the other features you can consider are the ease of assembling the chair and even the warranty period they are backed by.
Price
Last but not least is the price range. There is no upper limit to the price of an outdoor recliner. So, if you plan on buying one, you first need to decide how much you are willing to spend. In case you have a limited budget, check out the available options in your desired price range. With so many options available, it is not unlikely that you will find something that does suit your interests.
How Long Do Outdoor Recliners Last?
One of the most common questions that everyone has about outdoor recliners is its longevity. How long does it last? There is nothing standard to that and is generally subjective, depending on the construction of the chair and the exterior material used in making it. If you want a durable and long-lasting recliner, invest in the ones designed with heavy-duty steel frames and weather-proof outer material.
Conclusion
Now that you have reached the end of the article, I wanted to sort you out with my favorite pick out of them all. If you are willing to spend a little more and don't want to regret making a luxurious and premium purchase, I suggest you check out the Hanover Outdoor Luxury Recliner. 
Not only does it feature a lux design, but it is also durable and weather-proof. It is a little on the pricier side, but the long-lasting durability makes up for it. My second best pick would be the Kingbo Oversized Zero Gravity Chair, primarily because of how versatile the model is.
Each to their own, so make sure you check out all the reviews I have mentioned and pick out the one that best aligns with your needs.