Best Overall
Duramont Reclining Office Chair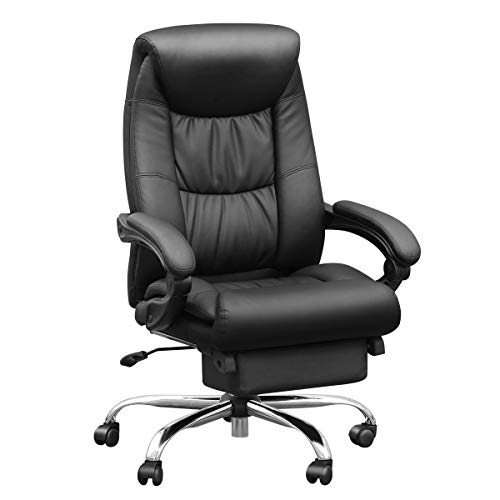 Best Value
AmazonBasics High-Back Chair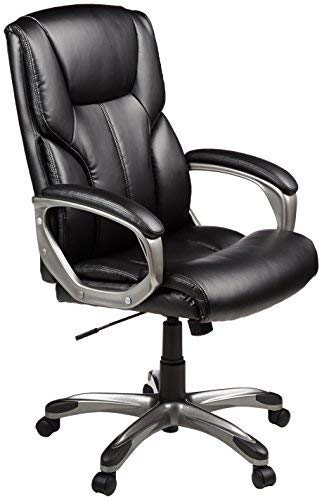 Best Budget
BestOffice Executive Leather Office Chair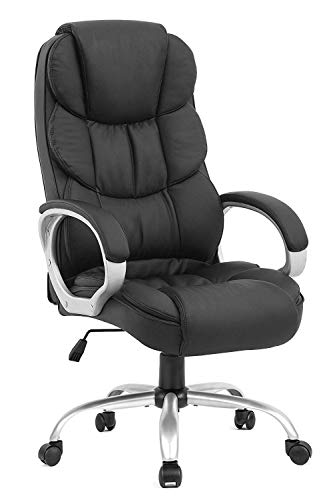 Executive chairs are more comfortable and bring sophistication and elegance to space and design. The bulky and sturdy frames filled with well-padded back and seats make them a highly durable and comfortable experience.
Most come with built-in lumbar support to help relieve your lower back pain. Because of the thick-padding, the chairs usually sport a waterfall-edge design that makes the chair easy on your thighs and also helps relieve leg pain.
Bonded leather or PU leather is a synthetic leather option that gives you the rich and genuine leather look and feel without harming animals, so I have focused on faux and bonded leather chairs here. I hope you find the best executive leather office chair that has support, comfort, ergonomics, style, and sophistication all rolled in one.
Let's get rolling… (a swivel chair pun!)
Table of Contents
Our Pick
Best Overall – Duramont Reclining Office Chair
Best Overall Runner-Up – La-Z Boy Delano Big & Tall Executive Office Chair
Best Value – AmazonBasics High-Back Chair 
Best Value Runner-Up – Yamasoro Executive Leather Office Chair
Best Budget – BestOffice Executive Leather Office Chair
Best Budget Runner-Up – Furmax High Back Office Chair
Best Executive Leather Office Chairs
Best Overall
The Duramont Reclining Office Chair is a high back executive chair that focuses on lumbar support and comes with thick seat cushions. It takes care of the ergonomics with its seat height adjustability and also the recline feature. 
Along with proper lumbar support to relieve you from your lower back pain and support your spine, the chair comes with multiple reclining angles to support your posture throughout the day. It isn't easy to sit straight for hours on end, so you need a chair that can adapt to your changing posture.
The padding is what helps the comfort portion of this chair. The waterfall edge seat makes sure that your legs are comfortable and also helps relieve leg pain. The chair has a weight capacity of up to 250 lbs.
You can recline the chair to its maximum tilting option of 155 degrees and take a comfortable power nap. The sturdy build and soft padding will make sure that you feel supported and comfortable.
The tilt lock modes help you set it to the comfortable work mode, which is upright, then is the reading mode that is a bit tilted, and last is the sleep mode, which means full-capacity recline. Not only this, but it also comes with a retractable footrest to use when sleeping or even working.
The Duramont Reclining Office Chair is Suitable for:
This chair is great for average built executives who spend their day working on their computers and also reading a ton of material.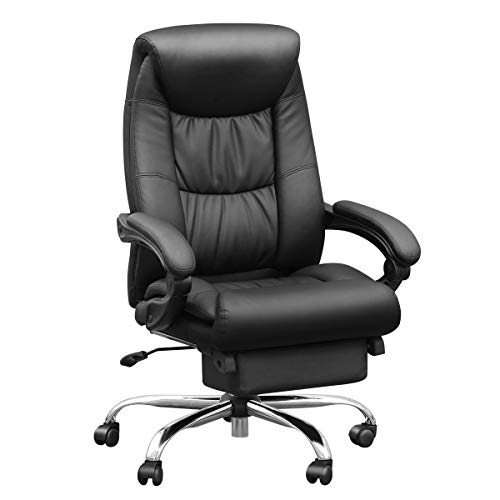 Duramont Reclining Leather Office Chair - High Back...
★ UNIQUE WATERFALL SEAT EDGE - The high back design gives you maximum support for comfort and convenience. The chair has soft padding and...
★ FLEXIBLE RECLINING ANGLE WITH RETRACTABLE FOOTREST - You can adjust the office chair any way you need to so that it can accommodate all...
★ HIGH-END MATERIALS - We make sure that we use the right materials for maximum comfort and style. The chair is made with bonded leather...
Pros
It is sturdy and comfortable.
It provides good lumbar support to help your lower back.
It has a waterfall edge seat to help relieve leg pain.
It comes with a retractable foot option.
It is easy to assemble.
Cons
The armrests aren't adjustable.
It isn't suitable for a heavy person.
---
Best Overall Runner-Up
The La-Z Boy Delano is for all the Big and Tall Executives out there with its high back ergonomic support and sturdy built. The design is sleek and will go well with modern decor while bringing in the old-school executive charm.
This office chair provides good lumbar support, and it has a weight capacity of up to 400 lbs. The chair has a recline feature that helps you take breaks in your chair and also relax between strenuous work hours.
The ComfortCore Plus technology makes sure that the chair can support and comfort people on the heavier side. This technology is employed to make the padding using multiple layers of memory foam.
Memory foam is comfortable, and multiple layers make sure that the chair can withstand wear and tear that can happen from continuous hours of daily usage. The only downside is that having multiple layers makes the seat cushion a little firmer than the usual cushions you might have experienced.
The adjustable height and the high back, in combination, make it perfect for tall people as well. The cushions are covered with bonded leather, which makes the chair easy to clean and durable. This chair is easy to assemble and is backed by a 10-year limited warranty.
The La-Z Boy Delano Big & Tall Executive Chair is Suitable for:
This chair is suitable for people who are on the heavier or taller side. They are guaranteed comfort and support because of high back and height adjustability as well as good weight capacity of the chair.
Sale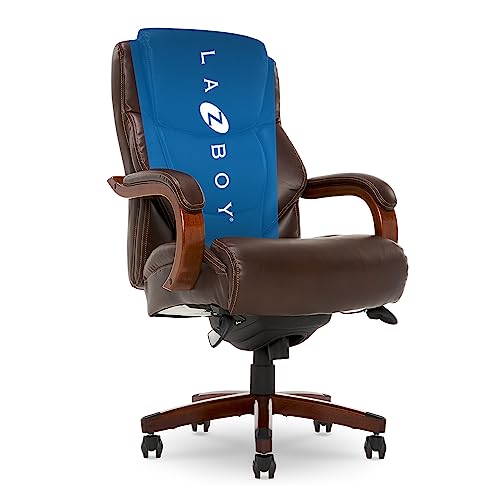 La-Z-Boy Delano Big & Tall Executive Office Chair, High...
ALL DAY COMFORT: Fully adjustable height, recline, and tilt settings
PREMIUM CUSHIONING: Ergonomic office chair with memory foam cushioning that contours to your body
STYLISH AND VERSATILE: A tasteful complement to any office, home, or entertainment space
Pros
The multiple layers of memory foam make the seat durable and also help provide comfort.
It comes with an easy to use recline function, which has a sit-to-recline feature.
The faux leather makes it long-lasting and easy to clean.
It has a weight capacity of up to 400 lbs
It comes with a 10-year limited warranty.
Cons
The multiple layer memory seat makes the cushion feel firmer than standard cushions.
The assembly of this big chair can be difficult.
---
Best Value
AmazonBasics has become one of the trustworthy names for people to buy from. Most of their products don't disappoint. It is the same with their high-back chair. This leather office chair is made from high-grade materials. The sturdy metal frame fitted with PVC and bonded leather cushions makes it stand out against the other options in the market.
The seat is height adjustable, and this feature is easily accessible through a lever under the chair. The pneumatic control lever works smoothly. However, a heavier person might have to get up while accessing the lever.
It may not be that modern or sleek to look at, but it gets the job and will last you for a long time. The sturdy built is great for providing good support, even for someone on the heavier or taller side for prolonged hours of the day. 
The backrest and seat are thickly padded to avoid aches or triggering any pain points. The padding is soft and provides comfort when you are burning the midnight oil.
The soft padding is covered in PVC and bonded leather to make it long-lasting and also making it easier to clean and maintain. People working long hours seldom have time to spend hours cleaning, so this is an important aspect. The wheels have smooth-rolling casters and it has a 360-degree swivel feature.
AmazonBasics High-Back Desk Chair is Suitable for:
This chair is built and designed to follow the classic executive chair look, it is a great option for entry or mid-level executives who work long hours.
No products found.
Pros
The backrest and seat are thickly padded with soft cushioning.
The build is sturdy and durable.
You get 360 degrees swivel action.
AmazonBasics is a trusted brand.
It can support big and tall people.
Cons
The foam cushions can be of better quality so that they can last even longer.
Maintenance needed can be quite frequent for the liking of busy people.
---
Best Value Runner-Up
The Yamasoro ergonomic chair is one of the options here with an adjustable armrest. Adjustable armrests are usually a sign of high quality chairs. This company is popular for its line of office chairs as well as gaming chairs.
Maintaining quality is important, so it makes the products go through a rigorous testing process, and every product is passed by a strict inspection routine. Before you get to experience the quality of a chair from this company that has been in business for a decade, the chair is passed by many quality control professionals, a chain of testing, and people if you may.
This chair has an old-timey vibe to it with its design, which makes it seem highly inviting and comforting. The design is coupled with all the latest features that an office chair can have. The seat is height adjustable, and the back can tilt up to 135 degrees to support you throughout the day.
The headrest is thickly padded and covered with high quality PU leather to provide support for your neck and head. The armrests are adjustable and flip-up to make the chair armless if you want. This is adapted from their gaming chair designs. This allows you to take power naps without feeling constrained by the armrests.
The base of the chair is made of stainless steel, making it sturdy and durable. The wheels have smooth-rolling, and the 360-degree swivel feature makes for easy maneuverability around the office.
Yamasoro Executive Leather Office Chair is Suitable for:
This chair is great for high-level executives who want to marry aesthetics and functions in their office chairs. It is great for an old-timey vibe while maintaining the integrity and support of the latest ergonomic features.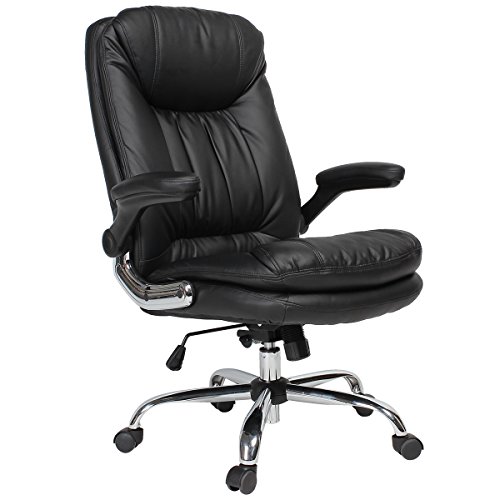 YAMASORO Ergonomic Executive Office Chair Black High...
👍Ergonomic Desgin : Double layer soft cushion can keep you away from the numbness caused by long hours sitting. Thickened headrest and...
👍Office Chairs Customized Height Adjustment : Tilt function, Locking function at any angle, height adjustment function, the back can be...
👍Folding Painted Armrest : Folding padded armrests are designed to eliminate your fatigue in your arms, you can put your arms on the...
Pros
This chair has a high-level executive design feel to it.
The armrests are padded and can also flip-up.
The chair is reclinable.
The PU leather upholstery makes it look rich and also easier to clean.
The chair is highly comfortable and supportive.
Cons
The wheel, comparatively, could be of better quality.
The hydraulic system that helps with height adjustability could be smoother.
Assembly can be difficult.
---
Best Budget
BestOffice Co is a popular South Korean brand that I have talked about often. They have an office supply chain that offers a wide variety of products and services related to your office needs. The Executive Office Chair from BestOffice Co is a great chair if you are looking for something that is high quality and will suit your needs and status.
With a motto of "Everything in the Office," the manufacturers have made sure to focus on what their target audience needs. The chair is fully adjustable and follows ergonomic standards to make sure you get support and comfort both. This chair is also BIFMA certified.
The high backrest with the design helps maintain correct posture throughout the day. The backrest is extra padded, and the seat is thickly padded to make sure that the chair helps relieve back and leg pain.
The seat is height adjustable, and you can adjust your backrest by tilting it to the angle you prefer. The wheels are smooth-rolling, allowing the chair to swivel 360 degrees. The padding is enough to provide comfort and is covered with soft PU leather. This makes the chair long-lasting and also protects the chair from any spillage that is bound to happen if you eat or drink at your desk.
Not only is the functionality of high standards, but the assembly of a new unit is also easy. One thing is their instructional manual that comes with real pictures demonstrating the steps. This makes it easier to put the chair together. You also get a 5mm Allen Wrench, two bolts (extra), a bolt cap (spare), along with the regular nuts and bolts required.
BestOffice Executive Leather Office Chair is Suitable for – 
This chair is suitable for people who need to be productive for long hours. This chair in office helps you take care of your body by promoting good posture and providing comfort from pain.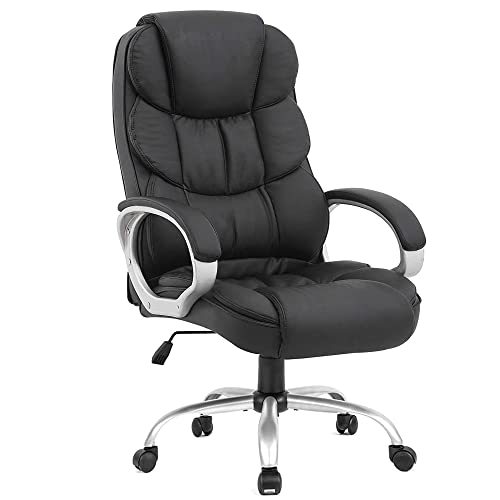 BestOffice Office Chair Cheap Desk Chair Ergonomic...
DESIGNED TO UNWIND - This chair was designed for long-lasting comfort, specifically to alleviate the back pain that can result from long...
SLEEK, MODERN DESIGN - Work in style at the office or at home with this ergonomically-designed, high-back office chair. Lined with soft PU...
CUSTOMIZABLE COMFORT - This chair is adjustable to suit your individual needs. Adjust the height and tilt to your preference, and enjoy full...
Pros
The design promotes correct posture.
The padding in the backrest and seat helps relieve back and leg pain.
The PU leather coating makes it spillage proof by being oil and water-resistant.
It is easy to assemble and comes with real-life assembly images.
It is BIFMA certified.
Cons
The armrests aren't adjustable.
Without proper lubrication and maintenance, the chair can make squeaking noises.
---
Best Budget Runner-Up
The Furmax High Back chair is ergonomic and provides quality support. This is why Furmax is one of the Chinese brands that has become popular for high quality products. This chair has BIFMA certification, which means that it passes the safety test meant for ergonomic chairs.
The chair is highly ergonomic. The seat is height-adjustable, so you can lower your seat or raise it to match your height or posture. You can tilt the chair to the angle that you prefer, making sure that there is proper back support. You get 360 degrees swivel action for easy mobility.
The armrests are padded but aren't adjustable. The headrest is extra padded to make sure that your neck pain stays away. Leaning back on the padded headrest when you have been slouching for the good part of an hour feels good and also helps relieve neck pain that comes from holding your head at a certain angle for long.
The headrest is in-built so you can have constant comfort. The lumbar support in this chair is excellent, which makes sure that you get lower back support and also the comfort that you need when slouching.
The cushions are upholstered with bonded leather to make it more long-lasting. Bonded leather has more layers than PU leather, which makes it durable. All the parts of the chair can be replaced if there's an issue and also fall under warranty.
Furmax High Back Office Chair is Suitable for:
This chair is suitable for executives who want a highly ergonomic chair at a budget price that promotes productivity and reduces pain.
Sale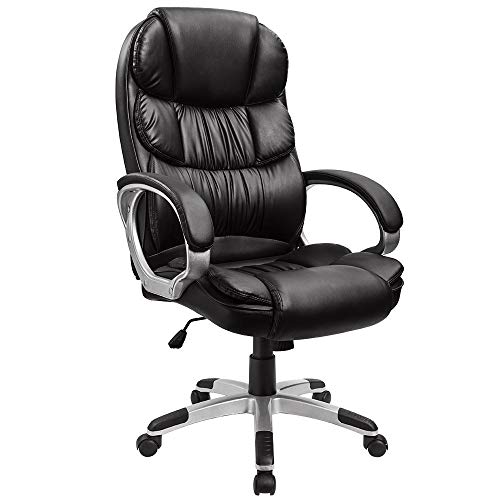 Furmax Leather High Back Office Chair Ergonomic...
High Quality: The backrest, cushion and armrest are filled with selected thick sponges, and the surface is made of smooth and durable PU...
Ergonomic Design: It provides back and waist support, hip and thigh support as its contour shape, designed to help reduce stress and fatigue...
Swivel and Casters: Chairs and casters can rotate 360 degrees freely, making it easy to move between multiple tasks or discuss problems with...
Pros
This chair is designed to boost productivity and relieve pain.
The chair is highly ergonomic.
The lumbar support is great in this chair.
It comes with a thickly padded built-in headrest.
The parts all fall under warranty and are replaceable.
Cons
The chair is bulky.
Because of its weight, the chair isn't easy to assemble.
The armrest is not adjustable.
---
PU Leather, Bonded Leather, Real Leather – What's the Difference?
Leather brings a feel of sophistication, elegance, and class to anything, which is why it is highly preferred as a means of upholstery in chairs for the office meant for higher executive positions. Leather also requires a lot of care and maintenance for the upkeep of the look. You need to understand the types of leather before you set out to invest in a chair that is covered in it.
Real leather is the most comfortable option, but is expensive, and also tough to maintain. PU leather is easier to clean and soft to touch; it is ethical and moderately expensive. Bonded leather requires some maintenance, is strong because of layering, and is the cheapest option.
Real Leather
Real leather is soft and breathable. It is also the most expensive leather out there. Genuine leather feels rich to touch and brings in the class that no faux leather can. It needs a lot of care, though. It needs to be placed in a cool area that has. This helps maintain the integrity of the leather. Genuine leather can turn brittle and break easily in the heat.
PU Leather
PU leather is a more sustainable replacement of real leather. It is also known as faux leather because it resembles real leather but has non-existent amounts of real leather in it. It is easiest to clean and maintain. This is the most ethical option.
Bonded Leather
Bonded leather is a combination of real leather and PU leather. The leftover pieces of the hide are used to make this leather. The leftover hide is combined or bonded with PU leather to form this leather. It is the cheapest version out there.
Are Executive Chairs Ergonomic?
Not always. Executive chairs mostly, by design, aren't ergonomic. They are mostly used as status symbols rather than something to spend hours in. Most executives have other tasks to perform that require changing rooms, chairs, or work process altogether.
Executive chairs for an office are big and comfortable. They are, most of the time, thickly padded, which makes them extremely comfortable and hugging, but that doesn't mean they are the most supportive.
This is why I have tried to include only highly ergonomic executive leather chairs in this review. If you are going to be working for hours in your chair, it is important for the chair to have adjustability options so that you can customize the chair, according to your needs, to maximize support.
Ergonomic features, if not adjusted correctly, can be as dangerous as non-ergonomic chairs. Make sure to adjust the functions to fully support you. More adjustable options also mean more flexibility in the settings.
Make sure that your chair has a recline option so that you can work and rest during the same work cycle. An adjustable seat height helps it become more versatile for people with different heights. An adjustable and padded headrest and armrest will make sure that your neck and arms are supported and comfortable. Some chairs even come with footrests, try going for a retractable one for more versatility.
While these chairs are great for looks as well as comfort, they can lack seriously in the department of support. So, invest in an ergonomic executive chair, so that you can get the best of both worlds.
Are Leather Chairs Better Than Mesh Chairs?
There's no better or worse here; it depends on what your requirements are. My preference is mesh chairs as they keep you cool and keep your body heat and sweat away. This is a plus if you work long hours.
Leather chairs bring in an air of sophistication, elegance, and status. They are also comfortable to sit in and are generally soft. They need to be kept in cool spaces with adequate air circulation; otherwise, they will trap heat. You will get really hot and sweaty if you work for long hours.
Mesh chairs, on the other hand, bring a more modern and sleek look to your space. They are not as nice or soft as leather chairs but help you stay cool for long working sessions. The small holes in the polymer material promote good airflow, which allows the heat to not be trapped.
Conclusion
Executive chairs by design scream comfort, which is a must if you have to work for hours at a stretch. Being comfortable helps boost productivity, and ergonomic chairs are also good for long-term health benefits.
I have rounded up 6 executive office chairs that will help bring support and comfort to you. Not only that, but these are also all upholstered with PU leather or bonded leather, bringing that sophistication and class to your office space.
Duramont Reclining Office Chair is a personal favorite because of the quality, style, and comfort. This is closely followed by the La-Z Boy Delano Big & Tall Executive Office Chair, which is a more inclusive option.
AmazonBasics High-Back Executive Chair is value for money. It is affordable and brings to you features that you can find in more expensive chairs. Yamasoro Executive Office Chair falls in the same line and provides you with high-quality ergonomic chairs.
If you are tight on budget, then two of the best options are the BestOffice Executive Leather Office Chair and Furmax High Back Office Chair, both popular for their price and high quality alike.
Remember that while executive chairs bring in comfort and support, and leather brings in class, these chairs can tend to be bulky. Make sure you have space to comfortably fit an executive chair before setting out to purchase one.