Armless office chairs are a hit or miss among people. While some individuals enjoy sitting on them for a better posture, some individuals feel like they aren't ergonomic enough. Whatever your end goal be, you can't necessarily deny the fact that the armless office chairs are pretty convenient and comfortable.
However, with so many different options available in the market, choosing an armless office chair can be a little difficult. With so many different options, choosing the one that fits your interests and your budget can be quite challenging.
Here, I have shortlisted some of the best armless office chairs that you can buy for your home office or your workspace as well.
Table of Contents
Best Armless Office Chairs
Best Armless Office Chairs
Best Office
The Modway Ripple Ribbed Armless is hands down one of the best armless chairs in the market, both in terms of functionalities and the overall design. If you don't want to compromise on the comfort and ergonomics of a chair, this is hands down the best option you can consider investing in.
The modern and stylish design of the chair adds a very elegant and premium look to your office space. The adjustable swivel conference further adds a very contemporary look to the office space around you. It is also a very versatile option for users of varying weight capacities.
More than a standard office chair, this versatile conference chair is also perfect for hosting meetings. Also, the armless chair is available in vivid colors that come with assembly options and come without an assembly as well.
The overall construction of this chair is to die for, especially if you want to use it for everyday usage. The frame is constructed with a chrome aluminum frame with a 360-degree swivel design that enables you to experience a comfortable seating experience for extended periods.
Alongside that, the one-touch height adjustment feature of this chair is a winning factor with five dual-wheel casters for easy mobility. The chair does come assembled with a few tweaks that you need to fix for a comfortable user experience.
Modway Ripple Ribbed Armless is Suitable for:
If you are particularly looking for the best office chair for conference rooms and long-term usage, this is hands down the best option in the market.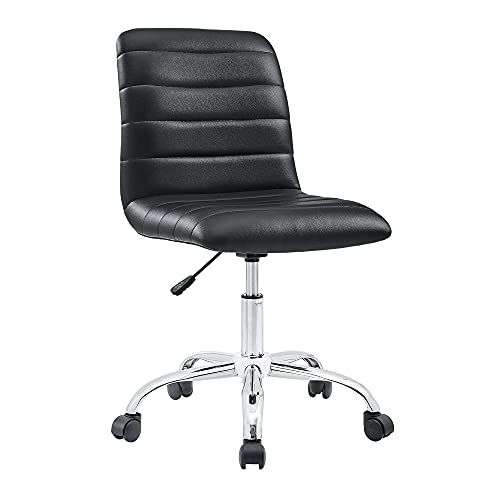 Modway Ripple Ribbed Armless Mid Back Swivel Computer...
ERGONOMIC SUPPORT - Enjoy reliable comfort with a thoughtfully designed modern conference chair with ribbed sling seating. Experience...
STYLISH AESTHETIC - Make a statement with an adjustable swivel conference chair that completes the contemporary office space. Ripple is a...
VIVID COLORS - Prim is a versatile modern conference chair. Have fun with while seated in an office chair with a bold, vibrant hue; or liven...
Pros
Durable chrome aluminum frame
Contemporary design
One-touch height adjustment
Cons
Gets uncomfortable after a few hours
---
Best Overall Runner Up
If you are someone like me who enjoys having a plain and muted office chair, the HON HON5701GA10T Volt Task Computer Chair is an ideal option. This armless computer chair is perfect for holding your weight capacity and supporting your mid back for comfort.
The exterior of this chair is upholstered with 100% polyester stain-resistant material with high-density padding inside the seat to support your buttocks and for optimal lumbar support. Despite all the modern design and the geometric contemporary features, it is quite affordable.
The customizable backrest in this chair comes with a recline function that you can make the most out of. The height-adjustable settings are backed with the pneumatic settings that support comfortable mechanisms without any issues.
The design of this chair is very ergonomic with generously proportioned comfort and a contoured seat design that conforms to the shape of your body. The back cushions are extremely comfortable and sturdy at the same time.
The smooth caster and swivel design of this chair enable the users to move around the move with maximum efficiency and no interruptions. The five-star base spreads out the weight of the user of varying body types to prevent accidents.
This is one of the few high-back and high-quality armless chairs that is backed with a lifetime warranty for an efficient user experience.
HON HON5701GA10T Volt Task Computer Chair is Suitable for:
This office chair is the best option for the users who want a simple-looking office chair with a simple design and without any exaggeration.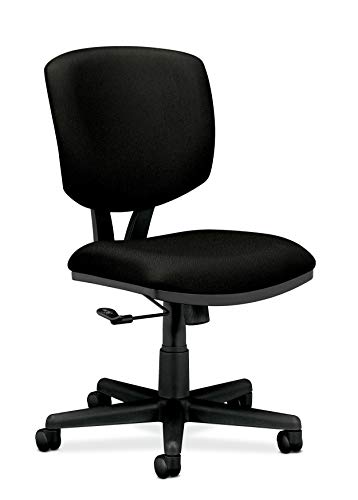 HON Volt Armless Task Chair, Black
COMFORT, STYLE AND VALUE: This task chair features 100% polyester stain-resistant seat and back cushions and a sharp-looking geometric...
CUSTOMIZABLE: Stay comfortable all day long with these work chairs' customizable seat back reclines, optional height-adjustable arms and...
ERGONOMIC ADJUSTMENTS: Let this comfortable office chair take care of your body while you work with generously-proportioned and contoured...
Pros
Ergonomic design with even proportions
Customizable high back design
Contoured and humanized design
Cons
Doesn't accommodate short users comfortably
---
Best Value
Just because you are looking for an armless office chair doesn't mean that you have to settle for the same old and boring designs. The Rimiking Home Office is the best example of what a modern and unique design of an office chair would be.
This stylish option of an office chair offers optimal and comfortable support that you need to spend extended periods on the chair without any complaints. The accent piece with the twill upholstery is what makes this stand out from the rest of the available options in the market.
The low backrest design with the soft seat cushion further ensures optimal lumbar support and comfort for extended periods. It comes with optimal seat height adjustment, which again is a reason enough why it is a bestselling product.
The one-touch adjustment makes it a superior quality design. It provides you with optimal ergonomic support throughout the day. It allows you to keep a check on your posture and prevents putting a strain on your lower back and neck region.
The polyurethane caster in this armless chair ensures smooth and noiseless movement across the room. Also, it has a five-point chrome base that spreads out the weight evenly without any issues. It has a maximum weight capacity of 200lbs.
The assembling instructions for this chair are mentioned in the package itself. Everything is simple and on point, ensuring that you wouldn't need extra fittings and tools for getting everything together.
Rimiking Home Office Chair is Suitable for:
If you are particular about including an armless chair with a premium look and a unique twill upholstery, this is the best option.
No products found.
Pros
Contemporary and modern design
Smooth and noiseless movement
Keeps one's posture in check
Cons
Seat is not that comfortable
---
Best Value Runner Up
When talking about any kind of office chairs in the market, Serta is a brand that stands out among all the other options. Amidst all their bestselling products, the Serta Essential Mesh Low-Back Computer Desk Task Chair is hands down the best when it comes to armless options.
The brand is known for constructing and manufacturing comfortable and ergonomically design seats that are ideal for sitting on for extended periods. The seat is upholstered with faux leather and mesh material that makes it the most breathable fabric in the market.
Despite the unique armless design of this chair, it makes the chair fit right according to the needs of the users. The unique feature of this chair is hands down the breathable mesh backrest that prevents sweating and generation of excessive heat.
The seat-adjustment lever of this chair is hands down one of the main reasons this chair is worth your investments. You don't have to worry about adjusting the chair manually, which is always a relief. It also features multi-directional casters that enable smoother movement across the room.
Serta Essential Mesh Low-Back Computer Desk Task Chair is Suitable for:
This office chair is hands down the best option for users who don't want to compromise on their seat's comfort and lumbar support.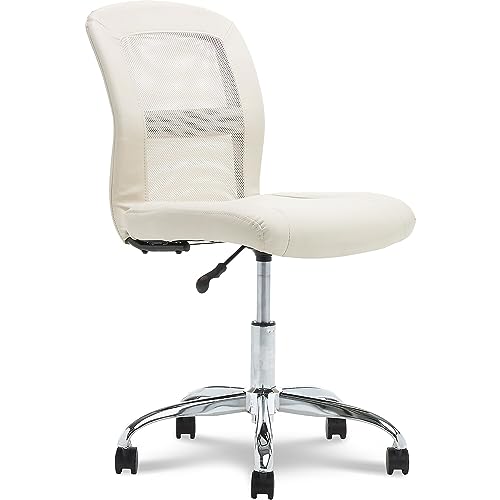 Serta Essential Mesh Low-Back Computer Desk Task Chair...
NO SEAT LIKE A SERTA SEAT: Sit longer and more comfortably with the Serta Essential Computer Chair made of faux leather and mesh
FITS RIGHT IN: Armless style makes it easy to tuck this office chair under a desk or table
EXCEPTIONAL AIR FLOW: Designed with a breathable mesh back to keep you comfortable throughout the day
Pros
Multi-direction caster wheels for smoother movement
Comfortable and ergonomically designed seats
Breathable mesh backrest
---
Best Budget
Amazon Basics is known for catering their audience with the best quality products for an affordable price range and the Amazon Basics Low-Back Office Chair is an example of that. Despite the reasonable price, the product is integrated with a lot of benefits for optimal customer satisfaction.
The comfortable task and computer chair is designed with tilt tension and a black contoured mesh back that ensures maximum airflow for a comfortable seating experience. The pneumatic seat adjustment factor is another feature that makes this a superior purchase.
The weight capacity of this chair is 250lbs, which is further a reason why you need this in your life and your office too. The 2-inch thick padded seat supports your lower back and lumbar support to prevent risks of chronic pain and stiffness.
The product is BIFMA certified with an all-black design that fits into the aesthetics of any work or home office that you have. The mesh backrest ensures optimal air circulation to keep your back cool and reducing the risks of heat and discomfort.
Amazon Basics Low-Back Office Chair is Suitable for:
This is one of the best products that you can consider buying at an affordable price point. The weight capacity is also pretty great.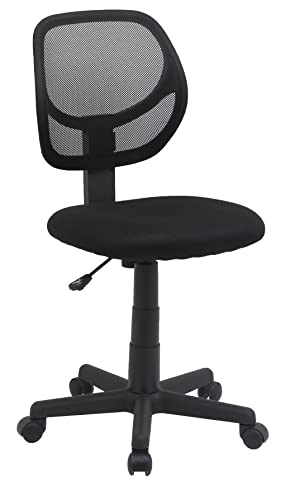 Amazon Basics Low-Back, Upholstered Mesh, Adjustable,...
Comfortable task and computer chair with black contoured mesh back for support and breathability. Assembly required.
Pneumatic seat-height adjustment; 2-inch-thick padded seat for added comfort
275-pound maximum weight capacity
Pros
Adjustable seat height adjustments
Lumbar support with comfortable seat cushions
Breathable mesh backrest
Cons
Not the best for long-term sitting
---
Best Budget Runner Up
Last on the list of the best armless chairs to look into is the Boss Office Products Perfect Posture Office Chair. Not only is it available in multiple color options, but it is also upholstered with the best material for a comfortable seating experience throughout the day.
The product is made with 100% polypropylene that makes it easy to clean and maintain over extended periods. It has a waterfall backrest design that blends to the contours of your back to offer a comfortable seating experience and optimal lumbar support for extended periods.
The 5-star swivel base with double wheel casters given this chair a uniform design and distributes the pressure and the weight capacity evenly. The padded seat is covered in durable tweed fabric that adds a characteristic look to your office.
Coming to the adjustability options, it is integrated with a pneumatic seat height adjustment with a tilt lock. Even the seatback depth is adjustable. The chair does come disassembled, which means that you need to follow the instructions to put the chair together.
Along with the affordable price point, the chair is also backed with a 6-year limited warranty that you can make the most use out of. The chair is also available in three different color options for you to choose from.
Boss Office Products Perfect Posture is Suitable for:
If you are looking for an armless chair that can help you correct your posture, this is the absolute best option to look into.
Sale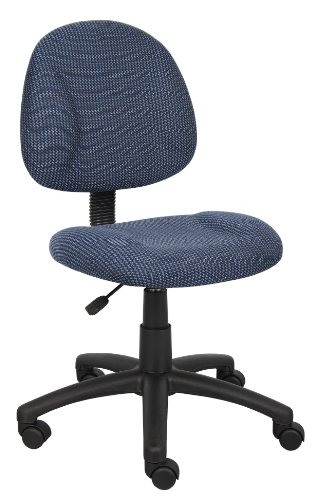 Boss Office Products Perfect Posture Delux Fabric Task...
NOTE : To ensure proper assembly, please follow all steps provided in the installation manual (provided in pdf below)
Fabric type: 100% Polypropylene
Armless task/office chair from Boss with lumbar support; waterfall-contour seat relieves stress to legs
Pros
Extra padded seat for enhanced comfort
Has multiple adjustability options
Backed with a 6-year warranty
Cons
Not the most stable option in the market
---
Conclusion
If you want to add a touch of spice to your office with a unique armless chair, there are quite a few options to choose from. I have sorted out this list in order of the best to the most budget-friendly pick. Also, keep in mind that the majority of these office chairs aren't meant for long periods of sitting, so make the purchases accordingly. My favorite picks amidst all the others have to be the Serta Essential Mesh Low-Back Computer Desk Task Chair without any questions.