Slouching down on the office chairs for extended hours is a leading cause of back pain and discomfort in individuals worldwide. Is it something you necessarily complain about? If yes, then chances are that you need to switch to an ergonomic stool instead of relying on the standard office chairs.
Trust me, although underrated, ergonomic stools are a gamechanger. Not only do they help you achieve a comfortable lifestyle, but it also enables you to improve your posture and make the most out of the ten hours that you'd otherwise spend slouching over the desk.
Here, we will discuss the best ergonomic stools available in the market for you to get your hands on.
Table of Contents
Best Ergonomic Stools
How Do Ergonomic Stools Promote Active Sitting?
Best Ergonomic Stools
Best Overall
With so many ergonomic stools available in the market, the DRAGONN by VIVO Ergonomic Kneeling Chair has managed to steal users' minds with how well designed the structure is. It is more than a stool; it is an ergonomic kneeling chair that supports your posture and promotes active sitting.
The back cushion is made of mesh and is thick enough to support your back and ensure that you have comfortable seating for extended periods. The four-wheel casters on the bottom further allow you to have ease of movement around the room too.
Now is the time you say goodbye to the hunched posture and welcome a straight and ideal one with this ergonomic office chair without any fail. It enables you to experience relief with both the standing and seating option like no other.
Despite how compact the design of this chair is, it manages to accommodate most users with ease. Not only does it evenly distribute the weight of the users, but it also helps take care of their comfort in a long duration of time.
The ergonomic stool is designed with a heavy-duty metal base that is meant to last. Also, it has a weight capacity of 250lbs, which is pretty surprising too. The sleek, all-black design has a modern and contemporary touch to the stool and blends in with the room's aesthetics.
DRAGONN by VIVO Ergonomic Kneeling Chair is Suitable for:
This ergonomic stool is the best option for office workers who spend their time hunched over their computer desk and need a way to correct their posture naturally.
Sale
Ergonomic Kneeling Chair, Adjustable Stool for Home and...
Ergonomic Kneeling Chair - We've got your back (and your knees, shins, and your behind!) Your ergonomic kneeling chair with back support...
Better Posture While Tilted - There is no reason to hunch over your keyboard or desk for hours on end anymore. This posture chair has a...
Heavy Duty - This ergonomic kneeling stool is designed with a strong metal base and is constructed to last. Your new rolling kneeling chair...
Pros
Durable and heavy-duty metal construction
Improves posture and relieves back pain
It has a modern design.
Cons
Quality control needed checking.
---
Best Overall Runner Up
Another worthy ergonomic office chair for active sitting is the SUN-FLEX Ergonomic Perch Stool. This desk chair is more than your standard desks or the ergonomic office chairs you encounter in the market.
This is specifically meant for users who are tired of complaining about their stiff back and taut muscles across the shoulders. Sitting on this stool helps activate your muscles, strengthens your back muscles, and also improves blood circulation in the body.
It promotes an active sitting posture that improves back health and reduces the strain that you put around your neck from being hunched over for hours in the end. The dome-shape based on this stool promotes active sitting for enhanced comfort and less strain on your body.
The stool also features the needed height adjustment functions that you can change from 24.5 inches to 27.9 inches, making it suitable for every user's use, despite their stature. All you need to do is pull the lever on the side to make quick adjustments.
The primary parts of this stool come disassembled, including the seat, gas spring, and base. The package comes with all the instructions you need to get everything together. Given how easy the instructions are, assembling it takes less than a minute.
The fabric upholstered seat in this ergonomic stool is tested to last for over 110,000 cycles, which is crazy but in the best way possible. This chair's circular base comes with the non-skid function that holds the desk chair in place without causing any accidents.
SUN-FLEX Ergonomic Perch Stool is Suitable for:
This is the best ergonomic stool you can buy if you struggle with back pain and stiffness around the lower part of your body and need something to strengthen your core muscles.
SUN-FLEX Ergonomic Height Adjustable Balance Foot Stool...
REDUCE BACK PAIN:With the SUN-FLEX@ Active chair you can intuitively stimulate your core muscles, strengthen your back and increase your...
ACTIVE SITTING POSTURE:We recommend that you sit with your feet balanced on the base or on the floor. This puts your body in a posture...
HEIGHT-ADJUSTABLE and SWIVELABLE:Thanks to the choice of superior quality materials and simplicity of use, you simply pull the lever under...
Pros
It comes with height adjustment functions.
Assembling takes less than a minute.
Upholstery is meant to last over 110,000 cycles.
Cons
The surface area of the seat is small.
---
Best Value
If you have heard of the balance ball chair, the chances are that you know this from THE ORIGINAL Balance Fit Ball Office Chair. This is one of the first brands that came out with a ball chair concept to support the needs of the users and offer them optimal comfort throughout the day.
The chair's unique half-dome shape ensures to support your back and strengthen your core to promote better posture and well-being in the long run. The best thing about this chair is that it's deceptive. Despite how uncomfortable it might look, it is one of the best options you can sign up for.
The chair comes with adjustable settings that enable you to have a more comfortable user experience than the standard office chairs. The traditional balance ball design supports your posture and balance and works your muscle even when you are sitting.
The brand further claims that their balance ball is highly customizable, which means that you wouldn't have to worry about the seat's surface not accommodating your stature. You can inflate or deflate the size according to the needs and even cover it up with the many lycra covers available from the brand.
The stool supports up to 280 pounds, which is another reason it is a worthy investment. Compared to the other office stool, it sure does support your lower back and promote active sitting and a better posture in the long run.
THE ORIGINAL Balance Fit Ball Office Chair is Suitable for:
This office stool is ideal for the users who want to improve their posture and improve their spine health that has been affected by poor sitting choices until now.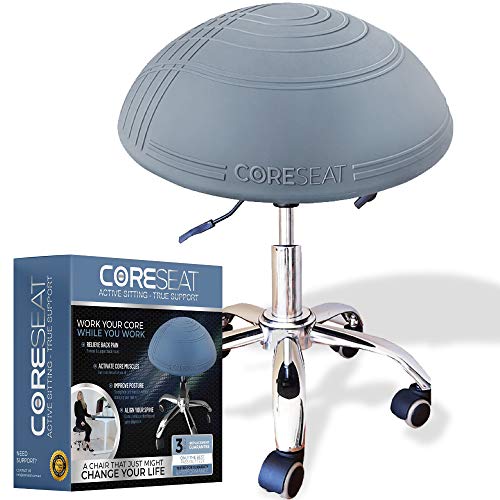 THE ORIGINAL Balance Fit Ball Office Chair, Adjustable...
PERFECT SOLUTION for SITTING DESKS The unique shape of the seat will ensure your core remains active and spine in the correct position all...
FUN, STYLE and FUNCTION all in one cool chair. The adjustable size of our chair lets you pick the height you want, letting you use it with a...
STRENGTHEN YOUR CORE and maximize the benefits of a traditional balance ball with our sturdy ball chair! Increased circulation, constantly...
Pros
Strengthens your core muscles
Highly customizable design
Supports up to 280 pounds
Cons
Wheels don't roll smoothly.
---
Best Value
Vivohome is a leading brand in the market and is known for its range of amazing products. If you are particularly looking for a good-quality standing desk chair or ergonomic stool, the VIVOHOME Ergonomic Kneeling Stool is their bestselling product.
From the taut and sleek design to the heavy-duty iron construction of this stool, there is a lot to it than you'd expect to witness. This stool exterior is sprayed with an anti-oxidative spray that prevents rusting and other risks that many individuals often complain about.
This office stool has an ergonomic design that offers lumbar support and optimal comfort for your posture and core muscles. The chair's seating is upholstered with PU leather and has a thick foam filling that ensures to support your lower back for extended hours.
This stool's angled design ensures to distribute the pressure evenly between the buttocks and the legs to ensure that you wouldn't have to complain about anything at all. The 4-inch cushions with the stuffed memory foam further provide you with so much comfort than you'd normally expect.
The stool comes with a manually adjustable height range that you can change and switch according to your needs. The seat adjusts from as low as 21″ to 28″, which offers a great variation range. The chair's bottom features four removable casters that hold your weight and enable smoother glide across the room.
VIVOHOME Ergonomic Kneeling Stool is Suitable for:
This is your best bet for the individuals looking for one of the best balance chairs with a saddle seat and lumbar support.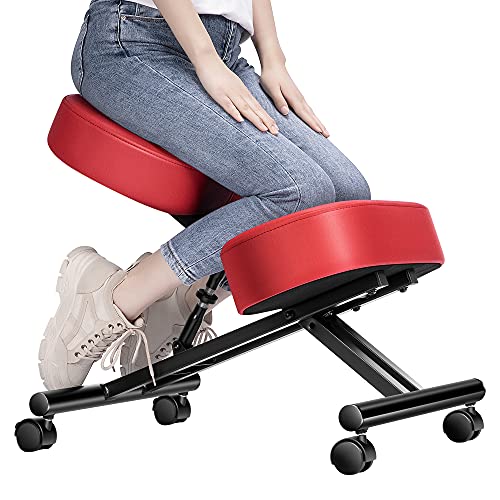 Ergonomic Kneeling Chair Adjustable Stool with Thick...
RUGGED CONSTRUCTION - Constructed with heavy-duty iron frame, its surface is sprayed with anti-oxidation treatment to prevent rust and wear;...
ERGONOMIC DESIGN - Made from durable PU leather, thick foam, strong metal; This kneeling chair at a comfortable angle to keep your back...
COMFORTABLE 4 INCH CUSHIONS - Compared with other kneeling chairs, the cushions of this Kneeling Chair have been thickened to 4 inches and...
Pros
Heavy-duty iron frame
Filled with 4″ memory foam for optimal comfort
It comes with a wide range of adjustable settings.
Cons
Requires a how to use manual for understanding the functional parts
---
Best Budget
More than an ergonomic stool, the Seville Classics Airlift 360 acts like a standing desk chair that you can make the most use out of. It has a very simple all-black design with a stable balance with the median cylindrical rod for optimal comfort.
The height range in this office stool is adjustable from 21″ to 28″ with ease. Unlike most manual adjustment functions, this one is backed with the pneumatic adjustable functions for a comfortable user experience and movement.
One unique function of this chair is that the seat leans up to a 10-degree angle off the center and enables a seamless and uninterrupted 360-degree movement with tilt back usage for an active seating experience with the backless rocking motion.
The insides of this stool are filled with active foam to support your back and promote better lumbar support and comfort for your back and shoulder muscles. The chair supports up to 250lbs that is ideal for accommodating most users looking for the best ergonomic office chair.
The modern and contemporary design of this office chair makes it ideal for everyday usage and fits well in people's homes. Furthermore, the non-slip base of this standing chair supports good posture and reduces the risks of lower back pain.
Seville Classics Airlift 360 is Suitable for:
This ergonomic chair is the best option for users who work in co-working spaces and are tired of the standard office furniture and want to make a switch to ergonomic chairs instead.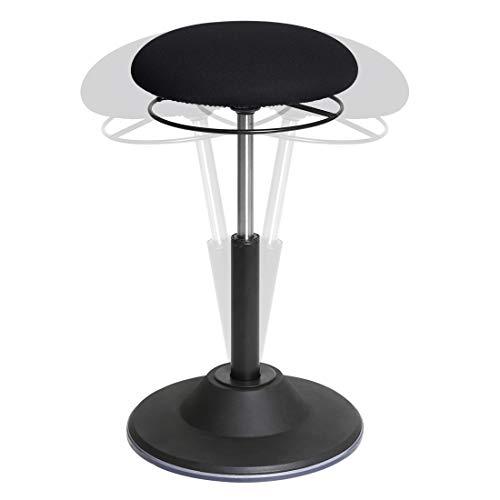 Seville Classics Modern Ergonomic Pneumatic Height...
STANDING DESK CHAIR - Rise from 20" to 28" high with a squeeze of the AIRLIFT lever for quick and quiet gas pneumatic adjustment
SWIVEL 'N LEAN ACTIVE SITTING - Seat leans up to 10° off center and rotates 360° letting users spin wobble and tilt Use as a backless...
COMFORTABLE OFFICE & HOME FURNITURE - Plush foam seat cushion supports up to 250 lbs and is designed to correct poor posture and engage your...
Pros
Multipurpose ergonomic chair
Filled with active foam seat cushion
Supports up to 250lbs
Cons
Little wobbly on the ground
---
Best Budget Runner Up
Last on the list of the high-quality boss office stool is the Flash Furniture Ergonomic Kneeling Office Chair. Unlike all the other options designed with iron or steel frames, this one adds in a more aesthetic look with the wood frame and gray fabric.
The chair works according to the BIFMA standard to provide the users with optimal comfort and support that they need from a sit stand stool. The knee padded rest enables you to support your body to prevent the risks of stiffness and pain that many tend to complain about.
The natural wood frame finish gives the stool a very premium look that you otherwise wouldn't get with the other boss office stool available in the market. The only downside to this sitting chair is that it lacks adjustable height settings.
Flash Furniture Ergonomic Kneeling Office Chair is Suitable for:
This is one of the best desk chairs for individuals who want a sleek and premium-looking office stool that offers them comfort and good posture.
Sale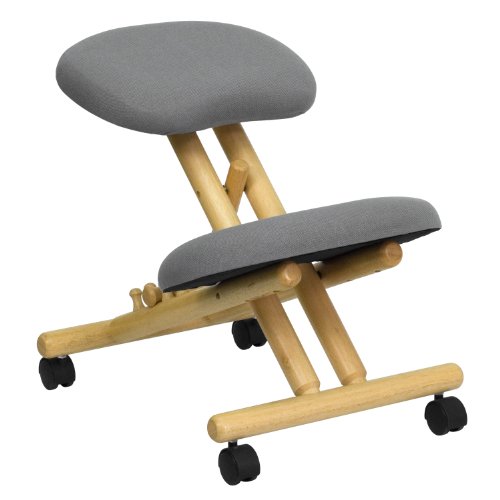 Flash Furniture Posey Mobile Wooden Ergonomic Kneeling...
Wake up those core muscles and let them work as long as you do with this ergonomic kneeling office chair.
[_Our chair conforms to ANSI/BIFMA standard X5.1-17_] Gray fabric upholstered seat and knee rest padded with CAL 117 fire retardant foam
Natural wood frame finish, height adjustable frame
Pros
Upholstered with high-quality fabric material
Has a separate knee-padded rest to prevent strain on legs
Designed according to BIFMA standard
Cons
Not suitable for heavy-weight users
---
How Do Ergonomic Stools Promote Active Sitting?
For those who aren't aware, active sitting is a way to emulate the posture and movements of sitting and standing to prevent excess strain on a single part of the body and instead promote the better strengthening of the core muscles.
Aside from the standard ergonomic stools, the balance ball chairs have also been effective in promoting active sitting. Not only do they improve your posture and health, but it also enhances one's productivity, which is always a good thing.
The backless active stools enable you to move around freely and have the comfort to stretch and relax, which isn't something you get with the sitting chair options. The only downside to these stools is the limited surface area on the seats.
Conclusion
If you have meant to switch to an ergonomic office stool or exercise ball chairs, now is the time to do it without thinking further. Not just for your posture, these stools also promote a healthy lifestyle and strengthens your core muscle while you are sitting and standing on these chairs. However, with so many options in the market, picking out the best one for yourself can be confusing. I hope the list of my favorite picks helps you decide which one deems the best company for you.