In a world where remote work is striving, it isn't surprising that more and more people are choosing to work from home over the rough morning commute to the office. However, not everyone has the comfort or budget to have a separate room in their house to transform into a workspace. Laptop tables for bed take care of that issue, especially by enabling users to make a makeshift office they can work from.
Keeping your laptop on your lap or over a pillow is not just risky but extremely fatal too. Not only does it restrict the airflow from the device, but it also contributes to the risks of causing accidents that you could have otherwise averted.
After researching and looking through a range of available options, I have managed to narrow down the list of the best laptop tables and listed them out for you here.
Table of Contents
Best Laptop Tables
What to Consider Before Buying a Laptop Table for Bed?
Best Laptop Tables
Best Overall
When looking for the best laptop trays for bed, the SAIJI Adjustable Laptop Stand for Bed is hands down one of the most popular options in the market. This adjustable laptop table comes with a large design that can accommodate your laptop and a few other items with ease.
The auto-lock buttons on the side of the table enable you to adjust and lock the height. Also, it is backed with five different adjustable height settings that you can make the most out of. The surface angle of the desk can be adjusted with two different clamps on the side.
It is integrated with a detachable mouse and notebook slip that holds all the items in place, even when you have the table slanted. It is also a multifunctional portable laptop table that you can use for other purposes, including having meals from or using as a side table too.
This light and sturdy desk from Saiji has a foldable design that you can keep away from when you aren't using it. So, if you have less space around your house and don't want to invest in a large working space with proper desks and chairs, this is your best alternative.
The brand is highly reliable and provides its customers with round-the-clock assistance if you face any issues with the desk. The foldable laptop table is backed with a 12-month warranty too.
SAIJI Adjustable Laptop Stand for Bed is Suitable for:
If you want a laptop table that enables you to adjust the height according to the user's needs, this is your best bet.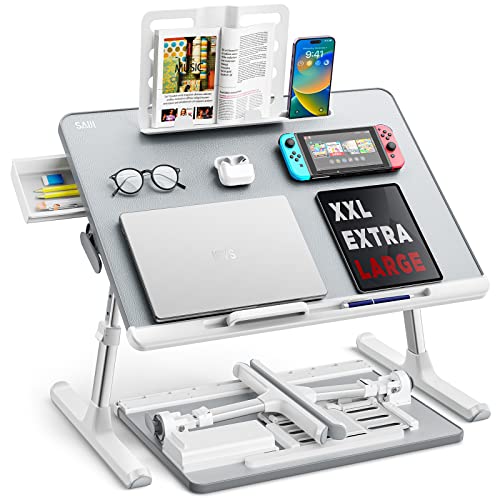 Laptop Bed Tray Desk, SAIJI Adjustable Stand for Bed,...
[ADJUSTABLE LAPTOP TABLE]: The adjustable angles and heights allow you to customize the tray to be ergonomically friendly, saving strain on...
[XXL EXTRA LARGE]: The 23.6" x 17.7" extra large laptop lap desk will fit all you need. keep your laptop, textbook, mouse, and smartphone...
[MULTIFUNCTION PORTABLE LAPTOP DESK]: With non-slip leather desktop, a storage drawer, a removable book stand, a moveable laptop stopper,...
Pros
Different adjustable height settings with lock
Has a detachable mouse or notebook slip
Foldable design
Cons
Quite bulky and heavy-weight
---
Best Overall Runner Up
While there are many laptop tables available in the market, it is scarce for you to come across a lap desk. They have a very similar function to the tables, except that they don't have the limbs and are meant to go on your lap.
The Sofia + Sam Multi Tasking Memory Foam Lap Desk is one of the best lap desks that you can choose for a comfortable and ergonomic work experience. It is designed with a separate tablet slot that you can use to work on your smaller devices. However, it can easily fit your laptop, too, for easy work experience.
The separate smartphone slot on this desk is another benefit that you can't forego. The slide-out mouse desk adds a touch of innovation to the product and makes it more space-efficient too. The front of the desk has a memory foam cushion that supports your wrists for extended periods.
Despite the large design, it is quite lightweight and easy to take around with you to work from anywhere and with maximum comfort.
Sofia + Sam Multi Tasking Memory Foam Lap Desk is Suitable for:
This item is perfect for individuals who don't want to invest in full-blown laptop desks and need something subtle yet ergonomic.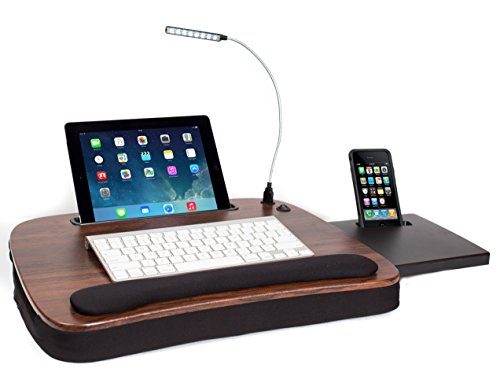 Sofia + Sam Multi Tasking Lap Desk with Memory Foam...
Large work surface of 18.5" x 14" x 3.5". Patented D772596
Includes tablet slot that fits tablets 9.6 inches or smaller and smart phone slot that fits mobile devices 3.5 inches or smaller
Cool and comfortable design built with a memory foam cushion, wrist rest and handle for portability
Pros
Ergonomically design with memory foam.
Has a tablet and mobile phone holder
Durable construction
Cons
Can put a strain on the legs after a few hours
---
Best Value
When talking about the best laptop tables for beds, Leehee is quite an underrated brand. However, their LEEHEE Adjustable Lap Bed Tray is a product that offers to transform your bed into a makeshift workspace for you.
This chair's overall construction is done with eco-friendly and sustainably sourced wood that makes it ideal for long-term usage. Also, the tray's surface is made with thicker and more durable items that ensure you wouldn't have to compromise on the quality of the item.
Like the first option, even this laptop table is adjustable to five height settings according to your needs. The surface can be tilted to three different positions. The plugged-in USB fan comes in handy for preventing overheating and ensuring efficient performance like no other.
The trapezoid-shaped structure and legs of this laptop table make it ideal for easy folding and portability. You can seamlessly fold them in a flat position and store them anywhere that's convenient for you.
This lightweight desk from Leehee is perfect for anything that you need to do on your bed. You can finish your work, write and even eat your food on it. There are no reports about this product's warranty, which again is a bit of a downer.
LEEHEE Adjustable Lap Bed Tray is Suitable for:
This is one of the best laptop trays that you can consider sustainable and eco-friendly items.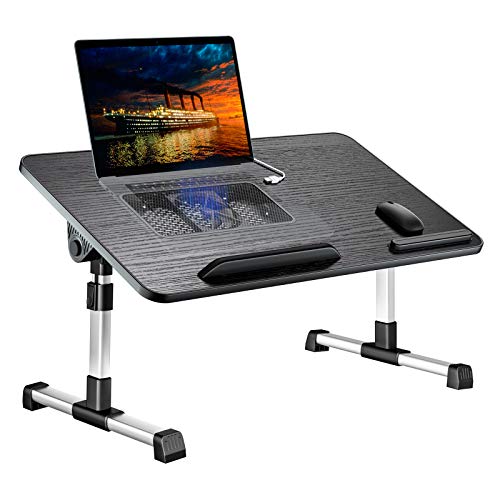 Laptop Desk for Bed,LEEHEE Adjustable Lap Bed Tray...
【Solid Built Laptop Desk】LEEHEE laptop table is made of environmentally friendly wood, which is safer and more solid for daily using....
【Adjustable Computer Desk】5 different height is able to be adjusted on this laptop stand (adjustable from 9.5 -12.6 inch), which ensures...
【Quiet USB Cooling Fan】The laptop stand comes with an integrated USB cooling fan, plug it in your laptop, you don't need to worry about...
Pros
Adjustable height settings
It comes with a USB plugged in fan
Portable and foldable design
Cons
The stability of the desk is not optimal.
---
Best Value Runner Up
It is not every time you come across a humongous laptop desk and can accommodate all your office needs in one place. Don't worry because the Cooper Mega Table is just what you need for such cases.
This multifunctional desk comes with an extra-large surface area to not just keep your laptop but also the other essentials, including notebooks, tablets, phones, pens, and so many more. The adjustable laptop desk is constructed with aluminum alloy legs that are sturdy and rust-resistant too.
This large foldable laptop table is ideal for any work, be it office-related or even for the students who want to get their work done with ease. This compact desk comes with a foldable design that you can lay flat anywhere that you want.
With all of those amazing functions, this is also one of the few desks backed with a 2-year warranty. The rope handle on the sides further makes it easier for you to move the table with its contents.
Cooper Mega Table is Suitable for:
This laptop table is perfect for individuals who need a table to accommodate all their items, much like a normal desk would.
Sale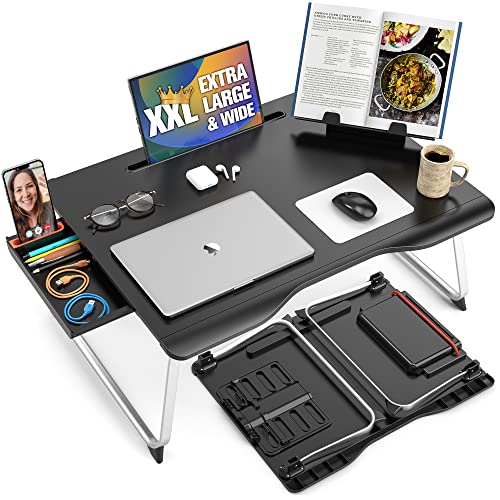 Cooper Mega Table Plus - Premium XXL Extra Large Lap...
THE KING OF FOLDING DESKS 👑 Extra large surface laptop lap desk with foldable legs. Multipurpose for bed, couch, and floor. Ideal college...
XXL EXTRA LARGE & WIDE 🛏 The mega table's 25.6" x 19.3" surface is MASSIVE! Non-adjustable (fixed) 10.6" table height is very stable,...
WORK, STUDY, PLAY: COLLEGE ESSENTIALS 👩‍💻 Spend hours on this laptop table for bed study for exams, recovering from injury, drawing...
Pros
Durable and sturdy construction
Foldable design with rope handle
Large surface area
---
Best Budget
Next on the list of the best laptop bed table is the Hiveseen Bamboo Laptop Bed Desk. Unlike all the other options, this one is constructed with 100% bamboo wood which is not just durable but extremely sleek and has an amazing finish on the product.
The tray's adjustable legs enable you to adjust the height up to 5 different settings according to your needs. The different tilting positions can be further locked-in to prevent accidents or toppling over the items on the table.
It has a very convenient design with multipurpose settings that accommodates all your needs with ease. Aside from the surface area, it has a drawer on the side that can easily accommodate your small knick-knacks and documents.
The baffle prevents the laptop from slipping out, thereby keeping all the contents on the surface and enabling you to make the most out of this laptop table for bed. It is a foldable and portable tray that you can store according to your ease.
The table weighs around 17lbs, which is not the worst but can get a little too bulky for some people's likings. The wooden finish on this table is smooth and doesn't poke into your hands, which is great too.
Hiveseen Bamboo Laptop Bed Desk is Suitable for:
This laptop cum coffee table is ideal for users who want a modern design option with sustainable materials like bamboo.
No products found.
Pros
It comes with different tilting positions
Multipurpose design and functions
Portable and foldable design
---
Best Budget Runner Up
Last on the list is the Sopownic Laptop Bed Tray Table, which is hands down the best portable laptop tray that you can get your hands on. The adjustable height settings enable you to adjust the height according to your stature and posture, creating ergonomic seating.
The portable and compact design makes it ideal for you to travel anywhere you want. This table's extra-large size is another benefit, especially since it enables you to accommodate a lot more on the surface than just the laptop.
The sled-designed legs in this tray table enable a stable adjustment like no other. The clamps on the side come in handy if you are trying to control the tilt's angle to align well with your posture. It does come pre-assembled, which means that you wouldn't have to worry about the same.
This laptop table's super-lightweight design makes it one of the best to travel with, especially when you are on work trips. It weighs under 5lbs, which explains why it is one of the bestselling laptop trays on the market.
The table is made with environmentally friendly materials, including MDF and solid wood particleboard. This laptop table's surface is very smooth and enables you to have a comfortable work experience while using a laptop. It doesn't come with accessory items like the drawers and cup holder, so keep that in check.
Sopownic Laptop Bed Tray Table is Suitable for:
This laptop cum coffee table is the best option for those who want an extremely lightweight yet sturdy option that they can travel with.
No products found.
Pros
Made with environmentally good materials
Sled-design legs for better sturdiness
Super-lightweight design
Cons
Not the most ergonomic design
---
What to Consider Before Buying a Laptop Table for Bed?
If this is your first time buying a laptop table for your bed, you need to consider a few important factors. I have listed out the most important ones.
Dimensions
The first thing to consider is the size and shape of the table. You want to look for options to accommodate a laptop and have some extra space for a few other items like the mouse and a notebook. This ensures that you have enough space to type comfortably without putting a strain on your posture and stature. Try to get an option that can accommodate your needs with ease.
Adjustability Options
Another factor worth considering is the adjustability options. From the height and angle to the overall tilt and comfort, you want to invest in a table that accommodates the user's needs. Height adjustable options are the best because they support your posture and ensures an ergonomic setting for you.
Portability
Not many users pay heed to this but when looking for a laptop table, consider the portability factor too. You want a high-quality item that comes with a height adjustable design and is portable enough to carry with you without any hassle.
Price Range
Laptop tables for the bed aren't as costly as you think. The majority of the multi-functional options are affordable and reasonable to make them accessible to every user in the market. However, if you are particular about the budget, I have sorted out a few budget-friendly options too that you can look into. Don't let the price be the deal-breaker, though. You want to prioritize the quality and the design of the products above anything else.
Conclusion
Laptop trays and tables for beds are a common norm for every remote worker. If you can't afford a proper workstation, these are the next best thing. They enable you to experience an ergonomic setup for your work without having to strain your back or complain about persistent discomfort. I have sorted you out with my top six picks that are large enough and easy to carry around. Ensure that you look through the features and functions before settling on the one you deem the best for you.