Best Overall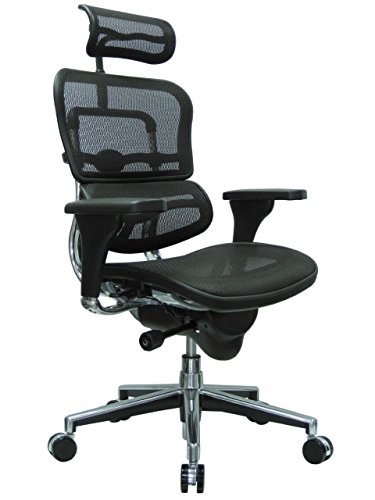 Best Value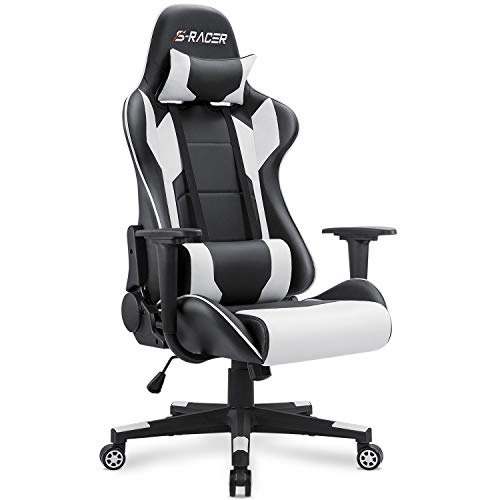 Best Budget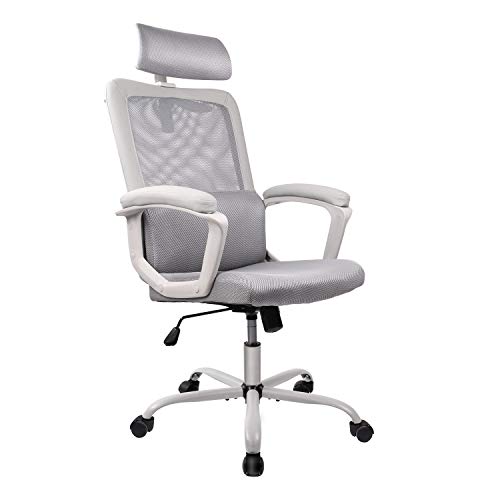 Do you have a desk job that requires you to spend hours in a chair?
Sitting for hours on end for work has become the norm with most jobs requiring you to work from a desk. This is convenient for many, but comes with its fair share of side effects. One of the main adverse effects of working for long hours sitting is poor health.
Poor health here means a combination of poor posture, aches and pains, and sometimes even chronic pains. Your spine, neck, thighs, arms, lower back – all suffer when you sit on a computer chair for long hours every day.
The discomfort and pain becomes a part of our life, and we stop noticing it until it becomes a bigger issue. Avoiding long working hours sitting has become almost impossible for many. So, having a highly ergonomic chair is the main solution to get pain relief, support, and comfort.
I have rounded up 6 best computer chairs for the office for long hours sitting so that you can get the support you need and comfort you deserve.
Oh, by the way, being supported and comfortable doesn't only promote good posture and good health, but it also is good for overall productivity. If good health didn't catch your attention, then I am sure increased productivity did!
Table of Contents
Our Pick
Best Computer Chair for Long Hours Sitting
Best Overall
The Eurotech Ergohuman Mesh High Back Office Chair is one of the best computer chairs for long hours sitting because of the philosophy that this chair follows. It is designed to provide anatomically-precise support to your back. This dedicated support makes it comfortable and supportive of prolonged sitting hours.
Talking about the back, the back has three angle adjustment options that allow you to tilt the chair depending on your sitting position and have proper support. The tilt lock technology makes sure that your chair is locked at the angle you want the recline to be. The tilt tension control makes it easier to manipulate the tilt of the chair based on the force and pressure you apply while pushing the chair with your body.
The synchro-tilt option is great because the backrest and the seat move together when adjusted. This makes sure to maintain the ergonomics by synchronizing the angles of the different parts of the computer chair.
Talking about the seat, the seat cushion is covered with mesh, so it helps with air circulation. It is height and depth adjustable. The adjustable height feature of this chair is heeded with easy-glide pneumatic cylinders, which makes the adjustability smooth.
The armrests are also height-adjustable, allowing you to move them based on your sitting and eventually slouching position (that is the position we often end up in when sitting for long hours). The headrest is adjustable as well, so your neck and head will be supported at all times. It has great wheel support with its 360-degree swivel.
The breathable mesh back added into the back, and seat design makes sure that the chair promotes good air circulation. This helps keep you cool and keep your body sweat away. It meets the ANSI/BIFMA standards and also has a Greenguard certificate.
If you are an environmentally conscious consumer, then you will be happy to know that this chair is built with 97% recyclable components.
Ergohuman High Back Office Chair is Suitable for:
This computer chair is suitable for people who want maximum value – features wise and money-wise. It is truly a value option with a contoured back, adjustable seat height, adjustable armrests and headrest, mesh back, and tilt option, while also being in the mid-range price-wise at $699.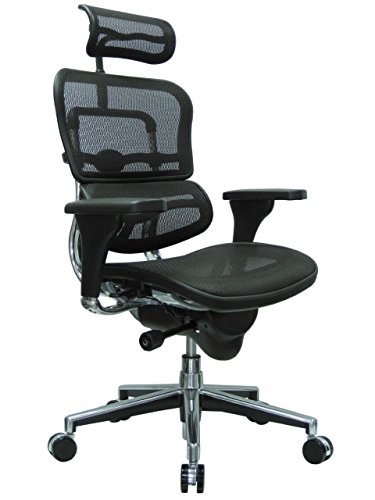 Ergohuman High Back Swivel Chair with Headrest, Black...
Made of Chrome/polypropylene base with nylon casters, this chair is made of 97% recyclable components
Product dimensions – 29" D x 26.5" W x 46"-52" H | Seat dimensions – 18.5" D x 20.5" W | Seat height (lowest/highest) –...
Synchro-tilt mechanism and seat depth adjustment ensure users sit correctly and get the support they need, whether sitting upright or...
Pros
The contoured back provides support and helps reduce back pain.
The back and seat are supported with a synchro-tilt mechanism, which helps the ergonomics of the chair.
The tilt lock and tilt tension allow the chair to tilt with ease.
The mesh back and seat help improve the air circulation throughout your working hours.
The armrests are adjustable.
The headrest is adjustable.
It is made up of 97% recyclable components.
Cons
Armrests are adjustable but don't lock-in, so it can be an issue when moving the armrest away.
This chair is not recommended for heavy users.
---
Best Overall Runner-Up
The name Hercules itself has become a testament to this chair. The Hercules series from Flash Furniture is named after the Roman God – Hercules – the God of strength. The build is solid and sturdy, yet it provides maximum comfort. It is also BIFMA certified.
The selling feature is that this chair supports up to 500 lbs of user weight, making it a highly versatile option for offices. Many ergonomic features are employed to make the chair be supportive of a wide range of people and provide comfort to them all.
You can recline in this chair when tired. The adjustable tilt mechanism is accompanied by its tilt lock mechanism that locks the angle you tilt the chair in so that you can be supported even in different sitting positions.
The built-in lumbar support helps relieve back pain and lower back pain, which is essential for any chair that is meant to be used for long hours. The high back support helps relieve pain from your shoulders, and in turn, your neck. The adjustable headrest adds to it and helps relieve neck pain and supports your head.
You also get a pneumatic seat height adjustment option. The seat has extra-thick padding, which makes it supportive, and the foam padding makes it comfortable for hours of use. The seat edge is made comfortable with a waterfall design. This helps reduce the pressure on your legs and makes the seat edge feel comfortable to the back of your thighs and promotes blood circulation in your thigh area.
The backrest, seat, and armrests are all cushioned in the same way. It is designed to provide extensive support for extensive use. The cushions won't wear out from regular long-hour usage. It has a 360-degree swivel, which makes for easy movement.
The Flash Furniture Hercules is Suitable for:
This chair is suitable for a wide range of users because of its weight support capacity of up to 500 lbs. It can be used to work for long hours without risking the cushions to wear out. It is also an affordable option for all that it provides and stands up to its expensive counterparts.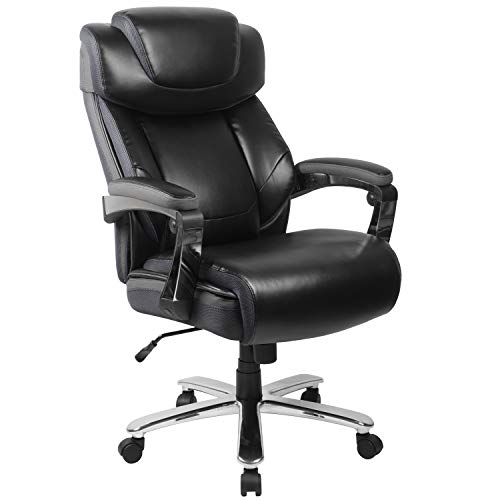 Flash Furniture HERCULES Series Big & Tall 500 lb....
When you spend more time in your office chair than your bed, a great chair is essential. This adjustable Big & Tall executive office chair...
[_Our chair conforms to ANSI/BIFMA standard X5.1-17_] High back design with ratchet height adjustable headrest and built-in lumbar support,...
Contoured back and seat with CAL 117 fire retardant foam and embellished mesh trim, LeatherSoft is leather and polyurethane for added...
Pros
The build is solid and sturdy.
This chair is thickly padded for maximum comfort.
The back design and built-in lumbar support help relieve lower back pain.
The headrest is adjustable.
This chair has a tilt-lock mechanism and a recline option, which is many times missing from chairs meant for big and tall people.
Cons
This chair is heavy and can be difficult to move.
When the chair is upright, an additional pillow might be needed for short people.
The armrests are not adjustable.
---
Best Value
You might be confused, seeing a gaming chair as an option for desk jobs. But, hear me out. Gaming chairs are designed to be used for long hours as game tournaments and gameplays go on for hours. This is why the chairs are ergonomically sound and don't compromise on comfort either.
It only makes sense to use one of the good ones as a computer chair if you are going to be spending hours on it. Homall is a popular brand among gamers. The quality and durability of the chair, along with the ergonomic considerations, makes it the right choice.
This S-Racer gaming chair is one of the sought after chairs by gamers and soon by the office-goers as well. It has two adjustable pillow options. One is meant for your lower back and provides additional lumbar support. Another is meant for your neck, providing relief from neck strain. You can even remove the pillows if you want.
The backrest has a tilt locking system that helps you lock the chair in 3 comfortable angles: 90 degrees for sitting straight, 135 degrees for leaning back, and 180 degrees for resting and relaxing. This allows you to relax and take a break right in your chair.
It is also height-adjustable, and the gas spring cylinder helps the height to be adjustable at three levels. This allows people of different heights to easily use this chair. It also has a weight capacity of up to 300 lbs. The bucket seat makes for overall comfortable sitting. The chair is covered in PU leather.
This chair has PU wheels that help provide the flexibility of the rubber wheels and also the durability aspect of the metal wheels. They are attached to a reliable and stable wheelbase. It is like getting the best of both worlds. It also makes for an easy movement option to roll around the office.
Homall Gaming Chair is Suitable for:
This chair is perfect for people who work for long hours, and of course, it is great for gamers, beginners and intermediate level, alike. If you want a chair that can support your excessive gaming and excessive working, then this chair is for you.
Sale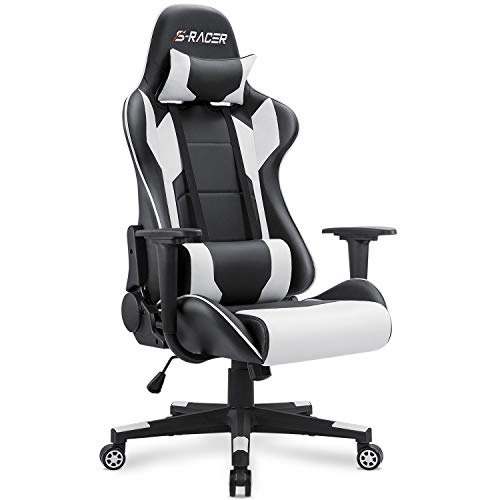 Homall Gaming Chair Office Chair High Back Computer...
Selected Material: High density shaping foam, more comfortable, elasticity resilience and service life. 1.8mm thick steel frame, more sturdy...
Upgraded Configuration: Class 3 gas lift, durable, reliable and supports up to 300lbs. Rubber casters, rolling quietly and tested by 1000...
Multi Function: 360 degree swivel and multi direction wheels, load capacity: 300-pound maximum weight capacity. Recline function. Between 90...
Pros
This chair can be used for office work as well as gaming.
This chair supports a wide range of heights and weights.
It comes with two detachable and adjustable cushions – one for your lower back and one for your neck and head.
Great quality wheels are added to the chair, which are attached to a reliable and stable wheelbase.
Cons
The synthetic leather covers do not promote good airflow.
The armrests aren't adjustable.
Women with large hips might find the bucket seat uncomfortable.
Assembly of this chair can be a bit time-consuming.
---
Best Value Runner-Up
Mesh computer chairs are becoming more and more popular because they marry comfort with style. Not only do they look sleek and modern, they also make sure that you are comfortable no matter how long you sit in the chair.
Duramont Ergonomic Office Chair is one such ultra-modern chair that provides you with comfort and support. The mesh back makes sure to maintain good airflow. This helps to keep us cool and make sure we don't sweat.
The sturdy frame build also provides support. Long hours sitting can be rough on the chair; we tend to lean occasionally and even rest in that position, so the strength of the chair is a huge factor to consider.
The tilt angle or recline option that allows you to lean is customizable and comes with a tilt lock mechanism to lock the chair at an angle you prefer. This allows you to lock your chair in different angles during your work cycle. There is an adjustable lumbar support option. You can customize the height and depth of this lumbar support so that no matter the position or angle you sit in, you will always have your lower back supported.
The seat is height adjustable. The seat feels soft but has thick padding to provide you with maximum comfort and support. The armrests are padded and can be adjusted as well. Not only is the height of the armrest adjustable, but you also get to move the armrests vertically to push them away from your seat.
The headrest is another important feature if you are going to be working long hours. The headrest provided in this chair works in harmony with the backrest. The height and angle of this headrest are adjustable, so you can have neck and head support at all times.
This chair supports user weight up to 330 lbs. It is still lightweight. It has rollerblade caster wheels and has a 360-degree swivel. This makes moving across the office floor easier, so you don't have to keep getting up, breaking your workflow.
Duramont Ergonomic Office Chair is Suitable for:
This chair is suitable for those who burn the midnight oil. Adjustable armrest, headrest, seat height, and backrest tilt, along with breathable mesh back and thickly padded seat makes it a sought after chair option for people working long hours. The ergonomic support and comfort are top-notch here.
Sale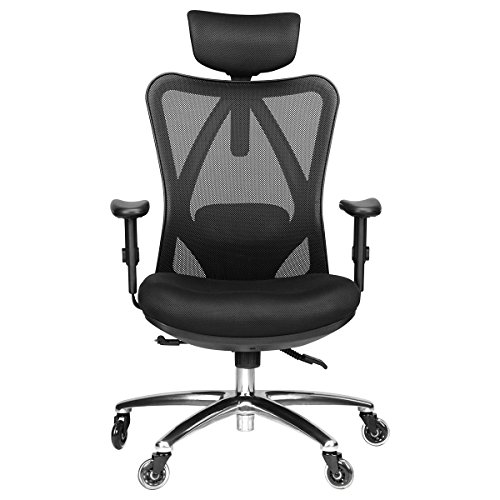 Duramont Ergonomic Adjustable Office Chair with Lumbar...
COMFORTABLE - Thanks to this state-of-the-art office chair's numerous adjustable features you can be assured of finding a comfortable...
BREATHABLE MESH - The breathable mesh back on this ergonomic office chair provides support while keeping your back cool and comfortable....
BACK SUPPORT - Have back issues or don't want to develop them? This adjustable office chair includes adjustable lumbar support and a...
Pros
The mesh back makes sure to keep sweat away with good air circulation.
This chair comes with height and depth adjustable lumbar support.
The headrest is height and angle adjustable.
The armrests can move up and down and to the side.
The seat cushion is thickly padded.
This chair features a breathable mesh back that helps the body to remain cool.
This chair supports user weight up to 330 lbs.
This chair build is sturdy yet lightweight.
Cons
The seat is soft, but the thick padding can feel firmer to some people.
Sitting upright after leaning back can get a bit tricky because you will have to move the adjustable lumbar support.
The edge of the seat cushion can be uncomfortable when working on long stretches, and it pushes between the legs.
---
Best Budget
Smugdesk is an ergonomic chair that excels on both – features and price. You get great value for what you pay. The look of this chair is what first draws the people in. The ultra-modern and sleek look is currently in trend in modern office chairs.
This chair has a mesh design, which promotes good airflow, which is great for people who work for long hours and have a tendency to sweat. The reinforced mesh back is designed to keep your body cool and also helps resist abrasion and transformation.
The headrest is made of the same mesh material to keep your head sweat-free as well. The headrest is height and angle adjustable. The armrest padding is soft to help relieve pressure from your hands and wrist. The back can up tilted up to 120 degrees for comfort.
You get an additional cushion for lumbar support. The seat is padded to provide comfort and support throughout your working hours. The padding is done with a memory foam seat to customize the comfort to you. It is covered with durable upholstery to make sure that it is long-lasting.
The chair is height adjustable and even allows you to rock in your chair. It has a five-claw base and nylon casters that allow for easy movement. It has a 360-degree swivel and can handle user weight up to 300 lbs.
This chair is easy to assemble and can be put together in under 30 minutes. It being lightweight is one of the reasons for that, and it also makes it easy to move around. Smugdesk has one of the best customer support.
Smugdesk High Back Office Chair is Suitable for:
This chair is great for a home office as it will look good with your furniture and it will also be easy to move around because of it being lightweight. You will also get great ergonomic support that your dining chair just might not provide.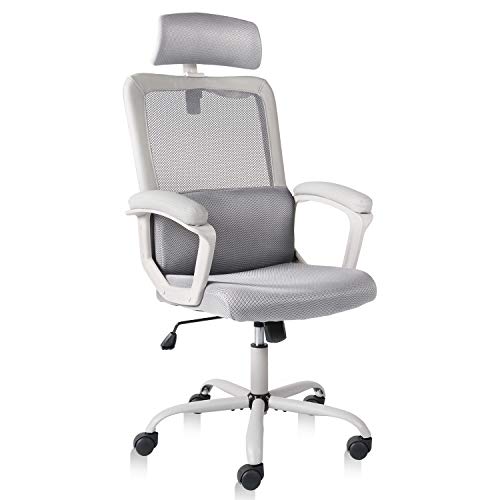 Smugdesk Office Chair, High Back Ergonomic Mesh Desk...
【Easy to Install & Uninstall】- You can build this chair up within 15 minutes with Allen wrench and simple illustrated instructions...
【Comfortability】- The backrest and seat of this office chair, with breathable mesh fabric and memory foam, keeps your body cool and...
【Adjustability】- The only lever underneath the chair allows the seat to raise up or down for 4.14". You can also adjust the headrest's...
Pros
This chair has a reinforced mesh backrest and headrest for good airflow.
The headrest is height and angle adjustable.
It has a weight capacity of up to 300 lbs.
This chair is lightweight and easy to move around.
The seat has a memory foam padding.
You get an additional cushion for lumbar support.
It is easy to assemble.
It has great customer support.
It has an ultra-modern and sleek design.
Cons
The headrest can be hard to push in.
The wheels could have been better.
---
Best Budget Runner-Up
Hbada is one of the chairs that you will easily find in one office or the other. There's a reason for it, let me tell you what. This chair is designed to serve a wide array of people – height and weight wise – who have one thing in common, and that is working for hours on end.
This chair is highly adjustable and customizable. You might not find these many options in many chairs. There are nine ways that you can employ to alter the height settings of this chair. The height adjustment range of this chair is 17.3 inches to 20.5 inches.
You also get a recline option of up to 155 degrees. The adjustment is easy as well; you just have to lean back and then make the chair adapt to your movement using the chair's kinetic tilt mechanism. This helps a smooth transition between an active sitting position and a reclining position. The backrest is designed to cradle your spine and provide highly contoured support.
The back is designed with a breathable mesh structure. It is great for keeping you cool and your body away from sweat when you are sitting for long hours with your back rested on the backrest of the chair.
The seat has a thick foam padding to provide comfort throughout your working hours. The soft fabric that covers the seat cushion makes it even more pleasant to sit on. This chair can support users up to 250 lbs.
The headrest is also made from mesh and is great for resting your head when you are relaxing. This chair also has one more exciting component, that not many chairs have, and that is a retractable footrest that stretches fully. Talk about a great relaxing break.
The Hbada Ergonomic Office Reclining Chair is Suitable for:
This chair is great for people who weigh up to 250 lbs. It is extremely affordable because of the price tag being below $200, despite all the features that you get. Heavier people will be able to benefit from a lot of ergonomic features at a price that is not back-breaking, with a chair that is not back-breaking either.
Sale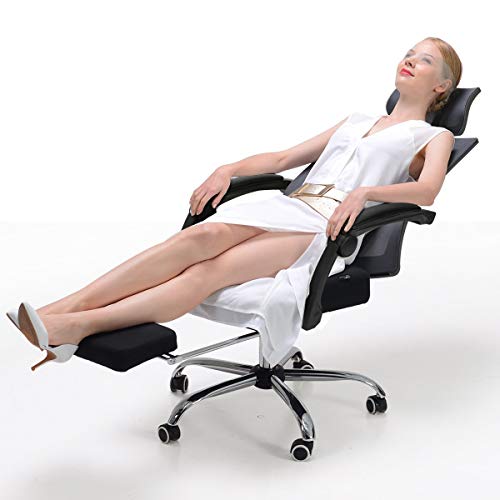 Hbada Ergonomic Office Recliner Chair - High-Back Desk...
ERGONOMIC RECLINER - Synchro tilt reclines the backrest increasing the angle between your torso and thighs for a comfortable, ergonomic...
BREATHABLE MESH - Contemporary ergonomic black mesh office chair promotes increased air flow, keeping you feeling cool and comfortable...
ADJUSTABLE OFFICE CHAIR - Waterfall seat cushion slopes slightly downward to help reduce stress on your legs. Built-in lumbar support and...
Pros
This chair has nine ways to alter the height settings.
It is height adjustable.
You can tilt up to 155 degrees.
This chair comes with a mesh headrest.
It has a retractable footrest.
The mesh backrest makes it a good and airy option.
This chair is affordable and has great features for the price.
Cons
The armrests aren't adjustable, which can be an issue when switching positions.
You might need an extra pillow for lumbar support.
A retractable footrest, while exciting, is not meant for small spaces.
---
Can Sitting for Long Periods Lead to Leg Problems?
Long hours of sitting weakens the leg and gluteal muscles due to their prolonged inactivity. These muscles are responsible for helping you with walking and stabilization. Degrading of these muscles can make you vulnerable to injuries from falls, and also if you exercise with a strained muscle.
Varicose veins are swollen, twisted veins, and sitting for long periods can lead to varicose veins in your legs. These may form whenever the blood pressure increases in your legs. These aren't usually dangerous, but in rare cases, blood clots can form in veins located deep inside the body and can put you at risk of vein thrombosis.
Deep vein thrombosis, as mentioned above, is a blood clot that forms in veins, deep your legs. Long drives or flight trips can cause DVT, and the aged are at a greater risk of developing DVT. DVT can be dangerous as the blood clot cuts off the blood supply to other parts of the body. If the essential parts of your body don't get adequate blood supply, it can lead to a medical emergency; like, it can create a blockage of an entire artery in the lungs, which can lead to pulmonary embolism.
Can Prolonged Sitting Affect Your Mental Health?
The link between sitting for long periods and physical health are well-founded and documented, and it is easy to pinpoint the causes of physical health-related problems. But a lot needs to be understood when it comes to mental health. There are some studies that show how sedentary behavior is linked to an increased risk of anxiety, though.
Newer studies suggest that sitting for more than 6 hours a day causes physical as well as emotional toll, and can make you more vulnerable to depression.
The biggest reason for this can be the absence of the positivity and energy that comes with physical activity and being fit. So, introducing some physical activity in your daily schedule can help.
Is Sitting for Long Hours Bad for Your Health?
We, humans, are evolved to be upright. Being upright makes all of our bodily functions, from the heart to the cardiovascular system, to bowel functions, more effective and efficient. It is known that being bedridden can lead to problems with bowel functions.
Sitting all day, too, can lead to various problems, whereas being physically active improves your endurance, energy, and bone strength.
Living a sedentary lifestyle can harmfully impact your health in the long run, whereas sitting and sleeping in moderation can lead to a healthy life.
Let's have a look at how a sedentary lifestyle affects your body:
Weight Gain
Constant movement and activity help in the digestion of fats and sugars. Sitting all day can make the digestion process inefficient and can lead to retention of the sugars and fats.
It doesn't matter if you exercise every day; if you spend long hours sitting, you are still at risk of heart disease, type 2 diabetes, which can lead to problems like metabolic syndrome. You need at least around 70 minutes of moderately intense physical activity, daily, to not be at risk of problems that come with sitting too much.
Back and Hip Pain
Sitting for long periods can also make your back and hips inefficient in their support. Sitting all day is the biggest culprit of tightening and shortening of hip flexors, the muscles that are responsible for the mobility of your lower body. Hip flexor shortening can not only lead to hip joint problems but also affect the positioning and movement of your lower back.
Maintaining a good posture becomes increasingly difficult when sitting for long periods, especially if you don't have a good ergonomically designed chair to support you. This can lead to back problems. Your spine health may degrade, and with too much pressure on the spine, it can lead to spine compression.
Cancer
New studies suggest that there's a link between sitting and developing certain types of cancer. More studies are needed to be done as the reason behind this isn't known.
"Extended sitting raises your risk for colorectal, ovarian, and endometrial cancers," says Karen Basen-Engquist, Ph. D., a professor in the Department of Behavioral Science at MD Anderson Cancer Center.
Heart Problems
People who watch 23+ hours of TV in a week have a 64 percent higher chance of getting cardiovascular diseases, and very low chances of surviving it, as compared to those who only watch ten hours of TV per week.
The 147 percent increased risk of heart attack or stroke, due to inactivity for long hours, is alarming, as suggested by some studies.
Diabetes
Your body becomes insulin resistant when excess amount of glucose in the blood leads to less absorption of blood sugar by the cells, for energy, increasing the risk of developing prediabetic conditions, and can lead to type 2 diabetes.
Even five days lying in bed can increase insulin resistance, and as a result, the blood sugar will increase above healthy levels. You are at 112 percent higher risk of diabetes if you sit for long hours.
Neck and Shoulder Pain
We tend to slouch over our desks over time when working for long hours. This makes our neck and shoulders stiff and causes pain.
What is the Best Office Chair for Sitting Long Hours?
The best computer chair for long sitting hours is any chair that provides good ergonomic options. More ergonomic options provide versatility and the ability to customize the chair according to your need. Not only that, but it also allows you to get support and comfort no matter what your posture is.
Yes, maintaining good posture is important, but when you are working long hours, it isn't easy to maintain it day in and day out. As the day progresses, people tend to slouch or take more breaks by reclining on the chair. Having a seat and back that can move with you is highly helpful.
I have made a list of six computer chairs that are great for working for long hours at your computer desk. The Ergohuman High Back Office Chair provides maximum value with a contoured back, adjustable seat height, adjustable armrests, and headrest mesh back, and tilt option, and is affordable as well.
Flash Furniture GO-2223-BK-GG HERCULES Series is great if you are a heavyweight individual or if many people are going to be using the chair, because it has a weight support capacity of up to 500 lbs. The cushions won't wear out any time soon since it is made to tackle daily wear and tear.
Homall Gaming Chair might not be a traditional choice for an office chair, but considering this chair is great for gamers, beginners and intermediate level alike, it is going to provide you with excessive support. Gaming chairs are meant to be comfortable and supportive for long gaming sessions, so ideally, it is going to work out great for long working hours as well.
Duramont Ergonomic Office Chair is a highly ergonomic chair for long hours. Adjustable armrest, headrest, seat height, and backrest tilt, along with breathable mesh back and thickly padded seat makes it a sought after chair option for people working long hours. This is what makes it a high-value chair.
Smugdesk High Back Office Chair provides great ergonomic support and is also a budget option. So, if you are looking for something that could work for your home office, then this is it. You can change your home chair for office from dinner chair to ergonomic chair. It will look good with your furniture, and it will also be easy to move around because of it being lightweight.
Hbada Ergonomic Office Chair is extremely affordable compared to the range of features you get. It is affordable and supports good user weight, so neither the chair is going to be back-breaking, nor the price of the chair is.
Are Mesh Office Chairs Better for Long Hours Sitting?
Long hours of sitting in one spot can make you feel hot and sweaty. Your backrest and seat are the two main areas of the chair you have constant contact with, followed by your armrests. You move your arms constantly and only use the armrests for relaxing in between movements, which is why it isn't much of a bother.
If you have a fabric or leather or some other solid material chair, then the backrest and seat will trap heat, and the sweat will pool at the contact areas, which can make the chair uncomfortable, slippery, and sticky to sit on. This is why you need an office area with good air circulation or an air-conditioned space, which can still not completely solve the problem.
This is where the mesh chair comes in. Mesh chairs are made up of polymers with small holes. These holes improve air circulation in and around the chair. The backrests are usually made completely of the mesh material, and the seats are upholstered with another mesh material to have better airflow.
Choosing mesh chairs for an office makes sure that the heat does not stay trapped, and you don't feel hot. Your body heat is diverted away from the chair; this helps keep the sweat at bay. This can be extremely helpful and convenient when working for long hours, which is why mesh chairs are better when working for prolonged periods of time.
Tips to Reduce the Effects of Long Hours Sitting
As mentioned in the earlier sections, sitting for long hours can have adverse effects on our health and can also hamper our productivity. While getting a good ergonomic chair solves part of the problem, the problem of continuously being in the same position stays the same.
If you spend long hours sitting, then you should take certain measures to break the hours of physical inactivity so that your body gets some movement and your mind gets a break as well, because no one can stay focused for hours at end.
Here are some things you can do no matter where you are:
Take Consistent Breaks: Taking breaks throughout the day helps you get a little bit of physical activity and also gives your mind to rest a bit. You are advised to take 5 minutes to break every 30 minutes. This is why I recommend following the Pomodoro technique, where you take 5 minutes to break for every 25 minutes of working. You can walk, stretch, relax for those 5 minutes.
Take a Walk: Taking walk breaks can lengthen your hip front, counteracting the physical effects of sitting. You can also add stretching to your walking breaks. Doing the standing hip flexor stretch can remove the tightness of the hip muscles and improve mobility of your lower body. So, I would recommend you to take a quick walk around the office or your home once every hour.
Maintain a Good Posture: Having an ergonomically designed chair is not enough; maintaining a healthy posture is equally important when sitting. You won't be able to derive all of the benefits and support your ergonomic chair has to offer if you don't have a good posture. Keep your back straight, and shoulders straight, not rolled forward. Make sure your feet lay flat on the ground while your weight is evenly distributed on the seat.
Conclusion
Personally, the looks of the chair is as important as the functionality it brings. I don't compromise on the ergonomic features of a chair, but the design is important to me as well. This is why, if I had to narrow down to one chair from the six that I have discussed, then I would choose the Ergohuman High Back Office Chair.
It is sleek and modern. The mesh keeps the chair cool. It has a contoured back to help support your spine's natural curvature. You have adjustable seat height, back, armrests, headrests, and recline options. It is highly ergonomic, stylish, and affordable.
If it is not your style, then there are five others you can browse. You can get a quick look at the chairs in the "What is the Best Office Chair for Long Hours Sitting" question. All the chairs I have mentioned will provide you high-quality comfort and support. They are all durable and will last a long time.
Most of these chairs are budget-friendly even though they are incredibly supportive and have the most ergonomic functions you can ask for in a computer chair. At the end of the day, it boils down to your personal preference and your budget. I hope I could help you choose a chair that will help solve your long working hour woes.