Best Overall
Reficcer Big and Tall High Back Office Chair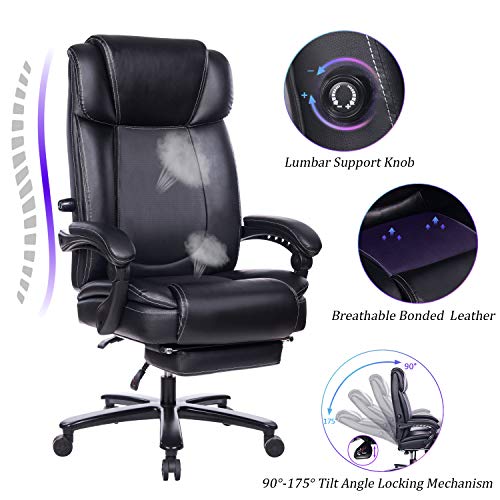 Best Value
Smugdesk High Back Office Chair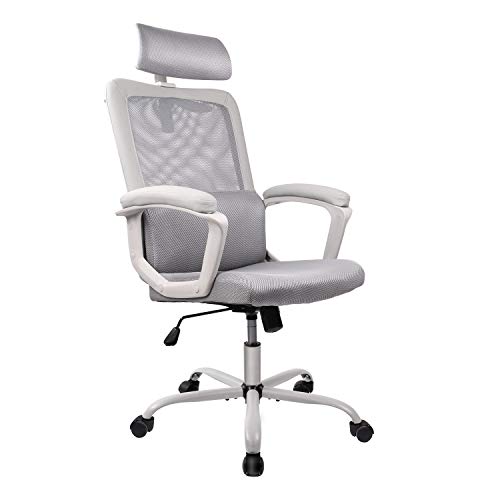 Best Budget
Topsky Executive Large Leather Chair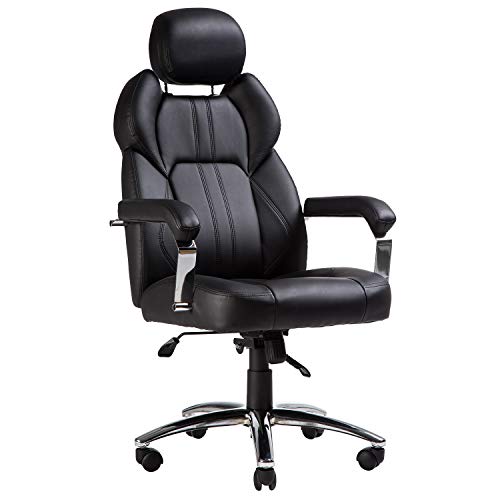 If you have decided to pick a high back office chair over other options like low back and mid-back, I am assuming you must have made this choice considering the physical benefits of it and not entirely on what it represents visually.
Most people, in particular business owners and key decision-makers in an organization, operate under the assumption that the higher-level executives in their organization must have a high back office chair. The entry/lower/mid-level employees should settle for a low or a mid-back chair.
A high back chair indeed appears more grandiose than its counterparts. Still, factors like height, weight, and posture of an employee should also be (if not already) taken into consideration. A chair should not always be chosen based on its aesthetics.
Generally, office furniture manufacturers clearly state the benefits of each type of chair they make. For instance, a low back chair is suitable for those with lower back problems, and a mid-back chair is more fitted for people with postural issues as it supports the neck and keeps the spine in alignment. In contrast, a high back chair has a higher backrest to support the neck, shoulders, lower and upper back, and head.
If you are looking for a chair that can support your entire back, a high back chair might be the right choice. A chair in this category also comes with an adjustable seat, headrest, and armrests. You can easily alter the depth, height, and tilt tension of the bottom seat. Generally, the position of the armrests can be shifted in upwards, downwards, and sideways. Let's look at a few options to find out the best high back office chairs for you.
Table of Contents
Best High Back Office Chairs for 2020
Best Overall
Are you looking for a versatile high back chair for office at an affordable price? The overall quality of this chair from Reficcer can be compared to the top brands like Secretlab and DXRacer. Although more suitable for a home office, this chair can also fit well in a corporate office. You could turn it into a sofa or take a quick nap in the middle of the day.
This chair from Reficcer has an adjustable built-in lumbar support. You don't have to worry about losing the additional lumbar pillow–which comes with most chairs that boost an ergonomic design. Reficcer has provided a controlled knob at the right side of the backrest to adjust the pressure on your lower back. For your utmost comfort, the lumbar area of the chair is coated with glove-soft and velvety padding. 
Further, the outer coating of the chair is made from reconstituted leather. Unlike other executive chairs, Reficcer has used leather made from several layers of high-quality material. Along with PU (Polyurethane), the coating also has layers of fiber, paper backer, and pulp.   
Reficcer Big and Tall High Back Office Chair is Suitable For: 
This chair comes with a retractable footrest. You can pull it out anytime you desire to lay back and rest for a while. The footrest also converts the chair into a mini-bed. Hence, this chair is more suitable for business owners and high-level executives who have a separate office or a cubicle.
Pros
Easy to assemble. It takes about 10 minutes.
It is a premium quality chair.
It has a retractable footrest.
The headrest is extra padded for more comfort and support.
The base is made from a high-grade metal. 
Cons
It takes a few days for you to get used to using the recline mechanism.
The mechanism needs lubrication every 2-3 months.
It does not come with enough padding on the headrest.
---
Best Overall Runner-Up
In hindsight, this executive office chair from AmazonBasics does not appear too grandiose or exquisite, but it is made from high-grade materials. You will know the difference between this chair and an ordinary office chair almost instantaneously.
The metal frame is sturdy and stable enough to support a heavy and/or tall person for 8-10 hours a day. Further, it is coated with bonded brown leather and PVC with soft padding in between.
Moreover, the backrest and bottom seat are extra cushioned so you can work for longer durations without experiencing any aches and pains. The seat height can be adjusted merely by raising the pneumatic control handle located beneath the seat cushion. However, a person with a heavy build might have to remove their weight from the seat before lifting the pneumatic control handle.
AmazonBasics High-Back Desk Chair is Suitable For:
Unlike other high back chairs, the price, appearance, and features of this chair from AmazonBasics make it suitable for both mid-level and low/entry-level executives. It can also be used in a conference room. 
No products found.
Pros
It comes with all chair features offered by expensive brands.
AmazonBasics is a tried and trusted brand, which means assured quality.
The backrest and seat are well-padded.
Its appearance is upscale and extravagant.
The chair swivels at 360 degrees.
The wheels have smooth-rolling casters.
Cons
The quality of foam cushion inserts can be improved.
Faux leather is suitable for a mid-back chair, but a high back chair should be coated with good quality bonded leather.
It needs frequent maintenance. 
---
Best Value
Price and features are two key factors that determine the overall value of a product. When choosing the best high back chair for your workplace, it is crucial that you first look at the best deal in town. The fantastic features offered by ergonomic office chair from Smugdesk at such a low price makes it a best-valued product.
This mesh chair works great for those who work for long hours (typically 8 hours or more). When you sit in the same position the whole day, you need a chair made from a breathable material. The high-quality, reinforced mesh keeps the heat away from your body. It also protects your skin from abrasion.
Bear in mind that the backrest and headrest do not have a soft pad. This is to allow the chair to breathe without any hindrances. However, for your comfort and security, the bottom seat comes with a soft pad. You also get an additional pillow for lumbar support.
Smugdesk High Back Office Chair is Suitable For:
This is one of the best high back executive chairs for those who work from home. The lightweight of the chair makes it easy for you to move it around while cleaning the room. Also, the combination of dark grey and light grey shades can go well with your home furniture.
No products found.
Pros
This chair is easy to assemble.
It is coated with lightweight and high-quality reinforced mesh. 
Friendly and cordial customer service – available 24 hours.
The chair is lightweight. 
It comes with uncomplicated and easy-to-use pneumatic controls.
Cons
The headrest is not easy to push in. 
You need to be careful not to lose the tiny screws while assembling the chair. 
The wheels need some improvement. 
---
Best Value Runner-Up
Flash Furniture is an Ohio-based firm famous for its wide variety of chairs. Unlike other online furniture sellers, Flash Furniture has traditional brick and mortar stores in Clayton, Ohio. So, you know that you are going to get excellent customer support, both online and offline. Their High Back Chair is liked by those who seek increased airflow behind their back.
To cater to the needs of its customers, Flash Furniture has used a breathable mesh material in the backrest of the chair. There is enough lumbar support in the lower part of the backrest to keep your spine in shape and also prevent you from slumping into the soft mesh. The lower part of your back remains in proper form while the upper part gets the freedom of movement it needs.
Flash Furniture High Back Office Chair is Suitable For:
A mesh chair is always preferred by those staying in the southern or western part of the United States.
If you have used a regular chair before, you must definitely have realized how sweaty the backrest gets after a few hours of use. In particular, during the day time when it's hot outside. The manufacturer has used premium quality breathable mesh material in the construction of the backrest.
Sale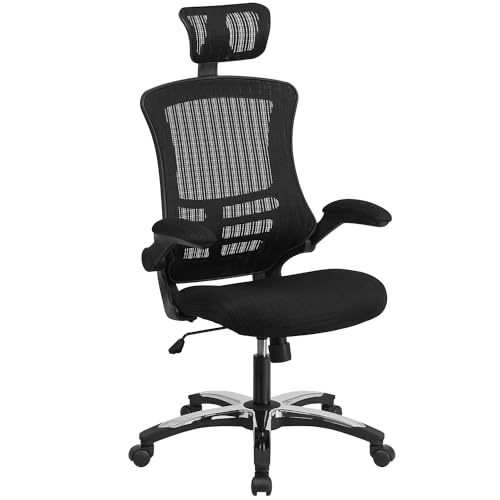 Flash Furniture Kelista High-Back Swivel Office Chair...
ERGONOMIC HIGH-BACK OFFICE CHAIR: Provides exceptional seating for everyone from the CEO to the front office staff, ensuring the perfect...
COMMERCIAL GRADE CHAIR: Has a sleek and versatile design that makes it perfect for use in front offices, executive suites, at-home work...
PRESSURE-RELIEVING COMFORT: Ventilated curved high mesh back with integrated lumbar support prevents overheating and promotes better...
Pros
The chair swivels 360 degrees.
It comes with a detachable headrest.
It is easy to assemble. It takes about 20 minutes.
A breathable mesh material is used in the construction of headrest and backrest.
It is supported by a sturdy and reliable chrome base.
This chair is available in 16 different colors.
The seat has a modern waterfall front edge design.
The armrests can be flipped back when needed.
Cons
The backrest is not as high as in other chairs in this list.
The armrests are not fully adjustable.
The chair is not built for a heavy person.
You cannot lock the backrest in a tilted position.
---
Best Budget
Topsky is a Hong-Kong-based office furniture manufacturer and distributor. Their office chairs are on the verge of worldwide popularity. Although it is still a young brand, their products are good quality, beneficial, and practical for both home and office purposes. You also get a year's warranty with their Executive Large Leather Chair.
The 3.5inch/9cm adjustable headrest is coated with high-grade PU (Polyurethane) leather and can be adjusted vertically. You can also remove the headrest if you don't need it. Without the headrest, the chair functions and looks as good as it does with it.
Furthermore, if your work needs you to think and brainstorm hard, Topsky has provided a unique "Rocking Function." By locking the chair at a 145-degree angle, you can make it rock smoothly. It won't make any noise. Besides, this chair also passes the strict BIFMA test for ergonomic furniture.
Topsky Executive Large Leather Chair is Suitable For:
If you are one of those people who love to indulge in recreational activities like video games during the lunch break or after work, you will love the Topsky Executive Large Leather Office Chair. The padded armrests have a smooth bend at the front edge. 
If you wish to use a computer mouse for longer durations, simply let your armrest on the curved edge. The curved edge prevents your arm from getting locked in an unnatural position for a long time. An abnormal strain on the arm causes physical conditions like carpal tunnel syndrome. 
No products found.
Pros
It is a BIFMA certified ergonomic chair.
It has an adjustable and detachable headrest.
It boasts a 145-degree rocking function.
The chair swivels 360 degrees.
The material is made from synthetic leather. There is no chemical smell.
Cons
The armrests are not adjustable.
The bottom seat needs more padding.
The tilt function needs some improvement. 
---
Best Budget Runner-Up
When it comes to office furniture, Chinese products have no competition from elsewhere. Nobody can match their prices. Bear in mind that I am not talking about the knock-off, no-name, and shady brands. Furmax has been in the business since 2016. This Ningbo-based company is becoming a household name in many parts of America and Europe.
So, what is so special about their high back office chair? What makes it the best in the budget-priced category? This chair is coated with black bonded leather. Bonded leather lasts way longer than the one made from PU (Polyurethane). Although both are synthetic materials, bonded leather is made up of several layers. The material used in this chair is similar to the one used in Reficcer but is way shinier and opulent.
Furthermore, this chair from Furmax has passed the BIFMA test and comes with the safety certification required for ergonomic chairs. Apart from the armrests, all parts are adjustable. You can also swivel a full 360 degrees.
The headrest is extra padded but is not detachable like in the chair by Topsky. The midsection of the backrest may appear loose and slouchy, but don't go by the looks. The chair is fully ergonomic and provides excellent lumbar support.
Furmax High Back Office Chair is Suitable For:
Not all high back chairs come with such amazing features — at least not at such an affordable price. If you are a business owner and are looking for affordable executive chairs to keep you and your employees healthy and injury-free, Furmax might be the right brand for you.
Also, remember that you and your employees are likely to be more productive when they are pain-free.
Sale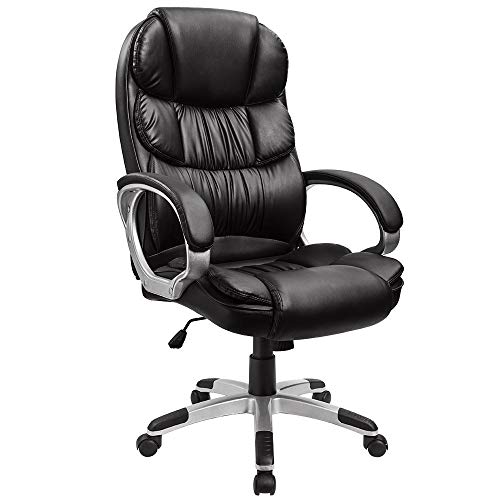 Furmax Leather High Back Office Chair Ergonomic...
High Quality: The backrest, cushion and armrest are filled with selected thick sponges, and the surface is made of smooth and durable PU...
Ergonomic Design: It provides back and waist support, hip and thigh support as its contour shape, designed to help reduce stress and fatigue...
Swivel and Casters: Chairs and casters can rotate 360 degrees freely, making it easy to move between multiple tasks or discuss problems with...
Pros
All the parts are replaceable and under warranty.
This chair is super comfortable. It also boosts your productivity. 
The lumbar support keeps your back correctly aligned.
The company has excellent customer service. 
Cons
It is not easy to assemble. You might need another hand or two.
This chair is a bit bulky. 
The overall quality of the armrest can be improved.
The paint used on the metal frame can be of higher quality.
---
How to Choose the Best High Back Office Chair
When picking high back office chairs for your workplace, it is essential to keep certain factors in mind. Selecting an upper back chair is a lot different than that of a low or mid-back. Here, you are looking for a roomy, comfy, and airy chair as opposed to a compact one.
In this section, I have mentioned some factors that can help you pick the best high back office chair quickly.
1) Retractable Footrest
A retractable footrest is an additional support. Usually, it is a steel frame coated with padding and synthetic leather that a user is able to pull out or push back in.
As you saw in the case of the chair by Reficcer, the footrest is well padded and provides a higher degree of comfort. The footrest can be pulled out whenever you feel the pressure building up on your back–this happens when you work for more than 8 hours or are tired from the other day.
2) Adjustable Height
Most ergonomic chairs will allow you to adjust the seat height according to the length of your legs. The BIFMA certification requires them to comply with specific standards set for the safety and quality of the product. So, when picking a high back chair for your workplace, look out for a pneumatic adjustment lever beneath the seat.
3) Good Lumbar Support
Lumbar support — whether it is provided in-built within the backrest or by additional pillows — makes sure that the person sitting in the chair remains pain-free and functional throughout the day.
Think about how you felt after sitting on a regular chair with a flat backrest. Were you as mobile (for the rest of the day) as you would want? A flat backrest does not help maintain the natural curve of the spine. Neither does it relieve the pressure built up on the lower back by sitting for longer durations.
4) Waterfall Edge Seat
The waterfall edge is a design used in the bottom seats of most ergonomic chairs. Although it is rare to find chairs with flat seats these days, it is critical to make sure the chair you are about to purchase dips in the center and has a curvature at the edges. 
The analogy is taken from the actual waterfall. Think about how the edge of rock gets smoothened by a constant stream of water. A seat designed this way provides additional comfort to the back of your knees. It also boosts blood and oxygen flow in the lower body.
Benefits of High Back Office Chair
1) Keeps Your Upper Body in Alignment
Sitting on a chair might seem like an easy and effortless activity, but when you are required to sit for long hours (typically 8-12 hours on a stretch), it becomes necessary to a) learn how to sit right and b) make use of tools available. An ergonomically designed high back chair supports your lower back so that the spine is always positioned correctly.
A condition known as "kyphosis" is prevalent among people who sit on ordinary executive chairs for long hours. For more information on this topic, I would urge you to read this article on "Proper Body Alignment" by the National Osteoporosis Foundation (NOF).
2) Promotes Happiness and Positivity in a Workplace
You and/or your employees can never be productive when the majority of the focus is directed towards readjusting or fidgeting with their aching body.
Let's acknowledge the fact that that a human body is not designed to sit in a fixed position for hours on end. It is more suited for performing tasks while standing upright on the feet.
However, with a well-designed ergonomic chair, it is possible to stay happy and positive during and after sitting for long hours (even if you weigh more than 250 pounds). 
3) Keeps Back Pain Away
As I stated in the first point of the section, a high back chair can help you maintain and improve your posture. Most people who suffer from lower back pain have a habit of slouching, a few hours after sitting on a chair. They are forced to do this due to a lack of additional support for their lower back. 
This unhealthy habit leads to pain and injury in the lower back. In such a scenario replacing your regular chair with a high back chair can relieve pain almost overnight. 
4) Adds to the Decor
An elegant looking high back chair can improve the aesthetics of your workplace without costing too much. Along with some corporate art on the wall, an upper back chair can add to the decor of your workplace. 
The visitors to your workplace are more likely to notice the chairs first, then anything else. Even employees these days are quite aware of the need for an ergonomic chair in the workplace. To attract the best employees, it is vital to communicate to them that you care about their health and well-being.
Conclusion
Whether you are a business owner or a freelancer (working from home), you would want to work in a space that helps you boost your productivity — what better way than adding a high back chair to the mix. You also would want to revisit the section where I have discussed the benefits of using an ergonomic office chair instead of an ordinary one.
From the above list, I would pick the one from Furmax as my personal favorite. This chair offers the best features for a price anyone can afford. Moreover, it also comes with a BIFMA certification. So, you don't have to worry about the safety and quality of this product. It is the most comfortable, reliable, and sturdy chair one can get at such a low price. If not this one, then I have other equally great options depending on your needs.