Best Overall
Homall Gaming Chair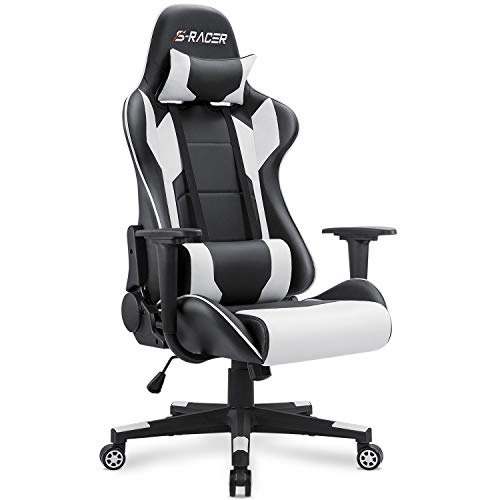 Best Value
Devoko Ergonomic Gaming Chair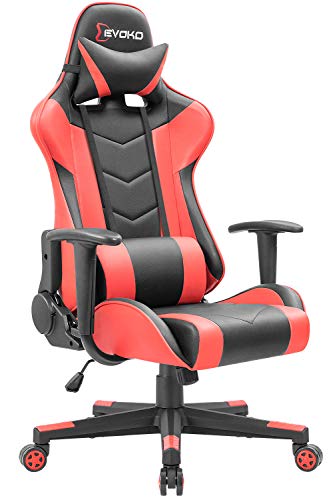 Best Budget
OFM Essentials Racing Chair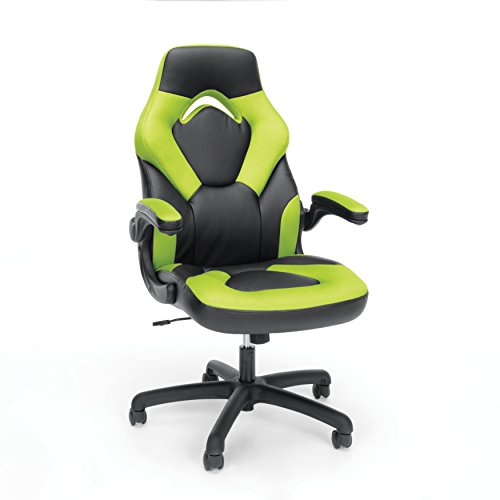 Did you know that a gaming chair can help you win more games? 
I understand that winning at anything requires you to have a certain attitude and work ethic, but without proper equipment, you will struggle to get things done. This post is intended to guide those who are looking for the best budget gaming chair.
Initially, a gaming chair may seem like a durable mass-produced commodity for comfort (or pleasure), but an ergonomically-designed model can uplift your health and overall gaming experience. Imagine running a marathon wearing old or unfitting shoes. 
Surely, you can finish the race wearing old beat-up shoes, but you could do a lot better with the ones specifically designed to make you run faster. Similarly, a gaming chair provides you excellent back support so you can enjoy your hobby even after returning from a long day at work. 
If you are looking for budget gaming chairs, you can still get highly adjustable and comfortable options. I will also talk about what to look for in cheap gaming chairs to get the most for the price you pay. Let's get started.
Table of Contents
Best Overall Chair
If you are tired of cheap and knock-off gaming chairs that break down just a few weeks after the purchase, Homall might be the right brand for you. The S-Racer gaming chair from Homall is considered to be one of the most desired by gamers all over the world. 
It comes with two pillows. One supports the neck, whereas the other sits comfortably behind your lower back. Both of these pillows are detachable making this a comfortable chair option. 
The Tilt Locking System helps you adjust the chair at three angles: 90, 135, and 180 degrees. Usually, gamers prefer to sit upright, keeping the chair at a 90-degree angle, but the adjustability allows you to relax and revive during long-duration gaming marathons. Plus, the knob to tilt the chair backward and back to its default position is located right beneath the right armrest.
Along with the provision to tilt the chair, Homall also provides you an option to adjust the height. The height-adjustable gas spring cylinder makes it possible to change the height at three different levels. Adults with varying heights can use this chair without any issues, although you need a standard-sized desk or a table. Even a kid can use this chair by setting the height to its lowest level. 
Furthermore, as far as the parts around the mechanism of this chair are concerned, the five-star base is made from heavy-duty metal. You don't have to worry about deformation at all. A weight capacity of 300 lbs makes this pc gaming chair a good option for even heavy users.
If you have ever used an office chair for gaming purposes, you will know how much effort it takes to move or slide the chair from one location to another. Plus, with a heavy and well-built person, there is always a concern of the wheels slowly wearing off with time. 
But the Homall gaming chair comes with specially designed Polyurethane (PU) wheels. PU wheels provide both the flexibility of rubber wheels and the durability of metal wheels. Hence, they are considered superior.  
Homall Gaming Chair is Suitable For –
This gaming chair is perfect for a beginner to an intermediate level gamer. Also, those who want superb quality without breaking the bank can opt for this chair. You can also use this chair for desk work other than gaming. The headrest pillow and lumbar cushion can help you stay fresh and active for long hours.
Sale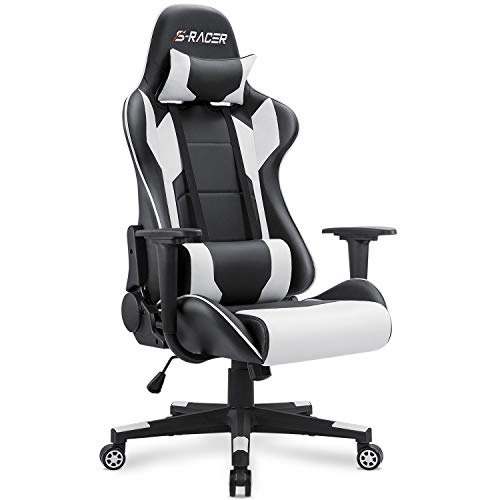 Homall Gaming Chair, Office Chair High Back Computer...
Selected Material: High density shaping foam, more comfortable, elasticity resilience and service life. 1.8mm thick steel frame, more sturdy...
Upgraded Configuration: Class 3 gas lift, durable, reliable and supports up to 300lbs. Rubber casters, rolling quietly and tested by 1000...
Multi Function: 360 degree swivel and multi direction wheels, load capacity: 300-pound maximum weight capacity. Recline function. Between 90...
Pros
You are getting excellent value for such a low price. The features that this gaming chair offers match that of the high-end brands like GT Racer.
This chair is suitable for people of varying heights and weights.  
The headrest pillow and lumbar cushion offer additional support for those with back problems.
The extra pillows are detachable.
A massive upgrade to an office chair.
Enhances your gaming experience as you feel comfortable and relaxed in it.
You can rest your arms underneath a standard-sized desk.
Smooth suspension. Your body won't wiggle or shift while gaming.
The wheelbase is stable and reliable.
Cons
The fabric is made from synthetic leather. 
The Polyurethane (PU) coating over the chair does not feel as smooth as real leather. 
It might take a while to assemble this chair.
The armrests are non-adjustable.
The bucket seat can be a bit uncomfortable for women with large hips.
---
Best Overall Chair Runner-Up
GT Racing is one of the most popular gaming chair manufacturers in America. For the last decade, it has been a leading trendsetter in the racing-style gaming chair market. Generally, products from GT Racing are quite affordable. The price of their gaming chairs ranges from $130-$160 apiece. 
What makes the racing-style gaming chairs by GT Racing so appealing to gamers all around the globe? Gamers run this Canadian gaming chair company. Even the people who design and market their products are gamers themselves. Not all people in this industry understand your needs they way folks at GT Racing do. This is why gamers love their racing-style gaming chairs. The model GT099, being of them.
Some models might be a bit expensive due to their extravagant designs and distinct features. In this section, I am going to be discussing their basic model GT099. This chair has a racing-inspired design and is made from the best quality Polyurethane (PU) leather. The best thing about this material is, it is immune to stains and blemishes. You can drink your coffee or soft drink without worrying about spillage.
Now let's talk about the specifications of the model GT099. This gaming chair is made from an ergonomic metal frame. It ensures that people of all body types can sit and enjoy their gaming experience for hours on end. You can easily adjust the height of the seat, armrest, and the backrest. Along with the up-down motion, the armrest can also be shifted left and right. Hence, people with both broad and thin body types can use this chair.
Furthermore, the "head and lumbar support" allows you to enjoy longer gaming sessions without experiencing neck or lower backache. Initially, the lumbar pillow might feel a little bulky, but with time your body weight will squeeze and reshape it to suit your needs. Also, you can move and adjust the pillow as it is strapped tightly with a band. Overall, the GT099 racing-style gaming chair is worth every penny.
GT RACING Gaming Chair is Suitable For –
Racing-style gaming chair from GT Racing is perfect for those who — due to size concerns — are unsure about ordering a chair online. The chair has an adjustable armrest that moves in all four directions (up, down, left, and right). Moreover, you can also remove the headrest and lumbar support if you find them surplus for your requirements.
Pros
Works great for long gaming sessions.
Easy to assemble.
The screws are nicely labeled. This eliminates confusion while assembling.
The customer care department of GT Racing is friendly and supportive.
The armrest, seat height, and backrest are adjustable.
Good headrest and lumbar support.
Suitable for people of all sizes and ages.
The backrest reclines till 170 degrees safety angle. 
This chair can also be used as an office chair.
The chair comes with extra parts.
It can also be used to take a quick nap.
Several colors are available to choose from.
Cons
No retractable footrest
The lumbar pillow feels a bit bigger initially. Needs time to reshape.
The cushion in a GT Racing gaming chair is a bit thinner than that of other brands.
The armrest should be more sturdy.
---
Best Value Chair
A product is only valuable when it has all the features you need at a price you can afford. There is no point in purchasing a $500 gaming chair with the same lifespan and warranty period as that of a regular pc gaming chair.
Devoko has the best budget gaming chair with the most features in the market. This chair takes about 40 minutes to install, and then you are set to game, work, or just relax in comfort and style.
One thing about this chair that will instantly grab your attention is its stylish design. The design is modern and upbeat. This best budget gaming chair is available in three color combinations: Black Red, Black White, and Grey. The first two are great for those who like vibrant colors that pop. The last one has more of a classy and formal look, more suitable for an office or workplace setting.
The 360-degree swivel rotation makes this chair perfect for moving from your gaming station to other areas in the room. You don't need to exert too much force with your legs to swivel from desk to desk. Simply use your hips or turn your upper body sideways. The chair will stop moving at an exact 180-degree angle. Generally speaking, these seemingly minuscule features are what make a chair worthy of the price.
However, this chair does not have adjustable armrests. It seems like Devoko has tried hard to fit in all the premium features in a budget-priced gaming chair. It would be great if the armrest were adjustable, at least vertically. Think of a regular office chair. Has the fixed armrest in an office chair ever been a problem for you? If not, then go ahead with Devoko's racing style gaming chair.
Lastly, as I mentioned earlier, assembling this chair takes about 40 minutes. Although this job is not a difficult one, a lot of people have found themselves clueless after unpacking the Devoko ergonomic gaming chair.
When you open the delivery box for the first time, you will find five main components: the instructional manual, the mechanism, the backseat, the bottom seat, and the lumbar support. Next, simply follow the easy-to-implement steps given in the manual.
Devoko Ergonomic Gaming Chair is Suitable For –
It is not easy to find a budget-priced gaming chair that has all the ergonomic design attributes of a pricey high-end model. Devoko's ergonomic gaming chairs suit perfectly for those seeking the highest return on their investment.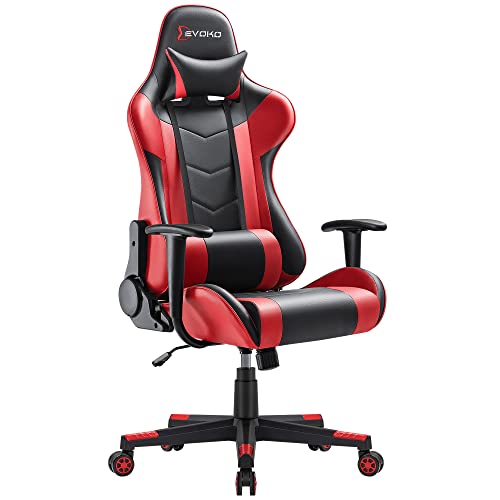 Devoko Ergonomic Gaming Chair Racing Style Adjustable...
Devoko high back ergonomic gaming chair covered by premium breathable leather and freely adjustable lumbar support & headrest pillow...
360 degree swivel rotation with top quality mute rolling Wheels avoid scratching on floor board and freely move in your space
Heavy duty racing gaming chair with integrated metal frame, international standards explosion-proof gas Spring, Suitable for playing your...
Pros
The body is covered with premium quality Polyurethane (PU) leather.
The ergonomically designed frame is made from a high-grade metal.
Easy to assemble.
Good and targeted lumbar support.
The chair looks very elegant and stylish.
It can also be used as an office chair.
The 360-degree swivel rotation is impressive.
The chair is very comfortable for people of all body types.
Cons
It does not have additional head support.
The armrests are not adjustable.
The Devoko logo on the headrest is quite visible. 
The armrests are not padded but are cushioned with hard rubber.
---
Best Value Chair Runner-Up
If you are willing to spend a few extra bucks, I would like to introduce you to a "floor gaming chair" that has built-in speakers for an enhanced gaming experience. The Ace Bayou X Rocker II does not come with legs. It is one of a kind gaming chair that is supported by a hardwood frame (instead of PU wheels).
In many cultures, it is common for people to sit on the ground or a legless bed. Some people don't find a traditional chair comfortable. They can sit for a few hours but then feel the pressure growing in their lower body (in particular, thighs, buttocks, calves, and ankles).
This is where a state-of-the-art legless gaming chair from Ace Bayou comes into the picture. By the way, X-Rocker is a gaming chair series Ace Bayou came up with, in the year 2005. The X Rocker II is their latest model of sound gaming chairs enabled with hi-fidelity Audio Frequency Modulation (AFM) technology. The two inbuilt speakers create an enchanting atmosphere around you.
For hardcore gamers, X-Rocker II has also made provisions for attaching their headphones while gaming. The chair connects to the latest devices like Xbox, PlayStation, Gameboy, MP3/CD/DVD, and home theater systems.
For instance, while watching a movie, you don't have to worry about connecting your wired headphones to the TV set. The chair connects to a smartTV (wirelessly via Bluetooth 4.0), and you can plug into headphones to the jack provided at the side of the chair. Moreover, X-Rocker II also lets you adjust the bass and volume control. The volume and bass control buttons are provided on the "side jack" itself.
Ace Bayou X Rocker II is Suitable For –
This chair is perfect for those who prefer "lower-seating." Instead of sitting on a bean bag, sit comfortably on the "floor gamer chair" like Ace Bayou X Rocker II. It takes the pressure off of your lower body so you can play for hours on end. When tired, you can rock the chair back and take a quick nap.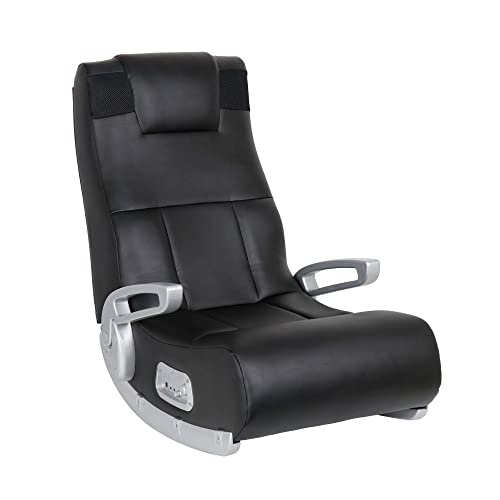 X Rocker SE II Leather Lounging Video Gaming Floor...
Immersive Speakers for Gaming: Chair with two Bluetooth speakers and a subwoofer for maximum audio impact; enjoy gaming with sound you can...
Comfortable Rocker Chair with Support: Floor gaming chair with ergonomic lumbar and neck support, padded headrest, and flip-up armrests
Versatile Chair Usage: Stylish gaming chair perfect for living rooms, game rooms, dorm rooms, bedrooms, or wherever you game
Pros
The chair has two high-quality inbuilt speakers near the headrest and one beneath the seat.
It prevents back and neck injuries.
Easy to assemble (takes about 10 minutes in total). 
The in-built audio system is compatible with all the latest devices.
Lasts way longer than a regular gaming chair.
The black vinyl covering goes amazingly well with the silver armrests. The chair appears more expensive than its price.
Cons
Not everyone finds "lower-seating" comfortable.
The chair is immobile. The base has no wheels.
The armrests are not padded. 
It weighs 250 pounds. So, you might have to make some effort to move it.
---
Best Budget Chair
OFM is a North Carolina-based furniture maker and distributor. Although they are known more for their elegant workplace fittings, the Essentials Racing Chair is worth a look. As I said, OFM is known for its evocative, upbeat, and ornamental designs, the gaming chair model ESS-3085-BLU too is also quite chic. The chair is not as expensive as you think.
Along with stylish looks, the chair is also built for comfort. Whether you are a hardcore gamer or someone who plays for a couple of hours after work, you will love how comfortable and relaxed you will feel while playing your favorite games.
Moreover, this chair can also be used as an office chair. The seat and backrest are coated by high-grade premium Polyurethane (PU) leather. So, the chair looks perfect in a casual workplace setting too.
This ergonomic swivel chair comes with contoured segmented padding, integrated padded headrest, and padded arms. You don't have to fiddle with additional support pillows. Extra headrest and lumbar support are great for a chair with a hard surface. Such is not the case with Essentials Racing Chair ESS-3085-BLU by OFM. Every inch of this chair is well padded.
Are the armrests in this ergonomic chair adjustable? The answer is yes. However, the adjustable armrest feature is not as intricate and well-defined as that of the GT Racing gaming chair. ESS-3085-BLU by OFM has flip-up arms. You can adjust the angle of the armrest with respect to the seat height but cannot shift its position horizontally or vertically.
Which means you will have to use this chair along with a standard sized desk. Or, in some cases, you might want to get rid of the armrests completely by flipping them up to their full capacity. Which, in my opinion, could be a great idea when taking a nap. Essentially, you are turning your gaming chair into a comfy bed.
As far as the reclining function is concerned, this chair does not have fancy buttons like some of the other gaming chairs mentioned in this post. The recliner control appears quite similar to that of an ergonomic office chair.
To recline the backrest:
simply pull the recliner control in the outward direction
lean back to adjust the position of the backrest
release the recliner control once you find the ideal spot
The chair arrives in a delivery box with several parts bubble wrapped and packed carefully. Even the leaflet or the instruction manual is written precisely. Care is taken to not overwhelm you with loads of unneeded information. To assemble this chair, it shouldn't take you more than 20 minutes. 
OFM Essentials Racing Chair is Suitable For –
Most gaming chairs in this price range do provide the level of comfort, ESS-3085-BLU by OFM offers. Most budget gaming chair makers are focused on building a durable and sturdy chair. Very little thought is given to aesthetics. Such is not the case with Essentials Racing Chair ESS-3085-BLU by OFM. It looks good, is well-built, and provides comfort like no other budget gaming chair.
No products found.
Pros
This chair can be used to add to the office decor or for gaming purposes.
The look is modern and upbeat. 
Segmented padding provided added comfort while gaming.
The chair is perfect for long gaming sessions.
The metal frame is stable and sturdy. 
360-degree swivel rotation.
Cons
The wheels are made from plastic. 
Parts of the backrest and bottom seat are coated with delicate mesh material.
No additional headrest or lumbar support pillows are provided.
---
Best Budget Chair Runner-Up
Are you looking for a cheap gaming chair? Do you value comfort and convenience more than anything else? If your answer to both the above questions is yes, then a sofa floor chair from Merax might be an excellent option for you. 
Just because you are a gamer doesn't mean you necessarily need to have a racing-style chair in your home. Inevitably, a racing-style chair adds to the decor of your home, but there are other alternatives as well.
Essentially, a sofa floor chair is nothing but a metal frame coated by a thick layer of cushion. Similar to the one you find in a traditional couch. However, this sofa floor chair from Merax is not just a ball full of down. Or don't confuse it for a bean bag. The backrest of the chair can be easily adjustable to five different positions.
When it comes to decor, nothing suits your living room, bedroom, or balcony better than a single colored sofa chair. The surface of this chair has eight lattices on it. The material used for coating is high-quality and durable. You should also know that the entire metal frame is thickly padded. So, you can play for hours on end without feeling tired or jaded.
Irrespective of your age, you can make the most of this chair by adjusting the backrest to five different angles. The backrest goes from a 90-degree angle to 180 degrees. To change the position of the backrest, you need to pull the backrest in the forward direction to release the locking mechanism. While sitting on the sofa floor chair, the position backrest will remain fixed.
Another advantage of using a sofa floor chair for gaming purposes is that you can move it around with minimal effort. With a racing style gaming chair with wheels or even one without wheels, you are restricted to using it with a desk. Such is not the case with a sofa floor chair. It can also fit into small and tight spaces. You can kick back and enjoy gaming without any troubles.
Furthermore, the Merax sofa floor chair also has a loungy appearance. It's perfect for house parties and private gatherings. You can place it in the living room and let your guests relax in total comfort. In addition to this, you can also use this chair for reading purposes. Most people prefer reading novels or magazines while sitting in a comfortable position.
A lot of people are not used to having "floor furniture" in their home. There is a misconception that sitting close to the floor is unsanitary. However, this is only the case if you don't clean it regularly. Once you start using this sofa floor chair, with time, you will grow into it. As long as your home is dirt-free, sterile, and disinfected, you have no reason to be nervous.
Merax Sofa Floor Chair is Suitable For –
Gaming can sometimes take a toll on your body, particularly if you have a history of injuries. In such a situation, if you continue to sit in one position for long hours, you will only make the injury worse. This is where the Merax sofa floor chair comes in the picture. Floor furniture works perfectly for gamers with lower back or neck problems.
No products found.
Pros
The chair comes pre-assembled.
More comfortable than any other type of gaming chair.
Great for longer gaming sessions.
You can take a nap by setting the backrest to 180 degrees.
The chair has eight lattices. Hence, the surface is fluffy and feathery. 
The soft cloth exterior offers additional comfort.
Kids can also get their homework done. Goes well with a small pop up table.
Great for gamers with back problems who cannot use a racing-style gaming chair. 
Easy on your wallet. 
Cons
The chair falls a little short for people taller than 6 feet.
It might tip back if used by a well-built heavy person.
The coating is made from soft cloth that can wear out if extra care is not taken.
---
What is a Good Gaming Chair? 
Gone are the days when video gaming was considered just a leisurely activity. With the advancement of video graphics card technology, games these days are more realistic than they have ever been. Computer hardware manufacturers like NVIDIA and AMD have produced graphics cards capable of rendering software drivers like OpenGL and DirectX on the hardware level.
According to a report by WePC, there are more than 2.5 billion video gamers from all over the world. A lot of them are making a decent living by playing video games full time. In such a scenario, it makes sense for these gamers to be cautious about how their desktop or gaming station is set up for playing. A well-set gaming station can enhance its performance overnight.
Better performance means more income. However, it is imperative to be smart when investing your money in better gaming equipment and accessories. Since this post is about gaming chairs, I will share some tips for choosing the best gaming chair.
But, there are several options available. How to choose the best gaming chair? There are two things you need to keep in mind while choosing a gaming chair — first, the extent of use, and second, your body type.
It matters whether you are just a game enthusiast who likes to try out different games or a professional gamer who plays 8-10 hours a day. Along with that, your physical features like weight and height are also to be considered. Also, take into account the physical injuries or any ailments that might deter you from performing at your best.
How to Choose the Best Gaming Chair?
Here is a checklist to help you choose a perfect gaming chair:
Compatibility: Make sure that the chair works well with your game console. Most chairs are compatible with popular game consoles like Xbox, Nintendo Switch, and PlayStation, however, you do need to double-check before finalizing a purchase.
Fully adjustable armrests: It would be great if you can find a gaming chair with fully adjustable armrests. By fully adjustable, I mean the position of the armrests can be shifted in all directions. Gaming chair by GT Racing has this facility.
Value for money: Do not overspend on a gaming chair just because it has excellent reviews. Even if a friend recommends you a chair, make sure you see if it has all the features that you need and is available at a price you can afford. 
Level of comfort: Regardless of how many hours you spend each day sitting on a gaming chair, you want to choose one that offers maximum comfort and convenience. Chances are, you will use the same chair for purposes like reading, deskwork, or relaxing as well. 
Check the material: Not all gaming chairs are made from the same material. Some make use of pure leather while others prefer a synthetic material like PU (Polyurethane). Make sure you check the product specifications before you purchase a gaming chair. You don't want to end up with a chair coated with pure leather or cotton cloth if you like having a beverage like coffee while gaming.
Are Gaming Chairs Worth the Money?
Many people hesitate before going for a furniture that is built with a certain activity in mind. The first question people will always ask is whether it is worth spending all this money on it. While the concern stems from a place that is taught to buy as generic and multipurpose a produce you can find, you need to consider the long term effects of the purchase. Here are some benefits to help you decide if gaming chairs are worth spending money on.
Reduces Fatigue
It is common for gamers to feel tired after a couple of hours of gaming. During the break, some people prefer to go for a walk, whereas others prefer to nap. However, if you feel like taking a break every half an hour, there must be something wrong with your posture. This is where a gaming chair comes into the picture.
These chairs are designed in a way to help you stay energetic and active for longer durations. After using a gaming chair, you will notice an astute difference in your posture, energy level, and overall gaming performance. The better your position, the longer you can sit without experiencing any aches or pains.
Good for Back and Neck
It's true that an ergonomic design used for an office chair can help you keep your spine and head properly aligned. This is the reason they work great in the workplace. However, you should take into account the fact that it is common for office workers to take a break every couple of hours.
Also, office work involves a lot of movement within the cubicle. Such is not the case with gaming. Once you begin an online gaming session, you will find yourself glued to the monitor for hours on end.
For gaming purposes, you need a chair that not only supports your spine but also promotes blood circulation in the lower body. An ergonomically designed gaming chair makes it possible to sit for long hours without feeling numb in legs or buttocks. Moreover, it keeps your back, neck, and lower body healthy and injury-free.
Aesthetically Pleasing
When it comes to appearing sporty and upbeat, there is no competition to racing style gaming chairs. Even the sofa chair I discussed previously has unbeatable looks. But why are looks so crucial for gamers?
Well, the whole concept of video games is based on visualization. The more vividly a gamer pictures a scenario in their head, the more fun, thrill, and excitement they feel. The racing style chair makes a gamer feel like they are actually driving a car. The effect becomes even more astounding when the chair has an in-built audio system, just like in Ace Bayou X Rocker II. Hence, gaming chair companies make it appear as extravagant as possible.
Improved Gaming Performance
Apart from preventing injuries and adding decor to your room, a gaming chair also improves your gaming performance. When someone switches from an ordinary office chair to an ergonomic gaming chair, they begin to get comfortable with the idea of sitting for a much longer duration. This is the first improvement they notice, and the change literally happens overnight.
Furthermore, as you must already know, the more time you spend practicing a particular skill, the better you become. Whether you are into an action-adventure or role-playing game, to improve your hand-eye coordination, it is imperative to practice a lot. An ergonomic gaming chair allows you to do just that.
Low Maintenance
The only issue I have noticed with racing style gaming chairs is the squeaking noise they produce, 3-4 months post-purchase. Squeaking is quite common in office chairs too. The friction between screws causes the annoying noise. This issue can be quickly resolved by applying a lubricant once every 3-4 months. 
Secondly, even cleaning the Polyurethane (PU) leather seats is not a big deal. Just wipe the seats once a week with a wet cloth (rinsed in water). For better results, you can also add soap or a disinfectant to the water. 
Just keep in mind that the frame of the chair is almost always made from metal. Bringing it in contact with water can lead to corrosion. Apart from this, you do not have to worry about a gaming chair's maintenance. By doing just the bare minimum, you can make your chair last for more than three years.
Conclusion
Gaming isn't just about the latest graphics cards, high-speed CPUs, and having the latest version of the game console. Admittedly, these things help you keep pace with other gamers. But to raise your performance level, you also need to think about comfort and convenience. No one can be efficient while sitting in a beat-up office chair. 
If you are looking for a budget gaming chair with the most features, GT Racing Gaming Chair outshines every other chair on the list. It is affordable and has more features than all others combined. This chair is suitable for both novice and pro gamers.
The fully adjustable armrests feature of GT Racing Gaming Chair is found in no other gaming chairs in this price range. Moreover, this chair has extra cushions for the head, lower back, and buttocks (this one is integrated into the bottom seat). 
For those interested in "floor furniture," I would recommend Merax Sofa Floor Chair over Ace Bayou X Rocker II. Unless you don't have good quality speakers in your home, Merax Sofa Floor Chair will do just great. It is cheaper, comfier, comes pre-assembled, and requires no maintenance.