Best Overall
Harwick Evolve All-Mesh Heavy-Duty Drafting Chair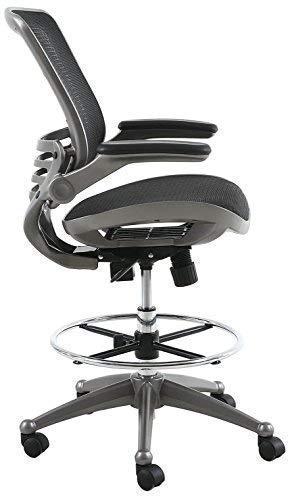 Best Value
Flash Furniture Mid-Back Mesh Drafting Chair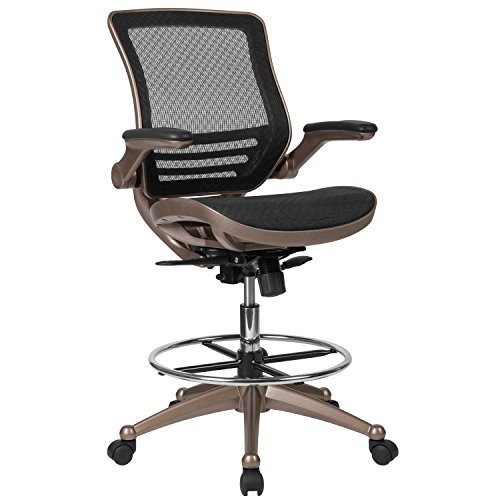 Best Budget
Modway Veer Mesh Drafting Chair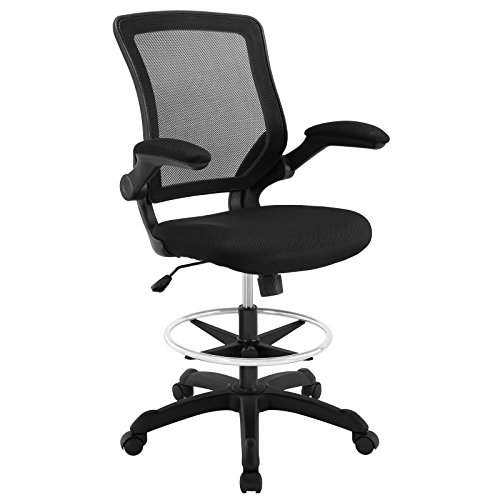 Are you working on a sketch or specimen?
Hours fly when you're focused on your task. Some call it being "in the zone." You must be familiar with these stretches of intense concentration, whether you're an artist, a lab technician, or anything in between.
Only when your back or thighs hurt do you notice that time has indeed passed. 
To sustain long periods of working on raised areas, one must look for a good drafting chair.
But, as I understand, you probably don't want to settle for good enough when inspiration strikes. So I took it up a notch and collated the best drafting chairs on the market today. 
Table of Contents
Best Overall
If you're looking to invest in a drafting chair, you may want to check out the Harwick lineup. One that could last you long for a reasonable price is the Evolve model with gunmetal finish. It removes the challenge of finding a task chair that will support the curve of your back. Protecting this body part is important as back pain alone may lead to days away from work.

The first of the ergonomic features is the built-in lumbar support. Next is pneumatic seat height adjustment, which you can change to anything between 24 to 31 inches through an under-seat lever. You can also tilt back the chair and lock it to your desired angle. However, the manufacturer does not specify how far back you can tilt it.
Evolve sports an all-mesh back, which differs from the company's mostly leather offerings. This detail allows air to flow freely, which may prevent excessive sweating. The seat has a waterfall edge to help keep your legs strain-free while you sit and focus on your work. Flippable armrests, dual-wheel hooded casters, and a 360-degree swivel complete the chair's design.
Aside from the Gunmetal Finish frame, this model is also available in Platinum Finish and Dark Knight Edition. It costs around $300, with free shipping and a 10-year limited warranty.
One major downside to this drafting stool is its use of lead and other chemicals listed on California's Proposition 65, which warns against exposure to chemicals that can cause birth defects, cancer, or other reproductive harm. 
The Harwick Evolve All-Mesh Heavy-Duty Drafting Chair is Suitable For – 
Mid-frame individuals can benefit the most from this heavy-duty drafting chair. Tall users can also plant their feet flat on the floor without straining their legs, thanks to its adjustable seat height feature.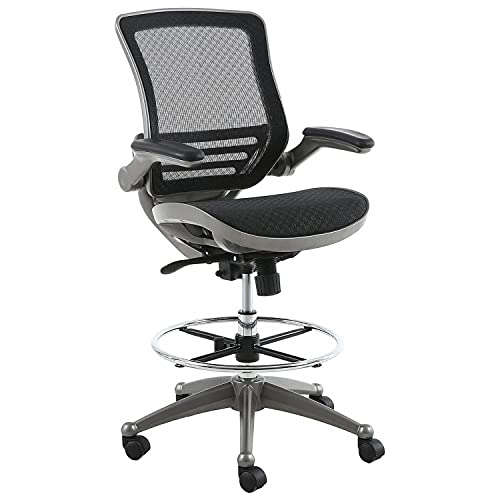 Harwick Evolve All Mesh Heavy Duty Drafting Chair,...
Ergonomic design for all-day comfort and support
Duragrid black mesh seat and back keep you cool throughout your workday
Heavy-duty design supports 325 lbs. Dimensions: Seat size: 19"W x 19.5"D. Back size: 17.5"W x 21"H. Seat height: 24" - 31"H (measured from...
Pros
With a heavy-duty frame, this chair can handle up to 325 lbs. 
Adjustable seat height up to 31 inches caters to the needs of average-height to 6-foot-tall individuals.
Ergonomic features provide support and comfort to your back.
Cons
Newer models with a hard rim around the seat can make users feel uncomfortable.
Easy-to-assemble overall, the parts may look different than regular ones, though. For example, the orientation of the seat can be confusing for some people.
Price may be steep for those who are on a tight budget.
---
Best Overall Runner-Up

Standing desks are not only for architects and engineers. Considering standing desk users with other jobs, I pick the LeanRite ergonomic chair as the runner-up to Evolve. One important thing to note: this is a standing chair. It does not have a backrest, armrest, or headrest. Yet, this configuration can help improve your posture, says the manufacturer.
Using the lever control, you can adjust the seat tilt according to your natural movements throughout the day. Sit, lean forward and backward, or perch to avoid tailbone numbness. Raise the seat height to a maximum of 46.3 inches to align the chair with your height adjustable desk.
This drafting chair has wheels at the rear for moving around. At the same time, it includes an anti-fatigue mat for added stability. The aluminum and polyurethane body makes it durable and easy to clean. 
This chair boasts of a multi-awarded design and has passed the Seating Durability and Stability standards of the Business and Institutional Furniture Manufacturing Association (BIFMA).
The Posture LeanRite Elite Ergonomic Office Chair is Suitable For –
For optimal use, this drafting chair should be used by people who are 5' to 6'4 tall. Those who are under or above this height range may be unable to switch to some positions. Its maximum weight capacity is 270 lbs.
Best Standing Desk Chair for Leaning and Posture...
Promotes Neutral posture for Strong Back: Standing desk chair for leaning, sitting, perch stool. Front tilting seat; reduces "tail-bone...
Feel Energized: Move easily through multiple positions. Only standing desk chair recommended for all day use
Recommended by Ergonomists: A multi-award-winning standing chair, (UL) tested Compliant with BIFMA Seating Durability and Stability...
Pros
Supportive of the back, helping you achieve proper posture while working.
Adjustable height favors users who are 5' to 6'4 tall.
The award-winning design encourages active sitting among office workers.
Cons
Switching to all positions is restricted to individuals between 5' and 6'4 tall.
Stability is limited to certain positions, i.e., keeping your feet on the anti-fatigue mat.
Price may be higher than most of the models listed here.
---
Best Value
Form and function combine in the Flash Furniture Mid-Back Mesh Drafting Chair to match any kind of workspace. At first glance, its refined melrose gold frame can be striking, but also intimidating. Yet, those who want fashionable seats to go with their daily drafting can feel at home on this one.
Just because it's stylish doesn't mean it is not heavy-duty. This chair has exceptional lumbar support. With a mid-back mesh backrest, it also provides relief to your back with neutral spine support. The waterfall edge seat allows for blood to circulate well in your lower limb. And the best thing is that you are not stuck in one position all day.
Using the 2-to-1 locking synchro mechanism, you can adjust the angle of your chair down to a relaxing recline. The flippable armrests are well-padded, so you can rest your upper limbs the way you like. Another factor that's important to drafting table users is the height. And the seat of this one can be adjusted from its baseline of 24 inches to its maximum height of 32 inches.
This model costs a little bit under $500. But if you grab a generous discount online, you can get it for under $200 or $300.
The Flash Furniture Mid-Back Mesh Drafting Chair is Suitable For –
People who want a heavy-duty yet stylish drafting chair should check this out. Those who want it to be customizable can also tinker with the seat and arm adjustment features, as well as the tilt mechanism. This chair can carry up to 250 pounds.
Sale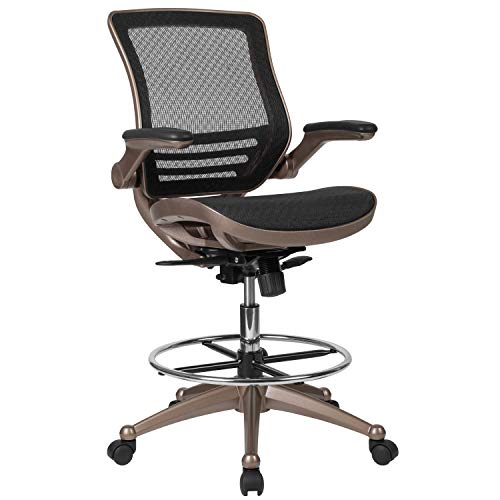 Flash Furniture Waylon Mid-Back Transparent Black Mesh...
Get the most out of our work or creative space with a tall office chair to accommodate different table heights. This adjustable drafting...
[_Our chair conforms to ANSI/BIFMA standard X5.1-17_] Transparent black mesh back and seat, mid-back design, flip-up padded arms
Pneumatic seat height adjustment, 2-to-1 locking synchro tilt adjustment, tilt tension adjustment knob, waterfall seat
Pros
Combining form and function, this chair can match any workspace.
The 2-to-1 locking synchro mechanism lets you lean or recline with ease.
The customizable seat and arm height can promote upper and lower limb circulation.
Cons
Without any discount or promo, this drafting chair can be pricey.
The wheels may not roll smoothly on bare or carpeted floors.
The locks and levers are made of plastic and need careful handling.
---
Best Value Runner-Up
Are you in search of something different? Try the SUPERJARE Drafting Chair. This armless drafting stool sports a versatile design, catering to a wide range of tasks. You can sit on this chair and sketch the layout of a high-rise or play your ukulele. Its compact profile also makes it a good fit in homes, offices, or studios.
What about adjustability? The lowly stool gets a lot of upgrades here. First, the seat height can be adjusted between 23.6 and 32.2 inches. This can support you while working at either a regular or a tall desk. Next, you can also raise or lower the footrest to suit your preference. The height range for this is 7.2 to 15.4 inches.
For your comfort, the seat has a wide base, which is covered with 4-inch thick padding. There is a backrest attached to the base as well. Also, you can swivel your seat up to 360 degrees thanks to the casters. 
This Best Value runner-up is one of the most affordable chairs in this review.
The SUPERJARE Drafting Chair is Suitable For –
All types of users can be supported by this stool. Tall individuals can adjust the seat height and footrest height. Meanwhile, those who weigh up to 265 pounds can rely on this chair to work, and relax.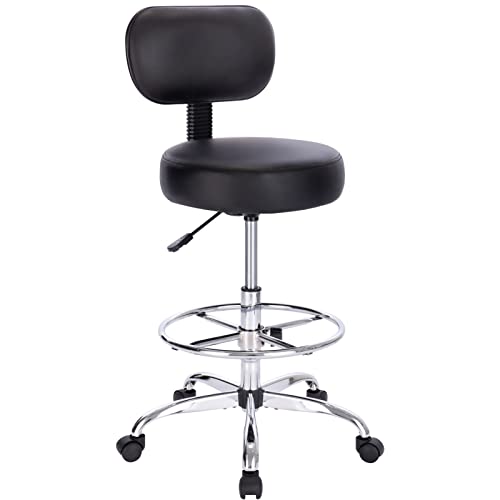 SUPERJARE Drafting Chair with Back, Adjustable Foot...
ADJUSTABLE HEIGHT - Superjare Drafting Chair is equipped with a simple lifting lever. Sitting height can be adjusted from 23.6" to 32.2"...
COMFORTABLE EXPERIENCE - Seat cushion of this drafting stool is made of PVC, padded with sponge. It has sufficient give for comfort without...
HIGH DUTY DESIGN - The stool chair can hold up to 250 lbs while the high duty stainless steel lift mechanism ensures stability. New upgraded...
Pros
This stool features a versatile design that accommodates many users.
The wide seat and thick padding, plus 360-degree swivel, provide support and maneuverability.
It is highly affordable.
Cons
The casters may break down faster than the other parts.
The footrest may sink at some point, and you'll have to adjust again.
Some users say it may not be too sturdy.
---
Best Budget
The Modway Veer Mesh Drafting Chair lets you chill while completing a task. It offers support and comfort to boost productivity. Both its frame and base are made of nylon, a durable material. The backrest is composed of breathable mesh, which helps air to flow freely throughout the chair space. The waterfall seat is created using breathable mesh padding.
This drafting chair caters to people of various heights and sizes. The pneumatic height adjustment lets you find the most comfortable elevation for concentration. However, this may limit you still if you're 6-foot tall and up. Its weight capacity is 331 pounds. But based on some user testimonials, it's best for those who weigh up to 260 pounds.
You can customize your working style with the flip-up arms, even going further toward the desk with the arms down. Moving across the room is also convenient with the hooded casters at the bottom. On top of these features, you can save on some bucks with this model's budget-friendly price tag.
The Modway Veer Mesh Drafting Chair is Suitable For –
Shoppers on a budget who want a good-quality drafting chair can get started with this product. Its adjustability settings will probably not leave you wanting for its price. However, its published weight capacity may not be accurate. So limit it to 260 pounds.
Sale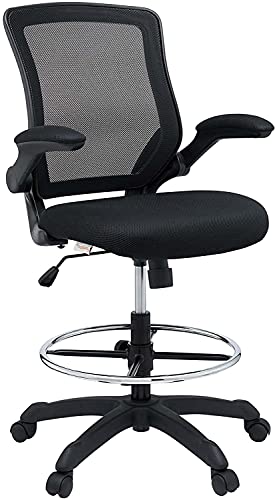 Modway Veer Reception Desk Flip-Up Arm Drafting Chair...
NOTE : To ensure proper assembly, please follow all steps provided in the installation manual (provided in pdf below)
ADJUSTABLE HEIGHT - With a tall glass cylinder, Veer is ideal for office desks, reception areas, and studios alike. The stool's one-touch...
ERGONOMIC SUPPORT - Featuring a breathable mesh back, lower back lumbar support, and padded waterfall mesh seat, sit relaxed in a...
Pros
The frame and base are made of nylon, which is known for its durability.
The breathable mesh seat and backrest allow for superior comfort.
The price is pocket-friendly, so it caters to more customers.
Cons
The actual weight capacity may be limited.
It cannot accommodate individuals who are 6-foot tall and up.
The seat cushion may be too thick for some users.
---
Best Budget Runner-Up
A sharp-looking chair, the Hon Volt Task Stool sets itself apart with a seat made of SofThread fabric. This proprietary fabric feels smooth and elastic. The seat also features tailored stitching and a geometric design. Underneath it is a pneumatic height seat adjustment lever to help you extend the chair to the height you prefer.
You can choose to order this model with a pair of height-adjustable arms for added customization. This will support your upper limbs as you drum away on your keyboard or sketch on your desk. If you have teammates around, you can roll toward them to collaborate or chat. Or you can swivel to your neighbor to respect their boundaries.
The materials used in this stool are of high quality. Aside from this factor, the two tilt settings make it truly shine. The Center-Tilt will let you recline as you please without any problems. This is complemented by the Synchro-Tilt, which offers various seat and back recline rates to accommodate your ergonomic requirements.
You can enjoy all of these features for under $200, which is already a good deal where drafting chairs are concerned.
The Hon Volt Task Stool Is Suitable For –
Individuals looking for an affordable drafting chair made with high-quality materials can take advantage of this deal. If you want a stool that will let you recline, this may also be for you.
Sale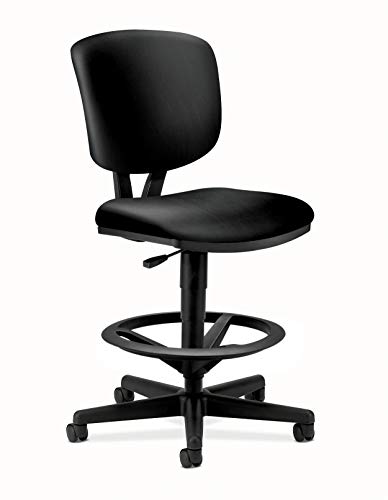 HON, Black Volt Leather Office Chair Sit-To-Stand...
COMFORT, STYLE AND VALUE: This task stool features smooth and pliable SofThread leather seats with tailored stitching detail and a...
SIT TO STAND: Avoid the hassle of raising and lowering your sit to stand desk--instead sit comfortably at any height with this task chair's...
ERGONOMIC ADJUSTMENTS: Let this comfortable office chair take care of your body while you work with generously-proportioned and contoured...
Pros
The seat features tailored stitching and geometric design for a sleek look.
The Center-Tilt and Synchro-Tilt settings let you recline effortlessly.
Boasting of high-quality materials, this product costs only around $150.
Cons
Heavyweight and tall individuals may not feel optimal comfort as the seat tends to sink from pressure.
It has to be set up upon delivery, which some users may find inconvenient.
The cushion is firm rather than plush, which may turn some people off.
---
What is a Drafting Chair?
A drafting chair is a taller, more customized version than the regular office chair. It usually has a minimum height of around 22 inches to cater to the high desk that users work on. This design includes adjustable settings, especially seat height, to accommodate tall people. Some models have backrests and armrests to enhance body support.
Most drafting chairs also sport a footrest to prevent the feet from dangling once you adjust your seat to its maximum height.
The most common professionals who require the use of a drafting chair are the architects, interior designers, laboratory technicians, artists, cartographers, and anyone who uses a drafting table. These individuals need a task chair that provides flexibility, reliability, support, and comfort. 
What is the Seat Height of a Drafting Chair?
As I said above, most models keep the minimum or base height of the seat at 22 inches (from the floor). This should work for short to average-height individuals as is. They should also be using a standard drafting table in this case, which is elevated by 36 inches from the floor.
Now, if you or your drafting table is taller, you should look for a drafting chair with an adjustable seat height that can go up to 30 to 32 inches. This should be complemented with a footrest, preferably adjustable as well, so your feet won't have to dangle. 
Most models these days offer many adjustable features to keep you supported and comfortable while working.
How Do You Lower a Chair?
The Canadian Centre for Occupational Health & Safety (OSH) shares a few ways to adjust your seat height. If it's too high for you at the moment, you can lower it according to the following guidelines to ensure your sitting posture is good.

The first trick is to stand in front of your chair. As you face it, let the highest point of the seat meet the point just below your knee cap. See Image A below for better visualization.

You can also try sitting upright on your chair, with your feet planted firmly on the floor. There should be a space between the front edge of the seat and your calves. This should measure about 5 centimeters or 2 inches, about the size of the fist.

Lastly, you can also adjust the armrest and backrest to achieve optimal comfort. You can change the backrest tilt so that it fits the curve of your lower back. Lean forward or backward until you get the correct angle.
As for the armrest, start by sitting erect and let your arms hang loosely on both sides. Bend your elbows to an almost right angle or 90 degrees. Raise or lower the armrests until they're touching your elbows but not the undersides. You can do away with the armchair altogether if you can't achieve this position.

Note: All images are sourced from the OHS
How Does a Pneumatic Office Chair Work?
Most office chairs, not just drafting chairs have seats that can be raised or lowered with a lever. This is essentially what a pneumatic office chair is. This adjustability is one of the most common ergonomic features of chairs and stools today. To make the adjustments possible, a pneumatic chair has to have the following components:

Base – the part that contains the casters or wheels, which can come in threes, fours, or fives.
Gas cylinder – where compressed air is stored; further, the compressed air is found in the air chamber, which contracts or expands when you raise or lower the lever, respectively
Seat – the base of which is used for attaching the adjustable the lever
Padded back support
The gas cylinder is placed between the base and the seat. It practically connects the two other parts. Inside this cylinder is an air chamber that is then connected to a piston. When you push the lever under the seat, the piston is activated inside the chamber. 
When you lift or raise the lever, the piston will further compress the air in the chamber. When you lower the lever, the piston gets pulled out of the chamber, allowing the air to expand instead.
When you're using a pneumatic drafting chair, you may lift or lower the lever smoothly at first. But if you're noticing some issues, such as a slowing down or grinding effect, you may need to lubricate the cylinder.
Conclusion
The best drafting chair should make you feel supported and comfortable as you work on your creative or technical pursuit. It should relieve you from back pain while you burn the proverbial midnight oil. 
In this roundup, you came across my top 6 picks for this chair type.
The Harwick Evolve All-Mesh Heavy-Duty Drafting Chair leads the pack. I find this drafting chair straightforward, whether in its design or functions. Its pneumatic seat height adjustment is topnotch, and on an ordinary day, you just want to lift your seat to complement your elevated workspace. And then you want to be able to lower it smoothly when you want to take a break.
Of course, the rest of my recommended products have their own strengths as well. If you're after value for money, you can try the Flash Furniture Mid-Back Mesh Drafting Chair. Do you have a tight budget? Maybe the Modway Veer Mesh Drafting Chair is the one for you. I'll leave the decision making to you.
Some of the frequently asked questions about drafting chairs are also answered in the sections following the reviews. I hope you checked them out. If you haven't yet, I encourage you to read them. These pieces of information can guide you in shopping for any office chair, not just for drafting chairs.
If you're replacing an old drafting chair, let me know how I can further help you.