The process of finding the best chair for your office can be a long one, especially if you're overwhelmed by all the available choices or you don't know what exactly you're looking for. 
When deciding which chair to buy, you need to take into consideration a number of factors, such as the reason why you need it, the number of hours you'll be spending on it, your height, weight, and the type of back support you need from the chair, among other things.
To help you along on your way to finding the perfect chair, in this article, we'll review a specific type of chair that you may want to consider for your office – the drafting chair. Keep on reading to find out more about it.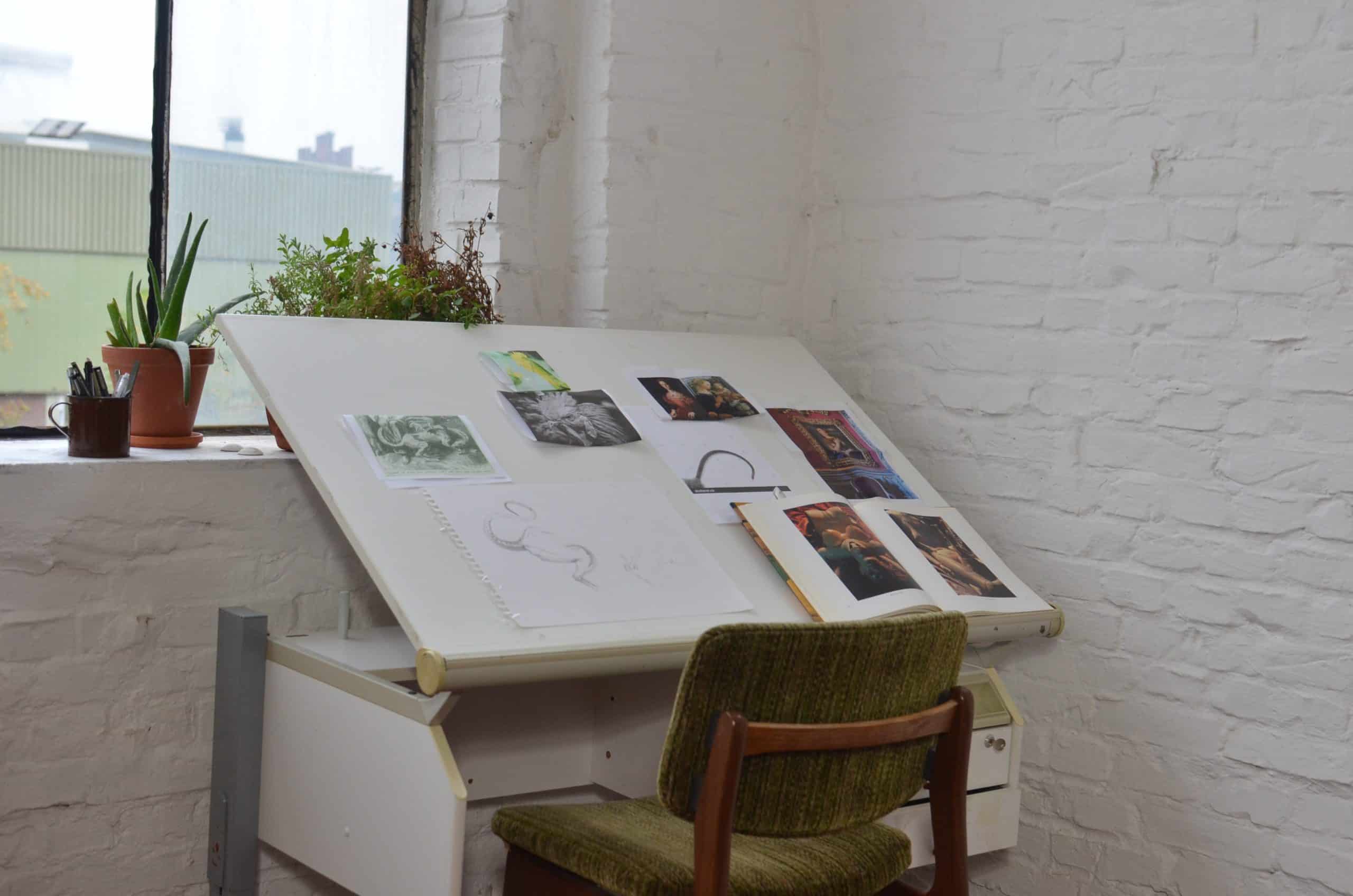 What Is a Drafting Chair?
The most simple explanation for what a drafting chair is would be an office bar stool with support. These types of chairs are usually used along with drafting tables or standing desks and are a variation of the traditional office chair. 
Drafting chairs are used by professionals who work on higher work surfaces, most commonly architects, lab technicians, engineers, artists, and others. People in these professions need an elevated working surface and a chair that can match the height of the work desk while also providing good support in different positions. The drafting chair is a chair that enables all of these things and also allows for adjustments of the height and armrest, according to the user's preferences.
Characteristics and Types of Drafting Chairs
You can find drafting chairs in a lot of different colors, designs, and variable heights on the market today. These chairs are perfect for working at a drafting table or another elevated surface and can be easily adjusted to match the table's height.
That being said, it's not advisable to get a drafting chair for a regular-sized desk. People usually do this because the surface of the desk is higher than expected, and they get drafting chairs to take advantage of the adjustable armrest when they're using the keyboard and mouse. Even though this might fix some problems, it will inevitably create new ones, like not being able to fit your feet under the desk. 
The Difference Between a Regular Office Chair and a Drafting Chair
Office chairs have been evolving quite a lot in recent years to meet the growing expectations of the end users. As with most office chairs, the emphasis is put on ergonomics and how to improve the person's posture and comfort while sitting and working for long hours. 
Height
Compared to the office chair, the drafting chair contains an extra foot-ring, as well as a higher seat. While the height of the regular office chair is between 16 and 21 inches, the height of the drafting chair is in the range of 25 to 35 inches, which makes it significantly higher.
Armrest, Backrest, and Headrest
The armrest is often absent in drafting chairs as they're mostly used by people who work in teams and don't need the armrests bumping into each other as they work. However, this isn't always the case. Some drafting chairs do have armrests, but they're often more basic compared to the armrests of office chairs.
When it comes to the backrest, it focuses mostly on the middle to lower back, compared to the office chair, which is focused on mid to high back. The draft chair doesn't have a headrest, unlike the office chair, which often has one.
Cost Comparison
Drafting chairs are considered less expensive than regular office chairs and have gained more popularity in the past few years because of all the new features new models have. Even though they are still not as easy to modify as the office chairs, they are still quite popular among users. This might be the reason for the lower price ranges on the drafting chairs.
The Drafting Stool 
Apart from the drafting chairs, there are also drafting stools. These types of stools are made with an adjustable height and often include a foot bar for resting the feet, so your legs don't hang while you're working. These types of chairs are not recommended for longer use, as they aren't as comfortable as other chairs due to the lack of back and arms support.
Which Chair Is Right for You?
Each person can benefit from a different type of chair, and this mostly depends on the type of work they do. 
Whether your job requires you to sit and work at a typical desk for many hours or you're working at an elevated desk, like a standing or drafting desk, you need to look at those and other factors when making the final decision about which chair you should buy. 
Below, we'll go into more detail about what you need to consider when buying a new chair.
Step 1: Define Your Work Surface Height
You first need to measure the height of your work desk and check whether it's adjustable or not.
Keep in mind that the standard desk height is around 30", whereas a standard drafting height is about 37". You will be able to adjust the height of most drafting tables within the ranges we've mentioned, so make sure the drafting chair suits your work desk.
Step 2: Choose the Type of Chair and Its Features
Now that you know what type of chair would be best for the job you have, it's time to look at the features and see whether they suit you.
Most office chairs have different features, such as:
Height adjustment for the seat

Adjustment for the seat's tilt mechanism

Height adjustment for the footrest

A detachable armrest

A contoured seat cushion

An adjustable backrest

An adjustable footrest
Should You Use a Drafting Chair as a Desk Chair?
The short answer is no, it's not recommended to buy a drafting chair for a regular-sized desk as the seat height of a drafting chair is too high for it to be used with a regular desk. 
Unless you are a very short person, choosing a drafting chair is not going to make your work hours more comfortable as the minimum seat height of any drafting chair is about 25 inches.
However, if you have a sit-and-stand desk, it's acceptable to use a drafting chair as you can adjust the desk's height to suit the chair.
Final Thoughts
The height of the office furniture is an important part of the ergonomics of a piece of furniture, especially a chair or any other furniture you actively use in the workspace. Factors such as the height of the desk in relation to the chair, the height of the arms rest, and whether the feet are touching the floor or not are all very important aspects you should look into. To reduce pain and maintain proper posture, you must focus on choosing the type of chair that fits your needs the best.
If used in the correct setup, a drafting chair can make the workday much more comfortable for many professionals. The drafting chair may also prevent injuries and other issues caused by bad posture and low-quality office gear. It's always best to try out a drafting chair before purchasing it, to make sure that it's going to suit your needs.
We hope that this article has helped you understand the pros and cons of drafting chairs, as well as given you enough information before your next purchase!