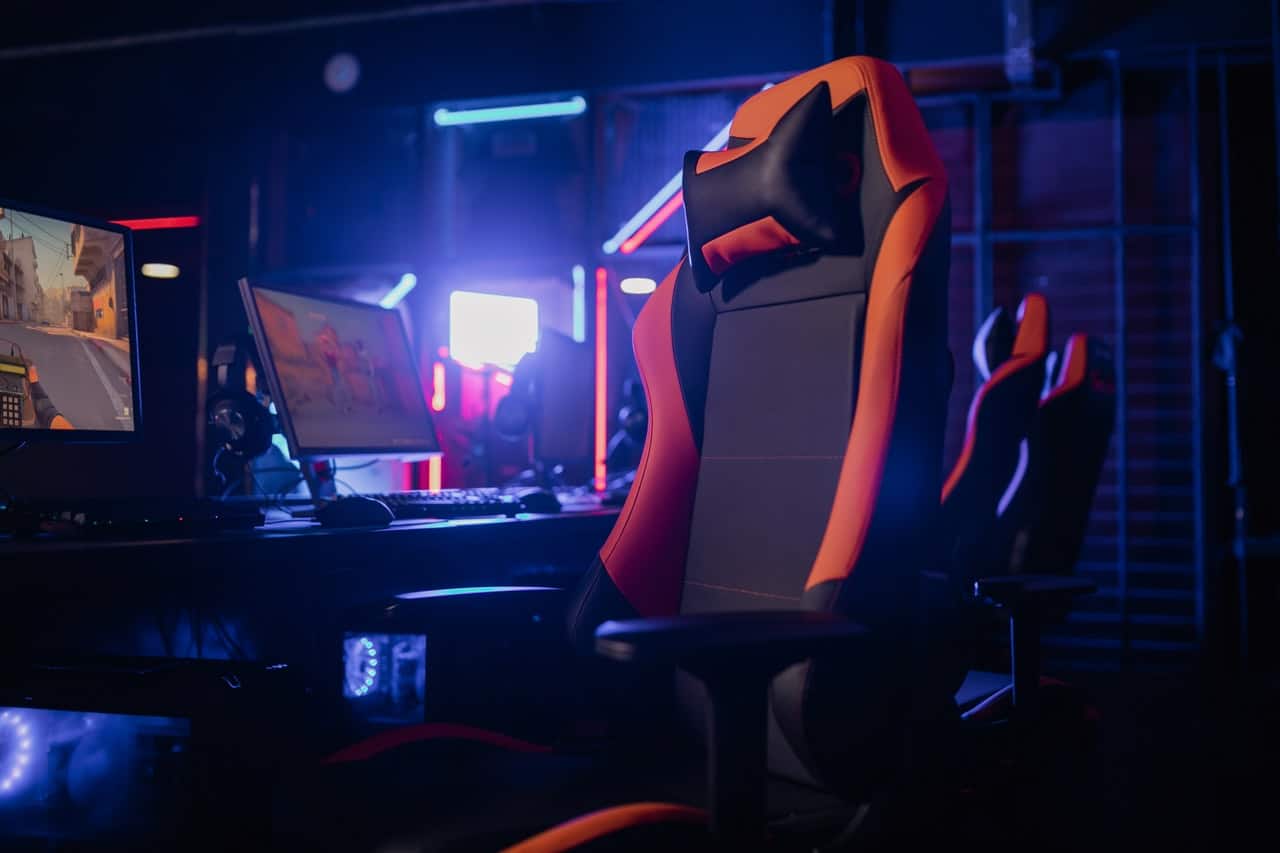 Every gamer is familiar with the unpleasant consequences of sitting in the wrong chair while playing. The pains in the back, head, neck, or legs can develop into more serious and chronic issues if you don't address the problem at the core by picking the right chair for your favorite hobby.
But how much does a gaming chair cost?
The prices can vary depending on your needs. The majority of gaming chairs cost between $150 and $400. However, you can also find chairs cheaper than $100 and much more expensive than $500. In recent years, some gamers have started to prefer ergonomic office chairs that can cost even more than $1000.
But how do you know which one you need? What is the difference between these different chairs?
Keep reading to find out, as we'll explain how much different gaming chairs cost.
How Much Is a Gaming Chair on Average?
Thanks to a wide variety of gaming chairs on the market, giving an average price is almost impossible. To talk about gaming chair prices, we need to divide them into price subcategories, from lowest to mid-level and high-end gaming chairs.
Gaming Chairs Under $100
These cheap chairs may look like gaming chairs, but that's about it. They lack durability, flexibility, back support, and adjustment options. While they are cheap, they aren't durable, and you'll likely have to get a new one in 2 or 3 years. If you're an occasional gamer and spend little time on your gaming chair, this kind of chair will suffice for a while.
These chairs are manufactured using cheap materials like plastic and plywood, which are not nearly as durable as steel or aluminum. If you are oversize, we don't recommend this cheaper option, but occasional gamers of smaller stature and low body weight can benefit from it.
Features
Low to medium weight capacity: up to 300Ibs;
Fixed 1D or 2D armrest;
Limited height adjustment;
Fixed backrest;
Usually covered with or other low-cost fabric;
Low-quality seat filling;
Lumbar support;
Small to average size.
The low-cost chairs do possess some good features. You can consider buying one if you don't often game and use the chair relatively rarely. If you're interested in a gaming chair under $100, check out our reviews and pick your favorite chair.
Gaming Chairs Under $200
Most gaming chairs cost somewhere between $100 and $300. You can expect more from these regarding quality, design, and features. However, remember that these are still money-saving gaming chairs, so don't expect a big difference compared to cheaper ones.
An important improvement with these chairs is that they are somewhat more durable.
These chairs are often replicas of the high-end brands in terms of design, but they are sold at a lower price, as they are made with lower-class materials like sponge stuffing and PU leather.
These knock-offs are sometimes quite successful and you may find a very good chair for very little money.
Features
Low to medium weight capacity: up to 300Ibs;
A variety of armrests from 1D to 4D;
Limited height adjustment;
Adjustable backrest;
Usually covered with PU leather or other low-cost fabric, but you may also have fabric upholstery;
Sponge or foam seat filling;
Lumbar support;
Small, average, or large chair size;
Some models also may contain the high-end features such as:
Footrests;
Speakers;
Massagers;
Ergonomic features;
Floor rockers.
If you play games more or less regularly, you probably should find a good chair to support your arms, back, and legs. You can probably find a solid chair in this price range with a little bit of effort. You may find our reviews beneficial as you search for the ideal chair in your optimal price range:
Gaming Chairs Under $300
For most people, gaming chairs in this price range hit the sweet spot regarding price, quality, and variability of options.
We are not yet talking about the high-end chairs, but you will notice a significant rise in quality compared to the cheaper models. For example, instead of plastic frames, you can expect stainless steel or aluminum frames that guarantee higher durability.
What you can also expect is more comfort. This includes memory or other high-quality foam in the seat, a headrest, and more robust support for the lumbar spine, which is one of the essential features.
The differences between gaming chairs under $300 and those of top-tier brands that exceed $500 are mainly the brand's popularity, exterior design, and features that may come in handy but are not crucial for the quality of your experience.
Features
Higher weight capacity: up to 400 Ibs;
Variability of armrests: up to 4D;
Adjustable backrest: up to180 degrees;
Covered in real leather, upholstery fabric, or, more rarely PU leather;
The seat is commonly filled with high-end cold cure foam;
Lumbar support and head cushion;
Medium to extra large chair size;
Most chairs come with features like massagers, speakers, feet rest, and floor rockers that provide additional comfort.
For example, on the $200 end, the Acethrone gaming chair comes with an adjustable seat and backrest, headrest, and lumbar support pillow. It's a large-sized, black and red chair made of faux leather, built based on ergonomic principles.
On the other hand, closer to the $300 end of the continuum, there is the Razer Enki X which comes with several upgrades. It has a built-in lumbar arch, ergonomically-optimized cushion density, and it's made of eco-friendly synthetic leather. It comes in three possible colors and has an adjustable recline.
Gaming Chairs Under $500
If you're looking for a top-tier gaming chair, here's where all the well-known brands with cool design, added features, and comfort hide. Some of the most popular brands in this category are Vertagear, DXRacer, and Maxnomic.
If you're ready to make a sizable investment, the chairs in this category are guaranteed to provide you with a good and comfortable gaming experience that will last for many years.
These chairs are great for users of all shapes and sizes and for those who spend hours gaming each day. They can be customized for people of outstanding height or size. You may need to pay more for adjustments, but it pays off in the long run, as you won't be replacing this chair for years to come.
At this price, you can expect better customer service and a warranty, and a return policy in case something doesn't work out well. However, unpleasant surprises are far less likely than their cheaper counterparts.
Features
Individualized weight capacity;
Multidimensional armrest;
Highly adjustable backrest;
Top-tier cover material like real leather, fabric, or high-quality artificial leather;
High-end foam for head and seat cushion stuffing;
Added lumbar and head and neck support;
Individualized chair size.
As in the previous two categories, you can expect an abundance of extra features from speakers to massagers.
SMAX chair
is an excellent example of a feature-rich chair enriched with premium ergonomics such as an adjustable backrest, footrest, and headrest, and a unique gaming design that involves a recliner, cup holder, and e-sports elements.
At only a slightly lower price, there is also the No products found. with another set of features you may prefer. This chair comes with a set of LED lights and full massage lower back support. It has built-in speakers, a blue-tooth connection, and adjustable foot and headrests.
If you're not a  fan of these features-rich chairs, and all you want is a simple, elegant, and high-quality chair, that's what you'll find with the Vertagear gaming chair. The designers of this chair put focus on ergonomics, as there are many customizable features like height, armrest, backrest, tilting, neck pillow, etc. It's made of high-end PU leather and filled with high-resiliency foam.
Gaming Chairs Over $500
Finally, the premium gaming chair. Not many people look for these kinds of chairs, as they are quite an investment, and the features they offer are usually necessary only in exceptional cases.
For example, some models in this category are pre-produced with a very high weight capacity, over 400Ibs. This means that you don't need to place a request for a weight capacity enhancement.
These chairs have extra ergonomic features, high-end upholstery fabric such as softwave or Nappa leather, and design features powered by collaborations and partnerships with famous game production houses and organizations.
As mentioned earlier, at a price higher than $1000, you will find top-tier office chairs empowered with comfort, adjustability, durability, and ergonomic features that no standard gaming chair has yet seen.
Although not many gamers go for these chairs, those who game professionally and spend hours and hours each day in a tense position in front of their computers may find them useful.
If this applies to you and your budget allows, this may be the healthiest, most comfortable, and durable option.
No products found.
gaming chair comes with highly adjustable ergonomic features and a robust aluminum base that will last a lifetime. It has a very delicate embroidery design, blending tradition with contemporary manufacturing of gaming chairs. The memory foam pillows are enriched with a special cooling gel that helps regulate body temperature while optimally supporting your neck, head, and lumbar area.
Another good example of a premium quality gaming chair is the AKRacing Masters, which comes with an extra-large, wide and flat seat, high-end upholstery, and comfortable cold-curved foam padding. The manufacturer guarantees a minimum of a five-year lifetime for this chair.
Main Factors That Determine Chair Price
Let's briefly talk about the main factors determining the price of the chairs. This should help you figure out what you need from a chair, in case you are not sure by now.
Quality and Materials
Many cheaper brands try to replicate top-tier brands. The main difference is the quality of materials and chairs. If you plan to spend time in your chair, you don't want it to wear and tear quickly. Mid to high-tier chairs are what you're looking for.
Brand
As with many other products on the market, the brand's popularity often determines the price tag. In some cases, this makes sense, as some brands have a history of quality. However, you should be careful as many producers try to capitalize on the gaming industry by creating business partnerships with popular gaming brands while selling average or below-average products.
Size and Weight Capacity
The math here is simple: the more materials used, the higher the price, especially when it comes to higher quality materials such as aluminum or stainless steel. Chairs for people of above-average height or weight need additional support, which costs more money.
Features
Besides the most important features of the chair, such as lumbar support, backrest, headrest, and seat cushion quality, premium features like speakers, massagers, or rocking chair effects add to your experience in the chair. Once again, the more you get, the more you pay.
Conclusion
Setting up an average price value for gaming chairs is neither possible nor informative. That's why we split the price tiers into different categories.
Chairs at different price ties vary greatly, from the quality of the chair's basic components to premium features implemented purely for comfort and enjoyment.
You should choose a chair after considering how much time you plan to spend on it. If you only play occasionally, a lower-tier chair should do the job just fine, while professional gamers should aim at the top-tier chairs with improved ergonomic features.