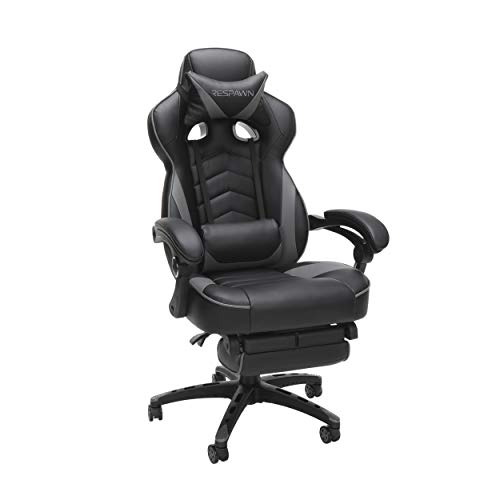 Are you a passionate gamer? Are you working from home? Do you want a chair that'll help you with your neck and shoulders pains? Then Respawn 110 is the chair for you.
Wear your seat belts as Respawn has brought this amazing 'Gaming Chair'.
Well! A gaming chair can be a blessing for all the passionate and restless gamers out there. To help you take your gaming passion to the next level, Respawn has come with this unusual chair with its innovative and out of the box specifications. It's not just a chair but a Revolution. 
Hours and Hours of gaming can be extremely hectic, tiring, and sickening. Who wouldn't want a Chair, that too a gaming chair that is smooth, cozy, and comfortable, all at the same time.
Gaming is pure adventure!  And to win the game thereby beating others to reach the end needs skills and loads of focus. Respawn 110 Gaming Chair provides you with an experience that would enhance your gaming potential and capacity to play more, compete more, and of course win more!
So, let's learn and know more about this gaming beauty.
The style and design updated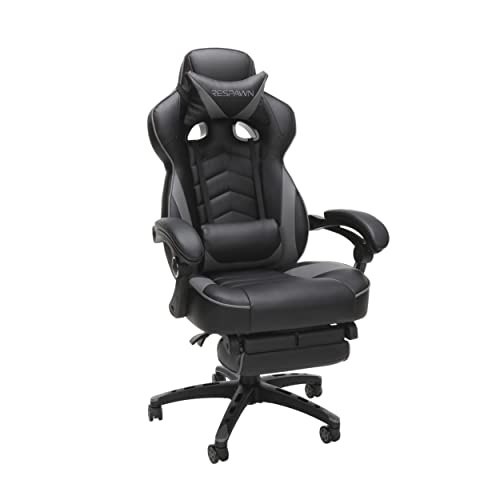 RESPAWN 110 Ergonomic Gaming Chair with Footrest...
NOTE : To ensure proper assembly, please follow all steps provided in the installation manual (provided in pdf below)
GAMIFIED SEATING: A racecar-style gaming chair that provides luxury and comfort, whether it's used for intense gaming sessions and climbing...
ERGONOMIC COMFORT: With segmented padded designed to give highly contoured support when and where you need it most, this ergonomic chair is...
Respawn 110 has a dominating chemical smell due to the synthetic leather that is used to envelop it. It is the first thing that would hit you during your initial interactions with the chair. To avoid such a mess it's better to use a leather cleaner. One wipe with a clean cotton cloth would reduce the obnoxious encounter and you are then ready for a mesmerizing gaming spell.
The chair is multipurpose stuff that is not only a gaming chair but is styled out and crafted as an equally comfortable office-chair. So you can easily switch between your gaming sessions and your work hours. This racing-style chair gives you an everlasting experience where you would seep into the world of virtual reality. 
I love cars and I love gaming. And when both these adventures are clubbed together it becomes a Respawn 110 Gaming chair. It offers optimum comfort, which is the most important ingredient needed to be able to enjoy a hassle-free gaming session. So if you don't want your bump to get numb while enjoying long hours of gaming, Respawn 110 is just the right choice for you.
Then comes the segmented pads in the chair which are the main reason why a human body structure can easily fit into the chair and can control lengthy episodes of gaming. So even if you are a gaming freak, you can get tough on you as Respawn 110 is there to give you an everlasting gaming experience.
Functional Viability
 A 4D maneuverability 
The 2D and 3D chairs provide for adjustability up, down, left, right, and in and out, the 4D Respawn chair provides 4D playing. A 360-degree pivot rotation ability is ideal for gamers to immerse themselves in the dynamics of a 4D adventure. You can simply recline better with a sharper bent than ever without giving you an uneasy feeling. 
A massage car
This multipurpose chair is also useful and beneficial for those suffering from back, neck, and shoulder issues. So to indulge oneself into long hours of gaming, backaches or spinal issues won't remain any hurdle anymore. So move it to different angles until you get that best position to play. Reclining it between 90 to 155  degrees is easy too with limitless locking positions. 
Soft Padded
The chair is so smooth and soft. The cushioned armrests can help you achieve a cozy feel as you recline. Plus how can one ignore the expansible footrests and flexible headrest? So when you are tired of playing, no need to quit, just change the angle and start again!
The soft and silky feeling would help you concentrate on your game better rather than giving you an edgy feeling.
Durable Quality
The chair is tapestried in Vinyl leather. A chair with a covering of real leather can be an expensive option. And so, Respawn 110 has used Vinyl leather to keep the price low on one hand and save you from false leather chairs on the other hand, that are manipulating customers already. So to protect customers from such false products, Respawn has come with Vinyl or Bonded leather that has used synthetic materials and special glue which gives it a reasonable price and hard-wearing quality keeping the out of pocket expenditure at check. It is no doubt a versatile chair that fulfills different purposes in one purchase. 
PROS of RESPAWN 110
It provides gamers with a wholesome gaming experience.
Comfortable to those as well who love gaming but suffer from back and neck issues.
The specifications like an adjustable headrest, expansible footrest, lumbar pillows take care of your body type and structure.
In the era of the Industrial Revolution 4.0, the chair makes you enjoy complete 4D fun with multiple changing angles.
Whether you are tall or short, thin or a little heavy, Respawn provides you a wholesome deal. All you need to be is an enthusiastic gamer!
A great value for money.
Smooth wheels give it a rovering ability to move effortlessly.
It is available in different colors like red, lemon green, and grey.
You can convert it into a bed as it reclines fully. So bent it backward, open the footrest and your crib-like bed is all set.
The foam padding is dense and thick enough to give to you a relaxed feeling.
The head pillow is mushy and spongy.
The armrests are attached to the back with hinges and not to the seat. This is a unique feature of Respawn 110 as the arms can also be moved backward. Exciting! Isn't it?
CONS of RESPAWN 110
The strong leather smell has to be taken care of. Use a leather cleaner to get rid of the staunch leather scent.
The synthetic material and glue that is used to make the chair have to be protected from the sun. Keeping the chair under the sun can lead to the fading of the leather.
It has to be kept clean. Using leather conditioners and leather cleaners to sponge out body oils away from the leather cloth is to be done every now and then.
The footrest is fitted below the seat and one has to go down to install it for the feet.
Putting too much pressure on the footrest can give you a feeling that you might be pressing too much weight on it.
Expensive Alternatives
There are other alternatives to Respawn as well but they would fall in the category if expensive chairs. For example, Bossin racing style gaming chair, GTP Office gaming chair, and Killabee Massage gaming chair.
But there are limitations. Bossin racing chair provides an extra weight holding capacity of around 300 pounds but when it comes to warranty, it is empty. Similarly, GTP Office too provides a maximum weight capacity of 330 pounds but again there is no warranty provided with it. Then comes the Killabee Massage gaming chair. It is expensive when one compares it to what it can provide. It can manage to handle a bodyweight of around 250 pounds only even though the unique feature of Killabee is its extra foam stuffing and an opening down the backrest. Such an opening provides a good ventilation system for the body.
Frequently Asked Questions
Should I buy Respawn 110?
Yes, it is the best chair that is affordable, comfortable, beautiful, everlasting, and multi-use, all at the same time.
Can I use this chair if I am 275 pounds or more?
No, the chair would be able to handle a weight of 275 pounds but not more than that. For weighty gamers, chairs that can handle 330 pounds weight would be a better option. 
Is Respawn a good gaming chair?
Respawn is an amazing chair that is multidimensional and budget-friendly both at the same time. It is easy to maintain and does not occupy too much space indoors. It is custom made in a way that it does not occupy too much space. 
Is a gaming chair better than an office chair?
When it comes to Respawn 110, the answer is yes. This chair is advantageous as it can be used as an office chair, as a gaming chair, and as a relaxing chair. Its Ergonomic support is highly commendable. One can shift from gaming episodes to working shifts and back to gaming without any need of having multiple and different types of chairs at home. A single chair would do it all. 
How do you make a chair Respawn?How do you make a chair Respawn?
Respawn chairs always stand out from other chairs that are being offered by its competitors. Respawn fit the budget of gamers who can't afford an expensive chair. 
Is a gaming chair better than an office chair?
Yes, it is always better to buy a gaming chair rather than an office chair as it takes care of your body posture. A right posture is an area that should be given utmost importance. Especially when you are spending a long time gaming or doing office work. Even for a student who has to study for long hours, this chair provides a better alternative than other chairs keeping the health of muscles in mind.
Conclusion
Last but not least Respawn 110 is the best you can have as you can use it as an office chair, a gaming chair, a massaging chair, and as your personal comforting zone. This all in one racing car beauty is the ultimate chair with soft headrests, relaxing footrests, pivotable armrests, lumbar pillows, and 4D specifications. This chair would surely enlighten the gaming corner of your house. It is so attractive that it would compel your friends and visitors to ask you more about the chair. Not only adults but children would love it too. This chair no wonder outshines many other competitive chairs in the market. Be it comfort, durability, quality, and usability this chair is worth the money that you are ready to spend.
You can play for hours without fail and this has been made a reality by Respawn 110.
Though the chair has its flaws, they are too small keeping its benefits and pros in mind. 
Don't forget to keep it away from the sun. Use leather cleaners to keep the soft leather away from bacteria and body sweat especially if you perspire more.
This chair is all ready to give you a luxurious feeling. This chair comes with a lifetime warranty and agent assistance for a year. All the best for your new gaming experience!