Best Overall
IKEA Poang Armchair Birch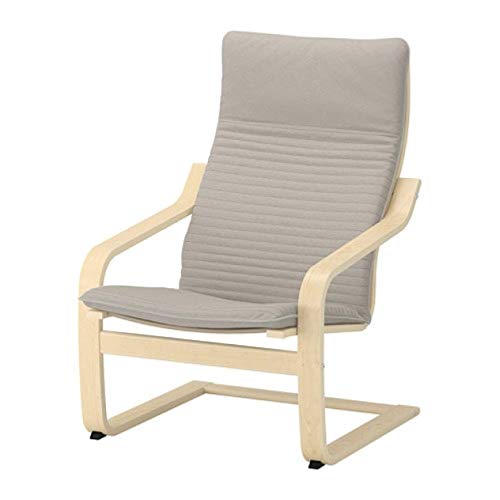 Best Value
Eagles Nest Outfitters Lounger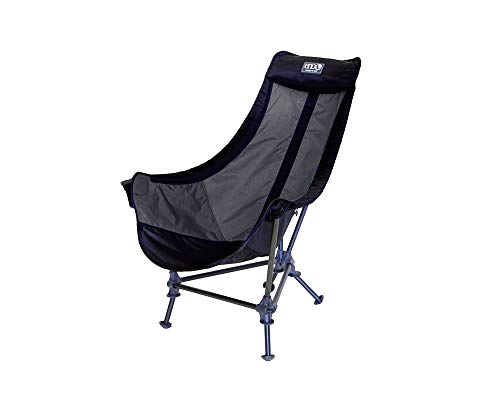 Best Budget
BonVIVO Easy III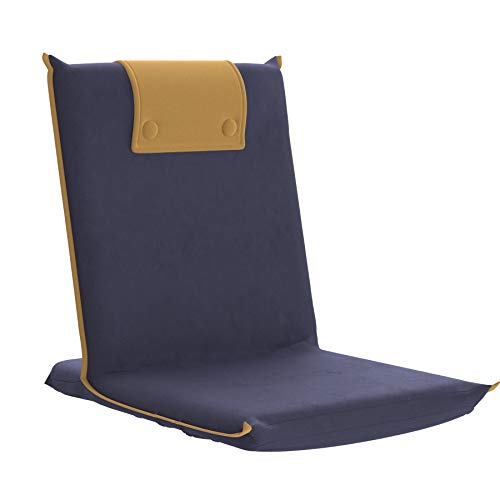 Do you love getting lost in the adventurous worlds that books offer? Or a nerd who prefers staying indoors with the readers? This article is for you. There are so many books lovers globally, but so less is written for the accessories they require. One such supplement is a comfortable seat to keep you attentive and engrossed while you dive into the unknown worlds of books. We decided to research reading chairs so that we could sort out the best chairs for readers.
6 Best Chairs for Reading for 2020
We have sorted six great chairs for reading into three categories in this section. We have sorted them based on the preferences and requirements of different users. If you are a reader, it will not take you long to go through this article on reading chairs and find one suited for you. As most readers spend their time indoors, this list will contain more chairs suited for indoor environments, but we haven't left on some beautiful outdoor chairs as well. Go through the article and help yourself to add to your joy of reading.
Best Overall
Poang armchair is a beautiful rocking chair perfect for reading activities. It is a good looking chair with a magnificent design. Besides, it uses recycled polyester and very few new raw materials, which makes it environmentally friendly. The cushion is separate from the armchair, which makes it removable. It is a simple-looking chair, and yet it can serve as a magnificent reading chair.
Suitable for:
It is a perfect item for people who are looking for a low space-occupying lightweight chair. The chair is effortless to move from one place to another. It has a graceful design to fit in anywhere and to add to the beauty of the environment.
Pros
The product is value for money.
The back of the chair is high, which provides good support for the neck.
The chair is a rocking chair, which can make your reading more enjoyable.
IKEA manufactures Poang in an environmentally friendly manner with recycled polyester.
The chair is compact and occupies very little space.
Cons
It is a little hard to assemble the chair.
---
Best Overall Runner-up
This list would not have been without a mid-century fabric liner. GDFStudio Macedon is a perfect chair to keep near your bookshelves in your library. It adds to the beauty of the library, providing a comfortable seat for the reader. It comes with a classic design with a wooden frame that can make a perfect reading chair and ottoman. Your library will look even excellent with this matching ottoman chair.
Suitable for:
This chair is best for readers who love classic touch to their reading room. GDFStudio Macedon provides a pleasant sitting posture for supporting your back for hours. It is perfect for people who care about the design and look as much as comfortable. The chair is designed beautifully to suit most indoor backgrounds. It is also suitable for people looking for oversize chairs.
Sale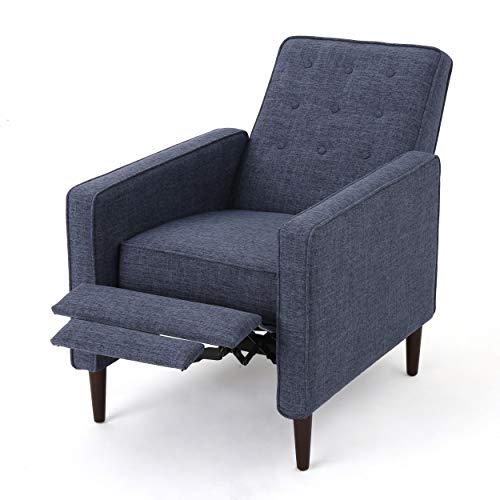 Pros
It has multiple color options available.
The chair has an extra added cushion to enhance comfort while you read.
The chair is a recliner chair.
It can be used in other rooms when you are not using it for reading.
The weight carrying capacity of the chair is significantly considerable, and it can support 350 pounds.
Cons
Lightweight users have to put some effort to recline the chair.
---
Best Value
ENO Lounge chair is a reliable multi-purpose chair with flexible usage. With a low weight of 5 pounds, it is capable of carrying weights up to 250 pounds. ENO has not compromised on the durability even with this low weight. Its durability can be relied upon as it is made of 210D ripstop nylon with a strong nylon frame. This chair has a camping look and design, but the comfort it provides while reading has brought it to this list.
Suitable for:
It is suitable for readers who are looking for a portable reading chair for multiple uses. This chair is excellent for reading, working, and even relaxing. It is best for readers who travel a lot and wish to keep a chair with themselves. This chair is also one of the best chairs for the lounge.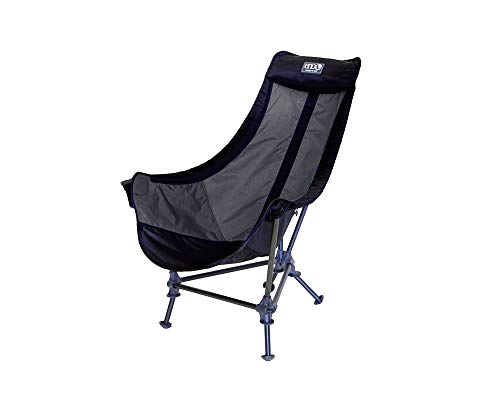 ENO, Eagles Nest Outfitters Lounger DL Camping Chair,...
TIME TO RELAX: Designed with a high back and integrated headrest, the DL Lounger is the trustworthy camping chair that will have you sitting...
DURABLE MATERIAL: The Lounger DL is made with 210D ripstop nylon and a durable aluminum alloy frame, features two adjustable leg heights,...
ADVENTURE READY: Weighing just under 5 pounds the DL lounger has an effortless shock-corded assembly, so setup is a breeze; Includes a...
Pros
The chair's leg height is adjustable, which makes it flexible for usage by more than one person.
The aluminum frame and the high-quality nylon give it unmatchable durability.
Light-weight, with shock-corded assembly, gives it easy portability.
The chair comes with two cargo pockets and a cup holder.
You can carry it anywhere and everywhere.
Cons
Setting up and repacking this chair takes some effort, unlike most portable chairs that are quick and effortless to assemble.
The weight carrying capacity is lesser than other chairs on the list.
It would not last as long as Indoor chairs.
---
Best Value Runner-up
This list of best reading chairs would have been incomplete without the inclusion of a rocking chair. But GCI has way more to it. It is cheap, it is compact, and it can be carried and used everywhere. GCI outdoor freestyle is precisely what the name suggests, and this flexibility makes it perfect for the readers. It consists of sturdy powder-coated steel, which makes it light yet sturdy. The chair has a weight carrying capacity of 250 pounds.
Suitable for:
It would be the best choice for people who are short on budget and want a multi-purpose chair. This chair is an excellent value for money product, and you can use it for almost every purpose a chair can perform. It can also make an ideal lounge chair suitable for people who do not require oversized chairs.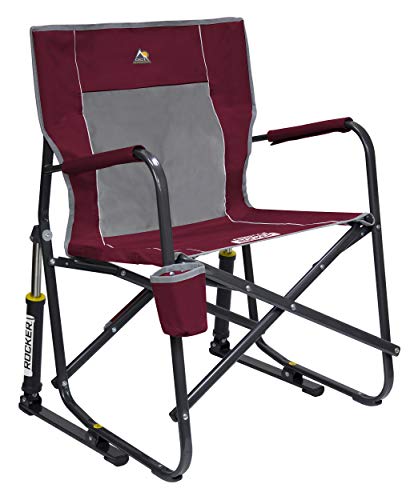 GCI Outdoor Freestyle Rocker Portable Folding Rocking...
Portable outdoor rocking chair quickly and easily folds flat for storage and transportation. It also has a Mesh backrest
Sturdy powder-coated steel frame supports up to 250 pounds includes padded arm rests and built-in beverage holder
Patented Spring-Action Rocking Technology delivers smooth rocking motion anywhere outdoors – lawn, patio, camping or tailgating
Pros
It is very lightweight and compact.
It is effortless to fold and store.
Very affordable.
It is a rocking chair.
Cons
A little uncomfortable for large people.
The chair allows for only a straight back sitting posture.
---
Best Budget
bonVivo Easy III is a floor chair with comfortable padding. You can lock this chair in multiple positions for achieving a suitable posture. It is one of the best budget reading chairs available in the market. It can be used for comfortable reading, meditating, relaxing, gaming, and much more.
Suitable for:
bonVivo Easy III is perfect for readers who love to sit on the floor and stay close to the ground while reading. It is the best carry everywhere chair and can be ported effortlessly. It is also suitable for buyers who want space efficiency, as it can be folded and kept aside anytime.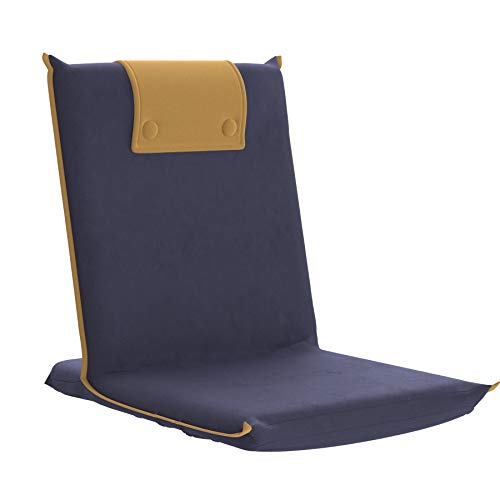 bonVIVO Easy III Padded Portable Floor Chair - with...
✔ FOLDABLE WITH CONVENIENT TECHNOLOGY AND MATERIALS: The backrest offers locking feature that gives you the support to achieve a...
✔ UNIVERSAL APPLICATIONS: Whether as a lounge, meditation cushion cover, home office, floor gaming chairs for adults and teens, or...
✔ COMFORT AND STYLE BY BONVIVO: We understand the importance and impact of your comfort and well-being during your daily activities,...
Pros
The product provides the best value for money.
It is lightweight and portable, which makes it a carry anywhere chair.
It can be locked in multiple positions, making it suitable for sitting as well as reclining.
It can be folded and kept aside anytime.
Cons
It can only carry weight up to 220 pounds.
---
Best Budget Runner-up
We all book lovers value Hammocks. We know how much they add to the world of reading. Y-Stop Hammock chair is the last item on the list. It is also the cheapest and makes it the best budget reading chair on the list. It provides a large space and can support a weight up to 330 pounds. The quality of the soft polyester used is very high and makes it impenetrable. It provides pockets to store your book after the reading. It is doubtlessly a value for money product, as well.
Suitable for:
It is the cheapest chair on the list, but that does not make it suitable only for buyers short on budget. Y-Stop is a unique chair with strength and comfort. It is ideal for most readers who love reading in the hammocks.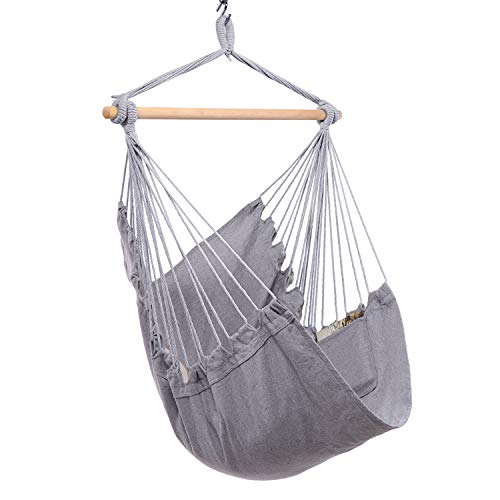 Y- STOP Hammock Chair Hanging Rope Swing - Max 330 Lbs...
Enjoy a Comfortable Hammock Chair - this stylish hammock is comfortable and durable. It does not lose the cotton thread, allowing the user...
Quality Assurance: soft, sturdy chair is made of soft polyester/cotton, to ensure that they do not is torn or damaged, the use of...
Convenience: The comfortable hammock chair provides the best reading place, and it comes with a side pocket, where you can store the book...
Pros
Easy to install and move.
It can be used indoors and outdoors.
The chair is very cheap.
It comes with enough space and a weight carrying capacity of 330 pounds.
Cons
Not comfortable to sit for long periods.
---
Reading is a fun activity, which requires long hours of sitting at times. Not all chairs can provide you the comfort needed for attentive reading. This concern indeed raises the question of what makes a chair suitable for reading? Please go through it to find an answer to some common doubts.
How to choose the best reading chair for yourself?
Chairs come in all sizes and shapes, and there are many chairs out there that serve the purpose. Sometimes it becomes difficult to choose the right item when there are so many variations.
That is why it's always better to research when you are buying a long-term product and if you want the best product for yourself. Here are some significant points that you should consider:
Would you like a chair that you can carry everywhere? If yes, then you should choose a lightweight, portable reading chair. There are a few in the list above which would make great choices. If not, then you might want to prefer heavy indoor reading chairs for their durability and long life.
Do you prefer reading in outdoor environments or indoor environments? If you like outdoor reading, then you might want to choose a hammock chair or an outdoor reading chair; otherwise, the wooden frame armchairs are sumptuous at providing indoor comfort.
You also have a choice to choose between formal and outdoor chairs. The standard chairs can be set up in the living room or the library, while the outdoor chairs can be used for most environments.
What makes a chair suitable for reading?
 You can sit and read on any chair, right? Then what is it that separates a good reading chair from other chairs? The answer would change based on the readers' priorities and interests, but there are a few priorities that should matter to all. The chair should provide a comfortable and good sitting posture; otherwise, it becomes impossible to get lost in a book. A bad sitting posture would also have harmful long-term effects on your spine. The chair should be durable and robust so that it lasts a long time. If you are going to choose an indoor reading chair, then you should look for a chair that suits the inside of your house. If a chair is odd to your environment, it might not make your reading as comfortable as it can be.
How to get the best out of your reading chair?
Here are some tips for using your chair and ensuring its longevity:
You must read the instructions carefully so that you can assemble your chair correctly. The improper assembling will make the sitting uncomfortable. You might even miss out on some essential features if you do not read the manual carefully.
The indoor chairs usually do not require assembling, but they need significant care in handling. The soft fabrics and leather can quickly lose its charm with a spill or a cut. Even the wood becomes more vulnerable to damage if exposed to moisture and water.
Conclusion
We hope that this article helped you look into your requirements and clarify the reading chairs. A lot of research was put to compose this list of best reading chairs. We have tried to include chairs for various buyers by including budget chairs, value for money chairs, and graceful chairs. List down your priorities and choose your reading chair wisely. It is going to be a long-term companion and make your reading effortless and fabulous. Happy reading!