Best Overall
Capisco Ergonomic Office Chair with Saddle Seat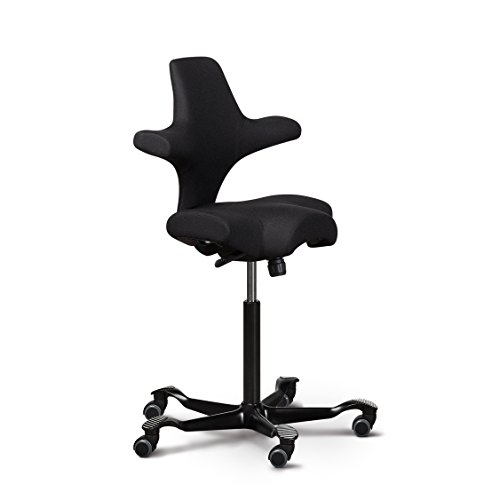 Best Value
Jobri BetterPosture Saddle Chair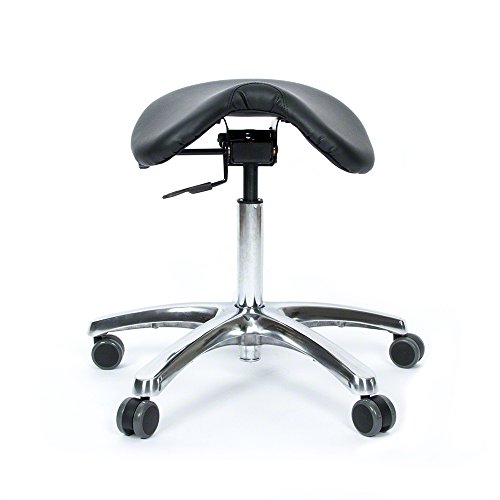 Best Budget
Master Massage Ergonomic Swivel Saddle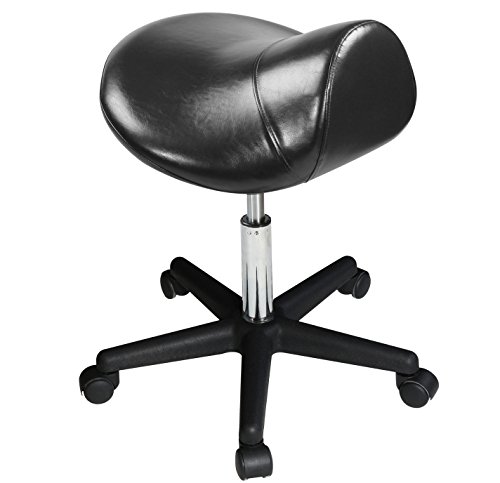 Day after day, working by the desk, in seemingly high quality, but still, a cramped chair would do a number on anyone's health. No matter how good a normal chair is, in the face of long hours, it's inevitable to fail to shield yourself from the cramping legs and aching back, and that's exactly where the saddle chairs and stools come in! 
A saddle chair is, as the name suggests, a chair shaped like a saddle with wide seats and a little tilt to help with our posture.
It shows good mobility and comes with a height adjusting feature, making it easier for you to work without feeling cramped up. But of course, even saddle chairs come in all sorts of shapes and sizes and comfort levels, and with a change in the manufacturer, we see a change, however slight, in their features and quality too. So how to decide which one to go for? Well, that's what I am here for! 
In this article, I will present to you the 6 best Saddle Chairs in 2023 and what makes them stand out from among hundreds of similar products. We will also see the pros and cons of each before moving on to some general questions you might have about saddle chairs. Ready? Let's go!
Table of Contents
Our Pick
Best Saddle Stool
Best Overall
From the brand HAG, we have the Capisco Ergonomic Chair with Saddle Seat, one of the most versatile products on my list. The seat is 23.5 inches wide and can be adjusted to any height between 22.5 and 33 inches. That makes it a perfect fit if you happen to use a standing desk or a desk higher than normal standards. 
The seat is completely cushioned and has a tilt feature. You can tilt it to any angle or position you like and secure it with the tilt lock. What I like the most about this product is perhaps the fact that not only is it durable and sturdy, but the material used for it is 90% recyclable. It's kind of like a bonus for my eco-friendly heart, but that isn't the only reason for it to be number one on this list. 
Capisco Ergonomic Chair with Saddle Seat is also very comfortable to use, and it does not leave any scratches onto the floor while on the move, thanks to the good quality casters. So move around all you want while using this product; it's stable and is easy to adjust according to your needs.
Capisco Ergonomic Office Chair with Saddle Seat is Suitable for:
Anyone who works with standing or higher desks and has a generous budget should give this one a try. Also, if you are like me and believe in using eco-friendly products, this chair might just be what you are looking for!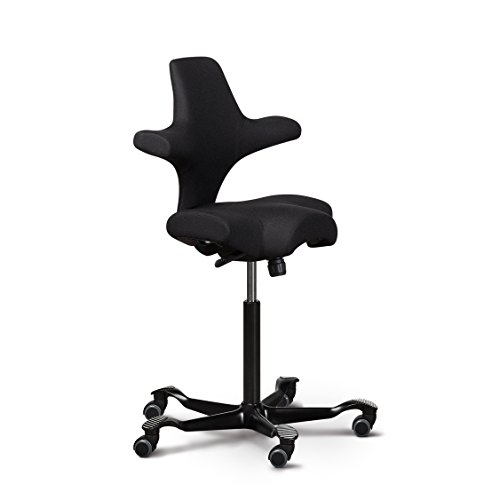 HAG Capisco Adjustable Standing Desk Chair - Black...
PERFECT FOR: Shifting between sitting and standing at an adjustable or standing height desk – seat height 22.5" – 33" with 18.5"...
ALL DAY COMFORT: Award winning design, Capisco's soft and wide saddle seat promotes healthy blood flow and encourages movement to sit...
FULLY ADJUSTABLE: Seat height, seat depth, back height and back tilt allows for maximum healthy sitting positioning with a maximum weight of...
Pros
It is really easy to assemble and comfortable to use.
There is a 10-year warranty on the pneumatic lift, which means prolonged use without any hitches.
Cons
This product is more on the expensive side.
It is specifically designed for standing desks, so it might be uncomfortable to use with regular desks.
---
Best Overall Runner-Up
The second product on my list is not only very affordable and durable, but is also easy to assemble even without tools. This Professional Saddle Stool from Grace and Grace comes with a comfy cushion made of dense sponge and coated with good quality PVC leather, which makes it very comfortable to sit on, add to that the seat width of 15.3 inches. 
It can also be adjusted to any height between 20.8 and 28 inches while being able to carry as much as 400 lbs of weight, making it suitable for use for a variety of people and under different conditions. 
It is very stable thanks to the solid metal base, and the reinforced nylon casters make the movement smooth, sparing the damage to both the flooring and the product itself. It is easy to control too, and won't move unless propelled forward by the user, which makes it safer. 
Grace and Grace Professional Saddle Stool is Suitable for:
Anyone looking for an affordable saddle seat that can be used in the long run should at least give this product a thought. If you like comfort (who doesn't?) and want the freedom to move around even while sitting, you should certainly go for it. Its safety features are top-notch, and this product is a good fit for anyone who values safety more.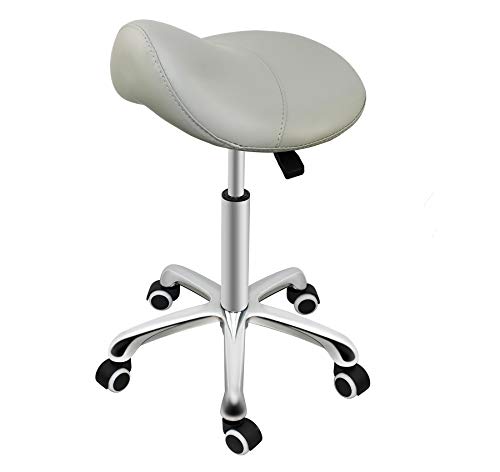 Grace&Grace Professional Saddle Stool Series Hydraulic...
5% Coupon for new product listing. Saddle Seat Design for extra comfort to ease the stress and pain on the back and spine.
Comfortable Cushion made from brand new dense sponge coated with premier thicker PVC leather, elegant stitching even for the bottom side of...
Heavy-duty sturdy metal base and structured screw allow weight capacity high to 400lbs
Pros
It comes with a one year warranty.
It is actually fitted with an anti-exploding plate under the cushion, which makes it much safer to use than many other products in the same category.
Cons
You need to be careful while using it on uneven or broken surfaces as the product can get damaged.
If you are looking for a chair to help with pain relief, you might be disappointed because it might be a little too sturdy for people with already existing back issues.
---
Best Value
Jobri has an entire series of BetterPosture products that are designed to reduce pressure on the lower back and help the user with back, neck, and hip pain. But even among those, this saddle chair F1465/BK stands out in the overall likability. 
The saddle chair's cushion is shaped more like a 'lily pad' and is made of durable material that can easily be wiped clean. The height can be adjusted according to the user's preference in the range of 21 inches to 28 inches. So while it is certainly high enough, it might not be low enough for a lot of people. 
It is much more compact than a regular office chair and easy to move around thanks to the five-point base made of polished aluminum and nylon casters. Keeping in line with the aim of BetterPosture products, this saddle chair feels ergonomically correct, and the lily pad design makes it easier to sit (and stay) on and maintain good posture.
Jobri BetterPosture Saddle Chair is Suitable for:
Those who are working with limited budgets or suffer from constant backaches due to bad posture and badly designed office chairs might want to take a look into it. If you fit both of these categories, then you might have just found your ideal chair!
Sale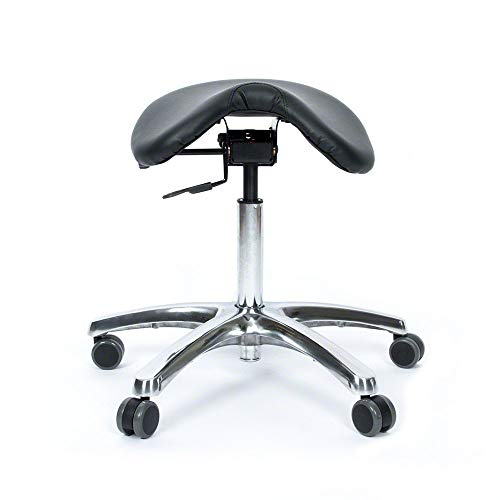 Jobri BetterPosture Saddle Chair –Multifunctional...
SADDLE SEAT SHAPE. Saddle seat shape incorporates a "waterfall effect" allowing the legs to hang naturally from the stool while sitting,...
HIGH QUALITY STEEL CONSTRUCTION. Long lasting tubular metal frame and components accommodate users weighing up to 250 lbs. Our products are...
EASY-CLEAN MATERIAL. Durable pleather seat cover is easily wiped clean, for a quality appearance that stays looking good.
Pros
It is really affordable, and you don't need to worry about emptying your pocket for comfort.
It is very easy to assemble and to get used to.
Cons
The cushion doesn't have a lot of padding and might be a bit too hard for some people.
Once bought, it can't be returned easily.
---
Best Value Runner-Up
A wide seat and a sturdy frame that can be adjusted from 23 inches to up to a height of 26 inches make 2xhome Ergonomic Adjustable Rolling Saddle Stool Chair, a perfect fit for anyone who prefers to work with high or standing desks. It comes with an adjustable backrest too, making it comfier if you like having back support while working. 
The cushion is thick, made from PU leather, and can be swiveled a whole 360-degree making it easier to move around and multitask. It is also easy to assemble, and because it has dual-wheel nylon casters, maneuverability is not an issue as long as you keep it to an even surface. The sturdy five caster rolling base makes it pretty stable.
The wheels don't lock though, and a moment of carelessness can result in you toppling down, but as long as you get used to the product, it shouldn't present any major problems. From an ergonomic point of view, it is good, and from a health point of view, it is even better. 
2xhome Ergonomic Adjustable Rolling Saddle Stool Chair is Suitable for:
People who regularly work with standing desks or desks that are higher than normal and are looking for an affordable and durable saddle chair should check this product out. It is also good for multitasking, and if you like your backrest at a particular angle, this chair comes with an adjustable backrest might just be what you need.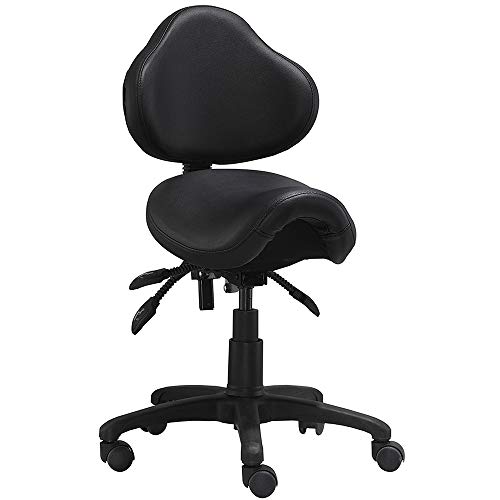 2xhome - Ergonomic Adjustable Rolling Saddle Stool...
Ergonomic Design: This saddle chair is designed to promote a healthy sitting posture by aligning your spine and reducing pressure on your...
Adjustable Height and Tilt: This saddle chair is designed with both adjustable height and tilt features, allowing you to find the perfect...
Comfortable Seat: The padded saddle seat is contoured to provide maximum comfort and support, even during long periods of sitting.
Pros
Minimal work is required while assembling this saddle stool, and all the tools required come in the package.
It has a good and smooth working base, so your floor is kept clean and scratch-free.
Cons
It can't be used with regular desks, and even the minimum height is on the higher side than most saddle chairs.
The seat of this product might be a little too wide for some people and can cause discomfort, so make sure to check the dimensions carefully.
---
Best Budget
One of the most budget-friendly products on this list, but it doesn't fall short in any manner when compared to others. Master Massage Ergonomic Swivel Saddle comes with a 15 inches wide seat, which can be rotated 360 degrees and aids movement, especially if your work involves moving around a lot. 
This seat is supported by a solid frame that uses a pneumatic lift to adjust its height from anywhere between 20.5 and 27.5 inches. A five-point base and dual survival casters ensure stability while on the move and make sure your flooring, hardwood or carpet, remains unscathed.
Though it doesn't have a tilt facility, the seat is CFC free and oil and waterproof, which, if you are someone clumsy like me, is a blessing. The stool can also support a weight of up to 550 lbs confirming its sturdy frame. It's easy to assemble and easy to move around as it just weighs around 11 lbs, so even if you are not someone with particularly strong muscles, handling this saddle stool would be a cinch.
Master Massage Ergonomic Swivel Saddle is Suitable for:
Anyone who is looking for a really affordable but comfortable saddle chair or usually needs to sit for long hours should give a try to Master Massage Ergonomic Swivel Saddle. Also, if you like wide saddle seats or have to handle most things alone, this might be a good-to-go product for you.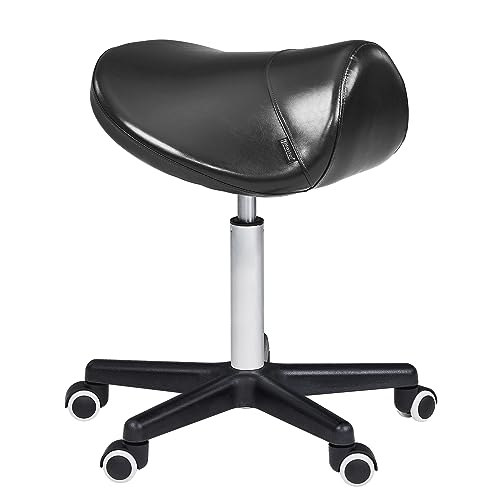 Master Massage Ergonomic Saddle Chair-Saddle Stool-...
Saddle seat design for more comfort and support to the spine by reducing painful pressure on the back.
Features pneumatic-lift mechanism. Seat Diameter(L x W): 18 x 16 inches and full 360° rotation
Features 2.5" of our Exclusive Multi-Layer Small Cell Foam
Pros
The cushion is made of 2.5-inch multi-layer small cell foam, which has a higher density than other cushions, making it really comfortable to sit on even for long hours.
The seat is also provided with an extra-large steel mounting plate under it, making it safer to use.
Cons
Though the super comfy cushion comes with a five-year warranty, there is no warranty for the frame or the lift.
Even after adjusting to the minimum height, the seat is still somewhat high and can be slightly inconvenient for people of short stature.
---
Best Budget Runner-Up
Dr. LOMILOMI Hydraulic Saddle Rolling Chair comes with a 16 inches wide seat, which is just right, and can be adjusted to any height between 20 and 26 inches. The seat design is on the flatter side but rises a bit in the front, which can be both comfortable and uncomfortable based on the person using it. 
The seat is CFC free as well, and the coating used for it is 100% PU vinyl, which is not only non-corrosive but is water and oil proof as well, a big help if your work involves either (like being an artist or chef). The stool height is between 35 and 40 inches, while the weight capacity is close to 500 lbs.
A hydraulic cylinder is used for the height adjustment, and nylon rolling wheel casters ensure smooth and safe movement while keeping the stool stable. This product has a two-lever system, one to adjust the seat and another to adjust the backrest according to the user's preferences, which heightens the comfort factor further.
Dr. LOMILOMI Hydraulic Saddle is Suitable for:
If you are a fan of the memory foam effect, this product is something you should certainly give a chance too. Plus, it's easy on the wallet and comfortable for your back and bones. So anyone who likes a comfortable seat and wants to save some money should check out this chair before making up their minds on which one to go for.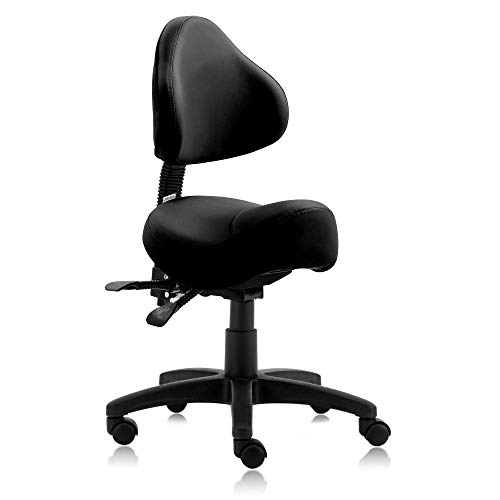 DR.LOMILOMI Pneumatic Swivel Rolling Stool 510 with...
Our exclusive mini pedicure stool brings the most comfortable and convenient sitting experience
3.7-inch thick cushioned seat ensures comfort while working long hours
Stationary metal frame for safe body weight support
Pros
This saddle chair is really easy to assemble and use.
It properly supports the back and hips, making it comfortable to sit upon.
Cons
The seat coating comes with a warranty, but the hydraulics and other parts do not have any warranty period.
This product does not have a tilting feature, which might be a bummer for some users.
---
Are Saddle Chairs Better for Your Back?
One of the reasons sitting for longer periods of time results in constant back pain is that we are too dependent on our chairs for comfort. We subconsciously lean back and try to be more at ease, which leads to bad posture without us even realizing and thus begins the cycle of being in pain and seeking comfort and being in pain because of that 'comfort.'
This, of course, can be dealt with by actively trying to sit the right way and forging the right posture as a habit into your body but is it easy? After working for long hours and being too tired to care, you naturally sink into a slouch, and no matter how ergonomically perfect a chair is, it can't counter that. This is where saddle chairs and stools come in handy.
As we already know, these saddle shaped chairs force us to sit in a particular position – back straight, legs more open and at a wider angle to the hip. And believe it or not, in such a position, you can't slouch even if you wanted too! Because your legs are at an angle of about 135 degrees from your pelvis (as opposed to the 90-degree angle while sitting on a regular chair), it is more stable and able to support your back properly, taking off much of the pressure from it. 
Your spine, at this point, is properly supported and falls into its natural curvature and won't change even if you lean forward. The stance, which is like when riding a horse, is the most natural for your back and, thus, really good for it. 
It is under the least pressure, properly supported by the pelvis and since the annoying slouching is impossible while sitting on the saddle chair, your spine and back get the much-needed break and time to heal. So yes, saddle chairs are good for your back and even aid in reaffirming it.
Are Saddle Chairs Comfortable?
If by comfort you mean short term ease, then no. But if you mean getting used to an initially uncomfortable but right position which paves way for long term healthy and comfortable sitting posture, then yes, saddle chairs are really comfortable. 
The thing with saddle chairs is that they force your body to sit in the right way whether you are aware or not – your back is straight, the spine maintaining its natural curves, hips stable and at an angle of 135 degrees from your legs, which are also in a more open position, resulting in better circulation and ease of movement. The pressure on your spine is decreased while that on abdominal muscles is increased so that they can support your weight instead. 
This is the right way, but your muscles, which are used to the wrong way of sitting and used to the slouching, will naturally rebel. This might cause discomfort at first, but over time, your muscles will adapt to this new position, and your discomfort will fade away. What is left at the end is proper sitting posture and muscles that are used to it, helping you in appreciating the comfortable stance.
So saddle chairs might take awhile for you to adjust to, but once you do, there is no chair more comfortable and mobility friendly than this.
Are Saddle Stools Good for You?
You must have already learned by now how good saddle stools are for our backs, as they aid in maintaining the proper posture. But the usefulness of these stools far exceeds all the facts discussed till now. Saddle stools have many more benefits, including positive effects on circulation, an increase in our core strength, improvement in our overall balance and mobility. Let's take a look at them:
Sitting on a saddle stool means our legs and hips are more open and free. Without any edges (as seen in regular chairs) to impede the blood circulation, there are lesser chances of swelling or numbness in the legs. This is something called the 'Waterfall Effect' as the legs are more freely 'hanging' (at an angle of 135 degrees from the hips), which puts less pressure on the arteries and aids in the unobstructed flow of blood.
It is easier to get on and off from a saddle chair as there is minimum obstruction, and the legs are also more naturally placed. This means better mobility and freedom of movement.
Saddle stools take off the pressure from the spine and direct it towards the abdominal muscle to maintain balance. This leads to our core muscles strengthening along with our spine (due to the natural stance).
When we sit on a saddle stool, our legs are in a wide stance, which helps stabilize the pelvis and improves our overall balance.
A natural stance means your shoulders and arms are more relaxed too, so you feel less fatigue even after typing away for hours, as compared to working while on a regular office chair.
Conclusion
So saddle chairs are the 'to-go' products when dealing with back pain and bad posture in the face of long hours at work, but which one to go for specifically amongst hundreds of different products? Of course, it's the overall winner on our list – Capisco Ergonomic Chair with Saddle Seat! 
My recommendation to you, if you still haven't figured out which saddle chair suits you the best, is to go for this one because not only it has all the features of a good saddle chair, like adjustable height and seat tilt along with a sturdy frame and good rolling base for easy movement, it is also extremely comfortable and versatile.
It took me a while to figure out what cons I could write for it because keeping the aim and design of saddle chairs in mind, Capisco is almost perfect. And though it costs a lot more than other products on my list, it's completely worth it when you think about how smooth functioning and easy to handle it is.
And it is eco-friendly! I know I have said this already, but with the environmental concerns on height, it kind of feels good to do our own share of eco-friendly actions and contribute toward a better tomorrow, if only by a little. And using products made of mostly recyclable material might seem like a small step when looking at the large picture, it is nevertheless important.
A healthy body and environment is the first step towards a healthy and fulfilling life, so sit back comfortably on your saddle chair with a happy back and work away toward the bright future!