Best Overall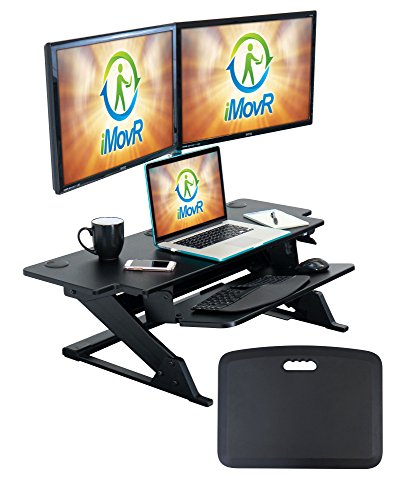 Best Value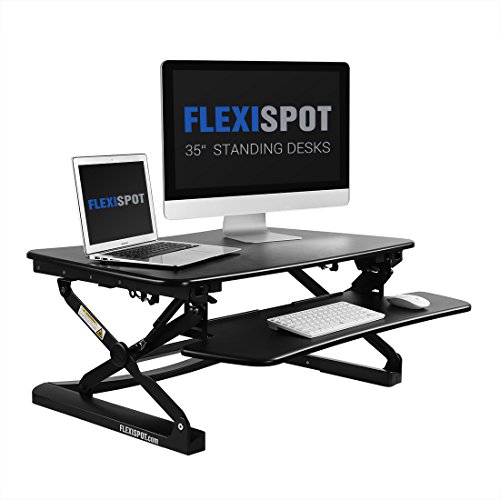 Best Budget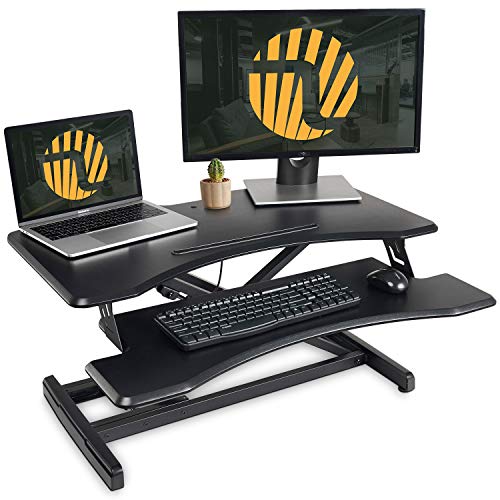 Varidesk started a new trend and brought our focus on Stand-Up desks. These desks, which are placed above a regular desk or flat surface, not only could be adjusted according to one's preferences, but having an option to switch between standing and sitting while working, really took off a lot of strain from people's backs (literally!).
But everything has its own pros and cons, and while Varidesk managed to bring a change in trends, the expensive products with quite some limited features turned out to be not everyone's cup of tea. 
So here I am with a list of the best Varidesk alternatives that you should check out if you have been playing around with the idea of buying a stand-up adjustable desk but haven't due to either not being sure of which one to go for or simply because of budget issues. 
Table of Contents
Best Varidesk Alternatives
Best Overall
This is the overall best product on my list and for a good reason too! With a width of 42 inches and great lifting capacity, this spacious desk is durable and good for keeping heavy monitors. 
It has an elegant Z-shaped design, and infinite height adjustment stops so you can adjust it according to your preference, regardless of how short or tall you are. Since this Desk Converter uses high-quality gas springs, the lifting and adjusting process is silent and is good to use even if there are a lot of people around.
But probably its best feature is the ergonomic keyboard tray, which can tilt up to an angle of 15 degrees, making it comfortable on the wrists and easier to work with. Also, the sturdy steel base makes it unlikely to wobble while working, so it doesn't interrupt the workflow and is safe to use freely.
iMovR ZipLift+ HD is Suitable for:
This Varidesk alternative desk is suitable for anyone who works with heavy equipment because it is both spacious and has a great lifting capacity. But if your work includes a lot of typing, this product might just be perfect for you because of the ergonomic and tiltable keyboard tray that comes with it. So type away comfortably without your wrists hurting.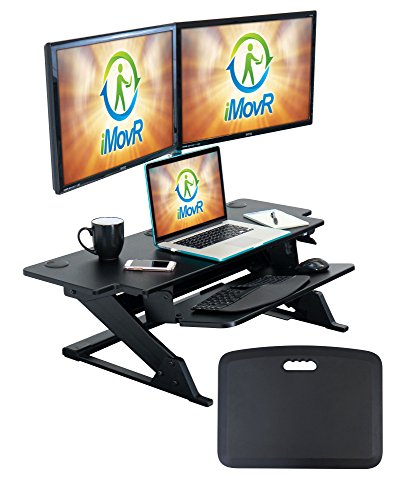 iMovR ZipLift+ 42" Standing Desk Converter with...
ELEGANT, STURDY, and SAFE DESIGN ▶ A Z-lift mechanism with single "nested bar" provides the most elegant and sturdiest frame—avoiding...
HEAVY-DUTY (HD) MODEL ACCOMMODATES up to two 27" DUAL MONITORS ▶ A wide 42" work surface and a hefty 45 lb. lifting capacity support a...
BEST ERGONOMIC KEYBOARD TRAY ▶ No other standing desk converter on the market provides a 15º keyboard tray tilt like the ZipLift+HD. This...
Pros
The desk is shipped fully assembled.
It comes with a comfy standing mat and a coaster to place mugs on, making your experience better and work more comfortable.
Cons
The keyboard tray can just bear up to 5 lbs, so you can't lean or put too many things on it.
The product is a bit heavy, so it might be difficult to move/shift alone.
---
Best Overall Runner-Up
This is an electric standing desk converter (a good one too!), which can be adjusted to your desired height just by pressing a button. It's 36 inches wide and has a lifting capacity of 33 lbs. Spacious with a sturdy steel frame and removable keyboard tray. The keyboard tray also has the capacity to carry up to 4.4 lbs and is ergonomic.
VIVO DESK-V000EB comes almost fully assembled, and the motorized lift used for height adjustment is well-functioning and quiet. It can rise to a maximum of 19.5 inches, with the lower limit being 6 inches above the desk.
VIVO DESK-V000EB is Suitable for:
This Varidesk alternative desk is perfect for people who are looking for a good 'value for money' electric standing desk or those who have to work around a lot of other people. Since the motorized lift works smoothly without making a noise, it won't disturb anyone else in the vicinity, and you can adjust to and fro as many times as you like without worrying.
Pros
One of the best features of this desk is that it comes with an in-built USB charger on the side, making it easy to charge your devices while working, and you don't have to worry about missing any important calls or messages.
The manufacturer offers a warranty of up to 3 years on this desk, which means easy replacement in case there is an issue with the product. So you don't have to worry about your money going down the drain.
Cons
The removable keyboard tray has relatively less space.
The quality of the material used for the product may seem below average.
---
Best Value
A spacious 35 inches wide desktop with a weight capacity of up to 35 lbs, FlexiSpot Stand-Up Desk comes with a removable keyboard tray. It has a comfortable ergonomic design and extends straight up, so it doesn't take much space and remains stable while in use.
You can make height adjustment between 6 inches from the table top to a maximum of 19 inches. The single handle mechanism is good, and the transition between sitting and standing while working feels seamless. 
FlexiSpot Stand-Up Desk is Suitable for:
This Varidesk alternative stand-up desk is suitable for those who constantly struggle with back pain and can't do the heavy lifting. Also, if you don't have a lot of space to accommodate a standing desk, you can go for this one as it doesn't take much space and is easy to adjust and use even in a cramped location.
Pros
The product is pretty sturdy and comfortable.
This desk has raised bumpers on the keyboard tray to keep it from sliding off, which works well while adjusting the desk and keyboard in your desired position.
Cons
It does not include a phone/tablet slot.
The curved inward design of the keyboard tray leaves less space for a wrist rest.
---
Best Value Runner-Up
With a simple design and a simple mechanism, this height adjustable standing desk from AmazonBasics is one of the easiest ones to use and get used to out there. It comes fully assembled, and the height adjustment can be anywhere between 5.5 and 21 inches above the table top.
Durable and sturdy, it comes with a pretty good warranty from the manufacturer too, so any issues with the product can be dealt with easily without putting a damper on the overall experience.
AmazonBasics Height Adjustable Standing Desk is Suitable for:
Anyone who likes to keep it simple, organized, and comfortable, this standing desk is for you. The desk is designed in a simple yet efficient way, with cable management channels to avoid the wires from tangling and a keyboard tray as long as the desk-top itself to be able to accommodate as much work material as possible. So you can keep focused and won't have to run around for fetching this or that.

Amazon Basics Height Adjustable Standing Desk Converter...
Flat work surface required: Instantly transform your desk into a sit-stand desk; height adjustable from 5.5-21 inches; minimum surface space...
Integrated keyboard tray comfortably positioned below the work surface
Easy to use: squeeze the hand-brake lever to move the workspace surface up or down; release the lever to lock the surface into place;...
Pros
It comes with cable management channel segments beneath the work surface, providing the user with hassle-free work experience.
The keyboard tray has a backstop to prevent it from falling.
Cons
The keyboard tray is not adjustable and cannot be pushed in.
The stand-up desk at its lowest position is still a bit high and can be problematic if the chair height can't be adjusted.
---
Best Budget
FZ-SD07B-H comes with a 32 inches ergonomic table-top that is both spacious and sturdy. It uses a small gas piston handle to adjust the height, which is really easy to use, adjusting the workstation to the preferred height effortlessly.
The keyboard tray comes with a curved design making it easier to move closer to the screen, which is especially useful if you are someone whose work involves a lot of fine details. Also, a curved keyboard tray makes it easier to sit straight and comfortable without hunching your back, so if you suffer from back pain or like to be comfortable while working in general, this product might work best for you. 
It also comes with a 14-inch long phone slot and a one-year manufacturer warranty.
FEZIBO Stand-Up Desk Converter is Suitable for:
The FEZIBO Stand-Up Desk is a perfect Varidesk alternative for those who are looking for a good and durable stand-up desk within a budget or are in a field where they have to pay attention to the finer details while working on a computer.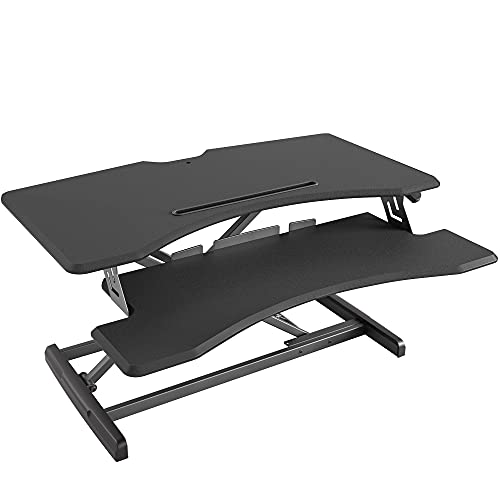 FEZIBO Standing Desk Converter Stand up Desk Riser, 34...
Ergonomic Design: Adjust the height. Combine office & health for more comfortable experience.
Adjustable Lift: The brake system is controlled by a pneumatic spring to adjust different tabletop heights, allowing ergonomic working...
Double Layer Office Space: Computer Workstation H Series adopts double layer design. Frosted desktop and low keyboard tray. Improve your...
Pros
This product is really affordable and reliable.
The desk has a user-friendly design, easy to move and assemble.
Cons
The keyboard tray is not really spacious, giving it a cramped feeling, especially if you use one of those large keyboards.
---
Best Budget Runner-Up
This is a fully assembled stand-up desk with 38 inches wide table top and has a weight capacity of up to 30 lbs. So anything from heavy equipment to extra materials can be easily accommodated and kept within reaching distance on the workstation.
Its own weight is around 60 lbs so that it can counterbalance and keep stable when fully extended as it extends forward. It has a minimum height of 5 inches while at maximum, it can extend up to 17.7 inches above the supporting surface. Its keyboard tray is equally as wide, and it's easy to adjust. 
Fancierstudio Riser Desk RD-01 BLK is Suitable for:
This Varidesk alternative desk is perfect for those who work with a lot of equipment and need a more spacious and sturdy work station. Since it's both wide and has a good lifting capacity, you won't have to worry about where to settle your equipment or if it will be safe. As long as you are not clumsy, this desk makes a perfect work partner.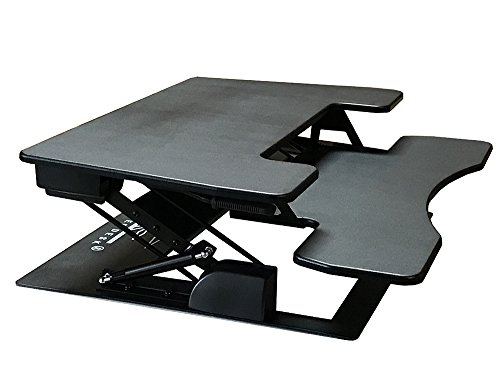 Fancierstudio Riser Desk Standing Desk Extra Wide 38"...
Adjustable Height Standing Desk or Monitor Stand from 5 to 17.7-Inch Height Modern Black Color
Heavy duty: Supports up to 30 lbs, Ships Fully Assembled
Very easy to adjust heights up and down, Uses simple hand levers, Just pull two handles to side and lift
Pros
It is quite affordable, even with all the discerning features.
It has a spacious working station as well as a keyboard tray.
Cons
The stand-up desk extends forward; thus, more space is needed to use it.
It is quite heavy, so moving by oneself can be a tough task.
---
Where are Varidesks Made?
Varidesk (now Vari) is an American company that deals with office equipment and furniture. This U.S. manufacturer is based in Coppell Texas, where the chairs are made. Their most notable and popular product is the wide range of Stand-Up Desks, which got a great reception in the market due to its unique and convenient design. 
Thanks to Varidesk, today, the Stand-Up desk with adjustable height is a well-known and well-sought product idea and has been taken up by numerous companies, who now produce their own stand-up desks, each with more features than the other.
This has given the consumers a great variety to choose from on the basis of features, convenience, and compatibility. A lot of offices, too, have started providing their workers with Stand-Up desks in a bid to make them more productive as this product has a great number of benefits from a physical health point of view.
What are the Benefits of Investing in a Stand-Up Desk?
If you have worked long hours sitting on a desk at either your office or home, you might know how physically taxing it is. Sitting in the same position for long hours is already detrimental to health in itself, but over time we might also develop other issues like back pain. With Stand-Up desks, this problem can be solved to a great extent.
You can adjust these accordingly and can either work while sitting as usual or while standing. Now working while standing may sound uncomfortable, but once you get used to it, it's a wonderful habit since not only your back isn't put under much pressure anymore, but your muscles also get room to breathe. 
Also, you can buy standing mats (some standing desks already come with one) and use them while standing to work. It makes sure your feet don't ache as much. Some standing mats that come with pressure points can even stimulate the blood flow and do a great job of keeping the body in good shape.
What are Some Features to Look Out for While Selecting a Stand-Up Desk?
The first thing is the compatibility, how well a certain product goes with your needs. You might need a Stand-Up desk for your office or home, the space you have to accommodate the product might be big or a bit cramped, and then there is personal comfort and budget. There are so many factors to take into consideration and just as many products. 
So go for the one you feel is the most suitable for you. If you have to work around a lot of people, make sure your Stand-Up desk is sturdy enough (so as to not endanger yourself or others around you) and doesn't make a lot of noise while being adjusted to avoid disturbing others. If you live alone, make sure that the product is light or heavy enough for you to be able to handle the shifting and lifting alone. 
Then you might have certain equipment you want to place on your desk beside your computer, so pay attention if the product has enough space or capacity to hold all your needed material.
Conclusion
Though there are numerous Varidesk alternatives you can use, the above-mentioned standing desks are one of the best because of how overall comfortable they are to use. But even with this, there is a clear favorite that is ahead of its competitors not only in the criteria of user satisfaction but also because of having a unique feature that increases its likability. 
iMovR ZipLift+ HD is my best choice because it can be used comfortably by a large number of people and comes fully prepared to make it better for the user even if only by 15 degrees! It's sturdy and easy to work with, and honestly, what more does one need in a stand-up desk? Enough space and pleasing design, which is comfortable to boot; this is the reason why iMovR ZipLift is my overall favorite and first recommendation.