Best Overall
Herman Miller Aeron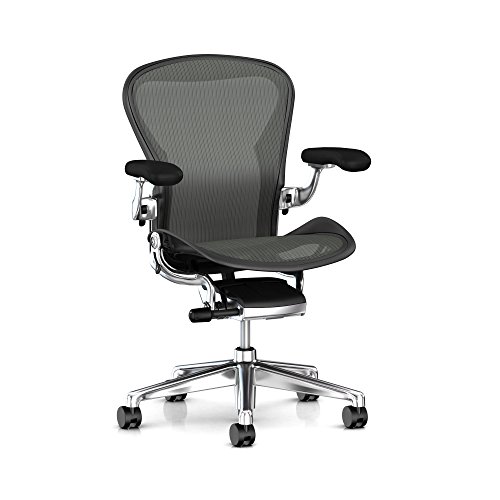 Best Value
Flash Furniture Mid-Back Mesh Drafting Chair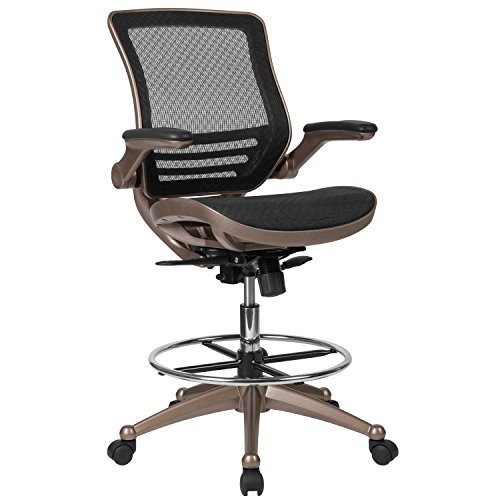 Best Budget
Hbada Ergonomic Office Chair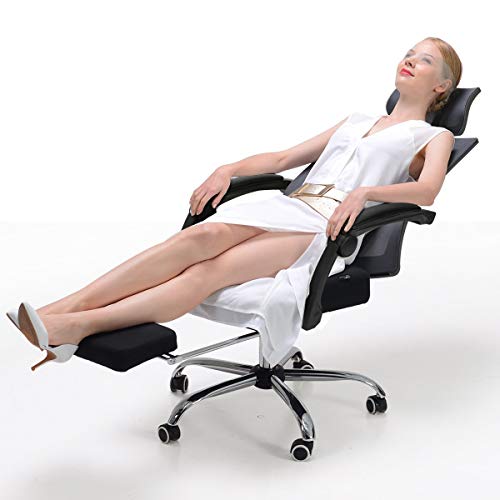 When watching movies or TV shows, try paying attention to the chairs, people are sitting on, in offices or conference rooms. From Suits to The Social Network, can you spot the mesh chair?
It is not only modern and nice to look at. This type of office chair is present in actual workplaces for its physical benefits. It's breathable. It keeps you cool and comfortable, especially if materials like leather make you sweat a lot.
I can list other benefits here, but you and I better explore the rest in the best mesh office chair reviews below:
Table of Contents
6 Best Mesh Office Chairs
Best Overall
The name Herman Miller has been a consistent part of the best chair lists. Representing it in many of those rankings is the Aeron. This remastered masterpiece is made to fit more ergonomic requirements, with each part carefully considered. Form and function, meet just the kind of expectation you'll have for a designer chair.
High-quality metal and plastic fit together perfectly. In most models, the mesh is only used in backrests. But here, the same material is found in the seat. In particular, both areas sport Pellicle, a flexible elastomeric mesh that is part elastomeric, part polyester. It is solid and firm, able to handle load up to 300 to 350 lbs. Yet, it feels soft and smooth, allowing body heat to pass.
This construction relieves pressure points and supports your back throughout, with adjustable backrest settings to boot. The Zonal Back Support variant provides extra lumbar support. Its fixed arms may be a downside, though. The other options are Adjustable Lumbar Support and the PostureFit SL, which feature enhanced lumbar support.
The height is adjustable for the last two variants. All three let you settle into a reclining position as well. The majority of the Aeron is composed of recyclable materials. It costs over $1,000, so it isn't for everyone. But it's the one to beat when it comes to mesh office chairs. Its Pellicle mesh design comes in three colors: carbon, graphite, and mineral.
It is backed by a 12-year warranty.
Herman Miller Aeron is Suitable For:
Depending on the variant, this model is offered in three sizes, so there's at least one choice for individuals who are below 5" to above 6". Here are the seat height ranges: 14.4 to 19.3 inches for small and 15.8 to 20.8 inches for medium and large. The first one can handle up to 300 pounds while the last two have a weight limit of 350 pounds.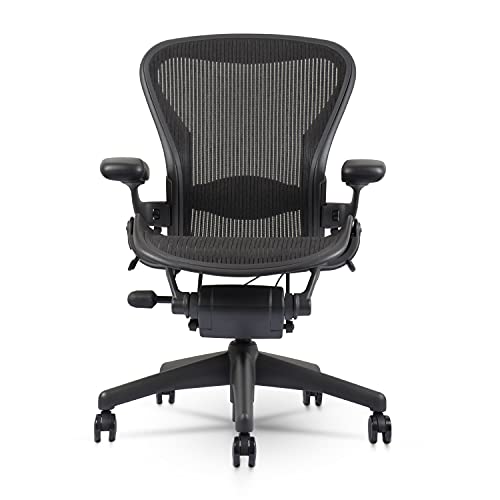 Pros
Its high-quality construction and materials set an example for other mesh chairs to follow, if not surpass. 
It allows body heat to pass to keep you cool while you sit.
This ergonomic chair features several adjustments in parts like the backrest and lumbar support, armrest height and function, and seat height.
Its tilt-and-recline function lets you choose a position you are comfortable in.
Cons
Its mesh component may be too firm for some users.
It costs over $1,000, which is not accessible to buyers who have a low-end to mid-end budget.
Its mid-back design may not be suitable for people who prefer a high back or headrest.
---
Best Overall Runner-Up
What Herman Miller delivers for those who can afford high-end or designer chairs, Harwick does for those who can buy mid-range models. With the Harwick Evolve Drafting Chair, you can get your hands (and bottom) on an all-rounder model. It can help prevent back pain, support you while you sit for long hours a day, and withstand the effects of daily wear and tear.
Featuring a gunmetal finish, this comfortable chair doesn't look shabby. It is also as functional as it is beautiful. It supports the curve of your back with its built-in lumbar support. Then there is the pneumatic seat height adjustment, which you can raise or lower according to your requirements. Tilt and lock to your preferred angle when you want to rest or recline while working.
While Harwick is known for its lineup of leather chair offers, the Evolve differs with its all-mesh back and seat areas. This detail delivers impressive breathability and cooling, especially for those who are having trouble with excessive sweating. Meanwhile, the mesh seat frees your legs from bearing unnecessary weight with its waterfall-shaped edge.
You're also going to love the adjustable armrests, which you can flip up or down as needed. Mobility and portability aren't taken for granted with the basic combo of 360-degree swivel and dual-wheel hooded casters. At around $300, the price of this product can accommodate the budget of most consumers.
If the Gunmetal Finish frame isn't your type, you still have Platinum Finish and Dark Knight Edition to choose from. Enjoy free shipping and a 10-year limited warranty when you order this one. But take note of its lead and other chemical content, which are listed on California's Proposition 65. Exposure to such chemicals can cause birth defects, cancer, or other reproductive harm.
The Harwick Evolve All-Mesh Heavy-Duty Drafting Chair is Suitable For:
This drafting swivel chair can be used in your office or home study. Mid-height individuals can benefit from it the most. Some tall users can also achieve proper sitting posture with this unit's adjustable seat height feature.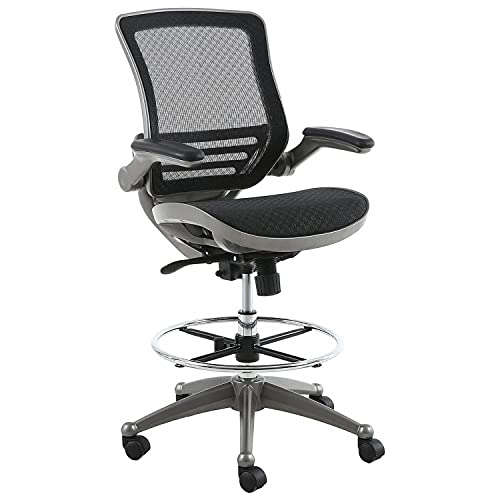 Harwick Evolve All Mesh Heavy Duty Drafting Chair,...
Ergonomic design for all-day comfort and support
Duragrid black mesh seat and back keep you cool throughout your workday
Heavy-duty design supports 325 lbs. Dimensions: Seat size: 19"W x 19.5"D. Back size: 17.5"W x 21"H. Seat height: 24" - 31"H (measured from...
Pros
It sports a heavy-duty frame that can handle up to 325 lbs. 
Its sturdy mesh back and seat help align your spine to its natural position.
It contours to the shape of your lower back to prevent pain in that region.
It has an adjustable seat that can be set between 24 and 31 inches, accommodating mid-height to 6 feet tall individuals. 
Cons
A newer version of this model features a hard rim around the seat, which some users report as uncomfortable.
While it is easy to set up, this stool's parts may differ from the standard parts in their look and location.
It can be pricey for people who are in search of a budget desk chair option.
---
Best Value
Matching any theme or type of workspace is the Mid-Back Mesh Drafting Chair. It is made by a company that also appears in many best chairs for office lists. It is not surprising that it is functional and aesthetically pleasing at the same time. In particular, I find the melrose gold frame, both stylish and heavy-duty.
This fashionable stool has exceptional lumbar support, letting the spine settle into its neutral position. The entire mid-back mesh backrest provides relief to back pressure and pain. Your lower limbs are not forgotten with the waterfall seat edge that promotes blood circulation in those parts. For those who practice active sitting, you can rely on this product for your needs.
Highlighting this construction is the 2-to-1 locking synchro mechanism, which you can use to bring down your chair to an angle that feels relaxing. Complementing this feature are the cushy arms, which you can rest your arms and elbows on. You can also fold it up if you want more room in your seat.
Another comfort-boosting factor is the adjustable height, which ranges from 24 to 32 inches. Retailing at a little under $500, this fashionable chair is the solution you may be looking for. You can snag it for under $200 or $300 if you know where to search online.
The Flash Furniture Mid-Back Mesh Drafting Chair is Suitable For:
Those who weigh up to 250 pounds can enjoy the full benefits of this heavy-duty yet stylish drafting chair. Its tilt mechanism and other adjustable features also fit the priorities of people who practice active sitting.
Sale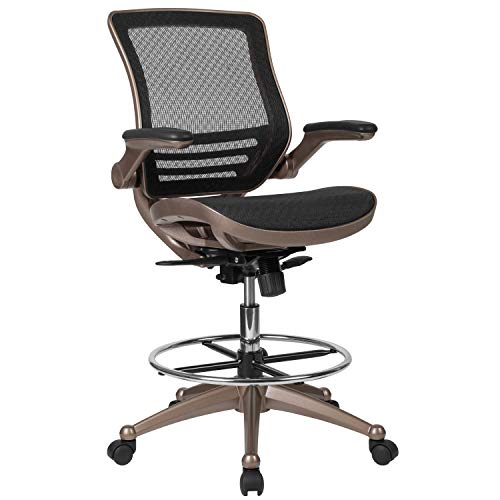 Flash Furniture Waylon Mid-Back Transparent Black Mesh...
Get the most out of our work or creative space with a tall office chair to accommodate different table heights. This adjustable drafting...
[_Our chair conforms to ANSI/BIFMA standard X5.1-17_] Transparent black mesh back and seat, mid-back design, flip-up padded arms
Pneumatic seat height adjustment, 2-to-1 locking synchro tilt adjustment, tilt tension adjustment knob, waterfall seat
Pros
Its heavy-duty, stylish mesh design is durable and supportive to your spine.
Its seat and arm height can be adjusted, facilitating blood circulation in the upper and lower limbs.
You can get a lot of value from its discounted price because it is packed with adjustable features. 
Cons
Its wheels may not work well on bare or carpeted floors.
Without any discount or promo, this drafting/task chair can be pricey.
Some parts are made of plastic, such as the lock and lever, which may need extra-careful handling.
---
Best Value Runner-Up
Furmax is a mainstay on my website as well. In particular, the Furmax Mid-Back Office Chair made this list because of its mid-height backrest coupled with a large seat. The 19.7 x 19.7-inch square seat is spacious enough even for heavier users. It is also quite thick to ensure support and durability. However, you can adjust the arm height to create more room.
Plus, points go to this model because of its two wedge-shaped lumbar pieces that contour to your lower back. This one is actually mid-back, but there's another high-back variant. It should not be a big deal if you do not require support for your head and neck all the time. The height is adjustable, so it can be customized for tall people. Lastly, swivel and wheels aid in better mobility.
Also, its materials and construction are certified ergonomic and long-lasting. This product holds a certification from BIFMA (Business and Institutional Furniture Manufacturers Association). This validates the quality, functionality, and sustainability that come with this chair. With nine colors to choose from, you can own this unit for under $100. This makes it great for bulk-buying as well.
A 30-day money-back guarantee courtesy of the manufacturer is included in your purchase. If you choose to keep it, you can access a 6-month replacement warranty for damaged or missing parts.
The Furmax Mid-Back Office Chair is Suitable For:
If you want a product that can provide value for your money, you don't have to look far. This Furmax piece is compatible with a wide range of budgets. Of course, it is ideal for individuals who are of average height and weight. Some tall and big users can find value here, too, such as the spacious square seat that goes with adjustable features.
Furmax Office Chair Mid Back Swivel Lumbar Support Desk...
Ergonomic Design: The overall design of this office chair is ergonomic, two lumbar supports on the backside of the chair back are not only...
Thicker Cushion & Double Comfort: Compared with other ordinary office chairs, the cushion of this office chair uses high-density elastic...
High-Quality Materials: In order to enhance customer's experience when sitting in the chair, we adopt better materials to improve the...
Pros
It sports a thick, large seat that can accommodate different kinds of users, which may include those who are tall and big. Remember that its weight capacity is 265 pounds.
Its breathable mesh backrest with edge-shaped lumbar support can cater to people who have back pain issues.
It is certified ergonomic and sustainable by the BIFMA, making it a safe and ideal chair for office spaces.
Cons
It does not have a headrest, which can be a make-or-break factor for individuals who are tall or of average height. 
Its armrests are stuck in the same position, with one height and angle to which your arms and elbows must adjust.
Its tilting mechanism is quite difficult to work with. Transitioning between sitting and reclining may not be smooth.
---
Best Budget
Hbada is a brand to watch out for, especially if you're on the lookout for budget-friendly options. Among its offerings, the Hbada Ergonomic Chair is arguably its best mesh chair. It is highly customizable, catering to big and tall users. There are nine ways to alter the height configuration alone, letting you choose between 40.8 to 44 inches. 
Its reclining feature allows you to lean back until you find the most comfortable angle. I'm talking about a range of 90 to 150 degrees. This chair's kinetic tilt mechanism adapts to your movements, so you can also transition between sitting and reclining with ease. 
Much has been said about the mesh backrest. But this Hbada unit takes it to the neck – yes, neck – level by adding a headrest. This feature can be attached as you please. To fully extend your body while reclining, you can also pull out the footrest at the base. Of course, you can maximize all of these benefits without breaking the bank. This product is priced at under $200.
The Hbada Ergonomic Office Reclining Chair is Suitable For:
This model is capable of supporting people who fall on the heavier side. Its maximum weight capacity is 400 lbs. So everyone who's around 350 lbs or less can expect superior comfort and durability from this design.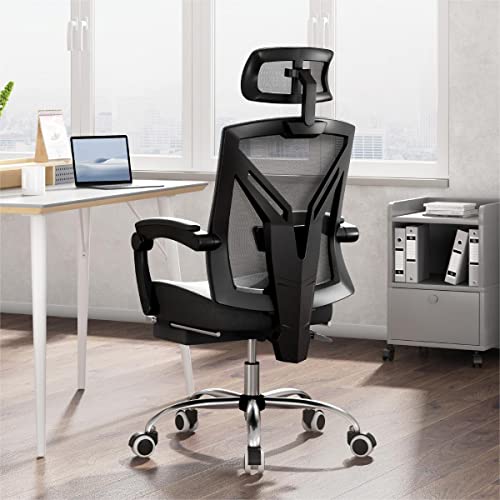 Hbada Ergonomic Office Chair High Back Desk Chair...
ERGONOMIC RECLINER - Synchro tilt reclines the backrest increasing the angle between your torso and thighs for a comfortable, ergonomic...
ADJUSTABLE OFFICE CHAIR - Waterfall seat cushion slopes slightly downward to help reduce stress on your legs. Built-in lumbar support and...
BREATHABLE MESH - Contemporary ergonomic black mesh office chair promotes increased air flow, keeping you feeling cool and comfortable...
Pros
Its breathable mesh allows for proper airflow and offers cooling comfort to users. This makes it ideal to use during the summer.
It is highly customizable, starting with the adjustable height, wide-ranging tilt, detachable headrest, and retractable footrest.
It is a popular mesh choice for those who have a limited budget.
Cons
Its armrests are fixed, which can limit the range of motion for individuals who are big and tall, as well as those who are average-sized.
Its lumbar support may not provide comfort to everyone. Some people may need additional padding to experience superior comfort for their lower back.
Its retractable footrest may not fit into smaller spaces.
---
Best Budget Runner-Up
Modway joins the list with the Modway Veer Mesh Drafting Chair. This model has a base and a frame that is made with nylon, providing support and durability for those who are on a tight budget. Leading the parade of productivity-boosting features is the breathable mesh backrest. This part ensures you're not bogged down by excessive seating.
On top of airflow promotion, you can also find pressure relief through the seat's waterfall mesh padding. It lets you customize your working style together with the flip-up, adjustable arms. You can have more space and a wider range of motion while chilling in this chair, office, or home-based. You can also raise or lower the seat through the pneumatic height adjustment settings underneath.
Further, the hooded casters at the base are reliable for when you need to move across the room. Swivel up to 360 degrees if you have to talk with your boss or teammate at closer distances. And have I mentioned this product is pocket-friendly?
The Modway Veer Mesh Drafting Chair is Suitable For:
This drafting chair can accommodate different types of users. The pneumatic height adjustment can help individuals up to 6 feet tall in finding the right elevation for excellent concentration. The published weight capacity is 331 pounds. But those who weigh up to 260 pounds won't have worries about this chair's durability, as attested to by verified users.
Sale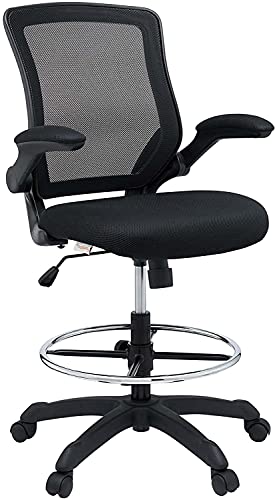 Modway Veer Reception Desk Flip-Up Arm Drafting Chair...
NOTE : To ensure proper assembly, please follow all steps provided in the installation manual (provided in pdf below)
ADJUSTABLE HEIGHT - With a tall glass cylinder, Veer is ideal for office desks, reception areas, and studios alike. The stool's one-touch...
ERGONOMIC SUPPORT - Featuring a breathable mesh back, lower back lumbar support, and padded waterfall mesh seat, sit relaxed in a...
Pros
It has a frame and a base made with nylon, a material that is preferred for its durability.
Its breathable mesh seat and backrest help boost productivity by promoting airflow.
More customers can access this model because of its pocket-friendly price.
Cons
Its seat may be thicker than the other models in this article.
Those who are taller than 6 feet may not fit into this one.
Its wheels are made of plastic, which may turn off some potential buyers.
---
Are Mesh Office Chairs Better?
The main selling point of mesh chairs is the mesh fabric often found in the backrest, as well as the headrest. This material permits air to flow throughout the chair. In turn, users feel cool and comfortable as they sit in the chair. In this regard, mesh chairs are better than one that uses leather or polyurethane for back support.
Still, be careful about the overall quality. Mesh can sag over time. So make sure the manufacturer employs high-quality construction and materials, no less. If the model also sports an ergonomic design, then it's another big plus to consider.
Factors to Consider When Buying a Mesh Office Chair
Construction and Materials
A chair's build quality goes hand-in-hand with the chair's components. High-quality design can often be broken down into high-quality parts. And the resulting product can command hundreds to thousands of dollars, such as in the case of the Aeron Chair. Of course, some more affordable models put together as many premium materials as they can.
For decent ones, you can see some compromises. For instance, they use an alternative such as industrial-grade plastic or custom-molded aluminum instead of the standard steel for frames. Usually, the cheapest ones have a lot to forgo, so you must scrutinize their construction and materials.
At the same time, it is important that you find a chair with fabric and a frame that fits your preferences – more details about this topic below.
Back Support
Whether it's mid-back or high-back, the backrest should be able to provide your spine with the support it needs. When you lean your back on the chair, your spine should take on its natural S shape without pressure or strain on the back muscles. If you're still carrying much of your weight in this position, the model may not be giving you sufficient back support.

Additionally, there must be dedicated support for your lumbar region to complete the requirements. This area can hurt a lot if you are not observing proper sitting posture. A naturally shaped backrest can help you achieve this end.
Comfort
For comfort, I'd like us to focus on the seat firmness and, by extension, armrest firmness. This factor refers to how soft or firm the cushion is in those areas. It is an objective feature, which means the answer will depend on each user. Some like padding that's plush enough for them to sink in while others prefer the lift provided by firm cushioning.
A good place to start is the "not too firm, not too soft" sweet spot. Balancing firmness and softness can be tricky, though. As I've said, it is still up to each user. But this description can give you an idea, at the least, of what to expect.
Ergonomic Adjustments
The ergonomic features of the mesh chair are similar to those found in other office chairs. The most common is the pneumatic height adjustment, which allows users to customize seat height. This detail is ubiquitous these days, so if you find one that doesn't have it, that model is the exception, not the rule.
Other adjustable features include tilt or recline, adjustable headrest, adjustable neck pillows, adjustable arms, adjustable lumbar pillows, and retractable footrests. All of these can be modified to have the chair adapt to the needs of the user instead of the other way around.
Compatibility
In this article, you will find this information in the subsection that mentions for whom a certain model is suitable for. Factored in are the chair height and maximum weight capacity. These are pretty easy to understand.
But the other aspect you should take note of is the seat depth. It refers to the distance between the front and the back of the chair seat. If you are tall or have long thighs, you will need a higher measurement. If you're short, then you will need a lower number.
Rule of thumb: Proper seat depth should have three or four fingers of space between your knees and the edge of the seat. This way, your weight is distributed evenly, preventing pain and pressure on your legs and back. 
Assembly
Some office chair models require assembly when they are delivered. The merchant or manufacturer will ship the parts to you, but you're in charge of the setup. Typically, you'll find a manual in the box. But not all customers are happy about having to put together the chair on their own. For an additional fee, you can request professional assembly in places like Amazon.
If you have the time and energy to build a chair from the bottom, you can refer to the manual. But be warned that some manufacturers may not write the best instructional booklets for their products.
Warranty
Last but not least, most models are backed by a warranty. Some policies may offer more extended coverage only for the replacement or repair of the fabric and foam. Labor may not be included. Others may have warranties for both parts and labor, but not in equal terms.
A one-year limited warranty is better than nothing. Yet, some higher-end and mid-end brands can offer generous lifetime warranties. Whatever your chosen product comes with, make sure to read the fine print to avoid violating the terms of your warranty and voiding your claim.
Conclusion
You have just read through the reviews and reasons as to why you should choose a mesh chair for work. The breathability is hard to beat with this type. With high-quality construction and materials, you can also rest assured that your chair can support you through extended and active sitting.
The designer Aeron Chair from Herman Miller is a trailblazer in this department. None of its parts is wasted. Everything functions individually and together as planned. Yet, its price can turn off potential consumers. As an alternative, you may want to check out the Harwick Evolve All-Mesh Heavy-Duty Drafting Chair.
You are not limited to those two. I have given you the top 6 picks on the market today. To nail the model, be sure to consult the buyer's guide I made for you when shopping for a new chair. You can also leave your questions in the comments box below.