Wheelchairs are an integral part of people's lives with disability and injury. However, while it is easy to find a good-quality wheelchair for the indoors, finding ones that work seamlessly for the outdoor settings can be a little difficult, especially with the wheels' efficiency.
There are several types of wheelchairs available for outdoor use, including power wheelchairs and manual ones too. Buying the best wheelchair for your personal use depends on the purpose you will use it for. If you are injured and need one for a few months, manual wheelchairs are a better option. But, if you are disabled and need a wheelchair to get you around, opt for the power wheelchairs.
Here, I have sorted out some of the best wheelchairs that you can opt for outdoor use.
Table of Contents
Best Wheelchairs for Outdoors
What to Consider Before Buying the Best Wheelchair for Users?
Best Wheelchairs for Outdoors
Best Overall
When discussing the best available wheelchairs for outdoors, the Medline Excel Extra-Wide Wheelchair is the best one in the lot. It is ideally designed for bariatric mobility, ensuring a comfortable life for everyone.
Aside from the overall functionality of the wheelchair, it is designed with a wider seat that ensures extended comfort. It features a foldable design ideal for smaller spaces and keeps it folded when not in operation.
The stark navy-blue color gives it a premium look and feels upholstered with heavy-duty vinyl, which makes it last longer than you'd imagine. It comes with a weight capacity of 500lbs, which is pretty amazing for accommodating everyone.
The swing-away footrest is detachable and can be removed according to one's needs and comfort. As for the overall weight of the wheelchair, it weighs around 60lbs, making it highly portable and lightweight.
Medline Excel Extra-Wide Wheelchair is Suitable for:
This manual wheelchair is ideal for obese patients looking for the best option with a higher weight capacity that accommodates their needs.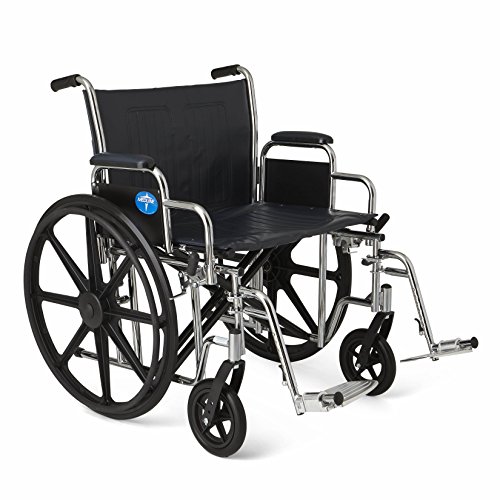 Medline Excel Extra-Wide Bariatric Wheelchair, 24 Wide...
Navy vinyl wheelchair features threaded seat screw inserts to minimize stripping from upholstery changes, swing-away detachable footrests
Desk-length removable armrests are upholstered and padded
Carbon steel frame has rust- and chip-resistant chrome plating while navy vinyl upholstery is easy to clean
Pros
Higher weight capacity
Portable and lightweight design
Sturdy and comfortable
Cons
Too wide for narrow doors or passages
---
Best Overall Runner Up
If budget isn't a constraint for you, the Porto Mobility Power Wheelchair D09S is hands down the best option for the all-terrain wheelchair category. This is a power wheelchair and weighs around 48 pounds, making it light weight and portable.
While the previous wheelchair is ideal for obese patients, this one accommodates up to 265 pounds only, which means that it will likely accommodate thin to overweight individuals. The seat size measures around 20 inches, which is enough for your comfort.
It is powered by a dual-motor system, which ensures a comfortable movement around the outdoors. It folds in under 5 seconds, meaning that you wouldn't have to worry about dragging it outdoors. The overall frame of the wheelchair is very sturdy and made with the finest materials for a long-lasting finish.
The rear wheels of this power wheelchair are designed with durable quality rubber material that ensures smoother movement across the rougher terrains and outdoors but holding its grip accordingly. However, the wheel's diameter is small, making it difficult for people to cover larger distances at once.
The wheelchair does feature the standard single-battery design, but you need to insert two batteries for enhanced efficiency and faster movement. The package comes with a single battery only, so you will have to spend extra money out of pocket for the extra battery.
Porto Mobility Power Wheelchair D09S is Suitable for:
If you are looking for one of the best power wheelchairs in the market, this is the one we'd recommend spending your money on.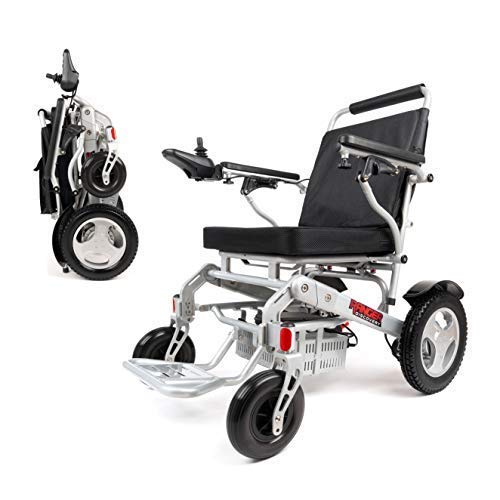 Porto Mobility 2022 Ranger D09S Foldable Lightweight...
TRAVEL LIGHT AND EASY! The RANGER D09S can be easily folded under 2 seconds, without needing to disassemble.Simply release the lock and...
SMOOTH AND STURDY RIDE! ergonomically designed for maximum comfort. This motorized wheelchair can be driven in grass, gravel, or snow - the...
LONG RANGE & POWERFUL! Battery Gets Up to 12 Miles in Driving Distance. / Airline Friendly -- Battery is Allowed for Transport on an...
Pros
Heavy-duty rubber wheels
Comfortable movement
Dual 500watt motor system
Cons
Not ideal for heavy patients
---
Best Value
For the users looking for the best outdoor wheelchair for elderly patients, the Invacare Tracer SX5 Wheelchair is an ideal pick. It comes with a decent weight capacity and features a range of additional features that make it highly functional.
It is integrated with a range of amazing safety features and easier operation that make it suitable for older patients who want maximum safety. The exterior frame of the wheelchair is made with a carbon steel frame, which makes it rust-resistant and extremely durable.
The chair's heavy-duty inner lining holds the stable structure of the wheelchairs, preventing the back of the chair from stretching out. The rear wheels are constructed of urethane, ensuring maximum stability and comfort.
The armrests in the wheelchair are padded for enhanced comfort. Even the upholstery of this outdoor wheelchair is double upholstered, enabling users to make the most out of this chair for extended periods without any hassle at all.
Invacare Tracer SX5 Wheelchair is Suitable for:
This wheelchair is ideal for older patients who need more stability to the power chair they will use when working outdoors.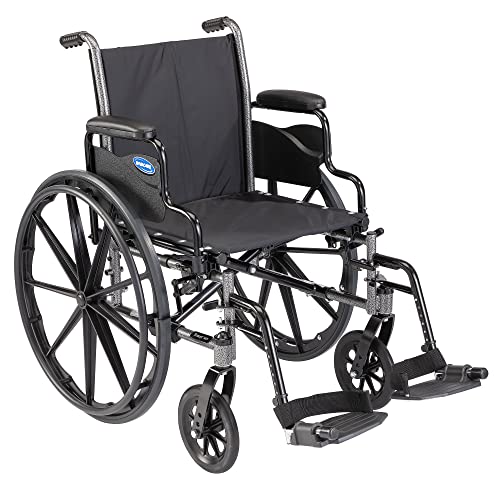 Invacare - TRSX58FBP / T93HCP Tracer SX5 Wheelchair,...
FEATURING: A carbon steel frame, a seat and back with heavy-duty inner liner, and urethane rear tires mounted on "no flex" wheels, the...
BUILT TO LAST: Built with 14-gauge cross braces for added durability and strength. Seats are made of comfortable. dual-embossed nylon with...
WEIGHT CAPACITY: 250 lbs.
Pros
Sturdy and stable design
Carbon steel frame
Padded armrests
---
Aside from being the most popular electric wheelchair in the market, the Innuovo Intelligent Electric Wheelchair is also the most lightweight option. Not only is it lightweight and weighs under 43 pounds for easier mobility, but it is also super easy to store as well.
All you have to do is fold it in under three seconds, and you are good to go. Thus, if you have minimal space in your house and want to invest in options that would take care of that issues for you, this is the best pick.
Even with the battery in, the wheelchair is highly functional and portable, making it superior for outdoor use. Aside from the highly functional design, the wheelchair also comes with a varying range of additional features, including the 360-degree joystick.
It has very stable and sturdy front and rear wheels that hold the wheelchair in place and prevents the risks of accidents, especially when you are outside exploring new things. It has a foldable footrest and an overall durable construction for long-lasting use.
The updated electric magnetic system enables you to experience superior motion control and stopping like no other. It comes with an anti-leaning rear design that holds the position and movement of this electric wheelchair stable throughout the ride.
It is backed with a single battery for superior performance, but you have a separate section for a second battery to integrate for smoother movement. The overall design of the wheelchair is pretty spot-on, making it perfect for travel too.
The wheelchair is equipped with a 7.5mm thick seat with an additional seat belt that ensures optimal comfort without inducing the risks of seat depression and constant discomfort that many individuals often complain about.
Innuovo Intelligent Electric Wheelchair is Suitable for:
This is the best option for individuals looking for a good-quality electric wheelchair that you can carry around while traveling.
Sale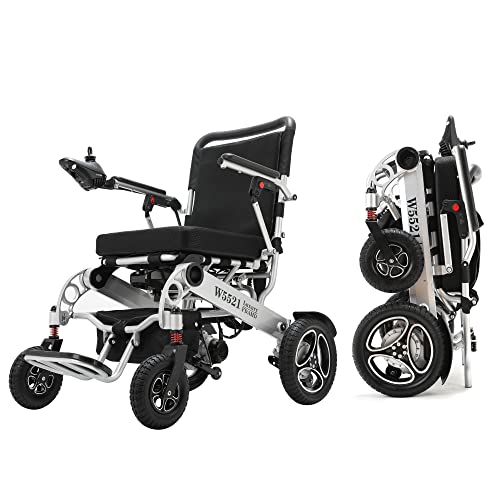 Intelligent Folding Electric Wheelchair for Adults,...
THE SAFER CHOICE– Our power wheelchair implements a variety of safety features. These include balance weight, adjustable anti-leaning rear...
POWERFUL and SIMPLE TO OPERATE –Equipped with brush dual motors, make it have great mobility performance. Also with the innovative...
BALANCE WEIGHT AND EASY TO TRAVEL – Being built with an aviation aluminum frame and weighing 59lbs, the powered wheelchair is of great...
Pros
Lightweight and foldable design
Integrated with an electric magnetic system
Design with 7.5 mm thick seat for comfort
---
Best Budget
Amidst all the available manual wheelchairs in the market, the Drive Medical Rebel Lightweight Wheelchair is the most budget-friendly option. It features a wide design to enable easier work and activities, especially when you are outdoors.
It is designed like a standard terrain wheelchair with swing-away footrests that make it easier to transfer the patient from one place to another without exerting pain and discomfort. The compact size and foldable design further make it the best manual wheelchair that you can invest in.
The rear wheels in this wheelchair feature a quick-release system that ensures enhanced safety and reduces the risks of accidents. It also enables easier transport and storage all along. The foldable design of the wheelchair makes it perfect for traveling with and getting out through narrow lanes.
The self-propel and self-drag functions make this wheelchair extremely amazing for patients who like to be self-sufficient and make themselves easy to transport to places they want to be in. This wheelchair provides the user with that freedom they need without having to be dependent on someone else.
The desk-style armrests add more comfort and make the patients easier to move around without any hassle. It is easy to navigate through narrow spaces and tight areas, ensuring that the wheelchair users wouldn't have to compromise their movement from one place to another.
Drive Medical Rebel Lightweight Wheelchair is Suitable for:
This is the best wheelchair for independent users who don't like to depend on other individuals during activities.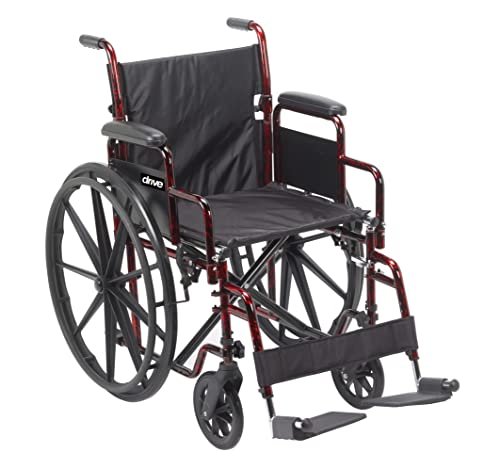 Drive Medical RTLREB18DDA-SF Rebel Lightweight...
Lightweight Folding Wheelchair: These ultralight folding wheelchairs for adults make mobility easy whether used independently or with...
Customizable Comfort: Portable wheelchairs feature cushioned armrests and swing-away footrests for customized support; tool-free removable...
Durable Design: The durable steel frame provides reliable stability and supports up to 300 pounds; 19-inch easy-to-clean padded nylon seat...
Pros
Self-propel and self-drag feature
Backed with quick-release system
Durable construction
Wider seats for enhanced comfort
Cons
Spokes tend to snap on the soft ground.
---
Best Budget Runner Up
Last on the list of the best outdoor wheelchair is the Medline – MDS806550E. Despite the budget-friendly price, it features some amazing features and designs you can make the most out of. It features a flip-back and desk-length arms.
The elevated leg rests come in handy for patients who have sustained an injury in the legs and need optimal comfort and elevation for pain. The entirety of the wheelchair is upholstered with the best quality nylon material that ensures enhanced comfort and durability.
The entire structure of this outdoor wheelchair is backed with welds that ensure maximum reliability and durability, especially when you are working in outdoor settings. The smooth-rolling mag wheels are not just low-maintenance but move around smoothly across all terrains.
The wheelchair has a maximum capacity of 300lbs, making it ideal for adults of any shape. Even with the affordable price range, it features a functional adjustable seat adjustment option that you can make the most out of.
Medline – MDS806550E is Suitable for:
This wheelchair is ideal for users looking for a budget-friendly option with nylon upholstery for an enhanced user experience.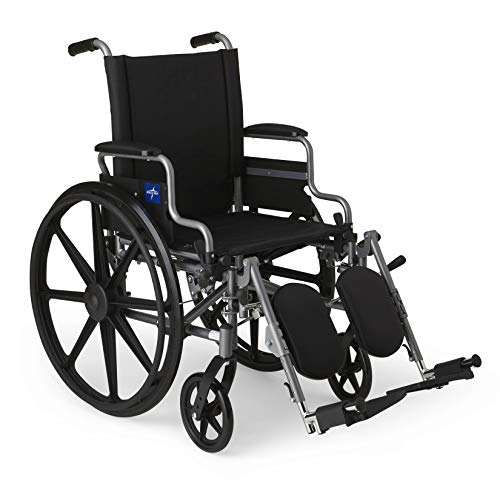 Medline Lightweight & User-Friendly Wheelchair With...
Flip-back, desk-length arms make it easy to navigate under tables | elevating leg rests enhance comfort and remove easily
Breathable nylon upholstery is soft and comfortable
Premium welds ensure reliability and durability
Pros
Durable construction and less wear and tear
Maximum durability with welding
Supports up to 300 lbs
Cons
Not suitable for MRI rooms
What to Consider Before Buying the Best Wheelchair for Users?
If this is your first time buying a wheelchair, the chances are that you need guidance. From the travel range to the design of the products, there are several factors that you need to keep a check on. Here, I have researched for you and sorted out the most important factors.
Material
It goes without saying that you need to invest in a good quality wheelchair that features a durable and wear-resistant material. Aside from the upholstery, several types of wheelchairs are constructed with aluminum, stainless steel, or even carbon fiber. You need to choose the chair that works the best for you and the kind of outdoor settings that you mostly spend your time in.
Also, keep in mind that if you are a patient who needs to under MRI screenings a lot, you'd want to skip out on the magnetic options. You can always consult with your doctor to suggest the best material you can consider for your wheelchair.
Weight Capacity
Since wheelchairs are an accessory part of people's lives, you must find a product that can seamlessly accommodate everyone's needs. If you are overweight or obese, you need to be extra mindful of the weight capacity to ensure that it doesn't cause any further accidents. It is always better that you read through the details and features before you decide on buying one.
Operation
The functional attributes of the wheelchair are essential to consider. While it is true that you can rely on the aluminum frame, you need to keep a check on the operational functions of the product too. Look at the battery life, the drive wheels, and even the product's braking system before you invest your coins in a wheelchair. Moreover, find the ones that come with self-maneuvering functions because it decides the patient's degree of self-sufficiency.
Design
Another factor worth considering when buying a wheelchair is the design. You want something that has a compact design and is easily foldable and storage-friendly too. Moreover, find ones that can help travel too, especially since we are talking about outdoor settings.
Comfort
If you are a disabled person who relies on their wheelchair for mobility and stance throughout the day, the chances are that you need an option that is comfortable to sit on throughout the day. Check for extra padding around the seat and the armrests. You want an ergonomic model that supports your stature and won't strain your lower back region for the worse.
Warranty
Not every wheelchair that you come across in the market is backed with a warranty, and that is okay, to some extent. However, if you are looking for a wheelchair that you want to use for the long-term, you must invest in an option backed with the best range of warranty, without any further questions. Having a viable warranty cuts down on the extra expenses you otherwise would have spent on the product. Check the reviews for the customer service and how responsive the brand is.
Conclusion
Finding the correct design and functionality of a wheelchair is extremely important. You want to invest in a comfortable product to sit on and ensure a long-lasting finish for extended periods. While looking through the plethora of product reviews, I wanted the list to consist of functional, ergonomically design, and well-priced products.
In this list, I have tried to balance the manual and the power wheelchairs to ensure that there is an option for every user. If I had to pick one as the best, the Medline Excel Extra-Wide Wheelchair is hands down the best option. It has a versatile design and comes with a range of functionalities that are ideal for outdoor activity.