If you are a high-end gamer that needs a triple monitor setup for enjoying some of the heavy-duty online games, you'd know what the biggest struggle with that is. Having a sturdy desk to help with the setup. Not only is it hard to find, but it is also challenging to ensure how big of a space you need or have to ensure that everything looks the way you want it to.
However, with the emergence of more and more gamers, the availability of a suitable gaming desk has been happening unabashedly. 
Here's a list of the best desks for triple monitor setup for the gamers for your convenience.
Table of Contents
Best Desks for 3 Monitors – Reviews
Conclusion
Best Desks for 3 Monitors
Best Overall
When discussing the best triple monitor desk, the Mr IRONSTONE Large Gaming Desk leads the list. The desk's large and extended design makes it easier for you to place your triple monitors along with the extra gaming gear.
The tabletop is designed with durable MDF PVC laminated surface, making it durable, scratch-resistant and of the best quality. It doesn't have any excess storage space, which is a bummer, but you have a hook on the side to keep your headphones, which is excellent.
The desk has a modern, lightweight and comfortable design ideal for office setups and your gaming station. It has three cable management holes to prevent tangling of all the wires, keeping your devices secured in a place.
The construction of the gaming desk is pretty unique and stable. The metal leg frames keep everything secure, despite holding three monitors and all the other gaming gears in one place.
It is designed with adjustable legs to adjust to ensure a stable stature, even if the floors are uneven. The package comes with all the instructions that you'd need to put everything together without any delay.
The desk is waterproof and extremely easy to clean. All you need is a clean wet cloth, and you are all set. It isn't backed with the warranty details, which again is a downside to this desk.
Mr IRONSTONE Large Gaming Desk is Suitable for:
It is the perfect option for users on the lookout for an open and lightweight table with minimal storage or covered space.
Pros
Durable and sturdy construction
Waterproof
Three cable management holes
Cons
Doesn't come with storage
---
Best Overall Runner Up
Walker Edison is one of the most popular furniture brands known for their quality products and modern design. The Walker Edison Corner L Shaped Glass Computer Desk is no different and is one of the best computer desks to accommodate triple monitors.
It is a corner desk with the standard L-shape that fits right into the available space, allowing you to enjoy playing your games or even work from your home office. It is available in five different styles and color combinations, letting you choose what you like best.
The tabletop is designed with a tempered glass finish, which gives this a very premium look and feels. The monitor desk has enough space to accommodate multiple monitors without any risks of damage.
The desk has an open frame with crossed support on the frame's side, which adds extra durability. As for the construction, the entire body is built with metal, providing the desk with optimal stability, unlike anything else. 
One good thing about this platform is that each desk is removable, allowing you to use them as per your liking. 
Walker Edison Corner L Shaped Glass Computer Desk is Suitable for:
It is one of the best for users with triple monitors and a smaller apartment space around. The corner desk design makes this ideal for seamless use.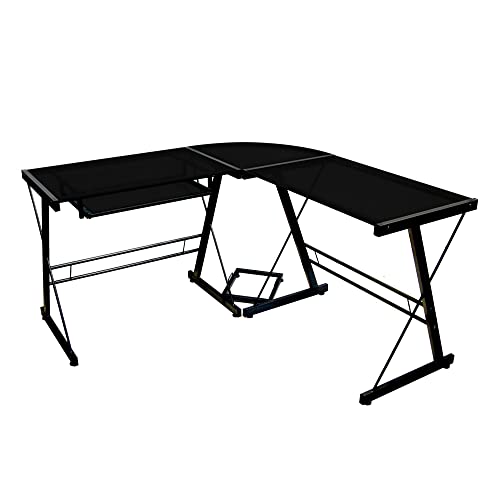 Walker Edison Ellis Modern L Shape Home Office Black...
Dimensions: 28.25" H x 51" L x 20" L, Keyboard tray: 3" H x 11.75" D x 21" L
2 side surfaces support up to 50 Ibs. each, corner top surface supports up to 20 Ibs., and keyboard tray supports up to 10 Ibs.
Desk top made with tempered safety glass
Pros
Compact and premium design
Tempered glass finish
Metal construction
Cons
Lacks cable management system
---
Best Value
The DlandHome 63 inches Gaming Desk is for gamers looking for a sturdy monitor stand with extra space for the side monitors. The 63-inches tabletop space is pretty enough to accommodate a triple monitor setting with ease.
The best thing about this desk is that it's specifically designed and constructed to support a triple monitor mount with extra space for the accessory gaming gear. It also has a maximum load capacity of 300lbs, which again is a bonus.
It is a multifunctional desk with a separate drink rack and USB rack to hold your phone while charging. It is built with durable and high-quality carbon fiber that gives it a durable finish and a sturdy base.
The K-legs of the desk and the back frame are constructed with heavy-duty metal for better stability, even on the uneven surfaces. It has a simplistic and modern-day design, which fits into the aesthetic of any room you put it in.
It is also a dual-function desk that enables you to use it as a workstation and as a space for storing all your gaming gear. The all-black design with red accents adds a minimal yet sophisticated look to the desk as well.
The brand doesn't mention anything about the warranty details, but they do back their customer's issues with realtime solutions without any delay. You also don't have to worry about assembling it as all the information comes in the package.
DlandHome 63 inches Gaming Desk is Suitable for:
It is a perfect gaming desk for the individuals who are specifically looking for a multifunctional monitor desk to use as a workstation, when needed.
DlandHome 63 inches Gaming Desk w/All Covered Mouse...
【Desk for Games】: This Gaming Desk is specifically designed for all your gaming gear. Dimensions: 63L * 23.6W * 29.5H inch (160L * 60W *...
【Multi-function Gaming Table】: This gaming computer desk includes a all covered mouse pad; Adjustable USB charge rack, drink rack &...
【Health & High Quality】: Sleek carbon fiber texture table top provides ample space for computers, laptop, PC, keyboard, mouse pad. The K...
Pros
Spacious design
Durable metal construction
Load capacity up to 300 lbs
Cons
Top comes in two separate pieces
---
Best Value Runner Up
Another popular desk for triple monitor setup is the Tangkula Gaming Desk. It has an effortless design with two stands, making this stand out in functionality and the overall design. The desk measures 63″ in length, enough for accommodating 3 monitors with ease.
It also comes with an ergonomic curved design in the front that allows the gamers to play comfortably without any strain to their back or shoulders. It is also designed with three different cable management holes to organize the wires for better convenience.
Another unique feature about this desk is that it comes with a power strip tray under the desk, allowing you to arrange the power wires. So, if you are tired of managing the excess wires around your legs.
One convenient part about the design of this desk is the cup holder and headphone clip. It allows you to keep everything at your arm's reach. It frees up more space on the top of the desk, allowing you to accommodate more gaming gear items.
The desk itself is made with high-quality iron material that gives the desk a stable and sturdy structure, even if you have an uneven floor. The foot pads in this desk are adjustable, which comes in pretty handy.
As for the maximum load capacity, the desk can hold up to 220lbs, which is pretty standard for such a monitor desk. The desk's pure black color further contributes to a sleek and universal look that can fit anywhere in your house.
Tangkula Gaming Desk is Suitable for:
It is perfect for the users who don't have a lot of space around their apartment and need something compact yet highly functional.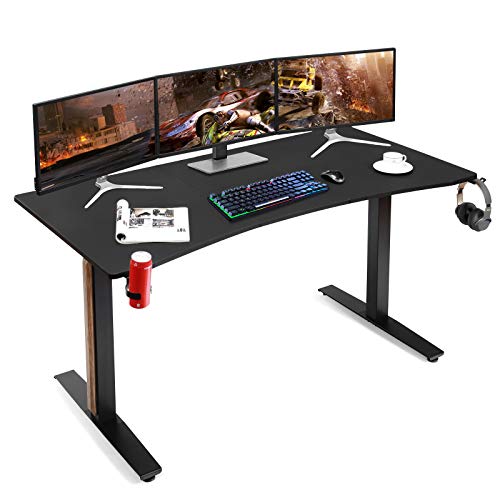 Tangkula 63" L x 32" W Gaming Desk, Racing T-Shaped...
【Wide & Ergonomic Gaming Surface】The gaming desk measuring 63" length provides ultra spacious surface for an immersive gaming...
【Organized Wires for More Convenience】Different kinds of wires lead to a messy surrounding, while the 3 cable management holes on the...
【Keep Drink & Headphone within Arm's Reach】Put the drink on the cup holder within arm's reach and hang the headphone on the...
Pros
Seamless cable management system
Has a separate cup holder and headphone clip
Load capacity up to 220lbs
---
Best Budget
For the users looking for an L shaped desk, the OTK L Shaped Desk with Round Corner is a pretty good pick. It is one of those computer desks that can be used for a lot more than just your work setup.
It is one of those few L shaped desks that comes in a single piece with curved ends instead of three different parts. The desk comes with a modern and elegant design constructed with high-quality E1 MDF board for enhanced durability beyond questions.
The rest of the desk has a durable metal frame for enhanced stability. This L shaped desk's surface has a textured finish with premium waterproofing that makes it ideal for any settings.
The desk is also scratch-resistant and easy to clean, allowing you to rough use it without any regrets. It has ample space for triple monitor setup and all the accessory gaming equipment like the keyboard tray and the monitor mount.
The desk height is adjustable up to 29.5", making it ideal for more comfortable leg resting and storage underneath. It is a height adjustable option that lets you fix the settings to ensure better stability of the desk, even on uneven surfaces.
The desk package comes with all the necessary instructions for assembling the triple monitor desk setup with ease. Follow the guide, and you can complete the entire setup in just seven steps.
OTK L Shaped Desk with Round Corner is Suitable for:
It is the perfect option for the gamers and developers who work with three monitors on the daily but don't want to splurge out a lot of money on it.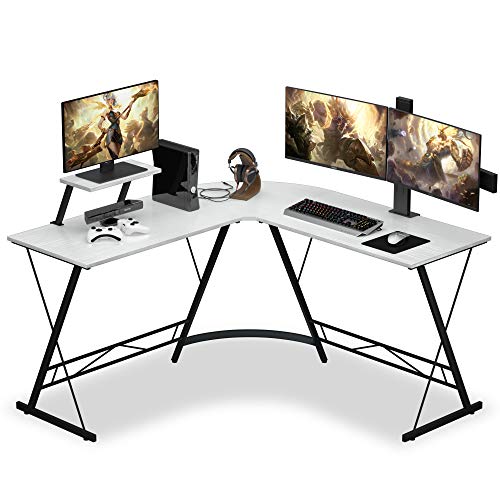 OTK L Shaped Desk with Round Corner, 51" L Shaped...
L SHAPED DESK and MUCH MORE THAN THAT: Not just an l shaped computer desk, a gaming desk, you also get a removable shelf with this desk....
ELEGANT MODERN STYLE CONSTRUCTED WITH STURDINESS: The L-shaped computer desk is constructed by a high-quality E1 MDF board and metal frame....
LARGE SIZE & AMPLE SPACE: (51"+51")L*18.1"W double desktop, giving you wide room for computing tasks on one side and other tasks, such as...
Pros
Made with high-quality E1 MDF board
Durable and adjustable construction
Spacious and ergonomic design
Cons
Doesn't have cable management system
---
Best Budget Runner Up
Last but not least is the Eureka Ergonomic Computer Desk. It is a slightly smaller option than the other options mentioned above. It is also enough to accommodate triple monitors, a monitor arm and even the keyboards if needed.
The desk measures 60″ in length and can hold up to 250lbs easily. The desk arrives in two individual parts for easier portability. Aside from the elegant all-white design, the desk also features an ergonomic look, perfect for gamers and people working for extended hours.
You can adjust the height of the legs for ensuring better stability of the computer table. The desk is also easy to assemble and comes with all the necessary instructions that you need to follow. It does lack extra drawer space, which can be a downer for some users.
The overall construction of this computer table comes with two separate strong legs with the metal desk frame that keeps the structure stable, even on the uneven surfaces. The desk area is quite spacious and allows you to set up a single monitor or 3 monitors, according to your needs. 
It is one of those rare brands that provide the users with all the equipment they would likely need for assembling the desk. If you follow the instructions correctly, all you need is 15 minutes for the entire setup.
One of the best things about this executive desk is that it comes with three years of warranty and replacement assurance. You can also rely on the brand's 24×7 customer care service, which makes this an ideal option for heavy-duty gamers.
Eureka Ergonomic Computer Desk is Suitable for:
It is one of the best monitor setups for the users who want a big enough space to accommodate up to three monitors, mouse pad and the other gaming gear in one place.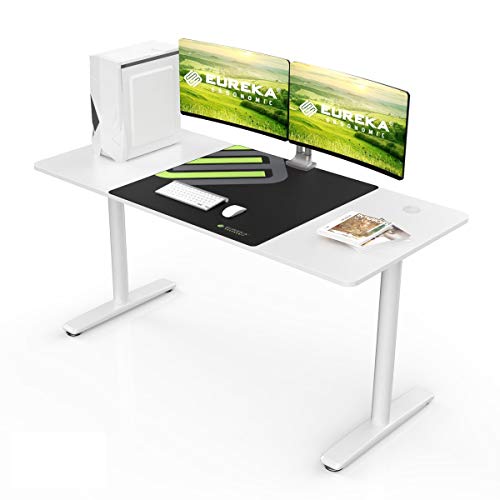 EE EUREKA ERGONOMIC Home Office Computer Gaming Desk,...
CONTEMPORARY TABLE: Clean, elegant design that is appropriate for various rooms, perfect fit as a writing desk, gaming desk, or office...
60" OFFICE DESK: The 60"W x 27.6"D desktop offers enough area for your activities like reading or PC working. The 30.3" Height provides...
ECO-FRIENDLY MATERIALS: Our desktop is made of CARB Phase 2 & TSCA Title VI compliant particleboard, having much lower formaldehyde...
Pros
Spacious design
Backed with 3 years warranty
Load capacity up to 250lbs
---
Conclusion
With so many unique triple monitor desks in the market, we hope the list above allows you to choose the best one that suits your interest. If I had to pick one that stands out of the lot, I'd suggest you either include towards the Mr IRONSTONE Large Gaming Desk or the OTK L Shaped Desk with Round Corner, if you want a more budget-friendly option. No matter what you choose, make sure that you keep an eye out on all the features and functions before making the final choice.