With changing times now, more and more people are switching to their home office setup, mainly because there's no guarantee when remote working would switch to traditional means of working. And, with so many brands of computer desks available in the market, it isn't surprising that Ikea stands out in the lot.
Ikea has practical and modern designs with easy to assemble options, making it easier for the users to put everything together in no time. 
But, with so many Ikea computer desks available, choosing one can become confusing. I have gone through the hard part of sorting out the best Ikea desks that you can add to your home office.
Table of Contents
Best Ikea Computer Desks
Best Overall
For the individuals who never want to compromise on the storage capacity in their best Ikea desks, the Ikea Linnmon Computer Table with Drawers is likely the best option. Aside from the sturdy countertop, the desk is designed with a chest of drawers on one side for extra storage.
Putting together the chest of drawers can be a little complicated, but that's about it. You wouldn't have to worry about the rest as the legs come with pre-drilled legs. So, all you have to do is read the information carefully and put everything together.
It comes with drawer stops at the back that prevents you from pulling them out. The material of this furniture is made of plastic, which is not the most durable if you think of it.
It does fit into smaller spaces, but it is not the most lightweight option, so you need to be a little particular about that. The top of the desk is not attached to the chest of drawers, making the overall construction a little flimsy. If you uneven floors, it comes with adjustable leg heights to overcome that issue.
Ikea Linnmon Computer Table with Drawers is Suitable for:
It is one of the best Ikea desks for users who require more space and storage and don't care about the desk's construction.
No products found.
Pros
Ample storage option
Modern design
Easy to assemble
---
Best Overall Runner Up
Next up on the list of the best Ikea computer desk is the IKEA VITTSJÖ Laptop Table. This chair is perfect for your work from home experience with style. While all the other laptop and computer tables are made of particle board, this one is made of glass.
It is designed with a combination of tempered glass for the top of the desk with excess metal rods for the desk's legs. It also comes with a stunning black-brown design, which further blends into the interior decor of the room you will place it in.
The desk has an open and airy feel to it, which is perfect for the users who don't like congested desks with many storage cabinets and drawers. Aside from the tabletop design, the desk also comes with a separate storage unit below that allows you to store little knick-knacks.
The package also comes with self-adhesive cable clips that help you adjust and put the desk together without any hassle. It keeps the cables in place without making everything confusing and messy.
Like the previous option, even this one comes with adjustable feet that allow you to level everything on the uneven surfaces. The price is a little over the top, especially with the simple design it comes with.
IKEA VITTSJÖ Laptop Table is Suitable for:
It is one of those Ikea desks that are perfect for the users who are particular about aesthetics, mainly because of the computer desk's tempered glass appearance.
No products found.
Pros
Designed with durable tempered glass and metal legs
Lightweight
Easy to assemble
---
Best Value
Incredibly impressive for the students, the Ikea Micke Modern Computer Desk is one of the best Ikea desks with a sleek and modern design. It has a very versatile design that accommodates the books as well as a computer.
The desk has a separate hole for the computer wires and stuff, ensuring that nothing gets tangled up when left around on the desk. The entire desk is made of particle board, which comes with a good and a bad.
It makes the desk extremely lightweight but makes it susceptible to chipping as well. It does come with a separate section accommodating a drawer for storing essentials. They also come with drawer stops in the back to prevent it from coming out all the way.
Other than that, the desk doesn't have any severe complaints from the users, even with the price point, which is quite reasonably priced. The package comes with all the necessary assembling tools, so that is again a relief.
Ikea Micke Modern Computer Desk is Suitable for:
More than for the home office, this Ikea desk is perfect for the students who want a lightweight and modern computer desk to accommodate their essentials.
No products found.
Pros
Versatile and modern design
Prevents wires from getting tangled
Lightweight
Cons
Material chips away sometimes
---
Best Value Runner Up
The Ikea Alex Computer Desk is a lot similar to the Hemnes version but differs slightly in terms of the desk. If you are looking for an Ikea desk with two drawers, this is likely the best pick. It does come in an all-white design, which might not be everyone's aesthetic, so cross-check that first.
It comes with a sleek and compact design that easily fits in narrow spaces, enabling you to make the most out of your small apartment. It is made with a combination of plastic board and ABS plastic for the body and metal frame for the desk's legs.
The highlight of this makes it one of the best Ikea desks is the in-built cable management system. It collects all the cables and the cords, making it easier for you to manage everything and preventing the risks of them getting tangled up together.
It comes with a simple design, which makes assembling the desk easier too. You can't use this as a standing desk since the height is not that high. It can also be placed anywhere around the room because of the finished back.
Ikea Alex Computer Desk with Drawers is Suitable for:
It is the best Ikea desk for individuals who need more storage space, especially for storing their essentials and essential stationery items.
No products found.
Pros
Durable construction and design
Compact design
Built-in cable management system
Cons
All-white design gets dirty easily
---
Best Budget
Starting the list with the sleekest and simplest computer desk from Ikea, we have the IKEA New Computer Desk. It is available in four different color variants and blends in seamlessly with any room aesthetic that you have.
The best thing about this Ikea office desk is likely the design and the pre-drilled holes on the desk's legs. It enables easier assembly without needing to wrack up your brains for it. The desk also comes with adjustable feet that allow you to stabilize it on uneven surfaces.
The desk can hold a maximum load of 110lbs, which is pretty much a standard for such table top computer desks. The only downside to this desk is the minimal design without any excess storage. 
If you aren't going to use this as a computer desk and instead as a dining table, it would comfortably fit two. It is constructed with particle board with metal legs that ensure high durability. It is also pretty easy to put together.
It is an extremely versatile Ikea desk, which can be used for multiple uses other than just a computer desk. It is also one of those rare Ikea finds that has little to no negative reviews on it, so you know that people don't have any complaints about the quality.
IKEA New Computer Desk is Suitable for:
It is a perfect desk for the individuals looking for a multipurpose office desk that they can use for various reasons.
No products found.
Pros
Durable quality material
Easy to assemble
Supports up to 110lbs
Lightweight
Cons
Doesn't come with extra storage space
---
Best Budget Runner Up
The last option on the list of the best Ikea desks is the IKEA Brusali Desk. It is the next best alternative to the Alex table. If you want a budget-friendly but highly functional computer or corner desk, this is likely the best option.
It is one of those rare Ikea desks that come with wood construction. It doesn't come with a separate cable management system but has space around the back where you can hide and arrange them away with a cable tie.
It comes with an open cabinet like design with adjustable shelves that make it easier for you to store away your computer or laptop if needed. Even with the compact design of this desk, you wouldn't complain about storage.
You must check the assembling information correctly and promptly follow the instructions to avoid accidents. I'd suggest you check the fittings every month and retighten the screws if needed. 
The desk is also relatively easy to clean. All you need is a damp cloth, and you are all set. If you are particularly looking for gaming desks, this is not it as the tabletop's surface area is pretty small and limited.
IKEA Brusali Desk is Suitable for:
It is one of the best Ikea desks for the individuals who have limited space around their apartment and need a compact desk for their office setup.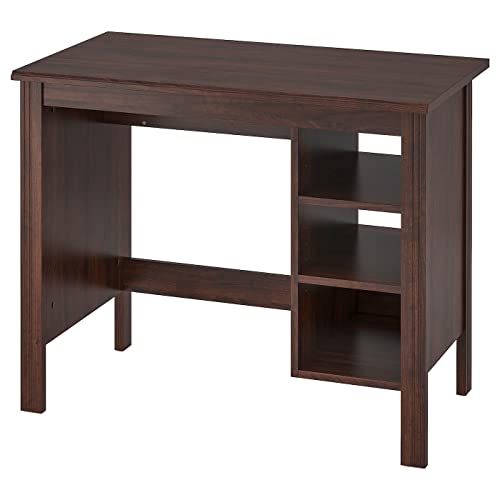 IKEA Brusali Desk, Brown
You can collect cables and extension cords on the shelf under the table Top so they're hidden but still close at Hand.
You can fit a computer in the cabinet since the shelves are adjustable.
Wipe clean with a damp cloth.
Pros
Durable wood construction
Adjustable shelves
Affordable price
Cons
Not suitable for heavy-duty equipment
---
What to Look for Before Buying an Ikea Computer Desk?
There is an abundance of the best Ikea desks available in the market. Some are meant to accommodate your computers while some work for extra storage of your stationery and other study or work materials. When buying a desk, there are a few critical factors that you need to keep a check on:
Size
It is a universal requirement when you are buying any furniture. Cross-checking the size of the desk and the available space you have in your house is essential. Also, you want to ensure a little bit of spare room around the back of the desk to fit all the cables and wires with ease.
Design
Every ikea desk available in the market comes with its own unique and modern design. It is up to the user to pick out the option that best suits their aesthetic and likings. If you want a minimalist office desk, there are a few options that come without the drawers. If you want something else, there are several options to pick from. It all comes down to what you like or want.
Price
Even though the best Ikea desks come with quality assurance, they are on the expensive end, no doubt about that. So, when looking for one to set up your office setup or home workspace setup, there are a few things that you need to keep a check on, the price being one of them. Decide your budget and then look for the options that fit into your budget.
Conclusion
Ikea desks match up the needs of the modern-day users. They are also environmentally friendly and the wood used in making these desks are all sustainably sourced. With so many excellent options to choose from, I suggest you start your search with IKEA New Computer Desk and consider IKEA Brusali Desk if you want to be a little more aesthetic with your furniture collection.