Best Overall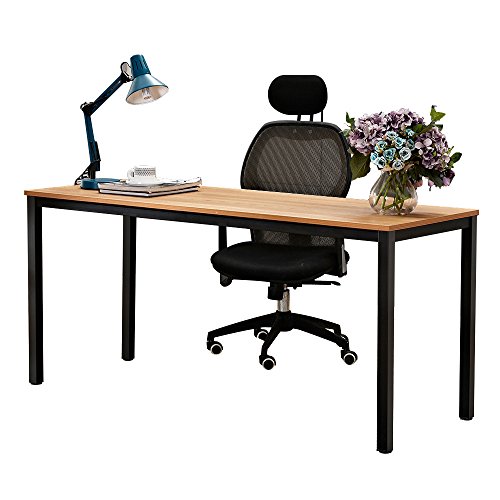 Best Value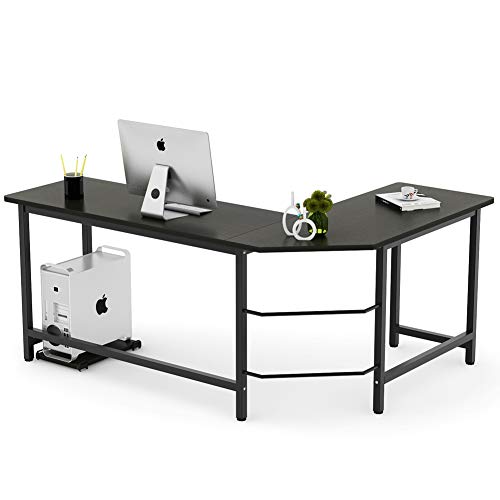 Best Budget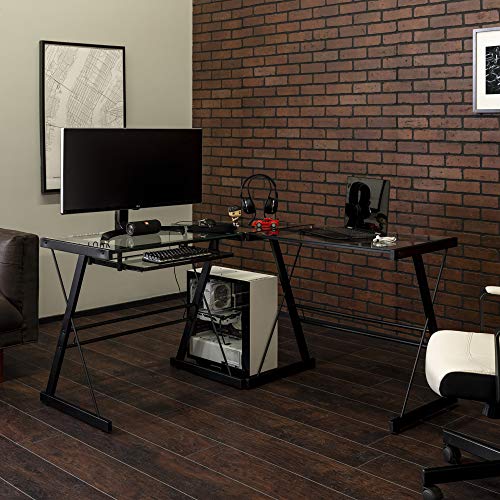 Having dual monitors is better than working with just one. In my experience, that's how it has turned out.
Something as serious as a lawyer drafting a document while referring to the Constitution benefits from this setup. But I've taken advantage of it for the most mundane things, like tweaking my website's design and comparing the new and original versions.
Part of the pleasant experience, of course, is placing the screens on a solid tabletop. The Need Computer Desk comes to mind when I think about the best desk for this purpose. But there are other options you can consider depending on your needs.
Let's go over the list.
Table of Contents
Best Desk for Dual-Monitor Setup
Best Overall
For open-concept workspaces, the 63-inch Need Computer Desk is the ideal platform to fit dual monitors. At its maximum size, it is large enough to allow ergonomic arrangements. The surface and legs are made from environmental E1 standard particle wood. This material is important not only for those who are eco-conscious but also for those who are safety-oriented.
At the same time, this type of board is resistant to scratches and water while remaining easy to clean. Its glossy finish can complement a wide range of office space designs. Reinforcing the structure is the 1.2-mm-thick metal frame, which promotes stability. This thickness is better than most models that use 0.8 mm, which makes this desk a top choice for handling massive multiple monitors.
Setting this unit up should be a breeze. The legs are installed with the hex keys and can be adjusted to keep your table steady on uneven floors. In my estimate, you can complete the assembly for a good 10 minutes. At around $150, this product is reasonably priced. It has several colors to choose from. It is also available in two other sizes: 47 inches and 55 inches.
With adequate depth and firmness, this desk is easily my top pick. It proves that you don't always need an L-shape table to contain two monitors. One large platform is enough, especially for home offices that may not have the luxury of wide, open floor layouts. This sure winner is validated further by its BIFMA (Business and Institutional Furniture Manufacturer's Association) certification.
Need Computer Desk is Suitable For:
A desk that is suitable for a variety of needs, the Need Computer Desk is designed for home and office workstations. It is large enough but does not take up much space. Its price is pretty affordable for a wide range of customers.
Sale
Need 63 Inch Large Computer Desk - Modern Simple Style...
【24-Hour Immediate reply】:If there are any problems about the product, please contact us directly, we will reply and offer a solution in...
【Large Size】Overall Size: L63" x W23.7" x H29.5", large desk provides ample space for working, i.e. computers, printers and other...
【Firm Material】Panel is made of environmental E1 standard wood, it's waterproof and has an anti-scratch surface; easy to clean.
Pros
It is made from a safe and environment-friendly material.
Its metal frame is stable and supportive of heavy monitors.
It is wide and large enough to handle multiple monitors.
It is reasonably priced.
It is BIFMA certified.
Cons
Its colors may look different in photos.
Its texture may not suit some users.
---
Best Overall Runner-Up
Whether you're setting up a new workspace or redesigning a current one, Bush Furniture is a good source of professional desks and group workstations. For the solo flyer, you can consider this 100-pound desk that can handle two to three monitors. There will still be spots for your documents and decors once the computers are arranged.
The length of this choice is its strength. But you may find it a bit shallow, especially if you're working with clunky monitors. Still, it yields that minimalist The Office or even The West Wing vibe. The materials used are of high quality, scratch- and stain-resistant, and durable. Further, this desk lets you manage and hide unruly cables with its two built-in grommets.
Installation should not pose any issues. And despite the old-school finish, its nine color options can blend with any interior. Hansen cherry has that traditional look. But if it's not your type, you can take your pick from the following: beech, light oak, natural oak, pewter, slate, and walnut. The table is available in 36W, 48W, 60W, and 72W.
Not being an L-shaped table, it may work for solo users. Prices start at $200, which may or may not be pricey, depending on the budget of the buyer. Given its lifespan, it may serve you well throughout the years, allowing you to save up on future costs. Plus, it is manufactured by a name that people trust in this space.
Bush Furniture Series A 72W Office Desk is Suitable For:
This model is made for individuals who occupy an entire workspace. They can set up their dual monitor computer on this desk and still have some space left for other stuff.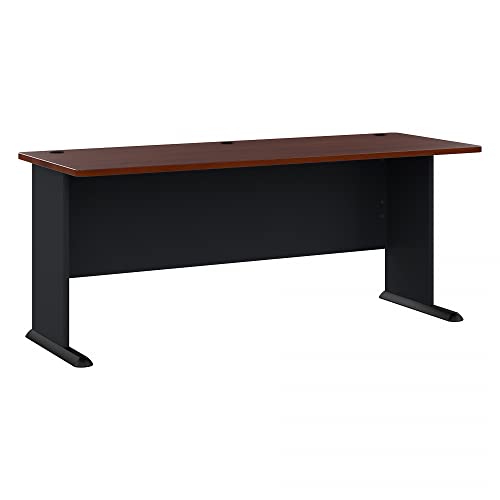 Bush Furniture Series An Executive Business Wire...
Professional Workspace - Maximize your productivity with Bush Business Furniture's Wide Desk. This office table desk offers a clean, tidy...
Smart Features - This large office desk uses built-in wire management grommets to keep cables neatly stowed and out of your way while you...
Spacious Design - This large desk accommodates all of your essentials up top and has plenty of room to stretch your legs comfortably. This...
Pros
It is made of high-quality and durable materials.
It is available in many colors and sizes for easy customization.
Its largest size can handle two to three monitors.
It is easy to install.
Cons
It is not deep enough.
It is quite heavy to move around.
It may be pricey for some people.
---
Best Value
Simple, modern, yet spacious. If these are your requirements for a new/replacement desk, then the Tribesigns Modern L-shaped Table Corner Computer Table fits the bill. It offers plenty of space with its L-shape layout. This configuration lets you accommodate personal stuff while also allowing you to switch tasks in different areas, e.g., typing in one spot and writing in another.
Complementing its functional surface is its sturdy form. It features a heavy-duty, powder-coated steel frame with a triangular junction. It can carry up to 900 pounds so that you can put at least two monitors here. The leg pads are a godsend when you're dealing with uneven floors. Also, it comes with a footrest where you can rest your tired legs while working.
Although its height is not adjustable, there is enough room for you to fit your lower body, as well as other objects, under the desk. There is an accompanying stand for your CPU, which prevents the latter from standing on a bare surface. You can route cables and wires to maximize the remaining space underneath.
But wait, there's more to love with this value-adding desktop table! Assembly is relatively easy because of its M-style buckle design. It is available in black, white and gold, and rustic brown to match many room themes. All of these features can be yours for only around $150. This one caught my attention because of its stylish practicality. But it's reserved for those with big spaces.
Tribesigns Modern L-shaped Table Corner Computer Table is Suitable For:
If you want a stylish, L-shaped computer table, this model does not disappoint. It packs a lot of value for a pretty affordable price. You have plenty of room to move on the surface and even underneath.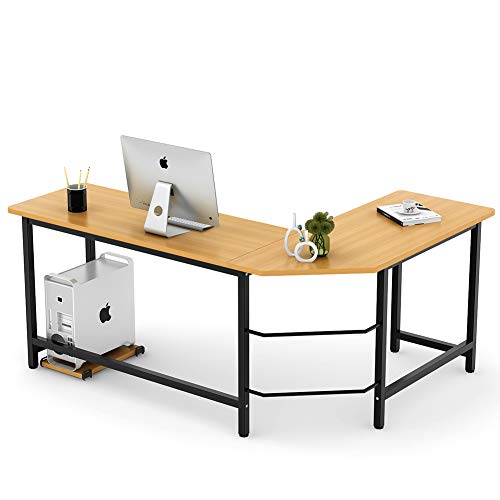 Tribesigns Modern L-Shaped Desk Corner Computer Desk PC...
[SIMPLE STYLE L-SHAPED COMPUTER DESK OFFICE DESK] - come with Free CPU Stand - made of E1 class environment protection particial board...
[L-SHAPED CORNER DESIGN] - wide desktop & space saving, you will have plenty of surface space for writing, computer work and other home...
[SUPER STURDY] - steel frame and rugged and reliable mechanical design to ensure the excellent stablility of the desk
Pros
Its L-shape layout provides plenty of room to be productive.
It leaves enough room for you to store objects underneath.
It is stylish yet practical.
It is easy to assemble.
It is affordable.
Cons
Its height is not adjustable.
It may not work for people working in small spaces.
---
Best Budget Runner-Up 
Gaming computer monitors can be big and heavy. They come with demanding requirements. If you are searching for a dual monitor desk with packed features, the Arozzi Arena Gaming Desk looks like a good fit. It has a stylish design that you can depend on, as it can handle up to 175 pounds. Its high-density construction is one of the best among gaming computer desks.
That stability extends to the support it provides to the stuff you put on top, including the dual monitors and the monitor stand. There are more highlights to put on display here. 
For one, play games with comfort with the help of its adjustable height system. 
Enjoy more desk space with this one. 
Leaving its competitors behind, this model also wins in cable management, thanks to its conduit feature. Say goodbye to tangles and other cord mishaps. 
Concentrate on your game instead. One downside stands out, though, but only in the beginning. Despite its simple configuration, it can take around 30 minutes to assemble it.
Its $300 price tag can fall on the higher-end of mid-range models. Still, with the value it can offer to gamers, this one can be your best option as a non-L-shaped corner desk for video gaming.
Arozzi Arena Gaming Desk is Suitable For:
On the lookout for a value-adding gaming desk? This height-adjustable option is great for a wide range of users in this regard. It is also oriented toward organization to help avoid clunky-looking gaming tabletops.
Sale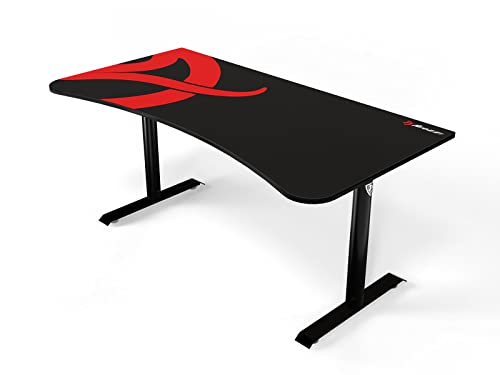 Arozzi Arena Ultrawide Curved Gaming and Office Desk...
The 160cm/5' 3 Inches width allows for three large monitors to envelop you in the game environment
The 80 cm/2' 7 ½ Inches depth gives you a huge field of play for your mouse, keyboard or other devices
Design of the custom mouse pad which has a microfiber cloth surface which is water-resistant. Desk Top Load Capacity : 176lb (evenly...
Pros
It is solid and durable.
Its height can be adjusted.
It is stable and supportive of heavy monitors.
It sports a cable management conduit.
Cons
It may be too pricey for those who have a tight budget.
It is still less spacious than an L-shaped desk.
---
Best Budget
Walker Edison is one of the best sources of home office furniture. With the Walker Edison L-Shaped Desk, you can have a dual monitor setup that is not just functional but also stylish. This modern offering can enhance any home or office space. The most exciting thing here is that the table is also highly affordable. 
Starting with a steel frame and a glass top, this desk proves to be a striking and subtly working choice for the budget-conscious. It comes with a case stand and a keyboard tray to have everything settle into their designated places. Of course, these features also help keep your computer desk free from unnecessary business.
Underneath, you can also find a space cleared for your legs and also for placing other stuff. It may not be height adjustable, but it does not lack thought in providing proper elevation for your ergonomic needs. It manages to resolve such issues while staying compact.
When it comes to assembly, this model has only three parts that you can easily put together. Its L shape provides a decent spot for LAN parties. The only thing I'm wondering about is how many people will find the slightly shallow surface enough for their productivity routines.
Still, for a little over $100, the Soreno is a steal. Its modern and sleek look lends it a corner desk appeal. It is available in black, white, silver, and smoke gray.
Walker Edison Soreno L-Shaped Desk is Suitable For:
The Soreno is perfect for people who want an L-shaped desk or corner desk for their home office. It is compact and modern, which means it can enhance the vibe of a certain space. Plus, its provided value seems to exceed the price it comes with.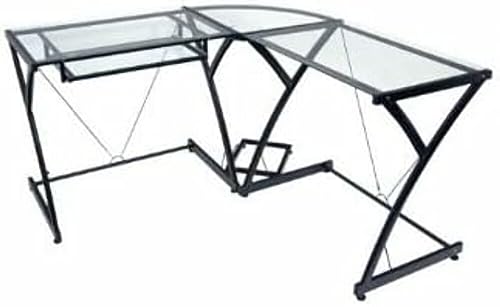 Walker Edison Ellis Contemporary Glass Top L Shaped...
Dimensions: 28.25" H x 51" L x 20" L, Keyboard tray: 3" H x 11.75" D x 21" L
2 side surfaces support up to 50 Ibs. each, corner top surface supports up to 20 Ibs., and keyboard tray supports up to 10 Ibs.
Join 2 desks to accommodate multiple monitors and create an optimal gaming space
Pros
It is compact, an ideal quality for a corner desk.
It can fit homes because of its smaller profile despite being an L-shaped design.
It has designated areas for dual-monitor systems and other stuff.
Its setup is pretty straightforward.
It is highly affordable.
Cons
Its tempered glass may be prone to overheating. 
It may not be as stable as the pricier ones.
---
Best Budget Runner-Up
Gamers are quite particular with their gaming desk requirements. So, aside from chairs explicitly made for them, there are also tables designed to accommodate their various needs. If you are a gaming expert or enthusiast, you may find a lot of value in the Atlantic Gaming – Original Gaming Desk.
This category bestseller is lauded for its unique look. It comes outfitted with an elevated stand for your laptop. You can remove the stand if you want to set up dual monitors instead. Then, it has two speaker trays where you can place your gaming speaker system. There is also a rack underneath for cable management. But my favorite is the cup holder to handle your drink of choice.
The design lets you store odds and ends without making the surface look cramped. Besides, you can rely on its designated areas in arranging your things on the desk. It can basically keep the non-essentials out in this case. 
With the steel rod frame, you can also expect it to beat daily wear. You can play Dungeons & Dragons or Call of Duty without worrying whether your desk can hold up. It's also quite sleek, so it is perfect for your game room organization. 
For those who want to snag a discount, this desk has a $150 price tag that often gets slashed off. Its height is 29.5 inches while its surface is 40.125 x 23.5 inches (length x width).
Atlantic Gaming Original Gaming Desk is Suitable For:
Designed for gamers in mind, this model sports different areas to accommodate gaming setup and tools. It's also highly affordable, especially after discounts, so buyers on a budget can take advantage of this product.
Sale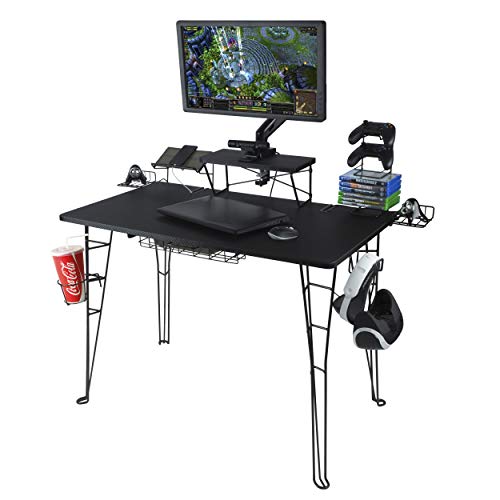 Atlantic Original Gaming Desk – Carbon-Fiber...
✔️ 【VERSATILE】: Large one-piece carbon-fiber laminated desktop offers ample of workspace ideal for gaming, working and studying.
✔️ 【VERSATILE】: Large one-piece carbon-fiber laminated desktop offers ample of workspace ideal for gaming, working and studying.
✔️ 【FLEXIBILITY】: Elevated/detachable monitor platform can support 27" monitor up to 40 lbs. or use dual monitor arm instead.
Pros
It has a dedicated stand for laptops.
It has a spot allotted for speaker systems.
It has a rack for cord management.
It can handle a dual monitor computer but does not make your space look cramped.
It's very affordable at its after-discount price.
Cons
Its surface may be too shallow for some.
Setup may be challenging for others, especially when aligning the parts.
---
What to Look for in a Desk for Dual Monitors
Material
In general, oak wood is the most common desk material. Cherry wood and maple wood are also used in some cases. But you can also find metal, wood, and plastic applied widely in most constructions today. Some of these examples are better than the others in terms of durability, sturdiness, and support.
Instead of plastic, though, you might want to look at glass as a more reliable replacement. For instance, the Walker Edison Soreno is composed of a steel frame and a glass top. While you're at it, you should be checking the manufacturing as well. Some materials are considered "cheap," but they can be put together to deliver a decent-quality product.
Width
An L-shaped desk is often referred to as a computer desk. Usually, this type can be 60 to 72 inches at their widest. This configuration can fit two 24-inch widescreen monitors without sacrificing space. You can put the screens side-by-side and still manage to get a photo frame, a keyboard tray, and some decorative items on the table.
When it comes to the matching size, you better measure the width of your monitors. You may also want to consider depth to complement your investigation. Depth refers to the distance between the front edge and the back edge of the desk.
Price Point
On average, computer office desks cost $200 to $2,000. The prices of dual monitor computer desks can be around that price. But you can get some models for as low as $75. Meanwhile, luxury furniture rates can go up to $6,000 and can increase from there.
Walker Edison Soreno fits the needs of budget-conscious consumers out there. On the other end, Parnian Furniture may be selling the most expensive desk on the market today.
Ergonomics
Height adjustment is not a typical feature of computer desks. This one comes fixed together with the length and width of the table. However, this is also an essential factor. Those who spend hours focusing on a task or a game need a new normal. They should be able to have the desk raised enough to make the dual monitors readable without straining your eyes.
With this data, you can make an educated assessment before you buy. The Arozzi Arena Gaming Desk scores points in this area. Instead of an ergonomic desk, you may look for an ergonomic chair to help you customize your sitting, working, or gaming experience.
How Big of a Desk Do I Need for 2 Monitors?
Ideally, an L-shaped desk can help you arrange your monitors ergonomically while leaving room for other stuff on your tabletop. In this regard, the Tribesigns Modern L-Shaped Desk is a champ. For this configuration, you can fit rectangular monitors with one at 47.24 inches and another at 49.21 inches.
Practically speaking, not everyone has the space to place an L-shaped table in their business or home office. The Need Computer Desk comes through in this department.
These similar yet area-dependent capabilities make the former and the latter the best value and best overall dual monitor desk in my book, respectively.
How Do I Connect Two Monitors to My Desk?
Hooking up multiple monitors is pretty doable once you've covered the basics. It's a matter of telling your main computer's OS (operating system) to take over a second screen. It could be a laptop, a desktop, or a television screen.
You can connect the two devices that will serve as your main and secondary screens through any of these cables: VGA, DVI, HDMI, and DisplayPort port.
To do it on Windows, just go to your desktop and then right-click on any white space. Choose Screen resolution (Windows 7 and Windows 8) or Display settings (Windows 10) on the drop-down list. When a dialog box opens, choose Multiple displays and then Extend these displays. You can further assign main and secondary displays.
For connecting a Mac to an external monitor, check out the instructions on the Apple Support page.
What is the Best Dual Monitor Setup?
The best dual monitor setup is all about better ergonomics and ease of use.
Working with two monitors helps ease productivity woes. However, you may also encounter some issues while setting them up or using them. Here are a few ways that can make the experience pleasant for you.
If you access both monitors equally, the best setup is side-by-side. Center the keyboard on your table to avoid straining your wrists and elbows later. This keyboard should also be placed as is or on a tray that moves you farther away from the screens. If space permits, you can also raise your desk using monitor rises that are at least two inches high.
If one monitor is used most of the time, you can prop the keyboard and the primary monitor – the one used for data input – in front of you. Put the second monitor, which is used for viewing, on one side. The latter should be at a 30-degree angle relative to the former. The centerline of the keyboard should also be no more than 12 inches from the centerline of the primary monitor.
Make sure you are employing eye movements when viewing the screens instead of doing head and neck movements. The monitor should be at eye level or slightly below it. If possible, pick flat screens with small bezel frames to prevent neck strains. The monitors must be of the same size and resolution to avoid eye strains.
Conclusion
A dual monitor computer desk can accommodate the requirements of users who rely on this productivity setup. There are different versions of them as well. Some are computer desks large enough to handle the weight of multiple monitors. These are your most practical and affordable options. The clear winner for me in this category is the Need Computer Desk.
Trailing this functional desk type are the L-shaped desk and the gaming desk. You can find all of the types represented in the individual reviews above. The L-shaped design delivers plenty of desktop space while the gaming desk offering is outfitted with gamer-oriented features.
Before you leave, let me remind you of the checklist I made above. This will help you choose the right fit when you're ready to shop.