Gaming chairs bring a luxury of features – from the plush padding to the contoured structure, there are many things to fall for. However, these chairs are never small or compact. So, the chances are that they will take more than half the space in the room, leaving no area for you to relax and make the most out of.
Foldable gaming chairs are a blessing in disguise. Not only do they offer the same level of comfort and ergonomic settings as the other standard gaming chairs, but they are also packed with a simple and compact design that you can stack away in the corner of your room when you aren't using it. Sounds pretty convenient.
While you'd think that the concept of folding gaming chairs is not that common, you'd be surprised that brands are thinking ahead of you. There are quite a few good options to choose from, especially concerning the price and the quality.
After looking through the internet, I have managed to shortlist some of the absolute best foldable gaming chairs that you can consider buying.
Table of Contents
Best Foldable Gaming Chairs – Review
What to Consider before Buying a Foldable Gaming Chair?
Best Foldable Gaming Chairs
Best Overall
XRocker is one of the leading brands in the market when talking about the best quality gaming chair. Amidst all their bestselling products, the X Rocker Pro Series 2.1 Foldable Video Gaming Chair is one of the best console gaming chairs.
This leather lounging gaming chair is a multipurpose option that you can use to play video games, listen to music, and even watch your favorite TV shows with ease. The chair comes with two forward-facing speakers that enhance your overall gaming experience like no other.
The game chair is integrated with audio force modulation and powerful subwoofers that take the whole user experience to the next level. It gives you a whole immersive experience, not just while you are playing games but also when watching your favorite shows.
This X Rocker Gaming Chair is also integrated with an additional vibration motor that syncs with the bass tones of the audio to create a full-body user experience. This helps keep you comfortable and entertained for hours.
The radio wireless receiver, along with the wireless transmitter, works with immersive RCA output. It comes with a separate RCA cable. It also has a high compatibility function and works well with Xbox, PlayStation, and all the major gaming consoles available in the market.
The control panel further comes with separate volume and bass controls to help you play in the multi-game mode.
X Rocker Pro Series 2.1 Foldable Video Gaming Chair is Suitable for:
This gaming chair is perfect for individuals who want a highly compatible gaming chair fitted with all the sound technicalities, including speakers.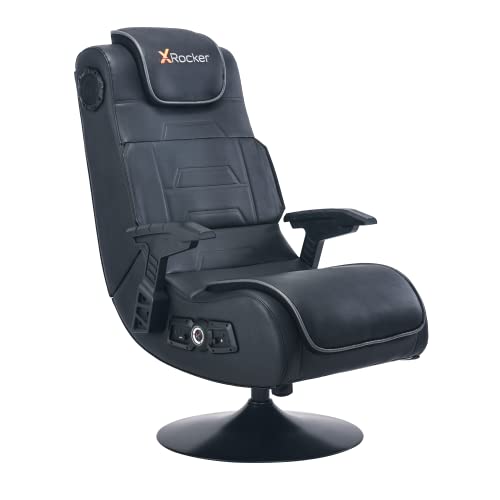 X Rocker Pro Lounging Video Gaming Pedestal Chair, with...
BUILT IN SPEAKERS & BASE I Features 2 speaker mounted onto the headrest and a backrest mounted subwoofer that creates maximum audio impact...
MULTI-PLATFORM COMPATIBILITY I Connects to all your favorite gaming consoles such as PS5, Xbox Series X/S, Xbox One, PlayStation 4, and...
WIRELESS I Live free from wires with Wireless Bluetooth Connectivity to all your compatible devices
Pros
Made with high-quality leather material
Integrated with vibration motors
Compatible with all major gaming consoles
Cons
It doesn't come with Bluetooth compatibility.
---
Best Overall Runner Up
If you are looking for one of the best folding gaming chairs to level up his gaming experience, the VON Racer Rocking Video Gaming Chair is hands down one of the best options you can get your hands on. It is ideal for your casual to extreme gaming sessions.
The console gaming chair comes with a back tilt and swivel pedestal for an immersive gaming experience. It is also integrated with Bluetooth for easier wireless connectivity. It is also designed with two speakers near the headrest with a separate 4″ subwoofer.
This gaming setup's construction is durable with a metal base with a swivel function that ensures a comfortable angle and movement. The entire structure is filled with plush and firm filling with padded armrests for enhanced comfort and an ergonomic setup.
The chair's overall solid construction is integrated with a metal frame with a high-density sponge and segmented padding to support your back, the back of your head, and neck as well. The overall design of the chair is ergonomically sorted to ensure maximum comfort for the users.
The brand is extremely focused on providing the best for its customers and users. Thus the gaming chair is integrated with the most reliability and is further backed with a 1-year warranty.
VON Racer Rocking Video Gaming Chair is Suitable for:
If you are on the lookout for the best folding gaming chairs with Bluetooth compatibility for wireless connections and easier communication.
No products found.
Pros
Ergonomic design
Sturdy metal construction with extra-padded armrests
Backed with a 1-year warranty
Cons
Height is shorter than expected.
---
Best Value
Next on the best gaming chair list with a foldable design is the Ace Casual 5149201 Foldable Gaming Chair. This is quite an underrated gaming chair but comes with heavy-duty speakers for a seamless user experience.
The chair is upholstered with faux leather with a breathable fabric and a high-back tilt with a pedestal game chair that enables you to play your favorite video games and relax while getting the most out of the chair.
This gaming chair's unique feature is that it is integrated with Audio Force Modulation technology that enables you to experience an immersive sound experience with higher intensity for a real-time experience.
This pedestal chair's overall structure is incorporated with two speakers with a separate 4″ ported subwoofer for better sound clarity and loudness that you need for enhanced clarity of the show you are watching or the game you are playing.
The chair's control panel is further integrated with a high-quality control panel with separate bass and audio controls with multiple input-output jacks. It is perfect for when you want to enjoy a multi-mode gaming experience with your friends and family.
Ace Casual 5149201 Foldable Gaming Chair is Suitable for:
This foldable and compact gaming chair is ideal for users who are looking for one with durable and high-end, and breathable fabric that they can sit on for extended periods.
X Rocker Extreme III 2.1 Video Pedestal Gaming Chair,...
ALL PURPOSE GAMING CHAIR WITH SPEAKERS: Faux leather outer with stylish breathable fabric back and seat, high back tilt & swivel pedestal...
RESONATING SOUND: The exclusive AFM Audio Force Modulation technology creates vibrational audio that intensifies every gaming and movie...
IMMERSIVE WIRELESS MEDIA EXPERIENCE: Chair incorporates wireless audio transmission, 2 speakers near the headrest and a 4 subwoofer in outer...
Pros
Integrated with Audio Force Modulation Technology
It comes with a separate subwoofer.
High-quality construction
Cons
Lacks optimal lower back support
---
Best Value Runner Up
When talking about the best gaming chair for the floor with a foldable design, the Giantex 360 Degree Swivel Gaming Chair is hands down the best pick to get for your living room or even for your gaming room.
This is one of the few foldable gaming chairs that come with a total of six different adjustable settings with a 6-position backrest. Additionally, the backrest comes with the recline option that allows you to adjust the recline's angle according to your needs.
Also, the chair's bottom features a sturdy and stable 360-degree swivel that enables you to move with flair and comfort like no other. The winning part of this chair is, hands down, the high-back design that relieves muscle fatigue and discomfort that many individuals complain about.
Despite being a floor chair, it does come with padded and comfortable armrests for an ergonomic setup. The backrest has a wavy design that blends according to the contours of your body. The foldable design is space-saving which makes it a perfect option for smaller spaces.
The chair offers comfort with its breathable mesh upholstery and adapts to the user's comfort and needs. The chair's insides are further integrated with a high-resilience sponge that doesn't sag with persistent usage over time.
Giantex 360 Degree Swivel Gaming Chair is Suitable for:
This rocking chair is perfect for individuals with limited space in their apartment and needs an option that comes with a space-saving design.
Sale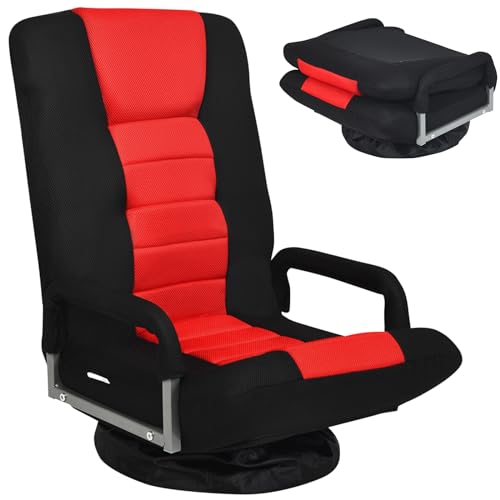 Giantex Floor Chair, 360 Degree Swivel Chair with...
【Adjustable 6-Position & 360 Degree Swivel】: Our floor chair is designed with a 6-position adjustable backrest, allowing you to find the...
【Ergonomic High Backrest Design】Our high backrest provides exceptional support for your tired body, relieving back muscle fatigue and...
【Foldable Design that Requires No Installation】Our gamer chair requires no assembly, allowing you to use it right out of the box. When...
Pros
Multiple adjustable backrest inclines
Space-saving design fits in anywhere.
Relieves back pain and muscle fatigue
Cons
Not the best for extremely tall users
---
Best Budget
Whenever it comes to talking about a swivel chair or rocker chair for gaming purposes, the one thing that everyone is skeptical about is the price range. The Best Choice Products Multipurpose 360-Degree Swivel Gaming Floor Chair takes care of that worry and is available for a very affordable price.
Not just a standard gaming chair, this one is a multipurpose option that you can use for playing games and also for watching your favorite shows around. It is integrated with an adjustable back cushion that offers optimal lumbar support.
The fold-to-store design comes in handy when you don't have a lot of space around in your place and need a gaming chair for your game room. The foam padding further adds more comfort and firmness to the structure of the chair.
The upholstery is made with removable and high-quality polyester material that wraps around the chair's padding and heavy-duty steel frame. The bottom of the chair features a 360-degree swivel that offers comfortable movement.
Best Choice Products Multipurpose 360-Degree Swivel Gaming Floor Chair is Suitable for:
This gaming chair is ideal for individuals looking for a foldable gaming chair with an affordable price range. It is also amazing for those who want a multipurpose chair that they can use to watch TV and just for lounging.
Sale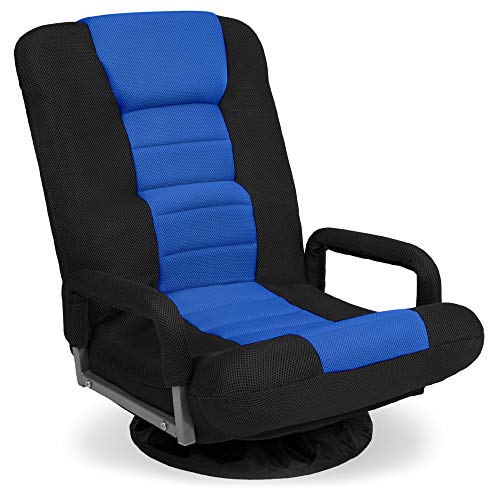 Best Choice Products Swivel Gaming Chair 360 Degree...
MULTIPLE ADJUSTABLE POSITIONS: Enhance your experience with six different positions so you can sit, relax, recline, and more on a stylish...
MULTIPURPOSE: Experience your favorite shows, games, or books with the added support of padded armrests that double as handlebars for easy...
FOLD TO STORE: Control your entertainment space; adjustable back cushion folds onto the padded seat for low-hassle storage when not in use
Pros
Durable steel frame construction
Upholstered with comfortable and breathable polyester material
Compact design for easy storage
Cons
Warranty period is only 60-days.
---
Best Budget Runner Up
Last on the list of the best floor rocker chair for gaming, and other purposes are the WAYTRIM 360-Degree Swivel Gaming Floor Chair. With a high-end weight capacity of 300 pounds, this chair does stand out concerning the quality and the overall construction.
This chair's highlight is the 360-degree swivel option that allows you to move comfortably and with more flexibility. The round metal base of the chair offers more stability and comfort than any other. This is not one of your bean bag chairs, so don't confuse that for the same.
The chair is backed with multiple adjustability options with recline features between 50-90 degrees of movement for the back support. It fits your spine and moves along with your body's contours to prevent the risks of stiffness and discomfort.
This gaming chair's overall design and upholstery are made with mesh upholstery with a separate lumbar design pillow for all the comfort that you need in a chair while enjoying your favorite games. The insides of the chair are filled with sturdy and firm elastic sponges.
This gaming chair's fully-foldable design makes it space-efficient and perfect for smaller rooms where you don't have a lot of space to work around. The separate storage cup design in the chair is another positive factor about this chair.
WAYTRIM 360-Degree Swivel Gaming Floor Chair is Suitable for:
If you are particularly looking for a comfortable and budget-friendly gaming chair that you can use for extended hours of gaming, this is the best option you can look into.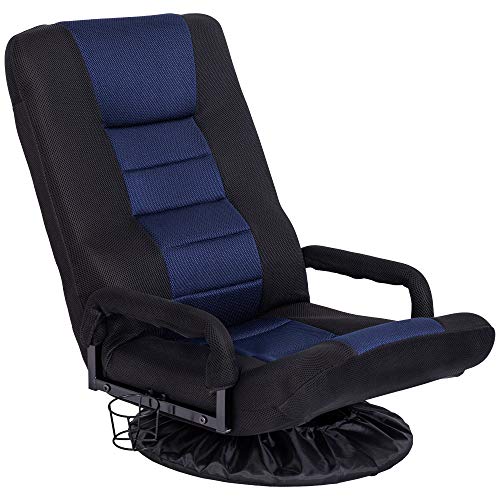 WAYTRIM 360-Degree Swivel Gaming Floor Chair with...
【360-degree Swivel Gaming Chair】Equipped with 360-degree swivel base, the round metal base increases the stability of the video game...
【5-position Adjustable Back Positions】WAYTRIM convertible floor single sofa can be fully adjusted and firmly fixed in 5 positions from...
【High-quality Materials 】Mesh polyester cover fabric, very breathable, added lumbar pillow design, more comfortable. High-quality steel...
Pros
Stable and comfortable design
Made with mesh upholstery
Space-efficient design
Cons
The design is on the smaller side.
---
What to Consider before Buying a Foldable Gaming Chair?
If you haven't considered buying a foldable gaming chair before, the chances are that you wouldn't know what is good and what is not. I'd always suggest that you look for a multipurpose option that you can play your video game on, lounge around and also watch your favorite TV shows.
While I have sorted you out with the list of the best console gaming chairs with foldable designs and multiple color options, you must familiarize yourself with the buying guide too.
Dimensions
The most crucial factor worth considering is the dimensions of the chair. You need to consider the shape and size of the chair along with your height as well. You want to invest in an option that will accommodate you and provide you with the comfort you need. Check for the adjustable and pedestal design as well.
Comfort
It goes without saying that any rocker chair you invest in needs to be comfortable. You can't expect to play your game on the chair for extended periods if you are not even comfortable sitting on it for a few hours, along with proper lumbar support. When it comes to the comfort factor, you need to invest in the ones with breathable upholstery and enough padding inside the chair. You also want to invest in an option that can support your back and won't make you regret sitting on it for longer hours.
Price Range
Gaming chairs, in general, are expensive. So, when looking for a multipurpose foldable gaming chair for console gamers, you need to consider the price range. I have ensured to provide good picks for everyone, despite their budget. However, you want to buy one that is worth the price and includes all the features and functions you are likely looking for.
Assembling
If you are buying a gaming chair online, the chances are that it will come disassembled. Try and pick the ones that come with easy assembling features and won't make you sit around and seek professional assistance. The X Rocker gaming chairs are the easiest to assemble, especially because of how easy the instructions are.
Gaming Features
A few of the foldable gaming chairs mentioned above in the list are backed with a range of gaming features that make it a superior purchase. There are audio speakers and multiple gaming enhancement functions that you need to consider before making the final purchase. Also, make sure that you invest in an option that fits right into the aesthetic of your home.
Conclusion
With so many different types of gaming chairs available in the market, the gaming chairs are gaining rampant popularity, all thanks to the ergonomics and the modern-day design of the chairs. If you are on the lookout for the best foldable gaming chair, I'd suggest you pick the X Rocker Pro Series 2.1 Foldable Video Gaming Chair as the primary option, given how amazing the chair's functions are. Not only do you get to enjoy the comfort it brings, but it also enables you to have the best gaming experience for longer hours without putting excess pressure on your body.