If you have hardwood or carpeted floors in your office, the chances are that scratches on the floor are your biggest nightmare. So, it goes without saying that once you have picked out the best office chair, you must consider buying one of the best office chair mats too. The majority of these mats are not just to protect your hardwood floors, but they also work in relieving the strain off your feet.
However, choosing the best office chair mat for your workspace can be confusing, especially because of the market's available options. There are glass office mats, and there are the standard polycarbonate ones.
Whatever your end goal with a chair mat is, you must find the ideal option that accentuates your office's look. I have sorted through the internet to bring you a list of the best office chair mats you can consider buying.
Table of Contents
Best Office Chair Mats
Factors to Keep in Mind before Buying an Office Chair Mat
How to Maintain your Chair Mat?
Best Office Chair Mats
Best Overall
If you are on the lookout for the thickest office chair mat in the market, you can blindly rely on the Muarts Thickest Chair Mat For Hardwood Floors. The mat is constructed with PVC and Vinyl's combination and weighs around 9lbs, making it easy to carry around.
Despite the thicker plastic construction, the exterior of the mat looks like high-quality glass and has a crystal-clear finish that you'd enjoy having stacked away in your home. It has a 1/8 thickness, which is enough for you to have your office chair placed on it without any breakage risks.
This chair mat is ideal for hardwood floors and if you have hard rolling casters that leave behind scratches on the surfaces. The heavy-duty yet pliable material of this chair mat makes it slip-proof, thereby reducing the risks of slipping off of the mat.
The flat and crystal-clear surface looks stunning on the hardwood floors and blends in well with the room's aesthetics. It is extremely durable and comes with an extra sturdiness that holds its stance on the floors without any risks.
Muarts Thickest Chair Mat For Hardwood Floors is Suitable for:
This chair mat is ideal for users looking for a thick and high-quality option that mimics a glass chair mat's look and feel.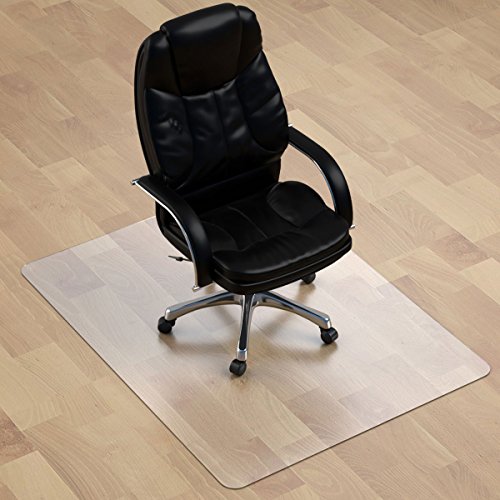 Thickest Chair Mat for Hardwood Floor - 1/8" Thick 47"...
Specifications: 47inch x 35inch x 0.125inch (length x width x height), weighing about 9LB. the thickest and heaviest compared to other...
Transparency: As crystal-clear as glass, the hard floor texture can be clearly seen through this 1/8 thick chair mat.
Delivered in a compact roll format: because it is too thick and too heavy, it can quickly restore flat, allow up to 72 hours for mat to...
Pros
Made with thick and high-quality materials
Heavy-duty and pliable material
Soft anti-slip material
Cons
It doesn't stay still as it claims
---
Best Overall Runner Up
Evolve is a brand that caters to the high-end market even with a budget-friendly price point when it comes to office chair mats. Amidst all their available options, the Evolve Modern Shape Mat is one of the most popular products.
It is a modern-day rectangular-shaped chair mat with a sturdy grip. This feature makes this office chair mat ideal for the minimally carpeted floors for providing optimal protection against damage to the floors.
The mat is quite thick and covers a large surface area, enough for you to accommodate your office chair with ease. This chair's transparent and clear look is again a reason enough for you to add this to your office's workspace.
The mat's rectangular shape is perfectly accommodating for the legs, offering extra protection to your floor from the worn-out wheels. The only downside to this product is that it comes flat-packing, making it a little hard to handle initially.
Evolve Modern Shape Mat is Suitable for:
If you are looking for a high-end office chair mat that provides optimal quality durability and sturdiness, this is the best available option.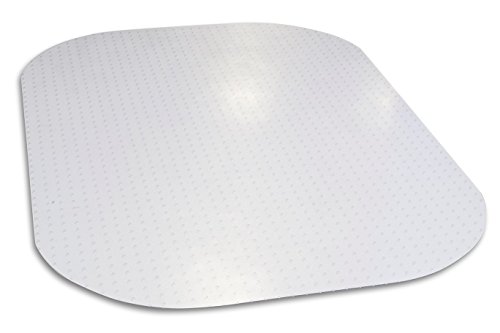 Evolve Modern Shape 45"x 60" Clear Rectangle Office...
The only chair mat specifically designed for today's 5-star wheel base chairs.
Features a rectangular design and gripper backing to protect low-medium pile carpet.
Proprietary material formula is engineered to provide industry-leading performance and clarity.
Pros
Has a large surface area coverage
Durable and optimal protection against damage
Modern-day transparent design
Cons
It comes in a flat-packed design.
---
Best Value
If you are tired of coming across the transparent office chair mats and want to add more depth and character to your office space, the Sallous Upgraded Office Chair Matis a good alternative. This upgrade version of the chair mat is made with polyester material, unlike the other market options.
The non-slip backing holds the office chair in place and prevents the risks of accidents or slipping. The chair mat's color is fadeproof and doesn't curl around, which is always great too. The mat's surface is designed with a durable pile carpet finish that adds to the quality further.
This chair mat's primary objective is to protect your hardwood floors, keep a check on the wheels, and prevent them from wearing out over time. The product is rolled and shipped, leaving behind creases that you'd have to flatten out with some heavy object on four ends.
Despite how it is shipped and sent to the customers, it doesn't lose its adsorption effect, ensuring the best for your low pile carpet and the enhanced aesthetics of your room. It is one of the few office chair mats that is backed with a 1-year warranty.
Sallous Upgraded Office Chair Mat is Suitable for:
If you are not on the lookout for the plain transparent chair mats and instead want to invest in the ones with a pile carpet-like design, this is the best option.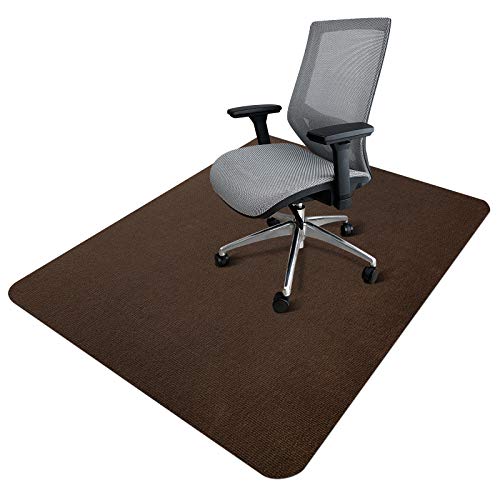 Office Chair Mat, Upgraded Version - SALLOUS Hard Floor...
【Upgraded Version & Premium Quality】The desk mat (size: 63"x51") is made of 100% polyester fibers and non-slip backing, no creases, no...
【Non-Slip & Move with Ease】The chair mat is made of upgraded version adsorbed material, ultra non-slip, and the surface is a soft...
【Effectively Protective Floor】The floor mat prevents wear and tear on your chair or desk, while protecting hard floor surfaces such as...
Pros
Designed with a non-slip backing
Backed with a 1-year warranty
Available in multiple color options
Cons
Not nearly durable as one would expect
---
Best Value Runner Up
Often considered the most heavy-duty chair mat in the market, the Gorilla Grip Premium Polycarbonate Studded Chair Mat is one option that you can ideally use for hard wood floors and pile carpet options.
It stands out in multiple prospects of quality, pricing, and also durability. It is not just in terms of the material, but it is the thickest product available in the market. The chair mat's thicker design holds the office chair in place so the wheels won't sink in.
Also, this chair mat's studded design makes it ideal for the medium to low pile carpet. The mat's front lip extends beyond the surfaces of the mat's rectangular shapes, protecting your desk and providing extra coverage.
The 100% polycarbonate material of this chair mat blends in well with your room's aesthetics and keeps your floor protected from the wheel casters. This chair is ideal for individuals who spend most of their day sitting on their office chairs.
Since the product is made with non-breakable materials, including polycarbonate, it ensures the product's extended durability without any hassle. The elongated design of the mat makes it suitable for you to slip under the desk as well.
Gorilla Grip Premium Polycarbonate Studded Chair Mat is Suitable for:
If you are looking for a heavy-duty office chair mat with long-lasting durability, especially for overweight and obese individuals, the Gorilla Grip Premium Polycarbonate Studded Chair Mat is the best option you can take a look into.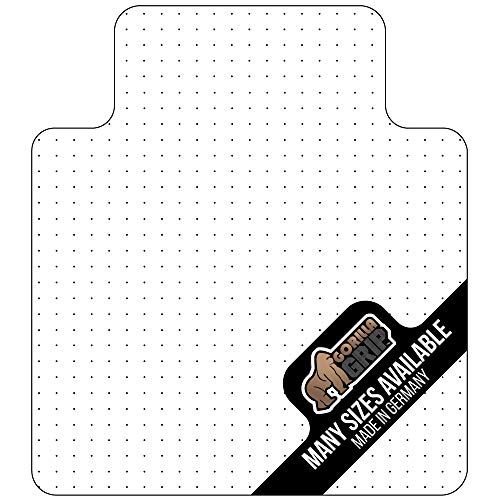 Gorilla Grip Desk Chair Mat, No Divots, Rolling Chairs...
Easiest Gliding: made in Europe and constructed from heavy duty material, this chair mat allows your chair wheels to glide seamlessly on top...
Slip Resistant Design: this mat is uniquely designed to stay in place on your low pile rug; featuring a studded, spiked underside, it stays...
Won't Bend or Crack: this European made design is incredibly durable and meant to last for years; at over 3 millimeters thick, it won't...
Pros
Made with durable and 100% polycarbonate material
Designed with an extra-coverage area to slip under the desk
Ideal for medium and low pile carpet areas
Cons
It doesn't stay put sometimes
---
Best Budget
When looking for office chair mats, the chances are that you need to invest in options that are suitable for hardwood floors. That is what the majority of the users look for. Not just for your office chair, this office chair mat is also ideal for gaming chairs too.
The chair mat is designed with durable and high-quality, and upgraded polyester material that gives it a soft and carpet-like design. The mat also comes with an anti-slip rubber bottom, which is water-resistant and flame retardant as well.
This chair mat is ideal for home office settings with low pile carpet more than the office spaces. This chair's anti-slip design holds itself in position and lasts for years without any issues at all. The heavy-duty mat sustains the pressure from the wheel casters, preventing the risks of damage and scratches.
The chair mat comes with a dimension of 47×35 inches, which makes it ideal for every standard office chair. It is available in two different color options and a simple design that blends in well with your room's design.
The office chair mat is constructed with good-quality, safe, and BPA-free material that is safe for human use and long-lasting. Not only does it reduce the risks of waste, but it also makes the product highly durable as well.
Gtracing Office Chair Mat is Suitable for:
If you want the best quality office chair mat within a budget-friendly price, this is hands down your best option, especially if the customer reviews are anything to go by.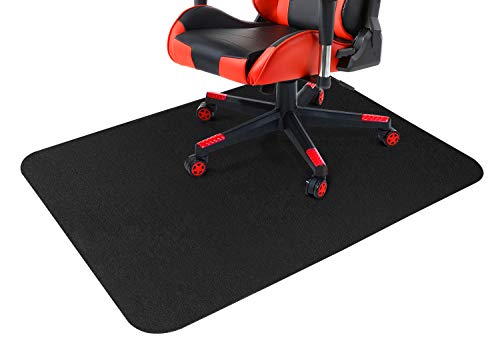 GTRACING Office Chair Mat for Hardwood 47 x 35 inch,...
Hard Floor Protection: This mat is designed for office and gaming chair. It protects your hard floors from all types of marks or scratches....
Premium Quality: Made of upgraded high quality materials with durable, tough design. The polyester fiber top is soft and carpet-like; the...
Anti Slip Steady: The slip resistant bottom design provides stability and holds the floor mat firmly in place. The surface allows your chair...
Pros
Heavy-duty material to sustain better durability
BPA-free material
Long-lasting and anti-slip design
Cons
Not the best for wooden flooring as it slips
---
Best Budget Runner Up
Last on the list of the best chair mats for the hard floor is the AiBOB Office Chair Mat. Not only does it protect your floor from scratches and damage, but it also protects the chair's wheel casters against damage in the long run.
The mat uses phthalate and BPA-free material that is ideal for indoor use as well. The material is made with 100% polyethylene that makes this the best one in the market. It is available in a unique style with an extended lip.
The rough and friction-induced surface texture allows you to move the chairs with ease on the hard floor without risking accidents and slipping. Ease of movement enables you to have an ergonomic posture and reduces physical fatigue risks that many struggle with.
This chair mat's surface is extremely durable and sturdy that prevents the risks of cracks and shattering. This mat's solid build enables the office chair to glide along smoothly across the mat without any damage.
While there are no separate mentions of the product's warranty, it is backed with a 60-day return policy that allows you to return the mat in case you aren't satisfied with the quality.
AiBOB Office Chair Mat is Suitable for:
This is one of the best mats in the market if you are looking for an option for the hard floor only. It is not ideal for vinyl or concrete floors.
Sale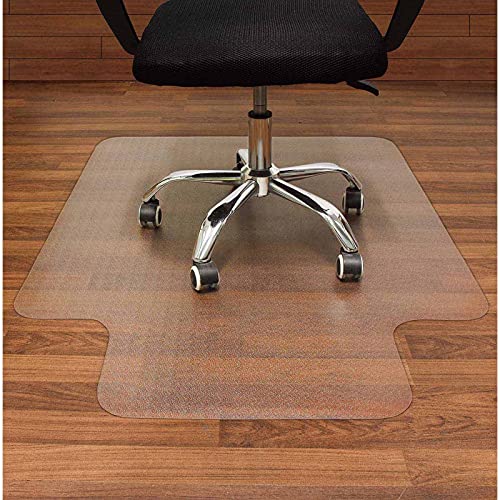 AiBOB Office Chair Mat for Hardwood Floors, 36 X 48 in,...
PERFECT FOR HARD FLOORS: Protect your flooring from scratches and dust of any kind with this perfect office floor mat for hardwood floors,...
SAFE FOR YOUR HOME: The chair mat is no BPA & phthalate for a healthy indoor environment. It is 100% pure polyethylene chair mat. Rest...
EFFORTLESS ROLL STABLE GRIP: The unique surface texture allows your office chair casters to move easily while carrying out daily tasks, but...
Pros
Prevents accidents and slipping
Made with 100% polyethylene material
Promotes ergonomic posture and design
Cons
Not suitable for every floor type except the hard floor
---
Factors to Keep in Mind before Buying an Office Chair Mat
If you are a novice when it comes to buying an office chair mat, the chances are that you need to keep a few important pointers in mind. While I have sorted out the best picks from the market, having an idea of the basic buying guide helps you choose the best mats according to your needs.
Consider the Dimensions
When buying a mat, you need to consider the shape and sizes of the mat and the floor space you have in your office. There is no point in investing in a product that takes up more than half of the space in your office and then restricts your movements. So, instead, find the one that will fit right into your floor.
Consider the Floor Surface
Another factor worth considering before buying a chair mat is the type of floor surface you have. There are specific types of options that work with the different floor surface. So, depending on the floor type, you can find the mat that would blend in and stay put on the surface.
Consider the Level of Usage
This is extremely crucial to consider, especially if you have a habit of moving around the office on the chair. In such cases, you need to invest in an option that is durable and can sustain the chair and the user's weight without breaking into two halves.
How to Maintain your Chair Mat?
Just buying the best chair mat isn't enough to experience a comfortable user experience in the office. You need to maintain the quality and the build of the chair too. Observe the following guidelines if you want to keep the mat in optimal condition for extended periods.
Use a damp sponge or cloth with a little soap to clean the mats instead of using a mop or something harsh.
Ensure that you unroll your mat immediately after it arrives instead of letting it stay rolled up in the box. This is especially important for the ones made with vinyl and polyethylene material.
Avoid keeping your mat around areas with extreme fluctuating temperatures.
Avoid keeping the chair mat around in the spaces where there's a risk of moisture accumulating underneath the mat.
Conclusion
Office chair mats are perfect for you to protect your hardwood and the other floor types from the constant rubbing against the caster wheels. With so many variants available in the market, finding the best one for your needs can be a little challenging. If I had to suggest the best one around, the Muarts Thickest Chair Mat For Hardwood Floors is the superior option among all the other markets.