If you have a high-quality office chair, the chances are that moving around the room can leave dents and scratches on the hardwood floor. It is widespread for that to happen, so it isn't surprising that people are now looking into good alternatives to prevent that from happening.
Glass chair mats are one of the best options for such situations. Not only do they add a sleek and premium look to your workspace, but it also spices up the overall comfort for the user. The best glass chair mats will enable you to move around the room with ease without putting any excess strain on your back and limbs.
In this guide, I will share a list of the best glass chair mats that you can consider buying for your office.
Table of Contents
Best Glass Chair Mat – Reviews
FAQs
Best Glass Chair Mat – Reviews
Best Overall
Just like the name of the product suggests, the Clearly Innovative Store Glass Chair Mat has a unique design and tempered finish that is ideal for your home office. This is the only glass chair mat in the market that comes with the patented 1″ beveled edges for easy mobility of the office chair.
The heavy-duty curved-edge design of the glass chair mat carries the office chair's weight and the user evenly, thereby preventing the risks of cracking and breaking. Also, the visually transparent design gives your hardwood floors a premium look.
This tempered glass chair mat is designed to support all office chairs and has a maximum load capacity of 1000 pounds, which is pretty insane. It protects your floors from scratches and scuffs left behind when you are rolling around on your chair.
The ergonomic design of this glass mat enables you to stay static in your position without worrying about slipping on the chair. The material used for making these mats are sustainable. They are made using renewable natural silica sand.
This material is not just odor-free; it is also non-toxic and doesn't contain any harsh chemicals that you'd normally expect in a glass mat. Thus, the manufacturers are extremely conscious of every product they are investing in, ensuring that it is eco-friendly and sustainably sourced.
The product is backed with a limited lifetime warranty that assures that your investment will be well worth it for life. Their customer service is on-point, meaning that you wouldn't have to worry about contacting them if something doesn't seem right.
Clearly Innovative Store Glass Chair Mat is Suitable for:
This is one of the best glass chair mats that work well for individuals looking for an option with more weight capacity they can sustain over time.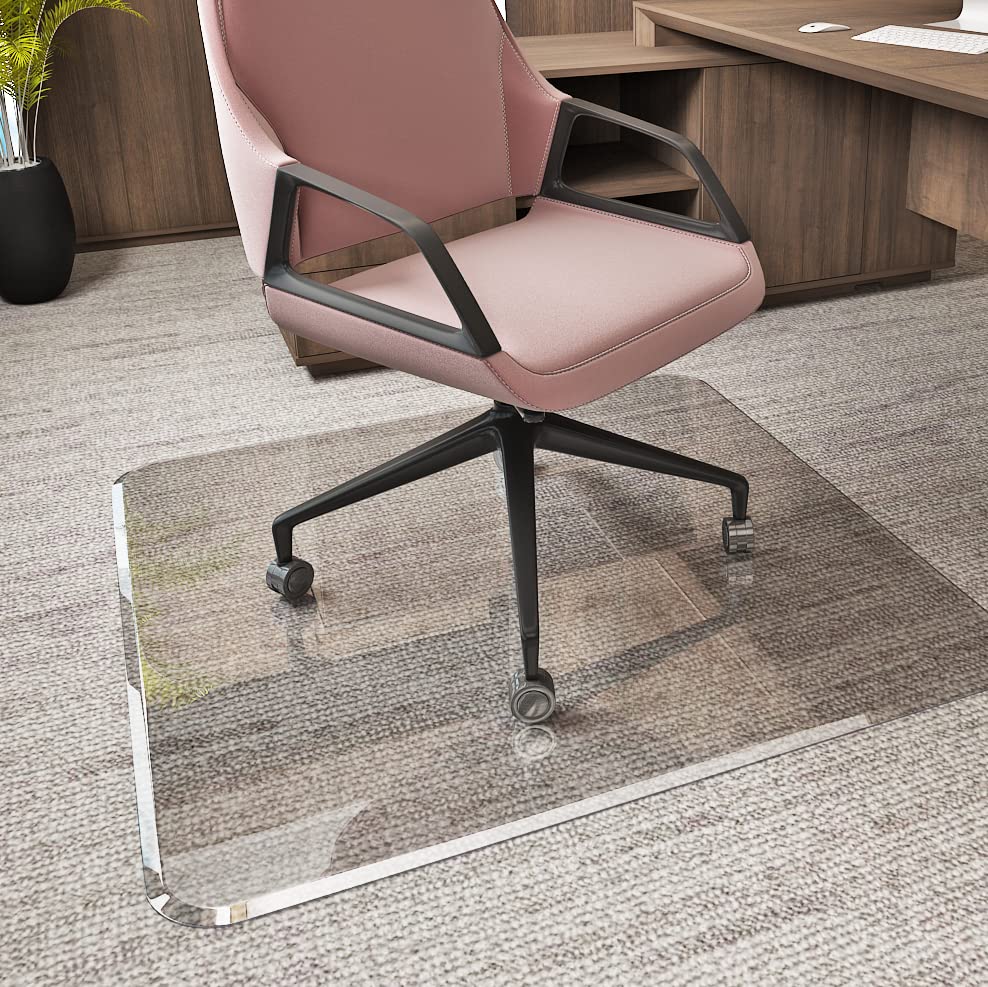 45" x 53" Glass Chair Mat with Exclusive Beveled...
𝐁𝐄𝐕𝐄𝐋𝐄𝐃 𝐄𝐃𝐆𝐄 ● The ONLY Glass Chairmat with Exclusive Patented 1 Inch Beveled Edges to Easily Roll your...
𝐂𝐋𝐄𝐀𝐑𝐋𝐘 𝐈𝐍𝐍𝐎𝐕𝐀𝐓𝐈𝐕𝐄 ● Stylish Tempered Glass Chair Mat with a maximum capacity of up to...
𝐄𝐂𝐎 𝐅𝐑𝐈𝐄𝐍𝐃𝐋𝐘 ● Made from Rapidly Renewable Natural Silica Sand that is Odorless, BPA-Free, and...
Pros
Designed with a patented beveled design
Made with sustainable materials
Backed with a limited lifetime warranty
Cons
The product itself is quite heavy and bulky.
---
Best Overall Runner Up
Next on the best glass chair mat is the American Floor Mas Store Premium Glass Chair Mats. Measuring 40×60″, this glass mat fits perfectly under your office chair, enabling you to have a comfortable glide through the office floor without any obstructions.
Like the previous one, even this variant is backed with safety beveled edges and can sustain up to 1000lbs weight capacity on top of it. Given that it is made of tempered glass, it is assured with heightened durability for years of use.
It is ideal for any kind of floor you have in your home office, be it hardwood, tile, or even cement floors. They lay down well on carpeted floors as well. The glass chair mat has a very detailed finish and is made of high-quality and non-toxic materials.
American Floor Mas Store Premium Glass Chair Mats is Suitable for:
This chair mat is ideal for users looking for a versatile option to lay down on any flooring they have.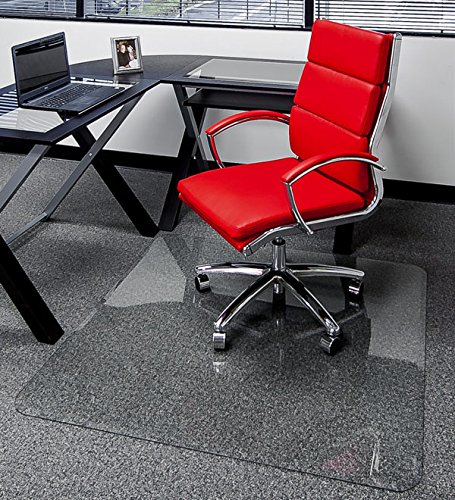 Pros
Secure and safe beveled design
Durable and tempered glass finish
Made with non-toxic materials
---
Best Value
When talking about glass office chair mat, the Lorell Tempered Glass Chairmat is one of the bestselling products. It is one of the original brands that came out with the first chair mats made out of glass to support the best quality office chairs.
It is available in three different size variants that you can individually choose from. There is a small 36″ option, and the largest one measures 60″ and is ideal for larger office rooms with carpeted flooring. The chair mat features a curved design that makes it safer for people to use.
The durable construction of the glass mat ensures a heightened weight capacity of up to 1000lbs, which is commendable, especially for the reasonable price point it comes with. The design is made with scratch-resistant material, which further contributes to its longevity.
If you are worried that the wheel casters will leave behind permanent marks and scratches on the chair mat, you wouldn't have to worry about the same with this one at all. It comes with an easy to clean design wherein a single wipe with a damp cloth with glass cleaner is enough to eliminate the stains.
It is suitable for any floor type and comes with a lifetime warranty, which is another primary reason behind its growing popularity.
Lorell Tempered Glass Chairmat is Suitable for:
If you are on the lookout for the best quality glass chair mats for your office setting within a reasonable price range and unbeatable quality, this is your best bet.
Sale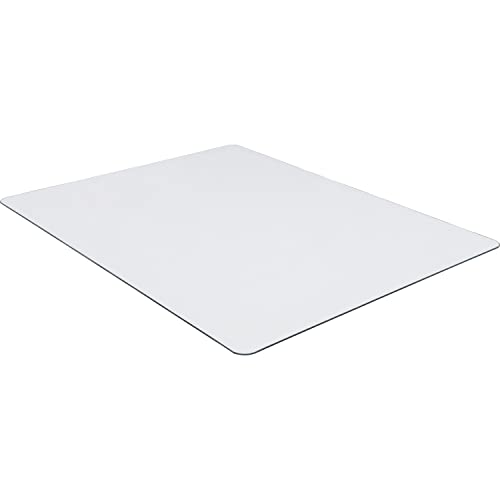 Pros
Durable construction for enhanced longevity
Reasonable price point
Scratch-resistant material
Cons
The chair sometimes moves too fast.
---
Best Value Runner Up
Touted as the best glass office chair mat by Amazon, the Floortex Glaciermat is known for its design and premium look. Unlike some of the previous options, this one is made from high-quality reinforced glass for extended durability like never before.
It has a uniform and flat design that lays out well on every kind of floor, including carpeted, hardwood, or tiled ones. The unbendable design with the ergonomic surface top of the glass mat ensures easier movement across the glass mat without any obstructions.
The chair can easily sustain up to a combined weight capacity of 1000lbs, including the weight of the chair and the user. The sturdy reinforced glass is resistant to cracks and breakage and doesn't dent when moving on it.
The glass is scratch-resistant, meaning that you wouldn't have to regret leaving marks on the glass after a few days of usage. It is ideal for protecting your home or office's floor from getting scuffed from the wheel casters in your chair.
It is one of the few glass chair mats that is backed with a 10-year limited warranty. The mat does add a very premium look and feel to your workspace that you will love working around.
Floortex Glaciermat is Suitable for:
This glass mat is ideal for users who want to invest in an easy to clean and highly durable option that they wouldn't have to worry about replacing for years.
Sale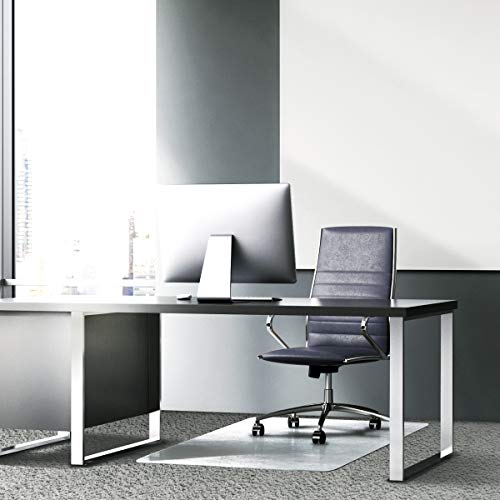 Pros
Ideal for all floor types
It has a uniform and flat design.
Scratch-resistant and easy to clean
Cons
Size often varies and runs small.
---
Best Budget
If you want to accentuate your office's appearance and want to invest in plastic chair mats with a glass finish, the Lmuar Office Chair Mat is the best option. This one is made with polyvinyl chloride, ensuring enhanced durability like no other.
It is ideal for hard floors and has a short, low pile carpet. The clear and transparent design adds a very premium look to the office space, giving it a fancy look. It is effortless to clean, meaning that you wouldn't have to sit around and scrub it roughly to get the stains off.
The durable PVC material can easily withstand up to 1,000 pounds without imposing the risks of cracking or breaking down the middle. This ensures to provide the users with uniform protection throughout the year.
This is one of the office chair mats designed with high-quality materials that are non-toxic and lasts for a long time without leaving unnecessary and toxic fumes. Even the edges of the chair mat glass are polished to leave a soft and curved finish.
Lmuar Office Chair Mat is Suitable for:
If you are looking for an affordable office chair mat ideal for hardwood floors, this is hands down the market's best option.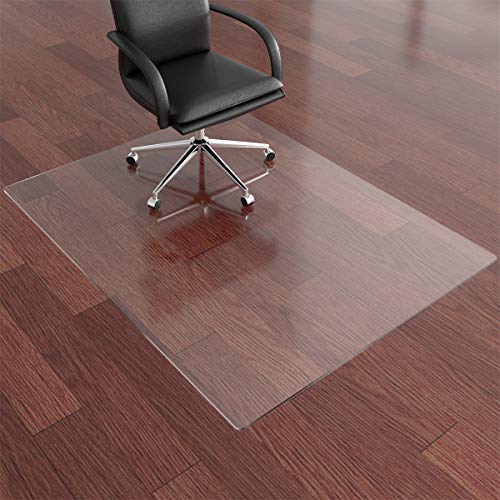 Lmuar Office Chair Mat for Hardwood Floor...
[Hard wood floor mat]: Suitable for hardwood floor and short low pile carpet. high pile carpets are not recommended. Fully transparent, you...
[Thick and stable mat] 47 "x 35" x 0.125 "(L x W x H), weighing about 9 lbs. Compared with other hardwood chair mat of the same size, they...
[Transparent design office chair mat] One impressive feature of this mat is, it will not sacrifice the aesthetic appeal of your floor while...
Pros
Affordable price range
Can withstand up to 1,000 pounds
Made with non-toxic and durable material
Cons
Does leave behind permanent scratches sometimes
---
Best Budget Runner Up
Last on the best plastic mats for office space is the MuArts Heavy Duty Hard Chair Mat. Not only is it durable and the perfect office accessory, but it also provides your office chair wheels with the support it needs to move around the room seamlessly.
The upgraded design of this plastic mat is perfect for a heavy-duty finish like no other. The mat itself weighs around 14lbs and can easily work well on the carpeted and hardwood floors. It is a lot more durable compared to traditional glass mats.
The mat is around 0.2″ thick and is made from a non-toxic and odorless special material that ensures a long-lasting finish like no other. It can also sustain up to 1200lbs weight capacity, meaning that it is ideal for everyone around.
Every purchase from the brand is backed with reliability from the brand, and you get up to a 12-month warranty. Even their after-sales service is on point.
MuArts Heavy Duty Hard Chair Mat is Suitable for:
If you are on the lookout for a glass-like plastic hard chair mat for your office floors, this is the best bet. Also, it has one of the highest weight capacity even with the affordable price range.
Sale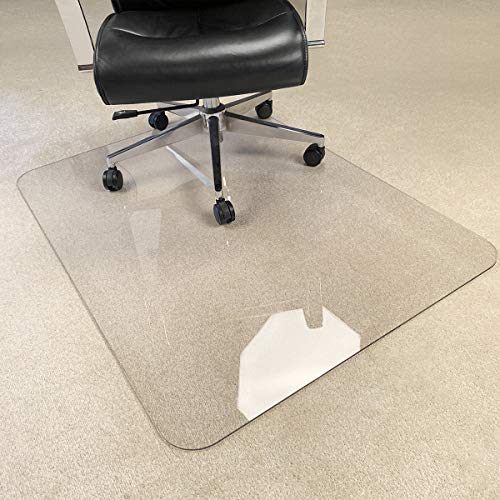 [Upgraded Version] Crystal Clear 1/5" Thick 47" x 35"...
Specifications: 47inch x 35inch x 0.2inch (length x width x height), weighing about 14LB. the thickest and heaviest compared to other chair...
Dual Purpose: Suitable for carpet or hard floor, it is made of hard material, and it cannot be folded or curled, completely flat, similar to...
Transparency: As crystal-clear as glass, the hard floor or carpet pattern can be clearly seen through MuArts upgrade version chair mat.
Pros
Heavy-duty finish
Ideal for every kind of floor
Made with non-toxic and odorless material
High weight capacity
---
FAQs
Why do You Need Glass Chair Mat?
If you are confused why some of the leading offices have glass chair mats, it protects the floor from scratches and scuffing from the chair's wheels. They also help reduce the risks of pain and joint aches by ensuring the chair's smoother movement across the room.
What to Do to Prevent Glass Mats from Sliding on the Floor?
Since glass is so smooth and slippery, the chances are that keeping your glass mats on the floor might not stay as static as you want them to. In such cases, you can put a non-slip rubber underlay beneath the glass sheath.
Conclusion
There is an abundance of glass office chair mats available in the market catering to varying needs of durability and budget. If you are particularly looking for the best one for you, we'd suggest you look into the options that I have shared above. However, if you ask me to suggest the best pick, I'd suggest you spare a little more money and pick the Clearly Innovative Store Glass Chair Mat for a smoother and durable user experience.