Best Overall
Ergohuman High Back Swivel Ergonomic Office Chair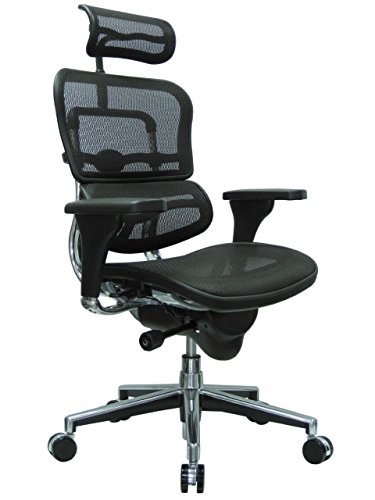 Best Value
Hbada Ergonomic Office Chair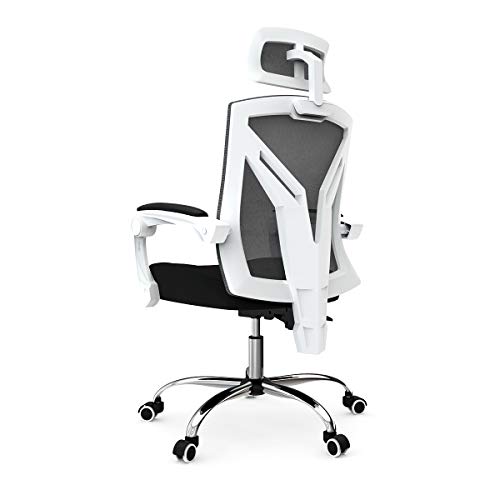 Best Budget
Royaledirect Racing Style Gaming Ergonomic Chair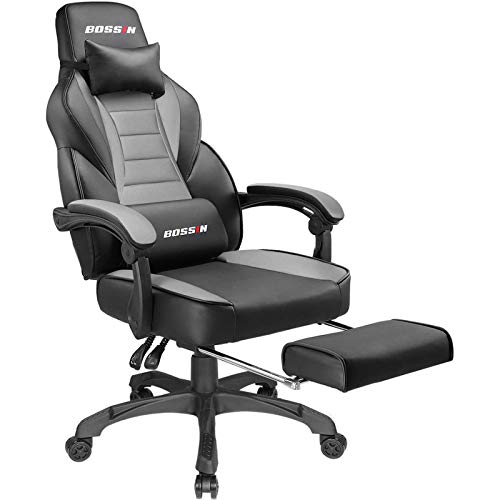 Coding is a tough job and something that needs extreme focus. As such, it is not rare for programmers to stay sitting for a few hours on a chair, in front of the computer, and not even realize it. 
Oh wait… sometimes they can't help but realize it given the chair is really uncomfortable. Not only making it harder for them to concentrate on the work but also making them feel extreme discomfort.
So for programmers or any other office workers, who need to work long hours in front of a computer, the importance of having the right chair to sit on while working is that much more. And not just for the sake of work, but also health. 
We can't work unless we are healthy, and the wrong chair can affect our health to a great degree. And looking at how common back pain, lower back pain, and other issues are among the desk-workers, there is a need to pay greater attention to the chair in office that we sit on and how compatible it is to us.
Of course, this can be a tad bit hard when we think about the hundreds of different products out there, all claiming to be the best. Choosing the best chair for programmers, and choosing right can really be a tough task to accomplish. That is… if you don't have a helping hand, or as is the case here, a helping article!
So here I am with a list of six best chairs for programmers, all picked with extreme caution so that your work and life can be even a teensy bit more comfortable. Check these out, and maybe you will find that one chair perfect for you!
Best Chairs for Programmers
Best Overall
The Ergohuman High Back Swivel Ergonomic Office Chair is a great product for programmers, especially office workers and students, who spend long working hours sitting in front of their desks. The chair has a great back adjustment tilt-feature for adjusting its reclination. The cushions on the chair are soft and comfortable and provide good back support.
The headrest is soft and airy, thus enhancing the comfort of the product even further. The armrests are adjustable, thus can be adjusted according to the arm length and the comfort needs, which vary from user to user. 
Overall it is a pretty sturdy and comfortable product, which fits perfectly for all the people that spend long working hours sitting on their chairs. This chair is extremely comfortable and sturdy and can be used for home as well as office use. It is a complete steal for its high quality and its price. 
Ergohuman High Back Swivel Ergonomic Office Chair is Suitable for:
This chair is great for people spending long working hours in front of their desks; thus, the product needs to be sturdy and comfortable at the same time, for the lumbar support needs of young as well as aging office people.
This chair does exactly that as it provides great adjustable lumbar support, with reclining facilities in it. It also has a good headrest and good backrest for catering to all the comfort needs of the office employees.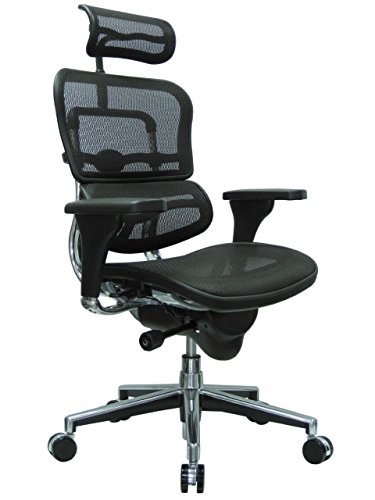 Eurotech Ergohuman High Back, Black Mesh Executive...
Ergonomic Lumbar Support: The Ergohuman mesh chair boasts a headrest, backrest, and curved lumbar support, allowing longer, more comfortable...
Premium Quality Materials: This chair is a great asset to your business, workspace, gaming, or home-office setting. The full mesh is made of...
Wide Adjustment Range: Customize arm, headrest, and seat height and depth. It allows reclining the seat angle and locking the tilt function....
Pros
Good ventilation is provided, as the chair has mesh support, which is soft and comfortable to sit on.
It provides soft and good headrest.
The high quality build of the mesh, as well as the fabric of the seat, is great.
It comes with a lot of adjustable features.
Cons
The adjustable armrest could have been smoother and more adjustable, as it has a rough feel to it.
The reclining ability is limited, and one cannot recline more than a few inches; thus, this is not a product where one can recline and sleep.
The mesh, even though airy, rubs against your back and gets uncomfortable after a point.
---
Best Overall Runner-Up
The Steelcase Leap Ergonomic Office Chair is one of the best chairs for programmers, students, and office workers out there in the market. This chair is shorter in its height and built as compared to the Ergohuman High Back Swivel Ergonomic Office Chair and its competitors but makes up in the comfort and utility department. The soft and comfortable back cushions provide comfort throughout the day. 
The lumbar support is sturdy and flexible, with the ability to recline, which gives people the ability to stretch their back as and when they feel a strain. Further, its compact size is a huge advantage, as it is light and compact, making it easy to move from one place to another. 
In addition to that, this product is made of up to 98 percent recyclable material; thus, it is extremely environment friendly, and by purchasing this, we, in turn, support the initiative.
Thus might it be a student doing his/her online classes, a programmer coding throughout the day, or a middle-aged office employee working on his desk throughout the day, the comfort and compatibility will be the same for all. 
Steelcase Leap Ergonomic Office Chair is Suitable for:
This chair is suitable for programmers, students, office workers as well as for home use for people of all ages. This chair has a compact and comfortable frame, which is reclinable and adjustable, thus caters to the needs of people of all sizes and age groups. 
The chair is made up of recyclable material, yet has a strong and sturdy built to it and does not sacrifice in the comfort department.
Sale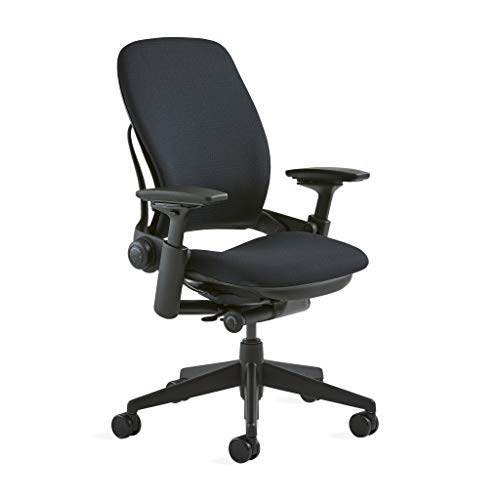 Pros
The built is strong, sturdy, and comfortable, which is beneficial for optimum usage.
The compact size makes it easy to shift it and use it in the desired location.
It has good back and lumbar support with adjustable reclination.
It is made of recyclable material, thus supports a good initiative.
It is value for money.
Cons
It does not have a headrest, which becomes an issue after long working hours.
It only reclines backward to a few inches, thus you can't rest properly for a long period.
It is unsuitable for really tall people.
---
Best Value
The Hbada Ergonomic Office Chair is not only visually stunning but also provides a lot of comfort to the person using it. It is easily one of the best looking chairs in the market today. Apart from its looks, the chair is also extremely comfortable in its use as it provides great lumbar support with a good amount of reclination for the backrest.
The cushioning of the seat is quite comfortable, and the built of the entire chair is quite durable. Gamers would love this chair as it is not only comfortable but also has a great design to it and available at an amazing price, which makes it a complete package for the people who are looking for good affordable options in the market.
The back mesh technology also gives it a good airflow and thus keeps the user fresh and comfortable even after several hours of usage. Thus overall, this chair is a complete steal for its quality and its price. 
The chair also provides the same look and comfort of any other chair in the market at a much lower price. The chair is of quite a sturdy build and can take a good amount of weight on it. This chair also provides a good amount of comfort and compatibility; thus, it is perfect for people who spend long working hours sitting in front of their desk.
Hbada Ergonomic Office Chair is Suitable for:
This chair is suitable for gamers, students, office workers, and also for day to day home use. The best part about the product is its exciting design, which can be used in multiple settings, thus enhancing its look.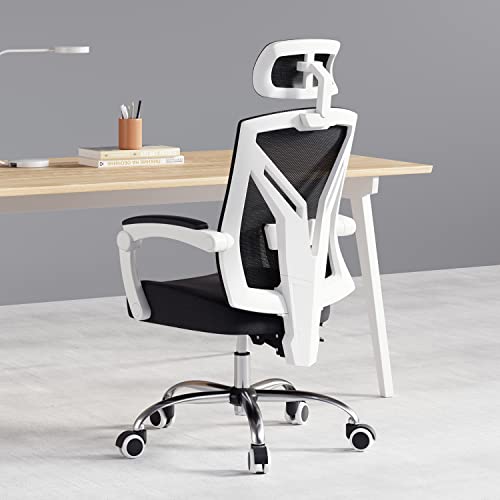 Hbada Ergonomic Office Chair High Back Desk Chair...
DOUBLE S ERGONOMIC - This office chair features Ergonomic-Human-Curve designed backrest and headrest which creates total spinal support. So...
STAY COMFY FOR 8 HOURS - Ergonomic mesh back allows air, body heat and water vapor to pass through, keeping away the buildup of heat and...
SLEEK & DURABLE - Based on Structural Mechanics Principles, this Minimalism style chair is well built and sure is a compelling seating...
Pros
It sports a great design and color, with a solid and sturdy built, which gives it an appealing look.
The breathable mesh support backrest gives good ventilation and optimum comfort.
It has a full reclining system with reclination ranging from 90 to 150 degrees.
It provides great lumbar support.
The chair is available at an extremely affordable price for the features that it offers, further adding to its appeal; meaning – great value for money.
Cons
The screws of the chair come off a bit loose after use giving it a wobbling sensation. (it can be tightened easily)
Handle adjustment is not particularly there, which makes it slightly inconvenient for tall users.
---
Best Value Runner-Up
The AmazonBasics High-Back Executive Ergonomic Office Chair is a great chair for daily office use as well as for use at home. This chair is padded with comfortable black bonded leather, which not only gives the chair a classy look but also optimizes in the comfort department.
The chair also comes with a 360-degree swivel, and has a great length and built quality to support the entire frame of an average man. The built of the chair is pretty strong and sturdy, with a seat height adjustment option accorded in it. 
Catering to the specifications of the person using the chair and conferring a classy and elegant look to your home or office setting while optimizing on the comfort department, it is a complete value for money. 
AmazonBasics High-Back Executive Ergonomic Office Chair is Suitable for:
This chair is used mostly for home or office settings. This chair is a perfect companion for a desk worker in the office or home, since the seat padding provided is extra cushioned, while the black bonded leather gives it a soft and comfortable feel to it. 
This chair can be used by all members and all age groups as it has a height adjustment option to cater to everyone's dimensions. 
No products found.
Pros
The black bonded leather gives the chair a professional look to it, along with adding to the feel and the comfort of the chair.
The pneumatic controlled handle in this chair helps to adjust the height according to the need and comfort of the user, thus enhancing the compatibility.
The chair is protected by a one year manufacturer's warranty.
The price is extremely reasonable as compared to its competitors.
Cons
The chair makes squeaking noises occasionally when you move back too much.
The chair is quite heavy.
The chair does not come with a reclining ability or head support, which is not ideal for relaxing.
---
Best Budget
The Royaledirect Racing Style Gaming Ergonomic Chair is one of the best gaming chairs available in the market. The chair has a PU leather skin, which gives it a nice look and makes it extremely durable. Along with that, the chair is available in several different colors, such as blue, purple, and red, with shoulder supporting dimensions, thus giving an optimum look and usage.
This chair also has a cushioned head support, along with padded leg support for the optimum gaming experience of the users. One can lay back and rest as it also has a good recline range of 90 to 155 degrees to it.
Thus, optimizing the use of this chair for work and play is easy. A gaming chair is made to support an user for many hours, so it is ideal for a programmer who primarily wants support for long hours. 
The high quality built of the chair is quite sturdy and can support a lot of weight on it. Thus overall, this is one of the best chairs for programmers who are also gamers available in the market based on its high quality build and price that can be used for office as well.
Royaledirect Racing Style Gaming Ergonomic Chair is Suitable for:
This chair is suitable mainly for programmers who are also gamers. Being an avid gamer, I know the importance of a gaming setup, being a gamer myself. Thus, I can tell you that this chair is a perfect gaming chair while doubling up as your work chair.
No products found.
Pros
It has a great lumbar support and foot support, which is not present in every gaming chair
PU leather body makes the skin durable.
The body of the chair is strong, heavy, and sturdy and can support a lot of weight.
A great packaging is provided by the company.
It is easy to assemble and use.
It is available at a reasonable price as compared to other gaming chairs or office chairs in the market.
Cons
Too much force or weight on the footrest can result in breakage since it is only supported by rubber rings to hold it.
It is extremely heavy, thus makes it difficult to move, but the wheels on the bottom make the job easier.
---
Best Budget Runner-Up
The Smugdesk High Back Ergonomic Office Chair is a great chair for daily office as well as home use. It is a high utility office chair, which has a simple yet comfortable design to it. It has a mesh back support to it, which maintains good ventilation and provides comfortable lumbar support to the users.
One of the most interesting features of this chair is super simple yet very important for office employees and professionals. This chair has a cloth hanger at the back of the chair, to hang your suits or blazers while working. This eliminates the issue of your suit or blazer crumpling up. 
Further, to enhance comfort, the chair has an adjustable headrest to it, which can be adjusted according to the height and needs of the user. Thus this chair is a great option considering the price and the features that it provides to the customers, as compared to its competitors.
Smugdesk High Back Ergonomic Office Chair is Suitable for:
This chair is mainly suitable for office, work from home, and normal home usage. It has a simple yet comfortable design. The chair is quite light and comfortable with facilities like a headrest, mesh backrest, and a cloth hanger, which fulfills all the requirements of one's workplace. 
Thus the chair is perfect for office employees and is quite economical as compared to some of its competitors.
No products found.
Pros
The mesh back support makes the chair light, provides good back support and great ventilation.
The cloth hanger is extremely useful for office professionals in hanging their blazers behind and to avoid it from creasing or taking up space in their workplace.
The headrest gives good support to the head and is good for the neck and the spine.
The manufacturers provide a one year service and manufacturers warranty, thus providing great after-sales services.
It is a great budget option.
Cons
The wheels on the chair are not of the best quality and give a pulling sensation while moving.
The seat height adjustability handle is rough after a few uses but still gets the job done.
The overall built of the product is nice but could have made it sturdier.
---
Buyer's Guide: What to Look for When Buying the Best Chair for Programmers 
A programmer's job is certainly not an easy one. They need to type a lot, and then they need to think a lot to solve any problems that pop out while coding, and then go back to typing a lot. It is really tough, but if you have the right resources at hand, things can be a little bit easier. Such resources also include the furniture around us and especially the chair we sit on.
A chair, if comfortable and suitable enough, can help you through many hours of grueling work. While the wrong chair can just as easily destroy your focus along with the natural curve of your spine. But then, how to know which chair is the right one? With this buyer's guide, of course! So here are a few things you need to look for when buying the best chairs for programmers:
1. Adjustable Height
One of the most important things to consider is if the chair can be adjusted to a height most suitable for you. While sitting, both your feet should be firmly on the ground and flat to it while your knees should be at 90 degrees from the seat. This ensures that your body is properly supported, and the weight is equally distributed on both feet. 
2. Armrests
If the chair has adjustable or removable armrests, it's good. If they are fixed, the armrests should not stick out too much and should be placed naturally – to support but not obstruct. 
Because no two humans are the same and what they find more suitable varies, even programmer to programmer, adjustable armrests are the best choice. If you like them, keep them, and if you don't like them, remove them and if it's just a matter of how high or low they are, just adjust them to your liking!
3. Tilt feature
As we already know, a programmer doesn't just need to type out long codes, they also need to think a lot. So what they would need is not just a chair that can support them while they are typing away on the computer but also a chair that they can lean on and move away from the computer to change their line of sight and think about how to solve the current problem.
So a chair that can tilt back and give them space along with comfort should be the right choice. It should be able to support their weight properly and let them move back without breaking their line of thought. A creaky chair with bad mobility wouldn't do, but an ergonomic chair with a good quality base will be perfect during such times.
4. Adaptability
How good the chair is at adapting to the user's preferences and needs is something very important. Does it have good back support, lumbar back support, and a cushioned seat that is neither too soft nor too firm? Check out these details carefully before finalizing a chair, because these factors decide on the overall comfort and usability of a chair.
5. Chair Size
I heard somewhere that a chair is like a shoe, the fitting matters. You may like a shoe very much, but if it's too big or too small for your feet, would you buy it? Of course not, and a chair's size and how fitting it is for you personally is equally as important. An ideal chair should be one inch wider than your hips. Too big or too small would always lead to discomfort in the end, and only with the right size can we actually enjoy the features and benefits of a good chair. 
What are the Different Types of Chairs?
1. Stacking Chairs
These types of chairs are simple, cheap hard plastic chairs that can be stacked one on top of another and are usually used for seating many people in an entire conference room or a seating area. These chairs are extremely cheap, and several of these can be purchased at the cost of one.
2. Office Chairs
These types of chairs are an upgrade over your normal chair, having a swivel and much better-padded support and professional look to it. These chairs are also more expensive and better in comfort as compared to normal chairs. 
3. Ergonomic Chairs
Since the duration and the length of the day for office workers and students have been increasing, they are forced to sit on their chairs for a long duration throughout the day. So they need a chair with great lumbar support and comfort. An ergonomic design is perfect for this use as it is adjustable, with great lumbar support and head support. 
4. Executive Chairs
These are much more expensive chairs as compared to normal ergonomic design or desk chairs and are much higher in comfort. These chairs are wider, leather-coated, more padded, and much more adjustable with better reclination. These chairs are perfect for executive meetings and boardroom meetings.
5. Recliner Chair
A recliner chair is one which is in the form of a singular sofa which can be reclined at a different angle for maximum leg and back support. It is mostly used by people in their homes while relaxing or while sitting in front of the television.
6. Reclining Massage Chair
An electric reclining massage chair has been gaining more popularity as it provides all the features and comfort of a normal reclining chair, with an additional feature of massage and heat settings that give users a feeling of relaxation. 
This chair is usually used in the home as it adds an additional feature to your furniture and sofa set as well as gives great comfort to its user after a long tiring day at work. This chair can also be used in the work setting, replacing the lounge chair or an executive office chair, adding a new dimension to the office setting.
What Type of Chair is Most Comfortable?
In terms of chairs for the office setting, people most preferably go for an office chair. Features such as backrest, headrest, extra padding, swivel, reclining, and seat adjustment, which caters to all the comfort needs of the employees and its users is what comfort is all about. 
The executive chair is best suited for boardroom meetings and settings and is much better than any other chairs for an office. The executive chair is much wider and has much more padding and comfort as compared to any other office chairs and usually has a much better look and design, which usually comes with a leather finish. 
There is still the recliner or the massage recliner chair that tops all of these chairs in terms of comfort and usage. These chairs can be used in the boardroom or the executive lounge while people wait in for important meetings. Employees or directors can use this chair and relax for a moment while waiting for their meeting or while they are in their meeting. 
This chair also can be a great addition to the furniture set of your home and gives your home that additional factor that makes it stand out. People can easily use this chair while relaxing at home, after a long day at work, or to watch the television while relaxing back and getting a warm massage, all without even stepping out from the comfort of their homes or calling anyone to do so. 
The electric massage chair or the recliner chair, though more expensive than an executive chair and the office chair. It gives a relaxation method that helps you use it outside office hours.
All that being said, an ergonomic chair is a chair that is the most comfortable out of all the other chairs, which is the bottom line, which is the most important aspect a chair has to fulfill. No matter what chair you choose, make sure it ergonomically aligns to your needs.
Are Mesh Chairs Better for Long Period Usage?
The breathable mesh design is usually used in ergonomic chairs. It is also quite comfortable for the users as it provides flexible backrest and promotes air circulation. It can also be used as a good headrest as it is soft and quite flexible.
But now the question arises that is it sturdy for long term use?
If you are buying a cheap mesh back office chair, the answer is no, mesh design chairs are not extremely durable and are not sturdy enough for long term use. The material used for making the mesh is quite flexible and soft, which can lead to the meshed chair tearing from certain parts after a certain duration. 
Eventually, small tears and holes will start appearing in the mesh back design after usage, which does not only spoil the show and design of the chair but also hampers the comfort of the users.
There's a misconception that since these chairs are usually much cheaper than leather padded chairs, they are made from cheap materials and are more susceptible to breakage. But, breathable mesh can be used for long-term use. 
If you are buying a high quality chair then the breathable mesh used can last you for years without showing any signs of tears. It all depends on the money you spend and the care you put into your chairs.
Advantages of Office Chairs 
Office work can be quite tiring, especially when you are sitting at your desk in the same old cramped chair, day in and day out. Problems like stiff necks, aching backs, and complaining hips and legs are a common occurrence in such conditions. 
But with an ergonomic office chair, most of these issues can be taken care of without you even having to do something. Just sit back comfortably while working away and let these office chairs do all the work. This is how:
1. Pain Relief
The office chairs are ergonomically designed to properly support your neck, spine, and hips. Proper support, from a good office chair, means that the likelihood of your neck and back giving in, under the strain of sitting for long hours, is reduced drastically. 
It also reduces the numbness in your legs and evenly distributes your weight across, preventing any one part from being put under more pressure than the other.
2. Good Posture
A well-designed office chair promotes good posture. With your shoulders relaxed, and your hips and back properly supported, which leads to a stress-free office experience. You are able to focus more and for a longer time while being comfortable, which eventually leads to a rise in productivity. 
And between good posture and pain relief, an office chair saves quite a lot on the medical expenses too. Truly a good deal, if I say so myself.
3. A Chair Perfect For You
Ergonomic office chairs come in all shapes and sizes and with a number of varied features. So you get a wide range to choose from, and it's easy to find a chair perfect for you. 
Whether it's the material they are made of or how wide and comfy they are, you can choose the best for yourself and even decide on factors like the chair's seat height, what kind of armrests and, neck and back support it has. And of course, the color (though it is always wiser to go with the classic black and grey or even brown, in an office setting).
4. Eco-Friendly
This is something that I really like about the ergonomic office chairs – the fact that most of them are made of mostly recycled material and can be recycled again after running their course. So these chairs not only take the burden off our backs but also help in preserving the environment, in their own way, albeit small. 
How Long Does an Office Chair Last?
The question about the duration of how long an office chair can last depends upon several factors that can determine the durability and the life of the office chair. 
If one uses a budget ergonomic chair, the durability won't be as long as expected as it can go through a lot of wear and tear through the years and can last for a couple of years, maybe five if one is careful enough. Five years for those types of chairs is also a pretty good return on investment, considering its price. 
Now, if one purchases an office chair from a reputed company which is made up of good materials, is well built, and has a warranty, this chair should last for a long duration.
All these things make a chair more expensive than other chairs because it is made from good materials, which is costlier, thus raising the manufacturing cost, which also makes it pretty durable. So, when one purchases such an office chair, they believe in purchasing it for a period of a minimum of ten years, considering the usage and wear and tear.
Ideally, high quality office chairs should last for a period of 10 years in an office, and then the company thinks of replacing those chairs. Sometimes these chairs last longer than the duration of 10 years and are used by the company till they start wearing down or getting uncomfortable.
Conclusion
Programmers have to spend long hours in a chair, so investing in a proper chair that provides comfort and support becomes more of a necessity. Let's summarize the six chairs that I have talked about so that you get an idea about the chair that works for you.
The Ergohuman High Back Swivel Ergonomic Office Chair is great for people who spend long working hours in front of their desks. It provides great adjustable lumbar support and good backrest with reclining facilities.
Then comes Steelcase Leap Ergonomic Office Chair. This one is a personal favorite, as it is more compact and is also suitable for a lot of body types and age groups. It is great for working long hours while feeling comfortable.
The Hbada Ergonomic Office Chair is suitable for many professions. It also has a pretty design and can easily fit into and enhance a lot of spaces. The AmazonBasics High-Back Executive Ergonomic Office Chair is a close runner-up. It is extra cushioned and provides a high level of support and comfort.
The Royaledirect Racing Style Gaming Ergonomic Chair is great for gamers and programmers as it satisfies all the needs of comfort of long gaming tournaments and long sprints and looks great while doing so at a low price. Another budget option is the Smugdesk High Back Ergonomic Office Chair. It provides the goodness of having an ergonomic chair in a budget.
No matter which one you choose, the main goal is to have your body feel supported and comforted. These are the two important factors to pay attention to as a programmer.